A sandbox is a sensory pit that allows us to bring back a part of the beach experience we all love.
But today's sandboxes aren't as "basic" as the ones we had. They come in intricate designs and incorporate various themes to make play more interactive and fun. This can make it hard to decide which sandbox will be best for your kids.
In this article, we'll look at some of the best sandboxes on the market. We'll also discuss how to choose the best one for your family, how to keep it clean, and how it will benefit your kids.
Your kids will want to spend hours enjoying the great outdoors in their new sandbox.
Image
Model
Product Comparison Table
Features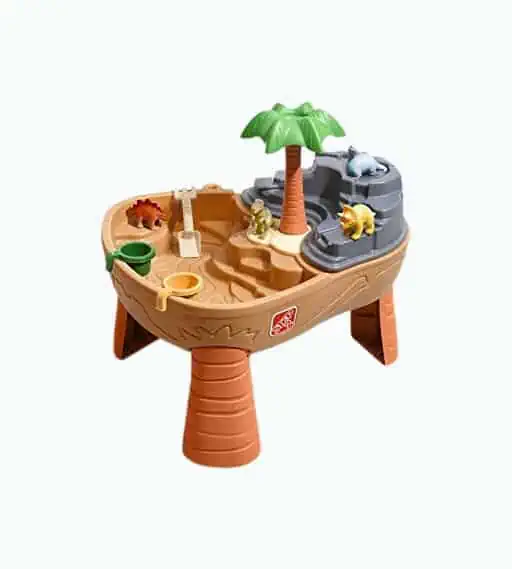 Dino Twist
Step2 Dino Dig Sand & Water
Great aesthetic appeal
Drain plug for easy cleaning
Double-sided sand and water play
A 3D Treat for Dinosaur Lovers
CoolSand 3D Dino
Plenty of accessories
Includes non-stick coolsand
Less messy than ordinary sandboxes
Great for Play & Landscaping
Step2 Play & Store
Offers storage space for outdoor toys
Holds a lot of sand
Lid to protect contents
Classic Cute Design
Little Tikes Turtle
Large area for sand play
Durable and long-lasting
Two molded seats
Great for Toddlers
Step2 Crabbie Sandbox
Durable and safe materials
Can hold up to 300 pounds of sand
Compact design
Raise It Up
Step2 Naturally Playful
Elastic straps hold lid in place
Elevated sandbox
Lid doubles up as play table
A Fine Combo
Kinetic Sand Construction
Mess-free play
Accessories for added fun
Easy cleanup
Little Humans at Work
Little Tikes Big Digger
Boosts thinking and motor skills
Pockets for storing the accessories
Easy to assemble
For Big Imaginations
KidKraft Pirate SandBox
Shady canopy
Made of weather-resistant wood
Spacious area for several children
Perfect for Play Dates
Creative Cedar Designs Sandbox
Durable construction
Holds 1,000 lbs of sand
Requires no special assembly tools
Review Methodology: At Mom Loves Best, we pride ourselves on providing you with thorough analysis and assessment of the best sandboxes available in the market. Our experienced team conducts hands-on research, comparing and ranking products based on criteria such as safety, durability, and design. We evaluate each sandbox from a user's perspective, identifying key decision-making factors and measuring their performance to help you make informed choices. Our in-depth reviews are backed by data, facts, and first-hand experience, ensuring that our recommendations truly stand out from their competitors. By sharing detailed insights on design choices, functionality, and the overall user experience, we aim to give you the confidence to select the best sandbox for your family.
---
---
The Best Sandboxes of 2023
Here is our list of the best sandboxes on the market. We're sure you'll find one your child digs.
Step2 Dino Dig Sand & Water Table
Dino Twist
Playtime will never be the same again with this elevated sandbox that brings together all the things that fascinate kids. We're talking dinos, a rocky mountain, sand, and water — now, what child (or adult) could resist that?
This sandbox measures 29.5 by 33 by 30 inches and features a two-sided table. The sand section holds up to 20 pounds of sand, while the water basin can support 4 gallons of water. There's a palm tree in the middle that gives it a tropical feel and a watering hole for the dinos.
The gray lid is designed to look like a volcanic structure that can be incorporated into the play. Your kids will enjoy pouring water into the high rocky mountain and watching it gush down the sides.
The sandbox comes with four dinosaurs, a shovel/rake, and two scoops to keep little hands busy and minds creative. The children can go off on an adventure to find the molded-in dinosaur bones and footprints.
Once assembled, this sandbox gives off a prehistoric vibe that takes us back thousands of years to when dinos ruled the world. It's a pure delight and will look great indoors or outdoors.
Pros
Great aesthetic appeal.
Easy to assemble.
Drain plug for easy emptying and cleaning.
Large enough for multiple children to play.
Cons
You can only use the lid to cover one side of the table, not both.
Our Ratings
Community Feedback
Bought this water/sand table for my son's first birthday, and he absolutely loves it! The assembly was a bit challenging, but using a power drill made it easier. This table comes with cute dinosaur accessories, making it a perfect gift for any toddler. One minor drawback is the lack of a drainage hole on the sand side, making clean-up a bit tedious.
---
CoolSand 3D Dino Sandbox
A 3D Treat for Dinosaur Lovers
Stuck indoors with nothing much to do? This dino sandbox is a great way to get your kids' creativity going for hours on end. It's ideal for dinosaur lovers, young or old.
It features 1 pound of kinetic CoolSand, 10 mold shapes, 12 3D figures, a dino fossil, and other accessories. The packaging turns into the sandbox, measuring 11 inches by 9.5 inches, and is 2 inches deep. It has dino artwork all over, including the legendary T-rex, to help you create your own Jurassic Park.
We especially like that CoolSand doesn't dry out or stick to your kids' hands. It holds its shape, which is great because you can mold it into just about anything. You can even choose to run your fingers through it for relaxation and a unique sensory experience.
Pros
The package contains plenty of accessories to enhance play.
Includes easy-to-shape non-stick CoolSand.
Less messy than ordinary sandboxes.
Cons
The accessories may pose a hazard for children under 3 years old.
Sandbox isn't big enough for family play.
No lid included.
Our Ratings
Community Feedback
When I first purchased this kinetic sand dinosaur set for my two grandsons, I was excited to see how they would react to it. The sand itself has an incredible texture and is quite moldable, providing hours of entertainment for the kids. The dinosaur molds and toys included in the set are a bit cartoonish, but they absolutely adore playing with them. However, I did notice that the sand provided does not fill up the box as shown in the picture, so I would recommend purchasing an additional bag of sand. The box that doubles as a sandbox is also made of sturdy cardboard, which may not be ideal for long-term use.
---
Step2 Play and Store Sandbox
Great for Play and Landscaping
This sandstone-colored sandbox offers plenty of room for your child and friends to play. Its ornate design will also look great in your backyard, especially if you have a rock garden or grass.
It features four molded seats for children to sit on while they engage in creative play. This sandbox is 11 inches deep and measures 28 by 42 inches. It holds up to 200 pounds of sand. It comes assembled, so all you need to do is pour in the sand, and playtime can begin.
It's made of durable plastic and has a full-coverage lid. This allows you to store the sand toys once the kids are done playing.
Pros
Aesthetically pleasing look.
Offers storage space for outdoor toys.
Holds a lot of sand.
Sitting space for four children.
The lid helps keep the sand clean when not in use.
Cons
The lid has issues latching well.
Our Ratings
Community Feedback
For the price, this sandbox has been a great addition to our backyard. It's large enough for my 4-year-old and another child to play in, but I can see it getting cramped with more kids. The lid does a decent job of keeping out rain and debris, but it doesn't snap on securely, so I recommend placing a weight on top to keep it from blowing away in strong winds. We filled it with 150 lbs of play sand and it seems perfect, with room for toys as well. The corner seats are a nice touch, but my daughter prefers to sit directly in the sand, so it's not an essential feature for us.
---
Little Tikes Turtle Sandbox
Classic Cute Design
For many years, children have enjoyed playing sand games in this smiling turtle, and so can yours. It's made from high-quality, long-lasting plastic and will be a great addition to your yard.
Grandparents can step up the fun by having one in their backyard when their grandchildren come over to visit. The turtle's shell doubles as a removable lid, covering the sand area.
Once the kids are done playing, you can store all the sand toys inside the turtle and snap the lid shut for protection. This circular sandbox is about 40 inches in diameter and offers a large play area for multiple children. It also features two seats for kids to sit on as they play.
The seats are molded on the outside to ensure they don't eat into the play area. The smiling turtle can hold up to 150 pounds of sand for your little ones to dig in.
Pros
Big enough for several kids to play together.
Durable and long-lasting design.
Lid protects contents.
Turtle "feet" are handy seats.
Cons
The lid doesn't fasten shut, so it could blow off the sandbox.
Our Ratings
Community Feedback
This turtle sandbox has provided endless fun for my children and grandchildren. It is made of durable plastic, and the cover fits tightly, protecting the sandbox from rain and animals. Although the newer version is made of thinner plastic and lacks the notches to lock the lid down, it still holds up well and has withstood windy days.
---
Step2 Crabbie Sandbox
A Great Option for Toddlers
This sandbox was designed to gradually help younger children get used to sand play. Its simple design and vibrant colors will look great in the yard or indoors.
The 47-inch sandbox has two molded seats. It features a removable shell-style lid that keeps the sand clean and dry after play. It can hold up to 300 pounds of sand, which is more than enough for little hands to get creative. From sandcastles to tunnels, there's no limit to how toddlers can play.
Unfortunately, our friendly crabbie does not come with shovels, buckets, or any other accessories, but it's spacious enough for more than one child to play at. This sand is suitable for children 12 months and older.
Pros
Durable and safe materials.
Good height for toddlers.
It can hold up to 300 pounds of sand.
Compact design is small enough to use indoors.
Cons
Accessories not included.
Our Ratings
Community Feedback
This sandbox has proven to be a fantastic addition to our backyard, providing hours of fun for my children. It's roomy enough for multiple toddlers to play together and has a durable construction to withstand their energetic activities. The cover fits nicely, protecting the sandbox from unwanted critters and debris. Just remember to purchase around 100-200 pounds of play sand separately, and your kids are all set for endless entertainment.
---
Step2 Naturally Playful Sand Table
Raise it Up
If you don't want your kids trudging through or sitting in the sand, this may be an excellent choice for you. Four legs elevate the sandbox from the ground, which reduces the chance of animals getting into it. The play area is 26 inches by 36 inches, and the table stands just over 16 inches high.
The lid keeps the sand safe from animals and debris. It also comes with elastic straps to secure it in place. Plus, it doubles up as a racetrack for cars and trucks, which is great if your child tires of the sand play.
This sandbox can hold up to 40 pounds of sand and comes with accessories, including two claw rakes, two shovels, and one bucket. It comes unassembled, but it only takes a few minutes to pop the pieces together.
Pros
Elastic straps hold the lid in place.
Elevated sandbox.
The lid doubles as a play table.
Cons
No seal on the cover, so rainwater might be able to seep in.
Our Ratings
Community Feedback
As a parent, I found this sand table to be a great addition to our backyard play area when a beach trip isn't feasible. It took me only a couple of minutes to set it up, although I did have to use some WD40 to get the legs in properly. My child plays in it every day, engaging in various activities like sand castles, treasure seeking, and construction site play. The table is easy to clean and perfect for painting, kinetic sand, water play, and more. However, it is a bit short, so taller children may have to bend over to play comfortably; otherwise, it's been a fantastic way for us to spend quality time together.
---
Kinetic Sand Construction Site Folding Sandbox
A Fine Combo
What's the main reason kids love to play with sand? To build and construct! This sandbox, made of kinetic sand and paired with a crane, dump truck, and other molding accessories, equals more fun for kids. It gives you the best of both worlds without compromising on quality.
Unlike ordinary sand, kinetic sand gives a nice feel and molds perfectly to any shape your child wants. Plus, it is hypoallergenic, so you don't have to worry about the possible trouble your child may develop after play.
This sandbox comes with two pounds of kinetic sand and a written guide. It's perfect for kids from 4 to 6 years of age.
Pros
Mess-free play.
Airtight storage.
Fun accessories for added play.
Cleanup is easy.
Cons
Does not have a handle for carrying.
Not a lot of sand is included for the size of the sandbox.
Our Ratings
Community Feedback
My son was thrilled with this sandbox set for his 3rd birthday, especially the wrecking ball and dump truck that doubles as a brick mold. He usually struggles to play independently, but this toy keeps him focused and entertained for long periods of time. Although the sand can be a bit messy, it's easy to clean, and the only downside is that there could be a bit more sand included in the package.
---
Little Tikes Big Digger Sandbox
Little Humans at Work
If your child isn't thrilled by simply playing in the sand, step up the fun using this construction-themed sandbox. Along with the play, kids will be engaged in strategic thinking as they figure out how to operate heavy machinery.
The lid serves as a ramp for the heavy equipment to come on board the sandbox. This sandbox comes with an excavator, a dump truck, two characters, a rake, a shovel, and two sand cups. It's about 51 inches long and 28.5 inches wide.
The Big Digger sandbox has a holding capacity of 100 pounds of sand. Children will have tons of fun building castles, roads, tunnels, and anything else their brilliant minds can come up with. So how about assembling this toy and getting your young builder started?
Pros
The excavator works.
Boosts strategic thinking and fine motor skills.
Includes pockets for storing the accessories.
Easy to assemble.
Cons
The lid may collect water.
The sandbox is quite small.
Our Ratings
Community Feedback
My experience with this sandbox has been mostly positive, as my two-year-old grandson absolutely adores it. The tight-fitting lid is a bit tricky to remove and replace, but it does an excellent job of keeping pests and dirt out of the sand. The included toys and tools are of high quality, and the compact size of the sandbox makes it perfect for small spaces. One minor drawback is the presence of small "cups" on the outside, which tend to collect dirt and rainwater. However, I've found that this sandbox works wonderfully as a mini kiddie pool, and the little ones love it just as much.
---
KidKraft Pirate Sandboat
Best Sandbox for Big Imaginations
Children love dressing up and playing pirates, so why not make your child's dreams come true with a pirate ship sandbox? This delightful sandbox comes with a steering wheel, a flag, and colorful pirate-themed artwork.
It features two compartments: one with sand for the children to play in, and the other with seating space. In between, there's covered storage for the sand toys. The sandbox itself is 38.5 inches wide by 48 inches long, but the total length with the seating area of the ship is 78.5 inches. It holds up to 700 pounds of sand!
This sandbox can accommodate several children, and there's a shady canopy to shelter the little pirates from the sun. The product is made from sanmu wood and comes unassembled but with detailed instructions to help you set it up within a couple of hours.
The best part is that even without sand, this sandbox will inspire creative imagination and play. Arrrrr… your kids will love me ship arrrrr…
Pros
Pirate theme that inspires creative play.
Canopy to keep the sun out.
Includes a plastic liner for the sand.
Spacious area for several children to play.
Cons
The cover doesn't fully enclose the sandbox compartment.
Our Ratings
Community Feedback
From the moment I set up this sandbox, it was a hit with my grandson and his friends. The pirate theme and sun shade make it a fun and practical addition to our backyard. Although the plastic bottom and cover are not as sturdy as I would have liked, it's still a great product overall. I did have some difficulty with the assembly process, particularly installing the snaps for the sand cover, but the final result was worth it. Despite a few flaws, this sandbox has brought endless joy to our little ones, making it a worthwhile purchase.
---
Creative Cedar Designs Wooden Sandbox
Perfect for Play Dates
This wooden sandbox is a great option for one or more kids to play in. It's built using heavy-duty wood and can act as an expanded play area for other toys.
The sandbox holds at least 500 pounds of sand, but it allows you to increase the sand depth to 1,000 pounds. The manufacturer has included a polyethylene sandbox cover that you can use to prevent unwelcome animals or debris.
This sandbox kit includes all the necessary panels and equipment, but you'll have to purchase sand separately.
Pros
Accommodates up to 1,000 pounds of sand.
Easy cleanup that only requires you to use a sandbox cover.
Accommodates several children at once.
Cons
The heavy structure cannot be moved once filled with sand.
No sand included.
Community Feedback
I recently purchased this sandbox for my son's birthday, and it has been a fantastic addition to our backyard. It was easy to assemble, even with my slight mobility issues, and is large enough to comfortably fit my whole family. I did have to buy quite a bit of sand, but the addition of cinnamon helps keep the bugs away. The only downside is the cover, which can be difficult to put on and tends to collect rainwater, so I may make my own cover out of plywood in the future.
How to Choose a Sandbox
The best sandbox for your family will depend on several factors. We'll take a look at a few of these.
Space
Regardless of your yard size, there's a sandbox that will work for you. If you have a spacious yard, your possibilities are endless. But you may have to get a little more creative if you have a small yard, shared space, or no yard at all.
Some sandboxes have a small, contained design that fits nicely on a deck or in the corner of a smaller space. These sandboxes sometimes have legs, so your child can play while standing rather than sitting in the sand. They're also a great option if you struggle with the mess of sand tracked into your house, as your child's hands are likely the only part of them to get sand-coated.
If you have no yard but your child is crazy for that sensory sand experience, try an indoor sandbox. There are plenty of Kinetic Sand kits for play on the table (or floor if you don't have carpet) that you can store away when not in use.
Cover
Shade is an important factor if your child is going to be playing outdoors in their sandbox in the hot summer sun. Some sandboxes include a sun shade above them to protect your child from the sun's harmful rays and keep the sand cool.
It's also a good idea to get a sandbox with a cover (either a built-in cover or one purchased separately) to keep your cat (or your neighbor's cats) from using your child's sandbox as their personal outhouse.
A cover will also keep the sand from turning into a mud bog when it rains and will keep it clean and cool when not in use.
Cleanup
The best sandboxes are easy to clean because, believe me, your kid will be getting sand (and likely mud) everywhere when they play.
If you have a table-style sandbox, look for an option with a drain. A table sandbox is also a good idea if you plan on emptying your sandbox regularly or over the winter. Plastic boxes are also easier to wipe clean than wood.
Accessories
Some sandboxes come with extras like benches or sand toys or appeal to the imagination with themed designs such as a pirate ship or sea turtle. These can add an extra layer of fun to your child's play.
Multipurpose Design
If you want to save space while offering your child a variety of outdoor play opportunities, look for a sandbox that serves more than one purpose. There are many options with dividers for sand and water play — but be warned, if your kids are anything like mine, the sand and water are unlikely to stay in the correct compartments, and you may end up with a giant mud table.
Some sandboxes double as toddler pools. Just be sure to dump the sand out and clean it well before adding water. Other sandboxes come with a cover you can use as a track with ramps for cars or trucks. These types of boxes extend your child's playtime without taking up additional space.
Types of Sand to Use
There are several types of sand that you can use for your sandbox; let's take a look at some on the market today.
---
Tips for Keeping Sandboxes Clean
There is no need to deny your child a home beach. Here are some tips to help you keep your sandbox clean (3):
Insects and small animals love playing in the sand, and who knows what germs they'll deposit in the process. Keep the sandbox covered any time it's not in use.
Never let your pets play in the sandbox. They may mistake it for a litter box and use it to do their business. Gross.
Wet sand can be a breeding ground for bacteria. Always dry it out completely before storing it.
Debris can find its way into the sandbox, so rake it regularly to remove foreign matter.
And for your own sake, speak to your children about the above tips. If they know why you're doing it, they'll gladly help you. While you are at it, make sure the younger ones don't put sand in their mouths.
Benefits of Sand Play for Kids
Playing with sand provides an unstructured play session where your kids are free to imagine and create. They can choose to scoop sand, mold structures, build objects, or simply enjoy the feeling of the sand running through their fingers.
This freedom makes way for your child to build developmental concepts. It also helps them understand mathematical concepts as they measure sand and pour it from one container to another.
Additionally, all the digging, scooping, pouring, and general play will help develop their hand-eye coordination and fine motor skills.
Sandboxes that allow multiple children to play together also encourage social skills. They'll learn to share, negotiate, and compromise. These skills will be further enhanced as they grow.
---
Thank You For Your Feedback!
Thank You For Your Feedback!