Choosing the right underwear for your child is important whether you are at the beginning of your toilet training journey or have already passed the "dry all day" milestone.
It's not just a case of buying a multipack and hoping for the best. You will need to consider:
Material.
Cut and comfort.
How well they hold up.
Your child's preferences.
Let's take a look at the most common options for children's underwear and our top picks for the best underwear for kids.
Image
Model
Product Comparison Table
Features
Best for Girls
Boboking Baby Cotton Underwear
Accurate sizes
Withstand multiple washes
Comfortable
Best Flor Boys
EZ Undeez Boys
Easy to pull up
Padded front area
Washes well
Best Thermal Underwear
Rocky Thermal Underwear/PJs
Hold heat when wet
Lightweight
Two piece set
Best Quick-Dry Underwear
VieGreenleaf Potty Training
Soft fabric
Cute and fun patterns
Fast drying
Best for Sensitive Skin
City Threads Organic Cotton Underwear
100 percent organic
Washes well
Doesn't shrink when washed
Best Seamless Underwear
SmartKnitKids Seamless Undies
Soft cotton fabric
Comfortable
Made in the US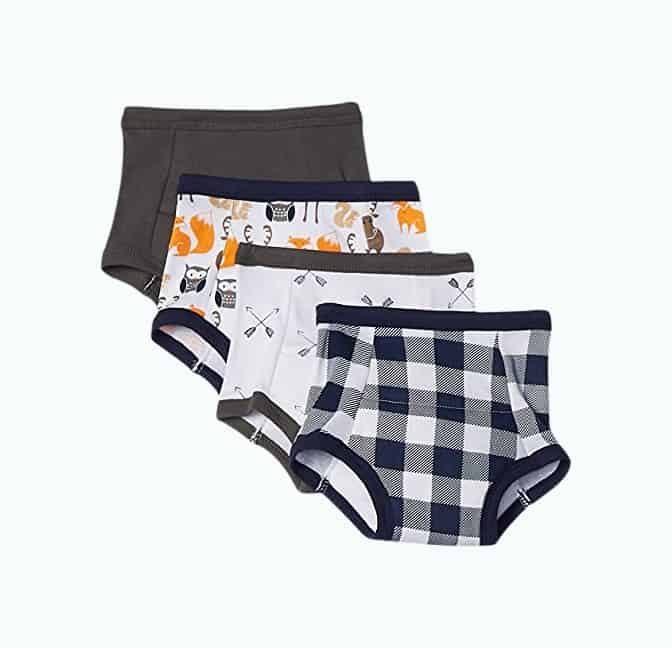 Best Gender-Neutral Underwear
Hudson Baby Kids' Unisex Pants
100% cotton
Machine washable
Comfortable
Review Methodology: At Mom Loves Best, we utilize hands-on experience, thorough research, and professional assessment to bring you the most comprehensive reviews. Our analysis of the best kids underwear measures key factors such as comfort, durability, and age-appropriate design. We compare various brands, track performance over time, and evaluate the product from a user's perspective. Through our criteria-based evaluations and factual findings, we identify standout features and offer qualitative data to help you make informed decisions. We lay out our results in an easy-to-understand review, ensuring you have all the information you need to choose the best underwear for your child. Trust us to provide first-hand, expert advice based on rigorous testing and benchmark standards.
---
---
The Best Kids' Underwear of 2023
Here are our top kids' underwear picks.
Boboking Baby Soft Cotton Underwear
Best Girls Underwear
This soft cotton underwear from Boboking comes in a wide range of colors and patterns.
Made of 100% cotton, the elastic is sewn into a cloth pocket so your child does not experience any pinching or discomfort.
Pros
Multiple reviews say that the sizes of this underwear are accurate so there's no guesswork and no having to buy bigger or smaller than you normally would.
Stand up well to multiple washes.
Cons
The leg openings are larger than in some underwear.
Product Specs
| | |
| --- | --- |
| Style | Girls' briefs |
| Material | 100% cotton |
| Sizes Available | 2T to 12 years |
| Number In Pack | Six |
| Colors/patterns available | 24 multipacks available from brights to pastels. |
Our Ratings
Community Feedback
My experience with these undies for my daughter has been delightful. The soft fabric and cute designs instantly became a favorite of hers, and the elastic waistband maintains its shape even after multiple uses. I've washed them in the washing machine, but I opted to air dry them to preserve the vibrant colors. These undies have been perfect for transitioning from training pants to "big girl" panties, with a wider band at the top and around the legs. My daughter finds them extremely comfortable and the quality is impressive. I'll definitely continue to purchase these as she grows.
---
EZ Undeez Boys
Best Boys' Underwear
Designed and made by parents for their own toddler, the soft, wide waistband of this underwear makes them especially comfortable to wear.
The waistband also has a reinforced, embroidered hole at each hip. This makes it easier for your child to pull them up.
There are no tags or uncomfortable seams, and the legs do not have tight elastic around the openings.
Pros
Also available in toddler briefs style.
A slightly padded area at the front catches tiny accidents before they can soak through to outer clothes.
Reviews say this underwear washes well and lasts long enough for kids to grow out of them.
Cons
Some users say the sizing comes up a little small, so it is advisable to check the sizing charts or order a size larger than you think you need.
Product Specs
| | |
| --- | --- |
| Style | Boxers, also available as briefs. |
| Material | Cotton |
| Sizes Available | 2 to 3 years and 4 to 5 years |
| Number In Pack | Four |
| Colors/patterns available | Six different theme packs are available. |
Our Ratings
Community Feedback
These training underwear are comfortable and stylish, with enough padding to absorb accidents without feeling too bulky. My son loves the fun patterns and is more motivated to use the potty while wearing them. I've found that they hold up well through numerous washes, though some colors may fade more than others.
---
Rocky Thermal Underwear/PJs
Best Thermal Kids' Underwear
Rocky fleece thermal underwear is much softer yet wonderfully warm. That makes this thermal underwear exceptionally non-irritating.
The natural elasticity of the fabric makes the fit snug but comfortable while allowing your child flexibility of movement.
This two-piece set is made of polyester, they can be machine washed, which means they are practical as well as comfortable. Plus, they are warm so they're a great pick for winter.
Pros
They hold heat when wet so if your child has an accident when wearing them, they will not get cold and wet.
Lightweight and snug fit.
Can also be worn as PJs.
Cons
At the upper end of the children's underwear price range.
Product Specs
| | |
| --- | --- |
| Style | Long johns with matching long-sleeved vest. |
| Material | 92% polyester, 8% spandex |
| Sizes Available | 2T to 7 |
| Number In Pack | One pair of long johns and one long-sleeved vest per pack |
| Colors/patterns available | 15 colors |
Our Ratings
Community Feedback
I've recently purchased these thermal base layers for my kids to wear during a ski trip and under sports uniforms. The soft fleece lining on the inside keeps them warm and cozy, while the outer layer is smooth and silky. They've been perfect in colder weather and my kids don't want to take them off! However, the waist sizing seems to run a bit large, so keep that in mind when selecting a size.
---
VieGreenleaf Potty Training Skirt
Best Quick-Dry Kids' Underwear
When you are planning to start potty training your little one, this pair of skirts from VieGreenleaf would be a good helper. Made of three different layers, the item will ensure a comfortable night's sleep free from wetness.
The first layer is made of cotton, its middle layer is made of TPU waterproof and the inner layer is made of bamboo which makes it soft and fast drying.
Pros
Exceptionally soft fabric.
Cute and fun children's patterns — but no character-driven designs.
Cons
Tendency to leak if your child is a heavy wetter.
Product Specs
| | |
| --- | --- |
| Style | Skirt |
| Material | Cotton, TPU waterproof, bamboo |
| Sizes Available | For babies 2 to 6 years of age |
| Number In Pack | Two pairs per pack |
| Colors/patterns available | Two different patterns per pack. |
Our Ratings
Community Feedback
After trying these absorbent training pants for my child, I found them to be helpful but not entirely effective. They work well when paired with an absorbent blanket, but may leak if there's too much movement during sleep. My daughter has experienced fewer accidents since using them, but the absorbent "skirt" may not stay in place if she moves around a lot.
---
City Threads Boys Certified Organic Cotton Underwear
Best Kids' Underwear For Sensitive Skin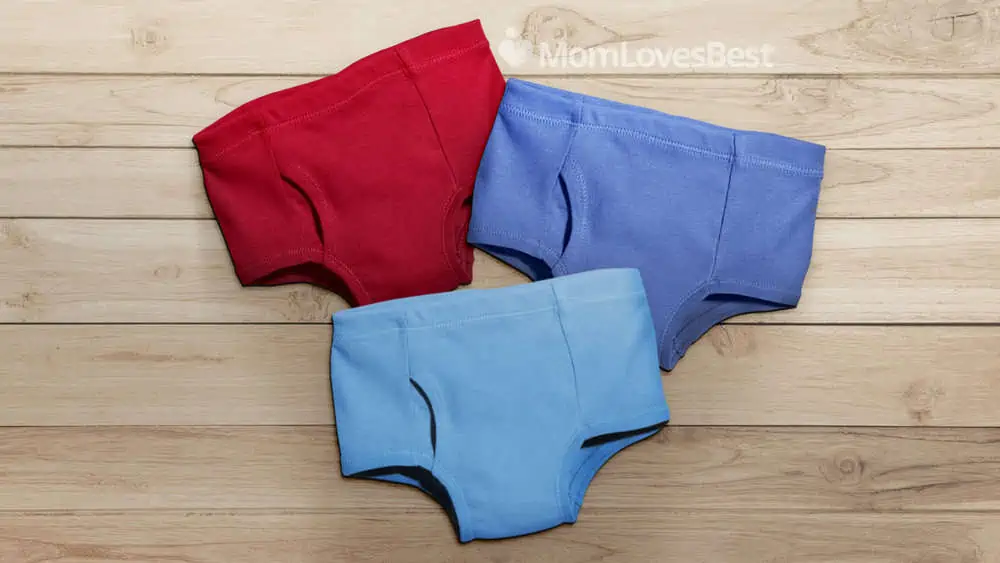 Made with the most sensitive kids in mind, City Threads are made from 100 percent certified organic cotton.
They are also dyed with non-toxic coloring and are pesticide-free, insecticide-free, and fire retardants-free.
Some organic clothes can be scratchy or take a few washes to soften up, but not these.
The City Threads certified organic cotton briefs are made of soft fabric which is comfortable from the first wear.
Pros
They are 100 percent organic and free from chemicals so you know you are dressing your child in the safest clothes.
Reviews say this underwear washes well, doesn't shrink, and lasts long enough for their kids to grow out of them.
Cons
Some reviewers have said they do not like the fit.
Product Specs
| | |
| --- | --- |
| Style | Briefs |
| Material | 100% certified organic cotton |
| Sizes Available | 2T to 16 |
| Number In Pack | Three pairs per pack |
| Colors/patterns available | Six different packs available for boys and five for girls. |
Our Ratings
Community Feedback
From personal experience, these organic underwear have been a great fit for my little one, who has a small frame. The fabric is soft and comfortable, while also being durable through multiple washes. However, some customers have mentioned that the sizing can be inconsistent and the stitching on the waistband and leg openings can be scratchy. Despite these minor drawbacks, these underwear have been a reliable and eco-friendly option for my child.
---
SmartKnitKids Seamless Undies
Best Seamless Underwear For Kids
Created by the same company that produces patented seamless socks, the SmartKnitKids seamless undies are truly seamless.
Unlike other "seamless" underwear for kids, the leg openings and waistband are woven into the main body of the underwear so even the openings are seam-free.
In addition, there are no tags, and no elastic is used.
Pros
Extremely soft cotton is suitable for even the most sensitive of children.
The fabric is made firm enough to slightly "hug" your child and does not feel, in any way, constrictive.
Designed and made in the U.S.
Cons
There is currently a limited range of styles and colors available.
Product Specs
| | |
| --- | --- |
| Style | Available in boxer briefs and girls' "boy cut." |
| Material | 100% cotton |
| Sizes Available | 4 to 12 years |
| Number In Pack | Three |
| Colors/patterns available | One mixed pack for boxer briefs and one mixed pack for girls' briefs. |
Our Ratings
Community Feedback
Best for some, these underwear may not suit everyone's needs. In my experience, the material is soft and comfortable, but the thickness and loose fit might not be ideal for those with sensory issues. While my daughter appreciated the lack of seams, the large leg holes and bulky feel made the fit less than perfect.
---
Hudson Baby Kids' Unisex Pants
Best Gender-Neutral Kids' Underwear
Hudson Baby gender-neutral underwear for kids makes toilet training easier for both parents and children.
These unisex toddler training pants have an absorbent layer that stretches from the front to the back of the underwear.
This gives reassurance that any small leaks will not spread far, and makes it easier to leave the house in the early days of potty training.
Pros
The underwear is 100% cotton with polyester and PEVA padding. This makes them easy to machine wash and dry.
Reviewers say this underwear lasts well and maintains its size and shape after multiple washes.
Light elastic around the legs and belly is firm enough to hold the underwear in place but not so tight it makes the underwear uncomfortable.
Cons
Reviewers report the sizing can come up small. Consequently, you may have to buy a couple of different sizes before you get the right fit for your child.
Product Specs
| | |
| --- | --- |
| Style | Briefs with padding |
| Material | 100% Cotton with Polyester & PEVA padding |
| Sizes Available | 12 months to 4T |
| Number In Pack | Four per pack |
| Colors/patterns available | 3 different packs available with a total of 10 designs |
Our Ratings
Community Feedback
Great for newly potty-trained toddlers, these training undies are soft, comfortable, and feature a cute design. While they offer an expected level of absorbency and may produce a slight rustling sound, they effectively help little ones become aware of their need to use the bathroom by letting them feel wetness. Although the leg holes may be a bit snug for some, this design choice appears to aid in catching accidents, making for an overall satisfactory experience.
---
What Types of Kids' Underwear Are Available?
Children's underwear is available in a wide range of cuts and styles, almost as many as are available for adults.
Briefs
These are the most common cut of children's underwear as they are suitable for both boys and girls.
Briefs usually start at just below the belly button, are fairly snug to the body, and have leg openings that sit at the crease at the top of the legs.
Boxers
Boxers are shaped like shorts and are loose at the legs.
Boxer Briefs
These are the same shape as boxers but fit snugly to the body in the same way as briefs.
Pull-Ups
The name pull-ups covers both disposable training underpants which are designed to be worn once and brief-style toddler underwear that has absorbent padding to catch accidents. This second type is not disposable and is designed to be worn repeatedly in the same way as regular underwear.
When Should Toddlers Wear Underwear?
At what age your child should begin to wear underwear depends on how you intend to toilet train them (1).
Once your child shows readiness for toilet training you have a choice to go for either regular underwear or disposable pull-ups.
Which is best depends on your child, your potty training journey, and your lifestyle.
How to Choose the Best Kids' Underwear
---
A Big Choice For Little Bottoms
Whether you are buying children's underwear for your school-age child or purchasing your little one's first pair of "big kid" pants, making the right choice is important.
Any kids' underwear has to pass the all-important "Will my child actually wear them?" test and all of the choices above come with a child-tested seal of approval.
Thank You For Your Feedback!
Thank You For Your Feedback!