Are you tired of digging through your diaper bag for five minutes every time you need to find your baby's pacifier? As moms, we're very familiar with that sense of panic and frustration you feel when your baby is screaming and you can't find what they need.
We're here to help you leave that chaos in the past where it belongs. Having an organized diaper bag will save you time, space, and hassle. So we've outlined four simple steps to organize your bag, sharing our favorite organization hacks and providing you with a list of all the items you should keep on hand when you're away from home.
We also spent many hours researching and testing the best organization-friendly diaper bags to bring you our top three picks.
With an organized diaper bag, you can remain cool and calm when your baby is screaming and easily find exactly what they need within seconds.
Key Takeaways
Having an organized diaper bag can save time, space, and hassle for moms.
Tips for organizing a diaper bag include keeping it minimal, using a bag with lots of compartments, storing pacifiers in a baby food container, using a wet/dry bag for soiled clothes and diapers, getting a bag with an attached changing pad, and using a filing system.
Steps for packing a diaper bag include: unzipping every compartment and dumping everything out, getting rid of everything not needed, cleaning the bag, and loading it by zones.
Diaper bags that are easy to organize have many external and internal pockets, insulated pockets, and an attached changing pad.
---
Diaper Bag Organization Tricks
Here are some of our favorite diaper bag organization tips and tricks.
Keep it minimal because the more you pack, the harder it will be to stay organized.
Get a bag with lots of compartments, including outside pockets.
Store pacifiers in a baby food container.
Use a wet/dry bag or dog waste bags for soiled clothes and diapers.
Get a bag with an attached changing pad.
Use a filing system such as sugarSNAP files. It comes with five easy-to-label pouches on a ring, used for organizing various items in your bag.
Mesh pouches or pencil cases also make great diaper bag organizers, and you can color-code them for easy finding.
Make different kits, store them in your house, and only pack them when you need them. For example, you could create a summer kit with sunscreen, a sun hat, and bug spray. You could also make a restaurant kit filled with baby utensils, a feeding bib, and a splashmat.
Use sample sizes when possible. When you receive samples of diaper cream, baby wipes, baby lotion, etc., reserve them for your diaper bag to save space.
Store items in the car when you can. As your baby grows, you can start storing a change of clothes in the car, freeing up some space in your diaper bag.
How to Pack Your Diaper Bag
Here are the four simple steps for organizing your diaper bag:
Unzip every compartment and dump everything out.
Get rid of everything you don't need.
While you have your bag emptied, it may be a good idea to go ahead and clean your diaper bag.
Start loading your diaper bag by zones. Keep zones together in compartments or mesh bags.
We suggest you pack your bag in the following order:
Pack diapers, wipes, diaper cream, and wet bag(s) first.
Include an extra set of baby clothes.
Pack feeding accessories (bottles, a sippy cup, snacks, bib, burp cloth, etc.).
Roll up a swaddle blanket and store it in an inside compartment.
Add baby entertainment items (toys, teethers, books, etc.).
Finish off with any mommy essentials (sanitizer, lip gloss, hand lotion, snack, etc.).
Easiest Diaper Bags To Organize
Choosing the best diaper bag will go a long way toward staying organized. Diaper bags with many external and internal pockets, an insulated pocket(s), and an attached changing pad are easiest to pack and keep organized.
You may be using this bag for years to come, especially if you plan on having multiple kids, so it's not a bad idea to splurge and invest in a heavy-duty bag that will be resistant to wear and tear.
Here are some of our favorite organization-friendly diaper bags:
1.

Ruvalino Messenger
This classic diaper bag is highly functional and your significant other will feel comfortable using this gender neutral carry-all.
Messenger bags are nice because you have access to everything without ever having to take the bag off.
The Ruvalino Messenger includes a total of 14 interior and exterior pockets, perfect for wipes, food, bibs, or even extra items such as your wallet, cell phone, and keys.
There is also an easy-to-reach insulated bottle pocket and a padded changing mat.
2.

Skip Hop Grand Central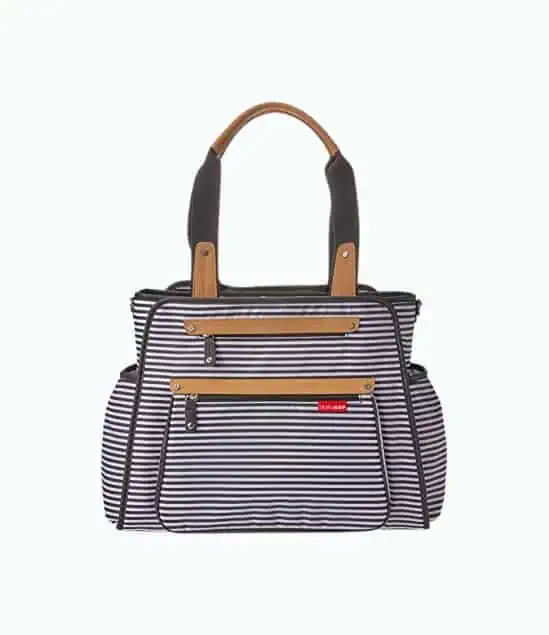 This Skip Hop Grand Central diaper bag is a fashionable option with many storage compartments. The bag is divided into three large sections and 11 pockets, including two exterior zip-up pockets.
One of the interior pockets is a clear wipe-clean zipper pouch, great for leak-free storage of your baby's dirty clothes, lotions, or sunscreen.
This bag also has a toy loop, two insulated bottle pockets, and adjustable stroller straps to attach the bag to the stroller so you don't have to carry it.
3.

Ju-Ju-Be B.F.F. Blush Chromatics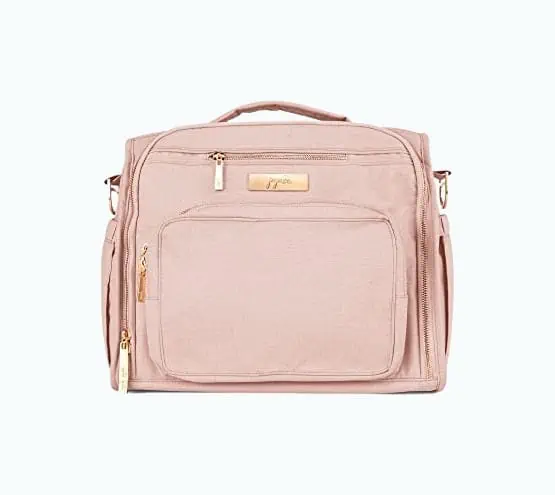 You can use this bag either as a messenger or backpack diaper bag, and it has a top handle.
It features several interior and exterior pockets, and an attached stretch key fob, which is useful for moms who, like me, can never seem to find their keys.
This diaper bag also includes a memory foam changing pad and insulated exterior bottle pockets.
Plus, there is a pocket in front to store your cell phone, wallet, and any other mommy must-haves.
Diaper Bag Checklist
What you keep in your diaper bag will depend on the season, your personal preferences, and your baby's age. You will need to change it out as needed, but here is a basic checklist to follow.
Diapers — We like to pack one diaper for every hour we will be out, plus one extra.
A wet bag or dog waste bag for soiled diapers/clothes.
Change of clothes.
Baby Bottles and breastmilk or formula.
Sippy cup for your older baby or toddler.
Emergency snacks for you and your older baby or toddler.
Blanket — swaddle blankets are great for keeping in your diaper bag because you can roll them up small. They are also great nursing covers and can shield your baby from the sun and mosquitoes.
Mommy essentials (phone, wallet, keys).
Seasonal supplies (sunscreen and mosquito repellant in summer, jacket and hat in the cooler months).
FAQs
---
Thank You For Your Feedback!
Thank You For Your Feedback!