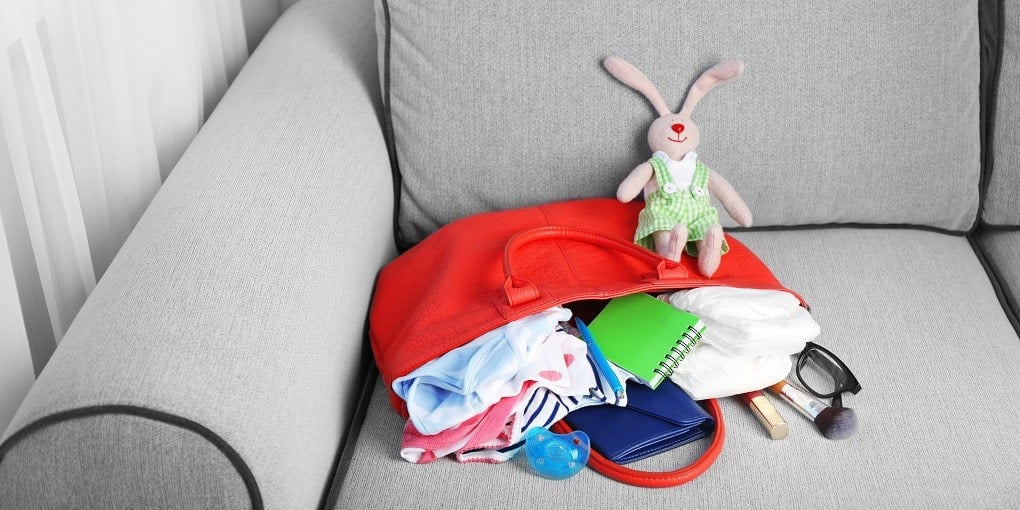 How to Pack the Perfect Diaper Bag (4 Simple Tips & Tricks)
Are you tired of spending 5 minutes digging through your diaper bag just to find your baby's pacifier?
Does it always seem like a tornado just went through your diaper bag?
Having an organized diaper bag can save you time, space, and hassle. But how can you pack everything you really need in your bag while still keeping it in order?
In this post, I share some great diaper bag tips, my favorite organization-friendly diaper bags, and exactly what you should keep in your bag. You'll learn the 4 simple steps to having a perfectly packed diaper bag.
---
Diaper Bag Organization Tricks
Here are some of my favorite diaper bag organization tips and tricks.
Keep it minimal – the more you pack, the harder it will be to keep it organized
Get a bag with lots of pockets, including outside pockets
Store pacifiers in a baby food container
Use a wet/dry bag or doggie poop bags for soiled clothes and diapers
Get a bag with an attached changing pad
Use a filing system
Sugar SNAP file system: This filing system is customizable and easy to use. It comes with 5 different sections, all different sizes. Each section also has a high quality label on top, which you can change out. What's really nice is that you don't have to use all 5 sections if you don't want to. They come on a ring, but can be removed to accommodate your needs.
Mesh pouches or pencil cases also make great diaper bag organizers, and you can color code them for easy finding (source).
Make different kits, store them in your house, and only pack them when you'll need them. For example, you could make a summer kit with sunscreen, a sun hat, and bug spray. You could also make a restaurant kit, filled with baby utensils, a feeding bib, and a placemat.
Use sample sizes when possible. We got quite a bit samples of diaper cream, baby wipes, baby lotion, and sunscreen, so I reserved these for my diaper bag to save up some space.
Use the car for storage when you can. I always liked keeping an extra shirt for myself in the car incase I got spit up on or puked on. In the winter, I would always keep a heavy blanket or 2 in the car as well. As your baby turns into a toddler, you can start storing their spare change of clothes in the car, freeing up some space in your diaper bag.
Related Reading: What are the Best Diaper Caddy Organizers?
Which Diaper Bags Are The Easiest to Organize?
Choosing the best diaper bag will go a long way in staying organized. Lots of external and internal pockets, an insulated pocket(s), and an attached changing pad will help keep your bag perfectly packed.
You will also be using this bag for years to come, especially if you plan on having multiple kids, so it's not a bad idea to splurge a little and invest in a heavy duty bag, resistant to wear and tear.
Here are some of my favorite organization-friendly diaper bags:
Why it's a good choice:
If you're a backpack fan, then the Graco Gotham Smart is a good option for you.
It's not the most stylish, but it's definitely practical.
This diaper bag has lots of separate storage pockets, including an outside wipe dispenser for easy access.
The front zipper pocket makes a good mommy compartment, for your wallet, keys, phone, and hand sanitizer. The bag also comes with a diaper changing pad.
Why it's a good choice:
Not the most stylish of bags, but you're significant other will love and feel comfortable using this bag.
Messenger bags are nice, because you have access to everything without ever having to actually take the bag off.
The Diaper Dude Messenger includes 3 exterior zip-closed pockets, which are perfect for wipes, food, bibs, or even your wallet and keys.
There is also an easy-to-reach elasticized bottle pocket and a padded changing pad.
Why it's a good choice:
This Skip Hop Grand Central is a fashionable option with lots of storage compartments.
There are 3 large divided sections and 11 pockets, including 2 exterior zip pockets. One of the pockets is a clear wipe-clean zip pocket, which would be great to store your baby's dirty clothes or any kind of lotion or sunscreen, to prevent leaks.
This bag also has a toy loop, 2 insulated bottle pockets, and adjustable stroller straps, so you can attach the bag to the stroller instead of having to carry it when you are walking around.
Why it's a good choice:
You can use this bag as either a messenger or backpack diaper bag, and it has a top handle. It features 7 interior pockets, 3 exterior pockets, and an attached stretch key fob, which is super nice, because I can never seem to find my keys.
This diaper bag also includes a memory foam changing pad, and insulated exterior bottle pockets.
Plus, there is a pocket in front, which makes an excellent mommy pocket, where you can store your cell phone, wallet and whatever else you may need.
Diaper Bag Checklist
What you keep in your diaper bag, will depend on the season and your baby's age. You will need to change it out accordingly, but here is a basic checklist for you to follow.
Diapers – I like to pack one diaper for every hour we will be out, plus one extra one.
Wipes
A wet bag or doggie poop bag for soiled diapers/clothes
Change of clothes
Hand sanitizer
Bottles and breastmilk or formula
Sippy cup for your older baby or toddler
Emergency snacks for you and your older baby or toddler
Blanket – swaddle blankets are nice to keep in your diaper bag because you can roll them up really small. They are also great to use as a nursing cover or to use as a shield to keep the sun and mosquitoes off of your baby.
A few toys and/or books
Mommy's essentials (phone, wallet, keys)
Seasonal supplies (sunscreen and bugspray in summer, jacket and hat in the cooler months)
4 Simple Steps to the Perfectly Packed Bag
Now that you have picked out a good diaper bag, storage accessories, and exactly what you need in your bag, it's time to get packing.
Here are the 4 simple steps I like to take when organizing my diaper bag:
Unzip every compartment and dump everything out of your diaper bag.
Get rid of everything you don't need.
While you have your bag emptied, it may not be a bad idea to go ahead and clean your diaper bag.
Start loading your diaper bag by zones. Keep the zones together by compartment or mesh bags. I use the following order

Pack your diapers, wipes, diaper cream, and wet bag
Pack an extra pair of clothes for baby
Pack feeding accessories (bottles, sippy cup, snacks, bib, burp cloth, etc.)
Roll up your swaddle blanket and store it in an inside compartment
Baby entertainment
Mommy's essentials
---
An Organized Bag will Save Your Sanity
Having a messy diaper bag can make it hard to find anything and can be overwhelming, especially when your baby is bawling her little head off. Save yourself the time and hassle, and keep your diaper bag friendly and orderly.
Choose a sturdy diaper bag with lots of compartments and pockets. By sticking to the necessities, using a filing system, and loading your bag by zones, you can keep your diaper bag packed perfectly.
What do you keep in your diaper bag? Do you have a favorite diaper bag that helps keeps things organized?
Share in the comments some your favorite organization hacks, and be sure to share this post with all your mama friends.