You will experience a huge transition when you bring your baby home from the hospital — but if you think about it, it's nothing compared to the transition your baby is going through.
To go from a warm, cozy environment in the womb to the harsh, stimulating outside world is shocking.
A swaddle blanket can make the transition easier for your baby, which will, in turn, make things easier for you. Swaddles can help soothe and comfort your little one and keep them cozy when they're brand-new.
Here's what you need to know to choose the best swaddle blanket for your baby.
Image
Model
Product Comparison Table
Features
Best for Newborns
Miracle Blanket
No parts to wear out
One size fit
100% cotton
Best for Self-Soothing
Love To Dream
Adorable swaddle blanket
Zipper design
Baby enjoys the calming effect
Best for Girls
SwaddleMe Original
Soft cotton
Cute colors
Can be used with car seats
Best for Hip Development
Halo Sleepsack Swaddle
Prevents hip dysplasia
Three arm positions
Versatile and unique design
Best Muslin Swaddle
Aden + Anais Classic
Lightweight
Economical 4-pack of blankets
Can be used as nursing covers
Best for Preemies
SwaddleMe Pod
Great for preemies
Mimics the womb environment
Two-way zipper
Best Organic Swaddle
Kaydee Baby Organic
Large size
Multi-functional
Certified organic
Best for Winter
Halo MicroFleece SleepSack
Warm and great for winter
Transitional
Certified "hip healthy"
Best Velcro Swaddle
Summer Infant Wrap
Use with car seat
Access diaper without unwrapping
Made of soft cotton
Best for Older Babies
SwaddleMe WrapSack
Used with arms out
Provides tight comfort of a swaddle
Nice big size
---
What Is a Swaddle Blanket?
A swaddle blanket is a large blanket that can be used to tightly wrap a baby in a way that evokes the womb and helps them to feel safe and secure.
Because the process of learning how to swaddle a baby can be daunting, there are also products on the market that offer the security of a traditional swaddle with the convenience of modern design.
There are now some blankets for swaddling that include velcro, elastic, and even zippers to easily achieve the benefits of a swaddle.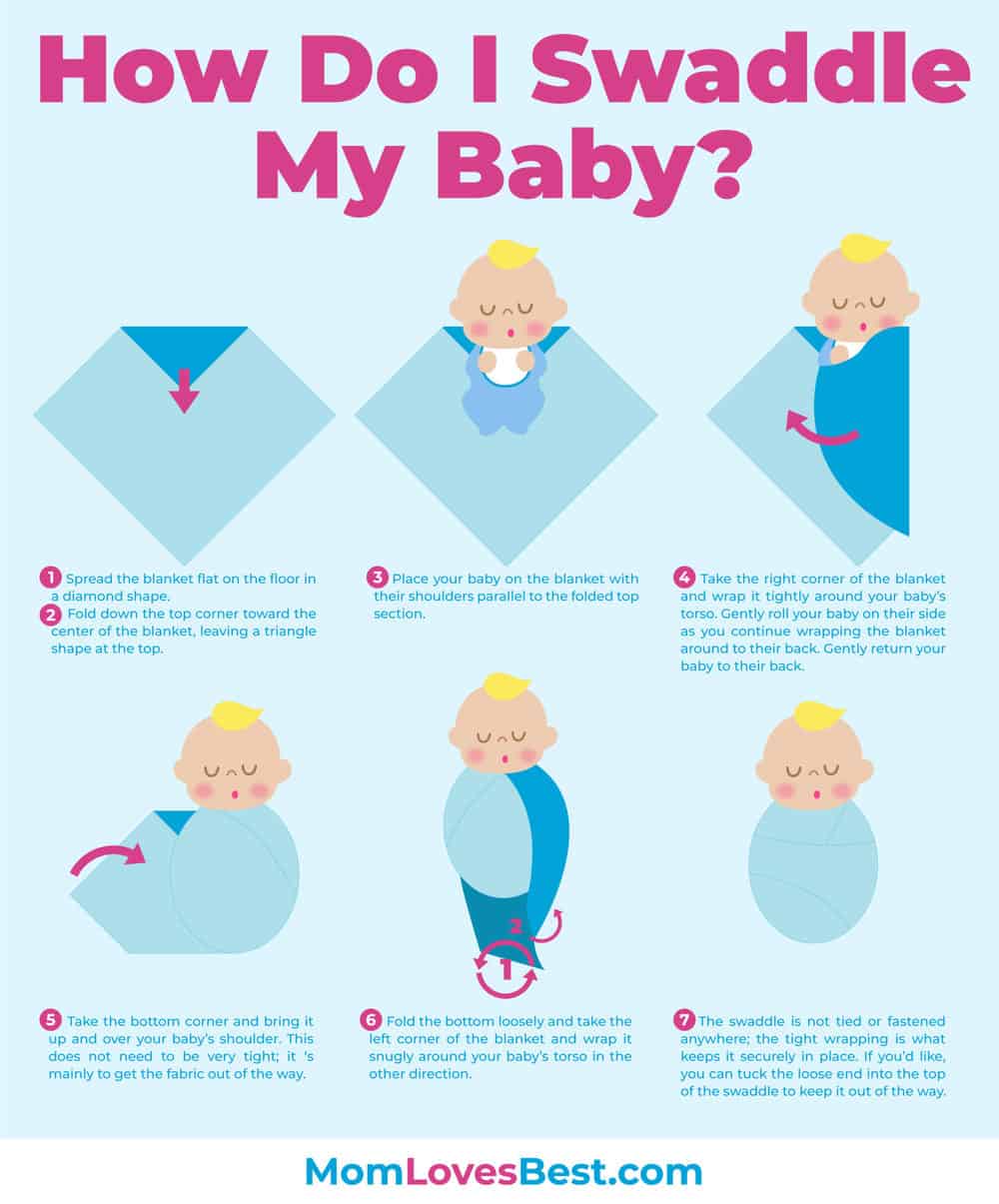 Why Do I Need a Swaddle Blanket?
A swaddle blanket is invaluable to a new mom in helping to keep her baby soothed, comfortable, and sleeping. It does this in the following ways:
Provides warmth: In the womb, babies are accustomed to a constant, warm body temperature. Outside of the womb, they need to be covered up to maintain the appropriate temperature. A swaddle blanket can offer the extra layer of warmth they need.
Offers safety: It's not safe for babies to have loose bedding in their crib before the age of one due to an increased chance of suffocation (1). Swaddles for babies provide a safe alternative to keep your little one warm and covered at night, giving you peace of mind.
Prevents the startle reflex: Up until about four months of age, babies have a "startle reflex" — officially known as the "moro reflex" (2). Babies will appear "startled" and quickly lift their arms out to their sides. When this happens during sleep, it wakes them up, and babies at this age are not yet able to self-soothe back to sleep. A tight swaddle keeps a baby's arms securely pinned to their sides, preventing the startle reflex and subsequent waking.
Soothes anxiety: In utero, babies were in a very tight, confined environment. While the thought of being so confined may give adults claustrophobia, the fact is that babies find it very comfortable, safe, and soothing. A swaddle helps to mimic that restrictive environment and keep babies feeling safe and secure.
Types of Swaddle Blanket Options
Here are 3 of the most popular kinds of swaddle blankets.
Blanket
This is the original swaddle. It's simply a large blanket that's folded and then wrapped around a baby, keeping them tight, snug, and secure. A blanket that you're using to swaddle should be square-shaped, a minimum of 45 inches on each side, and made from a non-elastic material.
Pros
It's one-size-fits-all.
Swaddling is a technique you can use with almost any blanket.
Cons
You must have a large enough blanket.
It can be difficult to learn.
Other caregivers will have to learn the technique as well.
Swaddle Sacks
These are a combination of a sleep sack (a loose, wearable blanket that's safe for babies to wear to bed) and a traditional swaddle. They take the guesswork out of the process by providing hook-and-loop (also known by the trademarked term "velcro") or snap closures to keep the baby snug.
Cons
The hook-and-loop closure can wear out.
You will need to size up as the baby grows.
The baby can become strong enough to escape the enclosure.
Stretchy Pods
Known by names such as the Woombie or SwaddlePod, these are made of stretchy, elastic fabric and zip up to enclose your baby and keep them swaddled. They have no arm or leg holes and are designed to mimic the enclosed, yet slightly flexible, environment of the womb.
Cons
Not as tight as a traditional style swaddle.
You'll need to buy different sizes as your baby grows.
Babies can get their arms out once they become strong enough.
How to Choose the Best Swaddles
When shopping for the best swaddle blanket, keep the following in mind:
If you're concerned about the potential complexity of a traditional swaddle, you may want to choose swaddle sacks or another type of product that requires no special wrapping ability. They're also easy to pass along to other caregivers if they're watching your child.
Choose a blanket that's appropriate for the size of your child. If you're planning to use a traditional blanket, choose one that's square and at least 45 inches on each side. If you're using another product, you'll need to pay attention to the sizing as they're manufactured for specific ages, lengths, and sizes.
Choose a breathable fabric — cotton is best. The weight of the material you choose will depend on the season, the temperature of your house, and how many layers you dress your baby in.
If long-term use is important to you, stick with traditional style swaddles. They don't have snaps, velcro, zippers, or elastic that can wear out, they will hold up enough to pass down and use for future children, and as multi-functional blankets, they can be used in a number of ways, as opposed to other products which only have a single purpose.
---
The Best Swaddle Blankets of 2021
Here are the top swaddlers for babies on the market.
1. Miracle Blanket Baby Swaddle
This snuggly option doesn't need you to learn any fancy folding methods but guarantees you an escape-proof swaddle every time. It has additional arm flaps which prevent the baby from maneuvering their little arms up and out of the swaddle, Houdini-style.
There's a bit of a learning curve with this product since it's not a "traditional" style and not quite as simple as velcro varieties, but once you get the hang of it, you'll be able to wrap your little munchkin like an expert.
Since it's one-size-fits-all and there are no velcro fasteners to wear out, you'll only need to buy one which you'll be able to pass down to your next child, too.
Pros
There are no parts to wear out.
One size fit.
It is 100 percent cotton.
Cons
This is a single use product; not functional as a blanket.
Using at first is complicated.
Other caregivers may have trouble using it.
---
2. Love To Dream Swaddle Up
Swaddling is a lifesaver for many moms, but others have fussy babies who don't like to be restricted. How can you enjoy the benefits of swaddling while allowing your little one to self-soothe by giving them access to their hands?
This adorable swaddle blanket was designed specifically to keep your baby's arms up, which is their natural sleeping position. Simply slip your baby's legs into the bottom swaddle pouch and then place each arm in one of the patented arm wings. Your baby will be able to touch their face with the soft material while still enjoying the calming effect of swaddling.
We also really like that the blanket works with a zipper. You won't have to worry about the swaddle coming undone as your baby moves about. Plus, if you need to do a middle-of-the-night diaper change, you can unzip the bottom half without having to unswaddle your baby completely.
Pros
Allows your baby to sleep comfortably on their back with their arms up.
Zipper design makes swaddling easy and quick.
Baby can self-soothe by touching their face with soft material.
Cons
Small babies may not feel swaddled enough to enjoy the benefits.
---
3. SwaddleMe Original Swaddle
Your little peanut couldn't look any cuter than she will in these swaddles. Pretty in pink, the designs are adorable and girly and perfect for both slumber or photo opps. They're super easy to use as you wrap them up and secure them with velcro. And because the velcro is adjustable, they'll work whether your baby is slender or a tank.
When you send your little one to the grandparents' house, they shouldn't have any trouble figuring out how to use these. They're also 100 percent cotton, which is a breathable material that will stay soft on your baby's skin and wash up easily in the washing machine without any extra effort.
Pros
They're soft cotton.
Cute colors.
Easy to use.
They can be used with car seats.
Cons
The velcro can wear out over time.
They are size-specific; so you'll need to buy a larger size as your baby grows.
---
4. Halo Adjustable 3-Way SleepSack
Are you worried about your baby's hip development? Tight swaddling might lead to trouble, so the Halo SleepSack Swaddle was specially  designed to ensure your baby's hips wouldn't be restricted.
How does it work? A roomy sack design keeps your baby's legs free to move about, while the comfy, adjustable fasteners allow you three different swaddle options for your baby's arms. The SleepSack was even recognized by the International Hip Dysplasia Institute.
Keep both arms in, allow your baby's hands to stay near their face for self-soothing, or keep one or both of their arms out for an easy transition from swaddling. The generously-sized fasteners also offer adjustability for a perfect fit.
The versatile and unique design of this swaddle blanket makes it a good choice for moms worried about hip problems or who want to use swaddling techniques as their baby grows.
Pros
Unique, roomy design prevents hip dysplasia.
Three arm positions help you find the perfect position for your baby.
Cons
Extra fabric can ride up and get close to your baby's face.
---
5. Aden + Anais Classic Swaddle Blanket
This four-pack will make sure you always have a clean blanket on hand — no matter how behind you are on laundry.
The whimsical, cute designs will have your baby looking adorable whether it's the middle of the night or the middle of a photo shoot. And since they're multifunctional, you might not need any other blankets for your baby — period.
Aden + Anais Classic Swaddles are made from 100 percent cotton muslin and are incredibly lightweight and breathable. This will help keep your baby warm and cozy without overheating. These also keep your baby safe as plush, heavy bedding is not recommended.
You can even use one as a car seat or stroller cover, or a nursing cover.
Pros
They're lightweight.
You get an economical 4-pack of blankets.
You can use them as nursing covers.
They're super cute.
Cons
At 44 inches, they're an inch smaller than typically recommended.
You (and other caregivers) must know how to swaddle your baby correctly.
---
6. SwaddleMe Pod
The cotton-spandex combination mimics the slight elasticity your babe experienced in the womb, so they'll be nice and comfy in a familiar environment. And since it's appropriate for babies as small as five pounds, it's perfect for the preemie you brought home from the hospital.
Its simple zippered design makes using it a breeze, and since the zipper operates from both ends you can even change your baby's diaper without disturbing the coziness! This is perfect for middle-of-the-night diaper changes or cold environments, where unwrapping the baby can cause them to get chilled — and then cranky.
Pros
It's great for preemies.
Mimics the womb environment.
Two-way zipper makes diaper changes easy.
Cons
Strong babies can get their hands out.
The maximum weight is 12 pounds, so it is not suitable for bigger babies.
---
7. Kaydee Baby Organic Muslin Swaddle Blankets
These plush, muslin blankets are made from 100 percent organic cotton — and certified by the Global Organic Textile Standard. Because they're simple cotton, washing is a breeze — and they get even softer the more you wash.
They are a 47" x 4" square, so you'll be able to wrap your baby at any size, eliminating the need to size up as they grow. They'll also come in handy as a play blanket on the floor, lightweight blanket in the stroller, or simply as a snuggle blanket in your lap.
Since they come in pairs packaged in a cute bag, they'd also make a great gift for any mama-to-be.
Pros
They're a large size.
The colors are gender neutral.
Multi-functional.
Certified organic.
Cons
They do not fasten.
There is only one color/design option.
---
8. Halo MicroFleece SleepSack Swaddle
This sleep sack is made of microfleece which is designed to keep your baby's tootsies toasty throughout the cold winter months. The upper portion is a swaddle, while the bottom is a loose sack that allows your baby's feet, legs, and hips to move freely for optimal development. It's even endorsed by the International Hip Dysplasia Institute.
It's designed to be appropriate for transitioning your baby from their swaddle, so once they show signs of rolling over you can position their hands either to their face (for self-soothing) or with arms completely out, so they have full control. This will allow your baby to stay warm — and their torso to feel slightly swaddled — while also keeping them safe.
Pros
Warm and great for winter.
It's transitional — you can leave arms out as baby grows.
Certified "hip healthy."
Easy to use.
Cons
Made of polyester.
The maximum size is 18 pounds.
The velcro enclosure can wear out over time.
---
9. Summer Infant Adjustable Wrap
It doesn't get much easier than these adjustable wraps. Simply insert your baby, fasten the velcro enclosure, and you've got an instant swaddle. That's especially handy if you're leaving your baby with caregivers that might not be very comfortable with a regular swaddle.
Because the velcro is adjustable, it leaves room for flexibility as your child grows. It also allows you to access your baby's diaper without unwrapping their arms, so you can easily change them in the middle of the night.
Finally, it has a harness slit which will allow you to safely secure your baby in their car seat, swing, or bouncer even while they're wrapped up.
Pros
You can use it with your car seat.
You can access the diaper without unwrapping.
Made of soft cotton.
Easy to use.
Cons
It isn't multifunctional.
Velcro can snag other items in your laundry.
The maximum size is 14 pounds.
---
10. SwaddleMe WrapSack
This cotton transitional swaddle sack is perfect for older babies that have learned to roll over but still like the security of a swaddle. It's designed to be used with arms either in or arms out, so as your baby gains new skills and are able to roll on their own, you can still tightly wrap their torso while leaving their arms available to ensure safety.
Used this way, it's more like a wearable blanket — which is ideal for older babies since they shouldn't have loose items in the baby crib until after they've turned one. And since the WrapSack has a zipper in the bottom half, you'll be able to change their diaper without having to unwrap their torso.
Pros
It can be used with the arms out.
It still provides the tight comfort of a swaddle.
Nice big size for older babies.
Cons
You need to buy the proper size.
The hook-and-loop closure can wear out.
---
11. SwaddleDesigns Muslin Swaddle Blanket
This four-pack of blankets is fantastic value. They're made of 100 percent cotton in a lightweight, breathable muslin weave which will keep your baby comfortable while also keeping them safe and secure. They're also easy to wash and dry along with the piles of laundry you're already doing.
Sewn into the edge of each of these blankets are swaddling instructions so that you can get a perfect wrap every time — and any caregivers get an instant tutorial. And since they're 46 inches in length on each side, you'll be able to swaddle nearly any baby.
Pros
They are multi-functional.
Swaddle instructions included.
They are an ample 46" x 46".
Lightweight.
Handy four-pack.
Cons
There is no fastener.
The multiple tags can be irritating.
Some reviewers complained of pilling.
---
12. Nested Bean Zen One Swaddle Blanket
The Nested Bean Zen One swaddle may help you in your quest to improve your child's sleep in several ways. It's a gently weighted swaddle that's meant to mimic your comforting touch. So, if your baby is a poor sleeper who wakes up the minute you put them down in their crib, this may help.
The design allows for swaddling, which is achieved through the use of an in-outfit strap. If your child is the type who seems to hate being swaddled, however, you can allow them to sleep with their arms free inside the sleep sack. Thanks to the zippers at the arms, you also have the option of allowing your baby to sleep with their arms outside of the garment.
It provides a customizable approach to sleep.
Pros
The weighted aspect of the swaddle sets it apart from many of its competitors.
The fabric is light enough, yet warm enough to be comfortable all year.
It allows for various sleep situations, such as arms in or arms out.
It can be cleaned in the washer and dryer.
The material is soft and cuddly.
Cons
The newborn size can't be used for babies below 7 pounds.
The swaddle is on the expensive side.
---
The Best Fabric for Swaddle Blankets
Nearly every swaddle product you find will be made of cotton. This is because cotton is ideal as it's soft, breathable, and not stretchy.
Cotton is a natural fiber that can go by many different names including:
Muslin.
Fleece.
Gauze.
Poplin.
Linen.
When purchasing a blanket you intend to use as a swaddle, verify that it is made of cotton to help ensure your baby does not overheat from swaddling during the summer. Also test to see that it's not a stretchy fabric, as it's not possible to achieve the tightness necessary for an effective swaddle with a stretchy fabric.
How Do I Swaddle My Baby?
Swaddling with nothing but a square blanket can seem daunting in the beginning, but before you know it, you'll be a burrito-wrapping master — even in the middle of the night.
Pro Tip
When you're in the hospital, ask the nurses to show you how — they've perfected the technique. Ask them again and again until you're discharged, and you'll be well on your way to expert-level swaddling before you even get home.
Once you're ready to tackle swaddling on your own, follow these steps to achieve a tight and effective wrap (3).
Spread the blanket flat on the floor in a diamond shape.
Fold down the top corner toward the center of the blanket, leaving a triangle shape at the top.
Place your baby on the blanket with their shoulders parallel to the folded top section.
Take the right corner of the blanket and wrap it tightly around your baby's torso. Gently roll your baby on their side as you continue wrapping the blanket around to their back. Gently return your baby to their back.
Take the bottom corner and bring it up and over your baby's shoulder. This does not need to be very tight; it 's mainly to get the fabric out of the way.
Take the left corner of the blanket and wrap it snugly around your baby's torso in the other direction.
The swaddle is not tied or fastened anywhere; the tight wrapping is what keeps it securely in place. If you'd like, you can tuck the loose end into the top of the swaddle to keep it out of the way.
When I was in the hospital and learning how to swaddle from the nurses, I was terrified of wrapping my baby too tight and causing potential injury. The nurses reassured me that it's practically impossible to swaddle your baby too tightly, and that the more snug, the better.
Remember
Swaddled babies should ONLY be placed to sleep on their backs
(4)
. Placing a swaddled baby to sleep on their side or stomach increases a
child's risk of SIDS
. Babies should also
stop being swaddled
when sleeping once they are able to roll over.
It's also important to note that most babies will fuss during and immediately after swaddling. This does not mean that they "don't like it," as many parents claim. After they're swaddled and soothed, the wrap will help them maintain that calm for a longer period than babies who are not.
Swaddle Blanket Safety Concerns
It's also important to note that the soothing benefits of tight swaddling apply to the baby's arms and torso only. A baby's legs do not need to be bound — in fact, doing so can cause developmental damage to their hips (5). To swaddle safely, make sure your baby's legs can still move freely to prevent infant hip dysplasia.
---
The Bottom Line
No doubt there are plenty of options on the market for every mom — whether you want the simplicity of a swaddle sack or the practicality of a traditional blanket. Either way, your baby will be comfy, cozy, and adorable all wrapped up like a little mummy. And once they're happy and occupied, you'll have some time for yourself, so you can finally drink your coffee or eat your lunch.
Burrito, anyone?