Are you expecting twins or planning to have children close in age? Moving around with more than one child can be nightmarish, especially when you're alone.
This is where tandem double strollers come in. They'll be your best friend when you have multiple young children on your hands.
In this guide we'll cover some things to consider when choosing a brand, as well as what we think are the 10 best double strollers currently on the market.
Image
Model
Product Comparison Table
Features
Best Premium Tandem Stroller
UPPAbaby Vista Stroller
Extra protection for your kids
Cash-saving extras
Height adjustability
Great for All Terrains
BOB Gear Revolution Flex
Attention to safety
Storage areas
Large UPF 50+ canopies
Best Universal Double Stroller
Contours Options Stroller
Car seat compatibility
Adequate and accessible storage
Adjustable canopies
Best Lightweight Double Stroller
Joovy Caboose Stroller
Car seat compatibility
Extra large canopy
Best for an urban setting
Best for Growing Families
Britax B-Ready G3 Stroller
ASTM-compliant
Maneuverability
UV 50+ canopy
Great User-Friendly Features
Evenflo Modular Travel System
Great bargain
Maximum security features
Designed for comfort
Most Versatile
Baby Trend Sit N Stand
Has cup holders and storage compartment
Excellent functionality
One hand folding system
Best Budget Double Stroller
Graco DuoGlider Stroller
Auto-locks when folded
Great amenities
Easy to assemble
Upgraded Tandem Stroller
Baby Jogger 2016 City
Multiple recline seat with vents
Highly customizable
Adjustable footrest
Best for Infant Twins
Chicco Cortina Together
Height adjustable
Simple to assemble and fold
Easy movement
---
---
The Best Double Strollers of 2023
After hours of careful research, consulting our team of moms, and digging through mountains of customer feedback, we've selected 10 models that we feel are outstanding.
1. UPPAbaby Vista Stroller
Best Premium Double Stroller
This stroller has class written all over it. It's made using high-quality materials, including 100 percent full-grain leather accents on the handlebar and bumper bar. The colors of the bassinet and seat match, giving the stroller a chic look.
In terms of accessories and features, this stroller has tons to offer. You get one bassinet, one toddler seat with a rain shield, and bug shields for both.
The bassinet features a vented mattress pad, so your babe doesn't get stuffy. For twin infants, you'll need to purchase the second bassinet as only one is provided.
If you prefer using a car seat, the UPPAbaby MESA seat is a great option, or you can use other infant car seats with adapters. The stroller is compatible with select models from Chicco, Cybex, Maxi-Cosi, and Nuna brands.
What We Like
Extra Protection for Your Kids
We love the pop-out UPF 50+ shields on the bassinet and toddler seat. The bug shields are a thoughtful addition, particularly when you're out for a walk. The back of the bassinet is fitted with a zipper, allowing increased airflow to your child.
The stroller features shock-absorbing front and rear suspension. This ensures your children enjoy a comfortable ride, whether you're tackling winding paths or bumpy pavements.
Cash-Saving Extras
Parents shopping for baby gear will appreciate the extras included in this package, particularly the bassinet. It will save you money that you would have otherwise spent buying one.
By the time the baby is out of the bassinet, they might be ready to transition to the toddler seat.
Height Adjustability
The telescopic handlebar allows parents of differing heights to push the stroller comfortably. Not only is this good for your posture, but you'll be less likely to kick the stroller as you push it.
What We Don't Like
Lacking View in Bassinet Configurations
In the bassinet-toddler seat configuration, the toddler seat sits above the bassinet. This can be a bit unsettling for many parents who would rather keep their newborn closest to them.
The same thing happens when you're using two bassinets. The bassinet on top blocks your view of the lower one.
Watch the Fingers
Some users complain about the stroller's obvious lack of a holding handle once it's folded. As a result, they end up pinching their fingers as they pick up the stroller.
At over 25 pounds, you'll need both hands for the job. While you're at it, watch out for any squirmy toddler fingers that could get pinched too.
Product Specs
| | |
| --- | --- |
| Product Dimensions | 36 inches by 25.7 inches by 39.5 inches |
| Product Weight | 26.6 pounds |
| Carrying Capacity | 100 pounds |
| Age Range | From birth onwards |
| Seating Positions | Nine |
---
2. BOB Gear Revolution Flex 3.0 Duallie
Best Double Stroller for All Terrains
Being a parent doesn't mean you have to hang up your outdoor boots just yet. You can still enjoy the marvels of the outdoors thanks to this stroller that's designed to handle all kinds of terrain. It also comes with a great suspension system for increased safety and maneuverability.
The front wheels feature 360-degree rotation for flexible steering. Its shock-absorbing suspension and air-filled tires slow bumps, making the ride across a pebble pavement smoother.
Included in its feature is its compatibility with major car seats so you won't be having a hard time finding a car seat that would perfectly match this stroller.

What We Like
Attention to Safety
We love that this stroller pays attention to your children's safety. It has an ultra-reflective accent and a sturdy yet lightweight aluminum frame, adding to your peace of mind.
Moreover, the fabric is water-resistant to some extent. Aside from that, Bob, recognizes how difficult it is to maneuver a stroller carrying two babies, thus, they made sure that the tires are air-filled and the front wheel swivels at 360 degrees.
Storage Areas
Are you going to the beach or spending the day at the park? You don't want to run out of provisions for your children accidentally. This stroller's large storage basket provides ample space for your family's essentials.
Parents will appreciate the stroller organizer that will hold their mobile devices, wallets, and water bottle. If the kids want to munch on some yummy treats, the stroller tray is available for use as a snack plate although the tray is sold separately.
Adjustable Handlebar
Why worry if you are long-legged when this handlebar can be highly adjusted? This can accommodate parents of all heights.
What We Don't Like
Accessories
Many of the parents complain that most of the accessories are sold separately when this could be somehow included in the set. This could mean added expenses on their behalf.
Product Specs
| | |
| --- | --- |
| Product Dimensions | 48 inches by 30.5 inches by 45 inches |
| Product Weight | 33.1 pounds |
| Carrying Capacity | 11.02 to 220.46 lbs |
| Age Range | Birth up to 6 years |
| Seating Positions | One |
---
3. Contours Options Elite Tandem Stroller
Best Universal Tandem Stroller
Here's a manufacturer that listens to our grumbles and does something about it. The new, improved Options Elite stroller is both stylish and functional. It is ideal for parents with twins, or an infant and toddler.
The stadium-style seating stroller comes with adjustable footrests for older kids, two five-point safety harnesses, and in-seat pockets. There's a "lift-assist" seat design that allows you to dismantle the seat with one hand comfortably.
The sandal-friendly brake feature is a bonus for parents who love moving around in flip-flops.
Plus, to make your ride even smoother, the stroller comes with 10-inch quick disconnect rear wheels that are rubber-coated to roll over surfaces easily.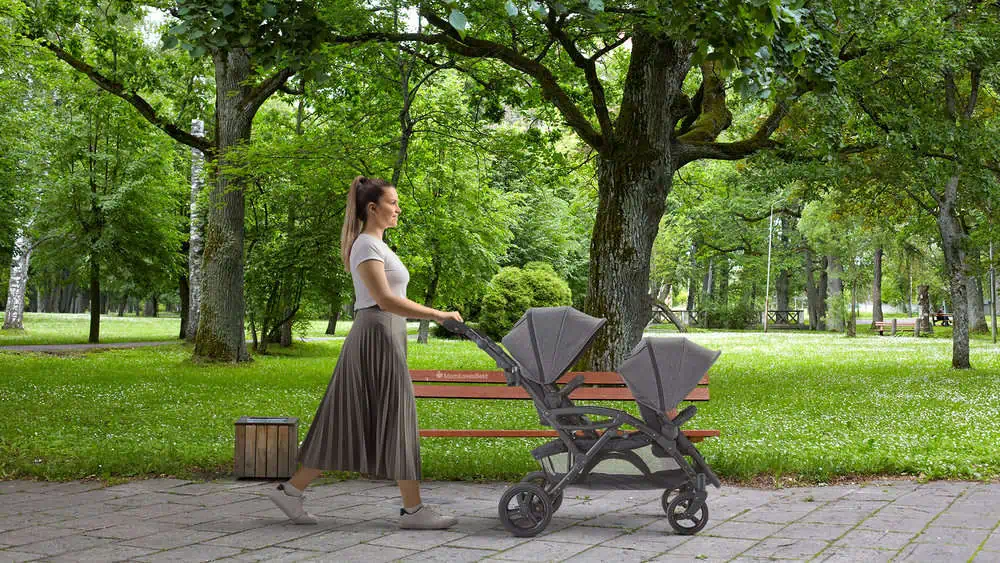 What We Like
Car Seat Compatibility
This award-winning stroller is compatible with multiple car seat models. Think Graco, Safety 1st and Chicco, among others. You will need to purchase the universal car seat adapter or brand specific click-in adapters separately.
Adequate and Accessible Storage
Depending on the seating configuration you choose, you may find the storage compartment hard to reach. Contours provided a solution to this problem by fitting a side zipper that allows you easy access.
The storage basket is extra large as it was designed with two kids in mind. You can fit a diaper bag and any other essentials you may need in it.
Adjustable Canopies
The expandable canopies are a delight. If you're concerned about too much sun or wind, you can enlarge the canopy for greater coverage and protection. On a good day, remove the canopies and let your kids enjoy their views.
Additionally, these canopies come with a mesh panel to ensure your babies receive much-needed airflow.
What We Don't Like
Bulky
Even for a tandem stroller, it's quite bulky. The folded dimension is 43.5 inches by 28.5 inches, which is sizeable and may prove challenging for a smaller car.
Even with a larger car, you'll need to leave plenty of space for the stroller. You may find yourself without much room to store other things.
No Accessories
The stroller doesn't come laden with accessories, like the parent console or tray to hold your children's snacks. If this is vital to your trip outside of the home, it will have to be purchased separately.
You can choose to buy the accessories from Contours or settle for universal kinds.
Product Specs
| | |
| --- | --- |
| Product Dimensions | 47 inches by 26 inches by 42 inches |
| Product Weight | 34 pounds |
| Carrying Capacity | 80 pounds |
| Age Range | As soon as the baby transitions from the infant car seat |
| Seating Positions | Seven |
---
4. Joovy Caboose Ultralight Graphite Stroller
Best Lightweight Tandem Stroller
Have you been holding off from buying one of these strollers due to their heavy weight, which makes them somewhat awkward to push? Here's a lightweight stroller that takes care of that problem for you.
The rear seating position offers multiple options that make the ride more enjoyable for your child. They can stand on the platform, sit on the bench, or you can install the front-facing, full-size seat for them to ride in. Plus, you won't need to remove it when folding down the stroller as it fits seamlessly within the system.
What you get is a compact stroller that fits most cars. A parent organizer made from neoprene is included, and the kids will enjoy their snacks on the child tray.
What We Like
Car Seat Compatibility
The stroller comes with an infant car seat adapter that is compatible with more than 28 car seats. Some of these brands include Baby Jogger, Britax, and Evenflo.
If you're considering this one, check out the complete list of compatible car seat models (1).
Extra Large Canopy
If your baby is sitting in the front seat, the canopy will shield their head and part of their body.
Since the rear of the stroller is used in different ways, there's no canopy as with the front seat. However, there is a sunshade that folds up in the parent organizer. To set it up, pull it out and zip it to the existing canopy.
Best for an Urban Setting
The stroller features all-wheel suspension to steady the ride. The sealed bearing wheels are designed to support heavy loads and reduce friction. If you're pushing the stroller on tarmac or flat and hard surfaces, this is a well-suited feature.
The front wheels can be locked for better control when you're treading uneven surfaces.
What We Don't Like
Seat Limitations
The stroller only accepts one infant car seat at a time, making it unsuitable for newborn twins. In a situation where you've purchased the stroller for older twins, the disparity between seats is likely to cause disputes.
You may find that they both want to stand at the same time or nap in the front seat. This will only serve to give you a headache.
Storage Compartment Positioning
Located under the seat means that the child sitting in the rear seat will rest their feet inside the basket. It's a hassle shoving your child's legs aside as you look for something.
Plus, many parents aren't comfortable about kids putting their legs in the spot delicate baby items are in.
Product Specs
| | |
| --- | --- |
| Product Dimensions | 38 inches by 21.25 inches by 42 inches |
| Product Weight | 23.5 pounds |
| Carrying Capacity | 90 pounds |
| Age Range | From 3 months onwards |
| Seating Positions | Four |
---
5. Britax B-Ready G3 Stroller
Best Tandem Stroller for Growing Families
This G3 stroller saves you the hassle of buying a single stroller and then a double when baby number two comes along. It easily converts into a tandem to cater to the needs of your growing family.
The manufacturer recommends waiting until the baby is 6 months old before they can ride on the stroller seat. Babies younger than 6 months should ride in infant car seats or bassinets.
The stroller is compatible with other infant car seat brands such as Maxi-Cosi and Nuna. You will, however, need to use the Britax infant car seat adapter for that to work.
Folding down the stroller requires both hands, but it's a simple process.
Overall, this stroller looks sleek and stylish, with multiple colors to choose from depending on your preference.
What We Like
Safety
Your children's safety can't be taken for granted. Parents appreciate that the manufacturer has taken the necessary steps to ensure this stroller is ASTM-compliant.
The braking system locks the rear wheels with a single step. The best part is the unique red and green color indicator. The indicator window turns red when the brakes are engaged and green when disengaged.
Maneuverability
The stroller comes with rubber tires and a frame suspension system to ensure your children enjoy a smooth ride. The front swivel wheels can be locked to help the stroller tackle rough surfaces. It should be noted though, this is not an all-terrain stroller.
Having trouble maintaining a proper posture while going out on a stroll? The handle is adjustable to help you attain a height that is comfortable for you.
Great Canopy
The canopy is extra large, which helps shield your baby from the elements and dust. Additionally, it offers UV 50+ for extra protection.
The window flap is a magnetic closure cover, which helps secure it in place, whether it's open or closed. Plus, you won't have to worry about waking your baby when taking a peek.
What We Don't Like
No Accessories
This stroller doesn't come with a couple of essential accessories that you need when stepping out of the house. Things like the parent organizer or child snack tray have to be purchased separately.
Bulky Size
The stroller is fitted with an automatic frame lock to keep it secure. But, once folded, many quickly realize how bulky the frame is. This naturally means that it will take up more space in your trunk — plus, it doesn't lie flat.
Being a heavy load, users have complained about the energy and strength needed to load and unload this stroller.
Product Specs
| | |
| --- | --- |
| Product Dimensions | 44 inches by 24 inches by 43.25 inches |
| Product Weight | 30 pounds |
| Carrying Capacity | 90 pounds |
| Age Range | 6 months onwards |
| Seating Positions | 12 |
---
6. Evenflo Modular Travel System
Great User-Friendly Features
Evenflo is a trusted manufacturer of baby products and it has not disappointed with this stroller. It converts from a single to a tandem stroller in seconds and you won't need any tools to make that happen.
The included infant car seat sits directly on the frame. This allows you to slide it higher up or keep it in the middle with ease. This slide-and-lock system is built-in, so an adapter isn't required.
The toddler seat can be converted into a second infant area if you have twins. If you wish to use an actual infant car seat for your second child, then you can purchase the Evenflo LiteMax or Evenflo SafeMax car seats.
This stroller is compatible with select models from major brands, like Chicco, Peg Perego, Graco, and Primo Viaggio. Parents will love the sandal-friendly brake that allows them to steady the stroller with ease.
The storage compartment is over 2-feet long and can be accessed from the front or rear. You won't have to leave anything behind with this amount of storage space.
What We Like
A Bargain
The basic set includes a stroller frame and a toddler seat that features a generous canopy, adjustable footrest, and five-point harness to keep your baby in place.
You also get an infant car seat base with a recline indicator and a SafeMax infant car seat with an ergonomic handle. That's a lot of included features.
Security Features
The SafeMax seat has been tested for side-impact, rollover possibility, and structural integrity. It has an anti-rebound bar, which limits movement caused by impact.
There's also a belt lock-off system to improve safety during installation. The seat's canopy provides full coverage to ensure your baby is safe from too much sun, the wind, and rain.
Designed for Comfort
This stroller features 22 seating positions that cater to one or two riders. It also provides five footrest positions to keep your toddler comfortable at all times.
Parents can choose from three handle positions to enable them to push the stroller without straining. You also get a flex-hold cup holder for your beverages. Additionally, the front-wheel swivel and rear-wheel suspension provide a smooth ride and excellent maneuverability.
What We Don't Like
Small Toddler Seat
While the toddler's seat boasts a seating capacity of up to 55 pounds, some users have complained that it's rather small. If your child is taller or chubbier, they may outgrow this toddler seat too soon.
If this is the case, you may be forced to look for other traveling options for your older child.
The Stroller Is Heavy
Some complain about the stroller's bulky size, even when folded down. They experience challenges in getting the stroller to fit in smaller cars.
As with most double strollers, this product is quite heavy. The wheel suspension and swiveling power help, but it may take a little getting used to.
Product Specs
| | |
| --- | --- |
| Product Dimensions | 41.5 inches by 26.5 inches by 34 inches |
| Product Weight | 28.2 pounds |
| Carrying Capacity | 110 pounds |
| Age Range | From birth up to 6 years |
| Seating Positions | 22 |
---
7. Baby Trend Sit N Stand Double Stroller
Most Versatile Tandem Stroller
There is one word to describe this stroller — versatile. The stroller can hold an infant seat and a regular seat, or the standing platform for a toddler. It can also hold two regular seats or two infant seats.
The package includes two-full size seats, each with a five-point harness, a bench, and a standing platform.
Parents with infants will need to purchase infant car seats separately. This stroller is compatible with the Baby Trend infant car seat and several major brands.
The ratcheting canopies on both seats are removable, which provides better viewing, especially for the child in the rear seat. It also makes cleaning the stroller much easier.
While they are on, the canopies are meant to protect your child from harmful UV rays, among other elements. However, you may find they don't do much in the way of providing shade.
What We Like
Something for Everyone
Many parents appreciate that each seat has a swing-away child tray, which is not a common feature in most strollers. Plus, it's one of the things that may help reduce the squabbles over the preferential front seat.
Moms and dads aren't without their own piece of comfort as the stroller comes with a parent organizer. It features two cup holders and a covered storage compartment.
Excellent Functionality
This stroller takes into account the different needs of growing families. Since it accepts two infant seats, it's ideal for twins who will later transition into the full-size seats.
You can remove the rear seat to accommodate the needs of your active older child who may want to get on and off frequently. Its bulky nature makes it more comfortable for your older child, who may choose to sit on the bench or stand on the platform.
Folding and Unfolding
Folding a tandem stroller is often a nightmare. This stroller folds down with one hand, but you'll need to use both hands to unfold it.
Once folded, the stroller self-stands and auto-locks. The rear seat can be uninstalled, folded, and kept in storage until your child is ready to use it.
What We Don't Like
Lacking Maneuverability
Some parents have problems maneuvering the stroller, especially when both children are seated. Others say this stroller works best on smooth surfaces and will wobble greatly off-road.
The brakes aren't linked, meaning you'll have to tap both rear wheels to set or release the brakes. Some parents said the underside of the pedals is rough and can hurt your feet. Beware, sandals and flip-flops may not be such a good idea.
Storage Basket Position
The positioning of the storage basket means that the child sitting in the rear seat uses it as their footrest. If your baby has been running around before settling in the seat to rest, they'll transfer all the dirt into the basket.
Product Specs
| | |
| --- | --- |
| Product Dimensions | 49 inches by 21.5 inches by 43 inches |
| Product Weight | 32.5 pounds |
| Carrying Capacity | 80 pounds |
| Age Range | Babies who can sit upright unassisted to 40 pounds |
| Seating Positions | Multiple |
---
8. Graco DuoGlider Click Connect Double Stroller
Best Budget Tandem Stroller
This stadium-style double stroller is a favorite among many parents who love and trust Graco baby products. This stroller is ideal for twin infants, toddler twins, or kids with a close age gap.
The rear seat can be flattened, so parents who want their infants to lay flat can attach a bassinet. Both seats fully recline and have rotating canopies to keep the elements out.
This stroller is compatible with all Graco infant car seats. The manufacturer indicates that it may work with infant seats from other brands. You should keep this in mind as you go shopping.
Your kids will stay comfortable thanks to the front-swivel wheels being able to lock and the built-in suspension.
What We Like
Folding Is Such a Breeze
This is a one-hand folding type of stroller — there's no heavy lifting or pressing buttons. You raise it up a little, lay it down, and you're done. Two easy steps and the process is complete.
The stroller also auto-locks when it's folded and it stands on its own. You won't have to worry about it coming apart and hurting someone.
Great Amenities
Included are two removable snack trays with cup holders. This allows your children to enjoy their snacks in their own time.
Parents, you also get a storage organizer for your water bottle. The mobile phone, car keys, or wallet go into a concealed compartment to keep them safe. Plus, you may like the ergonomic handlebar.
Assembly Instructions
Several buyers have remarked how easy it is to assemble, with some taking just under 15 minutes to complete. The great thing about the instruction manual is that it's color-coded and contains pictures.
What We Don't Like
Nearly Unusable Storage Basket
Depending on the position you choose, you may have a hard time accessing the storage basket. If you install two infant car seats, the one at the rear will completely cover the basket.
You'll also notice that the rear seat footrest was built in such a way that it hangs down into the basket, blocking it. You may need to squeeze possessions in and find it hard to take them back out.
Limited Maneuverability
As with most tandem strollers, this product is heavy and may be challenging to push along. Some parents state that pushing becomes even harder when the older child is in the front seat.
The brakes also require that you push two pedals for them to engage or disengage. This is an inconvenience considering other brands have a linked single-step process to achieve the same thing.
Product Specs
| | |
| --- | --- |
| Product Dimensions | 35.5 inches by 20 inches by 40 inches |
| Product Weight | 29.5 pounds |
| Carrying Capacity | 80 pounds |
| Age Range | As soon as baby transitions from car seat |
| Seating Positions | Four |
---
9. Baby Jogger 2016 City Select Stroller
Upgraded Tandem Stroller
This luxury stroller is an upgrade from the popular City Select convertible stroller and boasts more features than its predecessor. It's ideal for twin infants, children with a close age gap, or an infant and toddler.
Its 12-inch air rear tire can accommodate all terrain types making it perfect as an on-the-go stroller.
It's compatible with Baby Jogger infant car seats and some models from popular brands too. The adapters are sold separately.
There's a sizeable storage basket underneath that can be accessed from the top, sides, and front. The manufacturer has provided mesh pockets at the back of the stroller seat.
Taller parents can rest easily since the stroller has a telescoping handle that allows you to adjust its height. The swivel front wheels lock in place for better navigation, and you'll find the all-wheel suspension makes steering easier.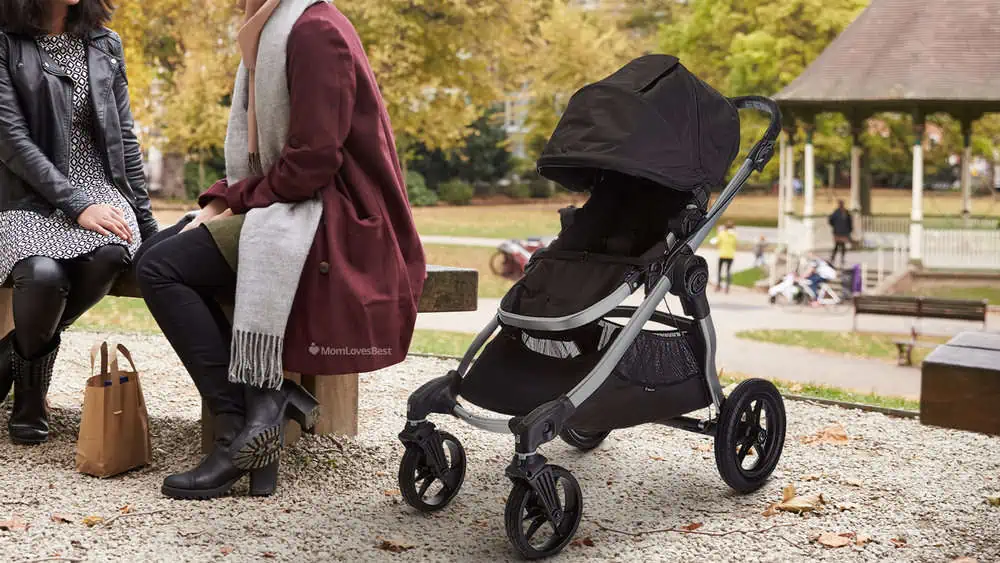 What We Like
Same Specifications for Both Seats
The carrying capacity of each seat is 45 pounds. This is better than most convertible strollers that come with a smaller seat.
Both seats recline and provide adjustable calf support for added comfort and roominess. Additionally, each one has a UV 50+ sun canopy that protects your children from the sun's intensity and other elements.
Highly Customizable
What I personally love about this stroller is its highly customizable setup. You can have 16 configurations such as bassinet, travel system, parent-facing stroller, and forward-facing stroller just by making some adjustments or purchasing add-ons. Indeed, this stroller grows with you and your family.
What We Don't Like
Handlebar Feels Awkward
The positioning of the handbrake makes it difficult for some parents to wrap their hands around the handlebar. They end up placing their hands close to the center of it, which can make steering uncomfortable.
The brake also gets in the way when you want to hang a parent console on the handlebar.
Product Specs
| | |
| --- | --- |
| Product Dimensions | 49.61 inches by 43.11 inches by 25.59 inches |
| Product Weight | 29.5 pounds |
| Carrying Capacity | 45 pounds |
| Age Range | 6 months onwards |
| Seating Positions | Multiple |
---
10. Chicco Cortina Together Double Stroller
Best for Infant Twins
If you're looking for a double stroller that offers versatile seating, here is one to consider. It can be used by two infants, an infant, and a toddler, or two older children.
Both seats are padded, and they recline for comfort. If you intend to purchase this stroller for newborns, keep in mind you can only use KeyFit or KeyFit 30v car seats. The stroller is not compatible with any other model or brand.
The storage basket can accommodate a diaper bag and other baby stuff. It's zippered and accessible, even with the rear seat reclined. Parents will love the console for storing mobile devices and holding water bottles.
What We Like
Height Adjustable
If you're taller than most people, you may find many strollers uncomfortable to use and end up having to slouch just to push one along. Not with this stroller.
The handlebar features three-position height adjustability that allows you to find a comfortable pushing position. This also means that different family members can use the stroller with ease.
Simple to Assemble and Fold
Many users have remarked how simple the stroller is to put together. Folding it down can be done in less than five quick steps (2).
The stroller auto locks when folded. If you want to put the stroller into storage, use the handle to haul it to its destination.
Easy Movement
The wheels on this stroller swivel, which makes turning it to any side or moving through aisles a breeze.
The brakes are easy to apply and require a single action with your foot. Additionally, the front wheels can be locked to allow them to negotiate rougher terrain better.
What We Don't Like
Unhelpful Canopies
While the canopies can be removed for better viewing or in good weather, they can't be relied on for much protection. This is because they are small and don't extend far. Once you move the canopy forward, the back is exposed.
This is no good for children who have outgrown their infant car seats. If you're caught in a sudden storm, your kids will get drenched unless you have a rain cover.
Trouble With the Front Seat
The front seat offers more advantages that are not available to the child sitting on the rear seat. These include the interchangeable cup holders and a good view.
If your children are older, they may end up clamoring for this seat, which can lead to arguments and fights. You may have to come up with creative compromises just to get your trip started.
Product Specs
| | |
| --- | --- |
| Product Dimensions | 47.3 inches by 23.5 inches by 45.5 inches |
| Product Weight | 34 pounds |
| Carrying Capacity | 80 pounds |
| Age Range | As soon as baby transitions from car seat |
| Seating Positions | Four |
---
| Product | Best | Dimensions | Weight | Capacity | Age Range | Seating Positions |
| --- | --- | --- | --- | --- | --- | --- |
| UPPAbaby Vista | Premium | 36″ x 25.7″ x 39.5″ | 26.6 lbs | 100 lbs | From birth onwards | 9 |
| BOB Gear Revolution Flex | All Terrains | 48″ x 30.5″ x 45″ | 33.1 lbs | 220.46 lbs | From birth up to 6 years | 1 |
| Contours Options | Universal | 47″ x 26″ x 42″ | 34 lbs | 80 lbs | When baby transitions from car seat | 7 |
| Joovy Caboose | Lightweight | 38″ x 21.25″ x 42″ | 23.5 lbs | 90 lbs | 3 months onwards | 4 |
| Britax B-Ready | For Growing Families | 44″ x 24″ x 43.25″ | 30 lbs | 90 lbs | 6 months onwards | 12 |
| Evenflo Modular | User-Friendly Features | 41.5″ x 26.5″ x 34″ | 28.2 lbs | 110 lbs | From birth up to 6 years | 22 |
| Baby Trend Sit N Stand | Most Versatile | 49″ x 21.5″ x 43″ | 32.5 lbs | 80 lbs | Babies who can sit upright | Multiple |
| Graco DuoGlider | Budget-Friendly | 36.4″ x 18.6″ x 14.4″ | 29.5 lbs | 80 lbs | When baby transitions from car seat | 4 |
| Baby Jogger 2016 | Upgraded Stroller | 49.61″ x 43.11″ x 25.59″ | 29.5 lbs | 45 lbs | 6 months onwards | Multiple |
| Chicco Cortina | For Infant Twins | 47.3″ x 23.5″ x 45.5″ | 34 lbs | 80 lbs | When baby transitions from car seat | 4 |
What Is a Double Stroller?
A double stroller is designed so that one child sits behind the other. In some models, the rear seat is raised to give the child sitting at the back an unobstructed view of their surroundings.
Convertible strollers start as single and are transformed into a tandem as your family grows.
There are variations to this design as you can also find strollers where the front seat is placed on top.
Benefits of Tandem Strollers
These strollers are some of the best inventions for multiple baby transportation. Here are some of their benefits:
How to Choose the Best Double Stroller
Here are some things to remember before buying one of these strollers:
---
Stroll Away
Traveling with more than one child can be difficult, particularly if they are infants or toddlers. At some point, they will demand to be carried or need their sleep. The best double strollers can help you with this.
As you go shopping, think long-term, and check the stroller's maneuverability, especially if you live near rougher terrain. Choose a tandem stroller that will offer your kids the best time possible while they are outdoors.
Thank You For Your Feedback!
Thank You For Your Feedback!