Peg Perego has been a favorite brand among many parents across North America for decades. It offers a range of infant and small child products such as high chairs, toys, and car seats.
Their strollers, though, tend to cause the most buzz. The brand has a long line of luxurious models made with signature Italian quality.
After looking at the top products, getting expert opinions, and researching real reviews, we've found the best Peg Perego strollers. These units feature easy maneuverability, simple folding mechanisms, an extended weight capacity, and useful extra features.
Keep reading to find the perfect Peg Perego to suit your lifestyle.
Image
Model
Product Comparison Table
Features
Best Luxury
Booklet 50 Travel System
UPF 50+ sun protection
Compact design of only 20 lbs
High-quality car seat included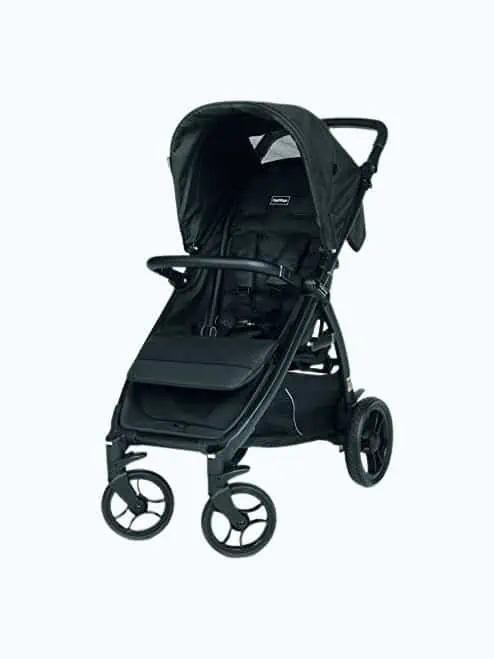 Best Handling
Peg Perego Booklet
Padded harness and seat
Easy fold
Leather material
Best Peg Perego Stroller for Fashionable Mom
Peg Perego Selfie
Great suspension
Great underneath storage
Front swiveling wheels
Best for Two Children
Book for Two
Independent recline
Can hold two car seats
Smooth ride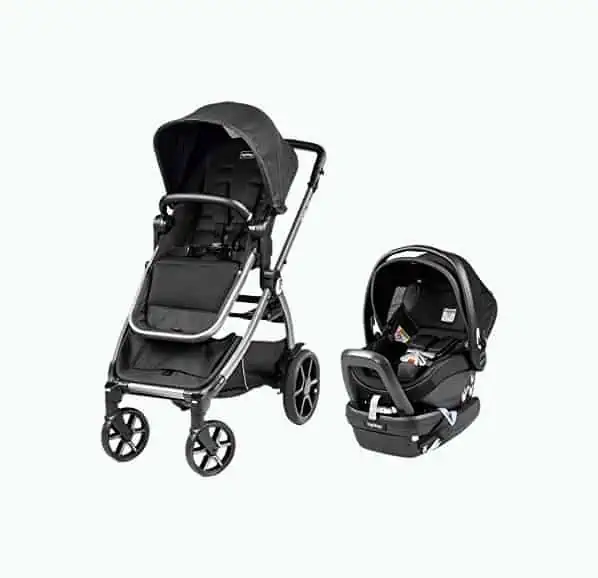 Best Compact
YPSI Travel System
Easy-to-fit car seat
Comfortable for parent
Versatile seat
Review Methodology: At Mom Loves Best, our thorough analysis and hands-on evaluation of the top Peg Perego strollers are designed to provide you with the most accurate and reliable information. Our experienced professionals measure and rank each product based on criteria such as performance, design, user experience, and key decision-making factors. We compare various models, identify their unique features, and assess their overall functionality, ensuring that our findings are backed by first-hand evidence and quantitative measurements. By considering crucial components like safety, comfort, maneuverability, and durability, we aim to equip you with the knowledge required to make an informed choice for the perfect Peg Perego stroller to suit your family's needs.
---
---
The Best Peg Perego Stroller Reviews of 2023
Here are 5 great Peg Perego strollers to consider.
Peg Perego Booklet 50 Travel System
Best Luxury Peg Perego Stroller
If you want to add extra glam to your everyday life and routine, this stroller will fit the role. Everything about this stroller oozes luxury — from its light colors to the soft padding. It will keep your baby comfy in style.
The compact design is excellent for city dwellers since you can quickly move around without bumping into people. It comes with a few smart features, like the extendable hood, to keep your baby content.
Newborns require a bit more support, and the Primo Viaggio car seat, included with this stroller, will give your little one just that.
What We Like
Sun Protection
The extendable hood has a visor you can pull down, and it's UPF 50+, protecting your baby from the sun and rain.
You can open the back of the seat to reveal a mesh netting. This will provide comfortable airflow in the stroller.
Easy Drive
The stroller is easy to maneuver thanks to the ball bearings and suspension. They allow the wheels to swivel a full 360 degrees. It's also easier to push and, due to the soft eco-leather handle, won't tire your hands.
Compact Design
The compact design allows you to go nearly anywhere your heart desires. It's easy to fold with one hand, as it closes inward like a book.
High-Quality Car Seat Included
To keep your baby safe while in the stroller and car, you can use the Primo Viaggio 4-35 car seat. It sits securely on the stroller chassis and is easy to remove and transfer to the car.
The car seat can adjust to six positions and has multiple safety features, such as side-impact protection. It also has an energy-absorbing shell made from expanded polystyrene foam.
What We Don't Like
Not Reversible
A feature desired by many parents is a reversible handle so you can position your baby away from sunlight. However, this stroller can't be reversed. The hood is large, though, and will protect your baby.
Product Specs
| | |
| --- | --- |
| Weight | 20.6 pounds |
| Minimum Weight | 4 pounds |
| Maximum Weight | 50 pounds |
| Color | Mon amour (beige and black), atmosphere (gray and black) |
Our Ratings
Community Feedback
I recently got this stroller and car seat duo for my daughter, and it has been a fantastic investment. The stroller is not only beautiful but also lightweight and easy to maneuver. The car seat is very helpful during the first few months, with multiple pads that can be removed as the baby grows and excellent safety features. One of the best aspects of this duo is the ease of folding and unfolding it for traveling purposes. Despite having to buy an additional insert for my newborn's head support, my husband and I are very pleased with this stroller and car seat combo.
---
Peg Perego Booklet
Best Handling Peg Perego Stroller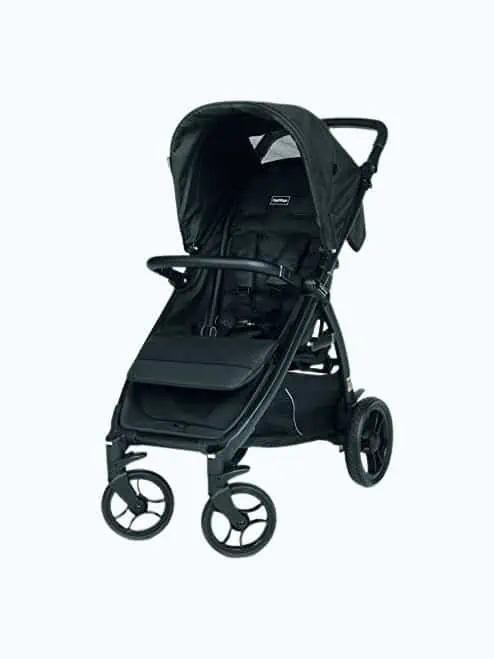 Strollers are often bulky, difficult to fold, and a workout to push around. The Booklet stroller is anything but this. It's lightweight, and folding is straightforward.
Peg Perego has added several of its innovations to this stroller, such as the extended hood and excellent steering. For newborns, you can attach a Primo Viaggio car seat, which sits directly on the retractable anchors and doesn't require adapters. The car seat isn't included — it will be an extra expense.
The stroller is excellent for city lifestyles and can easily fit on busy sidewalks or in elevators. It has been designed to simplify parents' lives and give babies more comfort.
What We Like
Comfortable for Child
It's essential your child is comfortable in their stroller — things like cozy fabric and ventilation are necessary. The Booklet has a soft padded harness and seat that can be fully reclined to suit a newborn.
Sun Protection
The Booklet hood is large and can give your baby a vast amount of shade. For even more protection, there's an extendable sun shield that features a UV protection of 50+. There's also a large mesh net at the back for ventilation.
Easy Fold
Folding a stroller can be tricky. However, the Booklet is easy to fold, and you only need one hand. It closes inward to keep the upholstery and seat safe and clean.
It locks securely in place and can stand independently when it's folded.
Lightweight
The lightweight design doesn't mean it's flimsy. It's made of lacquered aluminum that is sturdy but isn't heavy like steel. Weighing only 20.6 pounds, the stroller is easy to carry and push.
What We Don't Like
Tricky to Unfold
Folding the stroller might be easy with one hand, but unfolding is a different story. A few customers mentioned it was a challenge to do so while holding a baby.
Product Specs
| | |
| --- | --- |
| Weight | 20.6 pounds |
| Minimum Weight | 4 pounds |
| Maximum Weight | 50 pounds |
| Color | Onyx, mon amour |
Our Ratings
Community Feedback
This stroller exceeded my expectations after doing extensive research and reading reviews. It is not only sturdy and easy to maneuver, but also lightweight and stylish. The rubber wheels make a significant difference compared to plastic ones. I found the storage area to be more than adequate, contrary to some opinions, and the adjustable recline angle is a fantastic feature. However, there are a couple of drawbacks: when the canopy is fully extended, there are gaps on the sides that expose the baby to the sun, and the under-basket can be challenging to access.
---
Peg Perego Selfie Stroller
Best Peg Perego Stroller for Fashionable Moms
I hear you; strollers tend to look so dull and boring, but you also know the necessity for a quality stroller. This Selfie stroller might be just the thing you and your family require.
The ultra-lightweight stroller is a perfect travel companion because of its one-hand automatic folding and carry handle. It is equipped with an eco-leather handlebar and front bar with a UPF 50+ sunshade. The long narrow design is also practical for getting through doorways and down sidewalks, and there are five fabric styles to choose from.
What We Like
Great Suspension With 360-Degree Agility
This is a pretty lightweight yet fashionable stroller, thanks to the thoughtful design. It's smooth to push around. It has great suspension — which is necessary for travel — and it has fantastic agility. The wheels with ball bearings make it easy to navigate various terrain.
Great Underneath Storage
For family day outs with kids, you'll have a lot of stuff to take with you. This has a large basket underneath for storing all your stuff.
Front Swiveling Wheels
No need to stress out when you approach your favorite cafe or bookshop. The front swivel wheels and narrow design make it easy to get through doorways (without asking a stranger for help)!
What We Don't Like
Shallow Position
It holds babies in a shallow position, and the comfort level is not the best.
Product Specs
| | |
| --- | --- |
| Weight | 14 pounds |
| Minimum Weight | 1 pound |
| Maximum Weight | 48 pounds |
| Color | Graphic gold, jaguars, mon amour, onyx, street art |
Our Ratings
Community Feedback
As a parent, I had mixed feelings about this stroller. On one hand, it's lightweight and easy to fold and unfold, which is great for on-the-go parents. However, the wheels are not very flexible and tend to get stuck easily, making it difficult to navigate around the neighborhood or park. The comfort level is not the best, and the fabric lacks UV protection, causing it to fade quickly when left outside. While it has some good features, there are definitely better strollers out there for the price.
---
Peg Perego Book for Two Baby Stroller
Best Peg Perego Stroller for Two Children
If you have two children — twins or a baby and toddler — you need a way to transport them easily. This double stroller allows two children to sit comfortably due to its independent movement.
You can attach two Primo Viaggio car seats if needed for newborns. Having more than one child when going out means you need to pack extra of everything. This stroller has a large storage compartment, excellent for large families on the go.
The specialized wheels allow the stroller to go on nearly all terrains and still maintain a smooth ride. Everything was designed to make life as a mom-of-two easier.
What We Like
Independent Recline
Twins might look alike, but they certainly aren't the same. One might prefer sitting while the other sleeps; this can be problematic, but not in this stroller.
The two seats can move independently depending on your child's preferences. Moving one won't disturb the other, and you can quickly check on them through the peekaboo window.
Can Hold Two Car Seats
You can comfortably fit two Primo Viaggio 4/35 car seats, one on each side of this stroller, by using adapters. This will keep your newborns safe and sound.
The car seats are not included.
Smooth Ride
The double stroller is fitted with Soft Ride wheels that adapt to any terrain and reduce shaking to keep your babies comfortable.
Compact Fold
A double stroller means bulky and heavy, right? Not here. The Book for Two folds the same way as other Peg Perego strollers by using one handle.
Once folded, it won't take up too much space since it's compact and has secure lockings.
What We Don't Like
Heavy
Double strollers are, understandably, heavier than single strollers. At 30.8 pounds, this buggy can be challenging to get in and out of the car. A few moms added that it felt heavier than it is.
Product Specs
| | |
| --- | --- |
| Weight | 30.8 pounds |
| Minimum Weight | Not specified |
| Maximum Weight | 50 pounds |
| Color | Atmosphere |
Our Ratings
Community Feedback
These Peg Perego Book for Two strollers are a dream come true for parents of twins or two young children. Maneuverability is top-notch, making it easy to push on various surfaces including carpet and hard floors. The large basket is perfect for storing all the essentials, while the canopies provide ample shade. However, the footrests could be improved, as they are minimal and could be longer or have sides. Although the seats don't lay completely flat, the overall quality and ease of use make this stroller a fantastic choice.
---
Peg Perego YPSI Travel System
Best Compact Peg Perego Stroller
Traveling with a baby is never easy, but you can make it less of a hassle using the right equipment. Whether you're going overseas or merely driving to the local park, you need a stroller that's easy to transport.
The YPSI is compact and easy to fold to get it in the car quickly. It has a large storage compartment and comes with a car seat to keep your newborn safe.
One thing many customers like about the YPSI is its sleek and modern look. The way it narrows at the front gives it an aerodynamic feel.
What We Like
Easy to Fit Car Seat
The stroller comes with the Primo Viaggio 4-35 Nido. It docks straight onto the chassis without the need for adapters.
You also get the "one time" Primo Viaggio links that connect the seat to the pushchair. "One time" means the links won't need to be changed.
Comfortable for Mommy
Pushing a stroller that doesn't suit your height can be difficult and feel awkward. This stroller has a telescoping handle that accommodates different heights.
The handle is also comfortable to hold since it's a hand-sewn eco-leather that's soft to the touch.
Versatile Seat
One thing many parents like about the YPSI is its seat. It can be removed, reversed, and folded on top of the chassis. You get to choose whether your baby should be facing you or the world.
What We Don't Like
Limited Weight
The maximum weight recommendation is 35 pounds. This is about the same weight as a 3- to 4-year-old. If you plan on using your stroller for many years, this can be a deal-breaker.
Product Specs
| | |
| --- | --- |
| Weight | 22.6 pounds |
| Minimum Weight | 4 pounds |
| Maximum Weight | 35 pounds |
| Color | Onyx |
Our Ratings
Community Feedback
Bought this travel system and have been using it for over a year now. It's sturdy, well-made, and easy to switch between the car seat and stroller. However, the basket is a bit inconvenient to access, and the canopy seems flimsy. Despite some minor issues, it's still a lightweight and versatile option for on-the-go families.
---
Peg Perego Accessories
Peg Perego has a broad range of accessories available to purchase for its strollers. Sometimes you need that extra feature for convenience or luxury.
Ride With Me Board: The two-wheeled board is attached to the back of the stroller. When your older child is tired of walking, they can stand on the stroller board to catch a ride.
Stroller Cup Holder: A cup holder is a must-have for many. This one snaps onto the frame of any Peg Perego stroller, so it's easy to remove when not needed.
Rain Cover: The Peg Perego cover is made of clear plastic that encloses the front and sides of the stroller. The sides are ventilated to keep your baby comfy, and the long straps keep it in place.
Mosquito Netting: Peg Perego has designed this large net to wrap around the buggy. The netting is fully breathable, and a large transparent window allows your little one to engage with their surroundings.
Handle Extensions: A short handle often leads to a sore back. These extensions will give you an added 5.75 inches in height.
Child Tray: The tray can be attached to the Booklet 50, Booklet, and Book Cross strollers. It has a dishwasher-safe removable antibacterial liner that is snapped into the tray.
Bassinet Pop-Up: This bassinet is compatible with the YPSI Travel System. It includes a removable mattress, a hood, and an adjustable headrest. The bassinet is safe for your baby to sleep in overnight. The headrest is excellent for babies with reflux, but it's only suited for babies up to nine months.
Foot Muff: This footmuff fits snugly to any Peg Perego stroller. The padding will provide warmth and prevent heat loss when the weather is extra chilly.
Borsa: The Borsa (which translates to "bag" in Italian) can be carried over the shoulder or strapped to the stroller. It comes with a changing pad and multiple interior pockets.
Parasol Weather Hood: The parasol offers 50+ UPF protection from the sun and attaches easily to the buggy. It's compatible with the YPSI, Book Cross, Book, Booklet, and Booklet 50.
---
History of Peg Perego
Peg Perego has one of the loveliest beginnings in stroller history. It began back in Italy in 1949, when the current company president, Lucio Perego, was born. His father, Giuseppe Perego, wanted to create a "new place" for his son.
Peg Perego created one of the finest carriages at the time — replacing sheet metal and wicker with rubberized materials. It was also this stroller that first used a convertible system — enabling it to change from a stroller to a carriage.
The company continued to expand — the '60s being one of the most productive decades. During this time, the brand released several high-quality baby carriages to the public.
Peg Perego also created models such as the America and Atlantico. These were made with folding chassis, allowing easy transport in cars.
During the next two decades, the company continued to grow:
1970s: Peg Perego transitioned from manual manufacturing to industrial — this gave the brand a boost. The Go-Go stroller was introduced; it was the first with umbrella-style folding.
1980s: The Pliko stroller, a dual-handled model, was launched and became one of the most popular models for years to come. The company also released its first 12-volt riding toy for children.
Why Choose a Peg Perego Stroller?
Peg Perego has a mission to make life easier for parents and reflect Italy in its designs. The brand continues to create innovative products to suit every lifestyle — whether you're always on the go or you live a quiet life.
When it comes to our children, safety is the number one priority. Having a reliable, sturdy stroller can give you peace of mind. Peg Perego implements Italian high quality into its products by using durable materials and sophisticated trends.
Most parents love their Peg Perego strollers. The easy assembling is a point many bring up, saying it is straightforward.
The strollers folding inward, keeping the seats and upholstery clean, is also an added bonus for many.
---
Thank You For Your Feedback!
Thank You For Your Feedback!