When it comes to your baby's comfort and style, only the best will do. That's why we've put together this definitive guide to the best luxury strollers available.
We've spent hours researching to ensure you and your little one enjoy unparalleled comfort and sophistication. Our selection promises premium quality and the utmost safety for your precious bundle of joy. Let's find the perfect luxury stroller for your needs.
Image
Model
Product Comparison Table
Features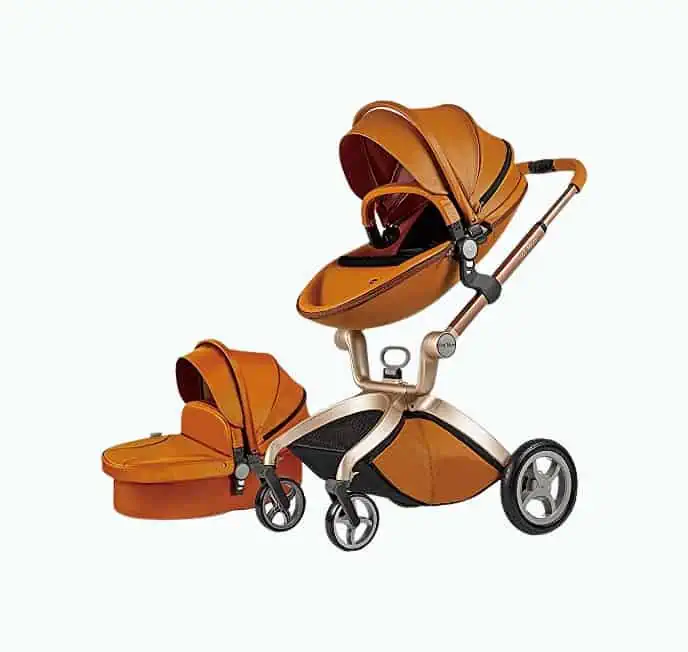 Best for Stylish Moms
Hot Mom Baby Stroller
Eye-catching design
Adjustable seat and handle height
Bassinet included
Best Double
BOB Revolution Flex
Handbrake and adjustable handlebar
Adjustable suspension system
Easy to maneuver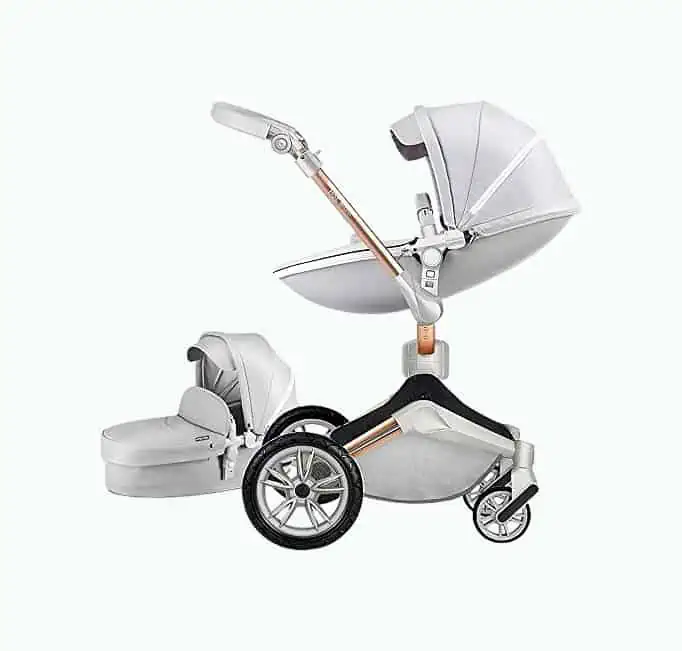 Best Functional
Baby Stroller 360
Large sun canopy
360-degree rotation seat
Smooth suspension
Best Jogging
Baby Jogger Summit X3
Perfect for active parents
Easy to fold
UV 50+ sun canopy
Best for Ultimate Luxury
Bugaboo Fox Complete
Provides a smooth ride
Very durable
Made from recycled material
Review Methodology: At Mom Loves Best, we understand the importance of finding the perfect luxury stroller for your family. Our team of experts has conducted thorough research, hands-on testing, and in-depth analysis to help you make an informed decision. We evaluate products from a user's perspective, comparing features like design, performance, safety, and ease of use. Our assessment criteria focus on key decision-making factors such as maneuverability, comfort, durability, and style. We also provide first-hand evidence and quantitative data to rank the best luxury strollers in the market. Trust our expertise to guide you in choosing the right stroller that sets itself apart from its competitors and meets the highest standards for your family's needs.
---
---
The Best Luxury Strollers of 2023
Discover five of the best luxury strollers that blend sophistication with your child's comfort and safety.
Hot Mom Baby Stroller with Bassinet Combo
Best Luxury Stroller for Stylish Moms
Immerse yourself in the craftsmanship of Hot Mom's luxury stroller, a model that stands out with its 100 percent PU leather finishings and innovative egg-shaped design.
With a focus on flexibility, this stroller allows multiple adjustments, including handlebar and seat height, making it perfect for families with multiple caregivers. Not just that, the seat height can be altered to ensure your growing child remains engaged with their surroundings.
With this stroller, you're investing in a comprehensive travel system consisting of a sturdy frame, seat, and a bassinet designed for infants. This luxury stroller ensures ride comfort with a three-position backrest and excellent four-wheel suspension.
Pros
Eye-catching design.
Adjustable seat and handle height.
Bassinet included.
Lots of additional features.
What We Like
Eye-Catching Design
The in-vogue egg-shaped seat is fashionable and compact yet spacious enough to accommodate a 3-year-old comfortably. The smooth, waterproof PU leather adds to the stroller's luxurious appeal and is effortlessly cleanable.
Though the brown variant is our favorite, the stroller also comes in black and white. The Hot Mom Baby Stroller offers customization options, allowing you to personalize the interior with choices like red, blue, pink, or stripes.
Adjustable Seat and Handle Height
One of the standout luxury aspects of this stroller is how adjustable it is. You can lift and lower the seat depending on where you're walking.
If you're out with your mom squad in the park, you can lower it, so you don't disturb your baby. Or you can raise it to 34 inches, getting your little one closer to you in restaurants or away from car emissions.
The handlebar is adjustable as well. You can choose a height between 40 to 46 inches.
Bassinet Included
The stroller is suitable from the newborn stage through toddlerhood, and into the first preschool year. It comes with a matching bassinet that you can use during the first six months or so. It's easy to attach, although the manufacturer points out that it's not for carrying.
The Hot Mom Baby Stroller also made sure to include three positions for the seat. You can set it to 175, 135, or 95 degrees, excellent for an awake, resting, or sleeping baby. Then for safety, there's a five-point harness to strap your little nugget in while out and about.
Lots of Additional Features
This investment gives you your money's worth — nearly everything is included. You get a mosquito net and a windproof rain cover, as well as a cup holder for the driver.
Another notable accessory is the wristband. You attach it to the stroller and place it around your wrist, ensuring your baby's ride is always within reach.
What We Don't Like
Not Easy to Fold
Despite its many perks, the stroller isn't designed for one-handed folding. It requires removing the seat or bassinet and other components like the sun canopy before folding, necessitating two hands for the task.
Product Specs
| | |
| --- | --- |
| Weight | 40.78 pounds |
| Suitable ages | 0 to 36 months |
| Wheel count | Four |
| Color | Brown, black, yellow, and white |
Our Ratings
Community Feedback
I'm impressed by the sturdiness and stylish design of this stroller, but I can't ignore its flaws. The undercarriage storage is quite small, and the cup holder must be removed every time the stroller is folded up, which can be annoying. When folded, it takes up a significant amount of space in my trunk, making it less convenient for those with compact cars. While I appreciate the option to transfer a baby from stroller to car without taking them out, I do feel this stroller is overpriced for its features and design.
---
BOB Revolution Flex 3.0 Duallie Jogging Stroller
Best Luxury Double Stroller
If you lead an active life and need a stroller for two, take a look at this luxury double stroller from BOB. It's an all-terrain jogging stroller with foot-activated parking brakes controlling its three wheels.
This is a luxury stroller with an emphasis on functionality and smooth rides. The front wheel can swivel for maneuverability and then lock for stability. It comes with adjustable suspension, excellent for going over bumpy terrain.
What's more, the stroller is travel system ready. You can rotate the seats so your baby can face the front or rear. If you have a newborn, pair it with BOB's infant car seat.
Pros
Handbrake and adjustable handlebar.
Adjustable suspension system.
Easy to maneuver.
Cons
The brake sometimes squeals when engaged.
What We Like
Handbrake and Adjustable Handlebar
Designed with joggers in mind, this stroller includes an easily engageable brake for enhanced safety.
The adjustable handlebar, padded for added comfort, ensures a comfortable grip for users of various heights.
For added safety, BOB includes a wristband to prevent the stroller from unexpectantly rolling away.
Adjustable Suspension System
BOB's focus on providing a smooth and comfortable ride for your little ones is evident in the adjustable suspension system. The air-filled, high-impact polymer tires work hand-in-hand with the suspension system, smoothing out bumps and vibrations and ensuring a serene journey, whether on sidewalks or uneven paths.
Easy to Maneuver
Whether you're considering this stroller for jogging or for your weekend hikes, it's super easy to maneuver. It has three large wheels — the front one can swivel and lock.
Engaging the swivel function provides effortless maneuverability when taking tight turns. When you need more stability, you lock the wheel, and it's ready for your jog.
What We Don't Like
The Brake Squeals When Engaged
While it's good to have a brake when you're going fast, some reviewers said it was fairly loud. It can squeal and squeak as you engage it, which might grab some unwanted attention during an early morning jog.
Product Specs
| | |
| --- | --- |
| Weight | 36 pounds |
| Suitable ages | Birth until 50 pounds |
| Wheel count | Three |
| Color | Graphite black, lunar black, glacier blue, and Sedona orange |
Our Ratings
Community Feedback
After using this double BOB stroller for a while, I've found it to be perfect for outdoor activities with my kids. It's durable on all terrains and provides ample storage, although the divided mesh pockets and storage basket can be a bit restrictive. The adjustable handlebar and sunshade protection are great features, and the material is easy to clean, even after wet and sandy adventures. Despite its size and weight, this stroller is easy to maneuver and comfortable for both my children, making it a worthwhile investment for an active family.
---
Hot Mom Baby Stroller 360 Rotation Function
Best Functional Luxury Stroller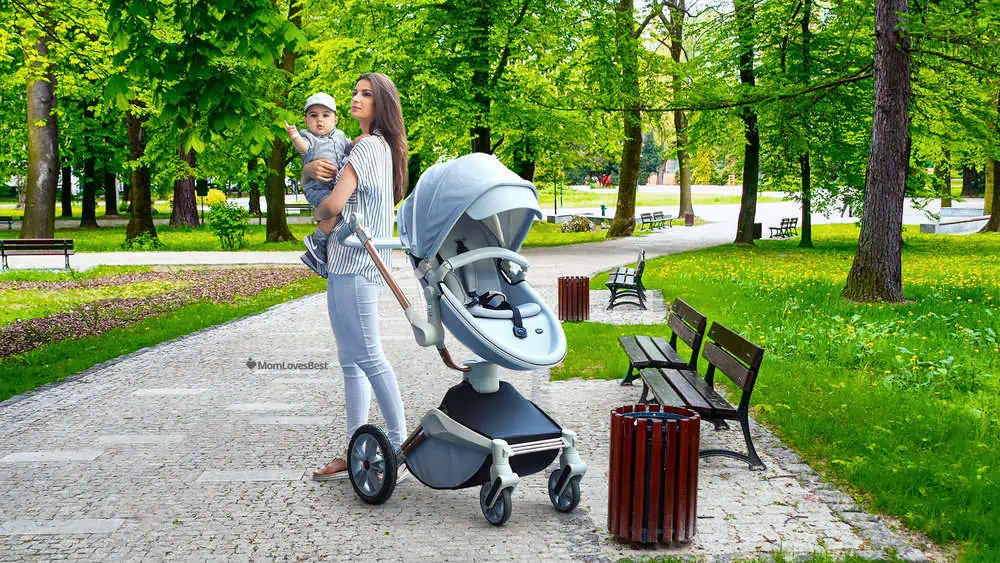 Designed with PU leather and an egg-shaped seat, finished off with stunning color, this stroller may turn heads. The large sun canopy protects your little one from the elements while enabling your outdoor adventures.
Remarkably, the top of this stroller can turn 360 degrees, enabling you to rotate it fully while the wheels are static.
Designed for your baby's growth, this stroller includes a bassinet for the early months and a fully reclinable seat with a five-point harness for when they're ready for an upright view.
Pros
Large sun canopy.
360-degree rotation seat.
Smooth suspension.
Cons
The stroller is fairly heavy and bulky.
What We Like
Large Sun Canopy
Protecting your little one through sun and rain is a top priority, and a large sun canopy will do just that. This canopy is capable of covering your whole baby from head-to-toe, providing the ultimate protection. It shields not only from the sun but also from rain and wind.
The canopy's leather is waterproof, and a peek-a-boo window lets you check on your baby without disturbing them. Additional features like a mosquito net and a windproof rain cover guarantee your baby's comfort and safety.
360-Degree Rotation Seat
A somewhat unusual feature is the 360-degree rotating top. Many reviewers praise how functional this is.
There's a switch by the bar, which you turn, allowing the top of the stroller to rotate independently of the wheels. You can set it to face your baby in any direction. This is convenient if you're going to a restaurant, as it can act as a highchair.
It has a potential height of 29.52 inches, capable of bringing your little one up close to you.
Smooth Suspension
Ensuring a comfortable ride, Hot Mom Baby Stroller emphasizes a smooth suspension system. The four-wheel frame is outfitted with an extra suspension that can easily handle uneven paths, enhancing your baby's comfort on every outing.
What We Don't Like
The Stroller Is Fairly Heavy and Bulky
Despite its impressive features, the stroller might be challenging to fold and store due to its size and weight. Each component must be detached before the frame can be folded, which isn't ideal if you often travel alone.
Product Specs
| | |
| --- | --- |
| Weight | 40.78 pounds |
| Suitable ages | Birth until 36 months |
| Wheel count | Four |
| Color | Baby blue, coffee, grey, and leaf grey |
Our Ratings
Community Feedback
I'm impressed by the functionality and quality of this stroller, especially the 360 rotation feature that makes handling a breeze. The beautiful blue color has drawn many compliments, and the stroller's height is perfect for both my tall daughter and granddaughter. Having used this stroller on multiple grandchildren, its durability and bonus items like the diaper bag and extra seat make it an exceptional value.
---
Baby Jogger Summit X3 Single Jogging Stroller
Best Luxury Jogging Stroller
As a new parent, staying active shouldn't come to a halt. The Baby Jogger Summit X3 is the best luxury stroller for on-the-go parents. As the trailblazer of jogging strollers, it's tailored for a dynamic lifestyle.
The 2016 Summit X3 is ideal for parents seeking a stroller to keep pace with their active lifestyle. It features Baby Jogger's user-friendly quick-fold technology, effortlessly collapsing with just one hand.
It has three large air-filled tires, with a locking mechanism on the front wheel for extra stability. With a large, ergonomic handlebar and a convenient handbrake, this stroller caters to your comfort as much as your baby's.
Pros
Perfect for active parents.
Easy to fold.
Large canopy.
What We Like
Perfect for Active Parents
Designed specifically for active parents, Baby Jogger integrates every feature needed for an optimal jogging experience. The three-wheel configuration, fitted with air-filled 16 and 12-inch tires, ensures a smooth, shock-absorbent ride even at a faster pace.
The large handle provides easy steering control, complemented by a conveniently placed handbrake to control your speed.
Easy to Fold
In the hustle and bustle of parenthood, a one-hand foldable stroller is a godsend. Baby Jogger made this effortless with a design that collapses in one swift motion using a simple strap, unfolding just as quickly. No assembly, no hassle.
Large Canopy
Under the expansive UV 50+ sun canopy, your baby stays protected on even the sunniest of days. A peek-a-boo window allows for quick check-ins on your little one while you're running — just don't get distracted.
What We Don't Like
Limited Onboard Storage
While the compact design is handy for quick mobility, it does compromise the onboard storage space. This could require additional planning for trips out with your baby.
Product Specs
| | |
| --- | --- |
| Weight | 28.4 pounds |
| Suitable ages | Birth until 36 months |
| Wheel count | Three |
| Color | Black and grey, green and grey, orange and grey |
Our Ratings
Community Feedback
Bought this stroller and it has been perfect for me and my little one. It's really easy to maneuver and the shock absorbers work great. The brake and hand strap are nice features, and it even worked well for my baby when they were less than 6 months old. The bottom storage is a bit tight, but it fits a diaper bag. I've taken it running and it performed well, keeping my baby comfortable. Folding and lifting it can be a bit challenging, but overall, I'm very happy with this stroller.
---
Bugaboo Fox Complete Full-Size Stroller
Best Stroller for Ultimate Luxury
When it comes to the pinnacle of luxury, the Bugaboo Fox Complete takes the lead. With a striking design combined with practicality, this stroller redefines what the best luxury stroller should be.
Equipped with four large, all-terrain wheels and advanced suspension, it ensures a buttery-smooth ride. The ergonomic seat guarantees your baby's comfort and security. The elevated seating brings your baby closer to you for cherished interactions.
It collapses easily into one piece and has a self-standing option for storage. Bugaboo's eco-conscious design, using recycled materials, is an aspect we truly appreciate.
Pros
Provides a smooth ride.
Suitable from birth to toddlerhood.
Made from recycled material.
What We Like
Provides a Smooth Ride
Whether you're looking for a new ride for your toddler or expecting a new bundle, a smooth-riding stroller is essential. Bugaboo made sure to include four all-terrain wheels with advanced suspension. It's effortless to push and steer around tight corners.
Versatility from Birth to Toddlerhood
The Fox Complete is designed to grow with your child. A bassinet frame is included for newborns, which seamlessly converts into a comfortable, ergonomically padded seat as your baby grows. The seat can be rotated and adjusted across three positions, ensuring your child's comfort until they reach 48.5 pounds.
Eco-Friendly Material
Bugaboo's Fox Complete stroller is certified by the Global Recycled Standard and SGS Recycled Content Certification. The fabric is made from approximately 92 recycled plastic bottles. It's a premium-quality, super soft, and environmentally friendly choice.
What We Don't Like
Difficult to Assemble
Despite the many positive attributes, some users have noted that the stroller is challenging to assemble. Although Bugaboo advertises it as easy to fold, some parts require detaching, which might pose a challenge when on the move.
Product Specs
| | |
| --- | --- |
| Weight | 21.81 pounds |
| Suitable ages | Birth until 36 months |
| Wheel count | Four |
| Color | Blue Mèlange, dark navy, black, black and fresh white, black and grey mèlange, red/black, stellar, grey mèlange |
Our Ratings
Community Feedback
My experience with the Bugaboo Fox stroller has been nothing short of fantastic. The all-wheel suspension and large wheels make for a smooth ride on various terrains, while the adjustable handlebar and spacious, comfortable seat ensure both my child and I remain content during our outings. The ample storage basket and stylish design are added bonuses, making this stroller a top choice for urban families seeking quality and functionality.
---
What Defines a Luxury Stroller
When it comes to navigating the parenting landscape, a stroller is more than just a convenience-it's a necessity. But for the discerning parent, a standard stroller may not always meet the mark. Enter luxury strollers, the epitome of design and functionality.
Crafted from premium materials, these high-end options offer top-notch transportation for your child. Think cushioned seats, PU leather finishes, and innovative design elements for that seamless blend of style and comfort. But a luxury stroller is more than just its appearance-it's the smooth, effortless ride it offers. Engineered to perfection, these strollers are designed for optimal maneuverability and convenience.
But rest assured, investing in a luxury stroller doesn't have to break the bank. The market is varied, catering to a range of budgets. On one end, you have illustrious designer brands like Fendi, revered for their lavish features. In the mid-range field, there are noteworthy names like Cybex and Bugaboo. Each has its unique edge-Cybex is renowned for its sun canopies offering UPF 50+ protection, while Bugaboo is celebrated for its superior suspension and ride quality. And on the more affordable spectrum are brands like Hot Mom Baby Stroller.
Choosing the best luxury stroller isn't just about picking the priciest-its about finding the perfect blend of form and function that fits your lifestyle and budget.
How to Choose a Luxury Stroller
To find the best luxury stroller for your needs, consider the following:
---
Thank You For Your Feedback!
Thank You For Your Feedback!