Have you ever wondered what a luxury stroller looks like? Perhaps you're trying to scope out how much one of these models cost? It may surprise you, but they aren't always that pricey.
If you want to incorporate a high-scale, glamorous feel into your life, we'll give you the short list of the best luxury strollers.
Image
Model
Product Comparison Table
Features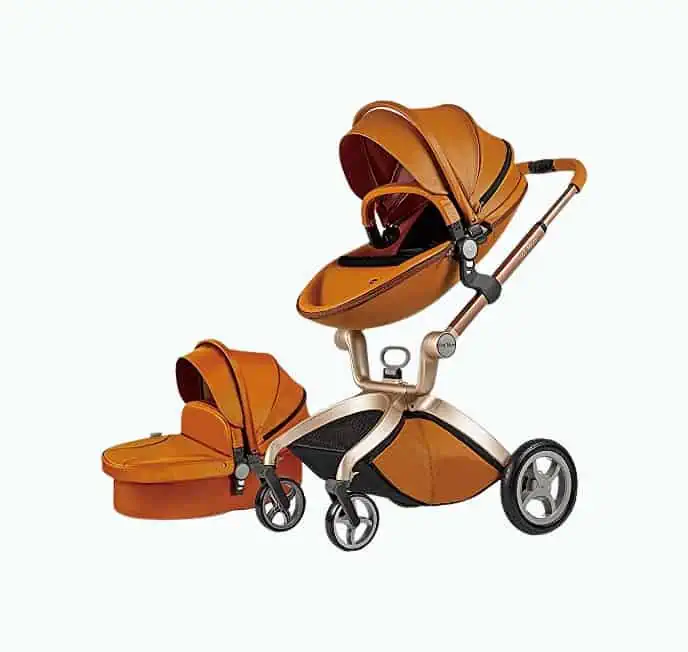 Best for Stylish Moms
Hot Mom Baby Stroller
Eye-catching design
Adjustable seat and handle height
Bassinet included
Best Double
BOB Revolution Flex
Handbrake and adjustable handlebar
Adjustable suspension system
Easy to maneuver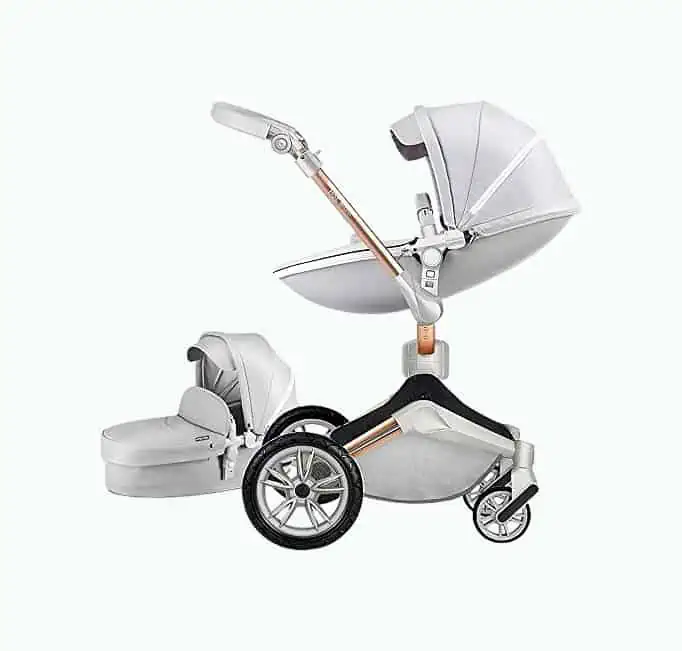 Best Functional
Baby Stroller 360
Large sun canopy
360-degree rotation seat
Smooth suspension
Best Jogging
Baby Jogger Summit X3
Perfect for active parents
Easy to fold
UV 50+ sun canopy
Best for Ultimate Luxury
Bugaboo Fox Complete
Provides a smooth ride
Very durable
Made from recycled material
---
---
The Best Luxury Strollers of 2023
Here are 5 splurge-worthy luxury strollers to consider.
Hot Mom Baby Stroller with Bassinet Combo
Best Luxury Stroller for Stylish Moms
Baby Stroller has created this beautiful stroller, designed around an egg-shape, suited with 100 percent PU leather.
What sets this stroller apart from the rest is its functionality. You can adjust the handlebar, which is excellent if several people use the stroller. You can also tweak the height of the seat so that an older baby can have a view of the surroundings.
It's a travel system type of stroller, providing you with a sturdy frame, seat, and a bassinet for small babies. The backrest has three positions and the four wheels come with good suspension.
Pros
Eye-catching design.
Adjustable seat and handle height.
Bassinet included.
Lots of additional features.
What We Like
Eye-Catching Design
This stroller has an egg-shaped seat, which is currently in fashion. It's compact, yet still provides comfortable room for a 3-year-old.
The PU leather looks smooth, and it's waterproof, as well as easy to clean with a gentle wipe. The exterior is what gives the stroller a luxurious appeal. We love the brown, but it's also available in black and white.
Baby Stroller allows you to customize the look. The brown buggy comes with a standard black interior, but you can change to red, blue, pink, or stripes.
Adjustable Seat and Handle Height
One of the standout luxury aspects of this stroller is how adjustable it is. You can lift and lower the seat depending on where you're walking.
If you're out with your mom squad in the park, you can lower it, so you don't disturb your baby. Or you can raise it to 34 inches, getting your little one closer to you in restaurants or away from car emissions.
The handlebar is adjustable as well. You can choose a height between 40 to 46 inches.
Bassinet Included
The stroller is suitable from the newborn stage through toddlerhood, and into the first preschool year. It comes with a matching bassinet that you can use during the first six months or so. It's easy to attach, although Baby Stroller points out that it's not for carrying.
Baby Stroller also made sure to include three positions for the seat. You can set it to 175-, 135-, and 95-degrees, excellent for an awake, resting, or sleeping baby. Then for safety, there's a five-point harness to strap your little nugget in, while out and about.
Lots of Additional Features
Baby Stroller gives you your money's worth — nearly everything is included. You get a mosquito net and a windproof rain cover, as well as a cup holder for the driver.
One great accessory is the wristband. You attach it to the stroller and place it around your wrist. Then the stroller can't wheel off and is always within reach.
What We Don't Like
Not Easy to Fold
The stroller is excellent in many ways, but it's not a one-handed fold. The construction consists of a triangular frame with an attachable seat or bassinet. You have to remove the seat or bassinet before folding.
There's a lot to attach and detach, like the sun canopy and bar sitting across your baby. You will need two hands for the job.
Product Specs
| | |
| --- | --- |
| Weight | 40.78 pounds |
| Suitable ages | 0 to 36 months |
| Wheel count | Four |
| Color | Brown, black, yellow, and white |
Our Ratings
---
BOB Revolution Flex 3.0 Duallie Jogging Stroller
Best Luxury Double Stroller
If you lead an active life and need a stroller for two, take a look at this luxury double stroller from BOB. It's an all-terrain jogging stroller with foot-activated parking brakes controlling its three wheels.
This is a luxury stroller with an emphasis on functionality and smooth rides. The front wheel can swivel for maneuverability and then lock for stability. It comes with adjustable suspension, excellent for going over bumpy terrain.
What's more, the stroller is travel system ready. You can rotate the seats so your baby can face the front or rear. If you have a newborn, pair it with BOB's infant car seat.
Pros
Handbrake and adjustable handlebar.
Adjustable suspension system.
Easy to maneuver.
Cons
The brake sometimes squeals when engaged.
What We Like
Handbrake and Adjustable Handlebar
This is a jogging stroller after all, and a proper brake is a must for optimal safety. If you're going downhill or decide to go a bit faster, the brake is super easy to engage.
A comfy feature is a padded handlebar. It's soft to grab, and adjustable. You can change the height of it to fit your needs.
For extra safety, BOB fitted a wristband to ensure the stroller doesn't run away from you.
Adjustable Suspension System
BOB put all its focus on ensuring a smooth and comfortable ride for your little ones. The frame includes an adjustable suspension system, excellent for different terrains. It smooths out bumps in the road and is easy to take over sidewalks.
The tires are air-filled, made from high-impact polymer. It complements the suspension perfectly, providing a superb ride. It will minimize shaking while you're jogging along the path.
Easy to Maneuver
Whether you're considering this stroller for jogging or for your weekend hikes, it's super easy to maneuver. It has three large wheels — the front one can swivel and lock.
Engaging the swivel function provides effortless maneuverability when taking tight turns. When you need more stability, you lock the wheel, and it's ready for your jog.
What We Don't Like
The Brake Squeals When Engaged
While it's good to have a brake when you're going fast, some reviewers said it was fairly loud. It can squeal and squeak as you engage it, which might grab some unwanted attention during an early morning jog.
Product Specs
| | |
| --- | --- |
| Weight | 36 pounds |
| Suitable ages | Birth until 50 pounds |
| Wheel count | Three |
| Color | Graphite black, lunar black, glacier blue, and Sedona orange |
Our Ratings
---
Hot Mom Baby Stroller 360 Rotation Function
Best Functional Luxury Stroller
Designed with PU leather and an egg-shaped seat, finished off with stunning color, this stroller may turn heads. The large sun canopy protects your little one from all types of harsh weather.
The top of this stroller can turn 360 degrees, enabling you to rotate it fully while the wheels are static.
The stroller is excellent for a growing baby. Baby Stroller includes a bassinet, which you can use during the first few months. Then when your little one is ready, you can transition to the seat, which fully reclines and comes with a five-point harness.
Pros
Large sun canopy.
360-degree rotation seat.
Smooth suspension.
Cons
The stroller is fairly heavy and bulky.
What We Like
Large Sun Canopy
Protecting your little one through sun and rain is a top priority, and a large sun canopy will do just that. This canopy is capable of covering your whole baby from head-to-toe, providing the ultimate protection. It shields not only from the sun but also from rain and wind.
The PU leather is waterproof, and Baby Stroller incorporated a viewing window on the top. This will allow you to keep an eye on your little one easily. What's more, Baby Stroller includes a mosquito net and a windproof rain cover for extra protection.
360-Degree Rotation Seat
A somewhat unusual feature is the 360-degree rotating top. Many reviewers praise how functional this is.
There's a switch by the bar, which you turn, allowing the top of the stroller to rotate independently of the wheels. You can set it to face your baby in any direction. This is convenient if you're going to a restaurant, as it can act as a highchair.
It has a potential height of 29.52 inches, capable of bringing your little one up close to you.
Smooth Suspension
To provide the ultimate comfort, Baby Stroller focused a lot on the suspension to ensure a smooth ride. The frame has four wheels — all are stable and suited with the extra suspension. You can easily use it on an uneven path.
What We Don't Like
The Stroller Is Fairly Heavy and Bulky
Unfortunately, it's not easy to fold and quickly pack away in the trunk. It has some heft to it. You have to separate each piece before being able to fold the frame, which isn't ideal if you often travel alone.
Product Specs
| | |
| --- | --- |
| Weight | 40.78 pounds |
| Suitable ages | Birth until 36 months |
| Wheel count | Four |
| Color | Baby blue, coffee, grey, and leaf grey |
Our Ratings
---
Baby Jogger Summit X3 Single Jogging Stroller
Best Luxury Jogging Stroller
Being active is essential, and it shouldn't stop once you have a baby. Although, if you plan on bringing the little one with you, a jogging stroller is best. Baby Jogger is the original jogging stroller, specially designed for active parents.
The 2016 Summit X3 is excellent for active as well as busy parents who need a stroller that can keep up with them. It comes with Baby Jogger's quick fold technology, requiring only one hand.
It has three large air-filled tires, with a locking mechanism on the front wheel for extra stability. The handlebar is big and comfortable to hold on to, and it has a handbrake.
Pros
Perfect for active parents.
Easy to fold.
Large canopy.
What We Like
Perfect for Active Parents
Baby Jogger's niche is active parents, so everything about the design is focused on providing the perfect jogging companion. The three wheels are filled with air and measure 16 and 12 inches. They offer a smooth and bumpless ride for your little one, even when you go a little faster.
Each wheel comes with suspension, which absorbs most of the shocks that occur when running fast. The large handle helps you steer. To keep control of the speed, you have a convenient handbrake.
Easy to Fold
If you often drive to places, it's good to have a stroller that's easy to fold. Baby Jogger made this effortless. It has a strap, which you pull, and the whole thing folds together in one movement.
Once you get to your destination, it unfolds quickly as well. There's no assembly required, so all you need is one hand, and you're ready to go.
Large Canopy
While out and about, it's essential to have something protecting your little one's skin. Baby Jogger has included a large UV 50+ sun canopy to provide enough protection, even on sunny summer days.
It also has a peek hole so you can keep an eye on your nugget while running — just don't get distracted.
What We Don't Like
Small Onboard Storage
With babies, you always have to pack extras of everything. Unfortunately, the onboard storage is small on this one.
Product Specs
| | |
| --- | --- |
| Weight | 28.4 pounds |
| Suitable ages | Birth until 36 months |
| Wheel count | Three |
| Color | Black and grey, green and grey, orange and grey |
Our Ratings
---
Bugaboo Fox Complete Full-Size Stroller
Best Stroller for Ultimate Luxury
For the ultimate luxury stroller, we chose the Bugaboo Fox Complete. It looks stunning, and it's practical as well.
It's suited with four large, all-terrain wheels with advanced suspension, providing a smooth ride. It has an ergonomic seat for your little one, which will cradle and keep them secure. The seat sits fairly high, so you'll have your baby close.
It collapses easily into one piece, and for storage, it has a self-standing option. What attracted us to this stroller, though, was the recycled material Bugaboo used.
Pros
Provides a smooth ride.
Can be used from birth to toddlerhood.
Made from recycled material.
What We Like
Provides a Smooth Ride
Whether you're looking for a new ride for your toddler or expecting a new bundle, a smooth-riding stroller is essential. Bugaboo made sure to include four all-terrain wheels with advanced suspension. It's effortless to push and steer around tight corners.
Can Be Used from Birth to Toddlerhood
The Fox Complete is ready from day one. It includes a bassinet frame, which later converts into a seat once your little one is ready. Then it can continue to carry your child until 48.5 pounds.
The seat is ergonomically padded and will be safe and comfy for your baby. You can rotate it to face the front of you, and it can be adjusted in three positions, from flat to upright.
Made from Recycled Material
Bugaboo's Fox Complete stroller is certified by the Global Recycled Standard and SGS Recycled Content Certification. The fabric is made from approximately 92 recycled plastic bottles. It's high-quality, super soft, and eco-friendly.
What We Don't Like
Difficult to Assemble
A few reviewers complained the stroller is challenging to assemble. Although Bugaboo advertises it as easy to fold, it does require you to detach some parts. This means it's not the best if you're out and about alone.
Product Specs
| | |
| --- | --- |
| Weight | 21.81 pounds |
| Suitable ages | Birth until 36 months |
| Wheel count | Four |
| Color | Blue Mèlange, dark navy, black, black and fresh white, black and grey mèlange, red/black, stellar, grey mèlange |
Our Ratings
---
What Defines a Luxury Stroller
When you have a baby, you'll want to have a stroller at your disposal. It will reinstate some of the independence into your life, like you used to have pre-baby.
Many standard strollers are excellent, though they don't always fully focus on functional features or style. Luxury strollers take functionality and fashion to the next level.
They provide premium transportation for your little one with high-quality materials such as PU leather and cushioned seats. Most feature smart engineering for a smooth ride and effortless maneuverability for the person pushing.
Buying a luxury stroller doesn't necessarily require you to drain your bank account. The luxury stroller range is broad in terms of price tags.
At one end, you've got European designer brands such as Fendi. Featuring all the luxuries you'd expect from such a name, they come with a hefty price tag. Many of us have cars that are worth less than one of these strollers.
Then in the mid-range, you can expect to find brands such as Cybex and Bugaboo. These are much more moderately priced. However, they do have excellent features.
Cybex has opted to specialize in sun canopies which provide a UPF 50+ protection, where Bugaboo focuses on suspension and ride.
At the most affordable end of the luxury spectrum, you will find a brand like Baby Stroller.
How to Choose a Luxury Stroller
To find the best luxury stroller for your needs, consider the following:
---
The Takeaway
The best luxury strollers don't have to cost a fortune. What's important is that they incorporate essential features — good tires, adjustable and comfortable seat and handle, large sun canopy, and a five-point harness.
Plush material, extra storage, cup holders, and snack trays are all great too, but the comfort and safety of you and your little one is the top priority. Peace of mind is a real luxury.
Thank You For Your Feedback!
Thank You For Your Feedback!