We're here to guide you through the best Bugaboo strollers.
With our focused research and thorough evaluations, we've tailored a list of top Bugaboo strollers that promise quality and adaptability.
Rest assured, we know this decision is important, so we've prioritized your baby's comfort and safety. Dive in, and let's find that perfect stroller together.
Image
Model
Product Comparison Table
Features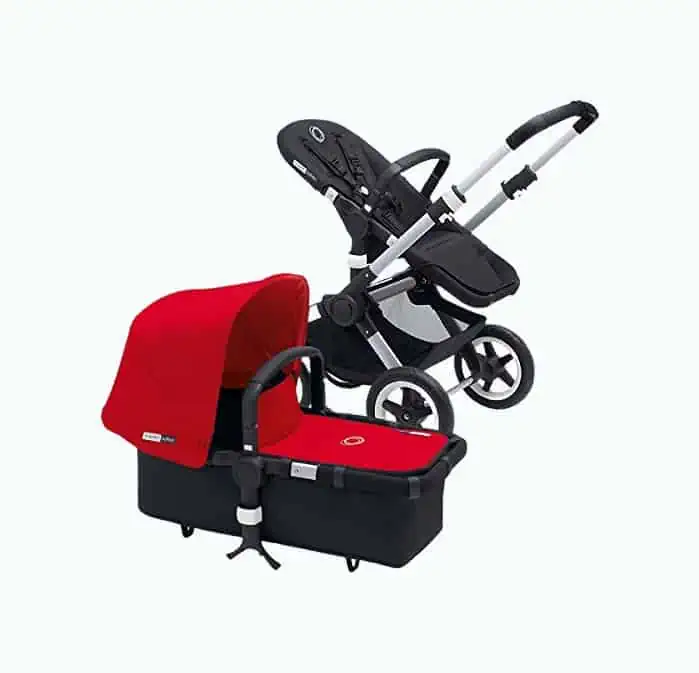 Best All Round
Buffalo Complete Collection
Excellent all-terrain stroller
Five-point harness
Durable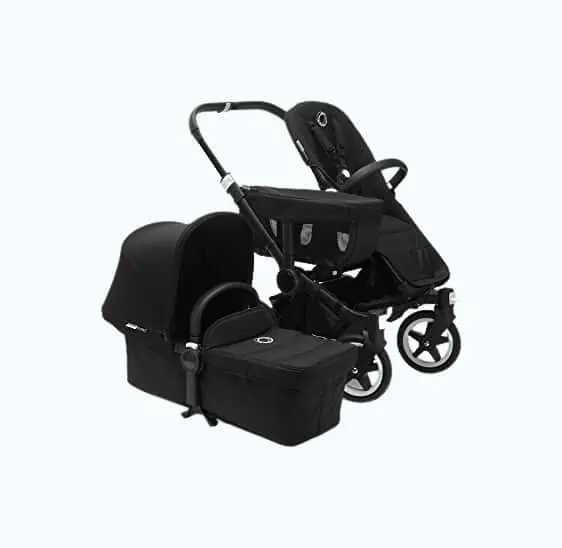 Best Double
Donkey 2 Mono Baby Stroller
Converts easily into a double stroller
Side basket in single stroller mode
All-terrain foam-filled tires
Best for Newborns
Fox Complete Full-Size Stroller
Includes a bassinet
Comfortable seat for an older baby
Easy to fold frame
Best Lightweight
Bee5 Complete Stroller
Lightweight and easy to travel with
Lots of added comforts
Comfortable, adjustable handles
Best for All-Terrains
Lynx Lightest Stroller
All-terrain stroller for family outings
Iconic design
Puncture-proof wheels
Review Methodology: At Mom Loves Best, we pride ourselves on our rigorous analysis, assessment, and hands-on experience with strollers. Our team has thoroughly researched and compared various Bugaboo strollers, using key criteria such as performance, safety, design, and user experience to rank and evaluate each product. We share our findings, data, and evidence to help you make informed decisions when choosing the best Bugaboo stroller for your family. From measuring maneuverability and ease of use to evaluating the stroller's design choices and their effects on users, our comprehensive reviews provide a professional, user-focused perspective that sets our recommendations apart from competitors. Trust in our expertise as we guide you through the factors that matter most when it comes to selecting the perfect Bugaboo stroller.
---
---
The Best Bugaboo Stroller Reviews of 2023
We spent hours looking through parent reviews and expert recommendations to find the best Bugaboo strollers. We've now narrowed it down to the top five:
Bugaboo Buffalo Complete Stroller
Best Bugaboo Stroller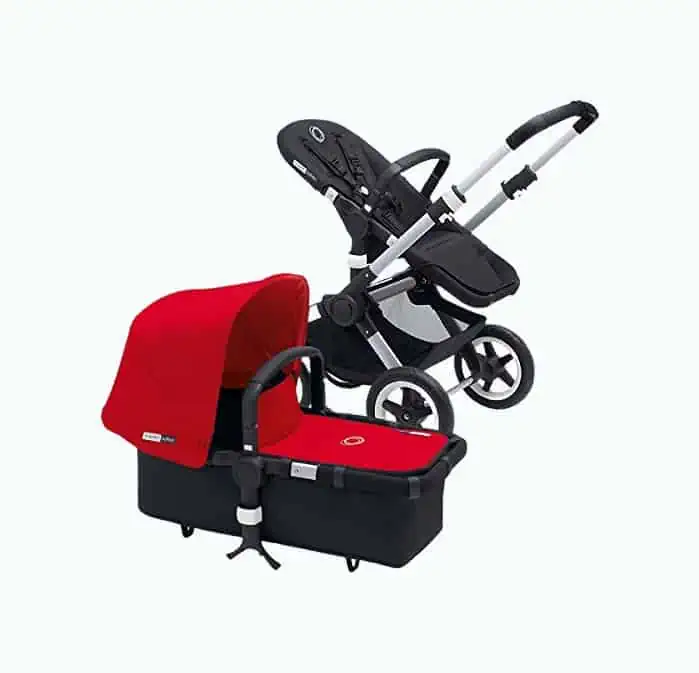 Part of Bugaboo's older collections, the Buffalo Stroller is a gem for families with a penchant for outdoor adventures. This stroller offers an impressive array of features bolstered by durable wheels designed to withstand various terrains.
The Bugaboo Buffalo Stroller is stunning, balancing between classic elegance and practicality, making it perfect for outdoor enthusiasts. It's an all-terrain stroller accented by a vibrant red sun canopy, seat, and bassinet.
High-quality materials are the cornerstone of this stroller's design. Bugaboo's use of premium fabrics and vegan leather on the handlebar results in a comfortable grip that's both luxurious and ethically conscious.
The stroller has a roomy seat for your baby with multiple storage options. Its well-balanced structure allows you to hang a bag from the handlebar without risking a tip-over.
Pros
Excellent all-terrain stroller.
Five-point harness.
Durable, therefore, it will surely last long.
Product Specs
| | |
| --- | --- |
| Color | Red |
| Car seat compatible | Yes |
| Stroller weight | 27.1 pounds |
| Weight limit | 37.5 pounds |
Our Ratings
Community Feedback
My experience with this Bugaboo Buffalo Stroller has been great for outdoor adventures, thanks to its durable wheels and all-terrain features. I appreciate the comfortable vegan leather handlebar and the roomy seat with multiple luggage options. However, it's a bit on the heavier side, which can be a downside for some users.
---
Bugaboo Donkey 2 Mono Baby Stroller
Best Bugaboo Double Stroller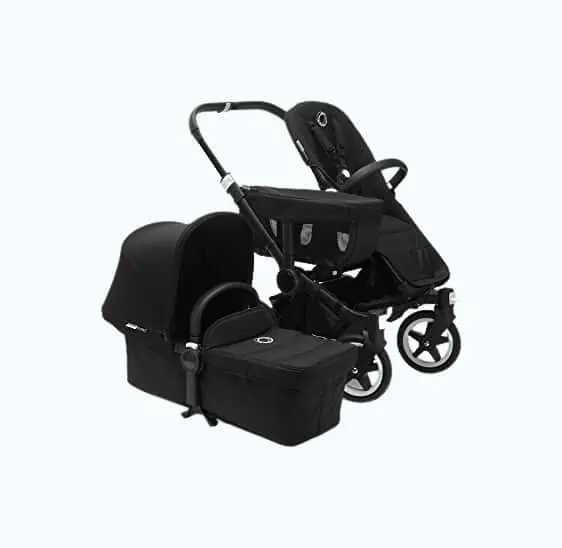 The Bugaboo Donkey 2 is an ideal choice for parents expecting twins or who have two children of different ages because it offers dual functionality. The default single stroller can be equipped with a side storage basket or effortlessly converted into a double stroller with a few quick adjustments.
The stroller is ready from day one — it's car seat compatible if you buy the separate adapters and seats.
As a single stroller, it features a convenient side basket. It's an excellent companion while at the grocery store or other grab-and-go times, keeping your necessities within reach. The stroller also includes pockets for all your valuables to keep your on-the-road life a little more organized.
Another great feature is the superior steering and ultra-comfy ride. It strolls smoothly over any terrain, sidewalks, dirt paths, and even cobblestone. The tires are foam-filled, ensuring a puncture-free journey, and the seat is fully adjustable, providing optimal comfort whether your little one is asleep or awake.
Pros
Easily converts into a double stroller.
Practical side basket when in single stroller mode.
All-terrain foam-filled tires.
Cons
Folds rather awkwardly — you have to remove the basket.
Quite heavy.
Product Specs
| | |
| --- | --- |
| Color | Black, dark navy, grey melange, grey and red, blue melange, and black and grey melange |
| Car seat compatible | Yes |
| Stroller weight | 29.2 pounds |
| Weight limit | 50 pounds |
Our Ratings
Community Feedback
I've recently replaced my old stroller with the Bugaboo Donkey2, and I couldn't be happier with the change. This stroller offers a smooth and sturdy ride, easily handling small bumps in the pavement. The simple round buckle for the straps is a time saver compared to my previous stroller, and the toddler seat's recline feature allows me to gently rock my 10-month-old. Folding it down can be a bit challenging at first, and it does take up significant space in my car trunk, but the overall performance outweighs these minor drawbacks. The Bugaboo Donkey2 has truly made a difference in my daily outings with my child.
---
Bugaboo Fox Complete Full-Size Stroller
Best Bugaboo Stroller for Newborns
The Bugaboo Fox, one of Bugaboo's latest models, stands out as an excellent option for soon-to-be parents. It's a comprehensive stroller solution, equipped with top-tier suspension for smooth rides and designed with an unwavering focus on comfort.
Included is a bassinet to accommodate your baby from day one. The Fox also supports car seats with a compatible adapter, both available for purchase separately.
Once your baby is able to sit unassisted, they can transition to the ergonomic plush seat. Bugaboo elevated the chair a few inches to facilitate easy interaction with your baby. The stroller can comfortably accommodate your child up to a weight of 48.5 pounds.
When you're a new parent, everything needs to be as easy as possible. Bugaboo understands this and designed the Fox with a convenient one-piece folding mechanism. This feature allows for the stroller to be effortlessly collapsed into a compact size for easy storage or transport.
In addition to the stroller and bassinet, Bugaboo also gives you some other practical features. These include a rain cover, UPF 50 sun canopy, as well as a large storage basket.
Pros
Suitable from day one with the included bassinet.
Comfortable seat for an older baby.
User-friendly, easy-to-fold frame.
Product Specs
| | |
| --- | --- |
| Color | Blue melange, dark navy, grey melange, black, black and white, black and grey melange, red and black, and stellar |
| Car seat compatible | Yes |
| Stroller weight | 21.81 pounds |
| Weight limit | 48.5 pounds |
Our Ratings
Community Feedback
My experience with the Bugaboo Fox has been exceptional, as it combines style, durability, and convenience in one sleek package. This stroller's all-wheel suspension and large wheels make navigating city streets, cobblestones, and grass a breeze, providing a smooth and comfortable ride for my toddler. The spacious, reclining seat and adjustable canopy ensure a cozy experience, though I do wish the canopy had a peek-a-boo window. The height-adjustable handlebar, easy-to-use brake, and large storage basket make this stroller a dream for tall parents like myself, and the compact, self-standing fold is perfect for small living spaces.
---
Bugaboo Bee5 Complete Stroller
Best Bugaboo Lightweight Stroller
Compared to the heavier Fox, Bugaboo created the Bee 5 specifically for parents living in the city. It's one of the company's lightest, most compact buggies, which folds easily and is light to carry.
Ideal for big-city living or frequent travel, the Bugaboo Bee 5 Complete comes highly recommended. It's suitable from birth with the capability to accepts bassinets and car seats, both available for separate purchase.
Despite its small size, everything is designed for comfort. The seat includes plush for extra softness, and the backrest and footrest are both adjustable to suit your growing baby. Another great feature, which your baby will surely love, is the reversible chair — your child can face the world or you.
Parents will appreciate the faux leather handles, allowing for an excellent grip. The height is adjustable as well, suitable for every driver.
Pros
Lightweight and easy to travel with — weighs 19.6 pounds.
Lots of added comforts for a growing baby.
Comfortable, adjustable handles covered in faux leather.
Cons
Feels wobbly on uneven terrain.
Product Specs
| | |
| --- | --- |
| Color | Black, blue melange, dark navy, black and grey melange, black and red, black and blue, black and pink, black and yellow, and grey melange |
| Car seat compatible | Yes |
| Stroller weight | 19.6 pounds |
| Weight limit | 37.5 pounds |
Our Ratings
Community Feedback
Great stroller with a sleek, lightweight yet sturdy design that provides a smooth ride and excellent maneuverability. I appreciate the high-quality materials, spacious storage basket, and reversible seat that can face forwards or backwards. However, the assembly instructions could be more clear, and I encountered an issue with missing wheel covers, but overall, this stroller offers a perfect combination of practicality and comfort.
---
Bugaboo Lynx Lightest Full-Size Stroller
Best Bugaboo Stroller for All-Terrains
Designed for adventurous families, the Bugaboo Lynx is the perfect companion for off-road outings. It's a sturdy stroller suited with all-terrain wheels, capable of gliding over uneven ground.
The suspension and puncture-proof wheels will definitely provide a smooth and comfortable ride.
Timeless versatility is what the Lynx is all about. It's an iconic design with superb features, offering adaptability from birth when paired with a separately sold bassinet.
Sporting 7-inch front wheels and rear wheels nearly double that size, the Lynx offers excellent maneuverability while maintaining a narrow stride. The stroller features a reversible seat, allowing your child to face forward when they're ready to explore or continue facing you for added reassurance.
You can adjust the backrest into three positions, suitable for young and older babies, asleep or awake. It's made with premium materials that have been tested to ensure durability.
Pros
All-terrain stroller for family outings.
Effortless folding design.
Adjustable backrest and reversible seat.
Suitable from day one.
Cons
Folding the stroller is a two-step process.
Product Specs
| | |
| --- | --- |
| Color | Alu/Black, Alu/Black-Fresh White, Alu/Blue Mélange, Alu/Grey Melange, Alu/Light Grey, Black, Black/Grey Mélange, and Steel Blue |
| Car seat compatible | Yes |
| Stroller weight | 20.7 pounds |
| Weight limit | 50 pounds |
Our Ratings
Community Feedback
My experience with this stroller has been a mix of pros and cons. I love how lightweight and compact it is, making it easy to maneuver in tight spaces and transport. However, I found the folding mechanism to be less intuitive and had some difficulty adjusting the handlebar. The smaller wheels might be an issue for those living in areas with poor road infrastructure, but overall, the sleek design and smooth ride make this stroller a solid choice.
---
Bugaboo Stroller-Related Accessories
Bugaboo provides you with everything you need to customize your stroller's look. Some add-on accessories include:
Comfort Wheeled Board: For the older sibling tagging along, Bugaboo offers a stand/seat attachment. It's a small stroller board with a bicycle seat, excellent for long walks.
Bugaboo Cup Holder: Compatible with all Bugaboo strollers, the cup holder is large and keeps your drink close at hand. It's easy to remove and attach.
Bugaboo Stroller Organizer: To keep your stuff organized while out and about, Bugaboo offers this stylish stroller organizer tote bag in a gray melange. It keeps your stuff secure and within reach.
Breezy Seat Liner: A temperature-regulating seat liner is suitable for any weather and keeps your little one comfy. It's compatible with the Bee, Donkey, Cameleon, and Buffalo strollers and is available in various colors.
Bugaboo Mosquito Net: To keep your baby protected from insects, Bugaboo offers its mosquito net. It's made from polyester and is machine washable.
High-Performance Footmuff: The high-performance footmuffs keep your little one snug in the winter. They're fitted with a zipper and come in various colors.
Cameleon High-Performance Rain Cover: To keep your baby dry in rainy weather, the high-performance rain cover for the Cameleon stroller is a good add-on. Your baby can stay dry while still looking out.
Bugaboo Parasol: For extra protection against the sun, Bugaboo offers its parasol. It's available in multiple colors and attaches easily to the stroller frame.
Breezy Sun Canopy: If you have a Fox or Cameleon 3 stroller, you can change out the canopy with the Breezy version, available in various colors. It has mesh windows on all sides, keeping your little one cool and comfy.
Comfort Transport Bag: To ensure your Bugaboo stroller arrives safely at your destination, Bugaboo offers this padded transport bag. It comes with a carry handle as well as padded shoulder straps.
Bugaboo Snack Tray: For the Fox2, Donkey, and Cameleon strollers, you can choose this dishwasher-safe snack tray. It attaches easily, giving your child a cup holder and plate.
Bugaboo Stand: During outings, you can use this stand with the Cameleon 3, Buffalo, or Donkey stroller bassinets. You can use it as a highchair in restaurants or the park — it's easy to set up and allows for recline adjustments.
Where to Buy Bugaboo Strollers
Bugaboo's strollers are available to buy through its website. You can also find a wide selection on sites such as Amazon, Buy Buy Baby, Baby R' Us, and the newly relaunched Toys R Us stores.
Bugaboo Website and Contact
Many buyers praise how great the Bugaboo website is, and we can't disagree. It's stunning to scroll through, and it features thorough descriptions.
If you want to contact Bugaboo, you can call its customer service at 1-800-460-2922. Or fill out an email form on the site.
---
Who Is Bugaboo?
Bugaboo, a trend-setting Dutch design company, was co-founded in 1994 by Max Barenbrug and Eduard Zanen. Barenbrug began the idea as a graduation project while studying at a Dutch design academy.
The Bugaboo company quickly developed and started to produce stylish strollers as well as luggage systems. Its first stroller, the Bugaboo Classic, began roaming the streets of Holland around 1999.
Bugaboo didn't find global success until its launch of the Bugaboo Frog in 2001. The model quickly gained popularity in the United Kingdom before grabbing the attention of the hit show, Sex and the City. After it was featured in the series, it became a sought-after stroller within the U.S. too.
Bugaboo Today
Bugaboo is a relatively young company, still working to make its mark in the global market. It's well on the way — with strollers that combine beautiful design and functional engineering (1).
What Parents Say About Bugaboo
Bugaboo is doing exceptionally well among parents, receiving mostly positive ratings in reviews (2). Their high-caliber products receive a lot of applause.
Although Bugaboo strollers come with a higher price tag, the value provided is unbeatable, demonstrated by the company's confidence in offering a three-year warranty.
In addition to high-quality design and durability, Bugaboo also shines in terms of ease of assembly. Many parents have found that freeing the stroller from its packaging is more challenging than putting it together!
---
Thank You For Your Feedback!
Thank You For Your Feedback!