Do you want a stroller you can customize to fit your style? Are you looking into buying a Bugaboo, but aren't quite sure if it's the right fit for you?
Bugaboo, with its interesting background and designs, should be one of the companies you consider. Let's take an in-depth look at this company and its strollers and accessories.
Image
Model
Product Comparison Table
Features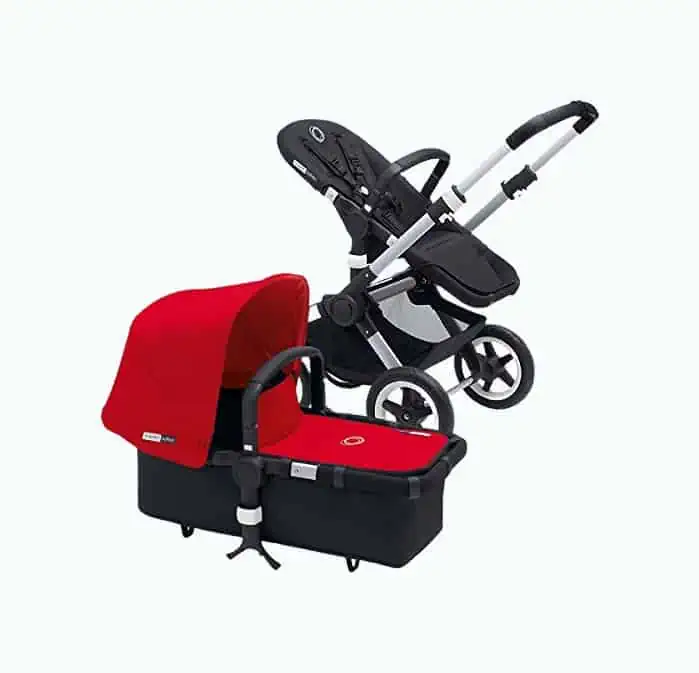 Best All Round
Buffalo Complete Collection
Excellent all-terrain stroller
Five-point harness
Durable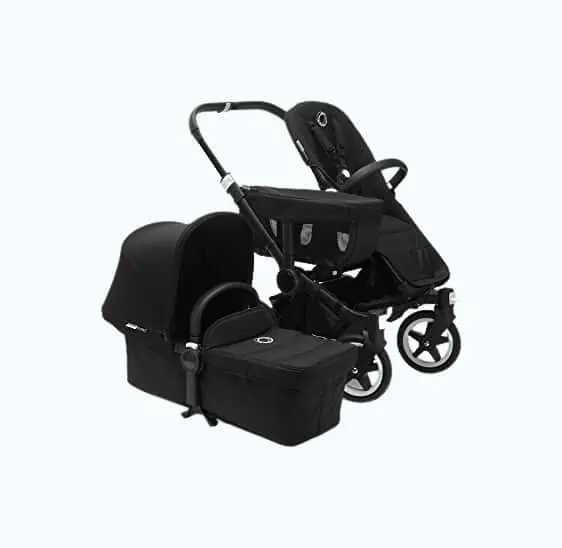 Best Double
Donkey 2 Mono Baby Stroller
Converts easily into a double stroller
Side basket in single stroller mode
All-terrain foam-filled tires
Best for Newborns
Fox Complete Full-Size Stroller
Includes a bassinet
Comfortable seat for an older baby
Easy to fold frame
Best Lightweight
Bee5 Complete Stroller
Lightweight and easy to travel with
Lots of added comforts
Comfortable, adjustable handles
Best for All-Terrains
Lynx Lightest Stroller
All-terrain stroller for family outings
Iconic design
Puncture-proof wheels
---
---
The Best Bugaboo Stroller Reviews of 2023
To find the best Bugaboo strollers, we spent hours looking through parent reviews and expert recommendations. We've now narrowed it down to the top five — these are:
Bugaboo Buffalo Complete Stroller
Best Bugaboo Stroller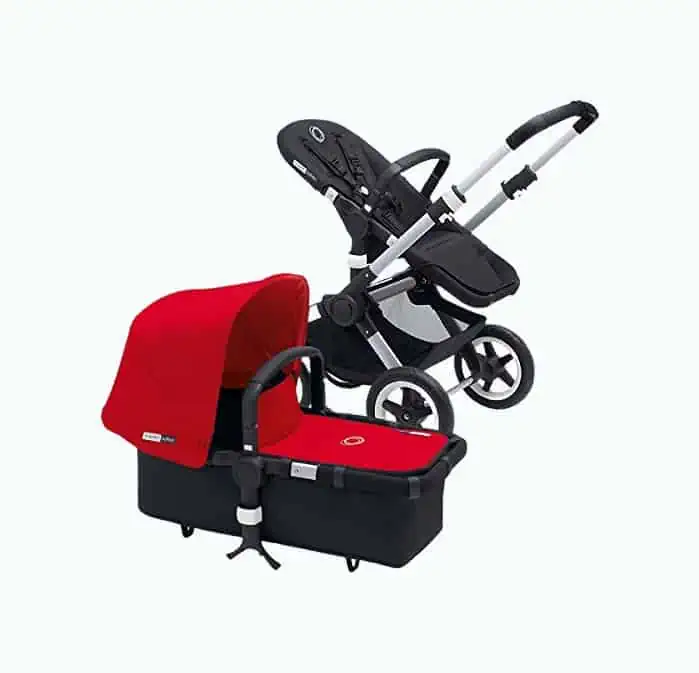 The Buffalo is a part of one of Bugaboo's older collections. If you're a family that enjoys being outside and going on outings, the Buffalo is a good choice. It's packed with useful features and suited with durable wheels.
The Bugaboo Buffalo Stroller is stunning. It combines timeless elegance with functions and features suitable for the outdoors. It's an all-terrain stroller with a red color on the sun canopy, seat, and bassinet.
We adore the materials Bugaboo used when creating this masterpiece. It's composed of luxury fabrics and vegan leather on the handlebar — a comfortable grip that's guilt-free on the conscience.
The stroller has a roomy seat for your baby with multiple luggage options. It can hang from the handlebar safely without causing the buggy to fall backward.
Pros
Excellent all-terrain stroller.
Five-point harness.
Durable therefore it will surely last long.
Product Specs
| | |
| --- | --- |
| Color | Red |
| Car seat compatible | Yes |
| Stroller weight | 27.1 pounds |
| Weight limit | 37.5 pounds |
Our Ratings
---
Bugaboo Donkey 2 Mono Baby Stroller
Best Bugaboo Double Stroller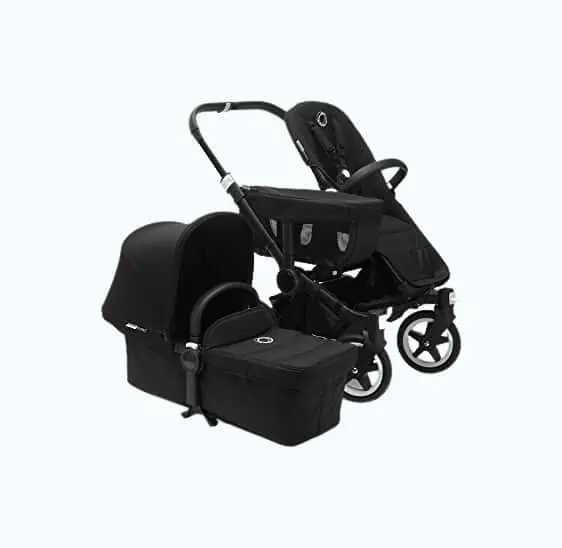 For parents with two kids or twins on the way, the Bugaboo Donkey 2 is excellent. You can choose to use it in two ways — either as a single stroller with a storage side basket or as a double.
Although it comes as a single stroller, when needed, it converts effortlessly into a double — a few clicks and pulls, and you've got an excellent twin buggy. The stroller is ready from day one — it's car seat compatible if you buy the separate adapters and seats.
As a single stroller, it features a useful side basket. It's an excellent companion while at the grocery store or other grab-and-go times, holding all your essentials close at hand. It also includes pockets for all your valuables, to keep your on-the-road life a little more organized.
Another great feature is the superior steering and ultra-comfy ride. It strolls smoothly over any terrain, sidewalks, dirt paths, and even cobblestone. The tires are foam-filled, meaning they will never go flat.
The seat is fully adjustable for when your little one needs sleep or is awake.
Pros
Converts easily into a double stroller.
Practical side basket when in single stroller mode.
All-terrain foam-filled tires.
Cons
Folds rather awkwardly — you have to remove the basket.
Quite heavy.
Product Specs
| | |
| --- | --- |
| Color | Black, dark navy, grey melange, grey and red, blue melange, and black and grey melange |
| Car seat compatible | Yes |
| Stroller weight | 29.2 pounds |
| Weight limit | 50 pounds |
Our Ratings
---
Bugaboo Fox Complete Full-Size Stroller
Best Bugaboo Stroller for Newborns
One of Bugaboo's newest models is the Fox, and it's the best choice for expecting parents-to-be. Fitted with superior suspension and incorporating exceptional comfort, It's a complete stroller.
Included is a bassinet to accommodate your baby from day one. The Fox also accepts car seats with a compatible adapter — both are sold individually.
Once your baby can sit in the seat by themselves, the ergonomic plush inside cradles and provides support. Bugaboo elevated the chair a few inches, bringing your baby closer for comfortable interactions. The stroller can carry your child until they weigh 48.5 pounds.
When you're a new parent, everything needs to be as easy as possible. Bugaboo helps you out by including a one-piece fold. The Fox collapses effortlessly into a compact size, ready for storing or transport.
Along with the stroller and bassinet, Bugaboo also gives you some other useful features. These include a rain cover, UPF 50 sun canopy, as well as a large storage basket.
Pros
Suitable from day one with the included bassinet.
Comfortable seat for an older baby.
Easy to fold frame.
Cons
It is challenging to assemble.
Product Specs
| | |
| --- | --- |
| Color | Blue melange, dark navy, grey melange, black, black and white, black and grey melange, red and black, and stellar |
| Car seat compatible | Yes |
| Stroller weight | 21.81 pounds |
| Weight limit | 48.5 pounds |
Our Ratings
---
Bugaboo Bee5 Complete Stroller
Best Bugaboo Lightweight Stroller
Compared to the heavier Fox, Bugaboo created the Bee 5 specifically for parents living in the city. It's one of the company's lightest, most compact buggies, which folds easily and is light to carry.
Whether you live in a big city or travel frequently, the Bugaboo Bee 5 Complete is an excellent pick. It's suitable from birth — it accepts bassinets and car seats. These are both available to buy separately.
Despite its small size, everything is designed for comfort. The seat includes plush for extra softness, and the backrest and footrest are both adjustable to suit your growing baby. Another great feature, which your baby will surely love, is the reversible chair — your child can face the world or you.
What mom and dad will appreciate is the faux-leather handles, allowing for an excellent grip. The height is adjustable as well, suitable for every driver.
Pros
Lightweight and easy to travel with — weighs 19.6 pounds.
Lots of added comforts for a growing baby.
Comfortable, adjustable handles, covered in faux-leather.
Cons
Feels wobbly on uneven terrain.
Product Specs
| | |
| --- | --- |
| Color | Black, blue melange, dark navy, black and grey melange, black and red, black and blue, black and pink, black and yellow, and grey melange |
| Car seat compatible | Yes |
| Stroller weight | 19.6 pounds |
| Weight limit | 37.5 pounds |
Our Ratings
---
Bugaboo Lynx Lightest Full-Size Stroller
Best Bugaboo Stroller for All-Terrains
The Lynx is the perfect companion for off-road family outings. It's a sturdy stroller suited with all-terrain wheels, capable of gliding over uneven ground.
The suspension and puncture-proof wheels will definitely provide a smooth and comfortable ride.
Timeless versatility is what the Lynx is all about. It's an iconic design with superb features. The buggy is adaptable and can be used from birth with the use of a bassinet which is sold separately.
The front wheels measure 7 inches while the rear is almost twice the size of the front wheels, giving the stroller superb maneuverability and creating a narrow stride. The reversible seat allows your child to turn to the front once they feel ready to explore. Or, they can continue to face you for added comfort.
You can adjust the backrest into three positions, suitable for young and older babies, asleep or awake. It's made with premium materials that have been tested to ensure durability.
Pros
All-terrain stroller for family outings.
Effortless folding design.
Adjustable backrest and reversible seat.
Suitable from day one.
Cons
Folding the stroller is a two-step process.
Product Specs
| | |
| --- | --- |
| Color | Alu/Black, Alu/Black-Fresh White, Alu/Blue Mélange, Alu/Grey Melange, Alu/Light Grey, Black, Black/Grey Mélange, and Steel Blue |
| Car seat compatible | Yes |
| Stroller weight | 20.7 pounds |
| Weight limit | 50 pounds |
Our Ratings
---
Bugaboo Stroller Related Accessories
Bugaboo provides you with everything you need to customize your stroller's look. Some add-on accessories include:
Comfort Wheeled Board: For the older sibling tagging along, Bugaboo offers a stand/seat attachment. It's a small stroller board with a bicycle seat, excellent for long walks.
Bugaboo Cup Holder: Compatible with all Bugaboo strollers, the cup holder is large and keeps your drink close at hand. It's easy to remove and attach.
Bugaboo Stroller Organizer: To keep your stuff organized while out and about, Bugaboo offers this stylish stroller organizer tote bag in a gray melange. It keeps your stuff secure and within reach.
Breezy Seat Liner: A temperature-regulating seat liner is suitable for any weather and keeps your little one comfy. It's compatible with the Bee, Donkey, Cameleon, and Buffalo strollers, and is available in various colors.
Bugaboo Mosquito Net: To keep your baby protected from insects, Bugaboo offers its mosquito net. It's made from polyester and is machine washable.
High-Performance Footmuff: The high-performance footmuffs keep your little one snug in the winter. They're fitted with a zipper and come in various colors.
Cameleon High-Performance Rain Cover: To keep your baby dry in rainy weather, the high-performance rain cover for the Cameleon stroller is a good add-on. Your baby can stay dry while still looking out.
Bugaboo Parasol: For extra protection against the sun, Bugaboo offers its parasol. It's available in multiple colors and attaches easily to the stroller frame.
Breezy Sun Canopy: If you have a Fox or Cameleon 3 stroller, you can change out the canopy with the Breezy version, available in various colors. It has mesh windows on all sides, keeping your little one cool and comfy.
Comfort Transport Bag: To ensure your Bugaboo stroller arrives safely to your destination, Bugaboo offers this padded transport bag. It comes with a carry handle as well as padded shoulder straps.
Bugaboo Snack Tray: For the Fox2, Donkey, and Cameleon strollers, you can choose this dishwasher safe snack tray. It attaches easily, giving your child a cup holder and plate.
Bugaboo Stand: During outings, you can use this stand with the Cameleon 3, Buffalo, or Donkey stroller bassinets. You can use it as a highchair in restaurants or the park — it's easy to set up and allows for recline adjustments.
Where to Buy Bugaboo Strollers
Bugaboo's strollers are available to buy through its website. You can also find a wide selection on sites such as Amazon, Buy Buy Baby, Baby R' Us, and the newly relaunched, Toys R Us stores.
Bugaboo Website and Contact
Many buyers praise how great the Bugaboo website is, and we can't disagree. It's stunning to scroll through, and it features thorough descriptions.
If you want to contact Bugaboo, you can call its customer service at 1-800-460-2922. Or fill out an email form on the site.
---
Who Is Bugaboo?
Bugaboo is a Dutch design company, co-founded in 1994 by Max Barenbrug and Eduard Zanen. Barenbrug began the idea as a graduation project while studying at a Dutch design academy.
The Bugaboo company quickly developed and started to produce stylish strollers as well as luggage systems. Its first stroller, the Bugaboo Classic, began roaming the streets of Holland around 1999.
Bugaboo didn't find global success until its launch of the Bugaboo Frog in 2001. The model quickly gained popularity in the United Kingdom, before grabbing the attention of the hit show, Sex and the City. After it was featured in the series, it became a sought after stroller within the U.S. too.
Bugaboo Today
Bugaboo is a relatively young company, still working to make its mark in the global market. It's well on the way — with strollers that combine beautiful design, and functional engineering (1).
What Parents Say About Bugaboo
Bugaboo is doing exceptionally well among parents, receiving mostly positive ratings in reviews (2). Their high-caliber products receive a lot of applause.
Bugaboo isn't a budget brand, however. Most of its strollers are pricier, but you can expect top-notch quality. Bugaboo even includes a three-year warranty.
Another point in their favor is the relatively easy assembly of their strollers. Many customers say it's harder getting the parts out of the box than putting them together.
---
Final Judgement
Although Bugaboo is still a young company, it already has a strong history behind it. After one of its strollers was featured in a hit TV show, their popularity soared in the US.
All Bugaboo strollers have superior suspension and steering — they're also customizable with various canopies available. You'll have fun showing your baby off in style in one of these products.
Thank You For Your Feedback!
Thank You For Your Feedback!