Sit and stand strollers are a lifesaver if you have multiple kids. But with such a wide variety of styles and prices, it can be difficult to know which model is the best fit for your family.
Whether you're a first-time parent or an experienced caregiver, we'll combine our personal experience with our research to help you find the ideal stroller for your growing family's needs. We'll review the best models, highlighting each stroller's features and design, what makes them unique, and any drawbacks. We'll focus on maneuverability, weight capacity, storage options, and ease of folding, as these are the most important criteria.
If you're ready for easier outings and adventures with your little ones, read our expert reviews to find the perfect sit and stand stroller for your family's lifestyle.
Image
Model
Product Comparison Table
Features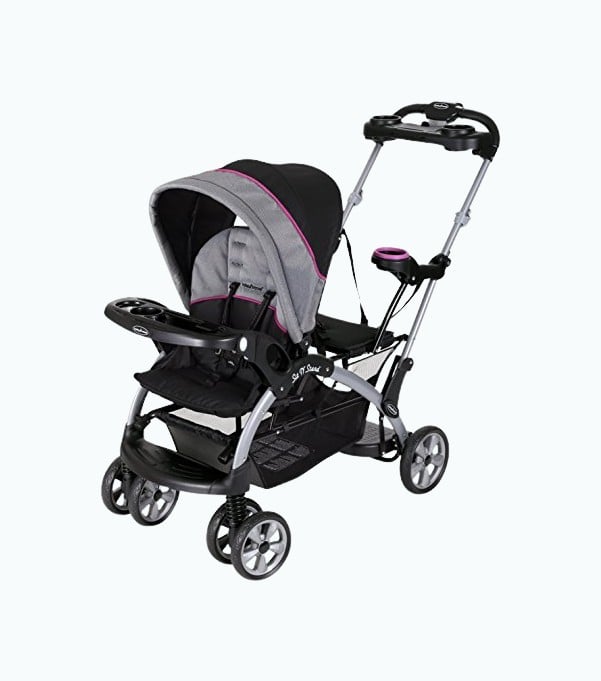 One-Hand Fold
Baby Trend Sit n Stand Ultra
Five-point harness
Convenient to use
Compact
Good for Storage
Graco RoomFor2 Click Connect
Padded rear bench seat
Easy to clean
Convenient fold mechanism
Travel-Friendly
Chicco BravoFor2
Comfort in the rear
Quick-fold
Padded plush handle
Most Lightweight
Joovy Caboose Too Ultralight Graphite
Multiple seating options
Easy to maneuver
Extended sun canopy
Best for Two Younger Children
Baby Trend Double
Weight limit of 40 pounds
Infant car seat compatible
Roomy storage space
Review Methodology: At Mom Loves Best, we understand the importance of finding the perfect sit and stand stroller for your growing family. Our hands-on research and analysis, backed by professional expertise and real-life experience, ensure that we provide you with the most accurate and trustworthy information. We evaluate each stroller based on key factors such as safety, durability, ease of use, and maneuverability, and compare their performance to industry benchmarks. We also consider design choices and their impact on users, while sharing quantitative measurements of each product's performance. By carefully assessing and ranking the top sit and stand strollers on the market, we help guide you in making informed decisions and finding the ideal stroller that meets your family's needs.
---
---
The Best Sit and Stand Strollers of 2023
Here are 5 great sit and stand strollers to consider.
Baby Trend Sit n Stand Ultra Stroller
One-Hand Fold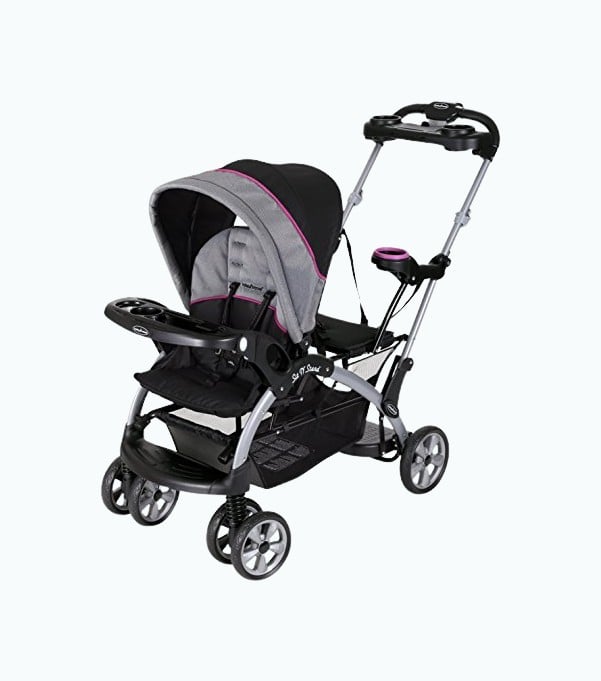 Baby Trend was one of the first companies to produce a sit and stand stroller. It provided a convenient travel option for parents with infants and toddlers, which quickly became popular. We have used and loved this model for years, and it doesn't seem to age.
We like that this stroller gives the option to attach an infant car seat in the front or rear positions. It will accept most brands. This is great if you don't have a significant age gap between your kids.
Your older child can sit in the stroller while the infant is in their seat. As they grow, your younger child sits in the stroller, with the older one having the freedom to walk, ride, or sit at the back.
What We Like
Safety Features
Strapping your child in is a must for their safety. The front stroller seat has a five-point harness, and a three-point harness is fitted on the bench seat.
The foot-operated rear brake makes it easy to stop at the edge of a sidewalk.
Convenience Features
We know that outings with multiple kids can be a challenge. This stroller has features to make your life easier. There is a large storage area beneath the seat and a parent tray with cup holders and a covered compartment for a phone or keys.
The child's tray has a snack area and cup holders. It is also a swing-away design, making it easy to get your little one in and out of the stroller seat.
Compact
For a double stroller, this one is compact when folded. This makes it great for storage or travel. It also has a one-hand fold for your convenience.
What We Don't Like
Seat Doesn't Recline Flat
One setback for this stroller is that the front seat doesn't recline much. That's not ideal because when your little one naps, they will be sitting upright. On the other hand, it means your older child has more room on the padded bench seat in the rear.
Small Sun Canopy
The adjustable sun canopy doesn't provide much cover from the sun or rain. You might also have to remove the canopy when using an infant car seat.
Product Specs
| | |
| --- | --- |
| Product Weight | 25 pounds |
| Dimensions | 49 inches long by 43 inches high by 21.5 inches wide |
| Child's Combined Weight Limit | 100 pounds (50 pounds each) |
| Color Choices | Bubble gum, Raspberry, Lagoon, Millenium Raspberry, Phantom |
| Extra Features | Parent console, child tray, removable sun shade, car seat compatible |
Our Ratings
Community Feedback
Best stroller for my growing family! This stroller has a great storage basket that fits all my essentials, and it folds compactly like a single stroller. I love the smooth ride and easy maneuverability, making trips to the zoo a breeze. The sunshade could be a bit bigger, but it's adjustable for blocking rays at different angles. The cushioned rear seat is perfect for my 2.5-year-old, who enjoys both sitting and standing while we're out and about.
---
Graco RoomFor2 Click Connect
Good for Storage
Graco is a well-recognized brand in the baby care market. They have been producing solutions for many parenting needs for more than 75 years.
This sit and stand stroller accommodates two children weighing up to 50 pounds each. It has lockable front swivel wheels measuring 6.7 inches and larger 8-inch rear wheels. It also has suspension for a more comfortable ride.
It is compatible with Graco car seats, making it a good option for families with an infant and a toddler. The stroller seat reclines to almost flat, which is good for naps on the go.
What We Like
Storage Options
The storage basket beneath the seating area is extra large. That makes it great for carrying a packed lunch to the park, your diaper bag, and your kids' favorite toys.
Then there are the trays for parents and kids. Both feature deep cup holders, and the parent console has space for your keys and phone. We like that the child tray pivots, giving easy access to the front stroller seat.
Comfortable
With a padded rear bench seat, this stroller accounts for your older child's comfort. There are ergonomic handles on each side for them to hold when standing.
Your younger child is also covered with the multi-position reclining seat. An adjustable sunshade helps keep them cool when the sun is shining.
Easy Clean
A removable stroller seat makes cleaning a breeze. Pop it in the machine on a cold cycle and line-dry it. You can also wipe the frame down easily with warm water and household soap.
Convenient Fold Mechanism
A one-hand fold is a must-have for many parents. This stroller collapses easily by releasing a catch and then pushing it closed until the storage latch clicks. That's great when you want to pop it into the trunk of your car.
What We Don't Like
Seating Compromised With Infant Seat
With an infant seat attached, the stroller seat has to be fully reclined. This infringes on the bench seat at the rear, so your older child might have no option but to stand. While this is okay for short walks, it could be trying for little legs over a more extended time.
Bumpy Ride
Smooth sidewalks or strolling around the mall shouldn't pose any problems. However, when the ground gets rough, so does the ride. While there is some suspension, the hard plastic wheels don't absorb bumps well.
Product Specs
| | |
| --- | --- |
| Product Weight | 27.18 pounds |
| Dimensions | 34.6 inches long by 40 inches high by 20.9 inches wide |
| Child's Combined Weight Limit | 100 pounds (50 pounds for each sitting/standing option) |
| Color Choices | Gotham (black and gray) |
| Extra Features | Child and parent drinks trays, storage basket |
Our Ratings
Community Feedback
I recently tried out this Graco sit and stand stroller and it has genuinely made my life easier with two young kids. The stroller can hold up to 50 pounds each, making it perfect for my infant and toddler, and it's even compatible with Graco car seats! The lockable front swivel wheels and rear suspension provide a smooth ride, while the almost flat reclining seat is great for on-the-go naps. However, the seating can be a bit compromised when using it with an infant seat, but overall, I love the storage options, easy cleaning, and convenient fold mechanism.
---
Chicco BravoFor2 Standing/Sitting
Travel-Friendly
We all know how hard it can be traveling with kids in tow. This stroller could make it more enjoyable.
It folds with one hand to become compact, measuring 18 inches by 23.25 inches by 35 inches. It also stands on its own, leaving your hands free.
A carry handle makes it simple to transport downstairs, on and off buses, or on the subway. At 26.5 pounds, it's at the lighter end of sit and stand stroller models.
This is also a stylish-looking stroller with its blend of black and gray fabric with silver accents and a brushed metal frame.
What We Like
Comfort in the Rear
Chicco has taken the rear passenger comfort into account. The standing platform is wide and sturdy. Once your child is on board, there are comfortable handles for them to hold and a backrest for support.
The bench seat is padded and has a three-point harness for safety. This seat folds away when not in use. You can extend the sun canopy to cover the rear seat.
Quick-Fold
In a quick-fold battle, this stroller will win hands down. Just access the integrated handle and lift slightly. The wheels are placed in the right position to enable self-standing and give a compact fold.
Smooth Ride
The stroller has rubber tires and suspension on all four wheels to help absorb bumps from uneven surfaces.
Regarding steering, the front wheels swivel, making turns easy. One-touch brakes hold it in place when stationary.
Parent Comforts
A plush handle is comfortable to hold when pushing this stroller. There is also a parent tray with two cup holders, great for your coffee and water or your baby's bottle.
The lower storage basket is roomy and can be accessed from the front or rear.
What We Don't Like
Only Chicco Infant Car Seats Fit
This stroller converts to a travel system by attaching a car infant seat, but only those made by Chicco are compatible.
Though some find other brands of car seats will fit, they do not click into place correctly, so their use is not advisable.
Front Seat Does Not Recline
The back-to-back seating design of this stroller means the front seat reclines only slightly. If your baby falls asleep, you won't be able to lie them down, and they might not be comfortable.
Product Specs
| | |
| --- | --- |
| Product Weight | 26.5 pounds |
| Dimensions | 42 inches long by 45 inches high by 23.25 inches wide |
| Child's Combined Weight Limit | 80 pounds (40 pounds each front and rear) |
| Color Choices | Iron |
| Extra Features | Parent tray, storage basket, padded handle |
Our Ratings
Community Feedback
I'm quite impressed with the convenience and functionality of this stroller, particularly its compatibility with my infant car seat and the standing and ride feature for my toddler. While the steering and folding mechanisms are user-friendly, taller individuals might find the non-adjustable standing ledge to be an issue as it can interfere with longer strides. Despite some concerns about the handle durability and compatibility limitations with certain car seats, this stroller has greatly improved my experience in transporting both my young children at the same time.
---
Joovy Caboose Too Ultralight
Most Lightweight
Having two children close in age poses travel issues. The older one might not be ready to give up their stroller. If so, this model has you covered.
There are two stroller seats that each accommodate a 45-pound child. Included is a car seat adapter to provide space for a newborn. Once your older child grows, you can remove the rear seat, leaving a bench seat and platform to sit on or ride standing.
This stroller is also one of the lightest ones available on the market. It's easy to fold, and at just 23.5 pounds, it's also easy to lift and carry.
What We Like
Multiple Seating Options
The multiple seating options don't compromise safety or comfort. Both seats have a five-point harness to secure your kids. They also recline so your kids can kick back and nap.
The rear bench seat is padded, and the standing platform is large and stable. Ergonomic handles have been placed on either side of the frame for your child to hold onto.
Easy to Maneuver
The wheels on this stroller have sealed bearings, similar to those on rollerblades or skateboards. Designed to carry heavy loads, they provide a smooth ride for your precious cargo. They also make it easier for you to steer.
Suspension on all four wheels helps keep the bumps at bay. The parking brake at the back locks the rear wheels with one tap of your foot.
Extended Sun Canopy
You can open the sun canopy to shade both seats, and if that's not enough, there is another extendable one. Unpack it from the parent organizer, and attach it to the rear of the sun canopy. This is great for protecting your children from the sun regardless of seat configuration.
Drinks Holders
The supplied neoprene parent organizer has two drink holders and a convenient zippered pocket. There is also one child tray with space for a cup or juice carton and snacks.
What We Don't Like
Storage Basket Damages Easily
It appears the storage basket on this stroller sits low. It can be damaged when pushed toward the ground by little feet in the rear seat or riding on the platform.
It can also be hard to access when the rear seat is in place or when the infant car seat is attached.
Infant Seat Compromises
When an infant seat is attached, the roominess of the rear stroller seat is considerably reduced. The other drawback is that the child in the rear seat or standing has no view to the front.
Product Specs
| | |
| --- | --- |
| Product Weight | 23.5 pounds |
| Dimensions | 38 inches long by 42 inches high by 21.25 inches wide |
| Child's Combined Weight Limit | 90 pounds (45 pounds each front and rear) |
| Color Choices | Black |
| Extra Features | Parent organizer, extended canopy, car seat adaptors |
Our Ratings
Community Feedback
Bought this stroller after much research and considering our budget and children's ages. The stroller fits my newborn's car seat and my 2.5-year-old comfortably, and I love how it folds easily to fit in my car. It moves pretty well, has two cup holders, a shade attachment, and a useful back bench seat. However, I wish the handlebars were stronger and the bottom bag was more accessible for thick baby bags.
---
Baby Trend Double Sit n Stand Stroller
Best for Two Younger Children
Sit and stand strollers aren't just for older and younger siblings. You can also use them for twins. This offering from Baby Trend covers all the bases from birth upward.
You can configure it in numerous ways: use one or two infant car seats, combine an infant car seat with a stroller seat, or there's a sit and stand option. There are two stroller seats, or you can use one stroller seat and a rear seat or standing platform.
There is a wide variety of on-trend color accents to choose from, including blue, pink, gray, and green combined with gray and black.
What We Like
Weight Limit
The stroller seats or rear platform can accommodate a child up to 40 pounds or 40 inches tall. It's worth noting that the rear platform is designed for use from about 2.5 years old when your child is stable on their feet and has good balance.
Infant Car Seat Compatible
Although not supplied, this stroller's frame is compatible with both Baby Trend and other major brands of car infant seats.
Storage Choices
A few storage options are included as standard to make your life easier. A roomy storage basket is located under the seats. A parent tray will hold two cups and has a central covered compartment to keep things like your keys and phone on hand.
There are trays for your children, which will hold a drink and snacks. These also swivel to the side — convenient for when you want to help your child in and out of their seat.
One-Hand Fold
The folding mechanism on this stroller is quick and easy to operate. It's located in the center of the handle. Simply depress the two buttons and push forward. Your stroller is ready to place in the trunk or store at home.
What We Don't Like
It's Heavy
At 32.5 pounds, this is on the heavier side of comparable sit and stand strollers. Add your kids in the mix, and it could be a workout pushing it over anything other than even flat surfaces.
Bulky When Folded
This stroller could be great for you if you have a large trunk or plenty of storage space. If not, transporting it and storing it could be a challenge.
The folded size is 18 inches by 11.5 inches by 37 inches. You might find you need to collapse a seat in your car to fit it in.
Product Specs
| | |
| --- | --- |
| Product Weight | 32.5 pounds |
| Dimensions | 49 inches long by 43 inches high by 21.5 inches wide |
| Child's Combined Weight Limit | 80 pounds (40 pounds each front and rear) |
| Color Choices | Carbon, Liberty, Millenium, Millenium Blue, Millenium Pink, Onyx, Optic Aqua, Optic Green, Optic Grey, Optic Pink, Optic Red, Optic Teal, Optic Violet |
| Extra Features | Covered parent tray, swing open children's trays with drink holders, storage basket |
Our Ratings
Community Feedback
For a family with two kids, this double stroller has been a great addition to our outings. It's compatible with our infant car seat and offers multiple options for our toddler, like sitting or standing. The stroller has ample storage space and is easy to fold, but be aware that it may require removing the back tires to fit into smaller vehicles. While it might not be the best option for outdoor events due to limited visibility for the child in the back, it's perfect for indoor excursions and has made our lives much easier.
---
| Product | Award | Product Weight | Dimensions | Child's Combined Weight Limit | Color Choices |
| --- | --- | --- | --- | --- | --- |
| Baby Trend Sit n Stand Ultra | One-Hand Fold | 25 lbs | 49″ long x 43″ high x 21.5″ wide | 100 lbs (50 lbs each) | 5 colors |
| Graco RoomFor2 Click Connect | Good for Storage | 27.18 lbs | 34.6″ long x 40″ high x 20.9″ wide | 100 lbs (50 lbs each) | 1 color |
| Chicco BravoFor2 | Travel-Friendly | 26.5 lbs | 42″ long x 45″ high x 23.25″ wide | 90 lbs (45 lbs each) | Black |
| Joovy Caboose Too Ultralight | Most Lightweight | 23.5 lbs | 38″ long x 42″ high x 21.25″ wide | 90 pounds (45 pounds each) | Black |
| Baby Trend Double | Best for Two Younger Children | 32.5 lbs | 49″ long x 43″ high x 21.5″ wide | 80 lbs (40 lbs each) | 13 colors |
How to Choose a Sit and Stand Stroller
Deciding what features you want in a sit and stand stroller will depend on the ages of your kids. Here are some factors to consider.
Who Should Choose a Sit and Stand Stroller?
Sit and stand strollers combine the best of both worlds for an expanding family. They are hybrids between inline double strollers and travel systems that take an older child into account.
An age difference of two to five years between your kids can be challenging. These strollers bridge that gap by keeping both kids comfortable.
At the back of the stroller, your eldest can ride on the platform or sit on the bench seat when their legs tire. Ergonomic handles are fitted on the stroller frame for them to hold onto. It's fun for them to hop on and off at will — and it saves you the constant buckling and unbuckling from a stroller seat.
But your smallest child also has a seat on this parent-pushed express train. They can sit in the stroller seat just as they would in any other kind. The seats often recline, making them comfortable for sleeping when out and about.
Finally, many sit and stand strollers are infant car seat compatible. Check that yours will fit the brand and model you choose.
The inline design makes it easier to steer and lighter weight than their double side-by-side counterparts.
You could liken this mode of kiddie transportation to a single stroller with more room at the back for an older child.
However, there are some downsides to the sit and stand design:
They are not as compact or lightweight as a single stroller.
The sunshades are often lacking, especially for the child in the rear.
You might also find they don't steer as easily on uneven surfaces.
Nevertheless, they are a good solution for an older child who isn't ready to walk all the time when there is also a little one who needs to ride. They give an older child a little independence but still take their comfort and safety into account when their tired legs have had enough exercise.
Types of Sit and Stand Strollers
There are some subtle differences between sit and stand stroller designs.
Models for Older and Younger Children
This is the most basic seating format for these strollers. A traditional stroller seat at the front keeps your baby comfortable while your older child rides on the platform or bench at the back. Some can accommodate a car seat for infants.
You might find an ergonomic child handle, a padded bench seat, or a backrest. Harnesses for both children are standard on most models.
The front seat might recline, but the trade-off is reduced room on the bench seat at the back.
Extras include storage baskets, cup holders, parent and child trays, and sun canopies.
Pros
Lightweight.
Easy to fold.
Maneuverable.
Cons
Not suitable for twins or children very close in age.
Models for Twins or Two Children Close in Age
Some sit and stand strollers will grow with your children. They can handle two car seats, have two stroller seats, or support one stroller seat and a rear seat or standing option. Then you can also use one car seat with a rear stroller seat or sit and stand.
The advantage of this type of sit and stand stroller is that it can be used for twins or siblings of different ages. On the downside, if you use it for older twins, they might bicker over who sits and who rides.
These may also come with many extras, including storage baskets, cup holders, and sun canopies.
Pros
Can be used as a travel system from birth upwards.
Two children can sit.
Takes two car seats.
Cons
Can be bulky when folded.
---
Thank You For Your Feedback!
Thank You For Your Feedback!