It can be challenging to keep everything you need within arm's reach when you're pushing a stroller. Fortunately, the best stroller organizers are designed to improve your experience without impacting the safety of your stroller.
We've tested the top brands and listened to the input from many other experienced moms to devise this list of our favorite models. These organizers offer plenty of storage capacity and are durable, easy to install, and compatible with most strollers.
We'll discuss what you should consider while shopping and help you find the best stroller organizer for your needs.
Image
Model
Product Comparison Table
Features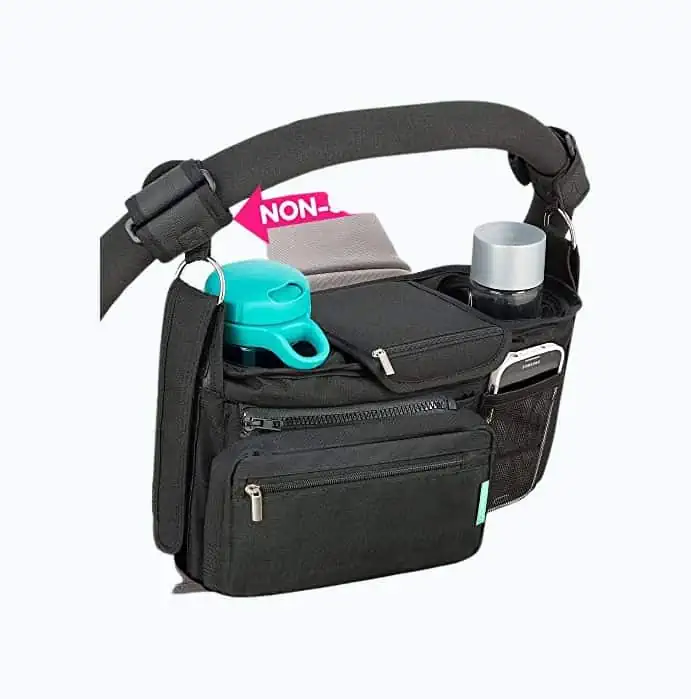 Best Enclosed Organizer
Swanoo Non-Slip
Non-skid strap system
Expandable wipe pouch
Hidden compact mirror
Best Cup Holders
Momcozy Universal
Easy to clean
Insulated cup holders
Adjustable Velcro fit
Great Everyday Organizer
Ethan & Emma
Two beverage spots
Adjustable attachment points
Detailed manual
Multiple ways to use
Large inner cooler
Velcro-secured front storage pockets
Great Budget Buy
Diono Buggy Buddy
Low price point
Fits many stroller types
Durable construction
For Fashionable Moms
Itzy Ritzy Caddy
Highly adjustable strap
Great color choices
Designed to work with folding strollers
Cutest Organizer
Lat Lee Stroller Caddy
Sweet designs
Great for on the go
Low-maintenance material
Review Methodology: At Mom Loves Best, we understand the importance of finding the perfect stroller organizer for your on-the-go parenting needs. Our thorough research and hands-on experience have enabled us to analyze and compare various organizers based on essential criteria such as design, functionality, and durability. We evaluate products from a user's perspective and provide quantitative measurements of each organizer's performance. Our team of professionals identifies key decision-making factors and ranks the best options, ensuring you make an informed choice. We share first-hand evidence, detailing design choices and their effect on users, and highlight what sets each product apart from its competitors. Trust Mom Loves Best to guide you in selecting the ideal stroller organizer for your family's needs.
---
---
The Best Stroller Organizers of 2023
Here are seven great stroller organizers to consider.
Swanoo Non-Slip Stroller Organizer
Best Enclosed Stroller Organizer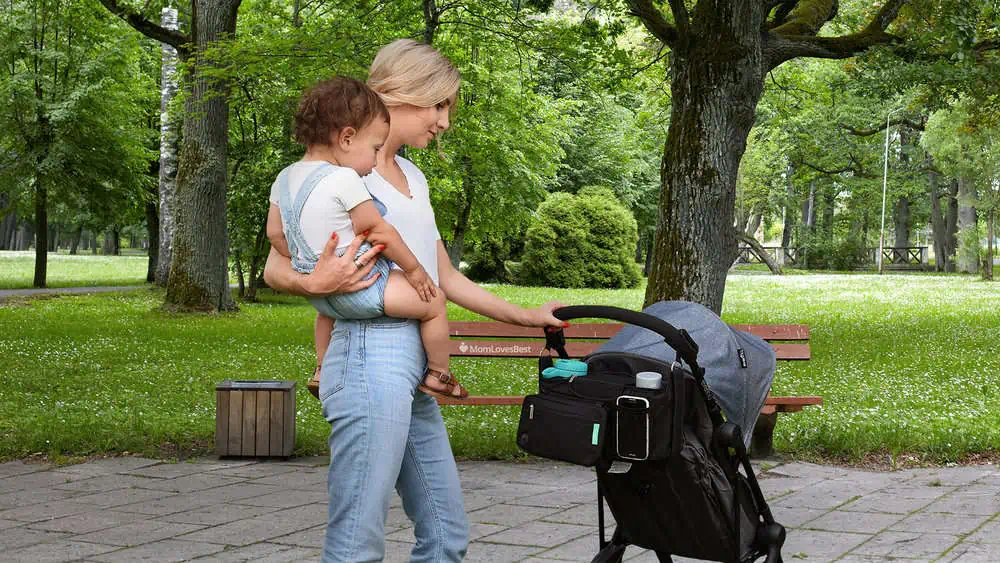 Need something a little more secure than an open caddy? This unit offers plenty of pockets to keep your items where you need them. A zippered top pocket is perfect for money, and a front pouch is designed specifically for a pack of wipes or tissues.
This caddy offers a detachable portion that you can use as a wristlet, allowing for painless transitions between activities. Two insulated cup holders keep your beverages at an optimal temperature.
Made from heavy-duty polyester, this unit is easy to care for and durable. Non-skid straps keep it firmly in place, and you can attach it where it best suits you and your stroller's design.
What We Like
Non-Skid Strap System
Attaching your stroller organizer is easy with the non-skid strap system. Place the non-skid pieces as directed, and they'll stay put. Attach the caddy directly to these non-skidding anchors. Slipping, tilting, and spilling organizers will be a thing of the past.
Expandable Wipe Pouch
An easy-to-access pouch at the front of the stroller organizer has a built-in dispenser that allows you to pull out wipes as needed. It's a fantastic feature for snacks while on the go, quick cleanups, and disinfecting new spaces.
The compartment can accommodate a wide variety of wipe packs, stretching to fit even large packets.
Hidden Compact Mirror
You'll find a mirror located in the top flap of the organizer. It's a decent size and will keep you feeling confident even while you're out and about and in between errands. On the back of that flap is a small zippered pouch that's perfect for money and other small essential items.
Full Cup Holders
This organizer provides a full insulated cup holder.
It's lined along the sides and bottom and fits snugly around your beverage. This keeps your drink's temperature consistent and prevents condensation from making its way to your other items.
What We Don't Like
It's a Bulkier Unit
With pockets galore, this unit is designed to hold a lot of belongings. Spare clothes, diapers, and books can easily find space in this organizer. However, it may add weight to your stroller, and it might not transfer well to your diaper bag.
Product Specs
| | |
| --- | --- |
| Product Weight | 1.18 pounds |
| Dimensions | 13.5 inches by 5 inches by 2.8 inches |
| Material | Polyester |
| Colors | Black |
| Features | Expandable wipe pouch, detachable wristlet, non-skid straps, cup holders |
Our Ratings
Community Feedback
My experience with this stroller organizer has been nothing short of amazing. It has a pocket, compartment, or cup holder for everything I need, even fitting my larger cups like my hydro flask. The rubber grips are a game-changer, staying firmly attached without damaging the stitching on my stroller's handlebar. The only downside was the long black hanging mesh pouch, which I didn't find useful, so I simply cut it off – otherwise, this is the perfect stroller organizer!
---
Momcozy Universal Stroller Organizer
Best Insulated Cup Holders
Zippered pouches on the front of this caddy keep your belongings close to you. They're easy to reach and to keep tabs on with a dedicated mesh phone pocket. Elastic at the top keeps your phone secure and prevents accidental falls.
The front pocket can be detached and taken with you if you park your stroller and are on the go. It's great for a wallet and keys, with plenty of space for your phone as well. It's an exceptional feature for streamlining your day and errands.
Constructed out of durable polyester material and using heavy-duty zippers, this caddy is sturdy enough for daily use.
What We Like
Versatile
We love how versatile this caddy is. You can use the detachable portion as a wristlet to keep your most needed items with you. In addition, you can remove the entire organizer from the stroller and wear it over your shoulder with the included strap.
Easy to Clean
The material is easy to maintain and clean. If needed, use soap and water to freshen up your organizer. It's waterproof, which also helps prevent staining and makes dirt residue simple to remove.
Insulated Cup Holders
With insulated cup holders, your beverage will still be hot or cold when you finally get around to enjoying it. There are two separate spots for drinks, allowing you to keep yours handy while ensuring your child's stays at an appropriate temperature.
Adjustable Velcro Fit
This can be an excellent option if your stroller has been challenging to outfit with an organizer. The wide Velcro area allows you to angle the attachment point as needed. Even if the handles have a steep angle, you'll get a good fit.
You can also choose between standard or extended strap lengths for the organizer. This makes it possible to use this product on a wider stroller.
What We Don't Like
It's Better for Small Items
You'll find this organizer is mainly intended to organize your belongings. It doesn't offer a large enough compartment to store diapers, wipes, or a change of clothes for your little one. You'll likely want to consider a larger unit if that's what you plan on using your organizer for.
Product Specs
| | |
| --- | --- |
| Product Weight | 10.4 ounces |
| Dimensions | 13.2 inches by 5.8 inches by 2.6 inches |
| Material | Polyester |
| Colors | Black |
| Features | Detachable compartment, multiple strap length options, cup holders |
Our Ratings
Community Feedback
I'm thrilled with this stroller organizer as it provides the perfect solution for holding cups, snacks, and other essentials during outings with my daughter. The two extra cup holders, as well as the pockets for items like wipes, hand sanitizer, and my phone, are incredibly convenient and the Velcro holds up well even with heavy items. The detachable front pocket is a nice touch, though it may not fit larger phones, but overall, this product has greatly improved my stroller experience.
---
Ethan & Emma Stroller Organizer
Great Everyday Organizer
With plenty of pockets and slots for all of your belongings, this organizer is an excellent and versatile option. Multiple zippered pouches and a dedicated mesh phone pocket keep your valuables secure. The sizeable open caddy space features two cup holders and an oversized area for bigger items.
This durable organizer is made with premium materials for everyday use. It connects to the stroller handles with adjustable Velcro tabs. This gives your stroller a custom fit and prevents tipping and spills.
What We Like
Plenty of Pockets
We love the varied sizes of the pockets on this unit. The zippers are sturdy and keep your items right where you want them. It helps create a place for everything so you can quickly identify what you have with you and what's missing.
The dedicated phone pocket is mesh and visible to the person pushing the stroller. This lets you know if you've received a text and keeps your phone close and accessible for calls. The mesh also allows plenty of airflow to keep it from overheating.
Two Beverage Spots
With two spots for beverages, you won't need to choose between your coffee and water. You'll also be able to enjoy adventures with a friend or keep a child's cup upright for spill prevention.
Adjustable Attachment Points
Oversized Velcro tabs help you achieve the perfect fit to avoid slipping and tipping. This keeps everything where it belongs and prevents you from losing items. You'll also find the adjustable tabs improve versatility and make it easier to move the caddy between strollers.
Detailed Manual
Included with this product is a detailed instruction manual. It has plenty of tips on how to make this specific product more functional for your stroller. With images, diagrams, and suggestions, it helps you get the most out of the product.
What We Don't Like
It's Not for Double Strollers
This unit isn't intended for use with side-by-side double strollers, as they are too wide to attach the organizer to the handles safely. Without the secure attachment, the caddy may tip and spill or even fall off the stroller entirely. If you need an organizer for a double stroller, you'll want to select a wider unit.
Product Specs
| | |
| --- | --- |
| Product Weight | 12 ounces |
| Dimensions | 13 inches by 3.9 inches by 6.5 inches |
| Material | Polyester |
| Colors | Black |
| Features | Stroller hook included, zippered pouches, cup holders, open pockets |
Our Ratings
Community Feedback
My experience with this stroller caddy has been fantastic, as it provided the extra storage space I needed without weighing down my collapsible stroller. I appreciate the universal handle straps and the fact that it compresses down super thin when not in use, allowing me to keep it attached while folding the stroller away. The sleek design, insulated cup holders, and detachable zipper pocket for my valuables make this organizer a convenient and stylish addition to my stroller setup.
---
Ozziko Stroller Organizer Bag
Great for Large Capacity Needs
This oversized organizer bag is an excellent option if you plan on traveling with a significant load. It has many deep and large pockets, and there are multiple ways to wear and use this bag, making it user-friendly and versatile. Large zippered pouches keep your items secured, while side pockets give you easy access to frequently used items.
An inner cooler keeps snacks and bottles cool while you're on the go. A zippered exterior pouch allows you to safely keep important belongings accessible. It even has a keychain holder to keep your keys within reach.
What We Like
Multiple Ways to Use
You can carry this versatile briefcase-style unit with the top hand strap or wear it over your shoulder or across your back in a traditional backpack style. Adjustable Velcro tabs let you affix it tightly to any stroller.
Large Inner Cooler
The top of this organizer opens into a larger cooler compartment. You'll have plenty of room for lunches, bottles, and other perishable items. Its open space is suitable for oversized items or snack containers, while the zippered top prevents spills.
What We Don't Like
Not Suitable for Lightweight Strollers
With a significant amount of room inside, this is an excellent option for high-capacity needs. However, this means a lot of weight may accumulate at the front of your stroller. If you use a lightweight model, like an umbrella stroller, this unit may leave it vulnerable to tipping.
Product Specs
| | |
| --- | --- |
| Product Weight | 1.17 pounds |
| Dimensions | 13.5 inches by 12.5 inches by 7.5 inches |
| Material | Oxford fabric |
| Colors | Grey with white |
| Features | Backpack straps, carrying strap, key holder, cooler |
Our Ratings
Community Feedback
In my experience, this diaper bag offers ample storage space, allowing me to forego carrying a separate purse. The insulated interior and stroller attachment capabilities make it versatile for outings, including long days at theme parks. Though the size was slightly larger than expected, the overall quality and functionality of the bag make it a satisfactory purchase.
---
Diono Buggy Buddy
Great Budget Buy
This budget-friendly organizer is petite and features adjustable straps that work for virtually any stroller. A large center compartment lets you keep your needed items close. Two stretchy cup holders accommodate cups of different sizes and prevent spills.
This waterproof unit is durable and easy to maintain. A zippered inner pouch keeps your small personal items safely contained while the main compartment is open, allowing for tall objects.
You'll be able to get a custom fit with the Velcro straps. The straps and the Velcro portion are longer than most to fit a wide variety of strollers.
What We Like
Great Price Point
Baby accessories can get expensive. Fortunately, this option works with any budget. These caddies also can be an excellent choice if you're looking to outfit multiple strollers.
Fits Many Stroller Types
Long straps help you achieve a great fit even on wider strollers. With Velcro throughout the length of the strap, you'll be able to wrap and affix it as needed for a secure fit. You can use this lightweight unit in other locations, like in the car or at the gym.
Durable Construction
The sturdy polyester material makes this an excellent choice for regular use. It's waterproof, which prevents dripping or leaking onto other items in the caddy. Contrasting stitching reinforces the unit, ensuring the organizer won't lose its shape or easily come undone.
What We Don't Like
It's a Petite Caddy
If you're looking for an organizer to stash all of your earthly belongings in, keep looking. The center compartment is open, but at only 6 inches, it's not wide. If you want something to hold diapers, lunch boxes, and a change of clothes, this model isn't going to work for you.
The Cup Holders Aren't Large
Always have an oversized water bottle within reach? The cup holders on this model are more suitable for cans and other small cups. If you usually travel with a large beverage, you'll need to choose a different stroller organizer.
Product Specs
| | |
| --- | --- |
| Product Weight | 7 ounces |
| Dimensions | 27 inches by 6 inches by 6 inches |
| Material | Polyester |
| Colors | Black |
| Features | Zippered pouch, two cup holders |
Our Ratings
Community Feedback
If you're searching for a versatile and affordable stroller organizer, this one is a great find! I've used it on my Doona stroller, and it's easy to take on and off, which is perfect for when we're on the go. It holds all my essentials like my phone, my daughter's bottle, small toys, and even a few diapers. The open basket style and the mesh pocket with a zipper closure make it very accessible, and the strong material can hold a decent weight.
---
Itzy Ritzy Caddy Stroller Organizer
For Fashionable Moms
This universal model by Itzy Ritzy is suitable for use on most strollers. The Velcro straps allow you to adjust the size and create a custom fit to keep your organizer right where it belongs. This unit offers one main open pocket equipped with a cup holder on each side.
You'll find another zippered compartment to keep your belongings securely inside. It's perfect for keys and money while you're out and about.
This unit is durable and low maintenance. It's easy to keep clean and resists ripping.
What We Like
Highly Adjustable Strap
Adjust the Velcro strap to make the caddy level with the stroller handle, or hang it lower if you prefer.
Great Color Choices
Choose from seven color options to find the print that's right for you and your child. The choices are sophisticated but fun enough to dress up your daily errands or complement your accessories.
No Need to Remove When Folding Strollers
This is a smaller organizer designed to work with folding strollers. It won't interfere with the folding mechanism, and your caddy won't be damaged when the stroller collapses around it. You can feel free to get the fit just right with your organizer and leave it in place.
What We Don't Like
Insulated Cup Holders
Unfortunately, the two cup spaces on either side of the main caddy are not insulated to keep hot beverages warm and cool ones cold.
Product Specs
| | |
| --- | --- |
| Product Weight | 8.8 ounces |
| Dimensions | 16.5 inches by 4 inches by 6.5 inches |
| Material | N/A |
| Colors | Black with gold hardware, black with silver hardware, blush, coffee & cream, Grayson, leopard, vanilla latte |
| Features | Front zippered pocket, cup holders |
Our Ratings
Community Feedback
My experience with this stroller attachment bag has been fantastic - it's a well-made, compact purse that easily clips onto my stroller. With just enough space to hold my wallet, keys, phone, hand sanitizer, and even a spare cup, it doesn't feel bulky like a mini diaper bag. I've found it perfect for walks and shopping trips, offering ample storage without compromising on style. It's also quite versatile, fitting on different strollers like the Evenflo Pivot and Mompush carriage, thanks to its adjustable straps.
---
Lat Lee and Town Stroller Organizer
Cutest Stroller Organizer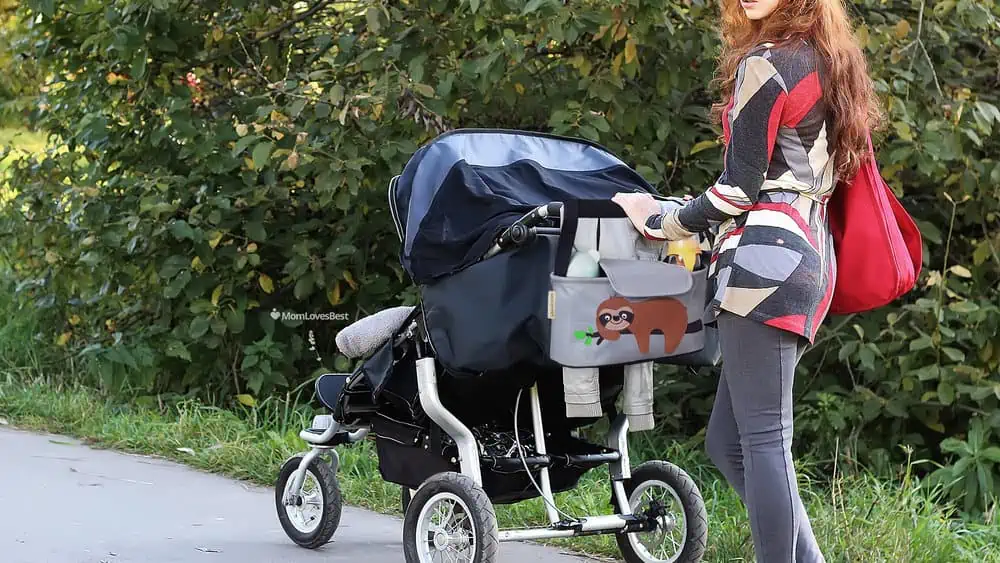 Keep your items organized and within reach in this adorable stroller caddy. It offers a large pouch for your belongings and a place to keep your beverage. The adhesive straps are thick and sturdy, ensuring your organizer won't slip or tip during use.
Lightweight and structured, this is an excellent caddy choice for strollers you fold regularly. It's a multi-use unit with a large compartment and can easily be removed and tossed into a diaper bag.
This high-quality product is made of sturdy 600D polyester, and each caddy has a cute applique design on the front. We appreciate that the stitching is durable and secure.
What We Like
Cute Designs
Add some fun and personality to your day-to-day chores with this cute stroller organizer. There are six options, so you can let your child pick one that appeals to them.
Great for On-the-Go Moms
Adhesive straps allow you to remove your organizer when needed and bring it with you. It fits easily inside a diaper bag, which means all your necessary items can be transferred during activity changes.
Low Maintenance Material
These caddies are made of sturdy and durable polyester material. The reinforced stitching adds to its durability, and you can wipe out the inside of the organizer with water when needed. The outside can be spot cleaned.
What We Don't Like
It's an Open Caddy
The main storage space in this unit doesn't offer a zipper. While it's great for taking with you, you may find that smaller items fall out easily when it's not affixed to the stroller. You'll also need to be careful to remove any crucial items before collapsing your stroller when the organizer is in place. Good thing it has a zipper side compartment for keys and other small items.
Product Specs
| | |
| --- | --- |
| Product Weight | 5 ounces |
| Dimensions | 12.59 inches by 6.69 inches by 5.51 inches |
| Material | Polyester |
| Colors | Dinosaur, dog, grey, pink elephant, sloth, whale |
| Features | Cup holders, anti-theft closure |
Our Ratings
Community Feedback
My experience with this stroller organizer has been nothing short of fantastic. As a busy parent, its sturdiness and ample storage space for essentials like my wallet, water bottle, and even a milk bottle have made outings with my little one much easier. I appreciate the heavy-duty quality, the easy-to-hang design, and the adorable pink elephant print. The organizer has been a great addition to our compact Doona stroller, eliminating the need to carry additional bags or struggle with hard-to-reach storage compartments. Plus, the happy sloth design serves as a gentle reminder to stay relaxed amidst the chaos of parenthood!
---
How to Choose a Stroller Organizer
The following tips will help you identify which stroller organizer works for you, making the shopping experience easier:
Types of Stroller Organizers
There are several styles of stroller organizers available. The two most common types are structured and unstructured organizers.
Structured Organizers
A structured organizer has various pockets and spaces designed for specific items. You can find organizers that include cup holders, phone slots, wallet pockets, and other secure places for your most essential belongings.
This type of organizer is available in many materials, including water-resistant fabrics that are easy to care for. They may be made with leather or other natural options. Some have zippers, while others have no fasteners and use open pockets.
Pros
Easy to keep track of where your things are.
Affordable.
Keeps items accessible.
Cons
Unusually sized items may not fit where you need or want them.
Unstructured Organizers
Unstructured organizers give you a large pocket where you can stash your belongings. They don't offer much in the way of designated pockets.
The larger space can be a good option if you plan on traveling with an unusual or oversized item. Tablets, books, and tissue boxes can all find a home in an unstructured organizer.
However, like with any other large pocket, you risk losing small items among the larger ones. If you know you'll travel with both larger and smaller belongings, consider using a structured organizer with fewer pockets.
Pros
Great for big items.
Best for stash-and-dash situations.
Belongings are where you can reach them.
Cons
Smaller belongings like keys and phones may get lost under bigger items.
Items may fall out when you fold up the stroller.
---
Thank You For Your Feedback!
Thank You For Your Feedback!