Are you on the hunt for an affordable yet durable stroller? Did you know there's a quality brand that produces nearly all stroller types at reasonable prices?
Chicco is much more than a company — its dedication to helping parents and children goes well beyond its products.
We've used Chicco strollers for years and believe them to be a top choice in the stroller market. We'll share everything you need to know about this brand and review our favorite  Chicco strollers for every situation.
Image
Model
Product Comparison Table
Features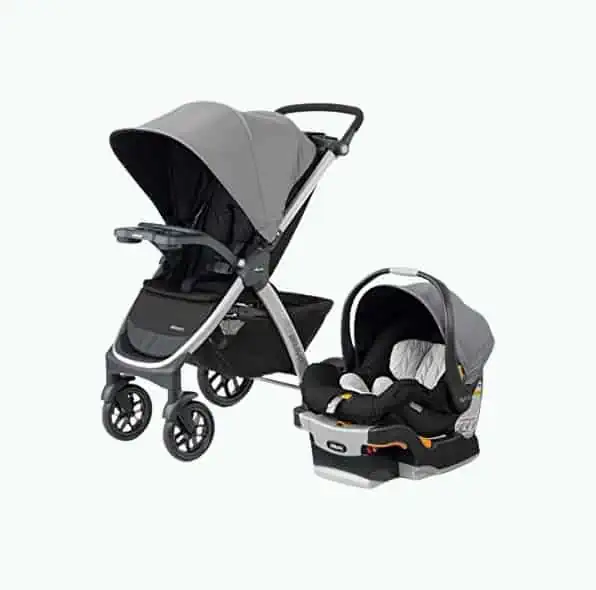 Best Travel System
Bravo Trio Travel System
Car seat included
Excellent stroller
Adjustable handle and parent tray
Best Frame
KeyFit Caddy Frame Stroller
Easy to use
One-handed fold
Parent-friendly features
Best for Jogging
TRE Jogging Stroller
Durable frame
Waterproof fabrics
Car seat compatible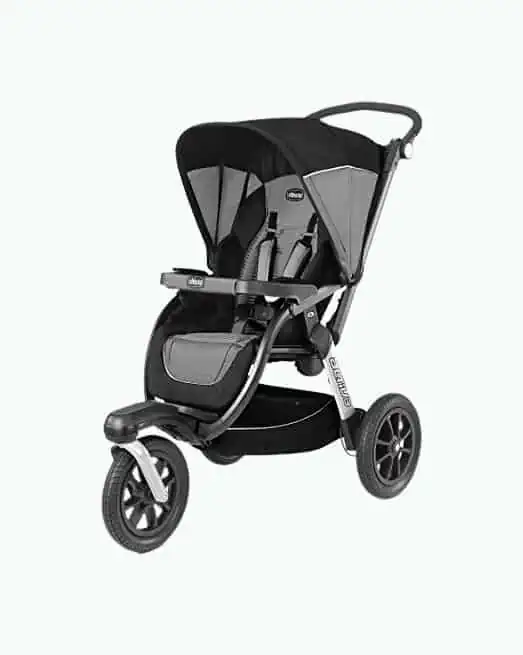 Best All-Terrain
Chicco Activ3 Air Jogging Stroller
Control console for parents
Reclining seat with backrest
Quick one-hand fold
Best Lightweight
Chicco Mini Bravo Plus
Excellent for family excursions
Extended sun canopy
Three position recline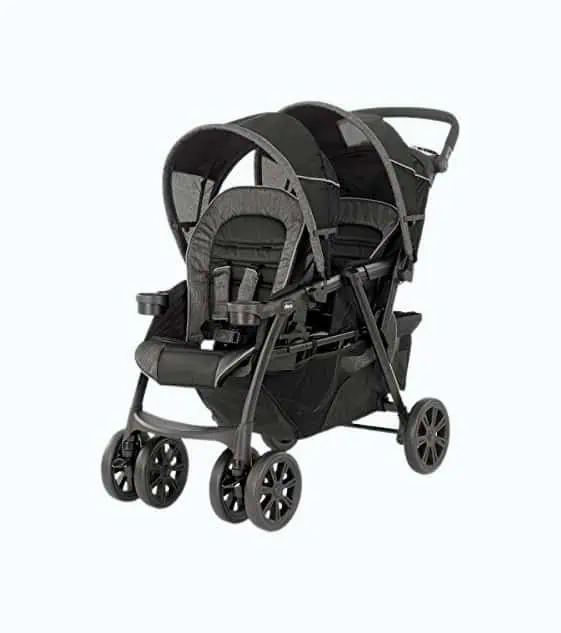 Best Double
Cortina Together Double Stroller
Great for independent babies
Superb steering
Slim design
Best Umbrella
Liteway Stroller
Adjustable backrest
Comfortable handles and storage basket
Rear-wheel suspension and superior steering
Review Methodology: At Mom Loves Best, our hands-on experience and thorough research allow us to provide you with an in-depth analysis and assessment of the best Chicco strollers on the market. Our team of professionals evaluates each product based on criteria such as performance, design, safety, and user-friendliness. We compare and rank strollers using quantitative data and first-hand evidence, ensuring that our recommendations are based on facts and real-life experiences. Furthermore, we identify key decision-making factors, such as weight, maneuverability, and adaptability, to help you make an informed choice on the perfect Chicco stroller for your family. Trust our expertise and findings to guide you through the selection process and discover what sets the top Chicco strollers apart from their competitors.
---
---
The Best Chicco Strollers of 2023
Chicco has a broad selection of superb strollers, so to narrow down your search, we scoured through user reviews and expert recommendations. Here are the best Chicco strollers.
Chicco Bravo Trio Travel System
Best Chicco Travel System Stroller
A travel system is ideal if you're working with a budget. It's a system you can use from day one to toddlerhood until your little one is happy walking. Chicco's offering, the Bravo Trio Travel System, is exceptional. We've had this as a top stroller on our list for years, and it still hasn't been outdone.
The Trio stroller features Chicco's signature easy-fold system, requiring only one hand. It also has full suspension and swivel wheels for superior maneuverability.
Included is the KeyFit 30 infant car seat, which clicks smoothly onto the stroller after you remove the backrest, seat, and canopy.
What We Like
The Best Car Seat Included
We love that this stroller includes one of Chicco's best infant car seats, the KeyFit 30. It comes with everything, even the vehicle base. This car seat does an exceptional job of keeping your little one safe in the event of an accident.
The KeyFit 30 seat can safely accommodate a baby from 4 to 30 pounds. It features all the tools to ensure it's installed correctly. This includes a LATCH system and a RideRight Bubble level indicator.
Excellent Stroller
The Bravo stroller can quickly transform into a frame for easy transportation. The backrest and seat come off in one piece, as well as the canopy, which allows you to attach the car seat safely.
The brake is a one-touch procedure, keeping the buggy secure when parked.
Adjustable Handle and Parent Tray
The handle is comfortable to grip, and you can adjust it into three positions to suit various drivers. You also have a useful parent tray with a small compartment and two cup holders.
Toddler-Friendly
Once your baby outgrows the seat, when they reach around 30 pounds, the stroller will continue to carry your child safely well into toddlerhood. It features cup holders for the passenger as well as a large sun canopy.
What We Don't Like
Stroller Feels Wobbly on Uneven Surfaces
Although the stroller is a smooth ride most of the time, some reviewers said it felt a little shaky to push on uneven surfaces.
Product Specs
| | |
| --- | --- |
| Color | Brooklyn, Calla, Camden, Driftwood, Lilla, Meridian, Nottingham, Silhouette, and Springhill |
| Product weight | 24.9 pounds |
| Maximum child weight | 50 pounds |
| Folded dimensions | 22.8 inches by 15 inches by 29 inches |
Our Ratings
Community Feedback
Love this travel set for its safety features and added conveniences. The car seat has a comfortable cushion, easy-to-adjust harness, and a built-in cover to protect the baby. The stroller is simple to assemble, has a large canopy, and a spacious storage basket underneath. Both the car seat and stroller click securely in place, providing peace of mind. Although slightly bulky and heavy, these minor drawbacks are outweighed by the overall quality and functionality of the set.
---
Chicco KeyFit Caddy Frame Stroller
Best Chicco Stroller Frame
To simplify the first few months after delivery, Chicco offers this ultralight stroller frame. It's compatible with all Chicco infant car seats, which securely attach using click-ins.
A stroller frame gives you the benefits of a travel system without the extra weight. Many parents recommend this for the first six months as it makes it easy to get on the move.
The frame itself folds effortlessly into a small unit. It features an adjustable easy-grip handle with a parent tray that includes two cup holders and a storage compartment. The front wheels swivel, and there's a secure parking brake.
What We Like
Easy to Use
When you're a first-time parent, everything seems complicated, especially when it comes to strollers and car seats. Chicco made sure the frame was easy to use.
You attach a compatible infant car seat using a click-in method. It takes just a few seconds after some practice and keeps your precious bundle secure.
One-Handed Fold
The frame features a practical folding handle. To collapse the unit, you pull up, and the frame retracts. You can then use the handle for carrying.
Once folded, the frame can stand on its own. The stand-alone construction is compact, making storage easier.
Parent-Friendly Features
We always appreciate something extra, and Chicco did not let us down. By the handle, it features a parent tray and with spacious compartment.
The tray is where you have two cup holders for water or other drinks. Chicco included a large, expandable storage basket underneath the seat for all your essential gear. It provides plenty of space for a big diaper bag and groceries, and you can access it from the front or rear.
What We Don't Like
Not Incredibly Sturdy
Complaints about this stroller are pretty rare. The only issue we could find with it is that the lightweight aluminum frame isn't as sturdy as a standard stroller frame might be. If you're not overly rough with the stroller when loading or transporting it, this shouldn't be an issue.
Product Specs
| | |
| --- | --- |
| Color | Black |
| Product weight | 11.6 pounds |
| Maximum child weight | N/A |
| Folded dimensions | 20 inches by 14.3 inches by 34.3 inches |
Our Ratings
Community Feedback
My experience with this stroller has been nothing but positive, especially for quick trips and city sidewalks. It's lightweight, easy to fold and unfold, and offers a smooth ride for the baby. The metal frame is sturdy yet remains light, and I appreciate the ample storage space underneath for a diaper bag or groceries. The convenience of being able to click the car seat into the frame without disturbing the baby is a huge plus. The only minor issue I've encountered is a slight creaking noise sometimes, but it doesn't affect the stroller's performance.
---
Chicco TRE Jogging Stroller
Best Chicco Jogging Stroller
We love a good jogging stroller — they're pretty versatile, and you don't have to use them exclusively for running. The Chicco TRE is for the fast-paced family who loves spending time outside. It's suitable for the park, trail, or race day.
The stroller has an aluminum frame, giving it sturdiness without adding on the pounds. It's a three-wheel design with large 16-inch pneumatic rear tires, making it easy to maneuver.
Must-have features included on the stroller are a large handle, handbrake, and FlexCore suspension. It has an extended sun canopy with an integrated mesh window for ventilation, which you access by unzipping.
What We Like
Great for Going Fast
The Chicco TRE has all the potential to help you go a little faster. The sleek wheel design makes maneuvering an effortless task. The dual FlexCore suspension is adjustable — you switch the mode with your foot as you're changing terrain.
Another practical feature is the hand-activated front-wheel function. If you're navigating a crowd, push the button on the handle, and the front wheel can swivel, making the buggy even more comfortable to steer.
Durable Frame
Aluminum is an ideal material for a jogging stroller frame. It's lightweight yet highly durable. It gives you peace of mind knowing the buggy can withstand the rigors of going faster.
The TRE weighs a mere 28.5 pounds. That's relatively light, as jogging strollers usually weigh over 30 pounds. It's also easy to fold and place in the trunk.
Waterproof Fabrics
All the fabrics used are waterproof. It keeps your little one safe and sound, even on rainy days. The full-coverage sun canopy protects your baby when the sun comes out.
Car Seat Compatible
It accepts Fit2 and KeyFit infant car seats — they're sold separately. But if you want to use the stroller from day one, remove the current seat to expose the frame, and attach the car seat.
Take Note
Experts advise you to wait until your baby is 6 months old before jobbing with them in your stroller
(1)
.
What We Don't Like
Takes up Space When Folded
A few reviewers noted it's bulky when folded, so it may not be suitable for a small vehicle.
Product Specs
| | |
| --- | --- |
| Color | Titan |
| Product weight | 28.5 pounds |
| Maximum child weight | 55 pounds |
| Folded dimensions | 37.5 inches by 25.5 inches by 16 inches |
Our Ratings
Community Feedback
Great stroller for both city sidewalks and rugged terrain! This stroller is smooth, easy to assemble, and even comes with bike-like tires that make a huge difference. My baby loves it and it doesn't bother them, even when they're sleeping. The only downside to this stroller is that it's quite bulky when folded down, taking up a significant amount of trunk space. Despite this minor issue, the adjustable suspension ensures a comfortable ride for my little one, making it an amazing investment for our family.
---
Chicco Activ3 Air Jogging Stroller
Best All-Terrain Chicco Stroller
Whether you're walking or jogging, this stroller works seamlessly on multiple terrain types. The foam-filled tires and brilliant suspension ensure a smooth ride for your little one.
You can adjust the FlexCore suspension with a footswitch, depending on your terrain. So if your child is finding it bumpy, you can switch that up.
If you're out for hours, your kid will probably want some snacks. We love that the seat pad is removable and machine washable if they make a mess.
What We Like
Control Console for Parents
Near the handle, you'll find an exclusive control console. This allows you to turn on the swivel wheels, which is handy for winding roads. You can also activate the brake using the console.
Reclining Seat With Backrest
Your kid will never complain about being uncomfortable again. The seat reclines in various positions so they can sit up and look out or lay back for a nice nap.
The backrest also has a 3D air mesh design for good ventilation. Perfect on a hot day!
Quick 1-Hand Fold
Parents will love this feature. It folds up so quickly using one hand. This is ideal if you're out on your own and have a tired, screaming baby. No stress!
We also love the two cup holders, tray, and large storage basket.

What We Don't Like
Plastic Parts Feel Cheap
This stroller is pretty pricey, but the quality doesn't reflect that. Some customers found that the plastic design felt and looked cheap. For the price you pay, you may be expecting more.
No Tray or Cup Holder for Baby
Chicco considered the parents' snack needs in this design, but not your kid's. There is no tray or cup holder for your baby, so they may get tired of holding their snacks.

Product Specs
| | |
| --- | --- |
| Color | Solar, eclipse |
| Product weight | 27.5 pounds |
| Maximum child weight | 50 pounds |
| Folded dimensions | 37.5 inches by 25 inches by 15 inches |
Our Ratings
Community Feedback
After searching for a better quality stroller to ease my back pain, I finally found this stroller that has truly made a difference in my life. It's easy to steer with one hand, incredibly smooth, and works well on various terrains, even in wet weather conditions. I appreciate the adjustable suspension, expandable canopy, and compatibility with the Chicco KeyFit30 car seat. However, the peekaboo window is too reflective and the cup holder could be better designed, but overall, it's a sturdy and well-built stroller that my son and I both love.
---
Chicco Mini Bravo Plus Lightweight Stroller
Best Lightweight Chicco Stroller
To simplify every excursion, Chicco offers its Mini Bravo Plus stroller. It's lightweight and comes with user-friendly touchpoints such as one-handed recline adjustments. The adjustable backrest is complemented by a vented visor sun canopy, designed with a mesh panel for ventilation.
The Mini Bravo Plus assures precise maneuverability around crowded areas. The swivel front wheels help to steer around tight corners. Moreover, it features a fold-and-carry handle that makes it a breeze for travel.
A great feature is a padded handle, ensuring a relaxed, comfortable grip. You also get Chicco's parent tray for your phone or other items, and it includes two cup holders.
What We Like
Excellent for Family Excursions
If you're often out with the family, going to the park, or perhaps the mall, Chicco's Mini Bravo Plus is a match. It's not an umbrella stroller, even though it's as lightweight and compact as one.
It's easy to fold and pack in the trunk once the day is over. Because it's so small, it easily fits through malls or grocery stores.
Extended Sun Canopy
Family excursions are best when the sun is out. But that also leaves your little one in need of additional protection. The vented visor canopy will keep your baby shielded from the sun.
Three Position Recline
What most parents love about this product is its ability to recline not only with one position but three, all with an easy one-hand adjustment. This is a great way to doze off your little adventurer.

What We Don't Like
Front Wheels Causing Trouble
Many reviewers praise this stroller, but a few seem to have an issue with the front wheels. Some say they squeak, while others say they got locked and couldn't turn.
Product Specs
| | |
| --- | --- |
| Color | Graphite, storm |
| Product weight | 19.6 pounds |
| Maximum child weight | 50 pounds |
| Folded dimensions | 35.8 inches by 20.8 inches by 41.5 inches |
Our Ratings
Community Feedback
I'm thrilled with this compact stroller that's been perfect for our family trips and daily use. It has a lightweight design, easy folding mechanism, large sunshade, and a snack tray that meets all my expectations. The smooth ride and maneuverability make it ideal for airports and store visits, although it can struggle with bumps and sidewalk cracks. The leg rest doesn't adjust upward, which causes my baby's legs to dangle off the edge, but overall, I'm satisfied with the stroller's quality and convenience.
---
Chicco Cortina Together Double Stroller
Best Chicco Double Stroller
The Chicco Cortina is worth considering if you have two small children or are expecting twins. It's a tandem design, where one child sits behind the other. Both chairs are car seat compatible and accept either the Fit2 or KeyFit infant car seats.
Both seats feature extra padding for a comfy ride, and each has a separate removable canopy. The chairs can adjust independently to multiple positions for each child, whether asleep or awake.
What We Like
Great for Independent Babies
Nothing is set — each child can have the backrest and sun canopy set to how they prefer it. The front seat does have a slight advantage since it comes with cup holders.
Superb Steering
All the wheels feature superior suspension to smooth out the ride for your two passengers. The front wheels have a swivel function, which you activate with foot control. Once activated, the buggy turns on a dime.
Large Storage Basket
Because you're hauling two kids, Chicco has increased the size of the storage basket. It's double the size of the single Cortina stroller's basket and comes with a zipper to secure everything.
Slim Design
Because it's a tandem stroller, it's slim enough to fit through doorways and down narrow aisles. The added length also means the storage basket underneath is extra large, which is a huge plus when you have two kids in tow.
What We Don't Like
You May Struggle on Uneven Surfaces
A couple of reviewers said the stroller doesn't do well on uneven surfaces such as gravel. It becomes a little wobbly and unsteady. This could be due to the length.
Product Specs
| | |
| --- | --- |
| Color | Minerale, ombra |
| Product weight | 34 pounds |
| Maximum child weight | 40 pounds for each child |
| Folded dimensions | 47.75 inches by 23.5 inches by 16.75 inches |
Our Ratings
Community Feedback
Love the versatility and functionality of this double stroller for my two small children. The design, with one seat in front of the other, allows for easy navigation in stores and the generous storage basket is a plus. The Chicco brand car seat compatibility is convenient, although it would be nice to have more options. The cup holders could be deeper and the front seat canopy larger for better coverage.
---
Chicco Liteway Stroller
Best Chicco Umbrella Stroller
For city dwellers or commuters, an umbrella stroller offers the convenience of folding it into a lightweight package. The Liteway Stroller is built on a sturdy aluminum frame, which collapses effortlessly into an umbrella shape, ready for the bus or subway.
Your little one can sit comfortably — the backrest is adjustable with three positions to accommodate a resting or fully awake baby. The included canopy is also flexible, or you can choose to remove it when not needed. Optional front-wheel swivel and rear-wheel suspension make the ride smooth and easy to steer.
You'll find a large storage basket for all your essential gear under the seat. Chicco also included padded handles and a cup holder.
What We Like
Effortless Fold
Folding the stroller couldn't be easier. You pull the handle, and it folds into a compact umbrella shape. The handle then serves as a carrier lever or an automatic storage latch.
Adjustable Backrest
To safely accommodate babies of varying ages, the backrest is fully adjustable. You can place it into three positions depending on your baby's age and if they're sleeping or awake. The five-point harness keeps them secure while you take a stroll.
Comfortable Handles and Storage Basket
The Liteway Stroller includes a lot of features for the driver. The padded handles are comfortable to hold and great for long walks. Then you have the large storage basket, capable of keeping all your essentials close at hand.
Rear-Wheel Suspension and Superior Steering
The rear wheels have a top-notch suspension system, making it easy to take the stroller off-road. The front wheels can swivel, giving you superior steering and maneuverability around crowded areas.
What We Don't Like
Difficult to Assemble
It's rather tricky to assemble. Everything is detachable, which can cause the canopy and cup holder to come off after folding. Many parents feel it's an unnecessary inconvenience to reattach everything when unfolding.
Product Specs
| | |
| --- | --- |
| Color | Fog, sunset, moon gray, and ocean |
| Product weight | 17.2 pounds |
| Maximum child weight | 40 pounds |
| Folded dimensions | 46 inches by 10 inches by 11.75 inches |
Our Ratings
Community Feedback
This stroller is a great combination of an umbrella stroller and a traditional stroller, offering a compact yet sturdy design. It was easy to assemble right out of the box and maneuvers well. The well-padded seat and straps securely hold my baby, while the small basket at the back is perfect for holding light items. Folding the stroller is a breeze with its two-step function, although it's still a bit bulky when folded. The only downside I've experienced is that the canopy attachment often comes off when adjusting it.
---
Chicco Stroller Accessories
Chicco offers some compatible accessories:
Bravo Stroller Child's Tray: Youngsters always appreciate a small snack tray — it gives a sense of independence. The Chicco snack tray is easy to clean with a simple wipe. If you use a car seat, install it before placing the seat.
Rubber Wheel Kit for Bravo Stroller: If you want to upgrade the wheels on your Bravo stroller to allow off-roading, Chicco offers this kit. You'll receive a set of four wheels that are easy to attach. Sets are also available for the Bravo LE, BravoFor2, and BravoFor2 LE.
Where to Buy Chicco Strollers
Chicco strollers are available in many places throughout the U.S. You can buy them through Amazon, Walmart, Target, Albee Baby, and more. The company also sells through its website.
Chicco Website and Contact
You can find any information you will need on the company's website. It includes a comparison chart, buying guide, manuals, demo videos, and registry.
Its customer service section is thorough — when making inquiries, you will need to have some details handy. This includes the product's model number, serial number, and date of manufacture.
You can also call them toll-free at 1-877-424-4226. This number is also on the website.
---
What Is Chicco?
Chicco (pronounced KEE-co) is an Italian company that was launched in 1958 by Pietro Catelli. At the time, Catelli was a developer of pharmaceutical devices and an inventor.
After his son's birth, he expanded to include baby products. He aimed to develop wholesome solutions for parents (2).
The baby product branch developed quickly to include a range of baby gear. This includes carriers, nursing merchandise, clothing, baby care, toys, and strollers.
The company is all about discovery. Through its "Happiness Lab," Chicco creates innovative products with the help of experts and parents.
Chicco observes how products benefit babies and help them grow.
The company's commitment to parents and babies across the world emphasizes its love of family bonds and child health.
Chicco does some fantastic work — it's involved with several organizations aimed at helping children in need. One of these is Mission Bambini, which cares for sick children in medical-scarce countries. The mission carries out heart surgery operations and provides training for local doctors (3).
Chicco Today
Chicco has become a renowned brand in the U.S. and has an influence in more than 120 countries worldwide. It currently has its main office on the outskirts of Milan. The company is motivated to produce goods that are as fashion-forward as they are functional.
One contributing factor to Chicco's global success is its all-inclusive approach. Its strollers are available at reasonable prices without compromising quality or features. We recommend this company for parents who want a good-looking, functional stroller without breaking the bank.
Why We Recommend Chicco Strollers
Chicco is one of our favorite brands — even though its strollers are at the affordable end of the spectrum, it doesn't compromise on design. It offers several prints and colors — everything from black and gray to neutrals and various shades of blue. You can find the most extensive color selection on Chicco's website.
The best feature of these fabrics is that they're machine-washable. Most Chicco strollers allow you to remove the seat liner and toss it into your washer for cleaning. You don't see this with every brand — many can only take a wipe down.
What's also great is that Chicco shows impeccable attention to the smaller, unexpected details. All its strollers feature something extra for parents — often, it's a parent tray with cup holders. Others feature neat compartments for all your little extras.
We love the little zippered pockets featured on most of the buggies. They're great for storing valuables such as your cash or phone.
If you're going on a stroll, there's no need to take your purse. The less extra to carry, the better, right?
Chicco's strollers are constructed for years of use, long after their warranty expires. So if your tires wear out or the seat gets worn and tired, they offer a range of parts you can buy to replace them.
Price Range
Most of Chicco's strollers are at a good price point for families. It does have its more expensive models like the joggers and all-in-one travel systems. But these are still cheaper than many of Chicco's competitors and are built to be more durable. Many have included infant car seats.
---
Thank You For Your Feedback!
Thank You For Your Feedback!