Few things are as stressful yet as valuable as a family road trip. The funny stories and photos simply can't be replaced with a trip to Chuck-E-Cheese. Beautiful memories don't always come easily. And trying to create them can bring out the best or the worst in a parent. These hacks are designed to reduce stress and make it easier to resist the urge to tell the kids that "they better shut the hell up back up there!"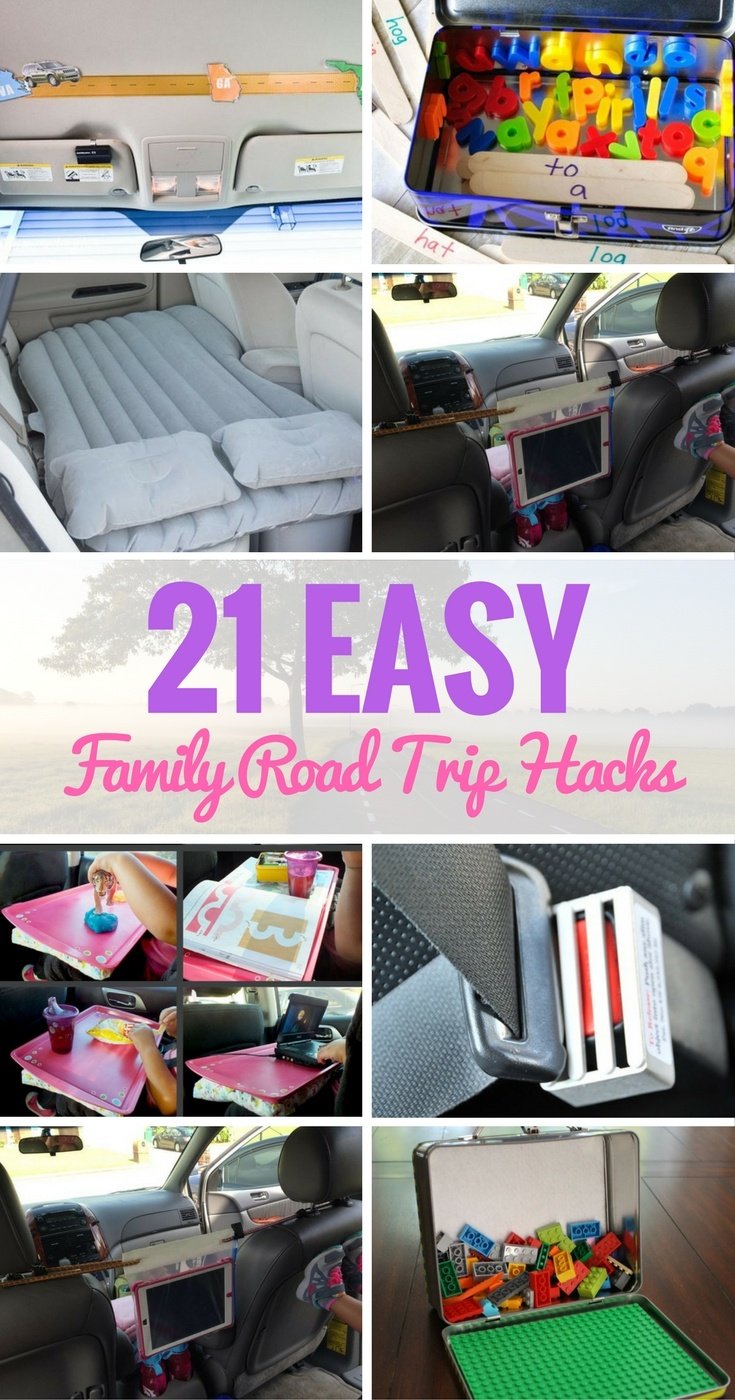 I hope you love these tips, don't forget to share them on Pinterest to help other moms too!
1. Ziplock iPad Holder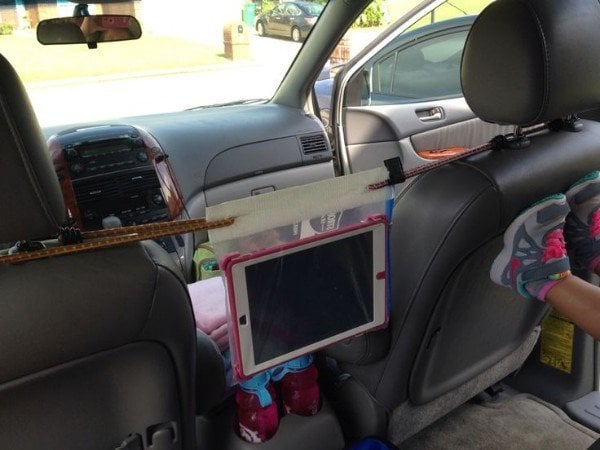 From Anna Underwoord on Pinterest
The most challenging thing about family road trips is keeping the little ones entertained. It's difficult enough for grown folks to stay seated for hours. Imagine how hard it is for an energetic child! This DIY tablet holder turns your backseat into a tiny movie theater. No fighting over who gets to hold the tablet!
2. DIY Travel Tray
From Two Sisters Crafting
It's simple. A pillow with a tray on top makes it easy to keep coloring books and toys contained. There's no need to bend around trying to pick up the toy your child dropped. Trust us, your back will thank you.
3. Magnetic Word Builder
From iheartcraftythings
Fill a metal lunch box with alphabet magnets and have your child build words on the lid. It's educational and fun. Best of all, it encourages quiet time.
4. Backseat Toy Holder Caddy
From Amazon.com
Toy caddies are your best friend on road trips. Use them to organize small toys, tissue boxes, and books.
5. Cereal Dispenser Trash
From Pinterest
Line a cereal container with a plastic bag. This keeps trash disposal in one place instead of a floppy plastic bag that will most likely spill onto the floor anyway. Plus it looks cool! Double score!
6. Catch Some Zzz's
From mrsfrugalfranny
Line a cereal container with a plastic bag. This keeps trash disposal in one place instead of a floppy plastic bag that will most likely spill onto the floor anyway. Plus it looks cool! Double score!
7. Seat Belt Buckle Protector
From Amazon.com
Safety is always a concern when traveling. Use this clip-on device to fasten the seatbelt and rest easy knowing that curious little fingers won't unbuckle the belt.
8. Baby Blanket Car Shade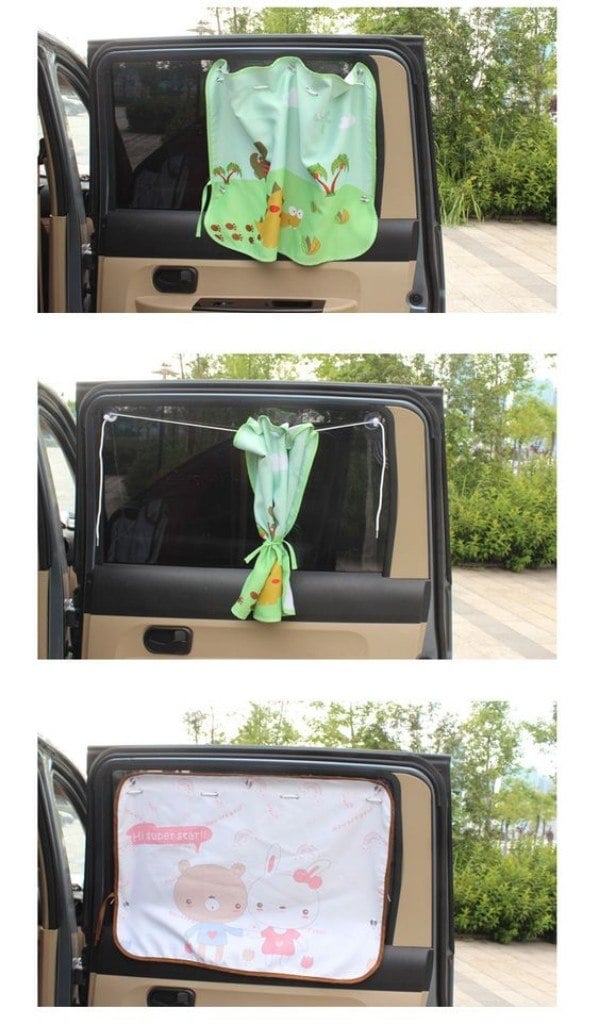 From Pinterest
Keep the sun out of your baby's face with this clever window covering. Suction cups and string serve as a curtain rod. Punch holes in a blanket and run the string through. Voila! You have a custom window covering.
9. Pacifier Bibs
From Amazon.com
Attach a pacifier to a tapered bib. This will prevent your child from dropping their pacifier. It will also save you the trouble of disinfecting it each time it falls out of their mouth.
10. Say Goodbye to French Fry Air
From onecrazyhouse
Use chunks of scented candle wax to cover up those Happy Meal smells. Yes, we know. In an ideal world, no one would indulge in fast food. But this is a road trip! One of the best parts is pigging out along the way. That doesn't mean you have to smell like grease for 2 months. This idea is perfect for masking smells without overdoing it.
11. Travel Binder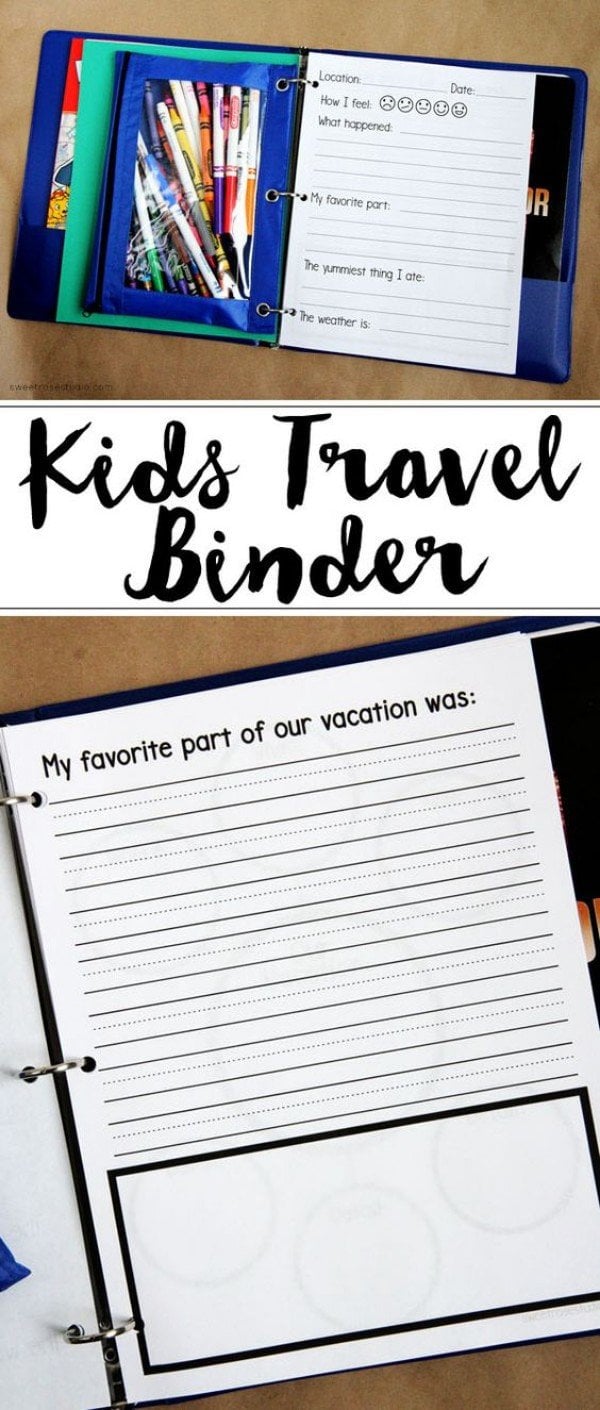 From sweetrosestudio
A travel binder is entertaining and tidy. The kids can color, draw, and write without losing all of their supplies. Stay away from crayons as the wax can melt and ruin your interior.
Related Reading: 25 of the Best Travel Apps
12. Road Trip Scavenger Hunt Printables
These free and printable scavenger hunts will increase your children's patience while traveling. The whole family can join in on the game.
13. Glitter Calm Down Bottles
From therealisticmama
Fill a bottle with water and glitter. When your child needs to wind down, shake the bottle up and have them watch the glitter fall to the bottom. This will help them to relax before a nap or calm down during a tantrum.
14. Cloth Activity Books
From YouTube
Cloth activity books are great for keeping the kids busy while on the road. They store easily and don't have any sharp edges, which is good when things start flying in the back seat. "Mom! He's bothering me! Stop looking at me!"
15. Travel Lego Box
You can make any road trip your own personal Lego Land with DIY Lego travel boxes. Buy a flat Lego surface and attach it to the inside lid. You can even glue one onto a travel tray. Look at you getting crafty!
16. Car Air Mattress
From Amazon.com
Pack an inflatable air mattress and pump. This genius device makes it easy to get some much needed rest, for adults and children. One adult can rest while the other picnics outside with the children. It's perfect for breaks between driving shifts, and is heaven for a sore lower back.
17. "Are We There Yet?"
From greyhouseharbor
Well, are you there yet? This little ceiling map will help you answer that question (for the 100th time) in a way that kids can understand. It's also a festive way to add some fun to the process. How cute!
18. Save Your Back Seat
From shannonfabrics
There are so many things to think about during a family road trip. Keeping your backseat clean doesn't need to be one of them. There are plenty of quilted "back seat savers" on the market. Some even extend from head to toe.
19. Shoe Hanger Storage
From lifehack
These things are so versatile! And they already come with loops at the top, which can be easily used to fasten them around the front seat headrests. The pockets offer tons of storage that is out of reach for kids in car seats, yet in reach for older children looking for something to do.
20. Brush Up On Your Jokes
What better way to pass the time than some classic joke-telling? Get the giggles with this silly, corny and hilarious roundup of the best jokes for kids by Upparent.
---
We'd like to take a moment to give you some praise. The fact that you're even reading this means that you truly value spending time with your kids and creating beautiful memories. And while there will be some hard work involved, it's well worth it. So, grab the car chargers and suitcases and hit the road! What are you waiting for?