Babies learn at an incredibly fast pace during their first year. One thing that can help engage their senses and let them experience sensory play is a play mat. Even before they can sit, a play mat can stimulate and keep them amused.
The best baby play mats will give your little one somewhere safe and clean to enjoy freedom on the floor while they stretch their body and their mind. Toys, textures, lights, and sounds will intrigue and enthrall them, while also helping them develop.
We've studied all the top play mats to discover which are the best for your baby's growth and development. We'll review our top picks based on their features, cost, size, and accessories.
Let's look at what makes a play mat worth it and find the best one for your baby.
Image
Model
Product Comparison Table
Features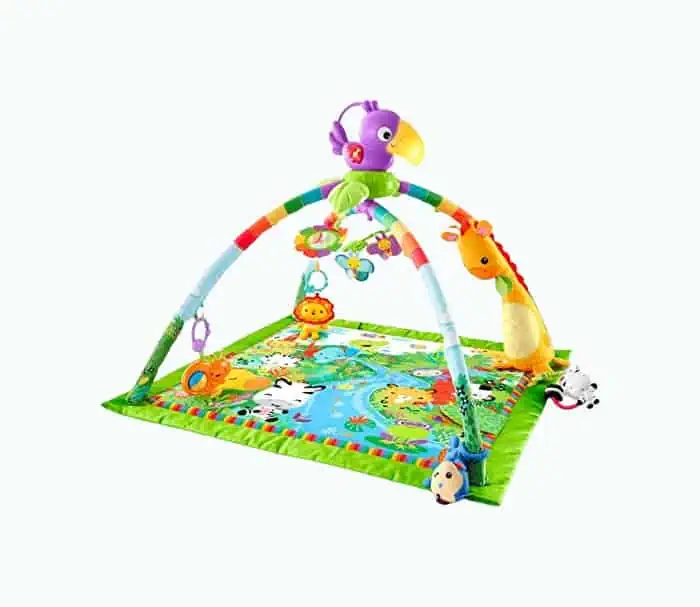 Best Overall
Fisher-Price Rainforest Gym
Machine-washable mat
Folds for easy storage
Interactive sounds, toys, and textures
Best Interactive
Fisher-Price Piano Gym
Removable keyboard
Suitable from birth
Batteries included
Best for Long Term Use
Baby Einstein 5-in-1 Gym
47x40-inch mat
Easy to clean
Padded for comfort
Best for Travel
Kidikools 6-in-1 Portable Gym
Foldable for easy storage
Includes zip-up carry case
Sunshade and bug cover for outdoor protection
Best for Tummy Time
Skip Hop Treetop Friends
Multiple fabrics
Quick and easy to assemble
Large round mat
Best for Twins
Tiny Love Meadow Mat
Big enough for twins
Soft padding
Brightly colored animal-themed print
Best Gender Neutral
Infantino Activity Gym
Product of USA
BPA-free teether
Easy to fold and store
---
---
The Best Baby Play Mats of 2023
Here are 7 great baby play mats to consider.
Fisher-Price Rainforest Deluxe Gym
Best Overall Baby Play Mat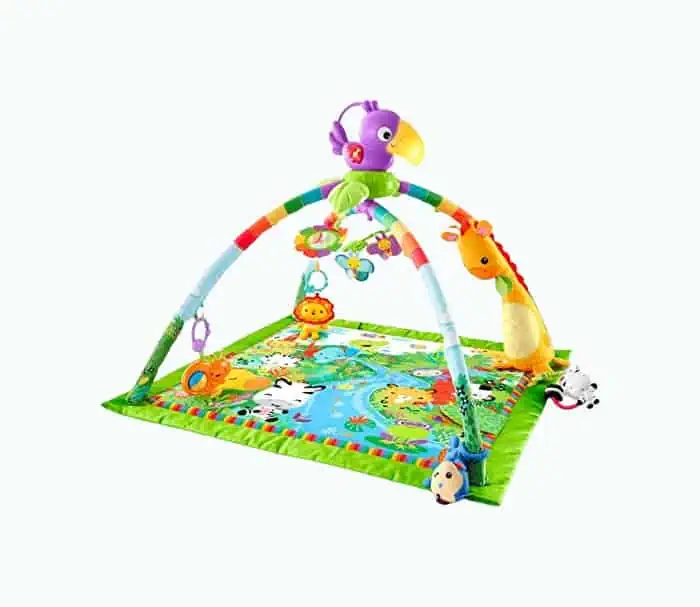 This brightly colored, jungle-themed play mat can be used from birth. You can lay your little one beneath the satin butterflies, soft monkey, and rollerball snail to catch their attention. The medium-sized mat is 31 inches by 33 inches and measures 28 inches in height.
Time for tummy play? Attach some of the toys to the giraffe, or attach the mirror at a low level so your baby can see their face. Let them experience the different textures of the satin rim or the crinkly leaf.
Then there's the removable purple toucan. Touch its wing or shake it gently and watch the lights flash while it plays music. If it — or any of the attached toys — becomes your baby's favorite toy, you can detach it and take it with you when you go out.
Over 10 toys and activities on this play mat will delight and engage your little one as they grow. You can rearrange the toys and place them wherever you want.
Pros
The mat portion is machine washable
Interactive sounds, toys, and textures.
The motion-activated toucan can be set for short-play music or 20 minutes of continuous play.
Cons
Babies may have a hard time viewing the toucan while lying down.
You have to take all the pieces apart to fold it for storage.
Our Ratings
---
Fisher-Price Deluxe Piano Gym
Best Interactive Baby Plat Mat
Might your baby be the next John Legend or Alicia Keys? You can give them the best chance to find out with this play mat that features a fun piano.
It will play 15 minutes of continuous music while newborns lie and look at the dangling toys attached to the repositionable arch. Tummy time will have them reaching out to hit the keys and hear the notes play as they light up. They might even be able to lie and kick it with their feet, building strength in their legs.
Once your baby can sit, you can detach the piano and let them create their own tunes. There are also settings for animal songs and phrases about numbers, shapes, and colors.
Bright colors and five repositionable toys, including an elephant teether, a crinkly panda, and a large mirror, add to the fun. A super soft mat with loops for the toys completes this baby activity center.
The mat measures 27 inches by 36 inches by 18 inches, so this one is a little on the smaller side, making it a good option for use in smaller spaces.
Pros
Removable keyboard for on-the-go play.
Suitable from birth.
Machine washable.
Batteries included.
Cons
Mat is a little on the small side.
Our Ratings
---
Baby Einstein 5-in-1 Gym and Play Mat
Best for Long Term Use
Baby Einstein has covered all the bases with this 5-in-1 play mat. It has a contoured pillow you can prop a newborn on while they listen to 20 minutes of world-inspired tunes.
It also enhances tummy time with the hanging detachable plush toys, rattle, and mirror that are within your baby's reach. The mat folds out to a 47-inch map of the world. This is great for you to get down and play with your baby as well.
Once your baby starts crawling and toddling around, you can pop up the sides and turn this play mat into a baby ball pit. There are 10 multi-colored balls included and a ball drop canopy. A suitcase-style bag for storing the balls and toys is also supplied.
Pros
You can use the mat later on as an educational tool for learning about the world.
Large mat measures 47 inches by 40 inches when fully open.
Toys wipe clean with mild soap, and the mat is machine washable.
The play mat is padded for comfort.
Cons
Batteries (three AAA) are not included.
Links to hold the toys have gaps which means the toys might come off.
Our Ratings
---
Kidikools 6-in-1 Foldable Travel Play Mat
Best for Travel
This 32-inch square, machine-washable play mat is perfect for travel. It includes an insulated sun canopy to protect your baby during outside play time, at the beach, park, or in the backyard. It also has a full bug cover to keep those nasty pests away.
The pop-up mesh sides create a more contained play area, so your little one won't end up rolling off the mat.
When it's bedtime, or you want to travel, this mat and its arches fold flat, and you can zip it into the handy travel bag, which has a long strap for easy carrying.
Your baby will love the included soft toys, mirror, and cloth book, and you can hang them all from the bars or place them on the mat for easy grab-and-play fun. The tummy time cushion will give them a little boost while they work on their core strength.
Pros
Mat folds easily into the included case for storage and travel.
Includes sun canopy and full-coverage mosquito netting.
Pop-up sides keep babies safely contained.
Cons
Toys are pretty basic and a little cheap-looking.
A little pricey.
Our Ratings
---
Skip Hop Baby Treetop Friends Play Mat
Best Tummy Time Mat
This nature-inspired play mat from Skip Hop has 17 different developmental activities for your baby. There are five toys, which you can hang from any of the 13 loops on the arches. The mat has several textures, including crinkly leaves and a squeaky flower.
Included is a plush contoured cushion that you can rest your baby's arms over to get them used to tummy time. This will support them and let them see themselves in the mirror inserted in the tree trunk. The mat can be used from birth onward.
The arches are covered in soft patterned linen and fold away for storage. The mat measures 36 inches in diameter and is machine washable with the mirror removed.
Pros
Multiple fabrics and different activities on the mat.
Quick and easy to assemble.
Large round mat.
Cons
The mat would benefit from more padding.
Our Ratings
---
Tiny Love Meadow Days Play Mat
Best Play Mat for Twins
Entertaining two babies at the same time can be a tough call. This super-sized play mat could be the answer. It measures 35 inches by 59 inches and has 1-inch deep padding.
The mat features different activities and textures for newborns and older babies to discover. Play peek-a-boo with the tree, look at themselves in the mirror, chew on the carrot teether, or play with the crinkly fox tail. There's also a ring for you to attach their favorite toy.
It folds easily, and you can securely close it with a large button. It also has a handle for carrying. After diaper leaks or spit-ups, you can toss the mat in the washing machine to clean it.
Pros
Big enough for twins or more than one baby to play together at the same time.
Brightly colored animal-themed print.
Soft padding to protect your baby.
Cons
Made from polyester, which might be slippery for crawling babies.
No lights, sounds, or arches to hang toys from.
Our Ratings
---
Infantino Activity Gym and Play Mat
Best Gender Neutral Baby Play Mat
Infantino brings us this baby gym which comes in your choice of two neutral color themes.
It has bright tropical-themed patterns to attract babies to explore and a few linkable toys.
You can unfold and lock down this baby gym in an instant to form arches over the mat. The quick and easy push-and-release mechanism lets it easily fold into a parachute-style shape for storage.
The soft cushion encourages tummy-time play, and a large mirror lets your baby see their reflection.
Pros
The toys crinkle, clack, and rattle.
The teether is BPA-free.
Easy to fold and store.
Cons
The fabric can be hard for babies to get traction on.
Our Ratings
The Benefits of a Baby Play Mat
A baby play mat, also called a play gym, could be one of the best investments you make for your little one's development. The benefits include the following:
How to Choose a Play Mat
Here are some of the features we look for in the best baby play mats:
A soft fabric mat with some padding will ensure your baby's comfort while on the floor. It's a good idea to check that it's washable (most are) for the inevitable accidents.
Bright colors and different textures are also standard features. There might be flaps a baby can lift to discover a surprise underneath.
Sounds from squeakers or crinkly materials add to the excitement. Some mats have pianos that babies can kick to make them work or which detach for seated play as they get a bit older.
Music and lights are another way these mats help engage your baby.
Hanging toys come in various shapes and sizes. There are often teething rings, soft toys, and mirrors that babies can play with. The bright colors will attract their attention, so make sure the toys are hanging close enough for a young baby to focus on.
Focus on portability if you plan on taking your baby's play mat out and about with you — or even just for packing it away. Some play mats are more portable than others.
Safety is always a concern for any parent when it comes to play things. It's good to know that play mats are generally safe for babies. The materials are usually non-toxic, and there are no small parts that can pose a danger.
That being said, check the manufacturer's recommendations for the one you choose. Some might be suitable from birth, while other play mats are best for babies ages 3 months and up.
---
Thank You For Your Feedback!
Thank You For Your Feedback!