Are you looking for an adorable alternative to the standard baby onesie?
Like you, we want stylish clothing options for our babies that keep them cozy but are easy to open when we need to swap out a diaper quickly (hello, liquid poop — again!).
So we took to the internet to find the best baby bodysuits and rompers for all occasions — but we weren't about to choose just any rompers. We chose these 10 options based on how cute and cozy they are, how easy they are to get into for diaper and clothing changes, and how durable they are — so they can last through more than one season with one baby.
It was tough to narrow down our list, but after spending many hours reading hundreds of reviews from other parents like you, we believe we've found the best high-quality items available for your little ones — and ours too.
Image
Model
Product Comparison Table
Features
Best Budget Romper
Lamaze Sleeveless
Snap closure
Pure organic and eco-friendly
OEKO-TEX certified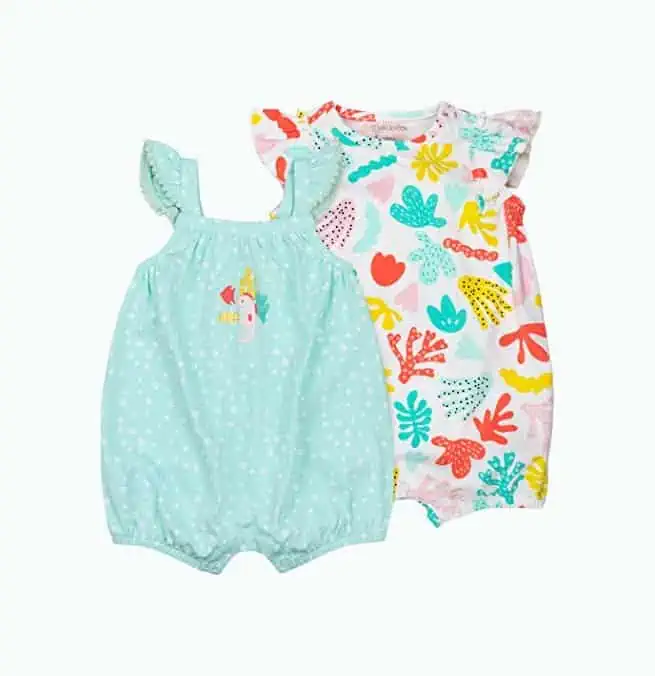 Best Organic Romper
Mac and Moon
Organically made
Cozy and playful designs for boys or girls
Various cuts and styles
Best Winter Romper
Hope and Henry
Features rib trim
Center front button closure
Sophisticated fabric
Best Trendy Romper
Cecobora Linen Romper
Cool, breathable fabrics
Comfy fit
With stylish accessories
Best Newborn Romper
Simple Joys by Carters
Cinch cuffs
Nickle-free snaps
Trusted Carter's quality
Best Summer Romper
Burt's Bees Organic
GOTS-certified organic cotton fabric
Earth and farmer-friendly product
Best for babies with sensitive skin
Best Night Time Romper
SYCLZ Cotton
Collarband design
Exquisite embroidery
Snaps or 2-way zipper
Most Eco-Friendly Romper
Kyte Baby Bamboo Footie
Solid gender-neutral color
Breathable and stretchy
Very soft
Best Formal Romper
Zoerea Gentlemen
No scratchy feeling
Cotton material
Perfect for various formal occasions
Best Toddler Romper
Darkyazi Jumpsuits
Loose, comfortable fit
Gentle on skin
Very affordable
Review Methodology: At Mom Loves Best, we understand the importance of finding the best baby bodysuits and rompers for your little one. Our hands-on research, analysis, and evaluation of various products are based on strict criteria and data, ensuring a professional and unbiased approach. We compare and rank baby clothing based on factors such as comfort, durability, design, and ease of use. Our team of experts shares their first-hand experience, providing quantitative measurements and identifying key decision-making factors in selecting the perfect bodysuit or romper. We review design choices, performance, and practicality, highlighting what sets a product apart from its competitors. Trust Mom Loves Best to guide you in choosing the ideal baby clothing that meets the highest standards of quality and safety.
---
---
The Best Baby Rompers of 2023
These 10 rompers and bodysuits are our top choices for all occasions because they're cute, comfortable, affordable, and well-made.
Lamaze Sleeveless Romper
Best Budget Romper
These adorable sleeveless rompers are 100% organic cotton and will not break the bank. They're available in cute designs for boys or girls and offer both long and short pant options.
We're not the only ones who love the quality of these rompers, either. Thousands of parents agree that they're an excellent choice and will keep your little one cozy and cool, even on the hottest summer days.
They snap at the crotch, which some moms prefer to a front-snap system as it makes diaper changes easy. The snaps are nickel-free, which is great for kids with allergies.
Community Feedback
I'm thrilled with these adorable sleeveless rompers made of 100% organic cotton, which are both budget-friendly and available in charming designs for boys and girls. I appreciate the long and short pant options, keeping my little one comfortable and stylish during hot summer days. The crotch snaps make diaper changes a breeze, and as a bonus, they are nickel-free, catering to kids with allergies. Like many other parents, I find these rompers to be an excellent choice for quality and comfort.
---
Mac and Moon Organic Rompers
Best Organic Romper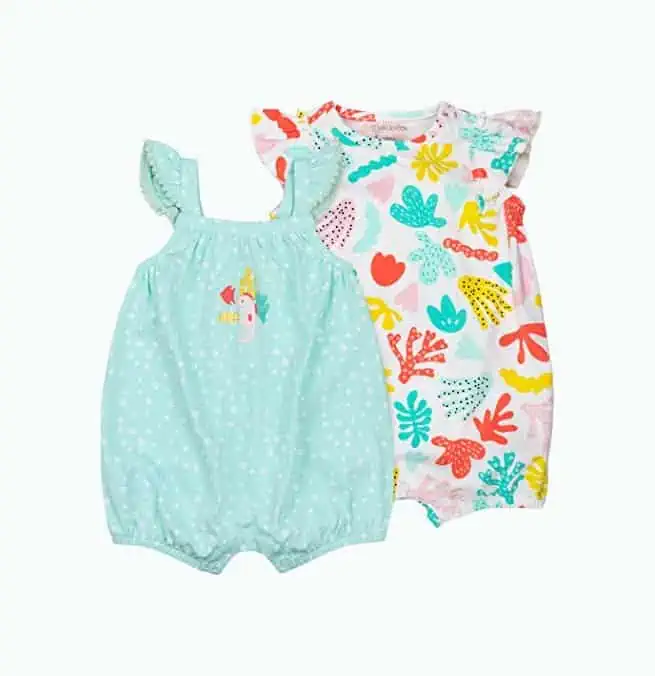 These Mac & Moon GOTS-certified rompers ensure your child will be exposed to fewer chemicals throughout the day.
They come in packs of two, and there are several different color options to choose from. We love that they come in multiple cuts, as this adds some variety to your baby's wardrobe. And the little frilled sleeves on the girl rompers are simply adorable.
These rompers snap at the crotch for easy diaper changes. Plus, they have wide, stretchy collars, often with snaps, to make dressing your baby easier.
Community Feedback
Best one-piece baby outfit I've tried, with its soft, lightweight fabric and easy-to-use snaps for quick diaper changes. These outfits provide a refreshing and comfortable option for hot and humid climates, while still offering decent leg coverage. The adorable prints and durable fabric that stays soft even after multiple washes make these rompers a favorite in our household.
---
Hope and Henry Layette Romper
Best Winter Romper
People can't get enough of these beautiful and comfortable baby winter "sweater rompers." If you take your little one out in a Hope & Henry romper, be prepared for lots of comments and compliments!
They come in several colors and cuts, many with a cable-knit design and each with intricate patterns. But even though they look like baby prep school apparel, they're machine washable, and your baby will love how cozy they feel.
They fasten up the front with real buttons — not snaps — giving them a high-quality look that is great for a night out during the winter holidays with your baby in tow. You can even purchase matching blankets to go with some of these rompers.
Community Feedback
This newborn sweater romper exceeded my expectations with its high-quality fabric and craftsmanship. Although the sizing runs a bit large, the adorable design and durable construction make it perfect for multiple wears before outgrowing. However, be aware that the button placement can make diaper changes slightly challenging, and the faux fur hood may lose its texture after washing, causing the white color to become slightly grayish.
---
Cecobora Linene Romper
Best Trendy Romper
These stylish linen rompers come in several cuts and colors, perfect for that fashion-conscious baby in your life. With matching headbands or cute buttons, collars, or ruffles, these rompers will stand out, wherever your baby spends their free time.
Your little one will turn heads at the playground, day care, Mommy and Me groups, or the mall, all while they nap in utter comfort. The breathable cotton linen will keep them cool as they lounge about in style.
Community Feedback
I'm quite pleased with the overall look of this outfit, as it's both cute and adorable. However, I have noticed that the sizing is not accurate, as the 3-6 month size seems more like a 12-month fit. While the quality of the material is nice, it tends to shrink after washing, so I recommend sizing up. One major inconvenience I experienced was the lack of snaps at the bottom, making diaper changes difficult due to the need to unbutton and slip the legs out. Unfortunately, I also encountered an issue with a stitch coming undone on the leg inseam while changing my child's diaper, resulting in a small hole. Despite its charming appearance, this outfit may not be the most practical option for everyday use.
---
Simple Joys by Carters
Best Newborn Romper
These ultra-cute rompers are great for newborns. They're 100% cotton and come in packs of three — great for those days when you have to change your little one's outfit several times.
They come in two color variations, and they cinch around the legs. This will allow you to buy a size or two bigger and not worry about the fit. These rompers button up the front with nickel-free snap fasteners.
Community Feedback
I recently purchased these rompers for my daughter and they are absolutely adorable on her. The sizing was accurate, as I bought a size 24 months for my 18-month-old, and they fit as expected. These rompers are perfect for summer pajamas, as the material is lightweight and comfortable, making it easy for my daughter to wear. The three buttons at the crotch are simple to use and I haven't had any issues with them.
---
Burt's Bees Organic Rompers
Best Summer Romper
These sweet rompers are perfect for summer. They are made of 100% GOTS-certified organic cotton, so your child will be comfortable and cool in the warm weather. They come in several cutesy colored patterns for girls, or you can purchase a similar boy version for your little dude.
They're available in sizes ranging from newborn to two years old. They snap at the bottom for quick diaper changes and are just as easy for bathroom trips when potty-training.
Community Feedback
For someone who values consistency, I was a bit disappointed when I received two different sizes of the same product. I had a great experience with the larger size, which fit perfectly and had an impressive quality. However, the smaller one was not as comfortable and felt somewhat cheap in comparison. I enjoyed using the larger product, and it quickly became one of my favorites. Despite the inconsistency in size, I believe these products have the potential to be excellent if the sizing issue is resolved.
---
SYCLZ Cotton Romper Jumpsuits
Best Night Time Romper
For the zipper lovers out there, this one's for you. Rompers don't have to be a daytime-only undertaking. If your baby likes the comfort of a romper, you may want to consider using them at night, too.
These rompers come in packs of two and are available in many color options. They have long sleeves and long pants for babies who get cold easily.
Community Feedback
If you're struggling to find comfortable and soft clothing for your chunky baby, these onesies might just be the perfect solution. I've personally found the material to be breathable and thick enough to provide the right amount of warmth without causing overheating. The two-way zipper and relaxed fit make diaper changes a breeze, and it's great that this onesie accommodates babies with longer torsos. Although they might shrink a bit in the dryer, the vibrant colors and patterns make them totally worth it. Just make sure to size up for a longer-lasting fit.
---
Kyte Baby Bamboo Footie Romper
Most Eco-Friendly Romper
Made of bamboo rayon, these footed rompers are super soft and kind to the environment. They come in solid gender-neutral color options, all of which are long-sleeved.
These cozy rompers have a two-way zipper for quick diaper replacement and can be machine washed.

Community Feedback
My experience with these Kyte baby footies has been nothing short of delightful. The soft, lightweight material and good stretch make it easy to put on my baby and keep her comfortable as she grows. I also appreciate the grippers on the feet, which are helpful for when she's learning how to walk. While they may be a bit pricey, their durability definitely makes them worth the investment. However, I did notice that they can stain easily, so be prepared to deal with that minor issue.
---
Zoerea Gentlemen Romper
Best Formal Romper
You'll probably have to bring your baby boy to a formal event at some point, and with this adorable romper, your little man will be the best-dressed person in attendance. Whether he's a ring bearer or just a member of the audience, this romper offers style as well as comfort.
The cotton-polyester blend fabric is soft and breathable, keeping your little guy cozy at his big event.
The two-piece set includes a long-sleeved bodysuit with snap closures at the legs and a matching jacket. A removable bow tie completes the outfit. Choose from seven styles and sizes from 3 months to 18 months for the best fit.
Community Feedback
My experience with this adorable romper for my baby boy has been fantastic. Wearing it to a formal event, he was not only the best-dressed attendee but also comfortable throughout the occasion. The cotton-polyester blend fabric is soft and breathable, while the long-sleeved bodysuit with snap closures and matching jacket make for a stylish and practical outfit. With the added touch of a removable bow tie and multiple styles and sizes to choose from, this romper is an excellent choice for any little gentleman.
---
Darkyazi Halter Romper
Best Toddler Romper
These cotton-blend rompers became all the rage on the internet because of their timeless, unique, and adorable style. They're great for the hot, humid months when none of us, including our children, want any fabric sticking to our bodies.
They come in several different colors and sizes to fit children up to age 7. However, if you have a potty-training toddler, it might be difficult for them to get this romper on and off without help.
Community Feedback
In my experience, this jumpsuit has been a fantastic addition to my child's summer wardrobe. It's lightweight, comfortable, and versatile, allowing my little one to stay cool and stylish during the warmer months. However, I would advise being cautious when tying it around the neck to avoid any discomfort, and keep in mind that the lighter colors may be slightly see-through.
Benefits of Baby Rompers
A baby romper is a one-piece outfit. It can have sleeves or be sleeveless and have long pants or shorts. Some fasten with buttons or snap closures; others may zip up. The defining factor is that it's a one-piece item.
My little one loved rompers, and I did too. If you still aren't convinced of the wonders of rompers and bodysuits, consider a few of these scenarios.
Diaper blowouts: No matter what diaper brand you use, it will be defeated by your baby's pooping skills at some point (1). With a traditional onesie, the liquid has nothing stopping it from reaching your carpet or car seat. A romper can add more protection as it extends further down the legs.
Layering troubles: If temperatures drop and your child is in a traditional onesie, you'll need to put pants on them. This makes diaper changes more difficult. Rompers come with a variety of pant/sleeve options, making layering and diaper changes a breeze (2).
Size flexibility: Rompers don't have to fit as perfectly as traditional onesies. With a onesie, the diaper can become exposed if the size is too big. But with a romper, you can buy one or even two sizes too big and get more use out of it.
How to Shop for Rompers
Like other baby items, there are a few things to consider when buying a romper. Before purchasing, it's a good idea to be realistic about what your baby will actually wear and what they won't.
Materials: Many rompers and bodysuits are made of 100 percent cotton, which most babies like. However, if your baby has sensitive skin, double-check what material it's made of before buying.
Fasteners: Although zippers were always my favorite fastener, some babies don't like them. Some parents may feel anxious that they'll catch their baby's skin. Snap closures are a good alternative, but they can leave gaps and can easily come undone.
Cleaning instructions: It's possible that, with more delicate rompers, you may have to hand wash. If that's not something you want to do (I can't imagine finding the time for that!), double-check the cleaning instructions before buying.
Check out our article on how to treat baby rashes if your child suffers from reactions to fabrics or laundry detergents.
---
Thank You For Your Feedback!
Thank You For Your Feedback!