Smartphones might seem like the perfect solution when you want to keep your child busy if you have other things to do. The problem is, real phones come with risks and could damage your child's cognitive development (1).
An ideal solution is getting your baby or toddler a toy phone. Because we care about you and your child, we've created a buying guide to help you make an informed decision.
We have also gathered and reviewed some of the best toy phones for babies and toddlers. These phones are educational, entertaining, affordable, and made to withstand rough play — unlike mama's phone. Find a phone that will entertain and inspire, and keep your little one from wanting to steal yours!
Image
Model
Product Comparison Table
Features
Best Overall
LeapFrog Chat and Count
More than 15 phone activities
Educational and Musical
Easy to use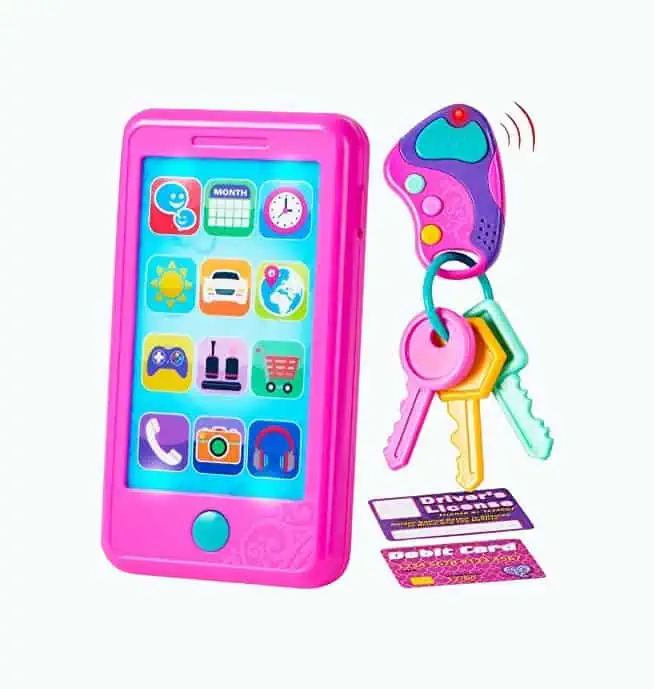 Best 2-Piece Set
Joyin Cell Phone
Brightly colored keys
Adorable design
Safe, toxin-free material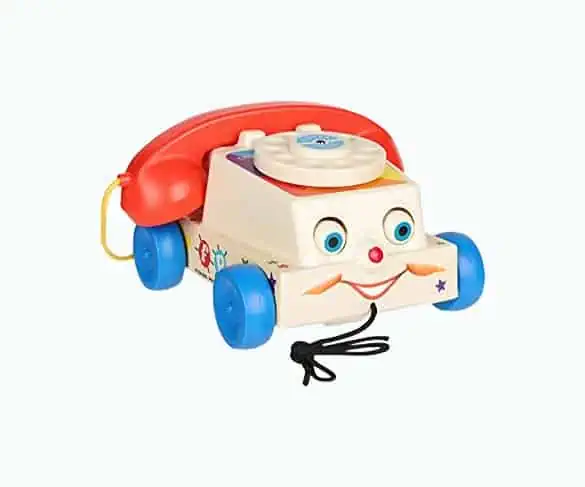 Best Retro Phone
Fisher Price Retro
Ringing rotary dial
Classic roll-along pull-toy
Friendly interactive design
Best for Toddlers
VTech Call & Chat
10 realistic phone apps
Voice activation
Enjoyable and educational
Best Educational Design
VTech Touch and Swipe
12 light-up pretend apps
Customizable
Helps improve hand-eye coordination
Best for Babies
YoyoStore My First Own Cell Phone
iPhone toy replica
Educational
Affordable
Best Natural Design
PlanToys My First Phone
From chemical-free rubberwood trees
With wrist strap for easy carrying
Magnifier screen
Best Sing-Along Toy
Fisher-Price Laugh
Sleek, slim design
Four colorful lights with music
20+ sing-along songs & phrases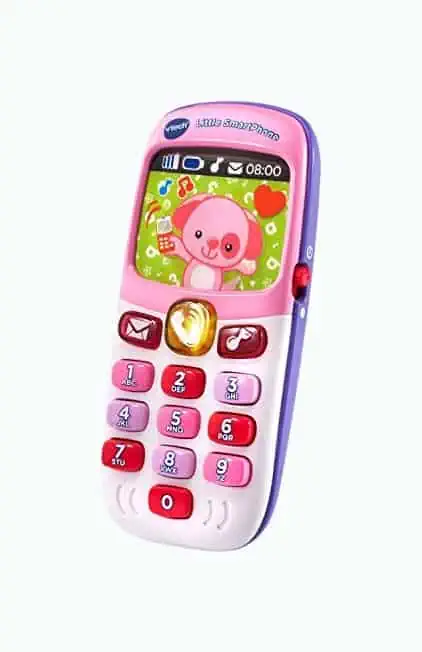 Most Imaginative
VTech Little Smartphone
Easy to hold
Encourages sing-along & role-play fun
12 entertaining applications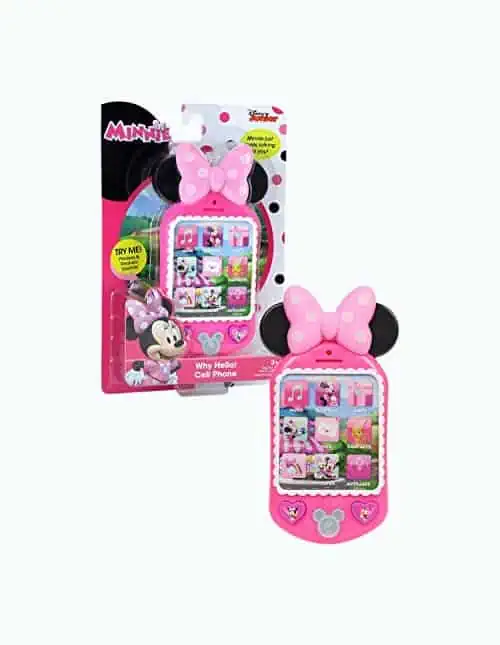 Best Cartoon Character Fun
Minnie Happy Helper
Realistic phone sounds and light
Perfect for little hands
8.25-inches tall
Review Methodology: At Mom Loves Best, we understand the importance of finding the perfect toy phone for your child. That's why we've conducted thorough research, hands-on testing, and careful evaluation of various toy phones available in the market. Our experienced team has assessed and compared these products based on key criteria such as design, features, durability, and educational value. We've analyzed and ranked each toy phone based on their performance and user experience, ensuring you can make an informed decision. We provide first-hand evidence, sharing our expertise and highlighting what sets each product apart from its competitors. With our in-depth reviews and insights, you can trust us to guide you towards the best toy phone for your little one.
---
---
The Best Toy Phones for Babies and Toddlers of 2023
Here are 13 great toy cell phones for you to consider.
LeapFrog Chat and Count Baby Phone
Best Overall Toy Phone
With more than 15 activities, this LeapFrog smart little phone is designed for ages 18 months and over. The toy phone features songs about counting that your child can sing along to and fun animations that will introduce phone manners, numbers, and more.
It comes with 10 buttons, and one of the best parts is that you can connect with LeapFrog online to customize the learning insights. Your toddler will learn early number sense, social skills, and pretend play.
Community Feedback
My toddler is fascinated with my iPhone, so I got her this Chat and Count phone, hoping it would be just as appealing. She definitely enjoys playing with it, especially with all the buttons and the number-related animations. The volume settings and durability are great, but I wish the screen were a bit clearer and more resistant to scratches.
---
Joyin Cell Phone and Key Toy Set
Best 2-Piece Set
Joyin is a classic toy phone loved by many for its bright, beautiful colors and the key set it comes with. The phone features different sounds and music that will keep your baby entertained and relaxed at all times.
The great design of this phone, which includes brightly colored, attractive buttons, will stimulate your baby's imagination and keep them occupied for long periods. The set is well built, lightweight, and intended for babies of 3 years and up, although some would buy this for their kids as early as 12 months old.
Community Feedback
This play phone set has been a hit with my kids, providing them with hours of entertainment. The set offers a variety of functions and is quite clear, allowing for endless imaginative play. However, I was disappointed that it came with two driver's licenses instead of a debit card as advertised. Additionally, finding the right size battery replacement has proven to be a challenge. Despite these minor issues, my granddaughter adores this play phone set and takes it everywhere she goes, making it a worthwhile purchase.
---
Fisher Price Classic Retro Chatter Phone
Best Retro Toy Phone
This retro chatter phone is the ultimate kid's telephone. Even though most toddlers these days won't recognize this initially as a phone, the rotary dial design makes it highly entertaining.
This timeless classic has been on the market since 1961, and this cute phone never fails to intrigue little ones. Your toddler will fall in love with the way its eyes roll up and down as it moves.
The design features beautiful illustrations that give it a vintage feel. You're also likely to be captivated! The rolling eyes, the mouth chatters, the dial rings, and the colors are mesmerizing for children 12 months and over.
Community Feedback
When I first saw this classic telephone toy, it brought back memories of my childhood. This nostalgic toy has great quality, and it looks like the ones from 40 years ago. My young grandchild loves playing with it, even though rotary phones are outdated. The moving eyes and rotary wheel with its little dings make it a fun and engaging toy for both my 8-month-old and 5-year-old. The only improvement I would suggest is a longer pull string, as it currently measures only 12 inches.
---
VTech Call & Chat Learning Phone
Best for Chatty Toddlers
Your toddler will absolutely love this phone, which features 10 realistic apps, including music, games, a clock, and photos. Toddlers can talk and play on their imitation cell phone, just like you do on your phone.
This toy phone comes with a pretend phone book, a special chat button, and a chatty parrot to guide them through the activities.
The phone is designed for ages 2 to 5 years and will teach your toddler about time, letters, and numbers with its fun games and apps. It will entertain your toddler with five different ringtones and a voice activation feature that always delights.
Community Feedback
I recently purchased this solar and wind rechargeable toy for my kids, and they absolutely adore it! The toy is not only entertaining but also educational, helping them learn letters and numbers through various engaging games. What I find most valuable is the ability to input contacts like mom, dad, and grandparents, so my children can memorize important phone numbers in case of emergencies. This durable toy easily withstands rough play, making it a fantastic addition to our household!
---
VTech Touch and Swipe Kids Smart Phone
Best Educational Toy Phone Design
Featuring an animated LCD screen, this VTech toy phone looks just like a real phone. It comes with 12 light-up pretend apps that will introduce your toddler to letters, numbers, and melodies. It's suitable for children who are 6 months to 3 year old, and your child is sure to love the pretend play.
With a pretend calendar, a clock, and weather apps, your little one will learn about the day while the touch screen and slider build hand/eye coordination.
Community Feedback
I'm thrilled with the VTech Touch and Swipe Baby Phone, as it has been entertaining my son since he was 6 months old, and he's still enjoying it at 14 months. The phone offers two languages and various modes, such as a pretend phone book and music player, which keeps my little one engaged. One feature I particularly appreciate is the touch and swipe functionality that helps develop fine motor skills. However, I did find the feature to save a home number a bit pointless, as it would reset after a short time. My son loves the interactive, durable design, and the volume is just right, so it's not too loud.
---
YoyoStore My First Own Cell Phone
Best Interactive Phone for Babies
This is one of the most interactive toy phones on our list. It features several different modes, including music, number, and color modes. This toy is an iPhone replica toy version. It's designed for babies ages 18 months and above. It comes with sweet music and educational tutorials that will stimulate your baby's senses.
We especially love that the volume is adjustable on this one.
Community Feedback
I'm thrilled to share my experience with this toy phone, which has been a hit with my little one. They absolutely love the realistic design, LED lights, and the variety of songs it plays. It's been a great distraction during car rides and has even doubled as a chew toy! The rechargeable feature is a fantastic addition, making it convenient for parents. However, the lack of volume control can be a bit bothersome, and some of the song choices might seem odd.
---
PlanToys My First Phone
Best Natural Design
This simple phone design includes a magnifier screen and colorfully beaded dial pad that encourages imaginative and interactive play. This toy phone is suitable for children 12 months and above, and it helps develop cognitive and dexterity skills.
It's made of sustainable rubberwood and coated with a non-toxic finish. The colors are made from vegetable dye, which makes it completely safe for little teethers.
Community Feedback
When I first got this wooden camera for my 4-year-old, I was impressed by the excellent quality and simple design that encouraged imaginative play. My child loves pressing the button and spinning the lens to "zoom," and it's been a great addition to our collection of eco-friendly toys. However, I do wish the strap was adjustable, as it can be a bit snug for older kids, but overall, it's a fun and creative toy that has provided hours of entertainment.
---
Fisher-Price Laugh & Learn Smartphone
Best Sing-Along Toy Phone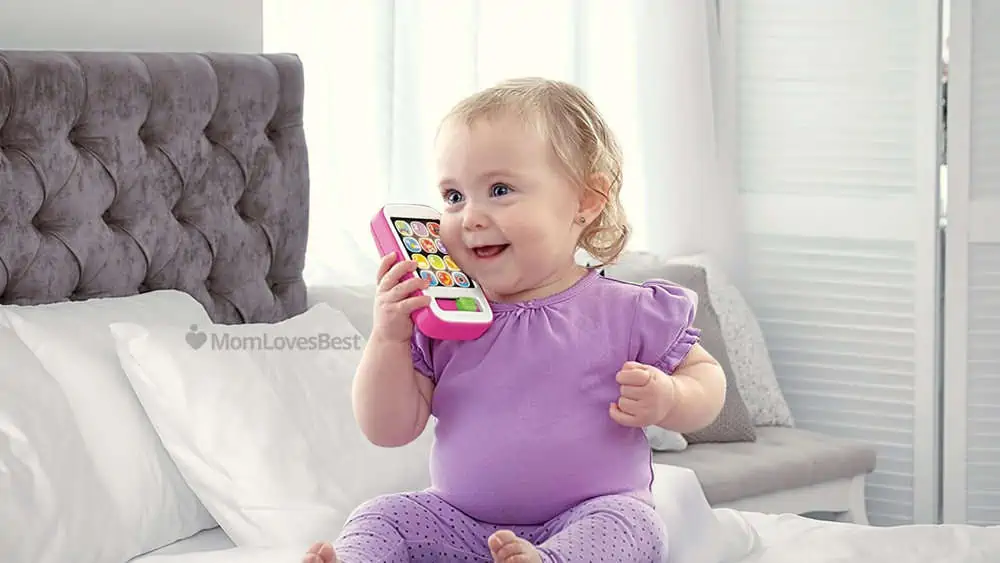 Featuring 12 large app tile buttons, your baby will love this phone. It has more than 20 sing-along songs, lights that dance to those songs, and phrases to teach your baby counting, greetings, numbers, and more.
The sleek and slim design allows for easy handling, and the moving slider makes song activation easy for a baby to move. Your child will learn motor skills and hand-eye coordination from the slider feature. For ages 6 to 36 months.
Community Feedback
Best toy phone I've ever purchased for my little one! This phone is a perfect imitation of mommy's phone, with engaging lights, songs, and "apps" that keep my baby entertained and help with diaper changes. The buttons light up, and the volume is low enough to not be annoying to adults, while still offering a great variety of tunes. It has been an excellent tool in helping my baby develop pretend play skills and is a durable option for teething as well.
---
VTech Little Smartphone
Most Imaginative Play Phone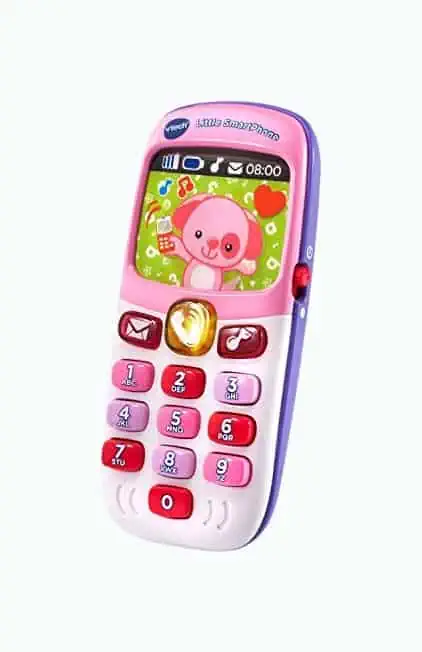 This is an incredible toy phone designed for ages 6 months to 3 years. It comes with a pretend calendar, button light-up, music, and 12 realistic applications your child will love.
It's small enough for your baby's hands, and the buttons are large and colorful to catch and keep their attention. The toy phone features sing-along songs, 15 melodies, and an automatic shut-off feature.
Community Feedback
This toy phone is a delightful and affordable addition to any toddler's playtime. My daughter enjoys playing with it, and I appreciate that it doesn't resemble a smartphone, preventing her from getting too attached to a screen. My grandchild also loves this phone, dancing and talking into it as she learns from its features. The durability of the phone is impressive, as it withstands drops and throws without issue, making it a favorite among little ones.
---
Minnie Happy Helper Why Hello Cell Phone
Best Cartoon Character Fun
Toddlers love Minnie Mouse, and with this cell phone, they'll be too engrossed to become bored. It features several Minnie phrases, very realistic phone sounds, a large keypad, and lights. It's recommended for ages 3 and up and is the perfect toy phone for big imaginations.
The phone is designed with a cute Minnie hair bow at the top, and it has even cuter Minnie buttons at the bottom. The screen is colorful, with several apps to keep your child captivated.
Community Feedback
For a fun and entertaining toy, this Disney-themed phone has been a hit with my granddaughters who truly believe they're talking to their favorite character, Mini. While the volume is a bit low, and the battery compartment seems fragile, the overall enjoyment and affordable price make up for these minor drawbacks. Remember to check the metal prongs in the battery compartment before replacing batteries, as they may need some adjusting for proper connection.
---
Joyin My Learning Remote and Phone Bundle
Best Combo
A toy from Joyin is a perfect pair consisting of a learning remote and a phone. This is definitely something most children will love to play with. Both of them are made of durable ABS plastic which is child-friendly. It features various sound effects like that of an animal. In addition, it has a calculator and camera, making it look more realistic.
The phone stimulates imaginative play as your little one can mimic how you make calls and play games. It's designed for babies from the age of 3 months and above, and when it comes to giggles, it truly delivers.
Community Feedback
Bought this toy for two of my grandsons and they both enjoyed it immensely. The interactive sound and light-up buttons kept them entertained, and it's a great alternative to them playing with real TV remotes. However, the material could be softer, as it can be too hard for infants who tend to bang their toys, and the remote size might be a bit large for tiny hands.
---
Barbie Unicorn Cell Phone
Best Character-Inspired Phone
Designed for toddlers aged 3 and above, this phone gives your toddler a great role-playing game. It has two pretend credit cards and a detachable strap.
It comes in bright colors with features, character phrases, and sounds. This phone is not only good to look at but will help your child use their imagination and make sense of their world.
Community Feedback
Got this pretend play phone for my daughter and she's been loving it! The phone comes with a case, carrier, and cards, making her feel like a big girl. The sound isn't too loud, but I added some tape on the speaker for extra muting. It's a simple toy, but it's a fun and cute surprise for any kid aged 2-8 years.
---
Infantino Flip and Peek Fun Phone
Best Flip Phone Design
The Infantino Flip and Pick phone is one of the best toy phones for babies. Flipping is fun, but your baby also gets to hear sounds, phrases, and greetings to keep them occupied. One unique feature of the toy is the bilingual feature that allows English and Spanish learning.
The toy is also tiny enough for your baby to hold comfortably and includes a peek-a-boo mirror so your baby can admire their reflection. It comes in beautiful and vibrant colors and a fun flip design kids love to open and close.
Community Feedback
Best toy phone I've ever purchased for my little ones! This phone has the perfect volume and no annoying flashing lights, making it enjoyable for both kids and parents. My children, ranging from 10 months to 4 years old, all love playing with this bilingual phone that even includes a cute mirror. Although it could use a few more sayings, it's still a fantastic gift that keeps them entertained and has become a favorite in our household.
How to Choose a Toy Cell Phone
The toy phone market is booming, and the variety is simply overwhelming. How do you decide which toy phone is best for your kids? What exactly should you be looking for?
---
Thank You For Your Feedback!
Thank You For Your Feedback!