Play food is one of those classic toys that kids have enjoyed for decades. But if you've ever purchased play food in the past, you'll know that the quality can vary greatly. I can't tell you how many squashed cheap plastic vegetables I've had to throw out (or how many items my toddlers managed to chew up!).
Since we've been around this block a few times, we've learned how to shop for the best quality play food toys for kids. We'll share our tips with you here.
We'll also review our favorite tried-and-true play food sets so you can choose play food that will last until your kids are ready to move on to cooking with real food.
Image
Model
Product Comparison Table
Features
Best Overall
Learning Resources Farm
Winner of 2 awards
Extremely durable plastic
30 different fruits & vegetables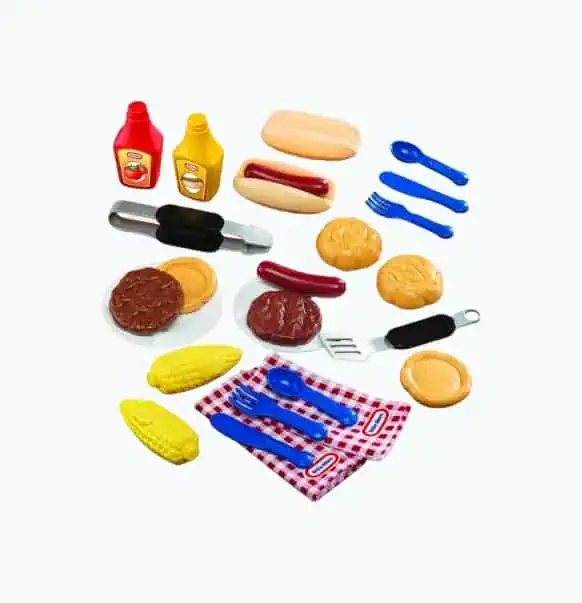 For The Grill Master
Little Tikes Backyard
Complete play BBQ lunch set
20-piece playset
Easy 10-minute assembly
Best for Creative Play
LeapFrog Scoop & Learn
Features 10 melodies and songs
Handy storage
Role-play fun
Best for Motor Skills
Melissa & Doug Cutting Food
Realistically crunchy sound
Sturdy construction
Made of high-quality material
Best Pizza Set
Just Like Home Pizza Set
Great quality
Affordable
Lots of learning resources
Best Play Food for All
Melissa & Doug Food
21 food pieces
Heavy duty set
Wide variety of food
Ready To Shop
Learning Resources Veggie
16 colorful fruits & vegetables
Durable canvas tote
Invites early dramatic play
Educational Snacks
Learning Resources Cupcakes
Easy storage
Learn alphabet & language skills
52 letter & picture toppers
Best Tea Set
Tea Time Pastry Tower
Safe, water-based paints
Uniquely designed
Fancy tower design
Review Methodology: At Mom Loves Best, we understand the significance of choosing the best play food toys for kids, and that's why our expert team has conducted thorough research, comparisons, and hands-on testing to provide you with a reliable and comprehensive analysis. We evaluate products from a user's perspective, taking into account essential factors such as safety, durability, educational value, and creativity. Our assessment involves measuring the performance, design, and unique features of each product, ranking them based on a set of established criteria. With our experience and expertise, we aim to help you make an informed decision by presenting factual evidence, reviews, and first-hand experiences to identify the top play food toys in the market. Trust Mom Loves Best to guide you in selecting the perfect play food toy for your child's learning and enjoyment.
---
---
The Best Play Food Toys of 2023
Here is our list of the best play food toys for kids.
Learning Resources Farmer's Market Set
Best Overall
This colorful set includes five plastic baskets, each marked with a colored sticker label. The set also comes with 25 realistic-looking fruits and veggies that your 3-year-old can organize by color scheme.
Watch your child turn the living room into a farmer's market while working on their vocabulary and healthy eating habits. With options such as eggplant and pumpkin, this set can help introduce lesser-known produce items to your kid. An activity guide is included.
Community Feedback
Definitely a durable and educational play food set, perfect for young children who play rough with their toys. The fruits and vegetables are sturdy, with a variety of shades, making them more realistic and visually appealing. My son enjoys taking the items out of the color-coded buckets and learning the names of the different produce. The stickers for the buckets need careful placement, as they stick permanently upon contact.
---
Little Tikes Backyard Barbeque Grillin' Goodies
For the Grill Master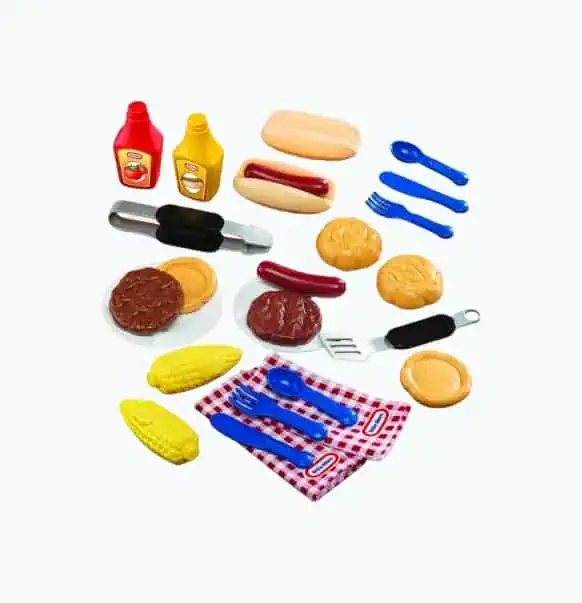 Your kid will be grilling up a storm with this BBQ set that complements any Little Tikes grill. It features 20 pieces, including those charming checkered napkins found at most BBQ sites across the country. A spatula and tongs will help your little ones imitate dad at the grill.
There are burgers, hot dogs, corn, and condiments. Plates and utensils suitable for a two-person dinner are also included. Ideal for children ages 3 and up.
Community Feedback
In my experience, this playset has been a delightful addition to my child's playtime, providing endless hours of imaginative fun. The vibrant colors and well-made, sturdy pieces have made it a hit among my child's friends. However, I did have to add some Velcro to the burger and hotdog buns to keep them from slipping apart, but overall, these adorable pieces have been a great source of entertainment for my little one.
---
LeapFrog Scoop and Learn Ice Cream Cart
Best for Creative Play
This ice cream cart could be your toddler's new favorite toy. My kids enjoyed this set for years!
The stand includes a cart, toppings, ice cream, a scooper, and cones. One of the best parts about this cart is that it's educational, with a counting feature and six activity cards included. The cart will recognize if you match the ice cream order on the card with the items in the cart, making it a fun game that encourages a host of skills.
Thanks to the big wheels, your 2-year-old can easily push the cart around the house or yard, in true ice-cream cart style, with sounds and music.
Community Feedback
Got this adorable and entertaining toy for my little ones, and I must say it's been a hit with all my kids, ranging from ages 1 to 5. The compact size is perfect for our playroom, and I appreciated the easy assembly and pre-installed batteries. I found it to be a safe option compared to other toys, as there are no small parts that could pose a choking hazard. The only minor downside was applying stickers during assembly, but it's a small price to pay for such an enjoyable toy. My niece also adores it, making it a fantastic way for the whole family to interact and have fun together.
---
Melissa & Doug Cutting Food Set
Best for Fine Motor Skills
Let your child prepare you a delicious food platter with this cute set. It features twenty-seven pieces of play food. The fruits look so realistic and will be a delight for 3-year-olds and older children.
Your child can use the wooden knife to cut the fruits into pieces as they learn the concept of a quarter, half, and whole. It's also an excellent time to introduce the basics of knife safety. All items are made of high-quality wood, and when playtime ends, there's a crate to store all the fruits in.
The pieces are held together with Velcro, making them easy to "cut" apart and reassemble.
Community Feedback
This wooden food cutting set has been a delightful addition to our household, capturing the interest of both my three-year-old and my nine-year-old. The set features a variety of wooden fruits and vegetables that are held together by Velcro, allowing children to "cut" the pieces with the included wooden knife. It provides a fun and engaging way for kids to imitate real-life kitchen activities, and even helped my older child learn about fractions. The wooden tray that comes with the set makes clean up and storage a breeze. While the quality of some pieces, like the bread and the knife, could use improvement, the overall appeal of this toy keeps my children entertained and eager to use their imaginations.
---
Just Like Home Play Fun Pizza Set
Best Pizza Set
If your child loves pizza, they will love this themed set. They can create their own pizza using different toppings, such as pepperoni, olives, peppers, and mushrooms. The toppings attach to the pizza with Velcro, so they won't slide off when the pizza goes into the oven.
This set comes complete with a cheese shaker and pizza slicer. It's the perfect set for kids ages 3 and up.
Community Feedback
This play pizza set has become a daily source of entertainment for my children, who enjoy creating their own pizza combinations with the various toppings. The set is surprisingly large and durable, featuring a 12-inch pizza and well-crafted tools that enhance the play experience. One minor issue I noticed was a slightly uneven felt cut on one of the pizza pieces, but it does not affect the overall playability. The set is perfect for young children and offers endless fun for both home and classroom environments.
---
Melissa & Doug Food Groups
Best Play Food for All
If you're looking for a large set that includes all the items your child might need, this could be it. This set introduces your child to the healthy food options available on the market. Your little one will learn the different food groups while they sort items on four sturdy wooden crates.
Everything is made of durable materials. The set is suitable for children aged 3 and up. Given the variety, these items can be transferred over to a play kitchen set once your kid is ready. Great fun for sharing, too, with plenty for everyone.
Community Feedback
As a parent, I recently got these wooden play food items for my 2-year-old, and she absolutely loves them. The quality of these Melissa and Doug toys is impressive and they are well worth the price. I've noticed that these wooden pieces are far more durable and detailed compared to the cheaper plastic alternatives we've tried in the past. My granddaughter also enjoys playing with the set in her "kitchen," making it a versatile and fun option for both boys and girls.
---
Learning Resources Veggie Tote
Ready to Shop
Your 2-year-old may not be the biggest fan of fruits and veggies. But that might change with the help of this fun set. They'll get to play around with 16 pieces, including grapes, tomatoes, and onions. All items are made of a crush-resistant, rubber-like plastic.
Because of the soft material, the pieces are comfortable and easy to hold and play with. The included tote is made of durable canvas to suit your child's needs for their upcoming shopping trips. This could be your chance to instill a sense of responsibility around single-use plastics.
Community Feedback
This play food set by Learning Resources is incredibly durable and well-made, with realistic details that make it enjoyable for both toddlers and older kids alike. I found the soft, sturdy, and easy-to-grasp pieces perfect for my little one's hands, and the cute tote bag adds an extra element of fun for pretend grocery shopping. Not only does this set help teach children about healthy eating and food names, but it also encourages imaginative play and the development of hand-eye coordination.
---
Learning Resources Sorting Cupcakes
Best Educational Snacks
These colorful cupcakes not only look mouthwatering, but they're also educational. Each cupcake top comes with a unique shape on the underside, which has to match the appropriate bottom piece. This set is suitable for children aged 18 months and up.
My daughter has played with this set since she was one. At 5 years old, she still loves "baking" and serving these favorite treats to her friends and family.
This type of sorting game is great for young toddlers. It not only teaches them various shapes, but it also helps to develop their fine motor skills. It's also fun for preschoolers who enjoy kitchen play.
The set comes with eight cupcakes and a pan.
Community Feedback
Great educational toy with multiple uses, my child loves playing with these shape sorting cupcakes. They are not only durable and vibrant in color, but also help in teaching colors, shapes, and counting. My child uses them for pretend play, such as in their toy kitchen or at tea parties with dolls. However, some of the pieces were difficult to pull apart, but it did not deter from their overall enjoyment.
---
Tea Time Pastry Tower
Best Tea Set
This two-tier tea time and pastry tower will make you wish your daughter had invited you instead of Barbie. The set features a variety of cakes and pastries and two cups for tea, of course. Saucers and cute spoons are included to complete the experience.
The design of the tower is classic and inviting. All of the pieces are made of high-quality wood that's been painted with water-based paints. The set is recommended for children ages 3 and up, but preschoolers and beyond also enjoy this dainty set.
Community Feedback
I'm really impressed with this little tea and petit four set for my child's play kitchen. The painted wood pieces are not only beautiful and sturdy, but also have a pretty design that my granddaughter adores. Although the cakes are quite small, they don't seem to pose a choking hazard; however, I did remove the two even smaller cookies for safety until my kids get older. This set is easy to clean and hasn't stained, even when my granddaughter poured juice and milk into the cups.
How to Choose Play Food Toys
As you're making a grocery list of imaginary toys for your child, you may wonder what you should buy. How can you choose the best from such a wide range of products? To help you out a little, we've created a short guide on how to go about it.
---
Thank You For Your Feedback!
Thank You For Your Feedback!