Tea sets bring waves of nostalgia as we remember when we also sat down for pretend tea treats. The feeling hasn't changed; kids today enjoy hosting tea parties as much as we did. Perhaps a little more, with all the "sophisticated" sets they get to use.
But do they really need all the extra features? And are they worth the expense, or should you stick to using your own teaware?
We'll discuss the features that make a tea set worthwhile. And we've compared all the best toy tea party sets to bring you our reviews of several sets that are worth the cost.
Find the perfect tea set to make precious memories with your little ones.
Image
Model
Product Comparison Table
Features
Best for Pretend Play
Fisher-Price Laugh & Learn
10 play pieces
5 puzzle-play treats
Musical tea bag button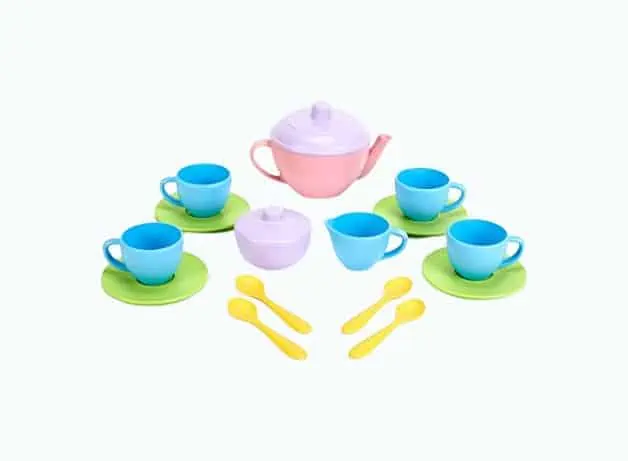 Best for Real Food
Green Toys Tea Set
Meets FDA food contact standards
Guaranteed safe
Environmentally friendly materials
Built to Last
Melissa & Doug Bella
Durably constructed
Made from food-safe plastic
15-piece butterfly-themed tea set
Best Musical Tea Set
LeapFrog Sweet Treats
9-piece playset
Teapot changes to 5 different colors
Light-up teapot
Timeless Beauty
Alex Toys Chasing Butterflies
13-piece ceramic tea
High-quality ceramic
Durable
A Durable Option
Kidzlane Play Tea Set
Bright and colorful
Made of BPA-free plastic
15-piece set
For Disney Fans
Olaf's Summer Tea Set
Stackable tea cups
17-piece summer tea set
Features Frozen's Olaf
Fit for High Society
Schylling Butterfly Tea Set
23-piece set
Elegant porcelain pieces
With wicker-design basket
What's on the Menu?
Melissa & Doug Steep & Serve
Authentic looking tea box
Comes with a dry-erase order card
With many accessories
Enchanted Play
Disney Beauty & The Beast
Disney-inspired tea set
Absolutely adorable
Chip wobbles on his saucer
---
---
The Best Kids Toy Tea Sets of 2023
Here are 13 great tea toy sets to consider.
Fisher-Price Laugh & Learn Manners Tea Set
Best for Pretend Play
This is a priceless set for children who love copying what adults do around the table. As your baby pours tea into a cup, the spout magically lights up, and you'll hear glugs and songs.
The pot has several buttons you can press to listen to more sounds, songs, and phrases, like, "Can you please pass…?" It's an excellent toy to teach your toddler table manners.
This 10-piece set comes with an open-and-close teapot and sugar bowl, two cups, one spoon, and five yummy-looking treats. As your child becomes familiar with this toy, they can try arranging the treats on the puzzle-shaped tray.
---
Green Toys Tea Set
Best Toy Tea Set for Real Food
Do you love having tea with your kids, but you're not sure your cups will survive the experience? This mix-and-match colored tea set is made from recycled plastic and contains no PVC, BPA, or phthalates. It's tested for the highest quality and is safe to drink from.
It's pretty easy to clean the plastic dishes; they're even dishwasher safe. The 17-piece set comprises a teapot and sugar bowl with lids, a creamer, cups, saucers, and spoons.
---
Melissa & Doug Bella Butterfly Tea Set
Built to Last
Made from food-safe plastic that's free from PVC or BPA, this set is designed to create memorable tea parties. Alongside delicious treats, your child can serve iced teas, juices, water, and other cool drinks to their guests.
The 15-piece set contains a teapot and sugar bowl with lids, creamer, cups, saucers, and spoons. It will definitely appeal to the young hostess or host and their party, and you'll see them enjoy sipping and socializing.
---
LeapFrog Sweet Treats Tea Party
Best Musical Toy Tea Set
What's a party without sound or music? This pretend set is an excellent choice whether your child is alone or in the company of family or friends. It features 30 pieces, including a magical teapot, teacups, slices of delicious-looking cake, and a cake stand.
The teapot will make real-life sound effects whenever your child pours out tea. It also lights up whenever the pot appears empty.
Your child can press the heart-shaped button to listen to playful songs and engage in several activities. Children aged 1 to 4 years will be delighted by this set.
---
Alex Toys Chasing Butterflies Ceramic Tea Set
Timeless Beauty
This antique and dainty-looking set will remind you of English high teas and propriety. So how about getting your kids to dress up and conjure up an accent for an English tea party?
Ideal for children ages 8 and above, this 13-piece ceramic set is a picture of timeless elegance. It comprises a classic teapot with a lid, teacups, saucers, a sugar bowl with a lid, and a creamer.
---
Kidzlane Play Tea Set
A Durable Option
This brightly-colored set is made with BPA-free plastic and will go further than pretend play. Your children will be able to pour actual liquids into the cups and drink from them.
It's a 15-piece set that includes a teapot and sugar cup with lids, a creamer, teacups, stirring spoons, and saucers. They're all sturdy, durable, and dishwasher safe.
---
Olaf's Summer Tea Set
Best Tea Set For Disney Fans
Let your child cross over from chilly winters into dreamy summers with Olaf and his creative set. Whether you'll use it for play or not, this set will look totally cool on your child's bedroom shelf.
This 17-piece set uses Olaf's body for the teapot and cups, complete with the carrot nose as a spout. You also get plates with pictures of Elsa and Anna, plus lemon slices and spoons. It's great for fans of the "Frozen" movie and recommended for children 3 years and over.
---
Schylling Butterfly Tea Set
Fit for High Society
All the princesses are coming for tea. Is your hostess ready? This elegant porcelain set works for children ages 8 and over. It's adorned with cute butterflies and allows them to host a delightful party anywhere, anytime.
The 23-piece set contains a teapot and sugar bowl with lids, a creamer, teacups, saucers, spoons, and more. You also get a beautiful picnic basket with a latch and handle.
Not into princess-style tea sets? Schylling is known for its wide range of quality toy tea. You can opt for Curious George or a ladybug theme, among others.
---
Melissa & Doug Steep & Serve Tea Set
What's on the Menu?
This lovely tea-for-two wooden set makes a great pretend-play toy. It contains a teapot and sugar bowl with lids, a milk pitcher, cups, spoons, cookies, and assorted tea bags.
It also comes with a dry-erase order card that your child can use to write down orders from their tea-loving friends. This set encourages imaginative thinking, and the tea bags are great for color recognition.
---
Disney Beauty & The Beast Toy Tea Set
Enchanted Play
Once upon a time, an evil witch cast a spell, and a doting housekeeper was turned into Mrs. Potts, the teapot. Her son, Chip, became a teacup. Inspired by one of the best Disney movies, this toy tea set will warm your child's heart as they play with it.
Mrs. Potts's eyes blink whenever tea is poured into a cup while Chip wobbles, as usual, on his saucer. This cute set for two comprises a teapot, cups, saucers, spoons, and a sugar bowl. It's suitable for pretend play for ages 3 years and above.
---
Lucy Locket Woodland Animals Tea Set
Hang with the Woodland Gang
If you like combining fun with a little bit of learning, then this set is for you. You can reinforce your child's knowledge of colors and animals with its vibrant colors and illustrated woodland critters.
Besides, the critters make for good company and can be a part of the make-believe stories and play. This 14-piece tin tea set is adorable and functional too. It includes a teapot, cups, saucers, plates, a serving tray, and a carrying case. We were a little disappointed that the case is not made of the same metal material as the dishes, but the laminated cardboard box is sturdy and seems to hold up well.
---
Munchkin Bath Tea and Cupcake Set
Something Sweet in the Bath
If you love sipping on something sweet while soaking in the tub, so will your child. This cute little set comes with a teapot, teacups, and two cupcakes that look so good you'll almost want to eat them. It's a great bath toy set for ages 2 and up.
The teapot rattles when it's empty. The teacups have strainers at the bottom for water to pour through and are easy for your child to grasp. The cupcakes squirt water for more bathtime fun.
---
ALEX Pretend Tin Tea Set
Tinned Charm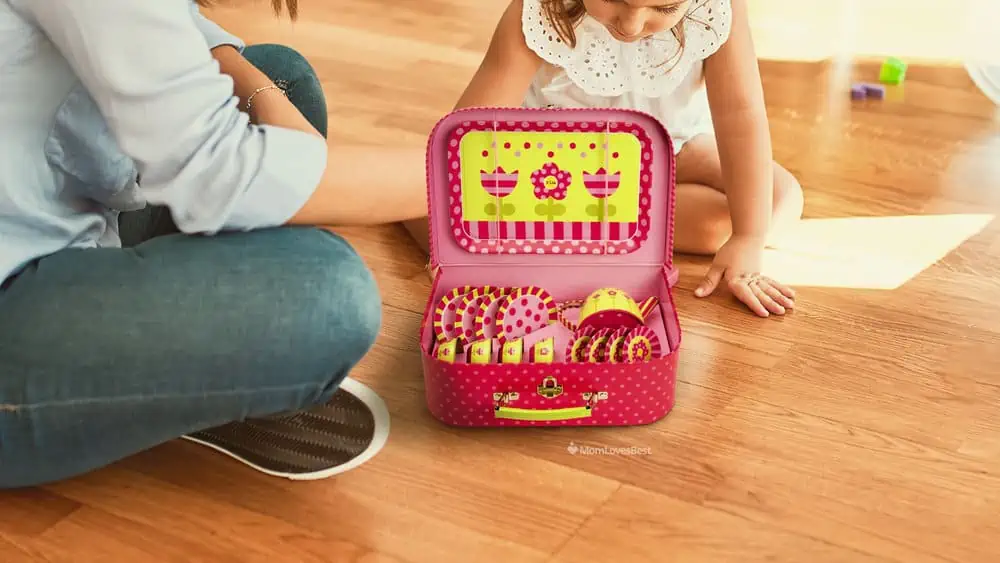 This award-winning, 16-piece set is simply adorable. Its vibrant colors are designed to catch the attention of your little ones and their friends. They'll enjoy drinking invisible tea whether they're outdoors or in the kitchen.
The tin set is durable and easy to wash. You'll get a teapot, cups, saucers, plates, a sugar bowl, and a serving tray, all packed in a cute carrying case.
How to Choose Toy Tea Sets
It's easy to grab the first tea set you come across because they're all so cute. But there are a few things we recommend looking for when shopping for the best toy tea set. When selecting our top picks, we consider the intended age range of the set, any safety features, its durability, and the value for the money.
---
Thank You For Your Feedback!
Thank You For Your Feedback!