We've tried a lot of diaper caddies over the years and have concluded that not all of these organizational tools are as useful as they claim to be.
Some are flimsy and don't hold up to months of use. Others are too small to be useful and need to be restocked more than once a day. And a few are far too basic, with space for diapers and wipes but nothing else.
So we did some digging and polled the internet mommy world to find the best diaper caddies that are useful, durable, and perfectly sized, with all you need for diaper emergencies. You won't be disappointed with these nine great options, and we've included a comprehensive guide with everything you need to know about purchasing and using a diaper caddy.
Image
Model
Product Comparison Table
Features
Best Large Size
Parker Baby Caddy
Lightweight
Adjustable compartments
Collapsible and portable
Sturdiest Design
Hiccapop Nursery Organizer
Sturdy shelves
No assembly required
Lifetime guarantee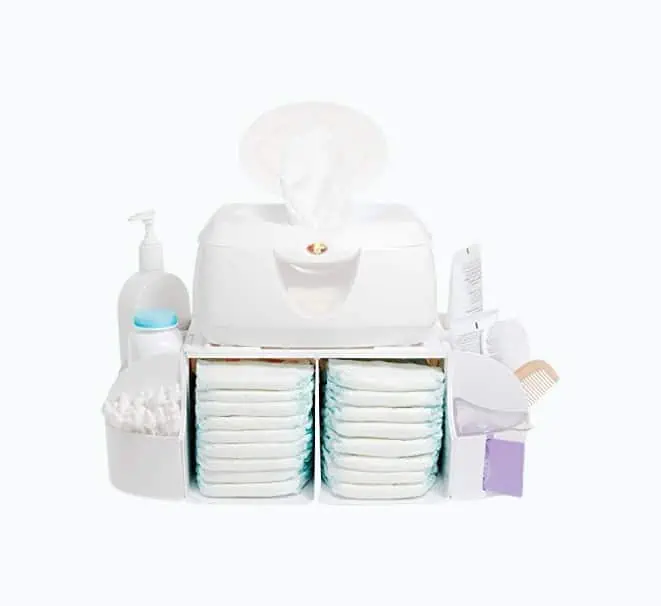 Easiest to Clean
Munchkin Diaper Caddy
Easy to clean
Lots of storage space
Includes 12 scented diaper bags
Cutest Design
3 Sprouts Baby Diaper Caddy
Super cute
Sturdy structure
Wipeable interior
Best with Changing Pad
Ubbi Storage Caddy
Minimalist design
Comes with a helpful drawer
Includes a changing mat
Best Hanging Caddy
Maliton Caddy Organizer
Attaches to all playards
Easy install hooks
Stores more diapers than other caddies
Most Stylish
KiddyCare Diaper Caddy
Elegant look and durable
Reasonably priced
100% lifetime warranty
Best for Portability
StarHug Caddy Organizer
Customizable and collapsible
Lots of storage space
Gender-neutral
Best Lightweight Caddy
Putska Caddy Organizer
Portable and lightweight
Large compartments
Pacifier clips and bibs included
Review Methodology: At Mom Loves Best, we deeply understand the importance of trust when it comes to providing reliable information on the best diaper caddies. Our extensive research and hands-on experience enable us to provide an in-depth analysis, comparing various products based on key criteria such as design, functionality, capacity, and durability. We evaluate products from a user's perspective, sharing quantitative measurements of their performance, and identifying what sets each product apart from its competitors. Our team of professionals ranks and reviews diaper caddies based on factors such as portability, material quality, and organization to help you make an informed decision. We pride ourselves on our ability to deliver first-hand evidence and expert insights, ensuring that you have all the necessary information to choose the best diaper caddy for your needs.
---
---
The Best Diaper Caddies of 2023
Here are our favorite diaper caddies on the market.
Parker Baby Diaper Caddy
Best Large Diaper Caddy
Simplify your double-duty diaper changes with the Good Baby Diaper Caddy. This caddy is available in two sizes, with the regular measuring at 13 inches by 9 inches by 7 inches and the large at 16 inches by 10 inches by 7 inches, making it a great option for a single baby or twins.
It comes with plenty of compartments for storage, and the inner insert is removable, so you can customize the caddy to your needs. There are eight exterior pockets, where you can store pacifiers, small toys, diaper cream, and other small items.
The Good Baby comes in a neutral grey color and design, so it will be sure to complement any nursery decor. This caddy is so versatile, it can solve many of your other storage needs. It even works great as a nursing station organizer, so you can easily carry your breast pump and accessories around the house.
Pros
Long handle.
Lightweight.
Adjustable compartments.
Collapsible and portable.
Cons
It's not as durable as some other options.
The felt can be difficult to clean.
Our Ratings
Community Feedback
This diaper caddy has been incredibly useful, not only for night changing with my newborn but also as a mobile storage solution throughout the house. It's super spacious, allowing me to easily organize various items like diapers, baby essentials, and even my bible study materials. The sturdy and well-made design makes it a great addition to any household, and I've even found it useful as a trunk caddy for my car.
---
hiccapop Nursery Organizer and Baby Diaper Caddy
Quality for the Long Run
Keep all your diaper essentials easily accessible but out of the way with the Hiccapop Hanging Nursery Organizer. You can have all your diaper needs neatly organized while freeing up space on top of the changing table.
This caddy quickly attaches to changing tables, cribs, or walls. There are three straps with buckles for attaching, which allows it to hold more weight.
This caddy has two pockets and six shelves, including a section designed to hold a large wipes container and an extra-long pocket that can hold up to 72 diapers.
The Hiccapop caddy is available in two gender-neutral colors, white and charcoal gray, and is made with washable and stain-resistant material, so you won't have to worry when a diaper disaster happens.
Pros
Sturdy shelves.
No assembly required.
Lifetime guarantee.
Cons
Straps aren't long enough for cribs with very thick rails.
The buckles don't always stay tight
Our Ratings
Community Feedback
This organizer has been a fantastic addition to our nursery, providing ample storage space for our baby's essentials and even our toddler's diapers. The easy assembly and sturdy design allow it to buckle onto the crib, making it a convenient space saver. I appreciate the numerous compartments that help keep everything in one spot, and it's durable enough to last for over a year of daily use. However, I was disappointed that there was no hole for the power cable of a wipe warmer, which was advertised as a compatible feature.
---
Munchkin Diaper Duty Organizer
Easy Breezy Cleaning
The Munchkin Diaper Duty is an awesome tabletop organizer loaded with various compartments of all sizes. Set this plastic, stationary caddy up in your baby's room so you can be fully prepared for a quick diaper change.
This caddy features a large, flat top that will accommodate a wipe container or wipe warmer and slots in the front for several diapers. The side bins are removable and great for organizing diaper creams, lotions, nail clippers, and more.
Since this caddy is made of plastic and the bins are removable, cleaning is easy —you can rinse it out in the sink or the shower.
If you have some extra space in your baby's room, this tabletop organizer is probably the perfect fit for you.
Pros
Easy to clean.
Lots of storage space.
BPA-free.
Includes 12 scented diaper bags with purchase.
Cons
Not portable.
Some parents found it to come apart easily.
Our Ratings
Community Feedback
I'm thrilled with this diaper organizer as it keeps all my baby's essentials within reach, especially during nighttime diaper changes. The compact design fits easily on my nightstand, and it's sturdy enough to hold all my baby's hygiene supplies, including cloth diapers, disposable wipes, and even a wipe warmer. My only minor issue is that the top shelf can pop off if not pressed down firmly enough, but overall, this organizer has been a fantastic addition to our changing routine.
---
3 Sprouts Baby Diaper Caddy
Cutest Prints
This cute and simple tote makes diaper organization fun. It comes in various animal prints that will look adorable in any nursery.
The basic design includes two compartments for organizing all your supplies and a handle for easy transporting. You can collapse it to lie flat in storage when not in use. The cardboard panels allow it to remain sturdy and upright, even when it's empty.
This caddy is so cute and functional, and when you no longer need it for diapers, you can use it for art and craft supplies, books, bath supplies, toys, or more.
Pros
Super cute.
Sturdy structure.
Can be used for a variety of purposes.
Cons
The fabric can only be spot cleaned.
The polyester coating breaks down over time in warmer climates.
Our Ratings
Community Feedback
For those seeking a functional and adorable nursery caddy, this hedgehog-themed product is a great choice. I found it spacious enough to hold multiple packs of wipes, diapers, rash creams, and even a Sophie the Giraffe toy. The handle makes it incredibly convenient to carry from room to room, allowing for seamless changing sessions throughout the house. While I wish it had an additional divider for smaller items, the unattached insert dividers provide flexibility for personal organization preferences.
---
Ubbi Portable Diaper Storage Caddy Organizer
Big and Beautiful
This handy caddy is easy to grab and move from room to room. It's the perfect size with just the right amount of room to store your diapers, wipes, and more.
It even comes with a yoga-style changing pad, so you won't have to worry about messes on your changing surface.
Moreover, it features two deep interior compartments with ample space for diapers, a wipe case, baby lotion, and a small toy. It also has a drawer in front that's perfect for storing diaper cream and other baby needs out of your child's reach.
There are rubber feet, so you won't have to worry about the caddy sliding away while you're dealing with a poopy diaper.
The only downside is that this caddy is available with only one color however it is so stylish that you'll be able to use it as a storage bin for toys, art supplies, or even your mail when you're out of the diaper stage.

Pros
Minimalist design blends in well so you won't have difficulty matching with other items.
Comes with a helpful drawer.
Includes a changing mat.
Our Ratings
Community Feedback
I'm quite fond of this diaper caddy, especially for its durability and structured design. The front drawer is convenient for storing diaper creams and small accessories, while the main compartments hold diapers, wipes, and other essentials with ease. I've found it handy for travel and visits to family members' homes, plus it's easy to clean and maintain. However, the small drawer can feel a bit flimsy and the changing pad that comes with it is too small to be practical. Despite these minor drawbacks, I appreciate the caddy's overall functionality and would consider purchasing another one for a different area of my home.
---
Maliton Hanging Diaper Caddy Organizer
Best Hanging Diaper Caddy
This hanging caddy easily attaches to any playard and has plenty of spaces and slots to help you keep everything organized. You can even attach it to some styles of baby cribs.
There's an extra-large shelf to hold your wipes or a wipe warmer, a large center pocket for diapers, and two pockets on each side for your diaper cream, lotion, a change of clothes, burp cloths, and a toy. The pockets are mesh, making it easy to keep track of your inventory so you won't end up empty-handed in the middle of a diaper change.
We had this caddy attached to our playpen when our little one was a newborn, and it made diaper changes so much easier. Our newborn cloth diapers fit well into the center pocket, and the top shelf was perfect for storing our spray bottle and cloth wipes.
Pros
Attaches to all playpens.
Easy install hooks.
Stores more diapers than other caddies.
Cons
Not the easiest to clean.
Some parents found the top shelf flimsy.
Our Ratings
Community Feedback
I'm really impressed with this organizer's ability to keep everything neatly in place and easily accessible. It has plenty of pockets and is quite sturdy, making it perfect for setting up a secondary changing station in our bedroom. I did notice a bit of sagging when placing a wipe warmer on top, but it's not a deal breaker. The mint green color is a fantastic touch, and though the white hooks could be bigger, I managed to attach it to our changing table using the adjustable straps and clips.
---
KiddyCare Baby Diaper and Wipes Storage Caddy
Most Stylish Diaper Caddy
If you love style, you'll adore this posh but functional diaper caddy. The KiddyCare Storage Basket will make sure you have everything you need within arm's reach for a hassle-free diaper change. There are three removable interior compartments for storing diapers, wipes, and a change of clothes.
This caddy is beautifully designed and made with high-quality cotton. The strap provides a good length so you can easily throw the caddy over your shoulder, freeing up both of your hands for your baby.
You can plan on using this caddy for multiple children and as a toy or travel bag once you're all done with the diaper stages.
Pros
Elegant look.
Durable.
Lifetime warranty.
Cons
Dividers are not as sturdy.
Only one color option.
Our Ratings
Community Feedback
In my experience, this diaper caddy is a delightful and versatile addition to any home. While it was smaller than I initially anticipated, its compact size is perfect for organizing baby essentials like diapers, wipes, and lotions. The removable middle piece allows for customization of the sections, and despite being somewhat flimsy, the overall sturdiness of the caddy impressed me. Its charming design and neutral gray color make it suitable for various uses and decor styles, such as a toiletry holder or a small toy box. The quality fabric and convenient handles make it easy to transport from room to room, making this caddy a practical and attractive option for a variety of needs.
---
StarHug Baby Diaper Caddy Organizer
Best Portable Diaper Caddy
Conquer on-the-go diaper changes with the StarHug Baby Diaper Caddy. This adaptable and portable diaper caddy measures 16 inches by 11 inches by 7 inches, providing more room for storage. It features a removable divider that is highly customizable to suit your needs.
This caddy offers plenty of outside pockets to store all the smaller baby essentials. The polyester lining material is water-resistant, so it's easy to wipe clean when you have a mess on your hands.
With every purchase of this high-quality caddy organizer comes a matching bottle cozy that fits large 11-ounce baby bottles and helps maintain temperatures for better-tasting milk or drinks.
This caddy is great to have in the car, but once you get to your destination, you can easily stand it on a surface or hang it on the crib or in the closet for quick access to all your baby's items.
Pros
Customizable.
Collapsible.
Lots of storage space.
Reasonably priced.
Cons
Not the most stylish unit.
No changing pad included.
Our Ratings
Community Feedback
My experience with this diaper caddy has been fantastic, as it's not only convenient but also helps me stay organized with all the pockets. I found it especially useful during postpartum recovery, when mobility was limited. The waterproof material is easy to clean, and the collapsible feature allows for compact storage when not in use. Surprisingly, it can hold a lot more than expected, making it a practical and stylish choice for any new mom.
---
Putska Baby Diaper Caddy Organizer
Best Lightweight Diaper Caddy
Lightweight doesn't always mean small. The Putska Baby Diaper Caddy Organizer is super light, weighing just over one pound, but it's spacious enough to hold everything you need.
This large diaper caddy has three main compartments with space for diapers, wipes, snacks, toys, and much more. Plus, it has deep and wide side pockets for all the important extras. You can keep bibs, pacifiers, nail clippers, blankets, and even a change of clothes in these side pockets.
The material is high quality and eco-friendly, so you know this caddy will last a long time. Also, the sharp edges are hidden with extra material so your little one won't get hurt on this caddy.
We love that this caddy comes with extra items. This includes two pacifier clips — so you won't ever lose pacifiers. It also comes with two cloth bibs for drooly babies.
The flexible handles make this caddy easy and comfortable to carry around. Whether you're going for a shopping trip, taking a vacation, or just visiting a friend, this lightweight and transportable caddy is a favorite amongst parents.
Pros
Lightweight and easy to transport.
Large compartments to store everything you need.
Extra pacifier clips and bibs included.
Strong and sturdy.
Cons
Some customers don't like the rough felt material.
Our Ratings
Community Feedback
Got this diaper caddy and it's been super useful for keeping all my baby's essentials organized and within reach. I like the multiple compartments and handles that make it easy to carry from room to room or even on the go. The only downside is it started showing signs of wear after just two months, but overall, it's a good value for the money and makes a cute gift basket for baby showers.
Types of Diaper Caddies
The first step in choosing a diaper caddy is deciding what type you want.
There are three main styles to choose from:
Portable Caddy
This is the most popular type of diaper caddy, as most parents love being able to easily move it from room to room or even use it for travel. Portable caddies are usually small with a handle and have enough space for supplies for a day or two.
Hanging Caddy
These types of caddies hang on playpens, cribs, walls, and in closets. And while they are technically portable, they aren't the easiest to transport, so many parents leave them in one place. Hanging caddies are generally larger, so they can hold more items than other caddies but still free up space in the nursery.
Stationary Caddy
These are the least common type of caddy, as they are meant to stay in one place and take up valuable real estate on the changing table. They do make organization much easier though. If you have the extra space on your changing table and don't mind going to the nursery for diaper changes, this may be the type of caddy for you.
How to Choose a Diaper Caddy
After you decide what type of caddy you want, some other key features will help you decide on the best diaper caddy for you.
---
What Should I Store in My Diaper Caddy?
What you store in your diaper caddy will probably change as your baby grows. You will want to store whatever you think you'll use for your baby on a daily basis.
Some of the essentials include:
Diapers.
Spray bottle if you use cloth wipes.
Changing pad or receiving blanket to change baby on.
A toy or two to keep your busy baby distracted.
Some moms also like to include the following:
Diaper Caddies FAQs
---
Thank You For Your Feedback!
Thank You For Your Feedback!