At three years of age, your little one might want input when planning their third birthday. But as a parent, you are probably wondering what options to offer them to make this birthday bash absolutely spectacular.
Whether you're after ideas for a party, decorations, activities, gifts, or food, we have 60 fun 3rd birthday ideas. These are suitable for girl parties, boy parties, or gender-neutral parties.
We'll also share tips on hosting a 3rd birthday party, how long the party should last, and more. Get ready to make this the most special day for your bundle of joy!
---
3rd Birthday Ideas for Girls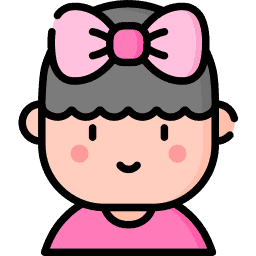 Ladies first. Here are 20 lovely ideas for your daughter on her third birthday. Whether you want a fantastic 3rd birthday party theme or gift inspiration, we can help.
1. Fairytale Magic
Your daughter will be mesmerized by a fairytale birthday party. With costume wings, fairy cakes, and gorgeous whimsical decor, make her dreams a reality.
2. Cupcake Decorating Party
Take care of a theme, food, and activity all at once with a cupcake decorating party. Everybody gets a cupcake, sprinkles, icing, and other edible toppings. This keeps toddlers busy, and parents can get involved, too!
3. Picnic Party
If the weather is looking dry and warm, a picnic party is a happy way to your little girl's heart. Set up beautiful picnic blankets and pack your daughter's favorite foods. You can easily expand the guest list, too, since the great outdoors is the host rather than you.
4. Bee Three Party
It's good to bee three. Celebrate your buzzing bee with a bumblebee-themed party. This is fantastic if your daughter's favorite color is yellow, and she enjoys watching bees buzz around the garden. Decorate with yellow motifs and flowers, and dress your birthday girl as the queen bee!
5. Threenager Theme
Have you got a threenager on your hand? If your daughter is showing signs of glam, rebellion, and sass — this is the theme for you. Let her dress up in glam outfits, provide an extravagant cake, and provide crowns for the guests. Play some groovy music, and the party will be on its way!
6. Under the Sea
Does your daughter love mermaids? Let her be part of this world for a day. You can dress her up as a mermaid, buy a gorgeous mermaid birthday cake and play sea-themed games.
7. Over the Rainbow
Your daughter will be over the moon with an Over the Rainbow birthday. This is extra special if she is your rainbow baby. Assign each guest a color to make up the entire rainbow, enjoy a rainbow birthday cake and arrange colorful decor throughout the venue.
8. Dress Up Party
Little girls love playing dress up. If your toddler insists on having all of her friends over, keep them entertained with a dress-up box. Ask parents to bring some fancy dress costumes and host a fashion show or just let them play pretend for an hour or two.
9. Boho Flower Party
A boho flower party is worthy of an Instagram post! Keep things neutral but girly with white, pink, and orange flower decorations. Add healthy snacks and cake, prepare cute goody bags, and let the girls go wild with this adorable theme.
10. Frozen Princess
What three-year-old girl doesn't love Frozen? You can make her day by dressing her as the ice queen, pitching a beautiful balloon arch, and baking Frozen-themed goods. Ask all the guests to dress up as a character from Frozen, too. But don't let anyone else come as Elsa!
11. Let's Partea
Chances are your little one is interested in playing pretend. You've probably had many tea parties with her and her stuffed animals. Turn this into reality by hosting a tea party birthday! Little ones can drink rooibos tea (though they probably prefer juice) with mini sandwiches and a cake platter.
12. Hire a Princess
Hire a Disney princess to surprise your daughter on her third birthday. This will make it a birthday to remember forever. Plus, the other kids will be amazed! The princess can sing, host games, and do a photoshoot with guests.
13. Crafts Table
Many toddlers at this stage love doing crafts. Set up a crafts table so kids can make something the guests can bring home — rockets, animals, and cardboard bouquets are all fantastic ideas.
14. Ice Cream, You Scream
At the age of three, your little one has preferences. If you set up an ice cream bar, not only do toddlers enjoy a super sugar rush, but they can customize their ice cream exactly how they want it. This tackles food and an activity, keeping your guests entertained and well-fed!
15. Favorite Color Fun
Ask your daughter what her favorite colors are and use that as a theme. For instance, if it's pink, get pink decor, cakes, and outfits. Ask all the guests to arrive in pink, and voila! You have a theme all ready to go.
16. Lamaze Doodle Bear
If you're looking for a birthday gift idea, you can't go wrong with a doodle bear. Your little one can draw all over this bear with the included washable markers, personalizing it to look however they'd like. The good news is you can machine wash it so they can change the design whenever.
17. Skyrocket Blume Rainbow Sparkle Surprise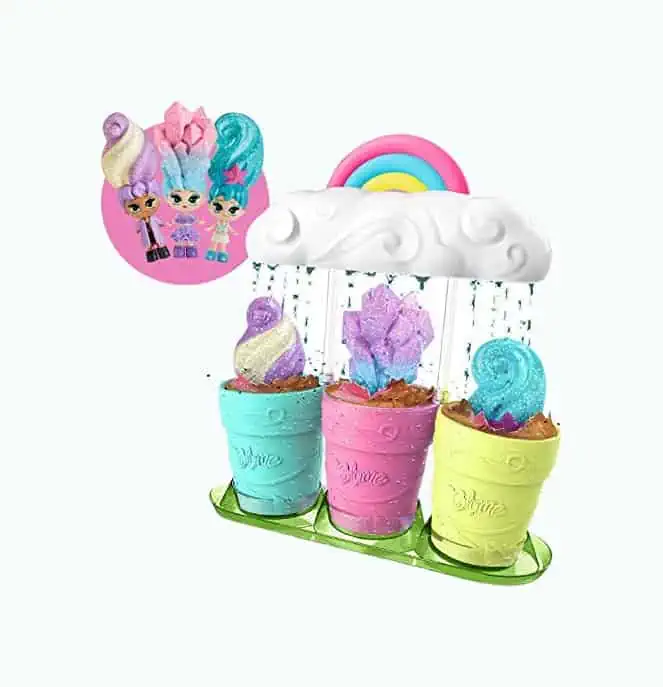 With this unique activity set, you can grow your own flowerpot girls. This set comes with three secret Blume dolls. All your toddler has to do is add water and wait for the dolls to grow. Not only does this provide hours of fun, but it also teaches patience as they wait for the dolls to appear.
18. Once Upon a World Book Collection
Growing a bookworm can be challenging, but it's made much easier with books like these. These fairy tales take on classic stories but with a twist. It will teach your child different cultures and diversity while providing hours of enjoyment.
19. Schleich Horse Playset
If your daughter loves playing pretend, this is a fantastic gift to buy for their third birthday. This play set has 108 pieces, including horses, hay racks, grooming brushes, and more. They can play with the farmers and the barn to create endless storylines. It's great for getting involved in your daughter's playtime, too!
20. Do a Dot Art! Markers
For girls who love to draw, check out these washable dot markers. They're super easy to hold and use, making a fun gift idea for kids that struggle with regular pens. Parents love them because they make less mess, and spills are easy to wipe!
3rd Birthday Ideas for Boys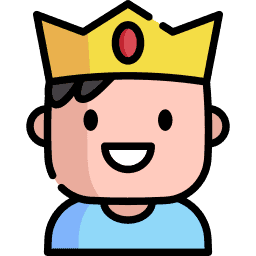 It's time to share our 3rd birthday party ideas for boys. We also have activities, food, and gift ideas so you can prepare the entire day from beginning to end.
21. Three Rex
A Three Rex party is the way to go if your little guy loves dinosaurs. You can serve dinosaur-themed snacks, buy a giant dinosaur balloon and play pin-the-tail on the dinosaur.
22. Diggin' It
For boys who love to dig and build, a construction-themed birthday party will bring a smile to their face. Set up some caution tape, orange balloons, and truck-themed decor, and you're good to go!
23. Minion Party
If your son has developed a minion obsession over the last year, celebrate him with a minion-themed party. You can dress him up in a yellow shirt and denim overalls, put together minion-themed decor, and maybe even let the kids watch Despicable Me.
24. Monster Bash
This is a fantastic birthday party idea, especially if your son's special day is close to Halloween. Guests can arrive in monster costumes, and you can serve silly snacks and goodies. If you're on a budget, the decor is super easy. Just wrap colorful strips of paper around cups and water bottles, and add googly eyes! Draw on a wacky and weird smile, and you've got yourself some monster-themed motifs!
25. Three Trips Around the Sun
Three-year-olds are smart. Many of them have formed obsessions by this stage. If your little guy is interested in space, then celebrate him with a "three trips around the sun" party.
26. Pirate's Life for Three
This play on words can make a special birthday party for your son, especially if they already love pirates. Everyone can dress up as a pirate; you can make them walk the plank and play a treasure hunt game to finish the party nicely.
27. Play Sports
It's essential to keep the kids entertained at the party. Whether or not you're hosting a sports-themed party, playing sports is a great idea to keep the kids busy. Plus, it will tire them out. Why not host a game of softball or run races?
28. Go on a Field Trip
It's going to be hard to get three-year-olds to sit still. Get the parents involved and take your son and his friends on a field trip. It doesn't have to be anything complicated. Even a walk through the forest or some time at the play park will work well.
29. Silly String Fight
At this age, your little one can now play with silly string! Commemorate the occasion by having a silly string fight with all his friends.
30. Party Animal
You might have an inkling that your son is going to be a party animal. Celebrate his awesomeness with an animal-themed party, some dancing, and lots of cake!
31. Favorite Character Party
Ask your son who their favorite character is and plan a party around that. You can buy the appropriate decor, food, and costumes. You might even be able to hire a party personality to act as the character and entertain the guests.
32. Go Through the Car Wash
Many toddlers are mesmerized by the car wash. Whether you're taking your toddler to an actual car wash or setting up a DIY car wash in the back garden, this will delight the birthday boy!
33. Young, Wild, and Three
Have you got a wild child on your hands? Celebrate the beautiful madness with a Young, Wild, and Three theme. You can prepare animal and jungle decor, set up a face painting station, and play upbeat music in the background.
34. Toy Dyson Vacuum
Your little one might be at a stage where they watch you do housework and want to copy you. A great gift for a three-year-old boy is a toy vacuum. This will teach them to get involved in housework!
35. Indoor Slide
An indoor slide is an amazing gift for your little guy. This is especially handy if you live in a climate where you can't spend all day in the backyard. Your child can have a thrill inside, which lets you get on with housework or cooking dinner.
36. Rainbow Pebbles Activity Set
For the crafty guy, this is a fantastic present that will keep them occupied for hours. There are tons of different ways to stack the pebbles. Plus, it comes with 25 inspiring cards with ideas for how to use the pebbles to create various designs.
37. Skoolzy Peg Board
This peg board teaches toddlers how to sort, stack, match, and build. The oversized pegs are safe and fun and can help develop fine motor skills.
38. Kickboard Scooter
We think your son will be ecstatic to receive this for his third birthday! This kickboard scooter is easy to ride, so kids can learn how to balance and coordinate. Now you and your son can cruise around the neighborhood and enjoy some fresh air.
39. 100-Piece Puzzles
Your little one is now at an age where they can upgrade to more challenging puzzles. So why not gift them with something that's both fun and educational?
40. My Giant Busy Box
This is an excellent option if you want something that can provide rainy-day fun. This provides 16 easy and exciting crafting projects to entertain your three-year-old for hours.
Gender-Neutral Party Ideas for a 3rd Birthday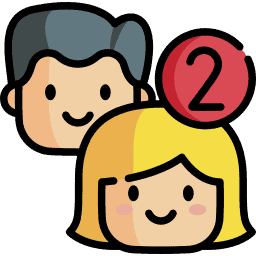 Whether you're hosting for multiple children or you have a child that doesn't identify with typical boy/girl themes, we have 20 grand ideas. Let's make this party one that brings a smile to your little one's face.
41. Sweet Treat
Celebrate your sweet treat with some tasty snacks! You can set up a sweet treat buffet and let guests enjoy this indulgent party. Cakes, donuts, candy, and fruit are all fantastic and yummy food ideas.
42. Farmyard Birthday Fun
If your little one is obsessed with farms and animals, they will love this party. You can use farm animal decorations, enjoy sweet treats and healthy snacks, and get everyone singing "Old McDonald"!
43. Fruit-Tastic Party
Kids (and parents) love fruit. So why not celebrate your three-year-old with an extravagant fruit platter and fruit-themed decoration? You could even incorporate some funky fruits they've never tried before.
44. Balloon Bash
You don't have to be super creative to throw a themed birthday party. Balloons are a theme on their own! Decorating with colorful balloons and creating amazing arches, walls, or garlands is enough to let your little one know it's a special day.
43. Let's Paw-Ty!
What three-year-old doesn't adore puppies? This is a cute way to celebrate the birthday boy or girl. With puppy decorations, puppy chow, and a themed cake — your little one will rave about this party for days.
44. Storybook Party
Does your little one love reading? Then you have a sweet party theme ahead of you. Center their special day around their favorite books. You can make snacks and food based on each story, make storybook garlands, and of course, give them a new book as a gift.
45. Painting Party
This might be messy, but this will be so fun if you can get outdoors. Provide everybody with a canvas, paint, and an apron, and let them exercise their inner Picasso!
46. Face Painting Party
This is a great idea if you want to incorporate paint but don't want tons of mess. Hire a professional (or do it yourself) and let the kids get their faces painted in between party games.
47. To the Moon and Back
You love your little one to the moon and back — and they feel the same. Celebrate an out-of-this-world love by hosting a space-themed birthday party for your little astronaut!
48. Popsicle Party
Enjoy popsicles in the sun. This is best for summer birthdays, but if your winter baby insists on something similar, it could be fun (though maybe a bit cold).
49. Puppet Show Party
Does your little one like listening to stories? Make it even more exciting by performing a puppet show for your three-year-old's birthday party! The funnier it is, the better!
50. Hide and Seek
Let's get into some ideas for how to entertain your guests during the party. Hide and seek is a fool-proof way to keep the kids happy!
51. Egg and Spoon Race
Your little one is now old enough to enjoy an egg and spoon race. This will create loads of laughter and might even bring out the kid's competitive side.
52. Musical Chairs
Whether you're inside or out, musical chairs is a party hit. This traditional game gets kids laughing, dancing, and grooving!
53. Pass the Parcel
This simple party game will be a hit with three-year-olds. Plus, somebody will get to bring home a gift which will make this party super memorable.
54. Chalk Art
Another way to incorporate art into your party with less mess is chalk. Give the kids a bunch of chalk and let them draw all over the driveway or sidewalk.
55. Fat Brain Hanging Swing
If your little one wants to spend all day outside, this is a super exciting addition to your backyard. This hanging swing is suitable for ages three and up. They can play, relax or read in this comfy seat. Plus, it works indoors, too, which is great for winter.
56. Toddler Chess
Does your three-year-old like playing games? Do they need a challenge? This toddler chess set is a unique third-birthday gift idea. Plus, it incorporates some of their favorite characters.
57. Master Workbench
If your little boy or girl is mesmerized by your power tools and building things, then this is a wonderful birthday present idea. It includes 35 pieces, including a saw, nuts, bolts, and more, so they can become a budding little builder.
58. Toddler Cleaning Set
Cleaning is an essential skill for everyone to learn. Get your toddler involved in household chores with this mini cleaning set that actually works. Now they can sweep up their own Cheerios after throwing them around the kitchen!
59. Toniebox Starter Set
Parents across the world are raving about the Tonieboxes. This audio player can stream bedtime stories, music, and educational information. This is a fantastic screen-free entertainment alternative.
You can buy various characters for the box, each with different stories. The set includes Playtime Puppy Tonie, with 52 minutes of popular kid's songs.
60. Teepee Tent
Give your toddler a place of their own with this teepee tent. Set this up in the corner of their room, and they'll enjoy snuggling in here for storytime or maybe even an afternoon nap!
How To Throw a Birthday for a 3-Year-Old
You want to make your child's birthday party the best it can be. They're at an age right now where they have lots of emotions, can still become overwhelmed quickly, and might still need a nap. So how can you make their birthday party run as smoothly as possible?
Here are our top tips for throwing your child a third birthday party.
Don't overwhelm yourself: Sticking to a theme is fun, but if it's going to add more stress, you don't need a theme. Your little one won't mind! As long as there is cake, a few gifts, and their favorite people — they'll be happy.
Keep the guest list small: Your child probably has a few friends now. While it can be hard to know who to invite — especially if they go to daycare — keeping it small is easier for you. Perhaps you want two friends, but maybe you can handle 10. Do whatever works for you, but don't feel pressured to invite the whole class. Make sure you have your friends and family there, too, if that's an important element.
Limit gifts: If you're overwhelmed with the amount of stuff your three-year-old has, ask guests not to bring a gift. If they insist, ask them to donate money to a charity of your choice instead or gift your child a book. They don't add as much clutter!
Work around the nap: Your three-year-old probably still has an afternoon nap, and it's crucial you don't skip that, especially on such a busy day. A morning party is best for a three-year-old.
Have activities: A structured party is going to work best right now. Have set time for games, cake, and food. That way, you're in control the whole time, and there is less room for surprises!
Provide food: Adults will be sticking around, so make sure there is food for everyone to enjoy. A buffet with kid- and adult-friendly snacks is going to be a huge hit. If you want to take some stress off yourself, hire a caterer to provide the goods!
Have an end time: Even though the party might only be a couple of hours long, it's going to be full-on. State the end time on the invitation and make sure guests leave when you want them to. A good way to get them out the door is to have everybody do a conga line to their cars!
Don't have it at home: If you are freaking out about having so many people in your home, hire a venue. Perhaps you have a town hall, or your local gym does parties. It will be less overwhelming for you to host it outside of your home.
Stick to a budget: Your child is turning three, and they probably won't remember the party. Plan a budget and stick to it. Don't go overboard. Save that for their 16th!
Party favors: At this age, guests will probably expect party favors. Goody bags with a notepad, stickers, a coloring book, and some candy will go down a treat.
FAQs
---
Third Time's the Charm
Celebrating your three-year-old is a wonderful occasion. Whether you want an extravagant celebration or something more low-key, we have 60 amazing ideas for throwing a birthday bash that your toddler will love.
Remember to do what works best for your family. That might be inviting 50 people, but that might be keeping it to immediate family only. Overall, it's best to keep the party short (around two hours), save the gifts for later, and make sure your toddler gets their afternoon nap once the party is done.
Thank You For Your Feedback!
Thank You For Your Feedback!