Whether playing tic-tac-toe, practicing math, learning about shapes, or creating pictures, a magnetic drawing board is a versatile tool for your child.
However, not all magnetic drawing boards are the same. It's important to find the best magnetic drawing boards for your child's needs.
Image
Model
Product Comparison Table
Features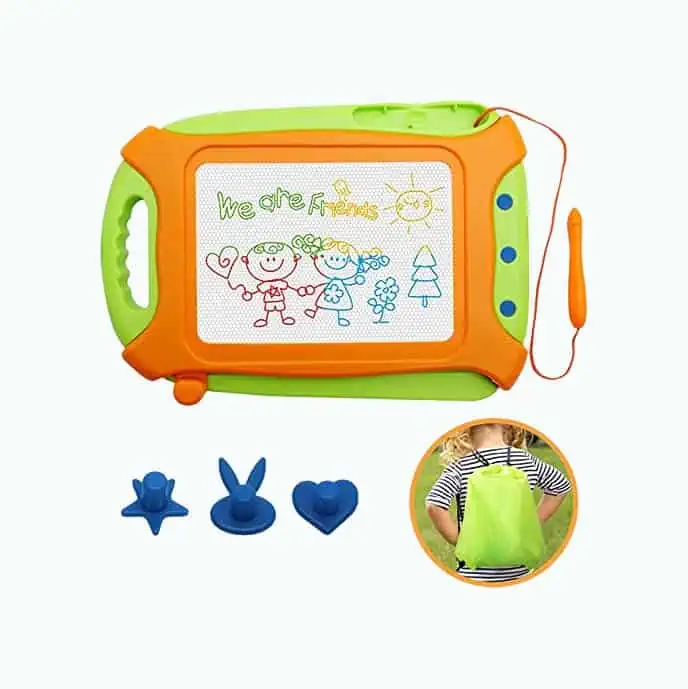 Best for Toddlers
Wellchild Magnetic Drawing Board
Comes with a carrying bag
Includes an ergonomic pen
The pen is attached on a string
Best Multi-Colored Drawing Board
Fly2Sky Multi-Colors Drawing Screens
Multifarious color options
Travel size board
Vibrant multi-colored screens
Best Large Magnetic Drawing Board
17 Inch Magnetic Doodle Board
Includes cute magnetic stamps
Large yet lightweight
A rounded frame to avoid injuries
Best Electronic Drawing Board
VTech Write & Learn Creative Center
Teaches upper & lower case letters
Animations are easy to copy
Can play music
Best Magnetic Drawing Board Table
Magnetic Doodle Drawing Board
Great for use on the floor
Offers an angled option
Four colored areas
Best Small Magnetic Drawing Board
Ikidsislands Magnetic Drawing Board
Has a pen slot
Has textured handle
Includes two fun stamps
Best Mini Magnetic Drawing Board
Fisher-Price DoodlePro
Pen clips into the rear board
Smooth eraser
Lightweight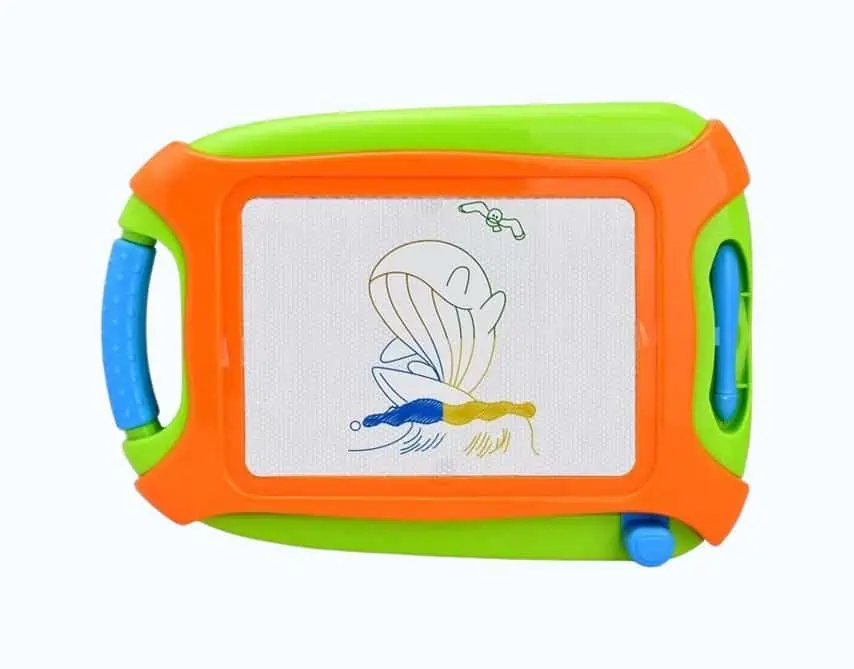 Best Budget Magnetic Drawing Board
Vivitoy Magnetic Drawing Board
Comes with drawstring bag
Excellent value
Lightweight for traveling
Best Lightweight Drawing Board
Cra-Z-Art Drawing Boards
Includes two stamps
The pen is attached in a string
Lightweight & easily portable
Best for 3-Year-Olds
Sgile Drawing Board
Large screen size
Teaches shapes and the alphabet
For both left and right handed
Review Methodology: At Mom Loves Best, we delve into a comprehensive analysis of magnetic drawing boards, drawing from our hands-on experience and professional assessment. Our review process is thorough, as we benchmark, check, and compare the key decision-making factors such as performance, durability, safety, and ease of use. We evaluate each product's unique design choices and their impact on users, providing you with factual, data-driven results. Our criteria are stringent, ensuring we only recommend the best. Our findings are supported with evidence, so when we rank a product as the best, you can trust our results.
---
---
The Best Magnetic Drawing Boards of 2023
Here are 10 excellent drawing boards for kids.
Wellchild Magnetic Drawing Board for Toddlers
Best Magnetic Drawing Board for Toddlers
This board has a 6×4-inch screen within a brightly colored, 10.5×7.5 frame. The frame has an integrated handle specifically designed for little hands, and this handle also doubles as a wall mount.
The screen has four color zones, one each of red, blue, green, and yellow. The green and orange frame also contains three magnetic stamps — one star, one heart, and one cute little bunny head.
Each stamp is held within a clipped recess, and they are slightly rounded to make them easy for chunky fingers to use.
Pros
It comes with a coordinating carrying bag for easy transportation.
Ergonomic pen.
The pen is attached on a 7.5 inch string, which makes it comfortable for drawing, but not a hazard.
Cons
Some reviews say their pen sometimes unties from the string, so you may need to re-tie it.
Our Ratings
Community Feedback
My experience with this magnetic drawing board has been a mixed one. Upon receiving it, I immediately noticed that the magnet on one of the shape pieces had fallen off, posing a choking hazard for my son. The colors of the board were not as bright as advertised, appearing duller than expected. Despite these issues, I appreciated the attached pen and travel bag that came with the board. My 2-year-old grandson enjoyed using the board and quickly learned how to erase his drawings. However, I would advise caution with the small stampers included, as they can pose a choking hazard for younger children and may not be very sturdy.
---
Fly2Sky Doodle Boards with Multi-Colors
Best Multi-Color Magnetic Drawing Board
This colored magnetic doodle board consists of a pair of stamps, stencils, and pens. The larger board has four zones of color comprising red, blue, yellow, and green. This gives each drawing a unique checkerboard of primary colors you will not find with other magnetic drawing boards.
The board has two pens. One sits within a recess and is attached by a cord and if your child misplaces one, they can play with the other until you find it. There are also two shaped stamps that sit within the larger board's frame.
The board has etched numbers on top to remind them of academics while still pursuing their crafty nature.
Pros
If your child misplaces pen, they can play with the other until you find it.
Multifarious color options.
Vibrant multi-colored screens.
Cons
The size runs a bit small.
Our Ratings
Community Feedback
After purchasing this drawing board for my children, I found that it has been a fantastic addition to our playtime and travels. Both my 16-month-old and 3-year-old enjoy drawing on it, and it has kept them entertained for hours during road trips. The board is easy to erase, and it works well, although the colors could be brighter. One downside is the legs, which are quite small and do not stay in place, causing some annoyance.
---
17 Inch Erasable Magnetic Doodle Board
Best Large Magnetic Drawing Board
The screen on this magnetic doodle board is 17×13.77 inches, making it a good option for toddlers who may not yet have the fine motor skills to enjoy writing on a smaller board.
This toddler-friendly vibe is enhanced by three magnetic geometric stamps.
It also has an ergonomic pen and a variety of print impressions on the frame. The end result is a super cute, large magnetic drawing board your toddler can enjoy for years.
Pros
Cute magnetic stamps.
Large yet lightweight.
A rounded frame to avoid injuries.
Cons
This magnetic drawing board may be too large to take on journeys.
Our Ratings
Community Feedback
Best purchase for my nieces and god-daughter, who love drawing on this magnetic board without making a mess on my walls. This lightweight board is perfect for travel and has a handle for easy carrying, making it a hit with my toddler during road trips. The adorable rainbow colors and magnetic stamps add a touch of fun, even though one arrived broken.
---
VTech Write and Learn Creative Center
Best Electronic Magnetic Drawing Board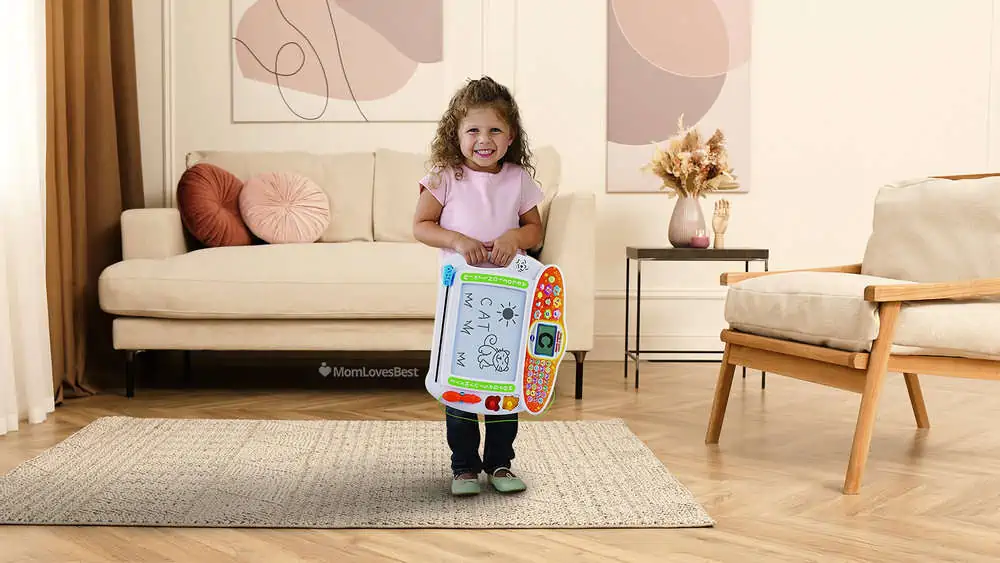 This magnetic drawing board from VTech has a small electronic screen above the drawing area. The screen shows animations on how to learn the alphabet by drawing letters and numbers. It teaches your child the correct shape for their pen strokes and the order in which they should be drawn.
Other functions allow you to customize the board to teach your child how to write their name. The pack includes stencils to help kids move from drawing simple shapes to creating more complex images.
It can also be used as a simple magnetic drawing board. But the drawings will only show up in black, not multiple colors as they will on other boards.
Pros
Teaches both upper and lower case letters.
Animations are easy to copy.
Can play music as your child uses it.
Cons
Needs two AA batteries for the electronic function.
Our Ratings
Community Feedback
I recently got this educational toy for my child, and it's been a hit! The design is cute, colorful, and gender-neutral, making it perfect for any kid. It has multiple learning modes, helping my child learn to spell their name and even draw shapes, all while keeping them entertained during car rides. The only downsides are that the plastic quality could be better, and the batteries seem to drain quickly, but overall, it's a great learning tool for toddlers.
---
Magnetic Doodle Drawing Board
Best Magnetic Drawing Board Table
This magnetic drawing board table can be configured in three different ways, making it an exceptionally versatile item. When your child is younger, you can extend the legs and use the board in its table form, making it an ideal option for use while sitting on the floor.
Meanwhile, you also have two tabletop options. You can fold the legs under and use it as a standard magnetic drawing board, or you can extend two legs and have the board sit on the table at an angle.
The drawing area itself is about the size of a 7.9 inch iPad mini.
Pros
Great for use on the floor.
Offers an angled option that is good for posture.
Four colored areas on the screen.
Cons
It only has two magnetic stamps.
Our Ratings
Community Feedback
I'm thrilled with this toy, even though it's smaller than I expected. The sturdiness and ease of assembly are definite pluses, but the less vibrant colors are a bit disappointing. Some kids might lose interest quickly, but a version with lights could keep them engaged longer. My toddler adored it, and we even bought more as gifts! Despite its size and minor issues, this toy has brought joy to my child, and that's what matters most.
---
Ikidsislands Magnetic Drawing Board
Best Small Magnetic Drawing Board
One of the best things about this magnetic drawing board is that it has an additional layer of plastic, making the underside smooth and more comfortable to use on the lap.
Features rounded edges to eliminate potential injuries, with the unique back panel design for durability and comfort.
The board's string is not long enough to be dangerous, but it is generous enough to make it easy to write on all areas of the board whether your child is right-handed or left-handed.
Pros
The pen slot is big enough for the pen with the string wrapped around it.
The chunky, textured handle is comfortable for toddlers.
It has two stamps for an added level of fun.
Cons
The two magnetic stamps can easily be lost by a toddler since they aren't attached — you may feel like you're constantly hunting for them.
Our Ratings
Community Feedback
I'm a fan of this travel-sized drawing toy, as it easily fits in my purse and keeps my young grandson entertained during important events. He loves drawing, and this lightweight toy was perfect for a long flight and car rides. However, I noticed that the colors are not separated as shown, and the magnets can be a bit hard to see and blurry. Despite its flimsy plastic construction, the convenient stamps and affordable price make it a worthwhile purchase. Just be careful not to put anything heavy on top of it, as it can break easily.
---
Fisher-Price DoodlePro
Best Mini Magnetic Drawing Board
The majority of mini magnetic drawing boards are found in multi-packs, meaning you have to buy lots of pads when you only want one.
But this Fisher-Price DoodlePro can be bought individually and is designed for toddlers on the go.
The tip of the pen is spring-loaded, which prevents damage to the screen if your toddler pushes down too hard.
The pen is attached to the board by a string. Unlike many other boards, the string is attached to the bottom of the board, at the center. This means your child won't have the frustration of the string dropping onto the drawing surface as they might with other boards.
Pros
The pen clips into the rear of the board.
Smooth eraser.
Very lightweight.
Our Ratings
Community Feedback
My kids and I absolutely love this magna doodle! This slim and lightweight toy provides hours of mess-free drawing fun for my 3 and 6-year-olds. It's been a great tool for practicing grip and working on hand strength while keeping them entertained during long road trips. Although the magnet shapes don't always stay in place, the overall quality and durability of this toy make it a valuable addition to our collection.
---
Vivitoy Magnetic Drawing Board
Best Budget Magnetic Drawing Board
The Vivitoy magnetic drawing board has four different colored areas on the 6.1 x 4.3-inch screen. This drawing area is surrounded by a wide, brightly colored frame that has rounded edges and corners. The sliding eraser is easy to move across the unit to clear the picture.
The downside is that some reviewers found that when this is used in a car; the vibrations cause the iron particles to drop, which causes the pictures to fade. This can cause some disappointment if your child creates a picture they want to keep.
Pros
Comes with a coordinating, drawstring bag.
Excellent value.
Lightweight for traveling.
Cons
The affordable price means you do not get any fun magnetic stamps.
Our Ratings
Community Feedback
Definitely a convenient and entertaining drawing tablet for young children, this product provides a fun and eco-friendly alternative to traditional coloring books and crayons. My toddler loved carrying it around the house, creating doodles on the go. The attached pen and multiple colors add to the appeal, although the clearing slider could use some improvement as it doesn't fully erase the previous drawing. The compact size is great for travel, but a larger version would be nice for more drawing space. While the construction of the pen could be sturdier, overall this drawing tablet has been a hit with my kids and even comes with a handy carry bag for outdoor adventures.
---
Cra-Z-Art Magnetic Drawing Boards
Best Lightweight Magnetic Drawing Board
When you're looking for a lightweight magnetic board, this gives you a great option.
You'll get a board, two stamps and a magic pen. This lightweight travel toy for younger kids is easy to carry around.
The pen is nicely shaped and attached.
Pros
Includes two stamps.
The pen is attached in a string.
Lightweight and easily portable.
Cons
Some reviewers have had trouble with the eraser not clearing the screen on the first swipe.
Our Ratings
Community Feedback
After using this magnetic board for a few months, I found it to be durable and easy to use, even with my kids fighting over it. It's not perfect, as the drawings can be blurry and the pen doesn't create fine lines, but it's still a great tool for jotting down notes or keeping kids entertained. Plus, it's a clean and affordable alternative to markers that often get lost or create messes.
---
Sgile Magnetic Drawing Board
Best Magnetic Drawing Board for 3-Year-Olds
Appropriate for toddlers, the Sgile drawing board has plenty of features for your 3-year-old.
It teaches your little one about shapes and the alphabet. The stamps in various shapes are magnetic making sure they won't easily fall off even when shaken occasionally. The side of the board has etched alphabets they can easily recall. Given the length of its pen string, it would be appropriate even for left-handed children.
The board has rounded edges so your child will be safer.
Pros
Large screen size to capture all your little one's pen strokes.
Teaches shapes and colors.
The sliding eraser moves easily even for little hands.
Cons
The stamp could pose a choking hazard for children's below 3 years of age.
Our Ratings
Community Feedback
Bought this drawing board for my child and it turned out to be a fantastic gift. They use it multiple times a day and their artistic skills, as well as their ability to hold crayons and pens, have improved. Although the board feels a bit cheap, the love my child has for it makes up for that. The board's size is larger than expected, providing ample drawing space, and the stamps work well for creating shapes. The clearing swipe usually cleans the board in one go, making it convenient and efficient for continuous play.
Why Should You Buy a Magnetic Drawing Board?
They are a mess-free, reusable way to feed your child's desire to create and scribble. Instead of costly reams of paper, paints, crayons, pencils, and other art supplies you need to restock, one board lasts as long as your child's attention span. And your walls will be saved from those crayon or marker lines that can be hard to remove.
These boards can also be taken on car, train, boat, and plane journeys, and they won't create a mess on grandma's carpet the way paints might.
And they're not just for art. Use magnetic drawing boards for math, number recognition, learning shapes, or for anything you might write down or draw.
How to Choose the Best Magnetic Drawing Board
There are a few things to consider when choosing one for your child to make sure they'll get a lot of use out of it.
---
Enjoy Your Time Together
Magnetic drawing boards are a relatively inexpensive way to give your child endless hours of artistic and educational opportunities.
Use them to draw together, learn together, and laugh together. They offer a type of screen time you can feel good about. And when you're child draws something extraordinary, remember to snap a quick picture of it before it's erased.
Thank You For Your Feedback!
Thank You For Your Feedback!