Is your child begging for a microscope so they can explore the finer details of life? If you're not science-minded, knowing what to look for in a microscope can be difficult.
We'll make the process easier for you. We've spent a lot of time studying the best microscopes for kids, so we'll explain in easy-to-understand language how microscopes work and what features and functions you should look for in a model for kids.
We'll even review the top ten microscopes for kids of all ages to help you make the best choice for your little scientist. These microscopes are durable, high-quality, affordable models that will expand your child's horizons.
Read on for an easier understanding of microscopes, and find the best fit for your family.
Image
Model
Product Comparison Table
Features
Best USB Microscope
Digital Mini USB
Adjustable LED illumination
Intelligent focus function
Multiple operating systems
Best Digital Microscope
Plugable USB 2.0
Flexible stand
Long cable
Quick-start guide included
Best for Tweens
AmScope Cordless LED
Sturdy metallic frame
360-degree monocular head
Works well with batteries
Best Microscope Slides
AmScope Glass Slides
Labeled
Already prepared with specimens
Storage case
Best for Toddlers
Kidzlane Science Toy
Accessories included
Soft frame eyecups
Whimsical monkey design
Best for Teens
Omax Digital Microscope
Fine and coaxial focus knobs
Offers full movement
High magnification of up to 2,000x
Best Beginner Microscope
My First Lab Duo-Scope
Dual scope
Award-winning
Lightweight and portable
Best Budget Microscope
Educational Insights Nancy B's
2-in-1 light and dissecting microscope
Accessories included
Activity journal included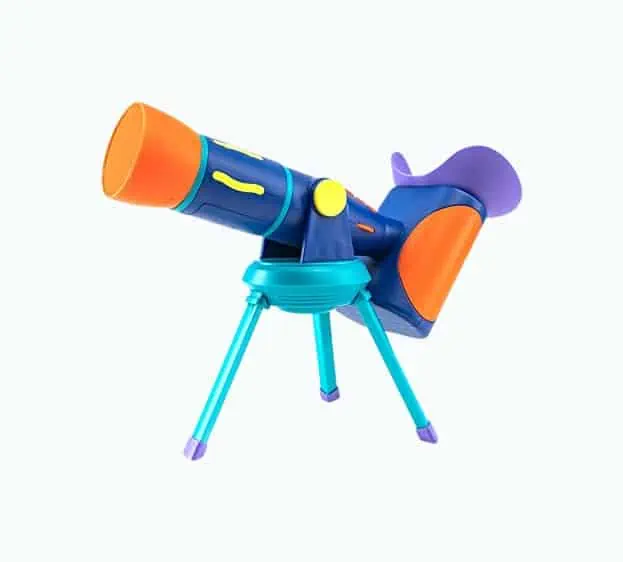 Best for Preschoolers
GeoSafari Jr. Talking
Multilingual audio
Operates with batteries
Comfortable eyepieces
Best Pocket Microscope
Carson MicroBrite Plus
Lightweight and portable
Aspheric lens system
LED illumination
Review Methodology: At Mom Loves Best, our goal is to provide a thorough analysis and assessment of the best microscopes for kids, using a combination of hands-on experience, research, and expert evaluation. Our team of professionals carefully checks and compares various microscopes based on criteria such as performance, design, ease of use, and educational value. We gather data and evidence to rank these products, ensuring that our readers can make informed decisions. Our findings highlight the key decision-making factors, such as magnification, durability, and age-appropriateness, to help you choose the perfect microscope for your child. Trust in our benchmarked reviews and scores to find the ideal microscope that sets itself apart from its competitors and fosters a love for science in your little one.
---
---
The Best Microscopes for Kids of 2023
Here are our favorite microscopes for kids on the market.
Eleay Digital Mini USB Microscope
Best USB Microscope for Kids
This digital microscope has a powerful magnification of 0 times to 1,000 times. This offers your child the chance to explore a fascinating microworld. It features eight high-quality LED lights that offer adjustable illumination.
The USB is a type-C, compatible with multiple devices such as smartphones, PC, laptops, and multiple operating systems. The frame is metallic with some plastic parts, which makes it durable enough for clumsy kids.
What you might like about it is the key focus function, which can take photographs with just a touch of a button. The 30MP camera is also a great addition, and the low price point makes this a worthwhile investment.
Pros
Adjustable LED illumination.
Intelligent focus function makes viewing specimens easier.
Multiple operating systems and devices.
Tripod included.
Our Ratings
Community Feedback
I'm impressed with the image quality and magnification of this microscope, despite some initial struggles with the instructions and software. The built-in LEDs are helpful, but the stand could definitely use some improvement in terms of stability and adjustability. It's important to remember that this microscope is not a professional-grade tool, but it's still a valuable and affordable option for casual use or educational purposes.
---
Plugable USB 2.0 Microscope
Best Digital Microscope for Kids
Digital microscopes are some of the best inventions yet for good reasons. They're incredibly efficient and downright useful. This digital USB microscope is a good option for kids for their classroom explorations and fun experiments.
The frame is a rugged, durable plastic that features a 4-foot cable and a 2.0 USB interface. The magnification range goes from 0 times to 250 times. One of the best parts about this microscope is that it features a flexible stand for lower magnifications.
It can be held by hand for point-and-click inspection and can be placed directly on subjects for high-resolution magnifications. It has four dimmable LED lights, a CMOS sensor, and an easy-to-use controller.
Pros
Flexible stand is easy to adjust.
Compatible with multiple operating systems.
The long cable allows you room to move.
Quick-start guide included.
Cons
The maximum resolution is not that high.
Our Ratings
Community Feedback
I recently purchased this digital microscope for my coin collecting hobby and I must say, I am quite impressed with its performance. The magnification and picture quality are decent for the price, and the sturdy base adds to its overall appeal. However, I did have some trouble installing the required software on my MacBook Pro. Thankfully, I found a workaround using the pre-installed Photo Booth program. Although there's room for improvement, such as a longer flexible pole and better compatibility with MacOS, this microscope is a great option for those on a budget looking for a hobby-level tool.
---
AmScope Cordless LED Compound Microscope
Best Microscope for Tweens
Students who are already familiar with science projects will have a field day with this one. It has a durable metallic frame, so you can be sure they'll use it for a long time. It features a 360-degree rotatable monocular head that'll make viewing in different magnifications a lot easier.
With five different magnification settings that go from 40 times to 1,000 times, it's ideal for tweens who want questions answered. The optical glass elements feature a single-lens condenser that has a disc diaphragm.
It comes with an LED illumination system that could either use three AA batteries or an outlet (adaptor included).
Pros
Sturdy metallic frame.
360-degree monocular head.
LED illumination for clearer viewing.
Works well with batteries.
Cons
Some customers have complained about the company's poor customer service.
Our Ratings
Community Feedback
My 9-year old son and I have been enjoying this microscope for months now, and it's perfect for homeschooling and exploring new things. The magnification is impressive, and the battery-powered feature allows for easy portability, even outdoors. However, there were a couple of minor setbacks, such as loose screws and dried-out solutions. Despite these issues, the included booklet and materials for fun experiments have made this microscope a favorite in our household.
---
AmScope Assorted Prepared Glass Slides
Best Microscope Slides
This slide set comes with 25 pieces of prepared glass slides of variable specimens, including animals, plants, and insect tissues. These samples are well preserved in cedar wood oil and then sealed to prevent contamination.
All the slides are labeled for easy identification. They come with optical glass to make viewing easy and a storage case for safekeeping.
Kids will discover many things they may not be able to find at home with these clear slides. They may want to show them off to friends, which will encourage group learning and interaction.
Pros
Slides come pre-labeled.
They're already prepared with specimens.
The set includes a durable storage case.
Cons
Slides may be contaminated, disrupting focus.
Our Ratings
Community Feedback
These microscope slides offer a diverse range of specimens for young learners, providing an engaging and educational experience. However, I encountered some issues with missing slides and the absence of certain cell types, such as bacterium, which limited the variety. Additionally, some slides had air bubbles that interfered with proper observation. Despite these drawbacks, the slides are of good quality and reasonably priced, making them a valuable addition to a child's learning experience.
---
Kidzlane Microscope Science Toy
Best Microscope for Toddlers
This small but epic microscope is the ultimate toy for your toddler. It comes with several accessories, including a petri dish, tweezers, pretend lizard and spider specimens, and more.
Featuring 8 times magnification, it's intriguing enough for small minds without overwhelming them. It'll develop their motor skills and hand-eye coordination as they familiarize themselves with the world of science.
The fake specimens take things up a few notches, but your child will definitely find other objects around to observe. The focus wheel is easy to turn, and the large soft frame eyecups make viewing comfortable for kids this age. An illuminating flashlight is included for help in viewing.
The frame is made of durable and sturdy plastic and comes in a funny monkey design. Included is a guide and activity book that'll stimulate activities. It's listed for 3 years and above, but it's easy for toddlers to use with some adult assistance.
Pros
Includes several accessories.
Comes with a helpful guidebook.
Soft frame eyecups for comfort.
The whimsical monkey design adds some fun to the learning experience.
Cons
Toddlers may soon outgrow it.
Our Ratings
Community Feedback
My experience with this microscope has been quite positive, especially for young kids in the 3-4 year old range. It's simple to use and provides a basic introduction to science, allowing children to explore the world around them. The magnification is perfect for this age group, as they can still recognize what they are looking at, though the light isn't very helpful. Both my niece and nephew enjoyed using it, but they did have some trouble focusing on objects. The microscope and its accessories are quite durable, handling rough treatment by a 3-year-old.
---
Omax Digital LED Compound Microscope
Best Microscopes for Teens
With up to 2,000 times magnification, teenagers can use this microscope for years to come, so it's a good investment. It features eight levels that go from 40 times to 2,000 times magnification, with 5 times, 10 times, 40 times, and 100 times objectives.
It comes with fine and coaxial coarse focus knobs and an ergonomic design for ease of use. The LED illumination light is variable; you can adjust the intensity depending on the specimen.
The double-layered mechanical stage offers students full movement during the scanning process. It also makes centering easier because they don't need to keep moving the clips. It features a 1.3-megapixel camera and is compatible with Mac and Windows.
Pros
Fine and coaxial focus knobs make for clearer viewing.
High magnification of up to 2,000 times.
Variable illumination.
Offers full movement.
Our Ratings
Community Feedback
For someone who's new to microscopes, this product has been a fantastic purchase. It's perfect for nursing school labs and even for hobbies like beekeeping. The digital camera and software make it easy to view, focus, and manage everything on the computer screen. While online support is a bit hard to find, the microscope itself is well-built and functional. The images it produces are sharp and clear, making it a great value for the price.
---
My First Lab Duo-Scope
Best Beginner Microscope
If you're just introducing your child to the invisible world of wonder, this might make a perfect STEM activity microscope. It's the kind of tool your budding scientist needs to unravel all the things that intrigue their minds. It's a suitable microscope for children 9 years of age and up.
With dual lenses, it's a two-in-one compound and stereo microscope that allows them to view both slides and large items. The frame construction is metallic, and it features a stage and clips. It comes with built-in dual LED illumination.
It features 50 accessories, from prepared slides to a test tube and petri dish, so your child's experimenting will be endless. It comes with an instruction manual that includes an experiment guide to encourage exploration and easy usage. Even better, with three AA batteries (not included), you can use it anywhere.
Pros
Dual scope for extended use.
A wide array of accessories allows for further exploration.
Award-winning design means you can count on the quality.
Lightweight and portable for easy travel.
Cons
Kids may still need assistance when using it.
Our Ratings
Community Feedback
I've been using this microscope with my family, and it's been a great addition to our home. The image clarity is decent, especially at 40x and 100x magnification, but falls a bit short at 400x. It's easy to focus, but the stage has a little "give," which may be a safety feature to prevent damage to the objective. The only downside is the inability to adjust the brightness of the light, which is quite bright.
---
Educational Insights Nancy B's Microscope
Best Budget Microscope for Kids
This is just the instrument to zoom in on if you're on a budget. It's a two-in-one light and dissecting microscope that offers up-close views of 30 times, 100 times, and 400 times resolutions.
Designed for children over the age of 8 years, this tool comes with 26 pieces, from tweezers to specimen collectors. It features two LED lights. The child can examine cells, view critters in water, and even observe bugs using the same microscope.
It comes with a keepsake journal featuring 22 pages of science experiments and activities. Your children can indulge themselves as soon as they receive it. They'll be introduced to a real science tool — not just a toy.
Pros
Easy dual-scope viewing.
Includes several accessories.
Activity journal included to extend the learning process.
Cons
Higher magnifications might be blurry.
Our Ratings
Community Feedback
Best purchase for my curious child, this microscope has sparked endless fascination. Although it's a bit challenging for younger kids to handle, it's perfect for children aged 8 and up. The built-in top and bottom illumination is a great feature that enhances the viewing experience. The 22-page activity journal that comes with it keeps my child engaged and encourages them to document their discoveries. While the quality could be improved, it's a wonderful starter microscope that offers great value for the price.
---
Educational Insights GeoSafari Jr. Talking Microscope
Best Microscope for Preschoolers
Packed with photo-quality images and indulgent fun-filled audio, this toy would make an incredible gift for a preschooler. With 5 times magnification and focus-free dual eyepieces, it'll easily introduce your 4-year-old child to a whole new world.
The image slides are pretty realistic, and kids can slide them in just like real specimens. They'll look while listening to get a better understanding. Once they're done observing, they can switch to quiz mode for a recall session.
It makes a good educational tool as they develop academic skills and prepare for school. Included are 20 slides with more than 100 facts and interactive questions. The microscope incorporates a storage unit for these slides, making clean-up a breeze.
Pros
Multilingual audio (four different languages).
Two modes: fact and quiz.
Operates with batteries, making it portable.
Comfortable eyepieces.
Cons
Operates more like a viewer.
Our Ratings
Community Feedback
After purchasing this toy for various young family members, I found it to be educational, engaging, and easy to use for kids between 3 and 5 years old. The electronic voice speaks clearly and explains slides in simple terms, making it a fun learning experience for children. However, the slides can be a bit difficult to click into place, and the drawer holding them could have been designed better. Despite these small issues, this microscope has provided hours of entertainment and fostered a love for science in the kids I've gifted it to.
---
Carson MicroBrite Plus Microscope
Best Pocket Microscope for Kids
This microscope is a marvel. It's tiny, but it's powerful enough for kids to explore to their heart's content. It's lightweight, compact, and definitely portable.
It features LED illumination and an internal aspheric lens system. The light rays that go through it converge at one single focal point. This makes for clearer, distortion-free images.
With 60 times to 120 times magnification, the focal distance is relatively short. This means you'll need to place the specimen directly beneath the lens for optimal viewing.
Pros
Lightweight and portable for exploration anywhere.
Aspheric lens system for clearer images.
LED illumination for easy viewing.
Cons
The maximum resolution is low.
Our Ratings
Community Feedback
I recently purchased this microscope for my kids and myself, and it's been a great learning tool in the garden. Although it takes some time to line up the lens with the object you're viewing, the magnification and LED light provide clear and detailed images. It's perfect for both beginners and children, making it a fantastic, affordable option for exploring the microscopic world.
How to Choose a Microscope for Kids
There are many features you should look for in a microscope. Some things like the focus wheel, magnification, and resolution are important.
Types of Microscopes for Kids
Regardless of age, simplicity and durability are two important factors you should look for in a kids microscope. It should encourage exploration and motivate their imagination. The features and accessories it comes with can make a world of difference.
Light microscopes have two key components: the eyepiece lens and the objective lens. When the power of the eyepiece lens is multiplied by the power of the objective lens, you receive the total magnification number.
---
Thank You For Your Feedback!
Thank You For Your Feedback!