Purchasing toys can sometimes be challenging for parents of children with ADHD. We've been there, so we get it. We have to consider our children's unique needs.
We've spent a lot of time researching the best toys for kids with ADHD and have come up with this list of 13 terrific options.
These toys help children focus and develop motor and educational skills, are age-appropriate, appeal to all the senses, and are safe and fun for kids with a wide range of interests and abilities.
Our kids with ADHD love them, and we hope yours will too. Read on to learn more.
Image
Model
Product Comparison Table
Features
65-piece set
Smooth-rolling wheels
Keeps busy kids engaged
Best for Focus
Viahart Brain Flakes
Child-safe design
Contains over 500 discs
Endless fun & engineering education
Best Multiplayer Game
Shoulds and Should Nots Game
64 durable cards
Teaches good morals
Hones reasoning and good communication
Best Sensory Experience
Kinetic Sand
Never dries out
Hypoallergenic
Gluten-free sensory toy
Best for Creative Thinkers
Rory's Story Cubes
Pocket-sized creative story generator
Very affordable
Comes with a case
Infinite possibilities
For Xbox and PC
Enhances problem-solving skills
Best for Problem Solvers
Spin Master Perplexus
Easy to use but hard to master
Original challenging 3D labyrinth
Multiple levels of difficulty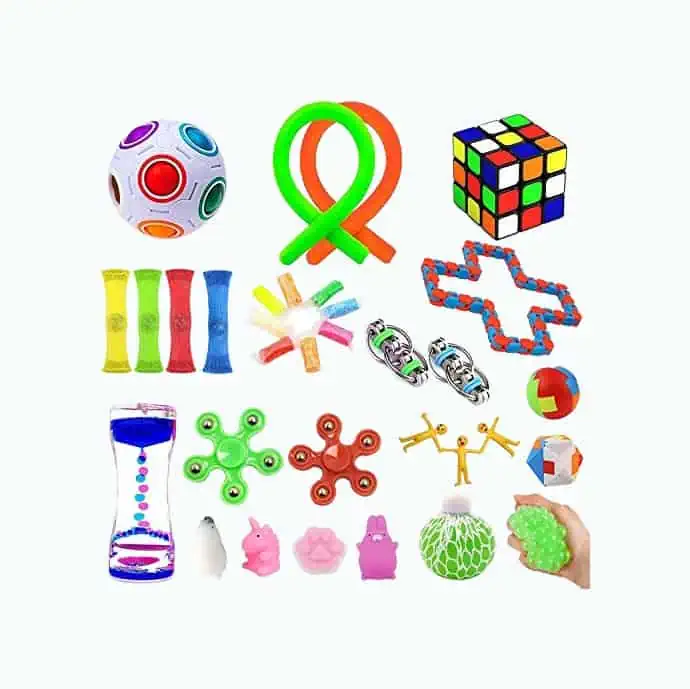 Best Combination Set
ChicFunhood Toy Set
Includes 32 sensory toys
For all occassions
High-quality materials
Best Fidget Toy
Tangle Twisty Fidgets
Five color schemes
Truly therapeutic
Appeals to all ages
Best Budget Pick
Vanblue Marble Mesh Toys
Exquisite appearance
Extra strong and durable
Great value for money
Review Methodology: At Mom Loves Best, we conduct thorough research and hands-on evaluations to help you find the best toys for kids with ADHD. Our analysis and assessment include comparing various products based on key decision-making factors such as functionality, design, and user experience. To ensure the highest standards, we benchmark performance and rank toys based on our criteria and results from our in-depth reviews. Our professional experience and evidence-based findings provide an accurate measure of a product's effectiveness in engaging children with ADHD, improving focus, and promoting cognitive development. We consider factors like durability, age-appropriateness, and sensory stimulation while highlighting what sets each toy apart from its competitors. Trust us to guide you in selecting the right toys that cater to the unique needs of kids with ADHD.
---
---
The Best Toys for Kids with ADHD of 2023
Here are 13 great toys to consider if you're shopping for a child with ADHD.
Lego Duplo Creative Play
Best Overall Toy for Kids with ADHD
Lego and Duplo are good toys for kids with ADHD. Children love to create, and the methodical building of bricks is very therapeutic. It helps them focus and achieve, and they can create objects in a short space of time, which keeps them engaged.
Duplo is suitable for little ones from 18 months old, whereas Lego sets will appeal to kids over 3. This Duplo set comes in a colorful, sturdy box for storage.
Community Feedback
After purchasing this set of Duplo All-In-One-Box-of-Fun, I was delighted with the quality and creativity it offered for my little one. The colorful pieces, including a little man, dog, car, and various blocks, provided countless hours of imaginative play, and the set was perfect for improving my child's dexterity. My child especially enjoyed building different dog houses for the included little dog. The set comes with a sturdy and cute container, making it easy to store and organize the pieces.
---
Viahart Brain Flakes
Best Toy for Focus
This construction toy is different from the rest. Interlocking flower-shaped discs allow your child to create whatever they want — there's no right or wrong. It will help a child focus, stimulate their imagination, and encourage coordination skills.
Boys and girls ages 5 and over will enjoy building Ferris wheels, towers, lightsabers, trees, cars, and more.
Community Feedback
I recently got my hands on these brain flakes and was pleasantly surprised by their sturdiness and versatility. The 12 vibrant colors and interlocking design make them perfect for building various structures, as well as using them for creative activities like game design or chemistry models. Even my teenagers enjoy playing with these flakes alongside the younger kids, making it a great toy for all ages to bond and explore their imaginations together.
---
Thought Spot Shoulds and Should Nots Card Game
Best Multiplayer Game
Kids with ADHD love games but sometimes lose interest if the game drags on. This fast-paced card game is quick and easy and suitable for kids aged 4 years and over, although our 3-year-olds even enjoyed it.
The goal of the game is to correctly choose two cards that are of the same activity representing both the "should" and "should not." The player then explains why the card belongs on "should" or "should not." The person with the most matches wins.
This game helps with turn-taking skills, manners recognition, self-awareness, reasoning, and communication skills.
Community Feedback
Got this book as a resource to help my 7-year-old with ADHD, and it's been a useful tool for teaching important skills. The visuals and simple language make it easy for kids to understand, and it's especially helpful for those with autism. While some of the wording could be improved, the book's content is versatile and promotes positive concepts. I've used it for weekly conversations with my child, encouraging them to reflect on their experiences and progress. Even though it's designed for kids, some adults with autism may find it beneficial with a little guidance.
---
Kinetic Sand
Best Sensory Toy for Kids with ADHD
Let your kid's imagination run wild with this soft sand that sticks to itself. It's good for building castles, making sculptures, pretend beach play with smaller toys, or anything else your child can think of.
This sand is easy to clean up as it doesn't stick to hands or clothes.
It's also a good stress reliever, calming children as they run their hands through the squishy texture. This is ideal when they find themselves overstimulated or overwhelmed.
We really enjoy playing with Kinetic Sand alongside our children, as it's great for bonding and can help calm overstimulated moms too.
The sand is suitable for kids (and adults!) ages 3 years and up.
Community Feedback
I've recently discovered this amazing kinetic sand and I must say, it's been an absolute hit for both kids and adults in our household. This sand feels like the perfect beach sand - slightly moist, moldable, and it doesn't stick to you. The texture is oddly relaxing and soothing, making it a fantastic stress-reliever while also being a fun and creative activity for kids. With a lidded box and some simple mold toys, this sand has provided hours of entertainment and has become a popular playdate choice among our family and friends.
---
Rory's Story Cubes Game
Best Toy for Creative Thinkers
Roll the nine dice or less, look at the pictures that turn up, and create a story. This game is great for the imagination and can help a child in a fun way when they struggle with creative homework.
Although the manufacturer recommends these for kids aged 6 years and over, we found that even our young children, ages 3 and over, enjoyed playing with them.
This is the classic set, but you can also choose from a range of other themed sets geared to your child's interests.
Community Feedback
These storytelling dice are a fantastic tool for sparking creativity and imagination in both children and adults alike. I purchased them for my granddaughter, and she quickly started coming up with countless stories. They're not just for personal use - they work great in a classroom setting too, helping kids of various age ranges enhance their writing skills. As an ESL teacher, I found these dice to be an excellent resource for connecting pictures to words and aiding in language learning. It's a simple yet effective concept that can be used in numerous ways, from solo play to group activities. These storytelling dice have quickly become a go-to game for us, and I can't wait to see what new stories my granddaughter and her friends create.
---
Microsoft Studios Minecraft Video Game
Best Video Game for Kids with ADHD
Available for Xbox and PC or purchased as an app, this video game is a firm favorite with kids and adults. It is loved by many children with ADHD, including our own. It encourages them to be imaginative and creative and focuses their brain on problem-solving and perseverance.
Players build with blocks and take part in adventures in a virtual world where the only limit is their imagination. Although it's recommended for teens, many younger children find it fascinating. However, a parent should supervise children under 13 years and ensure the game isn't connected to the internet or open chat groups.
Community Feedback
I absolutely love this Minecraft game for its ability to engage players of all ages, including my children and even my husband. The disc version has been especially beneficial for my autistic son, as it has improved his social interaction, speech, and self-esteem while teaching him about creativity, sharing, and building in a fun environment. The game offers different modes, such as Creative and Survival, providing varying levels of challenge and allowing players to build and explore their own worlds. I've even incorporated Minecraft into our homeschooling, using it as a creative and interactive way for my son to complete projects related to the subjects we're studying.
---
Spin Master Perplexus Original Maze Ball
Best Toy for Problem Solvers
Contained within a clear plastic sphere are 22 feet of track and a small silver ball. The task is to move the ball through the 3D maze to the end position. Be careful though; if the ball falls off the track, you have to start again.
This toy challenges kids ages 5 years and over, but it's not so complicated they can't complete it. It's good for a hyperactive child's focus as they guide their body to move the ball and concentrate on where it's going.
Community Feedback
I recently purchased this maze game for my 9-year-old, and to my surprise, even my 3-year-old is enjoying it, proving that the suggested age range of 8+ may not be entirely accurate. This challenging game offers hours of entertainment for the whole family, including myself, an engineer who appreciates the importance of the ball's weight for the game's primary objective. Just remember to store it carefully, as the plastic can be delicate, but with proper care, this maze game will last a long time and keep everyone engaged.
---
ChicFunhood 32 Pack Sensory Fidget Toys
Best Combination Toy Set
This extremely fun game helps kids with ADHD develop patience, coordination, and self-esteem. It comprises 32 different sensory toys, so your child won't run out of ideas or grow bored.
This set comes with great packaging, which is a good option if you are considering giving it as a gift. It's recommended for kids ages 3 and over, but there's nothing stopping little ones from joining in.
Community Feedback
My experience with these sensory toys has been fantastic, not just for children but also for adults who need some help focusing. I found the Rubik's cube to be smooth and the fidget spinners to be some of the best I've encountered. However, I noticed that the color puzzle ball had some small sharp edges, so be cautious when handling it. Despite some minor drawbacks, these toys have been a great help for me to focus in class and keep my hands occupied.
---
Tangle Twisty Fidget Toys
Best Fidget Toy
Fidget toys are some of the best playthings for kids with ADHD who have issues keeping their hands still while sitting down. Kids can move and sculpt this pack of five Tangles endlessly. They come in bright colors, with different combinations available.
Small and portable, they can help release nervous energy and calm an anxious child. However, they do come apart, so they are unsuitable for kids under 3.
Community Feedback
Bought this set of Tangle Jr. fidget toys and they're a hit with my kids and even myself! These colorful tangles are fun to twist and connect, making them perfect for those who need something to fidget with to help focus. Although some people found them to be less durable, I personally found them to be quite sturdy and long-lasting. They're especially great for kids who have a hard time sitting still in class or during meetings, as they are quiet and not visually distracting to others. This set of five tangles makes it easy to have them on hand whenever needed and their vibrant colors add an element of fun.
---
Vanblue Marble Mesh Finger Toys
Best Budget Pick
Fidget toys come in different shapes and sizes. This one is a marble sewn inside a mesh tube. Your child can bend it, squish it, fold it, or slide the marble back and forth. They can use it with one hand or two, and it's good to conceal in a pocket.
Not only will it keep little hands busy, but it can also help a child with ADHD to focus, relieving stress and anxiety. It's suitable for kids ages 3 years up.
Community Feedback
These marble mesh fidgets are a hit with both my daughter and my students. They come in a pack and are colorful, making them appealing to kids. However, some of them had issues with the threading coming loose, so I had to reinforce the ends to prevent the marbles from popping out. While the texture might not be for everyone, they are fantastic for quiet fidgeting and are quite affordable compared to other fidget toys.
---
Simon Electronic Memory Game
Best Toy for Older Kids with ADHD
This might be a trip down memory lane for some of you; I remember playing it when I was young. Simon lights up in a sequence that you have to remember and repeat. This new, updated version has three play modes to keep your kids engaged.
It can help a child with ADHD improve their memory and focus on the task in front of them in a fun way. It's suitable for kids ages 7 years or over.
Community Feedback
After purchasing this modernized version of the classic Simon game, I was pleasantly surprised by how it retained the original feel from my childhood while incorporating updated features. The touch-sensitive buttons took some getting used to, but once I adjusted my technique, they worked well and added a sleek appearance to the game. Although there is no volume control, the sound is clear and loud, and the game offers new modes that provide even more fun and challenge than the original.
---
Play-Doh Basic Fun Factory
Best Classic Toy for Kids with ADHD
Squishy Play-Doh is tactile and will appeal to any child, especially those with ADHD. This simple set lets them squeeze different shapes and colors through the machine then mold them. It's both creative and fun.
It's suitable for kids from ages 3 and up. And there are endless ways for kids to continue their Play-Doh experience. Give them some cookie cutters, provide them with textured tools such as coins or stamps, or let them use their imaginations.
Community Feedback
This play doh toy has provided endless fun for my kids and me for over three years now. The sturdy design can handle a good amount of play doh, and if the shape pieces get stuck, soaking the press in warm water does the trick. My only complaint is that it can be difficult to clean, especially for younger children who might not have the dexterity to get into all the nooks and crannies. Despite this minor inconvenience, it remains a popular and entertaining toy for both my 3 and 5-year-olds.
---
Melissa & Doug Animal Hand Puppets
Best Toy for Preschoolers
Pretend and fantasy games are a good outlet for a child to deal with issues they may face at school or at home. Hand puppets allow them express themselves emotionally and socially. Putting on a puppet show for friends and family will help build confidence and self-esteem.
These two sets contain eight cute and loveable animals that kids 3 years and over will love.
Community Feedback
I'm impressed with the durability and softness of these hand puppets, but they can be difficult to maneuver for adults with larger hands. My 9-month-old son enjoys interacting with the puppets and their charming, recognizable faces. While not all customers are satisfied with the quality, these puppets have provided entertainment and engagement for my child and our family.
How to Choose a Toy for a Child with ADHD
About 6.4 million children in the United States have been diagnosed with ADHD. The average age for diagnosis is 7 years old, but the symptoms can start presenting as young as 3 years old (1).
Choosing a toy for a child with ADHD can be challenging. They might have special play needs, so it's important to make wise choices. It's best to consider toys that will help your child focus, boost their self-esteem and confidence, and calm their anxiety (2).
Here are some things we look for when selecting toys for kids with ADHD:
---
Thank You For Your Feedback!
Thank You For Your Feedback!