Are you looking for a breast pump bag that doesn't look like a diaper bag or a massive tote bag? A standard purse won't fit all the pieces and parts of your pump. There are plenty of stylish breast pump bags that look discreet enough to bring anywhere.
However, some options have more to offer than others.
We've spent hours comparing the features of all the top breast pump bags to bring you this list of the very best choices, so you can still look stylish while rocking your new duties.
Image
Model
Product Comparison Table
Features
Best Practical Bag
Mommore Tote
12 pockets
Large capacity
Premium materials
Best Convertible Bag
Sarah Wells "Kelly"
2 water bottle pockets
Doesn't feel too large
Used as shoulder bag or backpack
Best with Cooler
Sarah Wells "Suzy"
Lightweight
Super stylish
Versatile
Best for Working Moms
Sarah Wells Abby
Purposeful design
Can fit a laptop
Three color choices
Best Budget Pick
Dr. Brown's Carryall
Roomy interior
Easy to clean
Affordable
Best Backpack
Bananafish Fashion
Stylish appearance
Clear pocket for baby's photo
Fits all major brands
Best for Organized Moms
Teamoy Breast Pump Bag
Has padded laptop compartment
Several compartments
Durable
Best for Exclusively Pumping
Gogoso Mini Breast Pump Bag
Elegant design
Several carrying styles
Thermal lining
Best for Messes
Ju-ju-be Be Supplied
Luggage feet
Lifetime warranty
Combines fashion and functionality
Most Stylish Pick
J.L. Childress
Removable wet bag
Looks sophisticated
Water-resistant
Review Methodology: At Mom Loves Best, we understand the importance of finding the perfect breast pump bag for your needs. Our team of experts conducts thorough research, analysis, and hands-on testing to evaluate and compare various breast pump bags based on key criteria such as size, design, durability, and functionality. We assess each bag's performance by measuring its storage capacity, ease of use, and compatibility with different breast pumps. Our in-depth reviews and unbiased findings are supported by first-hand experience and data, providing you with the best possible recommendations. By identifying the top decision-making factors and ranking the bags based on these factors, we aim to help you make an informed choice and understand what sets each product apart from its competitors.
---
---
The Best Breast Pump Bags of 2023
Here are our favorite modern breast pump bags.
Mommore Breast Pump Tote Bag
Best Practical Breast Pump Bag
This sleek, elegant bag will go with all your outfits. It's black so it won't clash with anything, and it doesn't show dirt or stains the way lighter-colored bags will.
It looks nice enough to be used in a professional context or for your personal life.
It fits Spectra, Medela, Lansinoh, Evenflo, Ameda, Philips Avent pumps, and more. It also has a designated cooler compartment that fits many brand-name coolers that come with breast pumps. This allows you to safely transport your hard-earned breast milk.
Pros
Huge storage capacity with 12 pockets.
Accommodates numerous breast pump brands.
Made of premium materials.
Cons
Zippers tend to get jammed.
Our Ratings
Community Feedback
This pump bag is spacious, stylish, and functional. With compartments designed to fit my Spectra pump and insulated pockets for bottles, I can easily organize my pumping essentials alongside my laptop and other work items. The bag's various pockets, including a front compartment for my wallet and keys, make it convenient for daily use. I've only been using it for a couple of weeks, but the quality feels good so far, and I appreciate the comfortable straps that offer carrying options.
---
Sarah Wells "Kelly" Breast Pump Bag
Best Convertible Breast Pump Bag
This bag can function as a either shoulder bag or a backpack. And since it's made out of nylon, it's a breeze to clean. All you have to do is wipe it down with a damp cloth.
At 15 inches tall, this is one of the few bags that can fit hospital-grade pumps like the Symphony.
It has eight pockets, which should be enough for even the most organized moms. It even has a padded laptop pocket that can hold a 17-inch laptop, which is great news for busy moms who need to multi-task.
Pros
Water bottle pocket holds two water or baby bottles.
Large capacity bag still feels small.
Outer pocket for personal items keeps them accessible.
Cons
More expensive than many other models.
Thin backpack straps can get uncomfortable.
Our Ratings
Community Feedback
I'm thrilled with this pump bag that has made my life as a working mom so much easier. Not only can I fit my laptop, pump, pump parts, and cooler in this backpack, but the quality is outstanding, and it doesn't even look like a nursing bag. Now, I only carry two bags instead of three, and my neck and shoulders are much happier. The bag has held up perfectly for daily use and has plenty of space for all my essentials, making it convenient and comfortable to use.
---
Sarah Wells "Suzy" Breast Pump Bag
Best for Cooling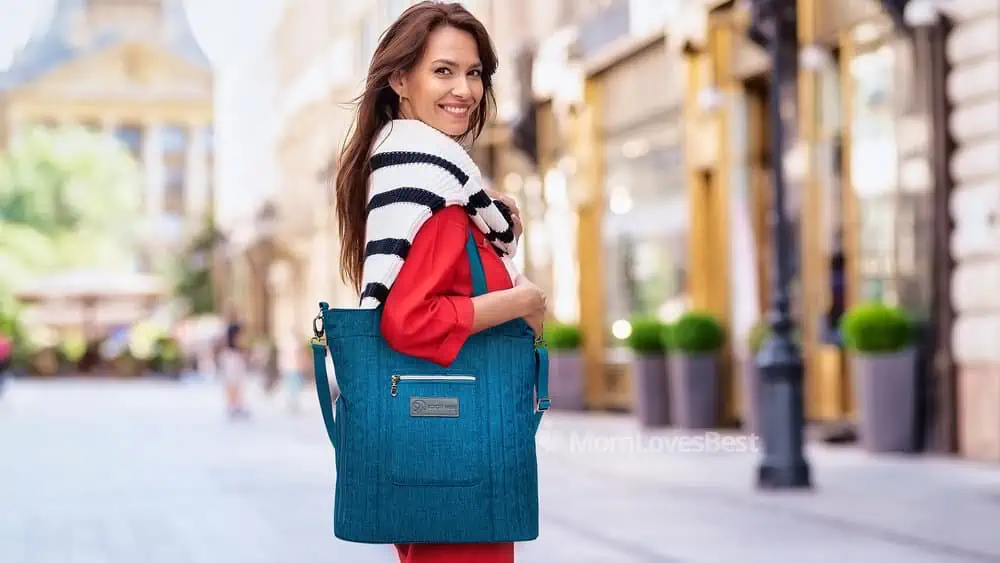 This bag can double as a carry-on or beach bag when you aren't using it for pumping.
It has thermally lined pockets you can use to store recently expressed milk along with an ice pack to keep it cool for approximately six hours. In case of any spills, this bag is easy to clean since it's made of wipeable nylon.
When your pumping journey has ended, this stylish Sarah Wells bag makes a great diaper bag.
Pros
Lightweight — only 2 pounds.
Modern fabric design.
Versatile bag can be used long after you're done with pumping.
Cons
Limited color options.
Deep center pouch can be hard to keep organized.
Our Ratings
Community Feedback
Definitely a versatile and lightweight option for new moms, this bag offers convenience as both a carry-on or beach bag. I especially appreciated the thermally lined pockets for storing expressed milk with an ice pack, keeping it cool for up to six hours. Made of wipeable nylon, cleaning up any spills was a breeze. The modern fabric design is stylish, but the limited color options and deep center pouch made organization a bit challenging. Nevertheless, the bag's adaptability ensures it remains useful long after the pumping journey has ended.
---
Sarah Wells Abby Breast Pump Bag
Best Breast Pump Bag for Working Moms
This high-end bag has thermally lined pockets on each side for storing your pump and accessories. It has eight pockets located all throughout the bag. You can even use ice packs in the thermal pockets to keep your expressed milk cold for up to six hours.
It looks stylish, but it's also easy to clean. You can just wipe the inside or outside of the bag with a damp cloth since the material is made from nylon.
It fits a variety of breast pumps, including popular brands like Medela, Spectra, Ameda, and Freemie.
Pros
Lifetime warranty.
Additional space for a laptop.
Three color options.
Outer pocket fits cell phone.
Cons
Only fits laptops under 14 inches.
Large design can feel bulky.
Our Ratings
Community Feedback
Best high-end bag I've used with thermally lined pockets for storing my pump and accessories. I love that this bag has eight pockets, fits a variety of breast pumps, and even has additional space for my laptop. The stylish design, easy-to-clean nylon material, and lifetime warranty make it worth the investment, despite its slightly bulky size.
---
Dr. Brown's Breast Pump Carryall Tote
Best Budget Breast Pump Bag
At a fraction of the cost of many other bags, this basic design will still get the job done while still looking great.
It has a classic design that isn't overly fancy, but it's nevertheless a discreet bag that people would never guess is holding a breast pump.
The gray color will go with a variety of outfits, and the polyester finish is easy to clean with a damp cloth. While this isn't the biggest bag on the market, it will hold most breast pumps as well as a bottle cooler bag.
Pros
Multiple pockets keep you organized.
Easy to wipe clean.
Affordable.
Cons
There are no built-in thermal pockets.
The side pockets open up into the main pouch.
Our Ratings
Community Feedback
I recently purchased this bag and was pleasantly surprised by its spaciousness and durability. It easily fits my Spectra pump, pump parts, a small cooler bag, and even my laptop and other work essentials. While I found the straps a bit stiff and the outside pocket could use some improvement, this bag has become an indispensable part of my daily work routine.
---
Bananafish Fashion Breast Pump Bag
Best Breast Pump Backpack
This Bananafish bag will fit Spectra pumps along with most other breast pump models.
It even has a drop-down pocket with a spot for your baby's picture. Having that picture nearby when you're pumping can help with your letdown, which is important when you're trying to pump while you're away from your baby.
This purse is made with neutral colors — black, taupe and khaki, so it will go with most outfits.
Despite its many pockets and stylish appearance, this is a well-designed bag that will easily hold your equipment and accessories.
Pros
Choose from backpack or tote design with handles and adjustable shoulder strap.
Includes a clear pocket for your baby's photo.
Fits all major breast pump brands.
Cons
Stiff zippers tend to get stuck.
Doesn't fit much more than pumping supplies.
Our Ratings
Community Feedback
This Bananafish bag is perfect for busy moms who need a versatile and stylish way to carry their breast pumps. I love that it fits all major breast pump brands, and the drop-down pocket with a spot for my baby's picture really helps with letdown while I'm away from my little one. The neutral colors - black, taupe, and khaki - make it easy to pair with most outfits, and the option to choose between a backpack or tote design ensures that it suits various preferences. However, I've noticed that the zippers can be a bit stiff and tend to get stuck occasionally. Also, it doesn't have much room for anything other than pumping supplies, which can be limiting when you're on the go.
---
Teamoy Breast Pump Tote
Best Breast Pump Bag for Organized Moms
The Teamoy breast pump bag is perfect for organized parents. It has seven handy pockets, so you can store your breast pump plus lots of other essential items. With so many pockets, everything has its place, and you won't lose things in this large bag.
This bag fits most brands of breast pumps. This includes Spectra and Medela.
The built-in padded laptop sleeve makes this bag a great option for both working moms and stay-at-home moms. This bag makes your life easier as it can store your breast pump along with all your work essentials.
In fact, you can access your breast pump without fully taking it out the bag, which keeps everything contained and more discreet.
Lastly, this bag is lightweight at 2.27 pounds yet durable for travel and out-of-town trips.
Pros
Seven handy pockets for ultimate storage.
Fits most breast pump styles.
Special opening for the breast pump.
Lightweight yet durable.
Cons
The straps hooks are weak.
Our Ratings
Community Feedback
If you're a pumping mom in need of a versatile and spacious bag, this pump bag is a great option. I've been using it for over a month, and its durability and cute pattern have made it a reliable choice for carrying my pump, cooler bag, and other supplies. The numerous pockets keep everything organized, though the main compartment can get a bit tight if the side pockets are full. One minor drawback is the lack of Velcro on the short handles, but overall, this bag has been a valuable addition to my daily routine.
---
Gogoso Mini Breast Pump Bag
Best for Exclusively Pumping
Fit all your pumping needs and much more in this chic bag from Gogoso. Its spacious compartments allow you to carry your breast pump, bottles, ice packs, and your favorite pumping accessories wherever you go. Better yet, you can also bring along your other essentials, including a wallet or phone. Plus, it's been equipped with an external USB port and a charging cable.
The entirety of the bag is thermally lined to keep milk cold for approximately six hours, and the insulating material is sewn throughout the lining of the bag. You can pump whenever you need, discreetly store the bottles in the bag, and bring them home without the milk spoiling. The bag even includes five interior storage pockets, two of which are insulated.
Best of all, this bag is fashionable, and you'll love carrying it with you. It features a flowery base and the polyester material is sturdy and fashionable. Take it to work, on errands, or anywhere you need to go. It comes with plain and printed designs!
Pros
Fashionable design is perfect for stylish moms.
Spacious compartments allow you to carry your breast pump, accessories, and personal items.
Thermal lining keeps milk fresh and safe.
Cons
Shoulder strap clasps aren't very durable.
May not fit Spectra S2 pump which is somethhing to note for.
Our Ratings
Community Feedback
I'm really enjoying this compact and discreet breast pump bag for work. It fits my Elvie cordless pumps, milk containers, extra pump parts, and even has a cooler storage below for transporting used parts. The bag's compartments are great for organizing, but the zippers and mixed metal colors seem a bit cheap. Despite that, this has been a fantastic and convenient alternative to bulkier bags for breastfeeding moms.
---
Ju-Ju-Be Be Supplied Structured Breast Pump Tote
Best for Messes
Combining fashion and functionality, this unique breast pump bag is perfect for withstanding the rigors of motherhood. With large compartments, you can fit everything you need, while the structured bottom and form help keep the bag from collapsing. Move the bottles and pump back and forth without a struggle.
Most importantly, the fabric was made to handle messes. It is machine washable should you need thorough cleaning.
However, this bag isn't just about your baby. The front pocket was especially designed for moms and easily fit keys, cosmetics, wallets, or more. We also love the fabric pattern options, which are simple, but chic.
If you're a mom who wants to look good without stressing about the mess, this bag is a great option.
Pros
Holds its form while holding all your accessories.
Lifetime warranty.
Front pocket was designed for your own essentials.
Cons
Not large enough to function as a diaper bag if you're trying to consolidate.
Our Ratings
Community Feedback
If you're seeking a stylish and functional breast pump bag, this unique option will not disappoint. From its large compartments to its structured bottom, this bag offers ample space for all your essentials without collapsing under the weight. The machine-washable fabric ensures easy cleanup for inevitable spills and messes. I particularly appreciated the front pocket designed for mom's personal items like keys, cosmetics, and wallets. However, keep in mind that this bag may not be large enough to serve as a diaper bag if you're looking to consolidate your baby gear in one place.
---
J.L. Childress Breast Pump Bag
Most Stylish Breast Pump Bag
This bag comes with a whopping six pieces. Included in this set is the breast pump bag, a cooler bag, a wet bag, an accessories bag, a drying cloth, and a handbook that offers tips, guidelines and encouraging words. The cooler bag can hold four bottles or up to eight storage bags of milk.
The drying cloth is a nice touch because it can be used to wipe up spills or placed on your lap to safeguard your pants against leaks.
This black bag is made of water-resistant material that can be wiped down quickly when it needs to be cleaned.
Pros
It has several pockets, including a pen pocket.
This bag looks sophisticated while still being casual.
The drying cloth is nice for cleaning any spills or protecting pants while pumping.
Cons
Although you get a lot of items for your money, it's fairly expensive.
Smaller design doesn't fit a laptop or many additional items.
Our Ratings
Community Feedback
My experience with this pumping tote has been a mixture of satisfaction and slight disappointment. On the plus side, it's lightweight, has ample storage space, and includes useful accessories such as a cooler bag and wet bag. However, the material and faux-leather trim feel somewhat cheap, raising concerns about durability, and the bag's design could use improvement for easier access and organization.
Are Breast Pump Bags Necessary?
Breast pumps have a lot of pieces, and they can be big and fairly heavy. They aren't going to fit into most ordinary purses while still leaving room for other items. Of course, you could throw everything into a regular tote or shopping bag, but you'll always find yourself digging for the smaller pieces of your pump.
And no one wants their breast milk spoiling or spilling because it wasn't properly stored.
Breast pump bags are both stylish and practical. They include pockets for organizing your breast pump pieces and parts, and some have insulated cooler pouches for keeping breast milk at the perfect temperature until it can be refrigerated.
Although pumping at work is very common, it can still feel unprofessional or strange lugging baby equipment into a work environment.
Our top breast pump bag choices look chic and professional. Some even include an additional pocket for a laptops, so you can get away with only needing to carry one bag to work.
When Should I Begin Using a Breast Pump Bag?
You'll want to have a breast pump bag ready to go as soon as your baby is born. While you might be staying at home for a week or two, you're soon going to start venturing out to visit friends or relatives.
Your best bet is to select a breast pump bag a few weeks before your delivery date, along with your other baby gear. That way, if you go into labor earlier than you think, you won't be scrambling to find something while trying to take care of your new baby.
How to Choose a Breast Pump Bag
Whether you're using it for work, for vacations or simply for days away from home, your bag should meet all your basic needs — and look good while doing it.
Here are some things a great breast pump bag should be:
Easy to use: If you struggle to fit your pump in the bag or if it's difficult to open, it's going to be more hassle than it's worth.
Durable: Breast pumps and their accessories can be pretty heavy, so your bag should be strong enough to put up with that kind of weight on a daily basis.
Lightweight: Since pumps can be quite heavy, you don't want your bag to add any extra weight.
Practical features: Your bag should have enough pockets to hold all your breast pump pieces with enough spare room to carry any extra personal items. It should also have a designated lined or insulated area for storing your pumped milk.
Stylish: The best breast pump bags are discreet and will fit with your sense of style.
Affordable: Most breast pump bags cost between $30 and $100. Your bag doesn't have to break the bank to be functional, but you'll want one made with quality materials that will outlast your pumping days.
Versatility: It's nice if you can get some extra mileage out of your breast pump bag. Many breast pump bags can also be used as a beach bag, carry-on, or laptop bag.
---
How to Organize a Breast Pump Bag
If organization isn't your forte, don't worry. We've created this helpful list of additional items you may wish to include in your breast pump bag:
Wet bags: You'll need waterproof, resealable bags to hold your breast pump parts and flanges, keeping them clean and in one place. it's a good idea to store clean items in one side pocket and used items in another.
Pump wipes: In a pinch, you might need to simply wipe down the pump until you can wash it more thoroughly at home later. Pump wipes also double as hand wipes or a quick solution if you spill milk on your clothing.
Breast Pump Bras: Don't forget to include any special bras you might use while you pump, plus a spare just in case. Throw in a few breast pads while you're at it.
Ice packs: If you'll be carrying milk for a while, it's a good idea to keep some ice packs around. Look for slim lunch-box styles and keep a few at home in the freezer to replace as you go.
Sterilizing equipment: You might wish to pack a cold water sterilizer solution or a microwave steam bottle sterilizer bag to keep your pumping accessories clean. These won't take up much space but can make a huge difference.
Little luxuries: Pack a small jar of nipple cream that can double as a hand cream since you'll be washing your hands frequently. A small cloth can come in handy, and a water bottle and a small snack are great if pumping leaves you feeling a little drained. A picture of your baby or a book to pass the time might also work for you.
How to Clean a Breast Pump Bag
Most bags will be made of synthetic material that's easy to wipe down with a damp cloth. If yours is made entirely of fabric, read the label to check if it can be hand washed or put in the washing machine. Otherwise, a breast pump bag isn't that different from any other bag or backpack: spot clean when necessary with a little warm water and dish soap.
It's a good idea to keep hand sanitizer, wipes, a cloth, a little sponge, or one of each in your bag to quickly absorb spills and keep things fresh and clean. Store your bag open when not in use to prevent musty smells from developing.
Breast Pump Bags FAQs
---
Thank You For Your Feedback!
Thank You For Your Feedback!