Whether you've been trying for ages, got lucky on your first try, or are accidentally preggo, telling your husband you're pregnant is probably one of the first things you'll want to do.
You could just say "Hey, guess what? I'm pregnant." But where's the fun in that? Instead, take a look at these funny, fabulous, and sometimes just plain out-there pregnancy announcement ideas that might spark some ideas of your own.
Mine through these cute ways to tell your husband you're pregnant — the right one for you could be just a scroll down the screen.
---
50 Memorable Ways to Tell Your Husband You're Pregnant
Here are the top ways you can tell your hubby the great news:
1.

Got A Clue?

Announcements are great, but sometimes you want to make your husband work for it. Send him on a scavenger hunt that ends with a positive pregnancy test.
2.

A Boxed Surprise

Fill a nondescript box with all kinds of baby goodies but make sure you include a "Hi, Daddy" onesie to drive the point home.
3.

The Key To A Good Surprise

You can have a custom keychain made that reflects his favorite hobby, or make one of your own.
4.

Spoon Feed Him the Info

Make him a drink, or something to eat that requires a spoon. Place this spoon into his food or drink and wait for him to discover the news.
5.

Let Him Drink It In

Buy a set of these "husband to daddy" labels, slap them on the bottles in his favorite six-pack and present him with the news and a cold one.
6.

Papa Pizza

Announce your pregnancy to your husband via the medium of pizza. Just be careful not to cut yourself while you're cutting out your message.
7.

Celebrate In Chocolate

While we're talking about food, you could order some custom chocolates or buy and decorate some yourself.
8.

Tiny Big News

Write those two words on a tiny card, put it in an envelope, and place that in a box. Leave it somewhere your husband will find it and enjoy the look on his face.
9.

Message In A Bottle

These miniature bottles come in a box or floating in a frame. Either way, you can have "You're going to be a dad" or a similar message on a note inside the bottle.
10.

The Best Dish

Dish up dinner on a pregnancy announcement dish. Just be sure your husband finishes his meal and gets the message.
11.

Chalk, Not Bored

Simple can be wonderful. Write your news on a chalkboard for him.
12.

Back-Up's Here

Present him with a cute pair of booties and the news that your hero's about to get a sidekick.
13.

Capture The Moment

Set up a photoshoot, write your news on a letterboard, and have the photographer capture your husband's face when he turns around.
14.

Rhyme Time

Leave the positive test on the table with a rhyme.
15.

Float The Idea

Tie a note to a helium balloon, making sure the note is at eye level, and use a pair of baby shoes to weigh the balloon down. Set the whole thing up so he finds it as soon as he walks in the door.
16.

Sweeten The News

This note could go with a box of donuts, a bundle of candy, or any of your husband's favorite guilty indulgences.
17.

Accessorize

This bottle opener makes a cute accompaniment for the beer label pregnancy announcement. Alternatively, it will work just as well on its own.
18.

Packing Your Pregnancy Announcement

If your husband is away from home sometimes for work, packing a note, your positive pregnancy test, and a "Daddy" onesie in his luggage makes for a memorable business trip.
19.

Connect To His Hobby

The "baby boots in a box" idea can be customized to work with many hobbies, especially if they involve partners or buddies of some kind.
20.

A Badge Of Pride

You could reveal your pregnancy to your husband by simply giving him this pin-back badge. Or you could pin it to an item of clothing or place it somewhere for him to find.
21.

A Heartfelt Poem

No certain career or pastime is needed for this keychain to be a special pregnancy announcement surprise for your husband.
22.

It's No Joke
Buy your husband a "Dad Jokes" book and tell him he only has a few months to practice telling them.
23.

Ready For Duty
You can either buy this diaper changing apron ready-made or put one together yourself. Then hang the apron in the kitchen or workshop for your husband to discover.
24.

More than Just a Mug
Telling your husband you're expecting by using one of these pregnancy reveal mugs is a great way to improve his morning coffee.
25.

Scratch Card Surprise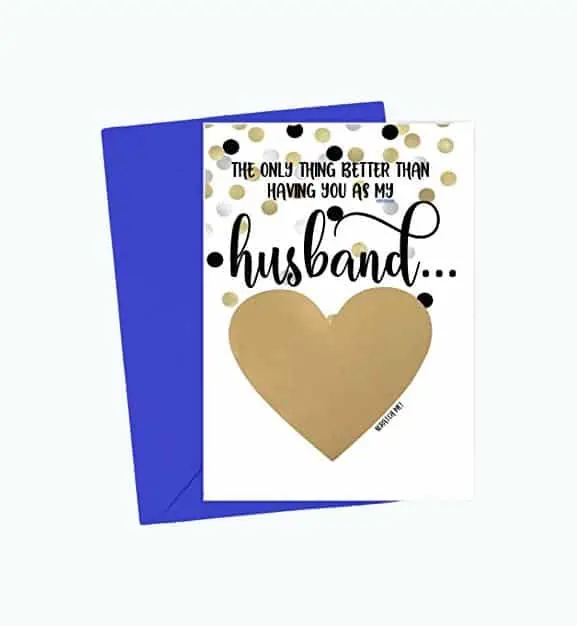 Give your husband one of these oh-so-cute scratch cards to tell him your lives are about to change forever.
26.

Reel Him In With Your News
Is your partner a serious fisherman? This keepsake pregnancy announcement fishing lure will be a permanent reminder of the moment he found out he was becoming a dad.
27.

Say It With Flowers

Big, beautiful bunches of flowers are not just for the gals. Some guys enjoy receiving a bouquet too. If that's the case with your husband, how about a vase full of color and a heartbeat note like this one?
28.

Plain And Simple

Perhaps the news you are pregnant will be a big enough surprise in itself. If so, go for this low-key, high impact way of delivering the news.
29.

Humor

Announce your pregnancy with a unique movie night.
30.

Delivery Partners

You could always have your fur babies tell him about the new addition to the family.
31.

Tasty News

Give him this breakfast, with or without the additional puzzle.
32.

Life-Size News

Present your husband with an announcement note showing how big your baby is already.
33.

On The Table

Set up a display of baby books where your husband will see them.
34.

The Cookie Crumbles

Tell your husband you're pregnant with the news written on a giant cookie or cake — and then dig in — you're eating for two, after all.
35.

Puzzle Me Pregnant
There's a wide range of puzzles available if you'd like to tell your husband you are pregnant, but want to make him work for the knowledge!
36.

Made With Love

This is just one example of homemade pregnancy reveals. If you are the crafty type, this is an option that also provides a beautiful keepsake.
37.

We Planned, But Surprise!

If you discover you are having twins, you can give your husband double the pregnancy announcement.
38.

It's A Sign
How about hanging a banner such as this on the wall over your bed, across the bathroom mirror, or anywhere else it will surprise your husband?
39.

It's A Date
Highlight your due date on a calendar and tell your husband you have something special planned for him that day. See if he can work out what it might be.
40.

Stay Funny

Find the light side of morning sickness and use a card like this to tell your husband you're pregnant.
41.

Teammate

Lay your positive test out on his favorite sports jersey.
42.

Hidden Message

Write "I'm Pregnant" on the bottom of your coffee cup, sit opposite your husband and drink up.
43.

Matching Threads
Buy your husband and baby a t-shirt/onesie combo.
44.

Egg Surprise

Blow an egg, wash it clean, insert a note, and hide it among the other eggs for your husband to find when he makes breakfast.
45.

Player Three

The perfect announcement for your gamer husband.
46.

Cake Toppers

Designed as cake toppers, you could place these figures on the kitchen counter with a note to spell out the news.
47.

Prepare Him

Fold up this t-shirt and place it in the dresser. Let him discover the new tee and the new daddy status.
48.

Baby 2

Place these baby socks on your little one and let them tell daddy the big secret.
49.

Steel Toed Booties

If your husband's a tradesman, perhaps this construction boot and under construction combo is the best way to tell him you're pregnant.
50.

Touching

Finding a creative item such as this and placing it on his desk or workbench is a surefire way to give your husband the big news.
---
Make It Count
Think carefully about the ways to tell your husband you're pregnant — you only have one chance for each pregnancy. So, put on your thinking cap and make your pregnancy announcement count. Enjoy the moment and take plenty of pictures.
Thank You For Your Feedback!
Thank You For Your Feedback!