What better way to relieve the holiday stress everyone is feeling than by giving them joyous baby news to celebrate?
If you are looking for Christmas pregnancy announcement ideas, we have you covered.
We have searched the internet for the most fun, most original ways for you to make your pregnancy announcement Christmas-style.
---
100 Ways to Announce Your Pregnancy During Christmas
1.

Christmas Burn

Delicate wood-burning messages on tree decorations are a beautiful way to announce a Christmas pregnancy.
2.

Santa Baby

An egg painted like Santa, along with a message, delivers a dose of Christmas cheer.
3.

Stitched

A slightly naughty cross stitch sitting on the mantle is a unique way of letting the family know you are pregnant.
4.

Little Balls

Decorate your Christmas ornaments with "Mom" and "Dad" and place a little ball between them.
5.

Keepsake

You could create a pretty decoration with your ultrasound picture, or have someone make one for you.
6.

Tree Farm Fun

Have fun with a simple Christmas pregnancy announcement like this. No need to get too creative with this one — everyone will figure out what it means.
7.

Monochrome and Merry

A traditional Christmas photo with a "BABY" banner held between you creates a timeless and classic pregnancy announcement for Christmas.
8.

T-Shirt and Toes

Attend those Christmas get-togethers while wearing a t-shirt like this and watch the pregnancy announcement ideas start dancing through everyone's heads. It may take some longer than others to understand what this shirt means.
9.

Rhymes

Use a rhyme like this one in a Christmas card, on your social media profiles, or anywhere you'd like to share your pregnancy news.
10.

Ho Ho Oh

Use a play on words, like this announcement does, to get your message across.
11.

I Say

Make a speech bubble and snap a picture like this for a fun way of sharing your news.
12.

Make Labels

Create an image, make your own labels, and give everyone a gift they'll never forget.
13.

Or Buy Them
If you're not crafty, you can buy some gorgeous labels.
14.

Matching PJ's

How cute are these PJ's? A picture of you two wearing these will do all the talking you need to spread your news.
15.

Digital Downloads

Download a file and edit to show your own details for your Christmas pregnancy announcement.
16.

Elfie

If you're stuck for Elf-On-The-Shelf ideas this year, you can use this one.
17.

Letterboards And Pics

How about a cute message on a letterboard to announce your Christmas pregnancy?
18.

Silly Siblings

How's this for a unique Christmas pregnancy announcement? All you need is a sister, some sweaters, and an ultrasound of your baby!
19.

Use a Santa Hat

Set your booties in front of the tree, add an ultrasound, and Santa hat and you have a merry Christmas pregnancy announcement.
20.

Look What I Did!

This new dad-to-be is obviously proud of himself. A simple photo with a joyous expression is sometimes the best announcement.
21.

The Gift

Let everyone know you have received the greatest gift ever and dress your baby belly up with a giant ribbon, bow, and gift tag.
22.

Onesie News

Either share a photo like this one or send a onesie to your loved ones as your Christmas pregnancy announcement.
23.

Card Them

Create your own Christmas card pregnancy announcement to share with all you love.
24.

On The Way
Surprise the family by showing up for Christmas dinner in a t-shirt. I'm sure on this occasion they won't mind.
25.

Big News From Big Brother

A big brother sign is an excellent way to share your huge news
26.

In Focus

A cute twist on the "blurred parents" pregnancy announcement.
27.

Check The Tree

If the family is coming to you for the holidays, deck the tree with baubles like these, and see who gets the news first!
28.

Play (With) A Song

Create a Christmas scene and caption it with a Christmas song title.
29.

Puzzle Them

Give your family a puzzle like this as your Christmas pregnancy announcement.
30.

Another Brother

Make the sibling be the star of the show and let them announce the news. They'll love it, and your family will too.
31.

Book It

Dress them up in their Christmas finest and have your little one reading a book like this.
32.

Hang Time

Hang an extra stocking by the fire and let your loved ones do the math.
33.

Onesie and a Song

You could combine a few suggestions from this list for a holiday-inspired photo announcement.
34.

Wish You A Geeky Christmas

Just because it's Christmas, there's no need to exclude Batman.
35.

Cutie PJ's

A super cute Christmas pregnancy announcement that you'll look back on and love years from now.
36.

How'd That Happen?
If cute is not your thing, try funny.
37.

Dinky Decor

How cute is this Christmas pregnancy announcement? And it's a keepsake your parents will love.
38.

It's A Sign

A play on words and a chalkboard sign may be all you need.
39.

Pretty as a Picture

Your announcement could double as your Christmas card and an opportunity to share the latest photos of your little one.
40.

Fancy Frames

Smiles, ultrasound pics, and a chalkboard makes for a darling pregnancy announcement at Christmas.
41.

Slogan

Love in the background and a letterboard slogan brings it all together.
42.

It's Behind You

Sneak your pregnancy announcement into another Christmas photo. You'll find out who is observant in your family, and who isn't.
43.

Christmas Twist

There's this twist on the old "bun in the oven" announcement.
44.

Tea Total

Wrap a Christmas gift in an eye-catching pregnancy announcement.
45.

Tableau

Create a stylish stack of baby items and a cute sign to drive home your message.
46.

First Up

Baby's first Christmas may actually be before they are born.
47.

Paint It

A painted sign could be the announcement for you.
48.

Look Carefully

Put an ultrasound on a stocking and that's all you have to do to make your announcement.
49.

Baby Santa

A simple photo of some holiday baby booties should make the message clear.
50.

Cryptic

This subtle Christmas pregnancy announcement is for those who prefer to be cryptic.
51.

Joyful Chest

Make your announcement a forever gift with a onesie in a keepsake chest.
52.

A Gift

Create these table announcement gifts — they'll be an elegant way to spill your news.
53.

On Santa's Lap

Get Santa to tell for a memorable photo opportunity.
54.

Sweet Surprise

News always sounds even better with cookies.
55.

Sweet Surprise 2

Or make this your Christmas cake.
56.

Gift 'Em

A pile of gift boxes and a note should do the trick.
57.

Poor Puppy

Funny puppy thoughts can share the big news.
58.

Stocking Boxes

Give each special someone a gift like this.
59.

Party Time

Let everyone know there's a baby on the way and that you're having a gender reveal party, all at once.
60.

Grandparents-To-Be

One up the rest of the family and give the grandparents the best gift this year.
61.

Sweet Sweater
Wear this to an ugly Christmas sweater party.
62.

Happiest Holiday

This beautiful neutral holiday pregnancy announcement is easy to replicate.
63.

Decorate

Hang one of these on your parents' trees and see how long it takes them to get the message.
64.

Cheery Trio

How about an Instagram pregnancy announcement?
65.

Wider Circle

For those who don't need a face-to-face announcement, bring your little one and a joke onboard.
66.

Tiny Night

Spread the news with tiny shoes. If you don't already have a baby, there will be no confusion with this one.
67.

How Many?

See how many Christmas songs you can work into your pregnancy announcement.
68.

Stylish Announcements

This is an announcement with style that can be easily recreated.
69.

Promotion

Arrange your "promotion" announcement in a holiday setting.
70.

Stereo

Why not use couples t-shirts?
71.

Back Order
They won't mind their gift being on back order this year.
72.

Friends

A fun onesie on the Christmas tree works beautifully.
73.

Mix It

Mix a few ideas for your own unique Christmas pregnancy announcement.
74.

Consolation Prize

Disappointed, but cute, dogs make unique pregnancy announcements.
75.

Keep It Simple

Mom + dad + Ultrasound + seasonal clothes = adorable Christmas pregnancy announcement.
76.

Holiday Happiness

Share your joy with a simple flat setting that makes for a pretty photo.
77.

Songs & PJ's

Another twist on similar ingredients for this holiday pregnancy announcement.
78.

Christmas List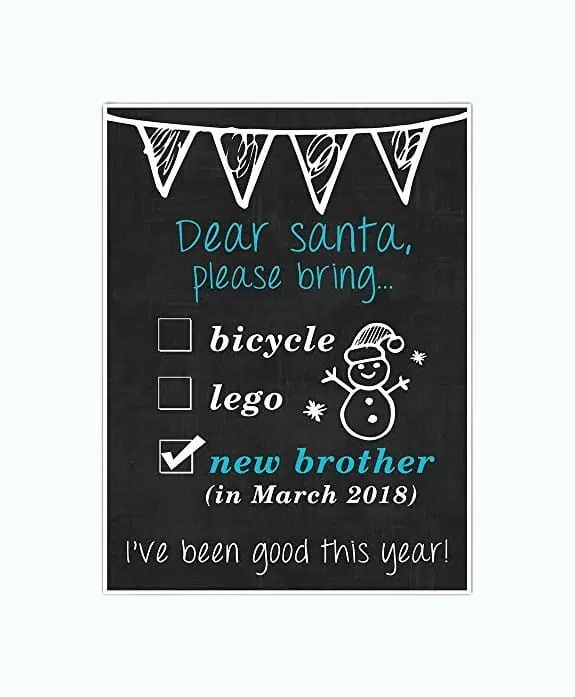 Make the baby part of your little one's Christmas list.
79.

A Family Affair

Or take it a step further and get the whole family in on the act.
80.

First Christmas Stocking

Hold up that first Christmas stocking between you and your partner. Bonus points if it doubles as a gender reveal.
81.

Serial Announcement

A series of photos of this little one opening a gift makes this an adorable, copy-worthy Christmas pregnancy announcement.
82.

Wreaths

Or, how about a staged photo with a wreath and an ultrasound?
83.

I Saw A Sign
This sign on its own, with a child, a couple, or even the fur babies will work.
84.

Personalized

Personalized stockings make a great Christmas pregnancy announcement for guests, and a photo can go online for everyone else.
85.

News Gift

Give the gift of promotion this year by sharing the new titles your family members will enjoy.
86.

Passed The Test

The Elf, the tests, and some homemade bunting. This makes a cute and unique way of announcing your pregnancy.
87.

Edit-Ultra

Add a tiny candy cane and hat to your ultrasound and you have a fun pregnancy announcement.
88.

Lit

Download this label and sign set to give your sister the news.
89.

Lumberjack Check

A bassinet, some lumberjack flannel, and a letterboard tell the story.
90.

Keepsakes

Give those special someones a sonogram decoration.
91.

Under The Tree

A picture of your chalkboard sign may be all you need.
92.

Not Only Santa
A bodysuit lets everyone know that Santa won't be alone this year.
93.

Dated Stockings

As a change from the often-used "years of birth on our shoes" pregnancy announcement, you could use a line of stockings with birth years instead.
94.

Hats Off

A beautiful handmade baby hat is a fun Christmas pregnancy announcement idea.
95.

Merrier Christmas

A sign to say the more the merrier could be a great way to share your news over the holidays.
96.

Hang In There
Gift these, or hang them on your tree. Either way they are a lovely Christmas pregnancy announcement.
97.

Poke Fun

Acknowledge there'll be no more silent nights for a while.
98.

Santa Visits

Take the family to see Santa and capture their "response" to the big news.
99.

Nap Time

Hang this instead of a Do Not Disturb sign on your door. People will be understanding if you duck out of holiday parties a little earlier than usual to catch more sleep.
100.

Bed Shock

This offers a Christmas twist on the "shocked on the bed" pregnancy announcement idea.
---
Happy Holidays!
However you make your Christmas pregnancy announcement, we know it will be fabulous. How? Because you're going to end up with a new baby in the new year.
And nothing could be more fabulous than that.
Thank You For Your Feedback!
Thank You For Your Feedback!