Pull toys remain a firm favorite with little ones, and the range of options is far greater than what was available even a decade ago.
But when shopping for a pull toy, you want to ensure you get the best bang for your buck.
We've spent a lot of time researching these cute toys for early walkers and created this list of the best pull toys available. We based our top picks on their appeal to children, safety features, educational value, ease of use, and skill-building abilities.
Encourage your little ones to move past stationary play with one of these high-quality pull toys.
Image
Model
Product Comparison Table
Features
Best Overall
Wooden Giraffe Pull Along
Long-term quality
Made from high-quality wood
Completely safe for children
Best Budget Pick
Fisher-Price Lil' Snoopy
No batteries required
Encourages early role-play
Interactive sounds and motions
Best Multifunctional Toy
Hape Walk-A-Long Snail
Removable shape sorter shell
Durable and sturdy wood
Award winning
Best Moving Parts Pull Toy
Brio Pull Along Duck
Perfect for boys and girls
Handcrafted
Safe, non-toxic paint
Best Musical Pull Toy
VTech Pull and Sing Puppy
Over 60 songs and noises
Encourages kids to walk
Builds motor skills
Best for Little Hands
Hape Elephant Wooden Pull
Child-safe materials
No batteries are needed
100% solid wood
Best Push-and-Pull Toy
Hape Wonder Walker
Beautifully made
Non-toxic finishes
Offer strong support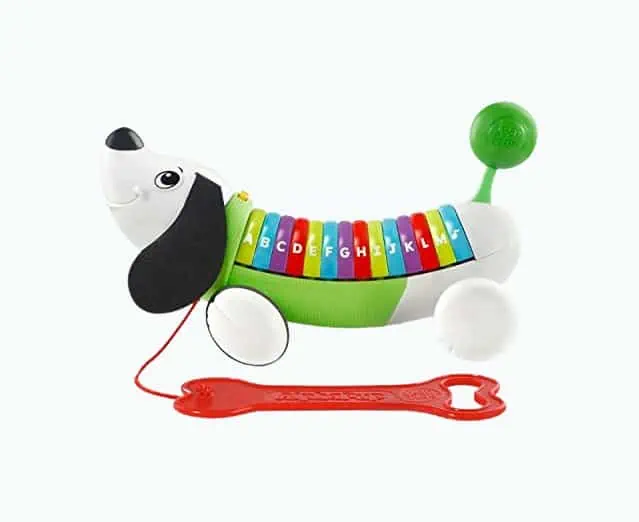 Most Educational
LeapFrog AlphaPup
Teaches the alphabet and phonics
3 learning songs
Velvet-soft floppy ears
Most Unique
PlanToys Dancing Alligator
24-inch pull cord
Uses non-toxic dyes and pigments
From chemical free rubberwood trees
Award Winning Design
Walk Along Puppy
Encourages active play
Parents Magazine Best Toys award winner
Low-maintenance
---
---
The Best Pull Toys of 2023
Here are 13 great pulling toys for toddlers and babies.
Brio Pull Along Giraffe
Best Overall Pull Toy
This timeless wooden toy has been a favorite for over 60 years. Kids ages 12 months and over will love pulling along the sturdy little giraffe. They'll enjoy seeing its neck and head move.
The gloss-paint finish over the smooth sanded wood is toxin-free, so no worries about safety here.
---
Fisher-Price Lil' Snoopy
Best Budget Pick
This adorable and affordable little puppy wiggles its ears, shakes its tail, and makes clicking sounds as it follows your little one around. It's suitable for ages 12 months and over. Your toddler will enjoy taking it for a walk.
Why not take the opportunity to use this pull-along toy to teach children how to look after animals? Try giving them pretend food and water bowls, and watch as their imagination develops.
---
Hape Walk-A-Long Snail
Best Multifunctional Pull Toy
For 1-year-olds and up, this toy takes on double duty as a pull-along and shape sorter. Your child can remove the snail's shell and sort the three wooden blocks through the shaped holes in the side.
An elastic band on the other side allows easy removal of the blocks, but it stops them from falling out when the toy is in motion. The snail tail waves as it's pulled along, the shapes rattle, and the shell rolls.
---
Best Moving Parts Pull Toy
Best Moving Parts Pull Toy
This little wooden duck will waddle along behind any child and is suitable for children 12 months and older. Its head moves from side to side, and its wings flap as it moves. The four bright red wheels are designed to roll easily along any floor surface.
The pull toy is handcrafted from solid beech wood, and its painted surfaces are safe and non-toxic.
---
VTech Pull and Sing Puppy
Best Musical Pull Toy
This adorable push-and-pull puppy toy builds motor skills and plays music for endless entertainment and education. The three buttons on the side teach kids motor skills, numbers, colors, and associating sounds.
It also encourages kids to walk since they now have a new fun buddy to take with them. This dalmatian puppy has flashing lights and playful language to engage with children, even if they have short attention spans.
It has over 60 songs and cute puppy noises. This pup is a favorite amongst children ages 6 months to 36 months — and parents love it too.
---
Hape Elephant Wooden Push Toy
Best Pull Toy for Little Hands
This attractive elephant can be a good companion for your toddler. It helps promote hand-eye coordination, encourages creativity, and sharpens balance.
The center cut-out makes it easy for little ones to grab the elephant and carry it when they don't feel like pulling it.
This is one of the best pull toys for younger tots ages 12 months and over.
---
Hape Wonder Walker
Best Push-and-Pull Toy
What kid wouldn't like to have their own wagon? They can move things around the yard, take their teddies for a walk, or use it for cleanup at the end of the day.
The wagon's wooden construction is stable, and all materials are safe for children ages 12 months and over.
You can lock the handle into place so your child can work on their walking skills by pushing the toy. Then release it to convert it to a pull toy. This wagon will be a favorite for a long while.
---
LeapFrog AlphaPup Toy
Most Educational Pull Toy
LeapFrog toys are always a favorite. And your little one will learn the alphabet with this interactive puppy pull toy.
Turn it on and press the letters on the dog's back to hear two phrases for each letter of the alphabet. You can also listen to the alphabet song, a numbers song, or a walking song as your toddler pulls the toy along.
We especially appreciate this toy's educational properties and love that it's fun enough for kids between 12 and 36 months old.
---
PlanToys Dancing Alligator
Most Unique Pull Toy
A friendly green gator will follow your little ones around as they pull it along. It will make a "click-clack" noise and open and close its mouth to keep kids entertained.
The stable wheels move together and apart to make the alligator's body wiggle and dance as you pull it. It's suitable for ages 1 and over.
---
Award Winning Pull Toy
Obedient Dog
This award-winning puppy toy was one of our toddlers' favorite toys.
They loved that they could take it for a walk, let its head dip to "sniff" the floor, and make it sit or stand. Its ears wiggle, and its tail wags as it moves along.
Parents love that it's made from quality wood, so it should last for years. You can choose from a bright blue or orange version. Kids over the age of 1 will love taking their own puppy dog for a walk.
---
Toomies Quack Along Ducks
Best Engaging Toy
Suitable for babies from 10 months to toddlers, this mommy duck and her two ducklings quack and waddle as they move. Made from high-quality, safe plastic, this Tomy toy is easy to clean.
Little ones will love the noise the ducks make, although — you've been warned — moms and dads might find it a bit annoying after a while.
---
Melissa & Doug Deluxe Frog
Funniest Pull Toy
This friendly frog pull toy is suitable for toddlers from 18 months upwards. When pulled along, it leaps up and down, and its googly eyes wiggle in its head, making children laugh in delight.
Walking along with this toy will be fun and exciting, and the brightly-painted colors entice little ones to play. The non-toxic paint makes this a safe option for younger kids who still enjoy chewing on their toys.
---
Fisher-Price Chatter Phone
Best Retro Pull Toy
Back in the day, before cell phones, this was a favorite toy with many kids. I remember using mine as a child, and the very same one is now being used by my own children.
Even though little ones may not recognize this as a device used in the home, they still love the fun designs and will chatter away into the receiver.
When it's pulled along, the eyes roll up and down, and the mouth chatters. For quiet play, the dial rings, and the telephone can inspire the imagination.
This pull-along phone is suitable for toddlers ages 12 months and over.
The Benefits of Pull Toys
While a child is learning to walk, a push toy is a valuable option, as it will help them balance and build their confidence. Once they master this step, they'll be ready to progress to a pull toy. Some toys combine pushing and pulling actions.
Pull toys require a little more balance and concentration. Your toddler will need to make sure they aren't going to walk into anything as they check on their buddy behind them. They'll also need to be pretty steady on their feet as they take their pull toy for a walk with nothing to help keep their balance.
Pulling a toy along will help a child's gross motor skills as they navigate. They'll develop their fine motor skills as they grasp the string. Pull toys teach toddlers about cause and effect, as the rolling of the toy is often accompanied by noises and movement.
Children can also improve their coordination and problem-solving skills as they multitask with their pull toy: pulling, watching, navigating, and balancing at the same time (1).
How to Choose a Pull Toy
You'll want a pull toy to keep your little one safe and engaged. Here are a few things to consider:
---
Thank You For Your Feedback!
Thank You For Your Feedback!