Toy cash registers can be a lot of fun, but the best ones take it much further. They teach a wide range of social and educational skills, helping your little ones learn math skills, money skills, business operations, buying and selling, and much more.
To discern which toy cash registers do this best, you first have to do some research. But we've saved you the trouble by comparing the leading brands to find the best cash registers for kids. We've ranked these based on their educational features, value for the money, and appeal to children of all ages.
We've reviewed the best options here so you can make an informed choice and help your kids improve their number skills through imaginative play.
Image
Model
Product Comparison Table
Features
Best Freestanding All-in-One
Melissa & Doug Grocery
Realistic beeping scanner
Designed for maximum safety
Ample shelving on both sides
Most Popular Option
Learning Resources Pretend
Built-in, solar-powered calculator
LCD display
Extra-large buttons
Vintage Style
Little Tikes Count 'n Play
Built-in change dispenser
Modern and stylish design
With pretend credit cards and reader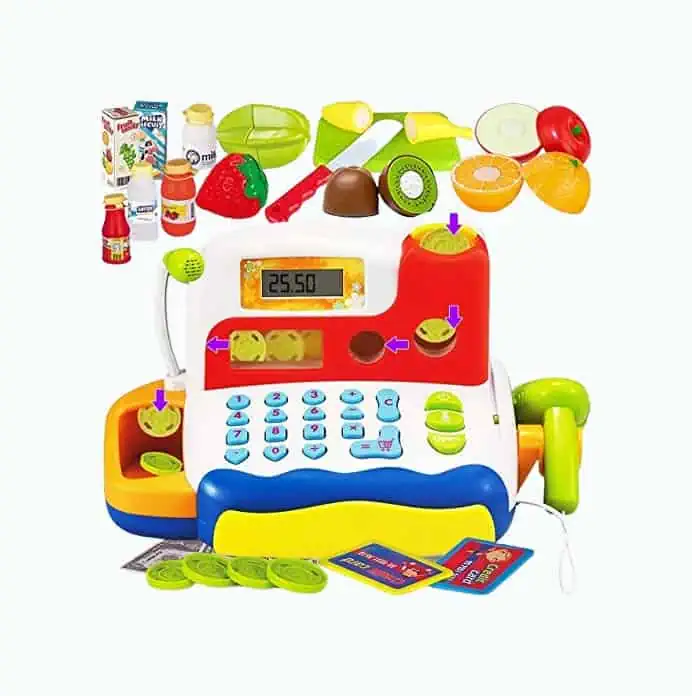 Best Value Pick
Funerica Durable
Smart, educational cash register
Designed to last
High-quality materials
Interactive Sound & Lights
VTech Ring and Learn
80+ songs, melodies, sounds & phrases
Fun, interactive cash
Colorful number buttons
Retro Toy Cash Register
Fisher-Price Classic
Brightly colored coins
Screen-free play
Sturdy classic toy
Great for Tech-Savvy Kids
Shop 'N Learn Smart
5 fun modes
35+ unique food and accessories
Smart scan technology
Durable Wooden Toy
Melissa & Doug Wooden
Fun, realistic features
With 3 play coins
Affordable
Best Themed Pick
Minnie Bow Tique
Realistic cash register sounds
Batteries included
Features Minnie phrases
Best Restaurant Play
Funerica Cash Register
40 pieces of play food
Brightly colored set
Durable
Review Methodology: At Mom Loves Best, we take pride in our thorough analysis and hands-on evaluation of the best toy cash registers for kids. Our experienced team conducts extensive research, comparing various products based on criteria such as design, durability, educational value, and user experience. We gather data from professionals and real users to provide an unbiased assessment, ensuring that the products we recommend stand out from their competitors. We identify key decision-making factors such as age-appropriateness, features, and price, and rate each toy cash register accordingly. By considering all these aspects, we help you make an informed choice, ensuring that your child gets the most out of their playtime experience.
---
---
The Best Kids Toy Cash Registers of 2023
Here are 11 great toy cash registers to consider.
Melissa & Doug Freestanding Grocery Store
Best Freestanding All-in-One
This might be the most comprehensive toy cash register. Suited to children 3 years old and up, it will grow with your child as they develop. This cash register includes a counter, a fridge/freezer, shelves, and a shop storage space for a complete experience.
When passing the items through, the scanner lights up and beeps. A manual conveyor belt, credit card reader, and calculator should keep your kid engaged for some time. The Melissa & Doug line also sells a food companion kit, shopping cart, and more for when you're ready to add on.
Community Feedback
Bought this grocery play set and was pleasantly surprised by its quality and versatility. Setting it up was a breeze, taking only about an hour and a half with clear instructions. My kids, aged 3 to 10, love taking turns as cashier or buyer, and we've even transformed it into a bakery at times. While some wooden pieces arrived slightly chipped, the overall sturdiness and durability are impressive; it's withstood being used as a fort and a barricade in play battles. This play set not only provides endless fun but also serves as an educational tool for teaching essential life skills like counting money and shopping.
---
Learning Resources Pretend and Play Cash Register
Most Popular Option
This is one of our best-loved cash registers. There are two color schemes to choose from: red/blue and pink, making it suitable for boys or girls. The large buttons and cash drawer are designed for small hands, 3 years old and up.
It comes with 73 plastic American coins and bills, a solar-powered calculator, and a pretend credit card swiper. For realistic role-play, the machine makes that typical "cha-ching" sound when the cash drawer opens.
Community Feedback
My experience with this cash register has been mostly positive, especially when using it to teach kids about handling money. The register makes realistic noises, which adds to the fun, and it comes with play money and coins. However, I encountered an issue with some buttons not working, such as the =, 6, 0, 9, and + buttons. Additionally, the cash drawer springs open quite forcefully, causing the coins to scatter everywhere, so it's best to guide the drawer when opening it. One downside is that it doesn't have slots for all bill denominations, but it does have enough spaces for coins.
---
Little Tikes Count 'n Play Cash Register Playset
Vintage Comes Back in Style
A vintage concept with a modern and stylish design, this toy cash register is user-friendly and conceived to suit 2-year-olds and up. It also comes with two pretend credit cards and a reader, to allow a different method of payment.
Most children shouldn't have any issue pulling down the large and easy-to-grab side handle, allowing the drawer to open. The large coins come in three sizes and colors, making this toy educational for the youngest users.
Community Feedback
I've recently introduced this cash register to my 17-month-old, and she absolutely loves it! The toy is simple yet interactive, with features like sorting coins by color and size, a credit card reader, and a lever to open the cash drawer. It's a great way for her to practice counting, colors, and cause-and-effect, all without the need for batteries or annoying electronic sounds. One minor issue is the drawer sometimes sticks when closing, causing a bit of frustration for my daughter.
---
Funerica Durable Cash Register Toy for Kids
Best Value Toy Cash Register
This toy cash register will wow most kids 3 years old and up. For parents, this machine offers excellent value in terms of functionality, accessories, and price point. It's also made of durable plastic material to withstand drops and throws.
Although designed for younger kids, it still features educational and entertaining accessories. In addition to the coins and bills, it includes a built-in microphone and a scanner that emits lights and sounds. To make the experience more realistic, pretend food and drink items are included.
Community Feedback
I'm delighted with this play cash register's interactive features, such as the working microphone and scanner, as well as the fun fruit-cutting bonus. However, I was disappointed in the design of the cash drawer, as it's not deep enough to fit the play paper money without folding it. My kids, aged 6 and 15 months, both enjoyed playing with the register, especially inserting coins and using the scanner. A volume control option would be a great addition to this otherwise fantastic toy.
---
VTech Ring and Learn Cash Register Toy
Interactive Sound & Lights
We couldn't leave out the new walkers and talkers — this machine is designed for toddlers starting at 12 months old. It accepts credit cards or cash and features big numbered buttons that light up when pressed, a scale, and a cash drawer.
The included food items and basket make the role-play more realistic. Furthermore, it includes over 80 songs and phrases to keep your toddler entertained and excited. Some of those phrases feature healthy eating info as well.
Community Feedback
For a fun and educational toy, this cash register has been a hit with my two-year-old and even my older child. It offers a variety of interactive features, like buttons, music, and a scale, allowing them to learn about numbers and colors while engaging in creative play. However, the money drawer can be a bit difficult to open and the scale doesn't work very realistically, but overall, it's a fantastic and sturdy toy with vibrant colors that both the kids and I enjoy.
---
Fisher-Price Classics Retro Toy Cash Register
Retro Toy Cash Register
This retro cash register has a unique design aimed at children over 2 years old. It has six colorful coins to teach your little one numbers and colors. The numbers on the coins come in increments of five, 10, and 25 and coincide with the numbers on the levers, helping with recognition and matching.
Just like old times, when the side handle is pressed, coins roll down, and the drawer opens with a ringing sound.
Community Feedback
If you're looking for a nostalgic and educational toy for young kids, this cash register is a great choice. I've seen firsthand how much my granddaughter and niece enjoy playing with it, and it really helps them learn sorting and thinking skills without relying on electronic parts. The different mechanisms for moving the coins add an extra level of engagement, although the coins occasionally get stuck in the slots.
---
Shop 'N Learn Smart Checkout Toy
Great Choice for Tech-Savvy Kids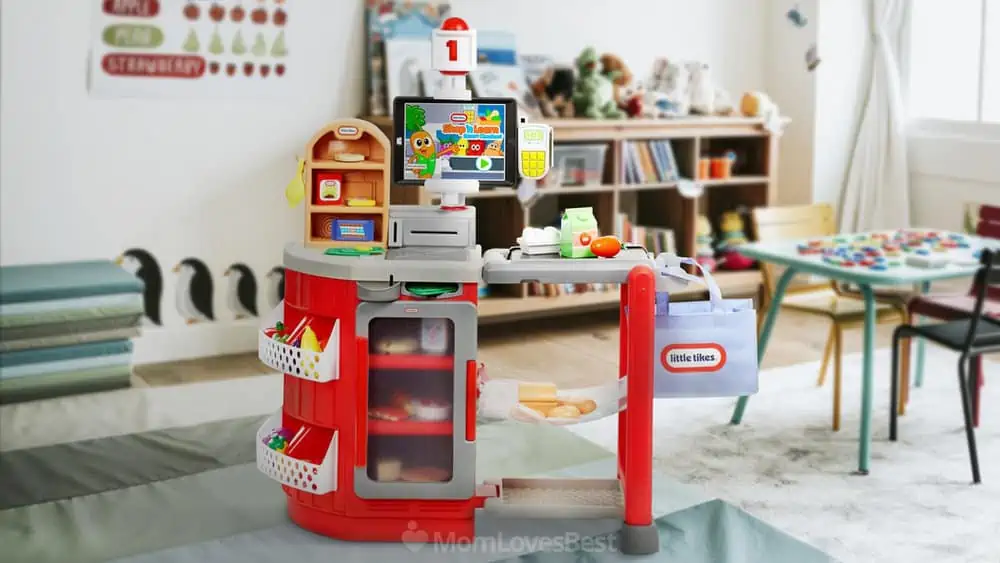 This freestanding grocery store shows a modern and colorful design, mimicking a real checkout stand and more. For kids aged 2 years and up, this comes with over 35 accessories and a real checkout screen. All food items included are scannable, just plop them on the electronic conveyor belt and check out.
You can download an interactive application on Android and iOS phones, connecting to the screen through Bluetooth. The application gives access to five fun learning games. Last but not least, the bagging area folds to save space.
Community Feedback
I recently purchased this interactive toy store for my 3-year-old, and it has quickly become a favorite in our household. The working conveyor belt and scanning features are a huge hit, providing hours of imaginative play. The store comes with a variety of unique grocery items, and the app teaches counting and memory skills, making it both fun and educational. The only downsides are the conveyor belt feeling a little cheaply made, and the dollar bills shooting out onto the floor when inserted into the slot. However, these minor issues don't take away from the overall enjoyment of the toy. My child loves it, and I'm happy with the purchase.
---
Melissa & Doug Wooden Cash Register
Durable Wooden Toy Cash Register
This well-designed toy cash register is made of wood. It should entertain any child over 3 years old — and potentially be passed down to a younger sibling, thanks to its durability.
An easily accessible push handle opens the cash drawer, and three different coins can be placed in the machine. Alternatively, if your child's customer doesn't have cash, they can swipe the included credit card.
Community Feedback
This cash register toy has been a hit with my grandkids, providing them with endless fun while running their pretend store or restaurant. The included "debit" card that makes noise when swiped adds an interactive element, although more coins may be needed as they can easily get lost. The toy is durable, well-made, and suitable for a wide range of ages, making it a valuable addition to our playtime activities.
---
Minnie Bow Tique Toy Cash Register
Best Themed Cash Register
Sometimes, your child might need a little extra motivation to learn their numbers. This Minnie Mouse cash register should be enough to get your little one counting and learning in no time.
This machine is safe to use for those aged 3 years and up. Each accessory is Minnie branded, including a heart-shaped dialing pad, screen, scanner, credit cards, and coins.
You won't find boring American bills in this game. Instead, each bill comes with a character's face from Minnie's clique. This is the perfect cash register for kids who love all things Disney.
Community Feedback
I'm thrilled with this Minnie Mouse cash register toy, as it has provided endless entertainment for my child. The buttons make noise and the register opens, making it engaging and fun for kids. However, I recommend removing the fake coins for smaller children to prevent any choking hazards. The toy is smaller than I expected, but it still keeps my little one entertained and happy. My only minor complaint is that the scanning gun doesn't make a sound, but overall, this toy has been a great purchase.
---
Funerica Toy Cash Register
Best Restaurant Play
This unique set allows for several different activities. Geared towards children 3 years and up, this one should last your little one well into primary school.
The shopping activity includes a cash register with a real microphone, scanner, bills, coins, and a scale. A basket tops it off because no one likes to walk through the store with full arms.
After the shopping is over, your little one can go into full chef mode. The set includes a mini stove, cutlery, pots and pans, sliceable veggies, and even a chef's hat.
Community Feedback
In my experience with this toy register, it has been a great addition to our playtime. The register beeps when scanning and swiping credit cards, and the drawer holds a few coins and paper money, making it perfect for my young child. My child also enjoys playing with the mini scale and other accessories like the food, pots, and chef hat. However, after a year, the register started acting weird and wasn't scanning consistently, but the seller did send a replacement which has been functioning well.
---
Disney Princess Cash Register Toy
Best Princess Pick
Little princesses might want princess toys, and everything about this cash register is princess-friendly. Get ready for a magical time with this one. Decked out in pink and gold, there's no option but to go all-girl.
This extraordinary set is designed for children 3 years and older and comes with a real calculator, six heart-shaped buttons, 12 coins, and a princess credit card. An old-fashioned key opens the cash drawer, and a royal scanner will beep whenever you scan an item.
Community Feedback
I recently got this cash register for my daughter, and she absolutely loves playing with it, especially when she combines it with her ice cream set to sell treats. The register has some nice features like a beeping scanner, automatic shut-off, and a key to lock and unlock the till. However, the drawer has been a bit of an issue as it stopped working after a while, and it also has very limited space for bills.
How to Choose a Cash Register Toy
Whether you're shopping for a toddler or an older child, here are a few tips to make this process easier.
---
Thank You For Your Feedback!
Thank You For Your Feedback!