As parents, we're usually on the lookout for smart alternatives. Especially when it comes to teaching our kids subjects that are considered boring to most — such as mathematics.
Toy cash registers can be great helpers, accompanying your child in their development.
We've done the research and found all of the best toy cash registers on the market.
Image
Model
Product Comparison Table
Features
Best Freestanding All-in-One
Melissa & Doug Grocery
Realistic beeping scanner
Designed for maximum safety
Ample shelving on both sides
Most Popular Option
Learning Resources Pretend
Built-in, solar-powered calculator
LCD display
Extra large buttons
Vintage Style
Little Tikes Count 'n Play
Built-in change dispenser
Modern and stylish design
With pretend credit cards and reader
Best Value Pick
Funerica Durable
Smart and educative cash register
Designed to last
High quality materials
Interactive Sound & Lights
VTech Ring and Learn
80+ songs, melodies, sounds & phrases
Fun, interactive cash
Colorful number buttons
Retro Toy Cash Register
Fisher-Price Classic
Brightly colored coins
Screen-free play
Sturdy classic toy
Great for Tech-Savvy Kids
Shop 'N Learn Smart
5 fun modes
35+ unique food and accessories
Smart scan technology
Durable Wooden Toy
Melissa & Doug Wooden
Fun realistic features
With 3 play coins
Affordable
Best Themed Pick
Minnie Tique
Realistic cash register sounds
Batteries included
Features Minnie phrases
Cook n' Check
Funerica Cash Register
40 pieces of play food
Brightly colored set
Durable
---
How to Choose a Cash Register Toy
Whether you're shopping for a toddler or older child, here are a few tips to make this process easier.
---
The Best Kids Toy Cash Registers of 2022
Here are 11 great toy cash registers to consider.
1. Melissa & Doug Freestanding Grocery Store
Best Freestanding All-in-One
This might be the most comprehensive toy cash register. Suited to children 3 years old and up, it will definitely grow with your child as they develop. This cash register includes a counter, a fridge/freezer, shelves, and a shop storage space for a complete experience.
When passing the items through, the scanner lights up and beeps. A manual conveyor belt, credit card reader, and calculator should keep your kid engaged for some time. The Melissa & Doug line also sells a food companion kit, shopping cart and more, for when you're ready to add on.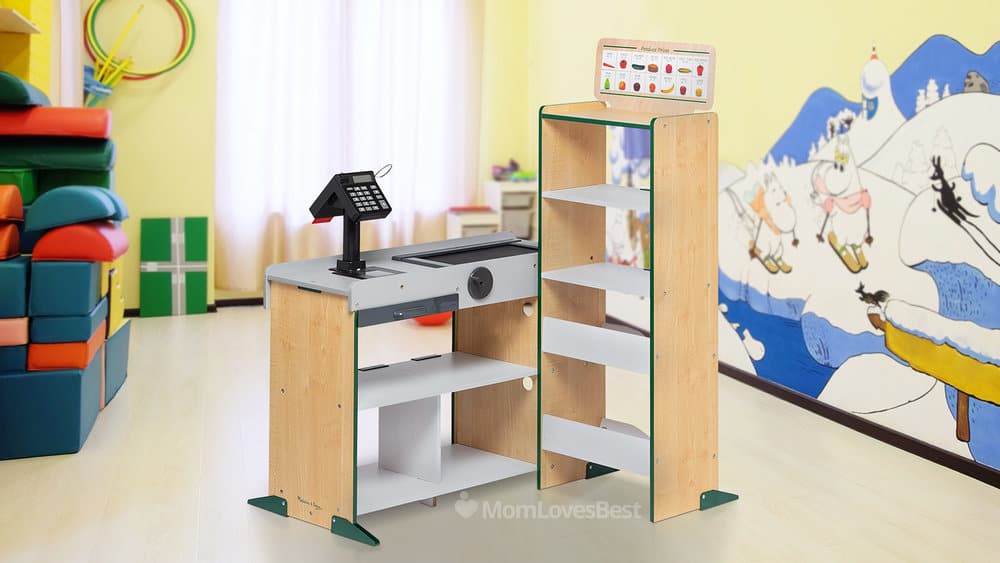 ---
2. Learning Resources Pretend and Play Cash Register
Most Popular Option
This seems to be one of the best-loved cash registers. There are two color schemes to choose from — red/blue and pink — making it suitable for either boys or girls. The large buttons and cash drawer are designed for small hands, 3 years old and up.
It comes with 73 plastic American coins and bills, a solar-powered calculator, and a pretend credit card swiper. For realistic roleplay, the machine makes that typical "cha-ching" sound when the cash drawer opens.
---
3. Little Tikes Count 'n Play Cash Register Playset
Vintage Comes Back in Style
A vintage concept with a modern and stylish design, this toy cash register is user-friendly and conceived to suit 2-year-olds and up. It also comes with two pretend credit cards and a reader, to allow a different method of payment.
Most children shouldn't have any issue pulling down the large and easy-to-grab side handle, allowing the drawer to open. The large coins, coming in three different sizes and colors, make this toy educational for the youngest of users.
---
4. Funerica Durable Cash Register Toy for Kids
Best Value Toy Cash Register
This toy cash register will "wow" most kids 3 years old and up. For parents, this machine offers great value in terms of functionality, accessories, and price point. It's also made of durable plastic material to withstand drops and throws.
Although it's designed for younger kids, it still features educational and entertaining accessories. In addition to the coins and bills, it includes a built-in microphone and a scanner that emits lights and sounds. To make the experience more realistic, pretend food and drink items are included.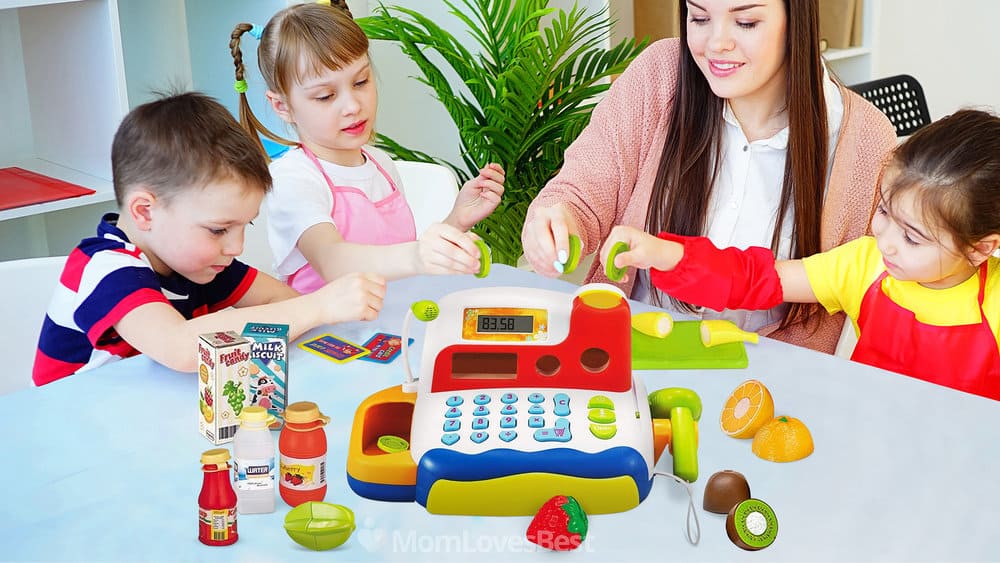 ---
5. VTech Ring and Learn Cash Register Toy
Interactive Sound & Lights
We couldn't leave out the new walkers and talkers — this machine is designed for toddlers starting at 12 months old. Taking both credit cards and cash, it features big numbered buttons that light up when pressed, a scale, and a cash drawer.
The included food items and basket make the roleplay more realistic. Furthermore, over 80 songs and phrases are included to keep your toddler entertained and excited. Some of those phrases feature healthy eating info as well.
---
6. Fisher-Price Classics Retro Toy Cash Register
Retro Toy Cash Register
This retro cash register has a unique design aimed at children over 2 years old. It comes with six colorful coins to teach your little one numbers and colors. Coming in five, 10, and 25 increments, the numbers on the coins match the numbers on the levers, helping with recognition and matching.
Just like old times, when the side handle is pressed, coins roll down, and the drawer opens with a ringing sound.
---
7. Shop 'N Learn Smart Checkout Toy
Great Choice for Tech-Savvy Kids
This freestanding grocery store shows a modern and colorful design, mimicking a real checkout stand and more. For kids aged 2 years and up, this comes with over 35 accessories and a real checkout screen. All food items included are scannable, just plop them on the electronic conveyor belt and check out.
An interactive application can be downloaded on Android and iOS phones, connecting to the screen through Bluetooth connection. The application gives access to five fun learning games. Last but not least, the bagging area folds to save space.
---
8. Melissa & Doug Wooden Cash Register
Durable Wooden Toy Cash Register
This well-designed toy cash register is made of wood. It should entertain any child over 3 years old — and potentially be passed to a younger sibling down the line, thanks to its durability.
An easily accessible push handle opens the cash drawer and three different coins can be placed in the machine. Alternatively, if your child's customer doesn't have cash, a credit card can be swiped.
---
9. Minnie Tique Toy Cash Register
Best Themed Cash Register
Sometimes, learning might need a little extra motivation. This Minnie Mouse cash register should be enough to get your little one counting and learning in no time.
This machine is safe to use for those aged 3 years and up. Each accessory is Minnie branded, including a heart-shaped dialing pad, screen, scanner, credit cards, and coins.
You won't find boring American bills in this game, each bill comes with a character's face from Minnie's clique. No stone's left unturned in this themed option.
---
10. Funerica Toy Cash Register
Cook n' Check
This unique set allows for several different activities. Geared towards children 3 years and up, we'd imagine this one will stay with you well into primary school.
The shopping activity includes a cash register with a real microphone, scanner, bills, coins, and a scale. A basket tops it off, because no one likes to walk through the store with full arms.
After the shopping is over, your little one can go into full chef mode. The set includes a mini stove, cutlery, pots and pans, sliceable veggies, and even a chef's hat.
---
11. Disney Princess Cash Register Toy
Fit for a Princess
Little princesses might want princess toys, and everything about this cash register is princess-friendly. For a 3-year-old and up — get ready for a magical time with this one. Decked out in pink and gold, there's no option but to go all-girl.
This extraordinary set comes with a real calculator, six heart-shaped buttons, 12 coins, and a princess credit card. An old fashioned key opens the cash drawer and a royal scanner will beep when an item is scanned.
---
Thank You For Your Feedback!
Thank You For Your Feedback!