Did you love riding a rocking horse as a kid? Do you want to bring the fun back for your little one? There's no doubt that a rocking horse is a symbol of childhood.
But they're better designed now than ever before. Now they can be plush, featuring different animals, and suitable for all ages.
So, let's have a look at why you should buy a rocking horse and what to look out for. We've also reviewed a bunch of our favorites for you to enjoy.
Image
Model
Product Comparison Table
Features
Indoor & Outdoor Play
Little Tikes Blue
50 pounds weight limit
Easy grip handles
Made in USA
Magical Adventures
Plush Real Wood Unicorn
Well-crafted
Soft embroidered details
75 pounds weight limit
Best for Girls
Labebe Unicorn Rocker
Cute and sturdy
3-side seat with belt
Soft, stain-resistant fabric
Best Talking Horse
Rockin' Rider Lucky Spring Horse
Cuddly
Durable construction
Three position stirrup
Rocking Ride
PonyCycle Horse Ride
Has brake
Easy grip handle bars
Wear-resistant wheels
Learn To Ride
Radio Flyer Champion Horse
3 levels of riding action
Built-in safety straps
Realistically designed
Best for Safety
Qaba Frog Rocker
Softly padded plush body
Smooth rocking runners
Lightweight and long-lasting
Sturdy & Sweet
Labebe Rocking Elephant
Exquisite handcraft
Award winning
Comfortable seat
Lullaby Buddy
Qaba Ride Horse
Excellent quality construction
Soft protective seat
Sing-along option
Cowgirl Or Cowboy?
Happy Trails Haley Horse
Sturdy wooden rockers
Adorable colors
17 inch high
---
---
The Best Rocking Horses of 2022
Here are 13 great rocking horses to consider.
1. Little Tikes Blue Rocking Horse
Indoor and Outdoor Play
If you've got a young toddler, you may want to consider this fantastic rocking horse. It comes fully assembled for instant fun. We love that its plastic construction is easy to clean.
It's also ideal for using indoors and outdoors. The seat has a high back to stop your child from falling backward. It's also got handles and a high front, so they can't lose their balance.
---
2. Plush Real Wood Unicorn Rocker
Magical Adventures
Let your princess go on an adventure with this colorful pink unicorn. The unicorn is plush, with the base made from durable wood. With embroidered details and seat accessories, the company didn't miss the realistic touch.
Your child can feel supported, with wooden handles to rock back and forth manually. If they prefer other animals, they can choose from a giraffe, lion, and more.
---
3. Labebe Unicorn Rocker
Best for Girls
This award-winning rocker is sure to be a win for any little princess. It's ultra-soft and has sturdy construction with a durable wooden rocker.
Your little one can sit up on the well-padded, three-sided seat, and a safety belt is also included. The plush fabric is even stain-resistant in case of accidents. The sweet accents on this rocking horse are just too cute.
---
4. Rockin' Rider Lucky Spring Rocking Horse
Best Talking Horse
For something interactive, cute, and a little bit hilarious — check out this spring talking horse. When you press the ears, the horse will sing "I'm a Little Pony," speak six different phrases and make additional sound effects. Not only that, but the mouth moves in sync with the noises, so it looks pretty realistic!
The sturdy steel frame and useful stirrups mean your child can sit comfortably on this horse and ride it 'til their heart desires. The soft plush design also means it's great for cuddling!
---
5. PonyCycle Horse Ride-on Toy
Rocking Ride
Allow your child to experience the thrill of horseback riding without the fear of their safety. This little pony designed for kids ages 3 to 5 is ready to ride, with a cushioned saddle for comfort. There are handles to help your child stay upright.
A favorite feature is its durable construction and non-wearing wheels. This makes it suitable for indoor and outdoor play, without worrying about scratches on your floor. Equipped with a hand brake, this enables your child to have full control of their ride.
There are sturdy wheels on this rocking horse, so it won't tip, even when your child goes "galloping." If your child weighs 88 pounds or less or is 4 to 9 years of age, you may opt to have a separate item still with the same quality from their shop.
---
6. Radio Flyer Champion Interactive Rocking Horse
Learn to Ride
Champion is a rocking horse that encourages imagination, making sounds, and feeling soft to touch. There's a carrot to feed Champion, who makes chewing sounds. There's also a comb to brush the mane.
The best part is that this is an interactive spring rocking horse. This means it responds to the movement. There are three riding actions: walking, trotting, and galloping. This rocking horse is solid, too, with built-in straps and a strong, sturdy base.
---
7. Qaba Frog Style Rocker
Best for Safety
Do you want to make sure your young child is safe while rocking? Check out this fun frog. It's constructed from padded and plush polyester and has a chair to relax in.
There's a safety belt included. It has a wooden base for sturdiness, and it's easy to store and move around. We also love that your child can press the frog's eyes and listen to the song. This, combined with the gentle rocking movement, is sure to get them sleepy.
---
8. Labebe Rocking Elephant
Sturdy & Sweet
If your child is young and needs support, this may be a fabulous rocker for you. The full seat has high sides to keep them upright, with a wooden frame all the way around.
Don't forget that you can soothe your child with music. Just press the ear of the cute elephant, and they can listen to the songs. There are other animals to choose from, including a crocodile, dinosaur, and more.
---
9. Qaba Kids Ride On Rocking Horse
Lullaby Buddy
One of the great things about this rocking horse is its super soft plush seat plus it has a sing-along feature your child can sing their hearts out. It's an adorably cute brown color that's all ready to ride with its saddle and bridle.
It's got a solid wood base that's excellent for rocking back and forth making it one of the most durable in the market.
Kids ages 3 and up will definitely enjoy the rocking adventure.
---
10. Rocking Haley Rocking Horse
Cowgirl or Cowboy?
Now your little boy or girl can saddle up and take the reins with their own Appaloosa horse. They can ride like they're on a ranch with this adorable grey and white speckled wooden rocking horse.
It's handcrafted with a wooden core and base, which is ideal for rocking. It's not going to flip, and you can let your child rock away without having to worry. Age 2–3 years.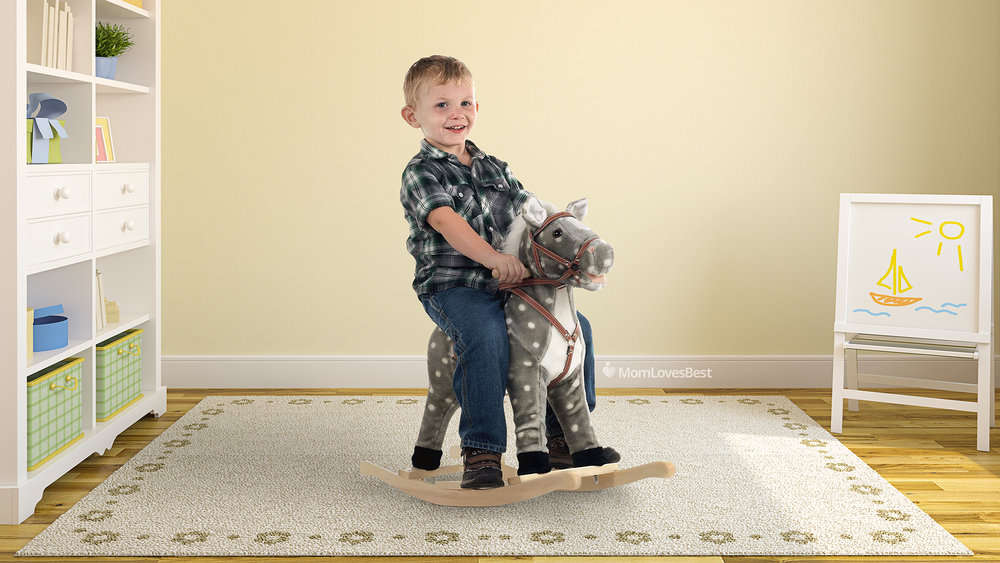 ---
11. Rocking Dagwood Dragon
The Mystical Dragon
Let your child's imagination run wild, riding this mystical dragon. Your little one can have fun making up stories. It's made from polyester, with a pine rocker.
There's some balance required for this rocker, with a recommended age of 2 to 4 years old. It's easy to climb on, though, and there are wooden handles to grip.
---
12. Hape Wooden Rocking Horse
The Traditional Rocking Horse
You can bring fond memories back to life for your kids with this traditional rocking horse. It's suitable for children as young as 10 months, up to 3 years.
It's constructed from quality wood, and the base allows for gentle rocking or galloping. There's a wide seat, accompanied by large handles to hold onto.
We appreciate the safety features. The adjustable guardrail is great for babies, alongside the backrest that can be lowered as they get older.
---
13. Qaba Brown Rocking Horse
Giddy-Up and Have Fun
The plush fur of this rocking horse could be mistaken for the real thing! Your child can feel like a professional, thanks to the saddle with stirrups and the red bandana. They can also listen to the galloping and neighing noises when they press an ear.
It has a solid metal rocker with a plush polyester body. No assembly is required.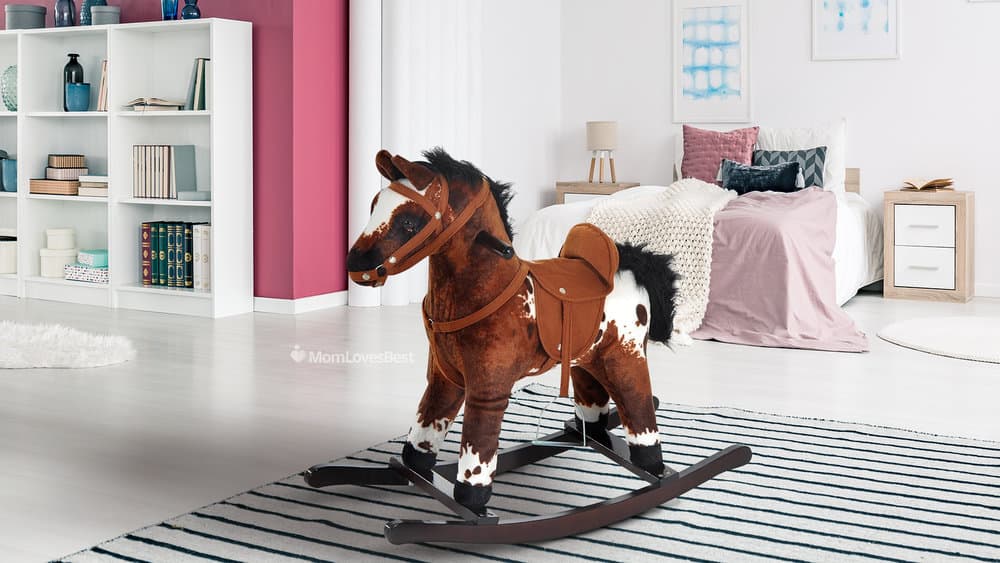 Benefits of Rocking Horses for Kids
Rocking horses are more than just fun toys. They actually offer a range of benefits for your child's development, including:
Using the leg muscles and core for balance and to improve mobility.
The rocking movement can have a soothing effect.
Encouraging creativity.
How to Choose a Rocking Horse
We've created a shortlist of things to look out for so you can choose the best rocking horse for your child.
---
Thank You For Your Feedback!
Thank You For Your Feedback!