Rocking horses have come a long way since we were young, and there are so many more options today. Some have springs, some have rockers, and some have wheels and motors. We've even tested models that talk or play music.
The choice can quickly become overwhelming, and it can be hard to know what features are necessary.
We've spent hours reading reviews and checking out dozens of rocking horses, dinos, unicorns, and even ducks. We've discovered some significant differences between models. We'll discuss what features you should look for in a rocking toy, and we'll thoroughly review the best rocking horses for kids of all ages.
Rock on!
Image
Model
Product Comparison Table
Features
Indoor & Outdoor Play
Little Tikes Blue
50-pound weight limit
Easy-grip handles
Made in USA
Magical Adventures
Plush Unicorn Rocker
Well-crafted
Soft embroidered details
75-pound weight limit
Best for Girls
Labebe Unicorn Rocker
Cute and sturdy
3-side seat with belt
Soft, stain-resistant fabric
Best Talking Horse
Rockin' Rider Talking Spring Horse
Cuddly
Durable construction
Three-position stirrup
Rocking Ride
PonyCycle Horse Ride
Has brake
Easy-grip handle bars
Wear-resistant wheels
Learn to Ride
Radio Flyer Champion Horse
3 levels of riding action
Built-in safety straps
Realistically designed
Best for Safety
Qaba Frog Rocker
Softly padded plush body
Smooth rocking runners
Lightweight and long-lasting
Sturdy & Sweet
Labebe Rocking Elephant
Exquisitely handcrafted
Award-winning design
Comfortable seat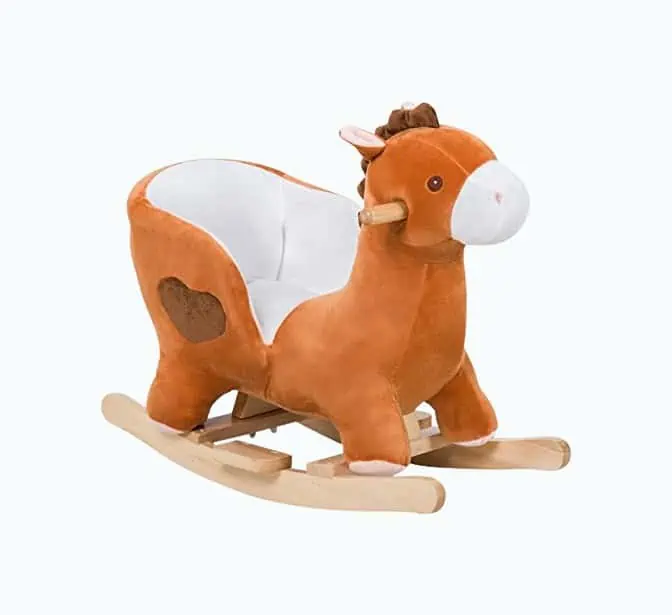 Lullaby Buddy
Qaba Ride Horse
Excellent quality construction
Soft protective seat
Sing-along option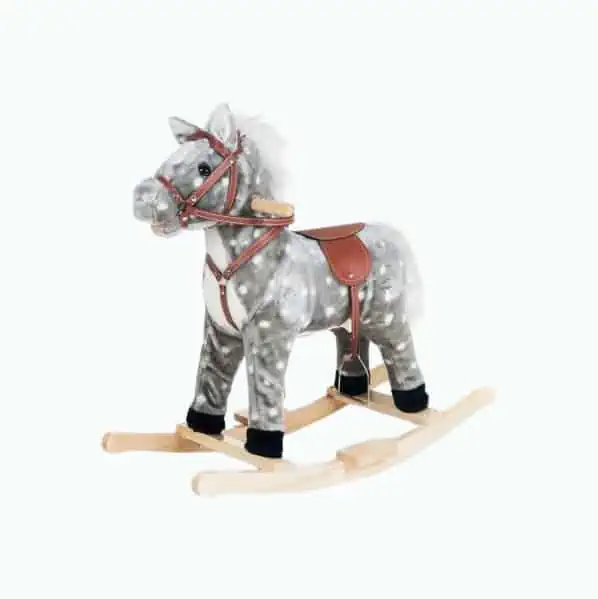 Cowgirl Or Cowboy?
Happy Trails Haley Horse
Sturdy wooden rockers
Adorable colors
17-inch height
Review Methodology: At Mom Loves Best, our thorough analysis, hands-on experience, and professional evaluation of rocking horses ensure that you receive accurate and reliable information. We compare various products based on essential criteria such as safety, durability, design, and age-appropriateness to rank the best rocking horses in the market. Our assessment is based on data, research, and first-hand evidence from real users to provide you with a comprehensive review. We measure the performance of each rocking horse and identify key decision-making factors that set them apart from their competitors. By sharing our findings, we help you choose the right rocking horse for your child that meets the highest standards of quality and enjoyment.
---
---
The Best Rocking Horses of 2023
Here are 13 great rocking horses to consider.
Little Tikes Blue Rocking Horse
Indoor and Outdoor Play
If you have a young toddler, you may want to consider this classic rocking horse. It comes fully assembled for instant fun. We love that its plastic construction is easy to clean.
It's also ideal for indoor and outdoor use. The seat has a high back to stop your child from falling backward. The handles are easy for small hands to grip, and it has a high front, so they can't lose their balance. When my kids were young, they spent hours trying to rock this horse over, but I can confirm that it's tip-proof — and a lot of fun!
Community Feedback
I'm impressed by this classic rocking horse designed specifically for young toddlers. Its sturdy plastic construction allows for both indoor and outdoor use, and the high back seat, easy-to-grip handles, and tip-proof design provide a safe and enjoyable experience. Not only is it fully assembled and ready for instant fun, but it's also a breeze to clean, making it a fantastic choice for busy parents and energetic little ones.
---
Animal Adventures Plush Unicorn Rocker
Magical Adventures
Let your princess go on an adventure with this colorful pink unicorn. The unicorn is plush, with the base made from durable wood. It has embroidered details and seat accessories; the company didn't miss the realistic touch.
The wooden handles and comfortable, wide seat will help your child feel supported as they rock back and forth manually.
Community Feedback
After purchasing this rocking horse, I found the quality to be slightly underwhelming considering the price. However, my child absolutely adores the cute and lovable unicorn design, and it's lightweight which makes it easy for them to play with. Although it would be better if made from a more durable material like wood or hard plastic, it's still a fun toy that brings joy to both my child and their older sibling.
---
Labebe Unicorn Rocker
Best for Girls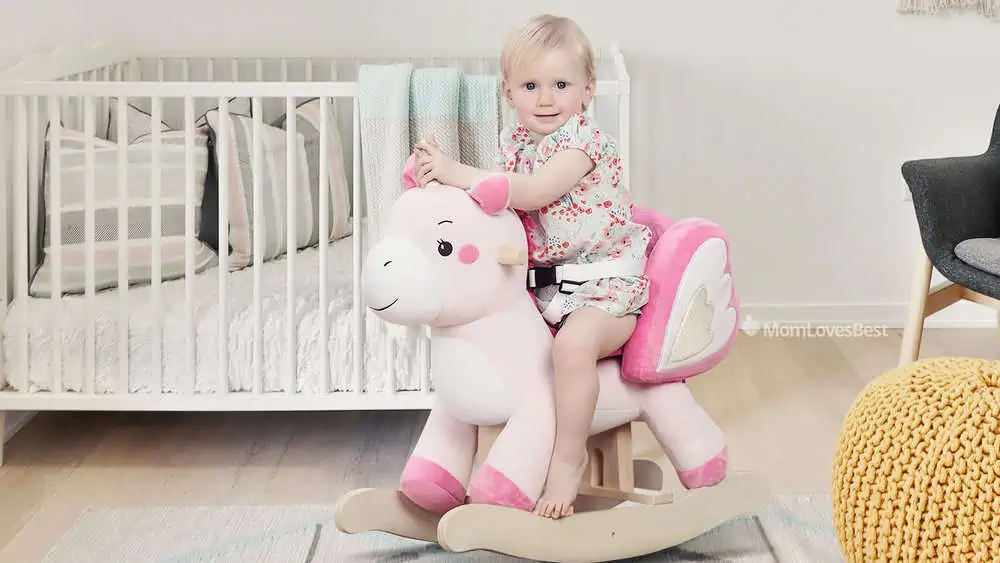 This award-winning rocker is sure to be a win for any little princess. It's ultra-soft and has sturdy construction with a durable wooden rocker.
Your little one can sit on the well-padded, three-sided seat, and you can fasten them in with the safety belt for added security. The plush fabric is even stain-resistant in case of accidents. The sweet accents on this rocking horse are just too cute.
Community Feedback
This unicorn rocker is beautifully designed, with smooth finishes and a sturdy build. However, it can easily topple if a child leans or tilts, even when buckled in, so it's essential to supervise your child while they use it. The soft, smooth rocking and added details such as squeaks, rattles, and crinkles make it an enjoyable and engaging toy. Although assembly had a few minor issues, overall, this unicorn rocker is a charming and well-loved gift for young children, but caution is advised during use.
---
Rockin' Rider Talking Spring Horse
Best Talking Horse
For something interactive, cute, and a little bit hilarious — check out this spring horse that talks. When you press the ears, the horse will sing "I'm a Little Pony," speak six phrases and make additional sound effects. Not only that, but the mouth moves in sync with the noises, so it looks pretty realistic!
The sturdy steel frame and useful stirrups mean your child can sit comfortably on this horse and ride it as long as their heart desires. The soft plush design also means it's great for cuddling.
Community Feedback
I recently bought this toy horse for my toddler and they absolutely love it! The horse has a soft coat and a gentle appearance, making it look more realistic than other options in the market. However, I was disappointed that the batteries were dead on arrival and the carrot eating sound feature didn't work as expected. This horse is quite large, which can be a pro or a con depending on your space, but overall it's a well-made, sturdy toy that provides hours of fun for the little ones.
---
PonyCycle Horse Ride-on Toy
Rocking Ride
Allow your child to experience the thrill of horseback riding without the fear of their safety. This little pony is ready to ride with a cushioned saddle for comfort. The handles help your child stay upright while they use their legs to "pump" the horse into a galloping motion. They'll be havin so much fun, they won't even realize they're exercising!
Our favorite features are its durable construction and non-wearing wheels. This makes it suitable for indoor and outdoor play, and you don't have to worry about scratches on your floor. Equipped with a hand brake, this enables your child to have full control of their ride.
There are sturdy wheels on this rocking horse, so it won't tip. This size is suitable for 3-year-olds to 5-year-olds weighing up to 55 pounds. However, you can also choose from two larger sizes, one for kids ages 4 to 9 and weighing less than 88 pounds, or one for kids over age 7, weighing up to 176 pounds. These quality horses provide fun for the whole family!
Community Feedback
I'm thrilled with the quality and entertainment value of this toy horse for my young daughter who treats it like a real horse and has a feeding schedule for it. The assembly was easy, and it quickly became a favorite toy for daily use amongst my kids, including my two-year-old grandson who learned to ride it rapidly. It's sturdy enough to withstand rough play from kids aged 2 to 6 and doesn't damage wooden floors, making it perfect for indoor use. The only minor drawback is the noise box, which can be challenging to access, but overall, this horse provides immense joy and fun for the little ones.
---
Radio Flyer Champion Interactive Rocking Horse
Learn to Ride
Champion is a rocking horse that encourages imagination, makes sounds, and feels soft to the touch. Your little one can feed Champion the included carrot and listen while he makes chewing sounds. They can also use the comb to brush its mane.
The best part is that this is an interactive spring rocking horse. This means it responds to the movement. There are three riding actions: walking, trotting, and galloping. This solid rocking horse has built-in straps and a strong, sturdy base.
Community Feedback
Definitely a fun and nostalgic gift for our grandkids, this jumping horse has been a hit in our family for generations. The updated version has entertaining sound effects and yarn hair, adding to the overall experience. Assembling it can be a bit challenging, requiring two people and some adjustments to the holes for attaching the head. Despite the assembly effort, the joy and hours of playtime this horse provides make it a worthwhile investment.
---
Qaba Frog Style Rocker
Best for Safety
Do you want to ensure your young child is safe while rocking? Check out this fun frog. It's constructed from padded and plush polyester and has a chair to relax in.
There's a safety belt included. It has a wooden base for sturdiness, and it's easy to store and move around. We also love that your child can press the frog's eyes to hear a soft lullaby. This, combined with the gentle rocking movement, is sure to get them sleepy.
Community Feedback
Got this frog rocker for my kids and they absolutely love it! It fits all of them perfectly and is very stable, with the full rocking height being only about 5 inches. The angle stops on both ends make sure it doesn't tip too far, and the strap keeps them secure. One downside is that the music box is a bit low and static, but the hand puppet in the front pocket adds extra fun. This rocker is sturdy, bright, and cute, making it an inviting toy for the little ones.
---
Labebe Rocking Elephant
Sturdy & Sweet
If your child is young and needs support, this award-winning elephant may be a fabulous rocker for them. The full seat has high sides to keep them upright and a wooden frame that runs all the way around.
Don't forget that you can soothe your child with music. Just press the ear of the cute elephant, and they can listen to the songs. The elephant comes in a pink or blue option, and there are many other animals to choose from.
Community Feedback
Love how this rocking horse is not only adorable, but also well-constructed and safe for my little one. My 1-year-old niece absolutely adores it, and the side panels and seat belt provide an extra sense of security. The assembly was fairly simple, though using an Allen key with screws was slightly inconvenient. On the other hand, I noticed some minor imperfections in the stitching and foam, but they don't detract from the overall quality. Lastly, I do wish there were rubber pieces on the underside of the rocker to prevent it from moving too much during enthusiastic playtime.
---
Qaba Kids Ride On Rocking Horse
Lullaby Buddy
One of the great things about this rocking horse is its super soft plush seat. It also has a sing-along feature, so your child can sing their heart out. It's an adorably cute brown color and is all ready to ride with its saddle and bridle.
The solid wood base is excellent for rocking back and forth, making it one of the most durable on the market.
Kids ages 3 and up will enjoy the rocking adventure.
Community Feedback
Great purchase for my younger grandchild, as this rocking horse is soft and helps with balance while providing a wide seat and backrest for support. However, it lacks a seat belt or harness to secure the child, so I had to buy one separately. Additionally, the horse sound button was nonfunctional, and the footrest placement could be more comfortable, but overall, the design is appealing and my grandchild enjoys it.
---
Rocking Haley Rocking Horse
Cowgirl or Cowboy?
Now your little one can saddle up and take the reins with their own Appaloosa horse. They can ride like they're on a ranch with this adorable grey and white speckled wooden rocking horse.
It's handcrafted with a wooden core and base, ideal for rocking. It's not going to flip, so you can let your child rock away without having to worry. This model is designed for kids ages 2 to 3 years.
Community Feedback
This rocking horse has an attractive design and the style and colors are perfect for a baby or child's play room. My 3-year-old was initially excited about it, but it almost flipped over when rocked too much, so safety may be a concern. Additionally, my 9-month-old and some other young family members were actually frightened by it. The wood could use better sanding, and there was an issue with one of the screws being broken, but overall, it appeared sturdy. My 13-month-old does enjoy riding it occasionally, and it was a well-received gift for a young family friend. However, it's important to consider that some children may need time to get used to it, and rocking them manually might be a bit tiring.
---
Rocking Dagwood Dragon
Best for Boys
Let your child's imagination run wild as they ride this mystical dragon. Your little one can have fun making up stories and going on adventures. It's made from polyester and has a pine rocker.
There's some balance required for this rocker, with a recommended age of 2 to 4 years old. However, it's easy to climb onto and has wooden handles to grip.
Community Feedback
I purchased this dinosaur rocker as a gift for my 1-year-old nephew, and it has quickly become a favorite toy in his dinosaur-themed room. Its smaller size and limited rocking range make it perfect for younger children learning to stand and improving their stability. Although assembly was a bit challenging due to some misaligned screw holes, the quality of the materials is good, with a soft, adorable design and durable construction that has withstood daily use. While the height of the rocker may be too short for older kids, it is an excellent option for toddlers and provides great value at an affordable price.
---
Hape Wooden Rocking Horse
The Traditional Rocking Horse
You can bring fond memories back to life with this traditional rocking horse. It's suitable for children from as young as 10 months up to 3 years.
It's constructed from quality wood, and the base allows for gentle rocking or galloping. There's a wide seat accompanied by large handles to hold onto.
We appreciate the safety features. The adjustable guardrail is great for babies, alongside the backrest you can lower as your little one get older.
Community Feedback
Best wooden rocking horse I've purchased for my little ones! It was easy to assemble and my 10-month-old son started playing with it almost daily, quickly learning to crawl on and off by himself. The simple design and durable quality make it a classic, and even older kids seem to enjoy playing with it when they visit. However, for taller or more active children, the rocking might be too minimal, taking some fun out of it.
---
Qaba Brown Rocking Horse
Giddy-Up and Have Fun
The plush fur of this rocking horse is so soft it could be mistaken for the real thing! Your child can feel like a professional, thanks to the saddle with stirrups and the red bandana. They can also listen to the galloping and neighing noises when they press an ear.
It has a solid metal rocker with a plush polyester body, and it comes fully assembled.
Community Feedback
I recently purchased this rocking horse for my 5-year-old grandson, and it was a breeze to assemble. The color, rockers, and easy on and off make it enjoyable for him to play with, although it felt a bit flimsier compared to another one we bought for his younger cousin. The only downside was the missing stick for holding onto while riding, but despite the minor setback, my grandson is over the moon about his new toy.
Benefits of Rocking Horses for Kids
Rocking horses are more than just fun toys. They offer a range of benefits for your child's development:
Using the leg muscles and core for balance and to improve mobility.
The rocking movement can have a soothing effect.
Encouraging creativity.
How to Choose a Rocking Horse
When evaluating the quality of rocking horses, we have some specific criteria we look for. The horse (or other animal) must be sturdy and stable, able to withstand rough play and last for years, and it needs to offer extra security features. We also appreciate if it's affordable, attractive, and has a good amount of "rock" to it.
We'll expand on these criteria to help you choose the best rocking horse for your child.
---
Thank You For Your Feedback!
Thank You For Your Feedback!