Too many people start shopping for walkie-talkies without understanding what makes a decent system.
These are the criteria we always look for when shopping for the best walkie-talkies for kids: a good range, safety features, enough channels, high-quality sound, and a battery system that won't need to be replaced constantly.
We've created this list of quality walkie-talkies for kids to make things super easy for you, so you can rest assured you won't end up with unusable units.
Check out our product reviews and learn more about how to choose the perfect set.
Image
Model
Product Comparison Table
Features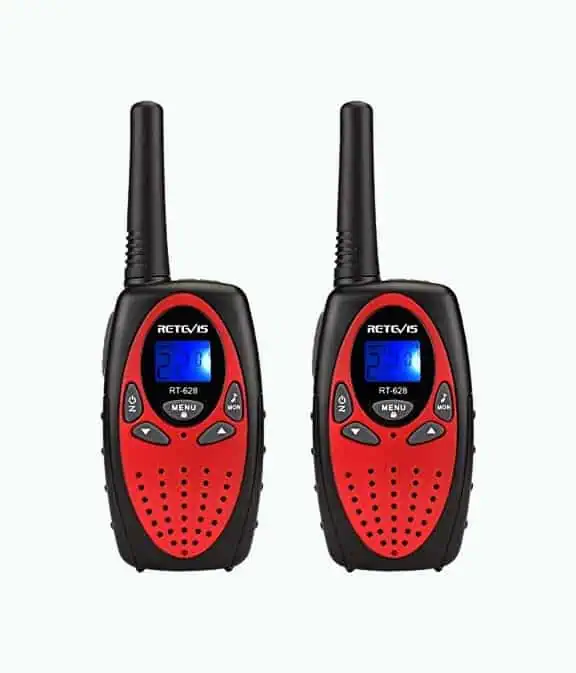 Best Rechargeable
Retevis Kids
Fully rechargeable
Batteries included
Built-in LED flashlight
Great for Trios
Tintec 3-Pack
CTCSS privacy system option
Clear connection
Auto power saver
Best Budget Pick
Wishouse Walkie Talkies
Great value for the money
Built-in flashlight
Three to six mile range
Great for Talkative Toddlers
Obuby Walkie Talkies
Compact and waterproof
22 separate channels
Crystal-clear sound quality
Best for Twins
Connecom Walkie Talkies
Access to FRS band
9 channels and auto shutdown
Clear sound quality
Review Methodology: At Mom Loves Best, we strive to provide you with the most comprehensive analysis and evaluation of the best kids walkie talkies on the market. Our team of experts conducts extensive research, comparing various models based on criteria such as range, durability, ease of use, and battery life. We also gather first-hand user experiences, data, and performance measurements to ensure an accurate assessment. Our hands-on approach allows us to rank and review products, highlighting key decision-making factors, design choices, and what sets a product apart from its competitors. Trust Mom Loves Best to help you make an informed decision on the perfect walkie talkie for your child's needs and adventures.
---
---
The Best Kids Walkie Talkies of 2023
These are our favorite 5 walkie-talkies for kids.
Retevis Kids Walkie Talkies
Best Rechargeable Walkie Talkies
Are you tired of constantly buying batteries? If you use your walkie-talkies often or have children who can't remember to turn them off, you may want something that's rechargeable.
It's easy to discount the expense of repeatedly purchasing batteries when shopping for walkie-talkies. But batteries are expensive, and many don't have a long life. This rechargeable set is designed for children.
You can choose from three color schemes: a fun pixelated camo print, light blue, or vibrant pink. These units come with a charging cable and plug and a rechargeable battery. Everything is included in the purchase price.
The units have a keypad, which helps prevent your child from accidentally altering the preset settings. A backlit LCD screen allows for easy use, even when the lights are out. There's also a built-in flashlight.
These incredible devices are made to withstand accidental drops or falls. You and your kids can choose from 10 different call tones, and they can be used in a hands-free mode. They're also equipped for headphone use.
This set also includes belt clips for when you need a free hand. The manufacturer offers a 90-day warranty and a 30-day, no-questions-asked return policy.
Pros
Fully rechargeable.
Everything included — even the rechargeable batteries.
Manufacturer's warranty.
Cons
Shorter range than some others — up to 9000 feet.
Complicated for younger children to use.
Our Ratings
Community Feedback
Got these walkie-talkies for my great-granddaughters, and they've been a hit with the kids. The sound quality is impressive, and they work well throughout the house, but I did find the call button placement on the front a bit awkward. My young granddaughter was able to learn how to use them quickly, which was a pleasant surprise. One downside is that the batteries don't always hold a charge, but luckily they're rechargeable. Just be sure to read the small-font manual for important safety information, and maybe consider an external earpiece to lower the volume for games like hide and seek.
---
Tintec 3-Pack Walkie Talkies
Great for Trios
This three-pack of walkie-talkies is an excellent option if you have more than two children or want in on the fun. It offers 22 different channels for your kids to use, ensuring there will be at least one frequency that works for them.
In addition to the 22 primary channels, there are sub-channels available. Your children will enjoy up to 3 miles of uninterrupted wireless communication. This set also has a privacy system (Continuous Tone Coded Squelch System or CTCSS) that helps protect your children from outside interference.
These units are user-friendly. They're compactly designed and perfect for small hands. Also, they're hardy and can withstand falls up to 4 feet.
They're also easy to operate, even for young children. A simple push-to-talk system will have your little ones communicating with ease.
Each device is a different, bright color and has lots of appeal for children. As a bonus, they'll be less likely to misplace them. The units run on four AAA batteries. A power button will help preserve the life of your batteries when not in use.
Pros
CTCSS privacy system option with 99 low-frequency tones prevents outside interference.
Clear connection without any static.
These can be used with other walkie-talkies on the same channel.
Built-in flashlight backlit.
Cons
This set doesn't include batteries.
Battery life is short-lived — with three walkie-talkies using four AAA batteries each, you may be using a lot of batteries regularly.
Our Ratings
Community Feedback
I've enjoyed using this three-pack of walkie-talkies with my kids, and they're perfect for small hands. The 22 different channels and CTCSS privacy system ensure a clear connection and protection from outside interference. These walkie-talkies are user-friendly with a push-to-talk system, and their bright colors make them visually appealing to children. However, be prepared for frequent battery replacements, as they run on four AAA batteries each and have a short battery life.
---
Wishouse Walkie Talkies
Best Budget Walkie Talkies
This is a great purchase for the budget-conscious. Do you have a child you think will tire of walkie-talkies quickly, or do you want to try a set out with little risk? This walkie-talkie set might be best for your kids.
Not only are these great from a budget standpoint, but they're also attractive and available in a variety of colors. This set boasts a 3-mile range within the neighborhood and up to six miles in open fields or waters. There are 22 channels, so you can find the ideal frequency. It's simple to use with a push-to-talk button and suitable for even young children.
These walkie-talkies have several additional features. The built-in flashlight is a great addition for camping or evening activities. There's also a hands-free talking option, a low-battery alert, and a battery-saving option.
You'll also love the adjustable volume control. Your units will remember your presets even after they've been powered down and restarted.
These walkie-talkies are also FCC-certified. They're also equipped with a CTCSS system that prevents outside interference.
Pros
Great value for the money.
Equipped with a built-in flashlight.
Full of great features, including a privacy function.
Range of up to six miles.
Our Ratings
Community Feedback
Bought these walkie talkies for my grandkids aged 6 to 10, and they absolutely loved them! The range is impressive, allowing for clear communication even through thick concrete walls and across the neighborhood. These walkie talkies are easy to use, hold a good charge, and come in fun colors that the kids enjoy.
---
Obuby Walkie Talkies
Great for Talkative Toddlers
If you're shopping for walkie-talkies for very young children, you need something that will withstand toddler tantrums and accidents. This Obuby set can be a great choice for your young ones.
Though it's designed for young children, it still has a great range of up to three miles in an open field. Your child should have no problem using this set from room to room or in the backyard.
These devices are vibrantly colored, so you'll find them quickly, even in an overflowing toy box. The set comes with three walkie-talkies so you can join their little conversations.
With minimal buttons and an easy-to-use interface, even young children can easily navigate using it. The smaller size is perfect for little hands.
This set is also equipped with the CTCSS system, which works to keep your children safe. It has 22 channels, which is both good and bad news.
The good news is your children have more than enough channels for selection. The bad news is they may manage to click away from their channel and find it challenging to make their way back quickly.
These walkie-talkies run on AAA batteries. And the units have quality sound for your little ones — clear without any distortion.
Pros
A great design for young children — functional without being complicated.
Small enough for little hands.
Long-range capabilities and high-quality sound.
Cons
No charging option means you may be replacing batteries often unless you buy a rechargeable battery.
Too many channels may be a bit confusing to navigate.
Our Ratings
Community Feedback
I've been using these walkie-talkies with my kids, and they've been a lot of fun. They're easy to use with clear instructions and a lock option to prevent kids from accidentally changing settings. The sound quality is good, and they've been durable so far despite being dropped several times. However, the range is not as far as advertised, and they require 4 AAA batteries each, which can drain quickly.
---
Connecom 2-Packs Walkie Talkies
Best for Twins
This walkie-talkie set is an excellent option for twins or for setting off on an adventure with multiple groups of kids. The additional walkie-talkies can come in handy.
It's not just about the extra walkie-talkies, though. These units also sport several features your group will love. They're easy to use and have battery-saving options.
The walkie-talkies are highly durable with their drop-resistant feature. Moreover, there's a channel lock to facilitate use and noise reduction. They also have a call alert, so you'll always know when someone is trying to reach you.
Each unit requires three AAA batteries which aren't included in the purchase. They'll provide you with long hours of continuous use. You can expect up to a 3-mile range in an open space, and the sound quality is crisp and clear without static or distortion.
Pros
Compact and attractive design.
Nine channels and auto shutdown function.
Clear sound quality.
Cons
Batteries are not included.
Our Ratings
Community Feedback
I recently purchased these walkie-talkies for my kids, and they have quickly become a favorite toy in our household. The sound quality is clear, and the range reaches an impressive distance—even down the street. Although AAA batteries are not included, a screwdriver is provided for easy battery cover installation. A convenient lock function prevents younger children from accidentally changing channels, making it user-friendly for all ages.
How to Choose Walkie-Talkies for Kids
Ready to bring home a set of walkie-talkies for your children? There are a few questions you'll probably be asking yourself while searching:
Things to Keep in Mind
Walkie-talkies can be an excellent option for your children. However, some safety precautions should be taken when introducing them to your children. (1):
Remind your children of existing boundaries: Yes, having walkie-talkies can give your child a sense of freedom. But it's important to remind them you have rules in place for a reason. Make sure they know where they're allowed to go.
Consider walkie-talkies with privacy code options: These models will help keep your children safe. If you're in a highly-populated area where you feel outside interference may happen, it's worth considering.
Go over basic safety protocols: Remind your children not to talk to strangers and always report back to you if they feel unsafe.
---
When and Where to Use Walkie Talkies
If you're not sure exactly how your kids will use their walkie-talkies, we have some fun ideas to get you going:
Nature stakeouts: Pick different ends of the yard, and settle in for some serious nature-watching. Your children can report what they see — and you can join in on the fun.
Bedtime shenanigans: Go ahead and let them think they've got one up on you by turning to the walkie-talkies after lights out. You may be surprised how a few extra minutes of giggling can add to their day. And you can communicate with them without heading to their room every time they call.
Hide and seek: Add a new element of fun to your games of hide and seek. Like Marco Polo, your kids can give instructions, or "hot" and "cold" designation, to determine location.
Pretend: Are your children going on a dinosaur safari? Are they tracking down supervillains? Your kids will devise endless ways to tap into their creative side while using their walkie-talkies (2).
---
Thank You For Your Feedback!
Thank You For Your Feedback!