Feel guilty when the kids are staring at screens but you've run out of easy game ideas? Here are 19 fun, simple and inexpensive activities – no electronics required!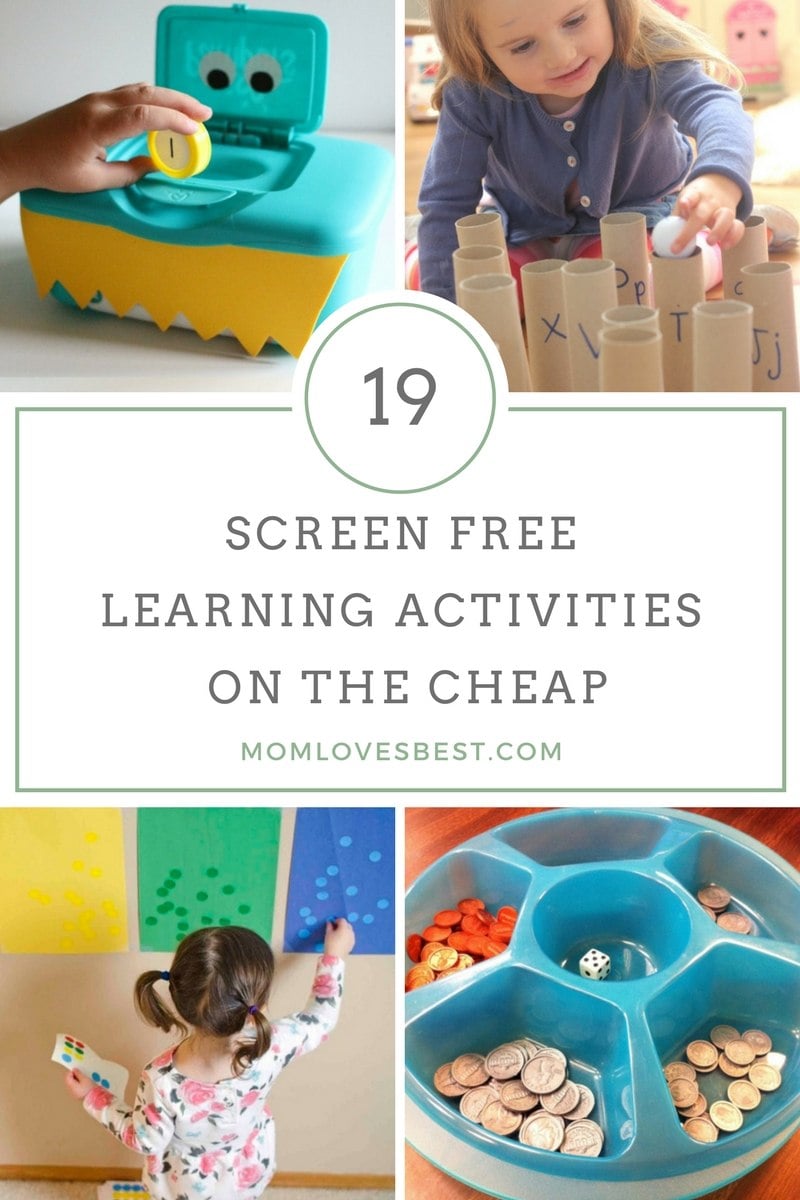 1. Feed the letter monster
From I Can Teach My Child
Monster is hungry for tacos! (Put in "t".)
Now monster is hungry for blueberries! (Put in "b".)
2. Tons of color sorting possibilities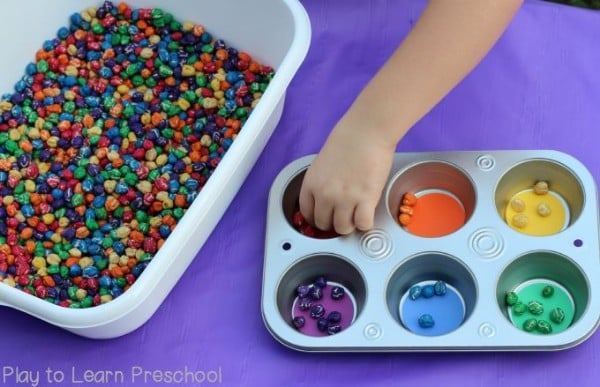 From Play to Learn Preschool
Perfect for colored cereals and candy, but also for paper clips, hair elastics, broken crayons, etc. Try incentivizing the activity with a reward when it is complete.
3. Magnetic letter games
From Bloglovin'
Start with letter matching and move on to words, even sentences!
4. Can't find those ubiquitous fridge letters ANYWHERE?
From Semiproper
Make your own with – guess what? – cheap materials!
5. Get the kids moving with jumping games
From Simple Play Ideas
This clever game has tons of variations: letters, colors, numbers, shapes. Make it even more fun by playing it Twister style! Too yucky outside? Grab a roll of easel paper.
6. Learn numbers 1-75 with free printable Bingo cards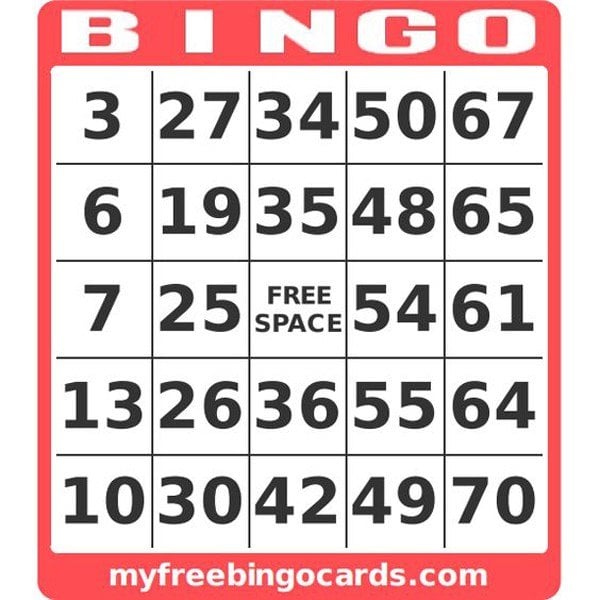 From My Free Bingo Cards
Dot markers make great Bingo dobbers, but a plain old marker works, too. And there's no need for a ball cage, just write the B1-B15, I16-30, N31-45, G46-60, and O61-75 with a permanent marker on those cheapo aquarium gem stones you can buy anywhere and toss in a ziplock bag.
7. Turn Easter eggs into egg shakers for the littles
From Coffee Cups and Crayons
We shake them up high, we shake them down low, we shake them in the middle,
We shake them by our ears, we shake them by our toes,
We shake them in the corner/by something red/at the chair,
You get the idea!
Fill your eggs with rice, beads, or dried beans, and hot glue the middles together.
8. Keep 'em busy for hours helping Mommy sort these stickers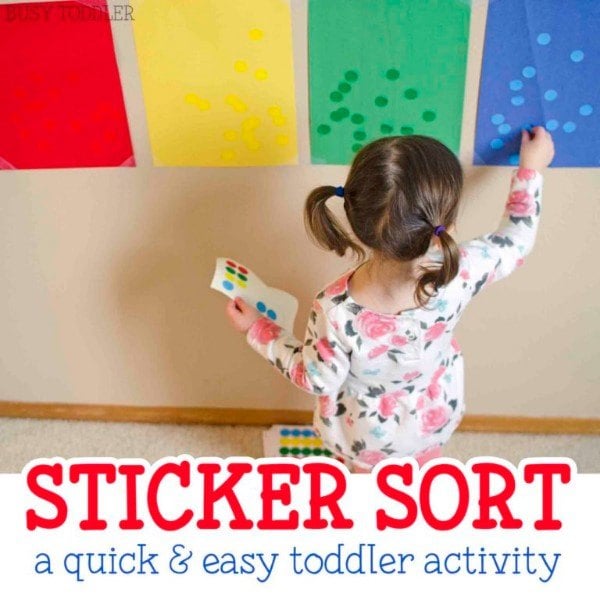 From Busy Toddler
What a load off Mommy's shoulders to have someone sort all these stickers for her!
9. Create your own flashcards
It's AMAZING how much a child can learn with a little positive reinforcement and some cheap index cards. Start with letters and move on to words. You can even teach them advanced vocabulary words with definitions or drawings on the back.
10. Pass the Note game for beginning readers
This is my daughter's favorite game. We sit on opposite sides of a door with pens and communicate with messages pushed under the door. This is especially great if you sit on the side of the door where the TV is.
11. Learn about color mixing in the tub with easy homemade paint
From 366 Days of Pintrest
Mix up primary colors in small containers or on a divided plate. Let them discover what happens when they mix them all over the sides of the tub. (Avoid painting on tiled walls as the colors can stain grout.)
12. This brilliant Race to 25 Cents game
From Mrs Prince and Company
Kids roll the dice and get the corresponding amount of pennies and/or a nickel. First person to 25 cents wins! For older kids add some more dice and let them trade smaller coins for quarters in the race to one dollar. Find the snack divider at the dollar store.
13. Learn how to tell time with this genius matching game
From Mom to 2 Posh Little Divas
Now you've repurposed your Easter eggs into shakers and a matching game! You're practically saving the world!
14. Develop those little IQs with this great puzzle game
From Playdough to Plato
Download the free printables or make your own with a simple Google image search and a basic layout program. No color printer? Have the kids color the pictures before you cut them!
15. Modify the rules of board games you already have
There are tons of ways to do this (it could be a whole other list), but here is one of my favorites. The game comes with letter and category cards. My daughter picks a letter and I pick a category (or make one up). For every word she comes up with she moves ahead one space.
16. Ping pong ball drop game
From The Imagination Tree
Use old wrapping paper tubes and ping pong balls (search Amazon for beer pong balls, they're way cheaper) to create this fun matching game.
17. The "Bring Mommy" game
From Pixabay
One of my all-time favorites, this game can be played from the couch! Kids bring Mommy something that is blue, something that starts with "C," something that is shaped like a circle, and so on. Game play cannot continue until last object is put away! (Sometimes I give my daughter an M&M for every correct object she brings me, just to make the game last longer!)
18. Develop motor skills by making colorful pasta necklaces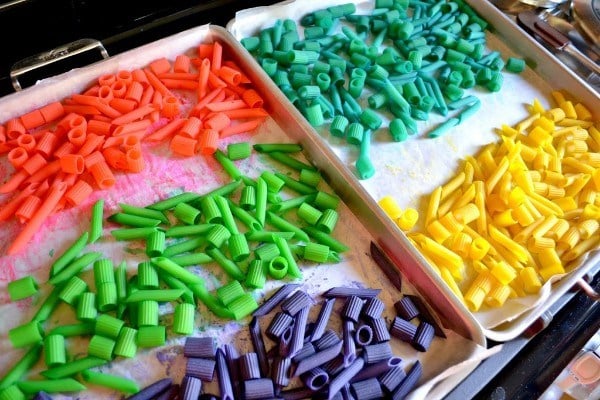 From Hello Splendid
Tie a noodle to one end of a piece of string or yarn. On the other end, roll a bit of glue around to keep the yarn from fraying. My favorite pasta for this activity is ditalini.
19. Or if you don't feel like dying pasta...
You can buy oodles and oodles of pony beads on Amazon or at the craft store for next to nothing.
Have you ever thought of a brilliant activity idea? Did it turn out great or was it a total fail? We'd love to hear your ideas and stories!