Is your child a big fan of spy movies? Are you now on the hunt for the best spy gear for kids? Then you've come to the right place.
Spy gear such as binoculars, night vision goggles, and walkie-talkies are excellent for encouraging active play, and the options abound for older children. But we've also faced the frustration of trying to find spy gear for our younger mystery lovers. It's not easy!
So we put our own detective skills to the test and hunted down the best spy gear for kids of all ages — and we found something for everybody! The toys on our list will build your child's reasoning and problem-solving skills while still being entertaining, durable, and age-appropriate.
These kid-friendly toys are sure to excite your detectives-in-training and help them solve their next big mystery.
Image
Model
Product Comparison Table
Features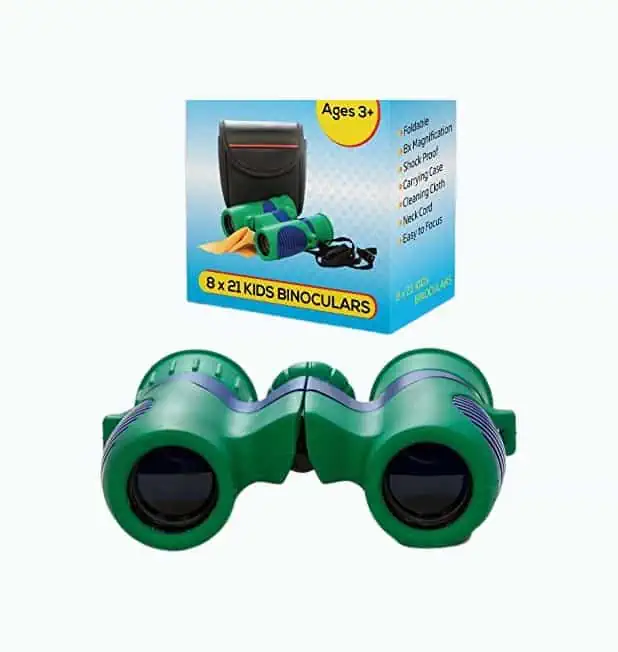 Best Binoculars
Kidwinz Shock Proof
High-resolution image with 8x zoom
Extra accessories included
Lifetime warranty
Best Spy Disguise
Melissa & Doug
Great spy costume
Good-quality fabric and construction
Fun spy tools included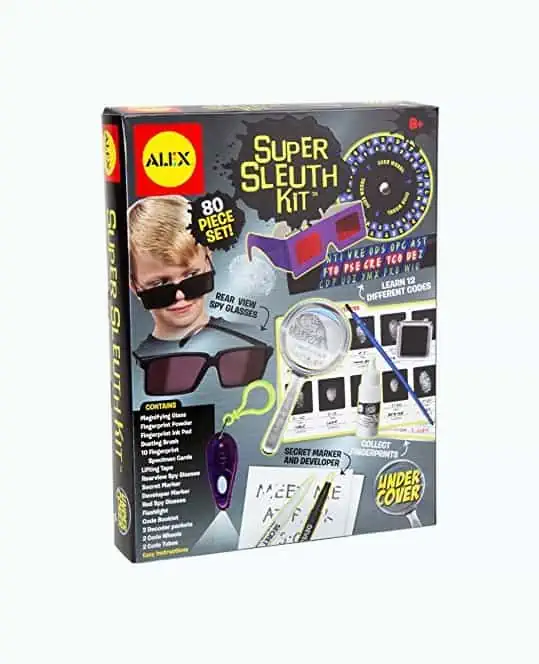 Best Mystery Kit
Alex Toys Sleuth
Lots of codes to uncover
Helps build academic skills
Variety of spy gears included
Best Party Favors
Invisible Ink Pen
Includes batteries
Long-lasting pens
Great value for money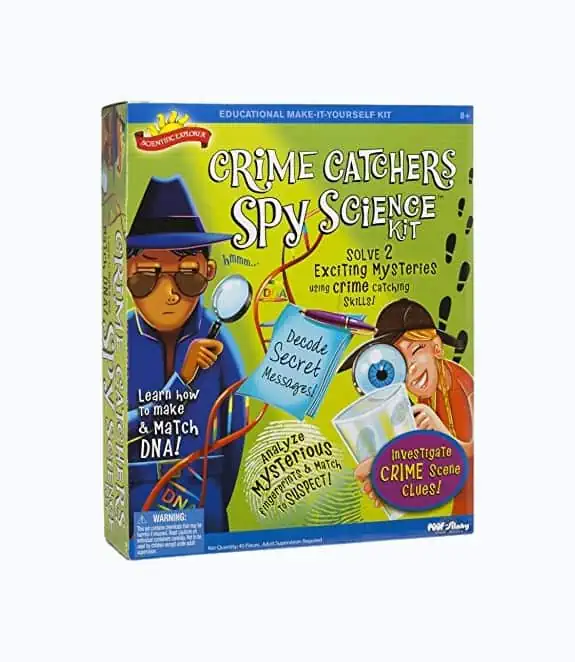 Best Scientific Spy Kit
Scientific Explorer
Educational crime-solving kit
Based on real techniques
Mysteries and activities provided
Best Travel Set
Alex Toys Undercover
Dr Toy's best vacation products winner
All spy equipment included
Encourages imagination & learning development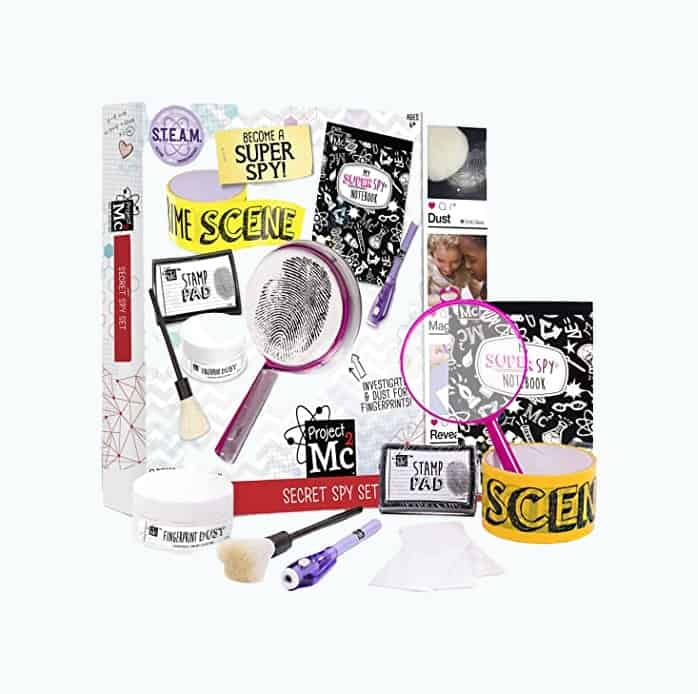 Best for Modern Girls
Project Mc2
Cleverly disguised spy gear
2-in-1 dust powder & makeup combo
Good-looking, stylish bag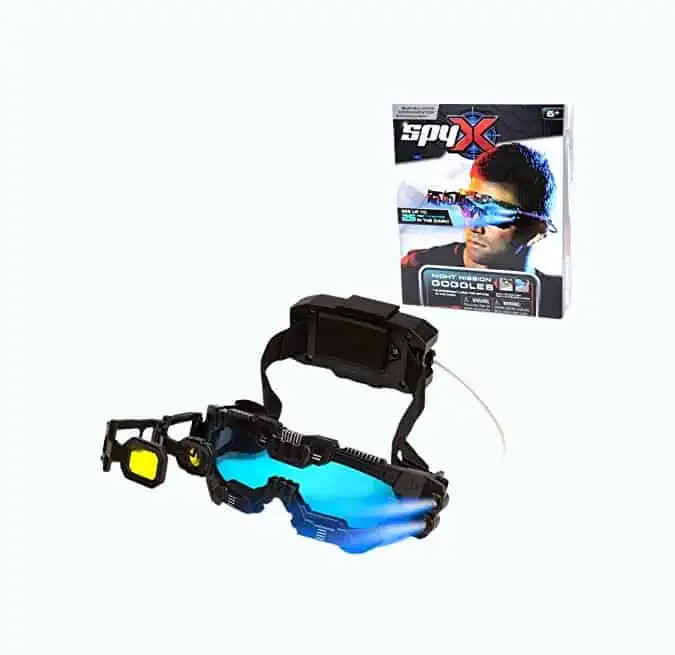 Best Night Vision
SpyX Gear Goggles
Great for navigating in dark rooms
Magnifying scope
Strong LED lights
Best for Teamwork
BWacky Spy Glasses
Trendy-looking glasses
Rearview mirror effect
UV protection
Best Spy Game
Secret Agent Maze
Play with the light on or off
Plenty of missions
Interactive play
---
---
The Best Kids Spy Gear of 2023
Whether you want a simple, single-function toy or a multi-purpose kit, we've got you covered.
Here our top picks for some cool spy gear for kids.
Kidwinz Shock Proof Binoculars
Best Binoculars for Spies
Spy work involves a lot of watching the target from a distance. Binoculars are essential to get the best view. These high-resolution binoculars from Kidwinz are an excellent example.
The binoculars may look rather ordinary. But you'll appreciate that they're shockproof and suitable for children aged 3 to 12.
One reason these binoculars are amazing for spying is the high-resolution image they produce. They're fitted with a high-quality prism that enhances the sharpness and colors.
Another great plus is all the extra padding around the eye area. This makes the binoculars more comfortable for children to use. Your budding detective also receives a carry bag, a strap, a cleaning cloth, and instructions.
Pros
High-resolution image with 8x magnification.
Rubber coating to reduce the risk of damage.
Extra accessories included, like a carry bag.
Lifetime warranty.
Cons
It can be a little difficult for children to get the binoculars to focus.
Our Ratings
---
Melissa & Doug Spy Costume Set
Great Spy Disguise
Every spy needs a disguise, but unfortunately, few are made to fit junior agents — except for this costume set from Melissa & Doug. Your little sleuth will get a black coat, hat, and rearview-mirrored sunglasses. The fabrics are of decent quality, considering it's a costume.
This set even gives your child a mission to complete. Alongside the costume, a spy guide and tools are also needed to complete the tasks. Your kiddo will have to use a decoder lens to crack the secret coded card — these are all included.
The set is recommended for children aged 5 to 8.
Pros
Great spy costume with a classic look.
Good-quality fabric and construction.
Fun spy tools included.
Cons
Only one size — it won't fit taller children.
Our Ratings
---
Alex Toys Super Sleuth Kit
Mystery Solver Kit for Kiddie Spies
Spies must solve the mysteries of their respective targets. Perhaps it's about who stole the last cookie or who left the toys out. Either way, every spy needs the necessary tools to solve a secret-coded mystery.
This set includes everything your child needs, including a fingerprint ink pad, fingerprint powder, brush, magnifying glass, lifting tape, rearview mirror spy glasses, and a secret marker.
Also included are a codebook, two code wheels, tubes, and two decoder packets, plus instructions. Your child will have to use all the tools to crack the mystery.
This kit is suitable for spies between the ages of 8 and 12.
Pros
Lots of codes to uncover.
Fantastic for educational purposes.
A variety of spy gear is included.
Cons
Instructions are a little complicated for some children.
Our Ratings
---
Invisible Pen Secret Message
Spy Gear Party Favors
Any message for a secret mission has to be 100% hush-hush, so your super spy will need a pen with invisible ink. This set is perfect for a spy-themed birthday party as it includes 24 pens, each with invisible ink and a UV light (battery included).
This example is one of the best spy gadgets for kids. Your child can write the next secret mission on a plain piece of paper. Then, when it's time to take action, their sibling or friend can shine the UV light on the pen's mid-portion to reveal it. This is perfect for imaginative play or for sending secret notes to mom.
Pros
Invisible ink appears when UV light is shone on the message.
Long-lasting pens.
Great value for money.
With 24 in a pack, these are ideal for party favors.
Cons
Although it comes with free batteries, replacement button batteries are expensive and a risk to young children.
Our Ratings
---
Scientific Explorer Crime Catchers
Great Science-Based Spy Kit
If your kiddo loves to experiment during a secret investigation, then read on. This scientific spy kit is everything they'll need. It's suitable for children 8 years and up.
Your child will love the two mysteries they can solve by completing eight fun activities.
Scientific Explorer based the kit on real crime-solving techniques. So, while playing, your junior spy will get an insight into the world of "CSI." You'll get a few different essentials in the set, such as baking soda, citric acid, pH strips, shoe prints, and more.
One great plus is that the kit provides your child with some basic discovery knowledge and tools. Later they can expand on that by themselves.
Pros
Educational crime-solving kit.
Based on real techniques.
Mysteries and activities provided.
Cons
Some of the items needed are not included in the set.
Our Ratings
---
Alex Toys Undercover Spy
Travel Set for Jet-Setting Spies
A spy needs all the tracking and identification tools possible when on a case. This set has it all. It's recommended for spies aged 8 to 12 years.
The undercover spy case comes in a black nylon case to store all the tools they need. This includes binoculars, a fingerprint powder and brush, a magnifying glass, a flashlight, and a secret marker pen.
The case is sleek, and any junior spy can easily carry it using either the handle or by fastening it through a belt. Then, when headquarters call for a mission, they'll be ready to go. Kids love this case because it encourages imaginative play while mimicking real-life scenarios.
Pros
Includes everything you need for serious spy work.
Develops critical thinking skills.
Durable materials.
Cons
The velcro closure on the case doesn't keep contents in very well.
Our Ratings
---
Project Mc2 Super Spy Gear
Spy Set for the Modern Girl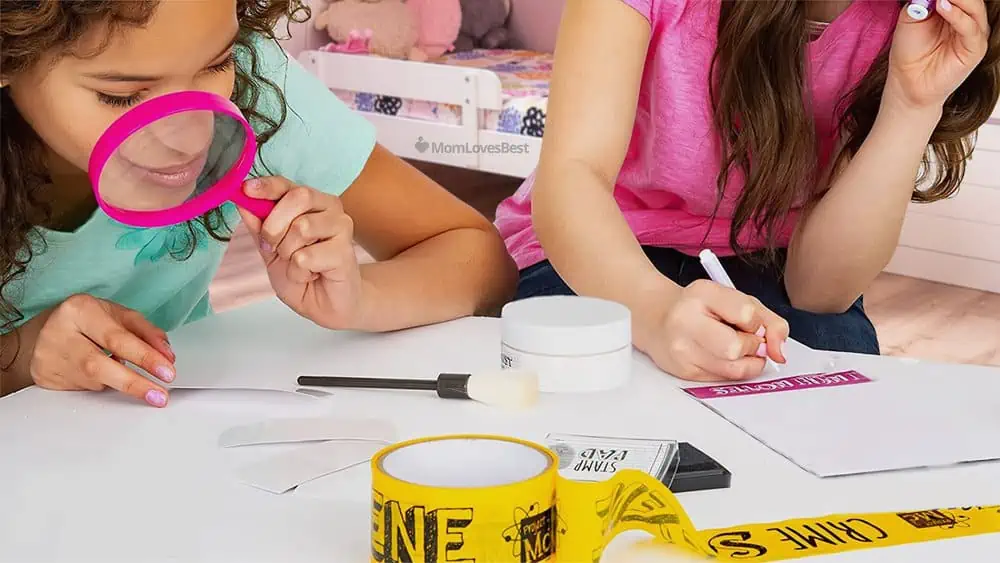 Although anyone can use all the spy gear on this list, this was the favorite of our girls. This ultimate spy bag is perfect for the aspiring female spy. The set is suitable for any child between 6 and 10 years old.
To track down the target, it's essential to know everything about them. And what better way to do that than by analyzing their fingerprints?
In this set, there's a blacklight pen, a magnifying glass, and a fingerprint kit consisting of dusting powder (cornstarch), a brush, and an ink pad. It also includes a super spy notebook for storing fingerprint records, notes, and clues and some fun crime-scene tape for keeping unwanted visitors (i.e., younger siblings) from interfering with the investigation.
Pros
Learn to dust for real fingerprints using easy-to-replace materials.
Blacklight pen writes and reveals secret messages.
Includes crime-scene tape for a more authentic experience.
Designed in the U.S.A.
Cons
The magnifying glass isn't very powerful.
Our Ratings
---
Spyx Gear Night Goggles
Great Night Vision Goggles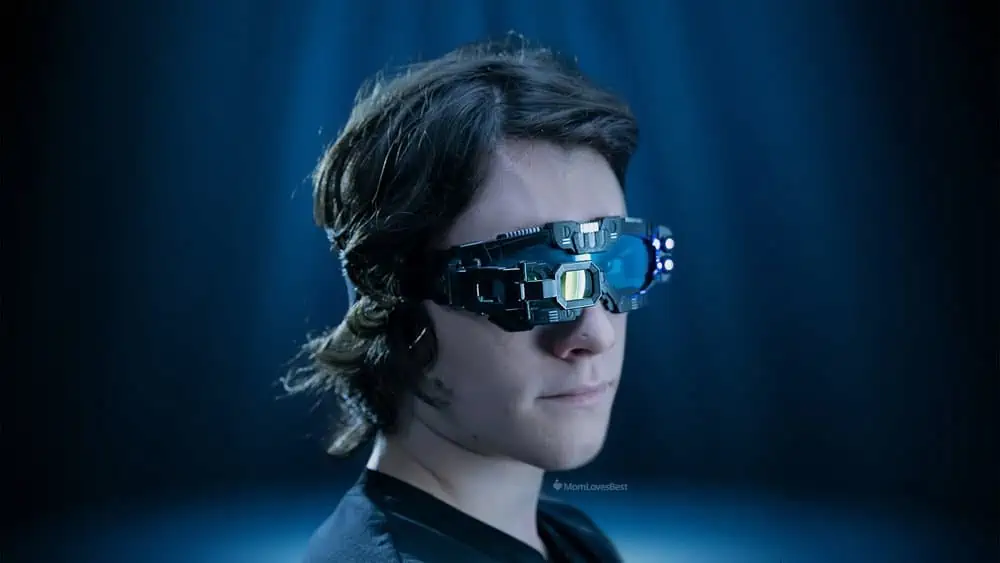 Cool spy gear for kids has to involve night vision goggles. These night goggles are an excellent navigation tool for your child.
The goggles are suitable for children 6 years and above. When darkness falls, the blue-tinted glass in the goggles will enhance your child's surroundings. There are also two LED lights fitted just above the glass for extra visibility.
As your junior agent navigates the night, they can engage the fold-out magnifying scope. This will give them a clearer view of the target from afar.
To work the night goggles, you'll need three AAA batteries which are not included.
Pros
Great for navigating in dark rooms.
Magnifying scope.
Strong LED lights.
Cons
Not high-definition night vision.
Our Ratings
---
BWacky Rearview Spy Glasses with Mirror Vision
Best Spy Glasses for Teamwork
As a spy, you'll need to be able to watch what's going on all around you. These spy glasses are just what you need. They're recommended for any aspiring spy aged 5 and over.
They look pretty normal but are very smart. When your child wears them, they'll quickly discover the rearview mirror effect. This allows them to see everything that's going on behind them while they appear to be looking ahead.
They're fantastic for creative play and might even fit some adults but — take it easy — don't go breaking your kid's super-important spy glasses.
Pros
Trendy-looking glasses.
Rearview mirror effect.
UV protection.
Cons
Made from plastic, so they may not last long.
Our Ratings
---
Secret Agent Maze Game
Fun Game for Spy Enthusiasts
This product is excellent if your child needs a little help getting ideas for a spy game. It's recommended for spies aged 7 to 14.
Your child gets to create a "laser" maze. Clamp the lasers (thick cords that stretch between clamps) onto furniture, shelves, doorframes, etc., to create a laser field your child will have to navigate. In the dark, your child can wear the UV goggles to duck, jump, and twist their way through the strings, which light up like lasers.
There's a timer on the "bomb," and each time a spy touches a "laser," it counts down faster. You need to defuse the bomb before the time runs out. Along the way, there are cards with different missions to accomplish. We found this game to be extra fun if you combine it with a second set to create a giant maze.
Pros
UV goggles light up the lasers in the dark.
Plenty of missions for sleepover fun.
Cons
"Motion" sensors are sometimes too sensitive; other times, they don't detect movement.
Needs 6 x AAA batteries, which aren't included.
Our Ratings
---
SpyX Micro Gear Set
Great Gadget Collection
When becoming a junior secret agent, you'll need all your tools to be within reach. One way to do this is by wearing a tool belt fitted with all the gadgets a little spy needs.
This set has all the cool spy gear for kids in one belt. The belt is adjustable, so your child can wear it around the waist or across the shoulder "Rambo" style.
Alongside the belt, your child gets a cool micro listener, invisible ink pen, and micro-motion alarm. There are no night vision goggles, but a micro ear light is included.
Your child can wear this on their ear, and it will shine a red light over the area for up-close detection. The set requires two AAA batteries and is recommended for children aged 6 to 15.
Pros
Adjustable belt for various sizes.
Four working spy tools included.
Cons
The materials could be more durable.
Our Ratings
---
VTech Kidizoom Action Camera
Best Camera for Young Spies
Spies can benefit from a gadget to record any evidence to hold against their respective targets. The Kidizoom action camera can do just that. It's suitable for children from 4 to 9 years of age.
This action camera is both durable and versatile. Your junior spy can attach it to a bike, a helmet, or even a skateboard. If the spy adventure involves a trip to a secret submarine, it can also go underwater.
The camera features a 1.4-inch color LCD. It can capture photos and has options for timelapse, video recording, and stop-motion videos. The battery is rechargeable and works continuously for up to 2.5 hours on a full charge.
Pros
Versatile and durable.
Waterproof case for underwater photography.
Attaches to different objects such as bikes and helmets.
Includes games, fun filters, frames, and photo effects.
Our Ratings
---
Aikmi Walkie Talkies
Best Walkie-Talkies
Communication is vital for any spy. They need to keep in touch with HQ, receive valuable information about the target, and call for backup when needed. Needless to say, a walkie-talkie is a must-have. But this waterproof camouflage walkie-talkie is better than the rest.
Naturally, it comes in a twin pack, so a friend or sibling can join in on the fun. You don't need Wi-Fi or data to communicate. The walkie-talkies simply connect using a wireless connection that reaches up to 15,840 feet. Yes! I kid you not. Its radio transmission can reach up to 3 miles in an open area.
Your young spy can send audio messages between the two walkie-talkies with an automatic squelch function that removes background noise for clear and crisp communication. It's suitable for children 4 years and older. Six AAA batteries are required (not included).
Pros
Audio connectivity of up to 3 miles in an open area.
Waterproof item.
No Wi-Fi or data required for communication.
Camouflage color for realistic spy gameplay.
Cons
Batteries are not included.
Our Ratings
Why Choose Spy Gear?
Children are thirsty for all the knowledge and skills they can learn, and there are plenty of ways for your child to practice these skills.
Spy gear toys are just one way of introducing some new challenges. They spark curiosity, which in turn, leads to creative play. As your child figures out how to use and play with them, they're developing their exploratory skills (1).
Experts stress the importance for parents and caregivers to provide children with the tools they need to nurture this creativity. It's been proven that children who have room to practice these skills do better in school and later in life (2).
How to Choose the Best Spy Gear for Kids
When it comes to spy gear for kids, there are plenty of options. Here are two things we always keep in mind while hunting for spy gear toys:
Examples of Spy Gear
Many things fit this category. Here are some examples:
You can also get creative with your child and try one of these spy hacks.
---
Thank You For Your Feedback!
Thank You For Your Feedback!