Are you having triplets and are wondering how you'll find one stroller to accommodate them all? Is the thought of trying to leave the house with all three kids terrifying you? We get it — you're going to have your hands full.
We're not going to lie — finding a good stroller for three children is a challenge. It has to be sturdy and easy to push. While they are harder to find than strollers for singles, there are a few good ones out there. In this guide we'll show you the 5 best triple strollers currently on the market.
Image
Model
Product Comparison Table
Features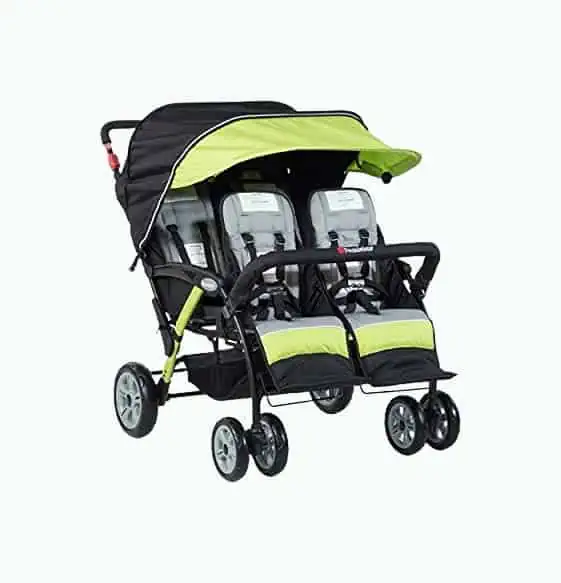 Best for Multiple Children
Quad Sport 4-Passenger By Foundations
Good tires and suspension
Great braking system
Extensive sun canopy
Best Tandem
Trio Sport Tandem By Foundations
Sturdy frame
Safety features for all
Large storage
Best for Infants and Toddlers
Angeles Multi-Passenger
Room for six
Excellent safety features
Great materials
Best With Canopy
Foundations Triple Sport
Reclining seats
5-point safety harness
Handy storage
Best with Stand-On Option
Joovy Big Caboose Graphite Stand On Triple
Excellent solution for a walking kid
Full-size seats with trays
Add-on seat available
---
---
The Best Triple Strollers of 2023
Her are the five best triple strollers currently on the market.
Foundations Quad Sport 4-Passenger Stroller
Best Stroller for Multiple Children
If you're looking for a solution to bring all three kids and gear on the road, Foundations is a good pick. The Quad Sport can safely accommodate up to four children sitting tandem and side-by-side.
It comes in a fresh lime color with easy-to-clean fabric. The feature we most appreciate is the large sun canopy. It's capable of shielding all four passengers.
When it comes to triple strollers, proper tires are imperative, and this one has four rubberized wheels. They use a shock-absorbent foam, providing a super comfortable ride.
The stroller can carry up to four children weighing 40 pounds each. The seats recline, and each has a five-point harness.
What We Like
Plenty of Room
Three children, whether babies or toddlers, can take up a significant amount of space. A quad stroller provides plenty of room for all and an extra seat for gear.
The Foundation Quad Sport is one of the most popular strollers for multiples in today's market, and we can see why. Moms praise how much room their triplets have and how comfortable everyone is. The back seats are slightly elevated, giving the passengers a good view of the front.
Good Tires and Suspension
Proper tires are what make a stroller stable and capable of carrying several children. This model has six rubberized wheels, suited with shock-absorbing foam, ensuring a smooth ride.
The wheels also make it effortless to push and steer. The added suspension helps when walking on uneven paths.
A Great Braking System
The handle is exceptional. It features a safe-brake system. As soon as you let go of the handle, the brake engages to prevent the stroller from rolling away.
Extensive Sun Canopy
A large sun canopy is imperative when living in sunny states. Foundations included an extensive canopy to cover all four seats. When it isn't needed, you can quickly retract it and store it at the top.
Easy to Store
Despite its large size, the stroller is surprisingly easy to fold and store. It should fit into most car trunks, but you should measure before buying just to be sure.
What We Don't Like
Not for Hill Climbing
The stroller is heavy, especially when fully loaded. A few moms advised against taking it up steep inclines.
Not Recommended for Infants
Although the seats fully recline, Foundations does not recommend using this for infants. It doesn't have infant car seat adapters either.
A few users said they did use it for small babies, but added a support pillow. However, we do not recommend doing this.
Product Specs
| | |
| --- | --- |
| Frame material | Steel |
| Suitable for | Six to 36 months |
| Stroller weight | 34 pounds |
| Warranty | One-year warranty |
Our Ratings
---
Foundations Trio Sport Tandem Stroller
Best Tandem Triple Stroller
If you're planning on bringing the stroller with you into stores and supermarkets, then a tandem is a great pick. Foundations Trio Sport stroller is an excellent example.
It's been constructed from a sturdy tubing, keeping the weight to a minimum, making it easier to maneuver. Thanks to the large, rubberized wheels, it balances out with ease and can be used to transport different-sized children. This stroller is not for babies under 34 pounds though.
We appreciate how each seat has a separate canopy and safety harness. The seats recline, although not entirely. And lastly, you have ample storage for diaper bags.
What We Like
Sturdy Frame
The stroller is pretty durable and feels so when pushing it. The tubing used for the construction is made from steel, and it won't bend easily. It's capable of carrying three children under 50 pounds each.
Safety Features for All
No child will be left behind — each seat has a canopy, shielding your little ones from the burning sun. Because each has its own, you can retract one without disturbing the others.
Each child is secured into their seat with a five-point harness. These consist of two straps over the shoulders, two around the waist, and one between the legs. Experts have deemed them the safest to use.
Adjustable Seats
To ensure everyone has a view, you can adjust the height of the seats. This stroller gives you three positions. This allows three kids of varying heights to sit in the stroller comfortably.
Large Storage
Good-sized storage is necessary when you're hauling along even one baby, and here you'll have three. The storage basket sits at the back, where it's optimal for safety, so the stroller doesn't tip over. You should have ample space for all your essentials.
What We Don't Like
Not for Newborns
The stroller isn't recommended for use with babies under six months. The seats do recline, but not enough to accommodate an infant safely. Also, it's not car seat compatible.
No Cup Holders
There aren't any cup holders, which isn't a deal-breaker, but some moms said it would be nice. Instead, you have to purchase add-ons separately.
Product Specs
| | |
| --- | --- |
| Frame material | Steel |
| Suitable for | Less than 36 months |
| Stroller weight | 34 pounds |
| Color | Gray, lime, red |
Our Ratings
---
Angeles Multi-Passenger Bye-Bye Stroller
Best Stroller for Infants and Toddlers
Angeles is a brand known for its quality, innovation, and value. This hexad stroller is an excellent solution if you have several children plus their playmates.
It's durable and long-lasting. It's made from a steel tubular frame, which is sturdy and capable of carrying up to 40 pounds in each seat.
This model puts extra focus on safety geared with its parking brake and 360-degree pivoting front wheels.
What We Like
Room for Six
The Angeles Multi-Passenger Buggy is fit for six kids. There's plenty of room if you're planning on using it for six. The two back seats are slightly elevated above the front row, giving the passengers a good view despite sitting in the back.
The seats are comfy, fitted with extra padding.
Safety Features
The safety features included in this stroller should please parents. You get no-roll technology keeping the stroller secure.
To protect your babies from the sun, a separate two sun canopies can be purchased— one for the back row and one for the front. They're large and will cover any exposed skin to prevent burns.
Great Materials
It's as sturdy as can be.
The tires are rubberized and great on all terrains. They provide a sufficient amount of suspension to smooth out a bumpy road.
Lastly, we have the fabric. It's a fade-resistant material, which is water-repellent and easy to clean. All it requires is a surface wash with mild soap and water.
What We Don't Like
Canopies Are Low
The canopies aren't suitable for tall children — they hang a bit too low. A few moms said they avoided using them when carting their taller kids. However, they fit excellently for kids between 6 months and 2 years.
Product Specs
| | |
| --- | --- |
| Frame material | Steel |
| Suitable for | Six to 36 months |
| Stroller weight | 151 pounds |
| Color | Yellow |
| Warranty | 3 years |
Our Ratings
---
Foundations Triple Sport 3-Seat Tandem Stroller
Best Triple Stroller With Canopy
For a little extra protection from the sun, your babies can safely enjoy being pushed around in this tandem 3-seat stroller. Each seat has its own UV blocking canopy which can protect each one of your precious babies. When it's not needed, simply collapse the canopies down so they can enjoy a cloudy day or a nice gentle breeze.
The added protection of these canopies, combined with the comfort of the seats, means your little ones can enjoy hours in this stroller. Push them around parks, long walks or shopping trips all day long.
After you're back in the car, you can fold down this stroller until it's flat. This makes it easy to pop in the trunk of the car, and in storage when you're home, without it taking up too much space at all.
What We Like
Reclining Seats
Give your children a bit of luxury with this super comfortable stroller. When they get tired or just want to zen out, recline the seats back. This can also help encourage them to fall asleep if you're out during nap time.
5-Point Safety Harness
Each child has a 5-point safety harness in their seat. It has a restraining system, too, so they can't break out of their seat. Another safety feature is the foot-operated brake for the rear wheels which keeps the stroller in place while you're sitting down for a break or parked outside a store.
Handy Storage
This comes with a storage bucket underneath the seats for your diaper bag and daily snacks. You'll also find cup holders for your little one's drinks so they don't get thirsty throughout the day.
What We Don't Like
Hard to Maneuver
Some parents found this stroller really difficult to maneuver. It's a bit of a struggle to push around, but almost impossible when going over bumpy terrain. It weighs 40 pounds on its own, so add your three babies, and this is a heavy stroller!
Product Specs
| | |
| --- | --- |
| Frame material | N/A |
| Suitable for | From when babies can hold their heads up |
| Stroller weight | 40 pounds |
| Color | Gray, lime or red |
Our Ratings
---
Joovy Big Caboose Graphite Stand On Triple Stroller
Best Triple Stroller with Stand-On Option
Having two smaller babies and one older toddler allows you to utilize a stand-on board. It's a small plank at the end of the stroller, under the handle, where a kid can stand while you're pushing. The Big Caboose is a favorite among users, and a good pick to finish off our list.
The stroller features two tandem seats — they're full-size and allow for an ample amount of legroom. Both seats recline into two positions with adjustable footrests. It features two large sun canopies for each seat, where the back canopy covers the platform as well.
If you don't want to use the standing platform, you can purchase an additional seat. It converts the double stroller into a triple.
What We Like
Excellent Solution for a Walking Kid
The stand-on platform is excellent for encouraging an older toddler or preschooler to walk by themselves. If they get tired, they can get back on the platform to rest their feet for a minute or two. It can safely carry a child weighing up to 45 pounds.
Full-Size Seats with Trays
Your children will sit like kings and queens. The seats are full-sized and will comfortably accommodate your passengers. Both seats recline into two positions for resting and alert babies.
Both seats have a tray for en-route snacks or juice boxes.
Add-On Seat Available
If you need a triple stroller where all the kids can sit, Joovy also offers an add-on seat. The Joovy Caboose Rear Seat is easy to attach over the standing platform. It comes with a five-point harness like the other seats.
What We Don't Like
Can't Stand on Its Own When Folded
One issue a few moms seem to have is that it can't stand by itself when folded. It's large, so it would've been nice for it to stand as opposed to lying down.
Product Specs
| | |
| --- | --- |
| Frame material | N/A |
| Suitable for | 0 to 36 months |
| Stroller weight | 32.6 pounds |
| Color | Turquoise |
Our Ratings
---
Types of Triple Strollers
There are four general types of triple strollers. These are:
Tandem Triple Stroller
Tandem triple strollers are ideal, whether you're expecting triplets or have children of varying ages. It's easy to balance the weight out. You usually place the youngest in the back, nearest to you.
Tandem is also the type to go with if you often bring the stroller with you into grocery stores or malls. Due to the lineup of the seats, they can fit through most doorways without an issue.
However, they are significantly longer than other types, meaning they can be challenging to steer. To counter this, look for front wheels with a swivel function.
Pros
Versatile — can be used for varying ages.
Slim design, which fits easily through most doorways.
Generally easy to fold.
Cons
Quite long and can be challenging to steer without swivel function.
Side-By-Side Triple Stroller
Side-by-side strollers are excellent for triplets, and some even will hold four babies. Because the babies will be sitting next to each other, it does require some balancing. But they're great to steer, and all your little ones have a front-seat view.
You can also use them for varying ages, as long as you plan a little. Don't place two heavy toddlers next to an infant. This could throw the stroller off balance or put excessive weight on one wheel.
Side-by-side strollers aren't ideal when shopping. They rarely fit through the doors or down a narrow aisle. However, if you live in the suburbs or countryside, and want one mostly for taking relaxing strolls, these are perfect.
Pros
Excellent for triplets.
Everyone has a front-seat view.
Smooth to maneuver.
Cons
Fairly bulky and wide.
Requires some balancing.
Stand-On Triple Stroller
If you have a toddler or preschooler and are now expecting twins, a double stroller with a stand-on platform is an excellent pick. Your two smallest can sit comfortably in the tandem seats. Then your active toddler can stand on the platform behind the last seat.
It's a great solution. The walking child can get on and off the platform as they please, without disturbing their siblings.
That said, it's important to plan this out. It's not so great if the bigger child wants to sit as well.
Pros
Excellent for expanding families with a walking toddler/preschooler.
Usually quite affordable.
Encourages the older child to walk.
Cons
Requires some planning — perhaps the bigger child doesn't want to stand.
It won't work for triplets.
Convertible Triple Stroller
A convertible triple stroller is essentially a double stroller with the option of attaching an additional seat or ride-on board. This is another solid solution if you have older kids and are expecting a third.
Depending on the manufacturer — some will attach the extra seat in the front, and others, at the back. They come as either tandem or side-by-side. Unfortunately, you generally have to buy the additional baby seat, or ride-on board separately.
Pros
Great for an expanding family.
Available as both tandem and side-by-side.
Cons
The add-on seat or ride-on board is rarely included.
How to Choose a Triple Stroller
Children are precious cargo, so you want a stroller that is up for the job. And because these strollers aren't cheap, you want to ensure you're not wasting your money on one you'll end up hating.
There are several points you should consider before buying.
---
Triple the Trouble
Triple strollers are excellent for mobilizing all your kids in one go, but it's essential to look for a stable one. Three babies can weigh a lot, and since you have precious cargo, you want to ensure they're all safe.
There are four main types you can choose from — tandem, side-by-side, convertible, and stand-on. There's a fit in there for every family.
Thank You For Your Feedback!
Thank You For Your Feedback!