If you're looking for a toy vacuum for your mini-me, you'll need it to look like the real thing and have some fun effects too. If it looks nothing like yours and doesn't excite your little one, they will not be drawn to it. They will keep trying to use your big vacuum, which puts your child at risk of serious harm (1).
So we've examined all of the "cleaning" toys we could find to save you time and help you discover the safest and best toy vacuum for your kids. These vacuums look like the real deal, although some are designed to be a little more appealing to the younger age. Our top picks include features such as learning games, sound effects, and real (child-friendly) suction!
Whether you want your little one to develop their cleaning skills or avoid your dangerous larger appliances, these quality toy vacuums for kids are the perfect solution.
Image
Model
Product Comparison Table
Features
Best Budget Pick
LeapFrog Pick Up
Six built-in learning games
Three fun cleaning songs
Teaches numbers, colors, and pretend play
Best Classic Vacuum
Fisher-Price
Brightly colored balls
Easy to grasp
Helps steady new walkers
Best Two-in-One
PlayGo 2-in-1
Bright, colorful design
With removable hand vacuum
Lightweight
Best for Learning
Casdon Little Henry Vacuum
Great accessory fitting
Child-friendly
Easy to use
Best Functional Toy
Dyson Little Helper
Includes real suction
Replica design with iconic colors
True-to-life-sound
Most Realistic
Casdon Dyson
Brilliant toy replica
Removable debris drawer
Simulated cyclone action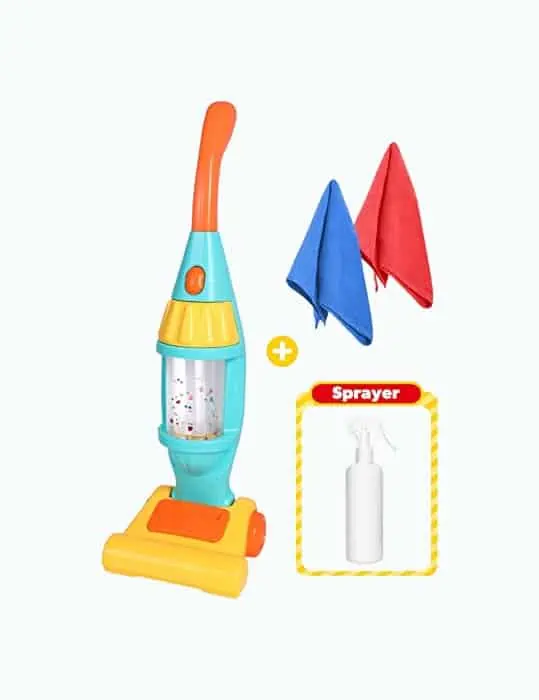 Best for Older Toddlers
Kids Vacuum Toy Set
Perfect for small hands
Non-toxic, BPA-free material
Durable
Cutest Cleaner
Fisher-Price Laugh & Learn Vacuum
Adjustable design
Fun and educational
Realistic vacuum sounds
Best Wooden Cleaner
Melissa and Doug
Wooden kid-sized vacuum cleaner
Easy to assemble
No batteries required
Best Handheld Vacuum
Black +Decker Dustbuster
Looks realistic
Battery included
Affordable
Review Methodology: At Mom Loves Best, we take pride in providing you with a thorough analysis and assessment of the best toy vacuums for kids, based on hands-on experience, research, and data. Our expert team evaluates each product from a user's perspective, comparing design choices, performance, and key decision-making factors such as durability, safety, and educational value. Our criteria also include ranking products based on their features, effectiveness, and user satisfaction. We share first-hand evidence, review scores, and measurements of each toy vacuum's performance to help you make an informed decision. Trust our findings and expertise to guide you in choosing the perfect toy vacuum for your child.
---
---
The Best Kids Vacuum Cleaner Toys of 2023
Here are our favorite toy vacuums on the market.
LeapFrog Pick Up and Count Vacuum
Most Budget-Friendly
This toy vacuum will teach your child about colors and numbers and let you save a few bucks at its good price point. It picks up the ten colorful dust pieces, counting as it goes, to provide hours of educational and imaginative fun for your child. With over six built-in learning games and three cleaning songs, your child will surely learn to love cleaning.
Great for children ages 2 and up, this cleaning set has two easy-to-roll wheels and moves easily from space to space. Now, who says cleaning is boring?
Community Feedback
Excellent educational toy that keeps my child entertained while teaching them valuable skills. This toy vacuum has a small bucket to collect the pieces, which helped my son learn about colors and numbers. It's also quite sturdy, as my little one has tested its durability by tossing it down the stairs without any damage. The vacuum tells the number of tokens picked up or their color, depending on the setting, making it a fun learning experience. However, be aware that it doesn't work well on hardwood floors, as the vacuum only picks up the discs on carpets or rugs.
---
Fisher-Price Corn Popper
Best Classic Vacuum Toy
This classic toy is easy for young toddlers to maneuver. Brightly colored, lightweight, and with a low center of balance, this baby vacuum allows your child frustration-free pretend play.
Wide-set wheels let this unit run easily over both carpet and smooth floor. The balls in the unit pop when in use, making a satisfying noise your little one will love. However, as much as we love this fun toy, it would be cruel for us to avoid mentioning that the popping sound can wear on a tired mom's ears after a while.
Suitable for children ages 24 months and older, this is also a perennial favorite for older children. No batteries are needed.
Community Feedback
Great toy for active toddlers, this Corn Popper Push Toy has been a favorite for generations. My little one loves pretending to clean while pushing it around, and the colorful balls popping up keep them entertained. Although it's made of plastic instead of wood like the older version, it's still lightweight and durable. Some may find the popping sound a bit noisy, but it's not too bad compared to other battery-operated toys and brings joy to my child.
---
PlayGo 2-in-1 Toy Vacuum
Great Two-In-One Vacuum
This lightweight and brightly colored vacuum sports two pieces: a handheld vacuum and an upright vacuum. They both have lights, whirling beads, and sound effects.
This toy vacuum is suitable for children 2 years of age and older and runs on three C batteries. It's not a functioning vacuum cleaner, but it's a great addition to your creative play area.
Community Feedback
In my experience, this toy vacuum has been a hit with my young nephew who just couldn't stop playing with it. The vacuum sounds are engaging, but not too loud for adults in the room, and it even has a removable dust buster attachment for smaller kids. My only concern is the squeaky wheels, which can be a bit annoying. Despite that, the overall quality and entertainment value of this vacuum toy makes it a worthwhile purchase.
---
Casdon Little Henry Toy Vacuum
Best for Learning
The Little Henry Vacuum can teach kids how to really vacuum! If they're trailing around after you, wondering how it's done — this is a super choice.
The vacuum really works! It picks up small bits of paper waste or Poly Beads. The waste is sucked into a drawer your child can easily empty.
Similar to the original Henry vacuum, this one has cord reels for storage, and you can fit all the accessories inside. It's suitable for kids from 3 to 8 years old. If you have a Henry vacuum, now you and your child can be matching!
Community Feedback
From my personal experience, this toy vacuum has both pros and cons. On the positive side, my 3.5-year-old son and other young family members have enjoyed playing with it, and it comes with several accessories that add to its play value. However, the quality of the materials and construction leaves something to be desired, as I have had to use electrical tape to reinforce parts of the vacuum to prevent it from falling apart. Additionally, the suction power is minimal, which could disappoint some users who expect it to function more like a real vacuum. Despite these drawbacks, my child is happy with the toy, which I believe is the most important aspect.
---
Dyson Little Helper Vacuum Cleaner
Lightest Functional Vacuum Toy
This fully functional Dyson toy shares the same design and colors as the full-size vacuum in your home. If you're looking for a toy vacuum that really works, we highly recommend this option.
This lightweight stick model has working suction and cyclonic action — just like the real thing. It weighs in at about 2 pounds and runs on three AA batteries.
Different vacuum attachments provide variety and encourage problem-solving skills. Sound effects add to the realism. Suitable for children aged 3 years and up.
Community Feedback
In my experience, this toy vacuum is a delightful addition to our household, providing both fun and entertainment for my young child. The design is sturdy and closely resembles the real Dyson vacuum, allowing my child to pretend they're helping with the cleaning. Although the suction isn't strong enough to pick up much more than tiny tissue pieces, it still provides a sense of accomplishment for my little one. The colorful debris in the top adds a touch of realism, and the overall build quality has withstood my child's rough play. While it would have been great if the toy was rechargeable, it still offers an engaging and enjoyable experience for young children.
---
Casdon Dyson Ball Toy Vacuum
Most Realistic Toy Vacuum
This Dyson toy vacuum is a great way to get your little helper involved in regular household chores. Working suction even allows your child to help keep the home a little tidier.
The vacuum toy sports twist-and-turn ball action — just like the real deal. Sounds and moving colored balls make playtime more engaging. A removable debris drawer makes clean-up after play easy.
At 25 inches tall, this vacuum is suitable for children from 3 years. Four C-type batteries are required.
Community Feedback
For a toy vacuum, this miniature version surprisingly has a suction feature and a compartment to hold the debris it picks up. My children, ranging from ages 1 to 5, all enjoy playing with it, and assembly was a breeze - simply snap the handle into place and insert batteries. The only drawbacks are that it can be tricky to balance when standing on its own and it's quite loud, but overall, it's a fun and engaging toy for young ones.
---
Kids Vacuum Cleaner Toy Set
Best Toy Vacuum for Older Toddlers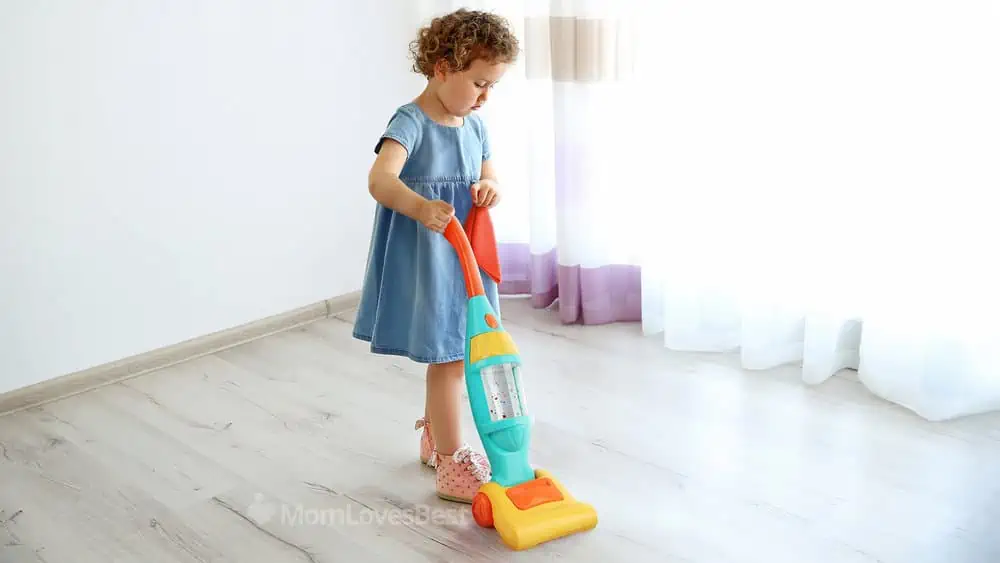 This two-in-one vacuum set is the perfect size for older toddlers. An easy-to-grasp handle and sturdy structure allow confident walkers to maneuver with ease.
Realistic swirling star beads move in the body of the vacuum when running. This toy also produces vacuuming sounds when in use. While not a functional vacuum, it's great for pretend play.
Both a handheld vacuum cleaner with a rotating brush and a sprayer are included in this set. For ages 3 years and up. It's time to build good cleaning habits in the early formative years!
Community Feedback
As a parent, I found this toy vacuum to be a fun and engaging idea for kids who love to mimic cleaning. My daughter and grandson both enjoyed playing with it, and it's lightweight enough for them to easily maneuver. However, the overall quality of the toy leaves something to be desired. The light on ours broke within the first 30 minutes, and the spray bottle that comes with it fell apart quickly as well. Additionally, the handle can be a bit difficult to use and tends to come apart. In the end, while my children love playing with this vacuum, I wish I had invested in a higher quality toy for them.
---
Fisher-Price Light-up Vacuum Toy
Cutest Toy Vacuum Cleaner
This cute vacuum cleaner sports a cute character face. Press the canister buttons to add sound effects and lights when in use. Your kids will surely love learning songs, phrases, colors, and numbers while cleaning.
This toy is recommended for children as little as 1 year old. Your little one can tilt this vacuum up and down for maximum comfort and interactive play. This toy runs on three AAA batteries which are included with the product.
Community Feedback
This toy vacuum has been a delightful addition to our collection, providing both entertainment and educational value for my child. The realistic design, vibrant colors, and interactive sound effects truly captivate a child's imagination, making it an engaging and immersive play experience. As they role-play with the vacuum, kids can improve their social, communication, and fine motor skills while learning about responsibility and cleanliness. Although it struggles to stay upright on its own and doesn't roll well on hardwood floors, the overall enjoyment and developmental benefits make it worth the purchase.
---
Melissa and Doug Wooden Vacuum Toy
Best Wooden Vacuum Cleaner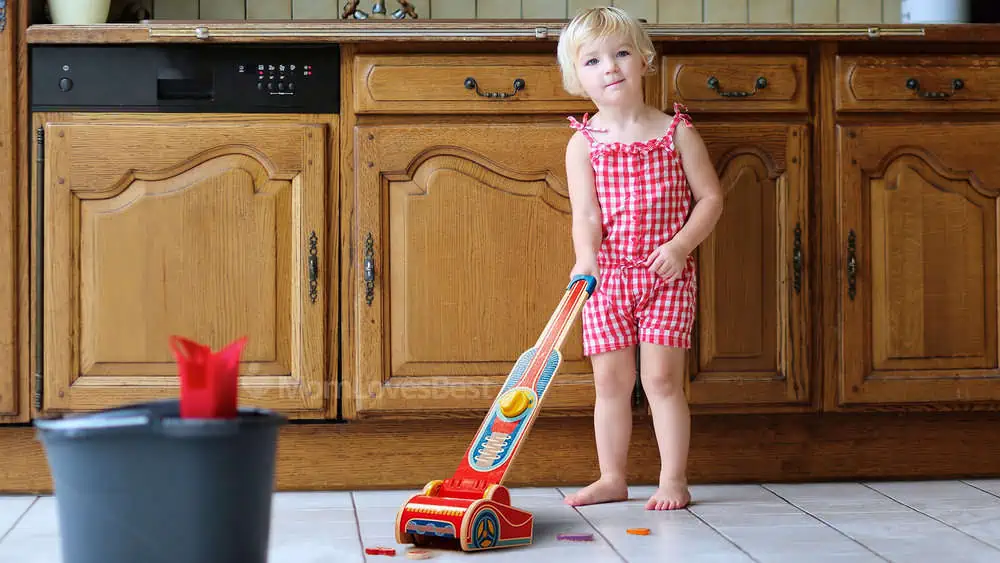 This all-wooden set consists of 10 pieces and includes the vacuum and shaped "pieces of debris" (popcorn, coins, and cereal) to clean up.
Roll the vacuum cleaner over the top of these pieces, and they'll disappear from view (into the base). Simply remove the base tray to retrieve your debris and vacuum again.
This wooden vacuum is a great alternative to plastic toys and electronic noise. As there are no electronic parts, it's easy to clean the toy, and it should outlast your little one's childhood years. It tilts and has a dial that turns and clicks. This brightly colored, attractive toy is suitable for children ages 3 and older.
Community Feedback
This toy vacuum has been a hit with my kids for over two months now, and they definitely enjoy it more than their cleaning tools kit. The vacuum is well-built and even has the ability to "vacuum" up small toys. However, the durability of the plastic pieces is not the best; within a week of minimal use, the plastic part for the vacuum function broke. The design may also feel a bit dated for some kids, and the vacuum sometimes loses the pieces it picks up. On the bright side, it's a sturdy toy that was easy to assemble, and my nieces (ages 2-8) all had a good time playing with it. Just be aware that the plastic parts might not last very long.
---
Black and Decker Toy Dustbuster
Best Handheld Vacuum
With this Black and Decker look-alike handheld vacuum, your little one can get into tight corners and underneath furniture.
This toy model looks just like the real thing! When you press the button, the Dustbuster makes authentic vacuum noises. The little beads inside whirl around, replicating dust and debris.
This toy vacuum was designed to create hours of fun while teaching kids about household chores. Parents love that their little ones can now "clean" alongside them, which makes domestic chores all the more enjoyable.
Community Feedback
My experience with this toy vacuum has been mostly positive, as it has kept my young grandson entertained and satisfied his fascination with cleaning. It's a well-built, compact, and sturdy toy perfect for toddlers, and it even comes with batteries. However, I found the vacuum sound effect to be extremely loud and would recommend placing a piece of tape over the speaker to soften the noise. Also, the sound continues for a few seconds after releasing the button, which can be a bit annoying. Despite these minor issues, this toy vacuum has been a great addition to our playtime and keeps my grandson happily pretending to clean up.
---
PlayGo Household Vacuum Cleaner Toy
Working Toy Vacuum for Toddlers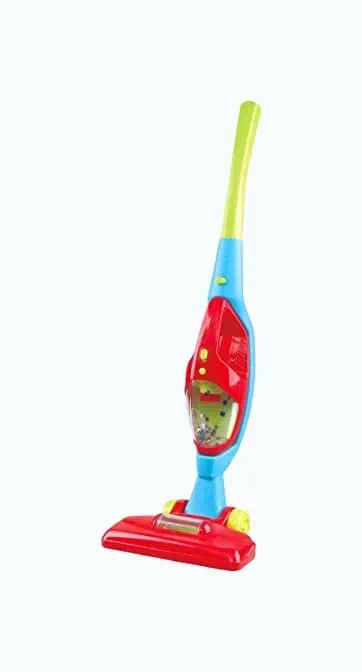 This vacuum cleaner actually vacuums. It comes with a removable vacuum cleaner bag that makes the experience even more real.
You'll love that your little ones can use it to clean up after themselves. And the realistic sound effects and fun lights will have your child loving their vacuum playtime. This product runs on three AA batteries and is suitable for children aged 24 months and up.
Community Feedback
For my 2-year-old grandson's birthday, I bought him this play vacuum and it immediately became one of his favorite toys. It's a cute and engaging toy, although the smaller size made it a bit challenging for him to push around at first. The batteries needed to be replaced within the first couple of days, but it's been working great since then. While it may be a bit complex for younger children, it's a fun and realistic toy for older toddlers to enjoy.
---
Disney Minnie Happy Helpers Toy Vacuum
Character Vacuum for Disney Fans
This Disney vacuum cleaner incorporates Minnie Mouse into clean-up fun. The oversized, molded bow twinkles when in use, for added vacuuming delight. It also makes realistic vacuuming sounds.
The transparent vacuum center has pearlized beads that spin and swirl. It's suitable for children 3 years of age and older. This toy runs on the included three AA batteries.
Community Feedback
When I first received this Minnie Mouse vacuum for my 18-month-old, it was a bit frustrating because it came in "try me" mode. However, once I found the switch on the bottom and turned it to "on" mode, the vacuum worked perfectly, lighting up and spinning beads as my little one pushed it around. The handle can be a bit flimsy at times, but overall, this toy vacuum is both adorable and entertaining. My child loves pretending to help clean the house with it, and I'm pleased with its durability and sturdiness after weeks of play.
---
Miele Toy Canister Vacuum
Best Toy Canister Vacuum Cleaner
Upright vacuums may be in style, but canister vacuums are a classic choice. This Miele replica is a great choice if you're looking for a toy vacuum that looks like the canister vacuum you own.
Fun and realistic, this toy offers a sleek European design and has lights and sounds. It runs on four C batteries and is suitable for children 3 years of age and older.
Community Feedback
This toy vacuum is a fantastic replica of the real thing, and my little one absolutely adores it. I had to do some minor modifications to the handle and tube connection, as they didn't fit together perfectly, but it wasn't a deal breaker. The vacuum is lightweight and easy for my child to pull around, and it even makes a quiet sound when turned on, which kept them entertained for hours. It may not be the most durable toy, but the joy it brought to my kid made it well worth the purchase.
How to Choose a Toy Vacuum Cleaner
You may have a lot of questions when picking out a toy vacuum for your child. We'll answer the main ones here.
---
Thank You For Your Feedback!
Thank You For Your Feedback!