Whether it's fixing lunch in a toy kitchen or mowing the grass with a toy lawn mower, kids adore pretend play. Helping mom or dad do the yardwork is something almost every child wants to do. It makes them feel like a contributing member of the family.
That makes a toy lawn mower an excellent choice when you are looking for a toy to get your child out into the fresh air. Let's look at the ins and outs of buying these products, and we'll share our 10 picks for best toy lawn mowers.
Image
Model
Product Comparison Table
Features
Best Talking Lawn Mower
John Deere Electronic Lawn Mower
Has 4 unique sounds
Includes rotating ball
Collapsible handle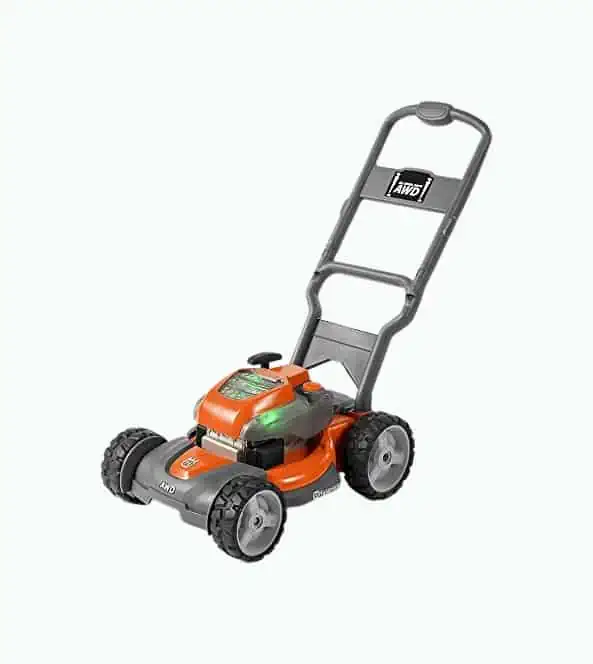 Best Kids' Lights & Sounds Mower
Husqvarna Toy Lawn Mower
Realistic engine sound
Tall handle
Large wheels
Best Bubble Mower
Fisher-Price Bubble Mower
Sturdy, good quality construction
Has bubble reservoir
Realistic sounds with spinning motor
Best Bubble Mower
Lydaz Bubble Mower
Easy to assemble
Realistic engine sounds
Durable
Best Riding Lawn Mower
Peg Perego John Deere Tractor
Has two speed levels
Has a working fm radio
Includes a trailer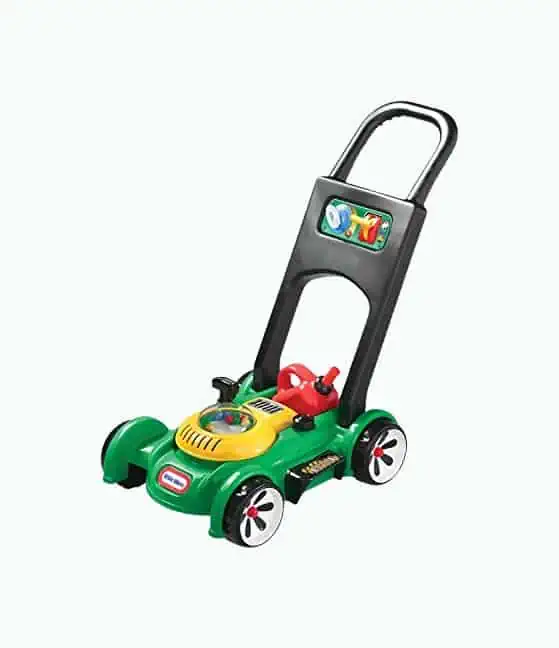 Best With Accessories
Little Tikes Gas 'n Go Mower
No batteries are needed
Removable gas can give
Has a fun dome full of balls
Best Girly Toy Mower
Fisher Price Bubble Mower
Pretty in pink
Realistic sounds
Bubble blower
Best Budget-friendly Toy Mower
Sunny Days Mower
Feminine design and shade
Safe and durable materials
Very affordable
Best Baby Walker Toy Mower
Jumella Bubble Mower
Easy to assemble
Interactive bubbles and sounds
Made of non-toxic plastic
Best Toy Garden Power Tools Set
Constructive Playthings Garden Tools
Moving parts & realistic sounds
Recommended for 4 years and up
Includes extra power tools
---
---
The Best Toy Lawn Mowers of 2023
Here are the best toy lawnmowers we were able to find.
John Deere Electronic Lawn Mower
Best Talking Lawn Mower For Kids
We put the John Deere electronic lawn mower in first place because we love the fact that it has so much play value.
The age range says 2 years and over, but many people I know have toddlers of 18 months who adore this mower.
Pros
There are four large, sturdy buttons on this mower. Each one has its own unique sound, and there is also a voice that reminds your child to check the gas and the oil.
The plastic ball at the back of the mower has "grass" cuttings that rotate as you push the mower along.
The collapsible handle makes it relatively easy to store.
Cons
Some reviewers have said this mower is not easy to push along in longer grass, so you might have to relegate your little gardener to the areas you've already cut.
Our Ratings
---
Husqvarna Toy Lawn Mower
Best Kids' Lights And Sounds Mower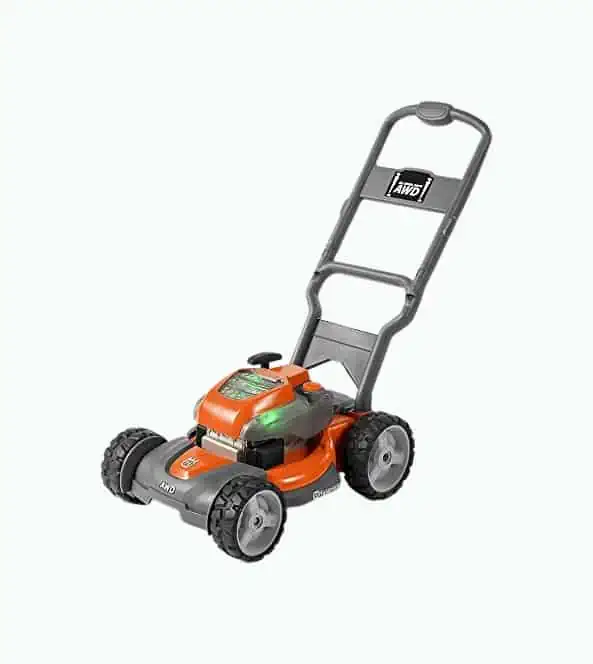 This mower is meant for children who are a little older, although it is still for the preschool set.
The box says it's for children 3 to 5 years and this seems like a pretty accurate suggestion, even for the taller children in this age range.
Pros
It has a realistic engine sound and a flashing light which makes it fun to use.
The handle is taller than on most toy mowers, which means your 5-year-old can enjoy the same kind of pretend play yard work as their younger siblings.
Slightly larger, chunkier wheels make this model easy to push on grass, gravel, and, unfortunately, recently planted flower beds.
Cons
The higher quality of this toy mower is reflected in its price tag. It is still affordable, but not in the same range, as some low-end, cheap mowers on the market.
Our Ratings
---
Fisher-Price Bubble Mower
Best Bubble Mower for Toddlers
The only bubble mower on our list, this pick comes from one of our favorite toy manufacturers.
On this model, I am especially fond of the bubble mixture bottle holder which means refills are always on hand.
Pros
Sturdy, good quality construction — it feels like a safe toy for your child to be pushing around outside.
The bubble reservoir is enclosed. Mowers with open reservoirs often suffer from problems due to debris falling in and clogging up or breaking the blower mechanism. This mower does not.
Realistic sounds and a "spinning motor" add to the fun.
Cons
The design of the mower is such that the bubbles are released from the side of the mower. As a result, if your child is in longer grass some bubbles can pop before they have a chance to fly freely through the air.
Our Ratings
---
Lydaz Bubbles & Go Mower
Best Activity Center Mower
This is a big hit from Lydaz. In fact, it has been the top-selling toy gardening item.
The Lydaz mower encourages your young ones to walk. And as he pushes the mower, he can begin bubble-blowing by just pressing a button with this mower.
Truly, this is a good pretend play gardening tool for kids and kids at heart.
Pros
Easy to assemble.
Realistic engine sounds.
Durable
Our Ratings
---
Peg Perego John Deere Ground Force Ride On Tractor
Best Kids' Riding Lawn Mower
If your yard is large enough to require a ride-on mower, then your child will need a ride-on mower too!
This one will make your child feel like they are driving a real vehicle.
Pros
This mower has two speeds and reverse. The speeds are 2¼ and 4½ miles per hour and the higher speed can be locked for beginners.
It has a working FM radio.
The trailer is included.
Cons
Not the most practical toy lawn mower for everyone.
The assembly process requires some time.
Our Ratings
---
Little Tikes Gas 'n Go Mower
Best Toy Lawn Mower With Accessories
As you would expect from Little Tikes, this mower is a sturdy plastic toy that feels like it will last for years.
Pros
Sounds are mechanical, so no batteries are needed.
The removable gas can give kids another way of emulating mom or dad.
It has a fun clear dome full of balls that pop up and down as you push the mower.
Cons
Not the tallest of handles, so it may become too small quite quickly.
Our Ratings
---
Fisher Price Bubble Mower
Best Girly Toy Mower
Who says mowers should have neutral colors?
This pretty in pink mower from Fisher Price has an eye-catching shade for your little princess. An added bonus is that this mower is a bubble blower!
Pros
Realistic sounds.
Pretty in pink.
Bubble blower.
Cons
Boys may not want the shade.
Our Ratings
---
Sunny Days Maxx Bubble-N-Go Lawn Mower
Best Budget-friendly Toy Mower
If you are on the lookout for a cost-efficient mower for your child, then this toy from Sunny Days is exactly what you're looking for.
At its price point, you would not expect it to be sturdy and durable, but its tires can rugged for tough terrains. Moreover, it's built with safety and durability in mind. You won't be needing any batteries to operate this unit, therefore, encouraging your child for a physical workout by playing.
Pros
Very affordable.
Durable without breaking the bank.
Feminine design and shade.
Cons
May leak bubbles if picked up, tipped over, or in any position other than flat.
Our Ratings
---
Jumella Bubble Mower Toy Play Set
Best Baby Walker Toy Mower
This premium safe toy lawn mower for toddlers is an interesting modern toy mower that emits bubbles which does not stain on clothes.
Apart from the mower, the set includes a screwdriver, five medium bubble wands with a bubble tray, and another five small bubble wands with three bottles of bubble solutions.
Pros
Easy to assemble which includes a tool.
Made of non-toxic plastic.
Interactive toy with music.
Cons
Can easily be outgrown by bigger babies.
Our Ratings
---
Constructive Playthings Power Garden Tools
Best Toy Garden Power Tools Set
Along with the toy lawn mower, this gardening set has a play chainsaw, leaf blower, and weed trimmer.
And because safety is important, it also has gloves and safety glasses.
Pros
All four toys have moving parts and realistic sounds.
This set is recommended for ages 4 years and up, so your older preschoolers can continue to enjoy pretend play.
The extra power tools allow your child to emulate you carrying out other tasks in the yard.
Cons
To use the entire set, you need a total of 11 AA batteries.
Our Ratings
What are the Benefits of Mowing Toys for Kids?
There are several benefits of having a toy mower.
When children have toys that allow them to "help" around the home, it can build their self-confidence.
If your child is indulging in pretend play alongside you, it can strengthen the bond between the two of you.
The CDC recommends that children under 6 stay physically active throughout the day (1). Toy mowers require your child to be physically active.
Toy mowers can help develop your toddler's walking skills (2).
Many of the toy mowers we looked at have additional features such as blowing bubbles or activity centers that provide entertainment. That's a lot of fun for your child.
Before you're ready to buy one, you should consider some things first. When looking for a toy lawn mower, the most important feature to look at is the handle height. While most toy mowers have an age range identified by the manufacturer, your child's height and how comfortable they will be holding the handle of the mower is a more appropriate measurement.
Then, consider the build quality of the mower. If you are looking for some readily available fun with some bubbles, your child might be fine with a light plastic mower. But if you have a little one who is just starting to walk, a sturdy toy mower that will not tip is more suitable.
---
Toy Lawn Mower FAQs
---
Gardening Fun For All Weather
Whether it's indoors or out, a toy mower can be great fun for both you and your child. Working with you in the yard makes your child feel important and helpful. Meanwhile, you'll have a buddy who will, hopefully, grow to enjoy helping out in the yard.
Thank You For Your Feedback!
Thank You For Your Feedback!