Has your little girl just asked for her first makeup kit? Understandably, a million questions might be going through your head.
Wearing makeup to go out is quite different from pretending to wear makeup at home. They can have distinct meanings and purposes. As kids learn by imitating and pretending, playing with makeup can be educational in many ways.
Fortunately, you'll have the choice between several types of makeup sets, starting with the more traditional make-believe sets. We've rounded up all of the best makeup sets for kids to help you make your decision.
Image
Model
Product Comparison Table
Features
For The Fashionistas
Glamour Girl
No harmful ingredients
Lots of variety
Comes with a matching case
Looks Real But Totally Pretend
Beverly Hills
Compact
Complete set
Mess-free
Real Makeup for Real Beginners
Joyin Toy
Easily washable
Gone through extensive safety tests
Meets FDA requirements
Jumbo Set for Tweens
BR Glamur Girl
Wide range of eyeshadow shades
Travel size
Built-in mirror
Makeup Set for A Princess
Make It Up
Fun expandable design
Non-toxic
Safe mirror included
Handheld Party Favors
Liberty Imports
Safety tested
Portable design
Easily washable
Eco-Friendly Makeup Set
Meland Pretend Makeup
Sturdy and eco-friendly material
Cosmetic case included
Soft brush bristles
---
What Age Is the Right Age?
When my little girl asked for her first makeup set, I opened a long and animated debate with the family. Like many other passionate family debates, there really isn't a right or wrong answer. "Playing makeup," however, might include a bit more than simply applying color on your kid's cheeks and lips.
Pretend play can help your child develop fine and gross motor skills. It also promotes creativity, cognitive development, and even social skills when a co-artist joins the party.
Offering a makeup set to a preschooler can understandably be nerve-wracking. Alternatives — such as "pretend" makeup sets — allow all the fun without the mess of real makeup.
As your child grows up, she might be looking for a more mature makeup set. This could be an opportunity to teach your kid how to pick a healthy and appropriate makeup selection.
Knowing how to read cosmetic labels and identify harmful ingredients might be something your child will carry for her lifetime. Showing your child how to apply makeup for a classy look also creates a special bond. Don't we say that good habits start young?
What to Look For
While shopping for your child's makeup set, you'll want to consider how it's going to be used and what is included. Needless to say, there's a wide variety of options out there.
---
The Best Kids Makeup Sets of 2022
Here are 7 great kids makeup sets to consider.
1. Glamour Girl Pretend Play Make-Up Set
For the Fashionistas
For some little girls, a pretend makeup set might entail much more than applying makeup. They could consider the "coolness" factor an important part of the game.
The fashionable design of this set should make every little fashionista happy.
Totally pink, the brand has left no stone unturned even adding the color to the bristles of the makeup brush. Created by a mom and her girls, this company knows what's what. The makeup itself is made of foam so it's not actually messy makeup — it's all pretend.
This fashionable set comes with 13 pieces, from eyeshadow to foundation, lipstick, a mirror, two nail polishes, and even a bronzer.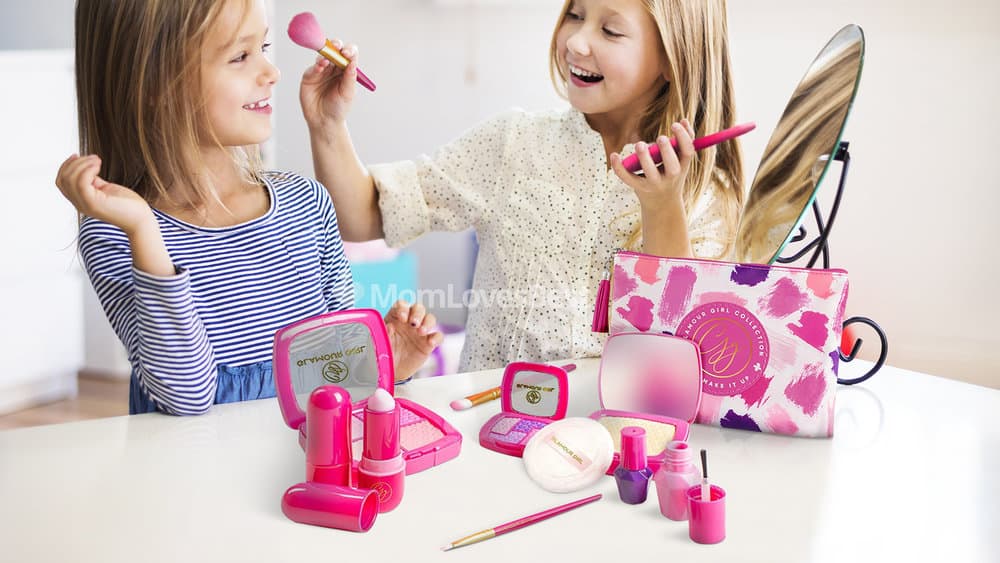 Pros
No harmful ingredients included.
A variety of products to experiment with.
Made by women and girls, it's "girl power" all the way.
Comes with a matching case for easy, and cool, transportation.
Cons
Users report quality concerns with some of the items — lipsticks and brushes seem to break easily.
---
2. Beverly Hills My First Princess Cosmetic Beauty Set
Looks Real but Totally Pretend
This popular kid-friendly makeup set is designed for preschoolers, 3 years old and up. Although it looks real, the makeup isn't. An optical illusion, nothing actually comes out of the components, so you won't have to worry about a potential allergic reaction.
Compact in design, your little princess can carry her makeup kit wherever she goes. It contains an eyeshadow palette, pretend lip gloss, and blush, but it has real brushes for an authentic makeup experience.
An included mirror will let her view her "results," and all the items come packed in a neat carrying case.
Pros
Compact size.
Encourages safe, creative play.
Materials are of high quality.
Mess-free.
Cons
Some children lose interest once they realize it's fake.
---
3. Joyin Toy All-in-one Girls Makeup Set
Real Makeup for Real Beginners
Moms don't only want what's best for their child, but also what's healthiest. This makeup set has gone through extensive toxicity tests to make sure every component is safe for your kid to use.
Unlike many other makeup sets, it meets the requirements of the FDA — Food and Drug Administration. You shouldn't have to worry about skin rashes.
The company made sure to incorporate excitement in every aspect of the design. From the exterior, this cute makeup set is composed of an owl, a puppy, cupcakes, and a kitten. Lip balms are even packaged in emoji-shaped tubes.
Inside, a colorful shimmer powder, lip gloss, eyeshadows, and more should keep your little one entertained and feeling all glitzed up.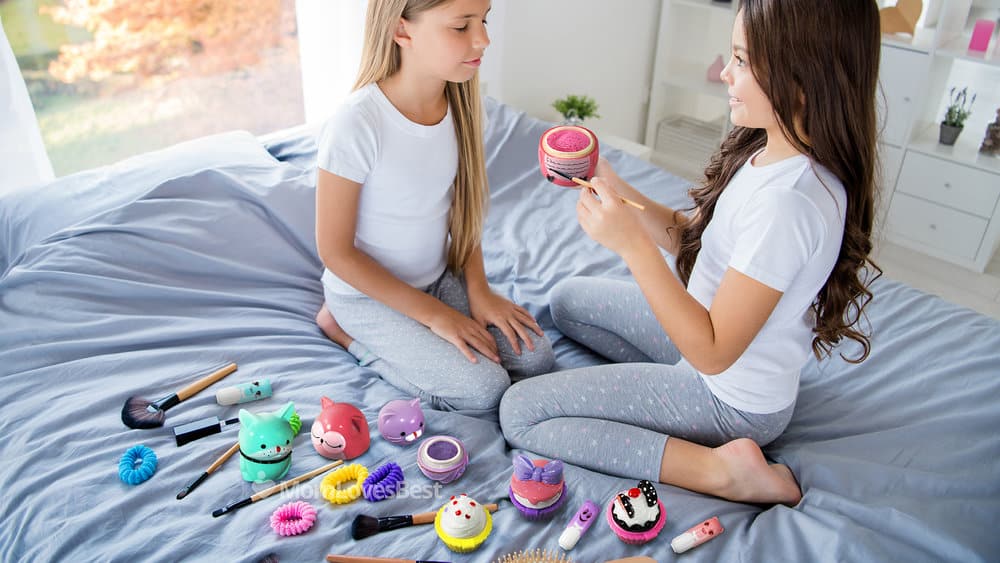 Pros
Easily washable.
This kit has gone through extensive safety tests.
The pink powder puffs are too cute.
When makeup time is over, your child can still play with the figurines.
Cons
No carrying case included, so the small pieces could be easily lost.
---
4. BR Glamur Girl Makeup Kit
Jumbo Set for Tweens
This makeup set is ideal for tweens or upcoming teenagers who have outgrown their pretend makeup collection. Fitting most purses, it can easily be transported anywhere. It's dual opening — from top and front — allowing easy access to the large variety of eyeshadows.
It comes with more mature and diversified shades. From green, blue, pink, to brownish and yellow shades, this set is made to match most skin tones and eye colors.
Six built-in lip glosses should complete your girl's classy look. Traveling? The included mirror can help with that.
Pros
Comes with a wide range of eyeshadow shades.
Travel size, easy to carry in a pocket or bag.
Built-in mirror.
Lip gloss included.
Cons
Colors vary from the images.
Some shades aren't easy to remove.
---
5. Make It Up My First Makeup Set
Makeup Set for a Princess
Is your little girl all about pink and glitter? This princess set could be one to consider.
This bright fuschia makeup kit comes with lots of colorful blushes, lip colors, and glittery eyeshadows. It opens from the top, and also from each side, where more bright and pastel colors can be found.
The front mirror looks like a demoiselle set-up, and for your child's safety, it's designed to be non-scratchable and unbreakable. Non-toxic materials are used and the manufacturer guarantees a full refund in case skin irritation occurs.
Pros
Fun expandable design.
A wide variety of products to choose from.
Safe mirror included.
Cons
The applicator brushes could be of better quality.
---
6. Petite Girls Play Cosmetics Set
Handheld Party Favors
Coming in a box of 12, this could be a sweet option for party favors on your little girl's next birthday. Each palette contains real makeup, with six colors, an applicator, and a lipstick. It has a lid, so it's easy to close and slip in your pocket or purse after the fun is over.
This kit is also CPSC tested and certified, meaning that it's non-toxic and meets safety standards for children's use. It includes eyeshadow, blush, and lipstick — this kit will impress most little girls.
Pros
Cute design made to impress.
Also sold as a single kit.
CPSC certified.
Different case shapes to choose from, including a crown or butterfly.
Cons
The lid doesn't close well and the "lock" can break easily.
---
7. Meland Pretend Makeup Kit
Eco-Friendly Makeup Set
Are you looking for a safe and environmentally-friendly makeup kit for your child to play with? This pretend play kit doesn't contain real makeup, so there's no risk of skin irritation.
The different pieces are made of rubberwood, non-toxic lacquers, paints, and dyes. The formaldehyde-free glue is safe and the packaging is made from 70 percent recycled material.
It's designed to promote creativity and imagination. It features nail polish, lipstick, an imaginary eyeshadow and powder palettes, a comb, and even a mirror. Two bristled brushes complete the set. Everything fits in a cute and colorful bag to store away after playtime is over.
Pros
Two-in-one mirror: handheld or free-standing.
Sturdy and eco-friendly material.
Cosmetic case included.
Soft brush bristles, safe to use.
Cons
The lipstick and nail polish lids fall off easily.
---
Thank You For Your Feedback!
Thank You For Your Feedback!