Trampolines come in all shapes and sizes — the choice is vast. Even if you don't have a backyard, you have plenty of options for indoor models.
To help you narrow your selection, we'll discuss what to look for in a quality trampoline and how to keep your kids safe while jumping. We've also reviewed and tested all the best kids trampolines to bring you our top 10 recommendations. We'll highlight the pros and cons of each model, ranking them based on their safety features, durability, weight capacity, and size.
Keep your kids active but safe with one of these top-rated trampolines.
Image
Model
Product Comparison Table
Features
Best Round Trampoline
Zupapa Kids Trampoline
Durable quality
No gaps
Improved springs
Best Rectangular Trampoline
Skywalker Trampolines Rectangle
Spacious jumping area
Safety features
Durable materials
Best for Backyards
Skywalker Trampolines Round
Durable trampoline
Safe design
Thick spring padding
Best for Preschoolers
Bcan Mini Fitness Rebounder
Great for beginners
Sturdy design
Works indoors and outdoors
Best for Beginners
Bounce Pro 7' Trampoline
Large and sturdy
Excellent for outdoor use
Strong netting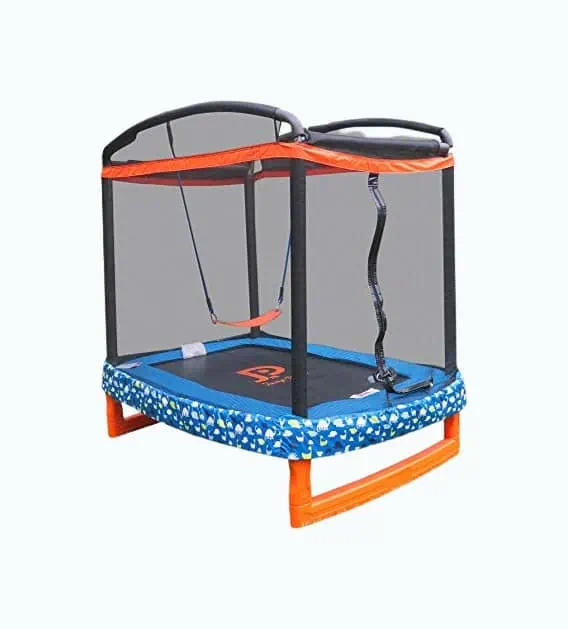 Trampoline & Swing Combo
Jump Power Rectangle Trampoline
Removable swing
Decorated safety padding
Padded poles and safety net
Best Mini Trampoline
Hearthsong Jump2It Portable Trampoline
Great for exercise
Sturdy jumping mat
Minimal pinching
Best Three-In-One Trampoline
SmarTrike Activity Center 3-in-1
Fun for the smallest
Assisted bouncer
Contained mess and compact fold
Best for Indoors
Lovely Snail Trampoline
Perfect size for indoor use
With basketball hoop
Bright colors
Best for Toddlers
Galt Nursery Trampoline
Durable frame
For indoor and outdoor use
Adorable design
Review Methodology: At Mom Loves Best, we pride ourselves on providing in-depth, hands-on analysis and reviews of products for your family. Our expert team evaluates products from a user's perspective, conducts comprehensive research, and uses strict criteria to rank and compare trampolines for kids. We delve into the data, measuring safety features, performance, durability, and ease of assembly. Our assessments highlight the unique design choices of each trampoline and their effects on users. By tracking these key decision-making factors, we offer you the most reliable and factual evidence to help you choose the best trampoline for your little ones. Trust us to guide you in making the best decision for your family's fun and safety.
---
---
The Best Trampolines for Kids of 2023
Here are the top ten trampolines for kids.
Zupapa Kids Trampoline
Best Round Trampoline
Zupapa makes a classic round trampoline. This bouncer is excellent for the backyard, as it's large and made of heavy-duty materials.
The trampoline exceeds TUV safety standards due to a smart feature that prevents tiny feet from getting stuck.
The all-around safety net will ensure your children won't get bounced off the sides.
With a new and improved design, it's worth a look. Parents commend the durability as well as the sturdiness. It's heavy but stable on the ground.
What We Like
Durable Quality
The Zupapa trampoline is a heavy-duty toy. It weighs 137 pounds due to its high-quality, thick, rust-resistant galvanized steel frame. Then, the manufacturer connected each leg and pole for added stability, improving the overall bouncing experience.
No Gaps
The no-gap jumping mat system is one of the updated features of this new and improved version of Zupapa trampolines.
This exclusive design prevents the spring pads from elevating and exposing the springs while people jump. It makes it impossible for your little bouncer to get their feet stuck in the springs.
Improved Springs
While on the topic of springs, Zupapa also improved those on the trampoline. They have now included additional galvanized springs, giving a more comfortable feel to the bounce.
Ladder and Raincover
In addition to the high-quality materials, you'll receive a heavy-duty ladder your child can use for access. The trampoline is tall, so this is a good feature.
Zupapa has also included a cover to protect the trampoline from outdoor elements when not in use.
What We Don't Like
Confusing Instructions
Unless you have constructed a trampoline before, it might not be easy to assemble this. The instructions are confusing and unorganized, skipping around to various steps randomly.
Product Specs
| | |
| --- | --- |
| Dimensions | 10 feet in diameter |
| Recommended ages | N/A |
| Weight limit | 330 pounds |
| Shape | Round |
| Warranty | Ten-year warranty for the frame |
Our Ratings
Community Feedback
This trampoline has provided endless enjoyment for my family since we assembled it one Saturday morning. Its heavy-duty construction holds up to multiple people, and the higher weight limits make it superior to less expensive competitors. The assembly does require more than one person and a careful reading of the instructions, but it's well worth the effort. My kids especially appreciate the padding all around and the sewn-in net that prevents them from getting stuck in the springs.
---
Skywalker Rectangle Trampoline
Best Rectangular Trampoline
Whether your children are into gymnastics or enjoy having friends over, this trampoline is a great choice. It's a rectangular trampoline capable of accommodating several children at once.
With a spacious jumping area, your children can do tumbles and flips, even with others around. It can carry a significant 200-pound weight load, so even mom or dad can join the fun.
Great for the backyard, the materials used are durable, and as always with this company, safety is on point.
What We Like
Spacious Jumping Area
The upside to rectangular trampolines is that the jumping area is usually larger, and this one does not disappoint. Your children get 92 square feet to bounce on — enough for several children at once. This trampoline is also excellent if your children practice gymnastics.
Durable
One of the things we appreciate about Skywalker Trampolines is their sturdy structure. The material used is galvanized steel, attached in reinforced T-sockets that prevent the tubes from twisting and separating. Skywalker Trampolines even includes a three-year warranty on the frame.
The tightly coiled steel springs give a great bounce, and each of the 84 springs is covered in a rust-resistant finish to ensure a long life.
Safety Features
Another huge pro this manufacturer offers is safeguarding. It has eliminated all gaps between the jumping mat and springs by placing the safety net in between. Children won't be able to jump onto the springs or get their hands or feet stuck.
The safety net is strong and will resist tearing when children bounce into it. The foam-padded poles keep it up and aid the overall stability.
What We Don't Like
Poor Packaging
This seems to be an unfortunate but common issue with Skywalker Trampolines. The packaging is poorly executed, and many customers complain about damaged or ripped boxes. Fortunately, if parts are missing, the company is quick to respond.
It's also fair to note the manufacturer's warning. It states the trampoline will be shipped in three boxes, which may arrive at different times.
Product Specs
| | |
| --- | --- |
| Dimensions | 15 feet long by 9 feet wide by 9 feet high |
| Recommended ages | Not specified |
| Weight limit | 200 pounds |
| Shape | Rectangular |
| Warranty | Three-year warranty on the frame |
Our Ratings
Community Feedback
I recently purchased this large rectangular trampoline for my kids and they absolutely love it. The assembly process was straightforward, though certain parts needed an extra set of hands, and the humorous instructions made it enjoyable. This trampoline has not only become a favorite among neighborhood kids but has also encouraged my children to spend more time outdoors. Considering its size and the fact that it can withstand a significant amount of weight, I am extremely satisfied with the quality and durability of this product.
---
Skywalker 10-Foot Round Trampoline
Best Trampoline for the Backyard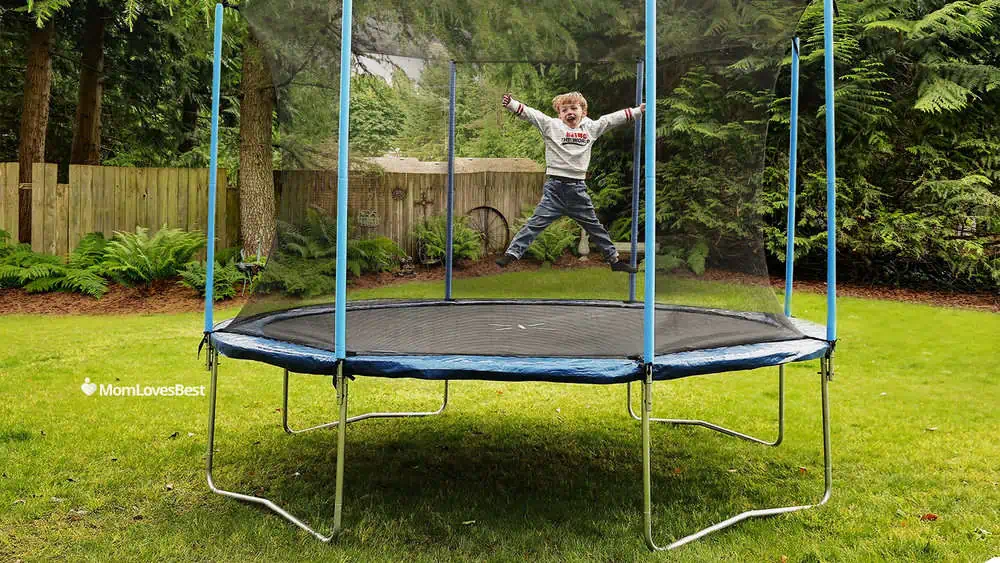 If you're searching for a durable backyard trampoline, this one will surely be a hit. Skywalker Trampolines has a good reputation for producing exceptional, reasonably priced trampolines. This 10-foot round trampoline is no exception.
It's an excellent size for a small to medium backyard, and the heavy-duty materials used will enable it to last for years. The manufacturer ensures that safety is a top priority — with a patented design that prevents pinches and spring exposure.
Tall, padded poles keep the safety net up and secure. Parents love how sturdy and stable it feels.
What We Like
Durable Trampoline
This is a heavy-duty trampoline. The frame is constructed from heavy-gauge steel, keeping it stable. To prevent structural twisting, Skywalker has used reinforced T-sockets for the poles, creating a sturdy, uni-bodied construction.
Safe Design
Skywalker emphasizes safety. Its trampolines feature a patented enclosure system. The safety net is attached to the jumping mat, removing any contact with the springs and eliminating the chance of pinches.
Foam padding has been added to the rust-resistant poles that keep the safety net in place. These also aid stability and overall safety.
Thick Spring Padding
For extra safety, Skywalker included thick vinyl padding over the springs. The material is also fade-resistant.
What We Don't Like
Difficult Assembly
The assembly seems to be the most significant issue with this trampoline. The instructions are confusing. Several parents said the safety net was the wrong way around once construction was finished, leaving the zipper on the inside. They had to reassemble it all again.
To prevent errors with the construction, many recommended lining up everything before assembling.
Product Specs
| | |
| --- | --- |
| Dimensions | 10 feet in diameter |
| Recommended ages | N/A |
| Weight limit | 175 pounds |
| Shape | Round |
| Warranty | Three-year limited warranty on the frame |
Our Ratings
Community Feedback
I'm pleased with the durability and sturdiness of this trampoline, as it comfortably accommodates both children and adults. However, assembling the trampoline proved to be a bit challenging, with some difficulty attaching the springs and frame pieces. I highly recommend using your own tools rather than the ones provided for a smoother assembly process. Despite these minor issues, the trampoline has been a great addition to our yard, providing endless outdoor fun for my family.
---
Bcan 40-Inch Foldable Mini Fitness Rebounder
Best Trampoline for Preschoolers
For young children, this trampoline from BCAN is worth considering. It's a compact yet sturdy design, offering a safe environment for your little one to practice their bouncing skills.
The short-legged trampoline sits close to the ground, making it easy to get on and off. It has a waterproof jump mat, giving your little one the confidence to jump.
It's suitable for children aged 6 years and up and can hold a weight of 330 pounds. You can use this trampoline both indoors and outdoors, but it's not for more than one user at a time.
What We Like
Great for Beginners
For young children just getting started with a trampoline, this is excellent. It's close to the ground and small, which is great for helping your little one get comfortable with bouncing.
Sturdy Design
Despite its small footprint, the trampoline is quite sturdy. It's made with heavy-duty steel foot tubes. It's an integrated design, providing additional stability and support.
The high-quality mesh is easy to see through to keep watch at all times.
Works Indoors and Outdoors
Due to its compact size, the trampoline also works well indoors. It's not too heavy, so it's easy to move without disassembling it.
What We Don't Like
Loose Screw
We found that the screws loosen with repeated use. The best way to prevent this is to use a thread lock formula to help secure the screws in place.
Product Specs
| | |
| --- | --- |
| Dimensions | 40 inches in diameter |
| Recommended ages | 6 years and up |
| Weight limit | 330 pounds |
| Shape | Round |
| Warranty | N/A |
Our Ratings
---
Bounce Pro 7 Trampoline
Best Trampoline for Beginners
If your child is new to trampolines and feeling a little uncertain, this smaller model from Bounce Pro is a great starting point. It's perfect for one to two young users. It supports 100 pounds and doesn't take up as much space as many other models.
Children ages three to 10 love playing on this trampoline.
It's good for keeping in the backyard. All the materials used to construct it will resist wear and tear caused by the weather. With added padding and a strong safety net to prevent injuries, this trampoline is worth a look.
What We Like
Large and Sturdy
The Bounce Pro trampoline measures 7 feet in diameter, with a spacious jumping mat and ample room for young children. The sturdy trampoline is made from a strong, galvanized steel frame, delivering exceptional strength and stability.
Excellent for Outdoor Use
Bounce Pro uses only water and UV-resistant materials to ensure minimal damage from the elements. The galvanized steel frame is also rust-resistant.
Strong Netting
Surrounding the jumping mat is a strong safety net. It's firmly attached to the jumping mat, eliminating any risk of contact with the springs. Supporting the net are additional steel poles covered in foam padding to make them safe in collisions.
What We Don't Like
Ladder Not Included
Bounce Pro doesn't include a ladder with the trampoline. The jumping mat sits relatively high, so without a ladder, you'll need a chair or other item to step on.

Product Specs
| | |
| --- | --- |
| Dimensions | 7 feet |
| Recommended ages | 3 years and up |
| Weight limit | 100 pounds |
| Shape | Hexagon |
| Warranty | N/A |
Our Ratings
Community Feedback
Definitely a fun addition for kids, this trampoline had some assembly issues with the top bars not lining up correctly, but we decided to keep it anyway. The construction is sturdy and safe, even for a bouncy 2.5-year-old, and works well indoors with high ceilings. Although I haven't seen it personally, my grandchild who lives miles away absolutely loves it, which is what truly matters.
---
Jump Power Rectangle Trampoline
Best Trampoline and Swing Combo
For children who love to be active, we found this fun rectangular trampoline from Jump Power. It's a 72-inch by 50-inch mat with a surrounding safety net to keep the bouncing contained.
The wow factor on this trampoline is the included swing, which doubles the fun. And we loved the fun details on the skirt surrounding the mat. It's suitable for children ages 3 to 10 years and can accommodate a weight of up to 110 pounds.
With durable, long-lasting materials, it's a good setup for the backyard in the summer. However, it's also small enough to stand indoors.
What We Like
Removable Swing
Having a trampoline to jump on is fun. Having an incorporated swing is even better. Jump Power includes a removable swing with the trampoline. Your little one can do tumbles or hop off the swing and land softly on the bouncy trampoline.
Decorated Safety Padding
This trampoline is all about safety and fun. Around the surface, there's padding to protect your child from the springs. The material is decorated with dinosaurs, adding a subtle yet fun touch.
Padded Poles and Safety Net
The high-quality steel poles supporting the trampoline are padded to protect from accidental impacts and minimize injuries.
The safety net keeps your child inside at all times. At the front, there's a zipper door so users can enter and exit easily.
Durable Materials
You can easily keep this trampoline out in your yard. The steel poles are rust-resistant, and the spring protector and mat materials are a durable UV-resistant fabric.
The netting is also made from UV-resistant PE material. It can endure extensive exposure to the sun, keeping it looking and performing like new for longer.
What We Don't Like
Poor Instructions
As some parents noted, the instructions lack detailed written information. Users say that setting up was more about following pictures than actual directions.
Product Specs
| | |
| --- | --- |
| Dimensions | 72 inches by 50 inches by 80 inches |
| Recommended ages | 3 to 10 years |
| Weight limit | 110 pounds per person |
| Shape | Rectangular |
| Warranty | 12-month warranty |
Our Ratings
Community Feedback
I'm thrilled with this indoor trampoline and swing combo, as it keeps both my kids and grandkids entertained for hours. The assembly was a bit challenging, especially attaching the springs, but the final product is sturdy and well worth the effort. The swing is a great addition, and the cute dinosaur designs on the side are a bonus. This trampoline has become a go-to activity for burning off energy when it's too cold or rainy to play outside.
---
HearthSong Jump2It Kids Portable Mini Trampoline
Best Mini Trampoline
This compact miniature trampoline offers a big chance for exercise and fun.
Included is a cross handlebar, fantastic for newbies and those who want to practice tricks. The trampoline works well indoors. The shape and compact size make it easy to place in the corner of the living room.
Your children can bounce for hours with a sturdy jumping mat and additional padding. Parents love how well it suits older toddlers and preschoolers — they can swing and crawl while indoors. That's great if you don't have a yard or it's too cold outside.
What We Like
Great for Exercise
This mini trampoline includes a foam-padded handlebar that sits across the jumping mat. Your children can use it for support while jumping higher or doing tricks — it's great for exercise and burning energy before bedtime. The adjustable handlebar is removable if you don't need it.
Sturdy Jumping Mat
The mat allows for good-sized jumps. It measures 56 inches by 35 inches. It's stretched tightly, providing an optimal bouncing surface. The mat is durable and can safely accommodate up to 180 pounds.
Minimal Pinching
To prevent getting feet stuck or skin pinched in the springs, HearthSong included a cover around the trampoline's edge. It also adds some additional padding should your child fall.
Great for Indoor Use
The oval-shaped trampoline is easier to fit indoors than a round one. It has a convenient mat height of 9 inches, allowing plenty of headroom to avoid any injuries from hitting the ceiling. With a weight of 29 pounds, it's effortless to move around.
What We Don't Like
Bad Instructions
We found the included instructions confusing, and they failed to help with the assembly. On the bright side, assembling the trampoline is reasonably straightforward, even without the instructions. This video is helpful if you're struggling.
Product Specs
| | |
| --- | --- |
| Dimensions | 56 inches by 35 inches by 9 inches |
| Recommended ages | 3 to 12 years |
| Weight limit | 180 pounds |
| Shape | Oval |
| Warranty | N/A |
Our Ratings
---
SmarTrike Activity Center 3-in-1 Foldable Trampoline
Best Three-In-One Trampoline
If you're looking for something even the youngest family member can enjoy, this trampoline is a good pick. It's a three-in-one solution. It can be a ball pit, a kid's trampoline with a handle, or a full-fledged mini-trampoline without a handle.
It allows babies as young as 10 months to join in the fun. Your children can use this until they are 5.
Parents praise how convenient this toy is. It's excellent for indoor use since it's compact and folds easily. It's even to contain the 100 included balls, thanks to a contraction system.
Remove the holding bar, and it becomes a solid second-stage trampoline that provides ample support for slightly older and more confident bouncers.
What We Like
Fun for the Smallest
The first of the three stages allows the trampoline to be used as an activity center. Included is a bundle of 100 colorful balls that your little one can play with inside the contained area of a small ball pit.
Assisted Bouncer
Once your baby is ready to bounce, the high-quality elastic mat makes for a good first trampoline. It's made up of sturdy elastic bands, which work to prevent slipping, giving an even bounce that is safe for newbies.
If needed, an included padded handlebar fits the trampoline for extra assurance. This is a great tool to help your little one gain confidence. It's also an excellent way to develop basic motor skills.
Contained Mess and Compact Fold
The downside to ball pits is the mess, but SmarTrike thought of a solution. Use the drawstring to draw the sides of the pit up over the balls, storing them all inside in a convenient pouch.
The trampoline legs fold effortlessly, making it compact when not in use. You can store it in the corner or under a bed without needing to disassemble anything.
Rubber Legs
This is best used indoors. Its legs have rubber feet to protect floors from potential scratches and other damage. Additionally, the non-slip material prevents the trampoline from gliding around while your little one plays, which aids stability.
What We Don't Like
Not Enough Balls
A few parents pointed out you need to purchase more balls to fill the pit. The bundle of 100 barely makes up one layer.
Product Specs
| | |
| --- | --- |
| Dimensions | 36 inches in diameter |
| Recommended ages | 10 months to 5 years |
| Weight limit | 55 pounds |
| Shape | Round |
| Warranty | N/A |
Our Ratings
Community Feedback
In my experience, this trampoline has been a fantastic addition to our home for our children to enjoy. Our toddler loves bouncing and laughing on it, and it even doubles as a ball pit, providing endless fun for the whole family. The trampoline is sturdy and safe, thanks to the balance bar, making me feel comfortable with our little ones using it. It's easy to assemble, disassemble, and carry, which is a big plus. One minor drawback is the ball pit border not holding the balls in well during storage, but it's not a deal-breaker.
---
Lovely Snail Trampoline with Basketball Hoop
Best Trampoline for Indoors
With a compact size, this trampoline from Lovely Snail is great for indoor use. It keeps children entertained for hours while indoors.
Despite its small size, it can safely accommodate a fair amount of weight — up to 220 pounds — more than enough for two children at once.
Your little ones will have such a good time, as it offers plenty of opportunities for fun and activity. The bright color makes it eye-catching and almost irresistible for small children — you can always throw some colorful balls in there, too.
It features padding and a sturdy safety net, keeping all the fun contained.
What We Like
Perfect Size for Indoor Use
Although this trampoline isn't exclusively for indoor use, it works well when using it inside. It only measures 5 feet in diameter but can carry up to 220 pounds. The trampoline is also reasonably light, making it easy to move.
Basketball Hoop
Your children can practice their slam dunk techniques with the included basketball hoop. This adds an extra fun element to the trampoline for days when jumping isn't enough. It also encourages exercise, keeping your little ones active.
Spring Coverage
The springs are covered with a soft padded skirt to prevent any injuries that could be caused by contact with exposed springs.
Bright Colors
This trampoline sports a bright green color with a smart black trim on the netting and a multi-colored hoop and backboard.
What We Don't Like
Difficult to Assemble
Assembling the Lovely Snail trampoline isn't as easy as it seems. Despite its compact size, it's a two-person job.
Product Specs
| | |
| --- | --- |
| Dimensions | 5 feet |
| Recommended ages | N/A |
| Weight limit | 220 pounds |
| Shape | Round |
| Warranty | N/A |
Our Ratings
Community Feedback
My experience with this trampoline has been a mixed bag. On one hand, the jumping mat and springs are of great quality, with a thick protective padding covering the springs. However, I encountered several issues during assembly, such as the bars not screwing together securely and difficulty using the spring tools. The basketball net that came with it was disappointing and broke easily, making it essentially useless. While my kids absolutely love jumping on the trampoline, I can't help but feel frustrated by the subpar components and assembly process.
---
Galt Nursery Trampoline
Best for Toddlers
Another great trampoline for indoor and outdoor use is this one from Galt. It's compact but has a lot to offer children between the ages of 1 and 3.
Whether your child is a gymnast in training or this is their first trampoline, they can have a lot of fun. It offers plenty of support for newbies and those who want to do tricks.
With some colorful details, your child can even practice their ABCs while jumping. Kids love it and use it both for jumping and relaxing in the living room.
What We Like
Uniquely Designed
This trampoline is surely an eye-catcher for your little one because of its colorful tortoise design.
Easy Grip Handle
At the front of the trampoline sits an ergonomically attached grip handle your child can hold on to. The bar is cushioned yet firm for a comfortable grip.
Durable Frame
The frame is quite durable. It can safely accommodate a weight of up to 40 pounds. The trampoline isn't designed to be used by more than one child at a time.
What We Don't Like
Can Easily be Outgrown
With a limited capacity of 40 pounds, this trampoline can only be used by smaller kids. The good thing is you can save it for future children or hand it down to others.
Product Specs
| | |
| --- | --- |
| Dimensions | 23 inches by 70 inches |
| Recommended ages | 1 to 3 years |
| Weight limit | 40 pounds |
| Shape | Round |
| Warranty | N/A |
Our Ratings
Community Feedback
Bought this trampoline for my twin toddlers and they absolutely love it. Assembling it was a bit challenging, but once put together, it's sturdy and perfect for little ones learning to jump. It's compact and doesn't take up much space, making it a great addition to our playroom for burning off energy.
---
Are Trampolines Safe for Kids?
Trampolines are safe as long as your children practice responsible usage and you keep up to date with maintenance. However, there are some facts to consider.
According to the American Academy of Pediatrics, around 75% of trampoline accidents occur when several people are bouncing simultaneously.
It's generally the youngest and smallest participants who are at a higher risk of injury. For children aged 5 years and under, 48% of reported accidents resulted in dislocations and fractures (1).
Children under age 5 are also more likely to sustain lacerations or injuries to the head. Interestingly, for children above 6 years, trauma to the lower body is more common (2).
Common injuries for all ages include bruises, sprains, and strains. Falling from the trampoline is another widespread cause of accidents and can often result in the worst injuries.
So, should you steer clear of trampolines? No, but always use them with caution. It's good to remember that most injuries occur because safety regulations aren't followed.
How to Choose a Trampoline for Kids
---
Tips for Keeping Your Children Safe
Educate
Once you've assembled your trampoline, gather your children and educate them on trampoline safety. Be honest — let them know that injuries do happen, and explain how to avoid them. Don't let them play until they understand. For smaller children, it helps to create a visual board of dos and don'ts.
If the trampoline can support your weight, it's a good idea to show your children how to use it responsibly. Don't get carried away with your demo, though — the point is to show them how to use it safely, not to impress them with crazy stunts.
Minimal Participants
Even if you have a large trampoline, keep the participants at a minimum. Overcrowding increases the risk of injuries, particularly if the children are of different ages.
Allowing too many children to bounce at once can also exceed the weight limit. This is a foolproof way of getting injured and ruining your trampoline.
Always Supervise
A 2008 study of 131 children who had sustained trampoline-related injuries discovered that 66% occurred when there was no parental supervision (3). Remember, you're dealing with children. Sometimes they do as they're told. Other times, they don't.
By keeping a close watch, you can prevent some injuries from occurring.
Keep up with Maintenance
Even if the trampoline is made from rust- and UV-resistant materials, it won't last forever. Do occasional checks to ensure all screws and springs are tight and secure. Check the steel tubes for rust and the mat and safety net for tears.
Whenever the trampoline isn't in use, cover or disassemble it. If you know it won't be used for a while, take it apart and store it in the garage or shed.
It's good to periodically check the Consumer Product Safety Commission's official website for recall updates.
---
Thank You For Your Feedback!
Thank You For Your Feedback!