My kids adore ball pits, but I am not a big fan of the public ones. Most ball pits seem to be built in huge buildings that are a pain to get to, and once you arrive, they are always full of children spreading their germs to every kid they come in contact with.
Kids' ball pits for home use are a good alternative. They are readily available and most are affordable. It simply comes down to finding the best ball pits for kids, so you pick one that pleases everyone in your household.
Image
Model
Product Comparison Table
Features
Best Ball Pit for Baby
Melissa & Doug Turtle Ball Pit
Compact & easy to store
Non-slip underside for extra safety
Turtle body is machine washable
Best Ball Pit for Toddlers
MeowBaby Foam Ball Pit
Crush-proof balls
Has 200 color-coordinated balls
Removable cover is machine washable
Best Ball Pit & Paddle Pool Hybrid
Peradix Paddling Pool and Ball Pit
Doubles as a paddling pool
Pop up & twist down construction
Lightweight & portable
Best Ball Pit Bouncer
Intex Jump-O-Lene Inflatable Ball Pit
Suitable for indoor & outdoor use
Large enough for 3 or 4 preschoolers
Easy to clean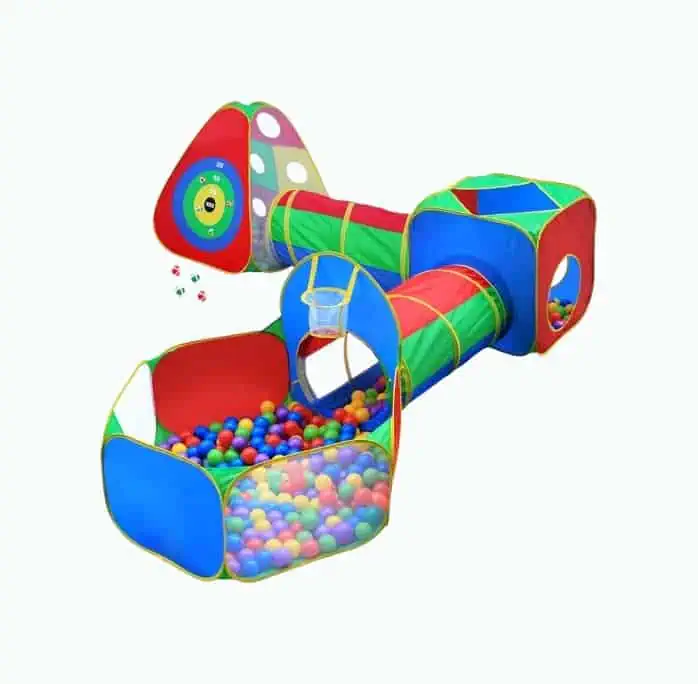 Best Tunnel & Ball Pit
Hide 'n' Slide Tunnel and Ball Pit
Bright & colorful play structure
Has second tunnel attached to ball pit
Affordable for such a big set
Baby Ball Pit & Baby Gym
Infantino 4-in-1 Baby Gym & Ball Pit
Includes multiple, detachable toys
Includes sloth-shaped storage bag
Comes with 40 balls
Best Foam Ball Pit
Milliard Ball Pit
Stands up to hard use
Can be used as soft play yard
Two toddlers can play in it together
Best Large Inflatable Ball Pit
WellFunTime Inflatable Bounce House
Total weight of 300 pounds
Plenty of play possibilities
Includes a pump & 50 balls
Best Little Inflatable Ball Pit
Little Tikes Slam Dunk Ball Pit
Indoor active play opportunity
Includes 20 air-filled balls
Includes a basketball hoop
Best Ball Pit With Slide
Eezy Peezy Jungle Gym PlaySet
Comes with 50 balls
Easy to wipe clean
Includes toss target
Review Methodology: At Mom Loves Best, we dedicate our time to thorough research and hands-on evaluation of the best kids ball pits. Our professional team meticulously tests and tracks each product's performance based on a set of criteria, including safety, durability, design, and child engagement. We then compare and rank these products, providing you with our findings and facts from this rigorous assessment. Our hands-on experience and expertise have guided us in identifying key decision-making factors such as material quality, size, and ease of assembly. We analyze every detail, from the product's design choices to their effects on users, to help you make the best choice for your little ones. Our data-driven reviews, combined with first-hand evidence, will give you the confidence to choose the best ball pit for your child's fun and safety.
---
---
The Best Kids Ball Pits of 2023
Here are our ten best ball pits for kids.
Melissa & Doug Turtle Ball Pit
Best Ball Pit For Baby
When your baby is old enough to sit unsupported, the Melissa & Doug turtle ball pit is a safe and stimulating place to play.
The turtle's fabric body forms the ball pit, and the bottom, head, and legs of the turtle are all padded. When not in use, the ball pit can be closed with the zipper and hook and loop tabs, preventing the balls from escaping.
The turtle also has a variety of holes through which your child can poke the balls, a squeak button, crinkle feet, multiple textured tabs, a mirror, and a textured ring for further play value. It's a great ball pit for curious, exploring babies.
Pros
Compact and easy to store.
Comes with the balls.
It has a non-slip underside for extra safety.
The turtle is machine washable in cold water.
Cons
It's small so your baby will quickly outgrow it.
Our Ratings
Community Feedback
Got this adorable turtle toy for my baby and they absolutely loved it! The colorful balls and various textures kept them entertained, and it even helped them with learning colors. Though the fabric is a bit flimsy and lacks support for new sitters, it's still a well-thought-out toy that doesn't take up much space. It's easy to clean up and store since it zips and velcros closed, making it a win for both baby and parents.
---
MeowBaby Foam Ball Pit
Best Ball Pit For Toddlers
These soft-sided foam ball pits from MeowBaby come in a variety of ball pit and ball color combos. So not only are they a safe, fun place for your toddler to play, they are also a stylish and sophisticated alternative to other brightly-colored ball pits.
The ball pit is handmade from 94 percent cotton, 6 percent elastane material. It is soft to the touch and provides some give when a child is leaning against it. The walls are firm, but there are no solid supports or hard edges on which your child can be hurt.
The fabric is OKEO-Tex 100 certified, which means it is independently verified as free from substances that are harmful to human health (1).
Pros
Crush-proof balls that hold their shape.
Ships with 200 color-coordinated balls.
The removable cover is machine washable.
Cons
It's not the cheapest option.
Our Ratings
Community Feedback
I recently purchased this ball pit for my child's first birthday, and both my one-year-old and four-year-old absolutely love it. The colors and shape are visually appealing, and it comes with enough balls to fill the pit, although I did end up buying a few extra packs to fill it up completely. The light pink cover does get dirty quickly, so I wish I had chosen a darker color. I appreciate that the balls are crush-proof and of good quality, as is the pit itself. After unboxing, it took about a day for the pit to form into a proper circle, but my kids have been enjoying it ever since.
---
Peradix Paddling Pool and Ball Pit
Best Ball Pit And Paddle Pool Hybrid
This ball pit doubles as a paddling pool, but it also comes with a sunshade and a basketball hoop panel, both of which are removable. Then, the entire thing can be folded down and stored flat in a storage bag, which is included.
All of this makes the Peradix paddle pool and ball pit incredibly versatile. Use it outside during the summer as either a paddling pool, a ball pit, or even a paddling pool with the balls in it.
Then, when the temperature drops, bring it inside and enjoy ball pit fun all winter long.
Pros
Multiple uses make this a good value for the money.
Pop up and twist down construction makes it easy to assemble, fold, and store.
Lightweight and portable so it can be taken on vacation.
Cons
The balls must be purchased separately.
Our Ratings
Community Feedback
When I first set up this pool for my young kids, I was impressed by how quick and easy it was to assemble. My children absolutely loved playing in it, whether filled with water or used as an indoor ball pit, and the added features like the basketball hoop and sunshade were a nice touch. The only downside was folding it back up again for storage, which took some practice, but overall it's a versatile and enjoyable product for little ones.
---
Intex Jump-O-Lene Inflatable Ball Pit
Best Ball Pit Bouncer
At over six feet, six inches across, the Jump-O-Lene inflatable ball pit is an excellent option for those who want a larger ball pit for older kids, but don't necessarily have space for a full-scale bounce house ball pit.
The bottom section is a springy area on which the kids can bounce, much like an inflatable kids trampoline. Then around the edge, there is an inflatable wall that prevents your child from tumbling out and the balls from escaping.
The Jump-O-Lene is in one piece, but there are five separate valves, each serving one area, making it quick and easy to inflate with an electric pump or compressor.
Pros
Suitable for both indoor and outdoor use.
Large enough for three or four preschoolers.
Easy to clean.
Although it's inflatable, it's durable.
Cons
You'll need a quality pump for inflation.
Our Ratings
Community Feedback
Best indoor play area I've purchased for my two-year-old! This inflatable play area was easy to set up and move around, but I'd recommend using an electric air pump for convenience. The quality is durable and my son, his friends, and even my older kids enjoyed playing in it. The only downside was that it came with 75 play balls instead of the advertised 100, but it didn't affect the overall fun experience.
---
Hide 'n' Slide Tunnel and Ball Pit
Best Tunnel And Ball Pit
This five-piece ball pit, two crawl tunnels, tent, and cube set provides plenty of play opportunities for those 5 years and under.
The pyramid-shaped tent has a large, loop-and-hooks-fabric target on one side. It's used as a target for throwing the four loop-and-hook balls that come with the set. The opposite side has holes through which you can throw balls.
A tunnel connects the tent to a cube-shaped structure. This cube has two circular entrances and a diamond to climb through on the roof. It also has a second tunnel, which attaches to the ball pit, which can be accessed either from the tunnel or over the sides.
Pros
Bright and colorful play structure.
Flexible.
Affordable for such a big set.
Cons
Needs a lot of balls and they aren't included.
Balls can migrate out of the pit via the tunnel.
Our Ratings
Community Feedback
This play set was not only super easy to set up, but also offered a lot of fun for both my toddler and my grandkids. I appreciated the flexibility to adjust the size and move things around, as well as the velcro sticky balls for added playtime. However, I did notice some issues with the connection strings and seams ripping, which exposed sharp metal parts - something to watch out for.
---
Infantino 4-in-1 Baby Gym and Ball Pit
Baby Ball Pit And Baby Gym
A super-cute activity center, the 4-in-1 Baby Gym from Infantino makes it suitable not only as a toy for tummy time but can also be used through toddlerhood by adding a ball pit.
The soft floor provides a safe and comfortable surface where your baby can lay for some much needed time on their belly. Once they're a little older, they can lay with their front supported on the bolster pillow and watch themselves in the mirror.
On their back, your child can reach up for the dangling toys. Once they are sitting unsupported, you can attach the soft mesh walls and add the balls for a safe first ball pit experience.
Pros
Includes multiple, detachable toys.
Multiple uses.
Cute sloth-shaped storage bag for balls included.
It includes 40 balls, so you don't have to buy them separately.
Cons
Surface wash only.
It's awkward to store because of the bag shape.
Our Ratings
Community Feedback
My experience with this playmat has been largely positive, although it does have some drawbacks. The sloth-themed design and hanging toys are adorable and kept my child entertained, while the adjustable tabs and mesh sides provided a sense of safety. The different configurations also allowed the mat to grow with my child, transitioning from a simple playmat to a ball pit. However, the mat's cleaning process could be more convenient, as it doesn't fit easily into a washing machine.
---
Milliard Ball Pit
Best Foam Ball Pit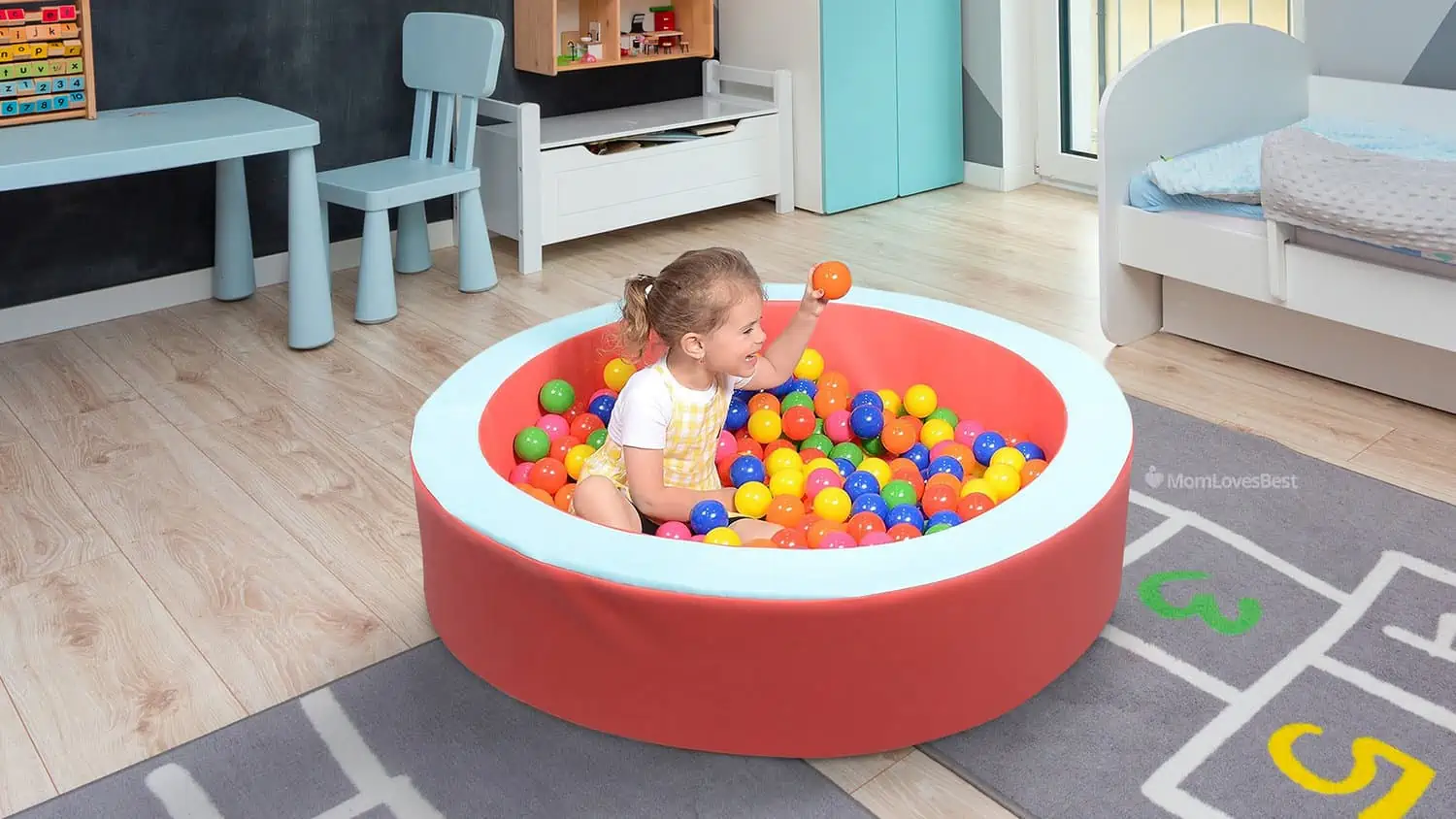 This option from Milliard is a mid-size ball pit that is rated as being suitable from birth and is sturdy enough to stand up to many years of use.
The soft, but firm, foam walls, and floor are enclosed in a vinyl cover that is designed to be easy to clean. However, if you need to, the cover can be removed, and it is safe to put it in the washer and dryer.
The walls are 4 inches thick, meaning they will not collapse when a child leans against them. The total diameter listed is 44 inches, and the usable ball pit area is 36 inches across.
Pros
Stands up to hard use.
Can be used as a soft play yard.
Two toddlers can play in it together.
Cons
Needs around 800 balls to fill it three-quarters of the way full.
Balls are not included.
Our Ratings
Community Feedback
Bought this ball pit for my son's first birthday, and it has proven to be a fantastic investment over the past 2.5 years. The pit is sturdy and durable, easily handling an active child jumping and rolling all over it. Cleaning is a breeze, as the balls can be washed in a garment bag and the pit wiped down. The solid sides provide excellent support for younger children learning to stand up. Although the price may be high, the quality and enjoyment it brings to my child make it worth every penny.
---
WellFunTime Inflatable Bounce House and Ball Pit
Best Large Inflatable Ball Pit
Some bounce houses are listed as also being ball pits, while in reality, they are regular inflatables with some balls thrown onto the floor for the publicity shots.
However, this inflatable bounce house has a six-foot by almost three-foot enclosed, dedicated ball pit area. Access to the ball pit is either via the main bounce house or through the opposite side, where there is a tent flap entrance.
The bounce house has a blow-up soccer goal attached to one side, a basketball hoop, hook-and-loop target and balls, and an inflatable slide for a quick exit from the front of the house.
Pros
Rated for a total weight of 300 pounds.
Plenty of play possibilities.
Includes a pump and 50 balls.
Cons
The footprint is over 120 square feet so you need a big area for it.
Not enough balls included.
Bulky to store.
Our Ratings
Community Feedback
I've enjoyed watching my grandchildren have a blast with this bounce house, which is not only the perfect size for their ages (3 and 4), but also has a covered ball pit area that provides shade while still being well-ventilated. The quality of the bounce house exceeded my expectations given its affordable price, and the fact that it comes with a blower is an added bonus. This bounce house has provided endless entertainment for my little ones, featuring multiple games and activities like ring around the roses, basketball, and of course, bouncing.
---
Little Tikes Slam Dunk Ball Pit
Best Little Inflatable Ball Pit
For kids from 3 to 6 years, the Little Tikes Slam Dunk ball pit has tall walls and an inflatable basketball hoop as well as 20 air-filled balls and an inflatable basketball. More balls would add to the fun, so you might want to buy extras.
At 4 feet, 4 inches tall and with a circumference of 55 inches, this could be used inside as long as you have a clear two-foot by two-foot floorspace to spare.
However, some owners say they have concerns over the stability of the ball pit and worry it may tip if their kids become too boisterous when playing.
Pros
Indoor active play opportunity.
Includes some balls, but more would be better.
It includes a basketball hoop for added play value.
Cons
You may find it necessary to have a pump.
May not stand up to boisterous kids.
Our Ratings
Community Feedback
As a grandparent, I was initially excited about this indoor trampoline for my grandson who loves sports. However, despite its good quality and entertaining nature, the basketball hoop does not stay inflated, which was quite disappointing. Additionally, the lack of an included electric pump made setup a lengthy and tiring process.
---
Eezy Peezy Jungle Gym PlaySet
Best Ball Pit With Slide
Built for 1- to 3-year-olds, this jungle gym and ball pit from Eezy-Peezy consists of a small climbing frame, indoor slide, toss ball target, and a ball pit. The entire structure is big enough to enjoy but small enough to use indoors.
You have to assemble the jungle gym, and the materials are easy to assemble if you can figure out how to piece it together. Some owners complain the instructions are pictures only and that they had problems putting it together.
The jungle gym is rated for 150 pounds in total, so you could easily have two young children climbing and sliding at once.
Pros
Comes with 50 balls.
Easy to wipe clean.
It includes a toss target for added play value.
Cons
Some parents complained about a plastic smell, which only dissipated after a week or two.
Our Ratings
Community Feedback
These toddler playset has brought endless fun and excitement for my child, despite the initial struggle with the assembly. The instructions were somewhat confusing, causing me to disassemble and reassemble parts multiple times. The playset itself is durable and has held up to daily use, even supporting my own weight on the slide. However, I had to purchase additional balls for the ball pit, as the 50 included were insufficient to fill it adequately.
What Age is a Ball Pit Suitable For?
Ball pits come in a variety of styles and sizes, and the age limits vary accordingly. As a general guide, babies and toddlers should only use ball pits which are specifically designed and rated for their age range.
For children over 3 years old, consider the manufacturer's age guide and your child's size and physical development.
How to Choose a Ball Pit for Kids
Your primary consideration for choosing a ball pit for your child should always be their age and the age limits on the product. Beyond that, ask yourself:
How big is the ball pit, and can it be folded or deflated for easier storage?
How many balls will you need? Additional balls can be expensive and can be bulky to store when the ball pit is not in use.
Is the ball pit easy to clean? At one stage or another, most kids are bound to get food, drinks, and a variety of bodily fluids in their ball pits. Be sure the ball pit you choose is easy to wash and sanitize if necessary.
Does it have other uses? Some ball pits double as paddling pools, trampolines, tents, or bounce houses. The flexibility can be a bonus.
Is it truly a ball pit? This might sound like an odd question to ask, but you'll see plenty of tents labeled as ball pits when they are only regular tents the seller has thrown a few balls into. These "ball pits" will only hold a layer or two of balls and may not be what you and your child expected.
---
Ball Pit FAQs
Some ball pit questions come up repeatedly. To ensure you have all of the information you need in one spot, here are the answers to the most frequently asked ball pit questions.
---
Home-Based Fun
Ball pits are a fantastic way for kids to burn off some excess energy. Buying a ball pit for your kids to use at home is more affordable than you think.
For the price of a couple of sessions at the public ball pit, you can have a smaller ball pit for your kids to use whenever they like.
Thank You For Your Feedback!
Thank You For Your Feedback!