Your baby will make his debut soon, but maybe you haven't decided what type of Medela bottles you'll use once he gets here.
If you've been eyeing this range, we can help you decide which bottles are right for you. We're going to deliver in-depth reviews of the Calma, Breastmilk and Storage bottles.
Your nesting instinct is kicking in fast, but don't worry – this will help you grow confident of your decision in no time.
---
Medela Calma Review
The Medela Calma is unique because it allows babies to control how much milk comes out – when the baby creates a vacuum, the milk starts flowing. That's different from traditional bottles that have a set flow amount.
This set comes with:
One nipple.
One 5-ounce bottle.
One cap and two lids.
Pros
Teaches babies to suck instead of chewing on nipples to get milk.
The nipple and lid from this bottle fit on many other bottle types.
Babies still have to work to get milk from this bottle, so bottle feeding won't make your baby too lazy to breastfeed.
Cons
There are several pieces on each bottle, which makes it trickier to assemble.
Harder to clean because of all the pieces.
Pricey for a single bottle.
---
Medela Breastmilk Bottle Review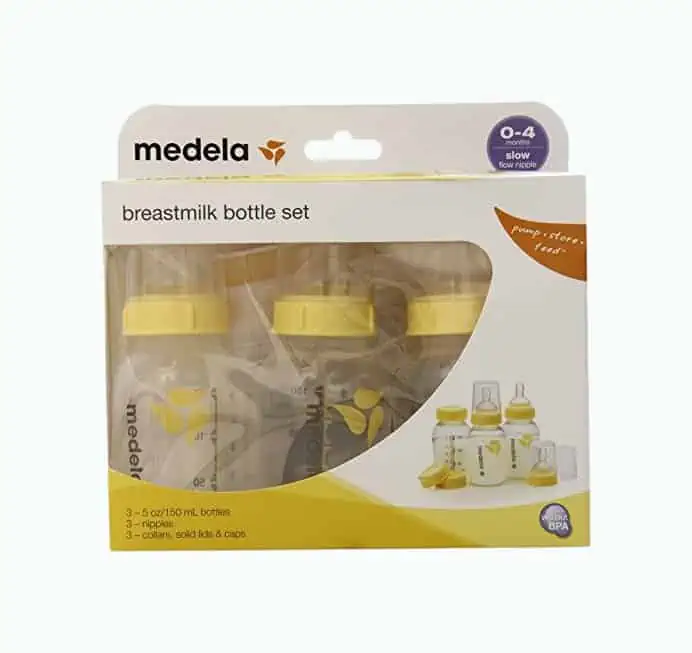 These bottles are designed to make breastfeeding easier, although you can also use them with formula. Because the bottles can be utilized with every Medela breast pump, you only have to use one container whether you are pumping, storing milk or feeding your baby.
This set includes:
Three 5-oz. Bottles.
Three lids.
Three medium flow nipples.
Three wide base collars and caps.
Pros
These bottles can also be used to store breastmilk.
These bottles are easy to use and don't have many parts to them.
Easy to clean since there are minimal parts and wide caps.
Cons
If you don't line up the nipples perfectly, the bottles leak.
The print on the bottle vanishes with repeated washings.
---
If there's one thing that is guaranteed to make a mom mad – it's having her precious breast milk leak all over the refrigerator. When you're pumping, every last drop counts. You did have to basically torture your breasts after all. And your baby is relying on you for that milk.
That's why it's essential for moms who use breast pumps to find the right collection bottles or bags to safely and hygienically store their milk until their baby needs it.
Enter the Medela Storage Bottles. Not only are they compatible with all Medela breast pumps but also the Calma bottles, making it easy to pump, store and feed into the same container.
Medela Storage Bottles Review
Medela storage bottles can be used to store breast milk in the refrigerator or freezer. These bottles come with screw-on lids that help cut down on leaks that you may experience with breast milk storage bags. Also unlike a bag, these bottles won't be punctured if they toss around in the freezer.
This set collection includes:
Six 5-ounce bottles
Six screw-on lids
One quick clean micro-steam bag
Pros
Wide bottles for easier cleaning.
Compatible with Medela pumps.
The bottles can be sterilized for the health of your baby.
Cons
The ounce markings on these bottles are hard to read.
When heating the bottles from the freezer, the plastic gets soft.
---
Do I Need Bottles If I Plan to Breastfeed?
Breastfeeding is an excellent choice for your baby, and you may think you don't need as much equipment, but even moms who are breastfeeding need to have bottles around.
Reasons You Need to Invest in Bottles:
You'll need to pump milk in advance if you are going back to work.
You'll need a bottle so your babysitter can feed your baby when you are gone.
Dads don't have operational boobs, but they still like getting the opportunity to feed their babies. Having baby bottles on hand gives them that father-child bonding time that is so crucial to their relationship.
Before committing to any style or brand of bottles, you need to figure out what you're looking for.
Things to Consider When Purchasing Bottles:
Do they leak?
Are they easy to clean?
Are they cost-efficient?
If you want glass or plastic bottles, and how safe the bottle materials are for your baby.
Do the bottles have anti-colic features? Bottles with angled tops or vents can cut back on how much air your baby takes it, which in turn cuts back on gas and spit-up. These aren't necessary for every baby, but if your baby experiences problems, they are nice to have.
Will the nipple type on the bottle confuse your baby as they switch between bottles and breastfeeding?
Thank You For Your Feedback!
Thank You For Your Feedback!