If you aren't crazy about giving your baby plastic bottles because of the health consequences of chemicals like BPA, you might want to consider using glass bottles instead. Glass bottles are a safer alternative to plastic bottles, and they remain sparkling clean year after year, compared to plastic bottles that can start to look murky.
Glass bottle fans will want to check out our Lifefactory Baby Bottles Review to see what makes these bottles worth the money you'll pay for them.
---
Product Overview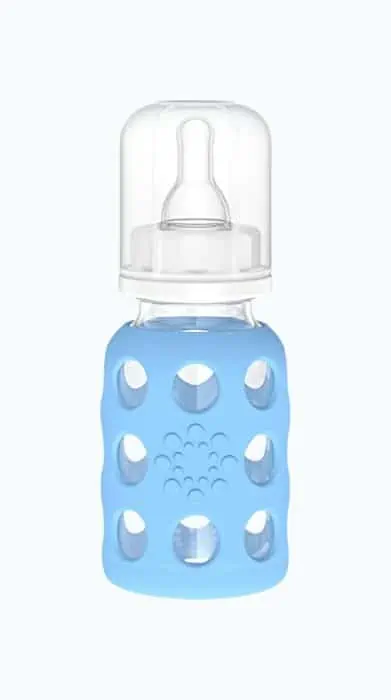 These bottles are fantastic performers as well as pretty and sturdy. These glass bottles are a comfort to parents who are worried about potentially dangerous chemicals being ingested by their baby if they use plastic bottles.
The Lifefactory bottle includes:
A 4-ounce bottle.
A silicone sleeve.
A stage 1 nipple.
A ring to secure the nipple to the bottle.
A cap.
Pros
It has a silicone sleeve that protects the bottle in case it is dropped.
Can go from freezer to boiling water without shattering.
Every part of it can go in the dishwasher.
Doesn't contain BPA or phthalates.
These are beautiful looking bottles.
Cons
These bottles are expensive.
If your baby has a poor latch, it's possible he might end up with nipple confusion with these bottles.
---
Key Features and Benefits
Ease of Use
There aren't many parts to assemble:
These bottles are easy to put together, which means you'll save a few minutes each day. That's something all moms should appreciate.
The ounce measurements are only printed on the sleeve, not the bottle:
That can make it inconvenient for moms who don't want to put the sleeve on the bottle every time they use it. Moms like to be able to keep track of how much milk their baby has consumed, and they won't be able to do that without the sleeve being on the bottle.
Cleanliness
These bottles couldn't be easier to clean:
There are no difficult anti-colic features to try to reach around, and every part of these bottles, even the silicone sleeves, can be put in the dishwasher and in bottle sterilizers. If you prefer using these bottles only with the silicone sleeves, not by themselves, you can even leave the sleeve on the bottle when you put it in the dishwasher. That will save you the bother of sliding it on and off every time you clean it.
Build Quality
The thermal shock resistant borosilicate glass is tough as nails:
This bottle can be moved straight from the freezer into boiling water right away without fear of shattering. Some glass baby bottles have upset moms in the past by breaking when they are taken out of the refrigerator and placed into a hot bowl of water for warming. It's nice to know these bottles won't risk injuring you or your baby by bursting. And it will save you time and money from not having to clean up the broken glass and replace the shattered bottle.
The silicone sleeve gives you added protection from a broken bottle:
Silicone sleeves are a genius invention. They give you a better grip on slippery glass bottles, and they protect them if they are dropped. While you might not be a butterfingers, when your baby becomes old enough to hold her own bottle, you'll be so thankful you have this plastic sleeve to soften the blow if she drops it. For people who are worried about using silicone, the sleeve won't come in contact with the milk.
Compatibility
You can use the bottles for any age of baby if you buy bigger nipples:
Some bottle brands don't sell compatible bigger-sized nipples with their smallest baby bottles. It's nice to see this company doesn't expect parents to buy new bottles when all they really need is faster flow nipples. You can even use these bottles for your toddlers, because they'll convert to sippy cups if you buy lids for them.
These glass bottles will fit in many sterilizers and work with various pumps:
Because they aren't wide-mouthed bottles, these Lifefactory bottles will fit in many standard-sized sterilizers. That saves moms a lot of hassle. In addition, these bottles are compatible with many pumps, which is a lifesaver to moms who have fierce pump loyalty. Finding a good breast pump can be harder than finding the right romantic partner.
---
How Do They Compare?
Evenflo Classic Glass Twist Bottles
If you like the idea of using glass bottles, but you can't afford the Lifefactory bottles, you might want to consider these Evenflo bottles. They aren't as tough as Lifefactory bottles, but they are more inexpensive.
Philips Avent Natural Glass Bottles
Moms who want bigger nipples on their baby's bottles to more closely mimic breastfeeding should check out the Philips Avent bottles.
Dr. Brown's Wide Neck Glass Bottles
Moms who hate trying to clean narrow, standard-sized bottles may want to opt for Dr. Brown's wide neck glass bottles. They'll easily be able to get a good-sized bottle brush in these bottles to give them a thorough scrubbing.
Born Free Breeze Glass Bottles
Moms who are looking ahead to the time their babies will hold their own bottles may want to go with the Born Free Breeze bottles. They have a narrow curved center that would fit a baby's hands well.
---
Why Lifefactory Bottles Are a Good Pick
These bottles are gorgeous and they can take a serious beating. Thanks to the silicone sleeves, you can drop them without fear of breaking. They can take extreme temperatures, and you can be certain that your baby won't be drinking any harmful substances with her milk.
And once your baby outgrows these bottles, you can convert them into sippy cups, ensuring you'll get years of use out of them.
Thank You For Your Feedback!
Thank You For Your Feedback!