Here we are, parents. We officially made it to the Sweet 16! How time flew by so fast, we have no idea. But here is your chance to celebrate your child with all their nearest and dearest.
Whether you want something elaborate and extravagant or you're keeping it small and personal, we have 35 sweet 16th birthday ideas. We know each child is unique, so we worked hard to find an idea for every type of teen!
Keep reading for unique ideas, ideas for working with a budget, winter ideas, and small party inspiration. We'll share top tips for activities, food, themes, and more.
Sweet 16th Birthday Ideas
Festival-themed party.
A crazy costume party.
Go on a skiing trip.
Have a slumber party.
Go for a spa day.
Rent a limo and visit a fancy restaurant.
Have a pool party.
Do an escape room.
Host an all-white party.
Host a masquerade party.
---
Why Is a Sweet 16 an Important Birthday?
In some cultures, especially in Canada and the United States, a 16th birthday is a coming-of-age celebration. For many teenagers, this is the most important birthday before they reach 18. They can now get a job, drive a car, and they're close to the end of high school. This birthday brings a whole new taste of independence.
In some cultures, there is also a beautiful candle-lighting ceremony. Sixteen candles are split between family and friends. Each person says a nice sentiment about the birthday girl or boy before lighting the candle on the cake.
Are you ready to plan a fun party for your 16-year-old? Here are 35 ideas carefully selected so most families, no matter your style or budget, should find inspiration.
Unique 16th Birthday Ideas
Do you want a party that sticks out from the crowd? Something a little unexpected? Here are nine unique party ideas that might work for your quirky teen.
1.

Festival Themed Bash

A festival-themed 16th bash is an epic way to celebrate. You can keep this small or go wild with decorations, venues, and outfits. If you have the means, you could even hire your child's favorite musician or DJ to play at the party!

Your child's friends can arrive in cute festival outfits, you can serve yummy alcohol-free beverages, and set up a few food stalls with various delicacies.
2.

Costume Party

Whether your child's birthday is near Halloween or mid-spring, a costume party is still an excellent way to celebrate their 16th! You can plan a theme, such as superheroes or the 1970s, and encourage everyone to arrive in specific outfits. This will look great in photographs!
3.

Night Out

While your child isn't old enough for a proper night out, they can still have an age-appropriate night out. They can go for dinner, get mocktails and maybe visit a teen-friendly dance club to celebrate with friends.
4.

Glamping Party

Take the classic slumber party to a whole new level with a glamping backyard party! Set up a cute teepee with adorable decorations, a picnic table, and an outdoor projector. The kids will feel like they're one with nature while still hanging close to home for your peace of mind.
5.

Bonjour, Paris!

Does your son or daughter have a special place they want to visit when they finally get a chance? Whether that's Paris, Bali, or somewhere else, you can theme their sweet 16 around the dream destination. Use the appropriate decor, food, and drinks, and voila! You have a personalized birthday party.
6.

Hire a Band

You might already be hiring a venue and a caterer for your child's 16th. This is a wonderful idea, but hiring a band can make it more special! This alone can amplify the party. Hint at it on invitations to build up anticipation. Plus, it's an amazing 16th gift for your child.
7.

Skiing Trip

There are many places to go to celebrate a 16th birthday. Turn your child's birthday into a friend's trip away skiing in the mountains! Book a night or two in a lodge. Between relaxing in the hot tub and drinking hot cocoa, the teens can hit the slopes together.
8.

Drive-In Movie Night

Once your teen gets their license, they might want to celebrate their 16th birthday alone with friends by visiting a drive-in movie. While this might not seem like an out-of-the-box idea, it's quite a unique and memorable way to celebrate the birthday.
9.

Sip n' Stroke

This beautiful idea is excellent for 16-year-olds, especially if they want to do something artsy as a career one day! Serve mocktails and provide each guest with a canvas. You can even hire a college student to teach the lesson. They will be cheaper to hire than a qualified artist.
16th Birthday Party Ideas for a Small Party
Just because your child isn't inviting dozens of people doesn't mean the party needs to be low-key. You can still celebrate the birthday in a unique, unusual, or elegant way. Or keep it simple! We have nine ideas for small get-togethers.
10.

Slumber Party

If your child wants a slumber party, a small guest list is better anyway! Whether they're inviting one friend or six, this is a fantastic way to celebrate turning 16. You can make the set-up super cute, too, with individual teepees, adorable cushions and blankets, and a gift basket for each guest.
11.

Visit a Trampoline Park

Trampoline parks are tons of fun for 16-year-olds. Honestly, you'll probably still enjoy these parks well into your 40s! Your child and a few friends can bounce the day away at one of these incredible zones.
12.

Netflix Binge

When your child only wants a few friends over, there's nothing more relaxing (and easier to prep) than a Netflix Binge party. All you need to do is provide a good Wi-Fi connection, snacks, and drinks. Then leave the teens to be!
13.

Go to the Theme Park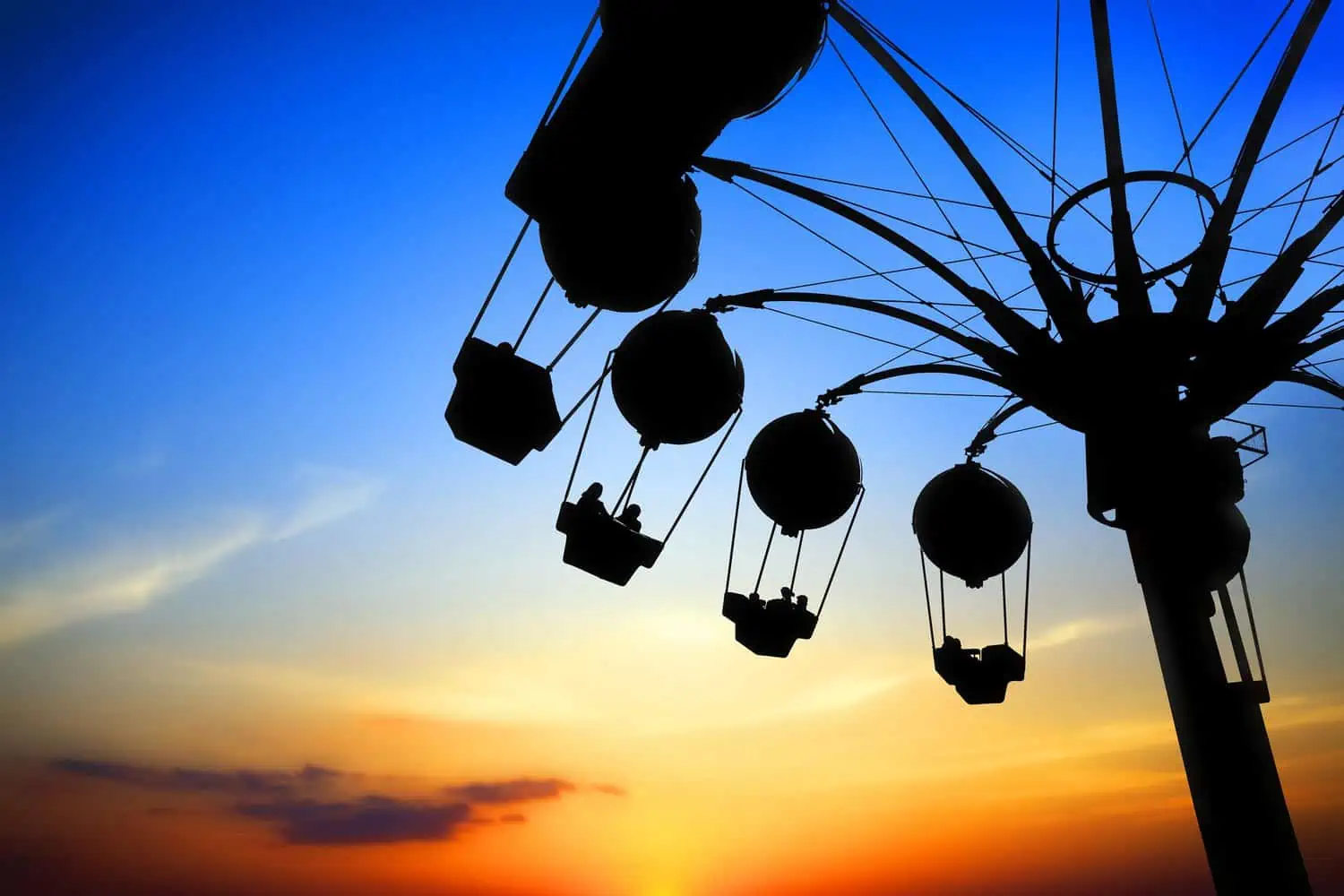 Taking a small group to the theme park is exciting and relatively easy, especially if you can fit them all in one car! The teens can run around, trying all the rides, before pausing for classic theme park food and drinks.
14.

Spa Day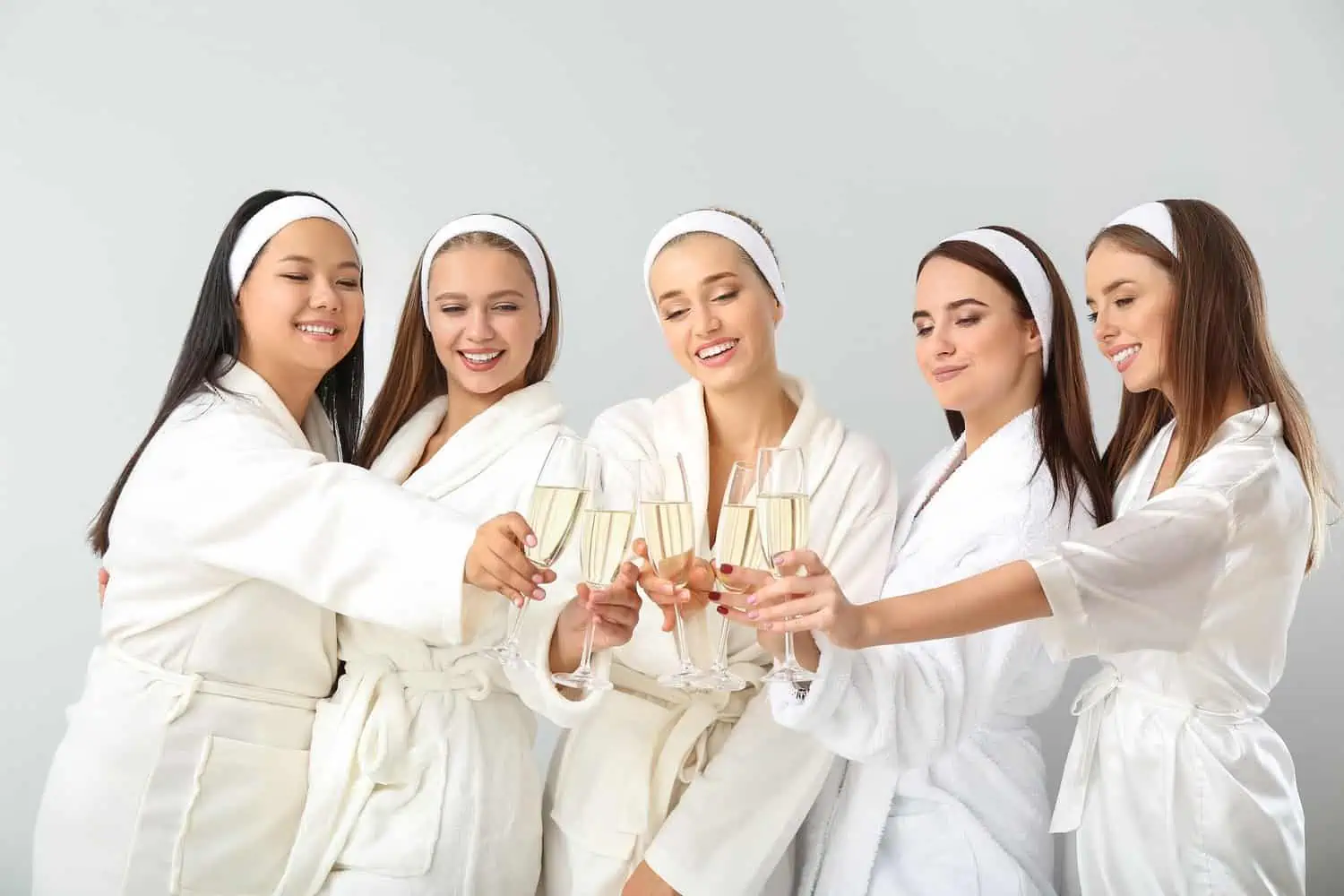 Treat your child and a few friends to a spa day. Visit a local hotel or spa place for a beauty treatment, a dip in the pool, and a relaxing hour lying on heated beds. This is an unreal experience for a 16-year-old that they'll remember forever!
15.

Virtual Games Night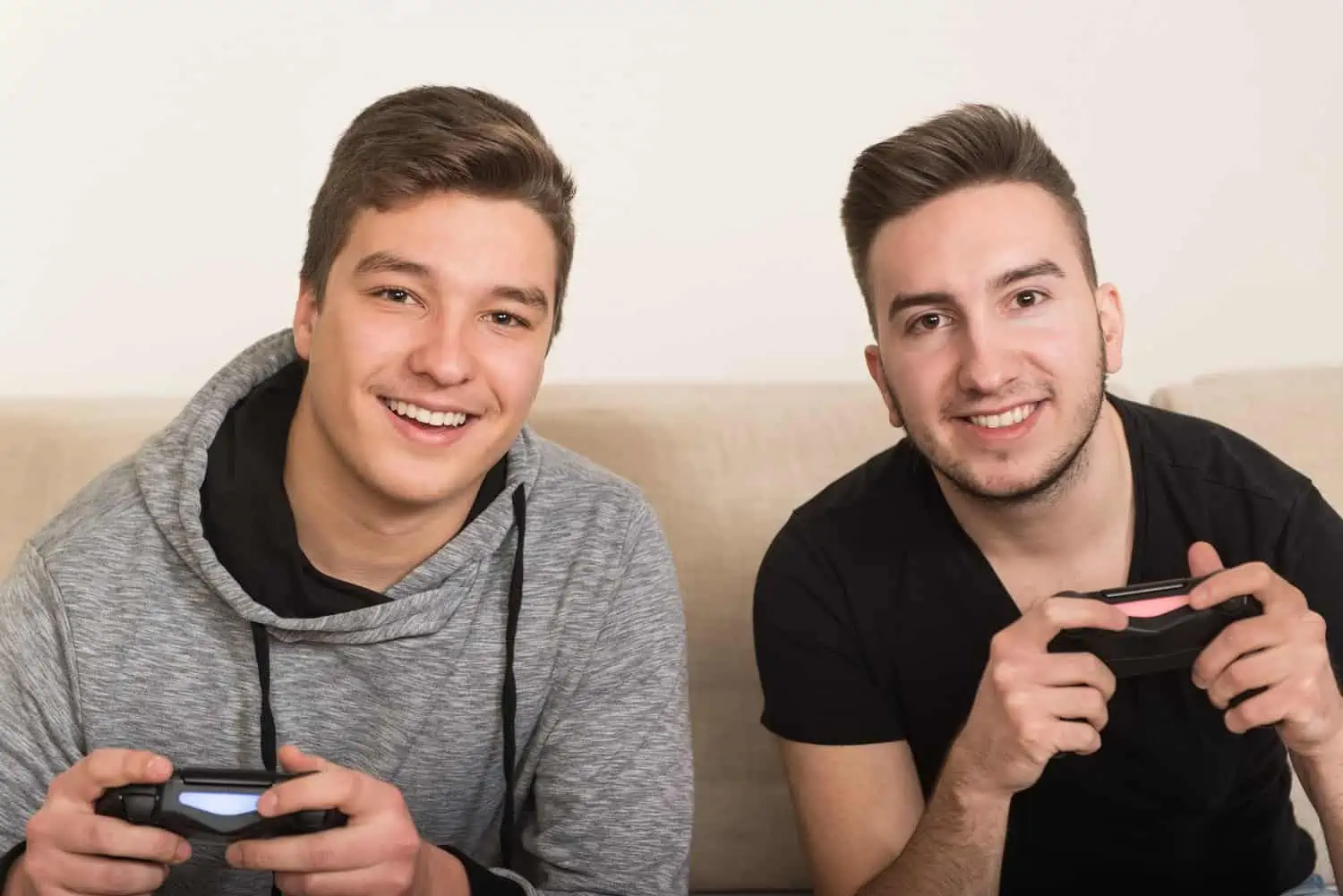 Whether your child wants a few friends over or they'd prefer an entirely virtual event, a video games night is a fun way to celebrate. This is especially exciting for introverted teens, as they don't need to leave the house or interact with tons of people.
If they have a close buddy, they could always come over to play in real life with your child. Then they can join a few other friends online to complete the experience.
16.

High Tea

A high tea is a gorgeous and classy way to celebrate your child's 16th birthday. Whether you're hosting at home or sending them to an afternoon tea experience, the dainty sandwiches and delicious cakes will make your child feel so grown up and pampered.
17.

Limo Dinner Party

Surprise your child with a limo that picks them and their friends up before chauffeuring them to a classy restaurant. The driver will collect them again and drop the kids off at the end of the night. This leaves you with minimal prep but provides a splendid experience for daughters or sons.
18.

Mini Golf

There are so many rad mini golf courses that would be great for hosting a 16th birthday party. Whether you're booking a function room or just cruising around the course with friends, this will be tons of fun for boys and girls.
16th Birthday Party Ideas on a Budget
You don't need to spend thousands or even hundreds of dollars on a Sweet 16 party. We'll share nine ways to create an amazing party for what should be less than $100.
19.

Outdoor Movie Night

If you have an outdoor projector, blankets, and cushions, you're good to go! And you're about to create a memorable experience for your child and their friends. Make dinner and snacks for the partygoers and let them choose a couple of movies to watch; they can enjoy the films under the stars.
20.

Cute Picnic

A cute picnic doesn't have to cost a bomb. You can set up a table with old wooden pallets, lay down some blankets and cushions, and make the food at home rather than hiring a caterer. Great — and budget-friendly — picnic food ideas include sandwiches, spring rolls, wraps, pasta salads, a fruit platter, and a tasty dessert.
21.

Sweet Treat 16

Turn a sweet 16 into a literal sweet party with a candy bar. Candy is cheap but a delicacy that even teenage kids get excited about! This can be the party's theme, but make sure you have other foods that will fill bellies and not leave everyone in a crazed sugar high.
22.

Backyard Luau

You might think a backyard luau has to be super extravagant and expensive, but there are ways to throw it on a budget. Get tropical decorations from the dollar store or party shop, buy grass skirts and tiki lights, and ensure guests arrive in summer outfits. You can make alcohol-free cocktails and serve Hawaiin pizza, blast some summer tunes on a speaker, and voila! You've got yourself a budget-friendly luau.
23.

Pool Party

Whether you're hosting in your own backyard or heading to a pool with friends, this is a cheap and cheerful sweet 16 birthday idea. You can add some balloons and an archway for a reasonable price, make up a buffet, and host an affordable party that teens will love. This idea is great for summer birthdays!
24.

Beach Party

What's even cheaper than a pool party is a beach party! The teens can hit the beach, where they can sunbathe, play volleyball, eat good food, and watch the sunset. This works well for big crowds or small gatherings.
25.

Escape Room

Escape rooms are an affordable birthday idea. Way cheaper than hiring a venue, caterer, and DJ! Once the kids have completed the room, they can head to a restaurant or fast-food chain for some grub.
26.

Yoga Class

Give your child the gift of zen with a yoga class they can attend with friends. Whether in a studio, on the beach, or perhaps even on a little day trip, this will be relatively affordable and a super memorable experience.
27.

Murder Mystery Party

Murder mystery parties are so exciting but also very affordable. You simply need to buy the kit, which usually costs around $40, and possibly a few costume pieces. Then you can provide dinner, whether that's ordering pizza or making a homemade meal. You can host this party at home, which will cut costs.
16th Birthday Party Ideas in Winter
Finally, let's share some cool ideas for winter birthdays. We'll also share entertainment ideas so the party is full of fun things to do.
28.

70s Disco Theme

In winter, an indoor party is probably best. To kick start our list, why not consider a 70s disco theme? From sparkly decor to a groovy 70s playlist, teens can dress in retro gear and dance the night away with friends.

Plus, you can create a karaoke station where friends can belt their favorite tunes and keep the party going!
29.

Ultimate Games Night

Your child can host an epic board games marathon with their besties! They'll love playing game after game with their closest friends. If they have a big guest list, you can split the room into zones. The teens will travel from zone to zone, trying different games.

Fun board games for 16-year-olds include Watch Ya Mouth, We're Not Really Strangers, Pandemic, and Villainous.
30.

All-White Party

Go all out this winter with an all-white party. Hire a gorgeous venue with white accents, decorate with only-white balloons, garlands, and flowers, and ask guests to wear white. Not only will this stand out from the crowd, but it's going to create some stunning photographs.
31.

Blacklight Sweet 16

A highlighter or blacklight party is so much fun for a 16-year-old. From bright colors to glow-in-the-dark decor, this is a great way to celebrate with a large friend group. Make sure to set up a secure area and keep track of the party's exits so teens don't go astray!

For entertainment, book a DJ who will play all the trending songs and encourage people to get on the dance floor.
32.

Vintage Dream Sweet 16

Does your daughter love pretty things? A vintage dream sweet 16 would be, well, the dream! Decorate the venue with wildflowers, vintage tableware, candlesticks, and dainty decor. She and her friends can wear vintage-inspired outfits, and you can charm them with delicious delicacies to snack on all afternoon.
33.

Masquerade Party

A masquerade party is a treat for a 16-year-old. But since these parties are hard to come by, if you don't host one, you might never experience one! Guests dress in fancy ball gowns and gorgeous masks before dancing the night away. While this works at home, consider hiring a classy venue to complete the party.
34.

Indoor Rock Climbing

A winter sweet 16 doesn't have to be lavish. Keep it low-key by heading to an indoor climbing gym. Your child can bring as many friends as they like, spending the afternoon learning the ropes and eating snacks in the cafe. This is also a fantastic last-minute idea!
35.

At Home Dinner Party

Why not let your daughter or son host their first dinner party? They can cook a three-course meal with friends as they listen to music and hang out in the kitchen. You can relax upstairs while they chill in a safe and secure environment that still allows them to feel super grown up!
Sweet 16 Party Decorations
To fashion an enticing, beautiful, and classy party venue, here are some ideas for decorations:
How To Make a 16th Birthday Special
You've likely been gearing up for this party for a while. Perhaps your child has also been anticipating it for the last few years. While every birthday has highs and lows, we have some tips for ensuring the party is a success.
Set a budget: It's important to work within your means for planning the party. Doing so ensures a stress-free event for you and sets realistic expectations for your child.
Choose a suitable venue: Choose the right venue for your party style. For instance, hiring a large hall or function suite will suit you best if you're hosting a masquerade ball or disco night.
Send out invitations: Invitations aren't necessary for small get-togethers. A text or email might do. But with a traditional Sweet 16, we recommend making invitations, clearly stating the details of the party, and hand-delivering them.
Don't forget the cake: In the midst of planning, don't forget finer details, like the cake! You can either make it yourself or hire a baker.
Make a schedule: For the actual event, have a schedule for what happens and when. Map out when the DJ plays, when the food is served, when there might be party games, and when guests will sing "happy birthday."
Pick some activities: Activities are important if you're throwing a more extravagant party. We're not talking musical chairs and pass-the-parcel. But instead, have cool stuff for guests to do, such as karaoke, a photo booth, or a 16-candle lighting ceremony.
Hire a photographer: Consider hiring a photographer for the party. This means you can put your phone away and be in the moment.
Rent a limo: Nothing screams "sweet 16" like extravagant details, such as hiring a limo. Why not book a limo to pick up your son or daughter, as well as a few friends, and drop them at the chosen venue?
Keep the party "parent-free": It's crucial you are nearby in case of emergencies or dramas. But at this age, teens will appreciate it if they aren't under the constant watch of chaperones.
Choose a thoughtful gift: Don't just buy whatever is trending. Choose a gift that will mean a lot to your son or daughter. Perhaps choose an experience, like tickets to a show or a personalized piece of jewelry.
FAQs
---
Thank You For Your Feedback!
Thank You For Your Feedback!