Is your child reaching an age where soft toys are no longer interesting? If they're becoming fascinated with how things work, the idea of flight, and toys that move, a remote control helicopter could be next on the wish list.
Children love toys that challenge them but aren't too complex to understand. And when searching for a helicopter toy, there are a few factors to consider to ensure you choose a suitable toy for your child's needs.
We've done the research for you and found some of the best remote control helicopters for kids. We've covered the bases for different ages, skill levels, and flying spaces, and share tips and things to look for before spending your money.
Image
Model
Product Comparison Table
Features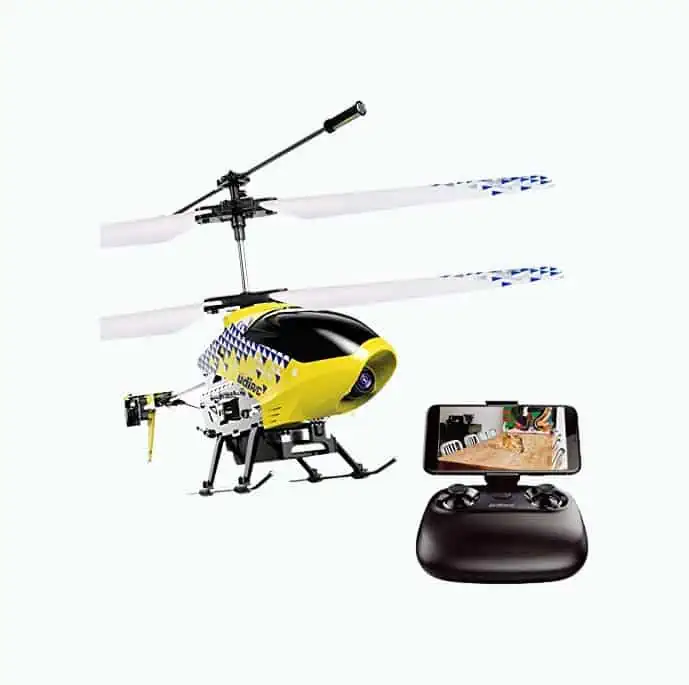 Best RC Helicopter for Photography
Cheerwing U12S RC Helicopter
Fly time of 6 minutes
Has built-in WiFi camera
Real-time video transmission
Best for Indoors and Outdoors
Flying Ball
Great for kids and beginners
Fun light feature
Up to 15 minutes flying time
Best Budget Pick
Mini RC Flying Toy
Hover technology
2 frequencies to chose from
Gyro direction stabilizer
Best Mini Helicopter
Vatos RC Mini
Supports basic movements
Advanced barometric pressure technology
Color changing LED lights
Best for Beginners
Little Tikes YouDrive
Suitable for preschoolers
Hover technology
Auto shut-off
Best Luxury Model
RC Helicopter TF1001
Aerobic flight mode
Landing pad included
Helicopter drone combo
Best for Indoors
K.E.J. Flying Ball
Flashing LED lights
Safe flying protection
Three items in a set
---
---
The Best Kids RC Helicopters of 2023
Here are 7 great remote control helicopters for kids to consider.
Cheerwing U12S Mini RC Helicopter
Best RC Helicopter for Photography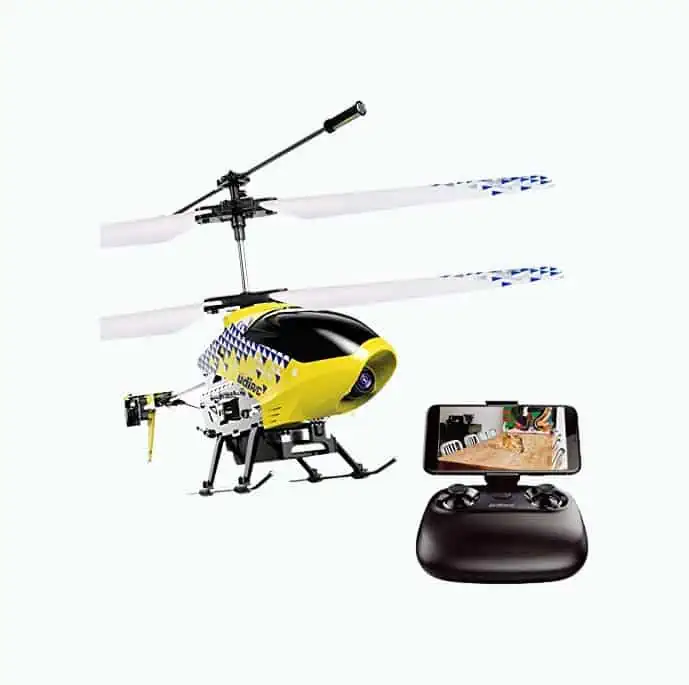 This made the top on our list since it is not only suited for kids, but also for the young at heart. And this example from Cheerwing is no exception. Equipped with camera, it holds both fun and adventure. The WiFi camera sends real-time video transmission. It's suitable for a 14-year-old and older.
What your young pilot will love is how realistic this one is. It comes with a 2.4 GHz remote control which means plenty of maneuvers to try. It can go up and down, has an altitude hold function, and supports multiplayer function.
Thanks to the 2.4 GHz remote, your child can even use it to compete. And due to the included gyro technology (electronic stabilization), it's fairly easy to steer as well.
Pros
Has built-in WiFi camera.
Real-time video transmission.
Fly time of 6 minutes.
Cons
Some experience needed before using.
Our Ratings
---
Flying Ball Helicopter Toys
Best Indoor and Outdoor RC Helicopter
Looking for something you can fly inside or outside? This model is durable, has a built-in gyroscope for stability, and is very easy to operate for kids 7 and over.
The ball has an induction feature, meaning that it will move away when it senses an object under it. Once in the air, your child can use their hand or an object to control where it flies.
The mini disco ball illuminates in bright colors, providing a stunning light show, especially at night. It's made with non-toxic ABS material and is rechargeable using the included USB cable. Once fully charged, your child gets eight to 15 minutes of mini-disco flying time.
Pros
Great for kids and beginners.
Rechargeable.
Up to 15 minutes of flying time.
Our Ratings
---
Cheerwing S107/S107G Phantom Mini RC Helicopter
Best Budget RC Helicopter
For our budget pick, we chose this super fun helicopter toy. This mini RC helicopter is equipped with the latest gyro system for accurate control. It's suitable for kids 14 and over, but even the young at heart can play along.
The sturdy metal body frame ensures that this mini RC helicopter can withstand crashes despite being miniature. The helicopter has 5 to 6 minutes of flight time when fully charged and is easy to maneuver. Requires AA batteries for the control.
Pros
Good for older kids.
Hover technology.
Ability to withstand crashes.
Durable material.
Cons
Probably too lightweight to use outdoors.
Our Ratings
---
Vatos Mini Helicopter With Remote Control
Best Small RC Helicopter
For the best small RC helicopter for kids, we chose this mini helicopter from Vatos. This model is about 3.1 inches long and is suitable for children ages 14 and up.
It's made with lightweight material but is very durable. If it hits the ground, all you have to do is tap the throttle, and it will right itself and fly again.
This helicopter is excellent even for newbies and comes equipped with gyroscope technology, meaning it's easier to control. The remote control has 3.5 channels that support the flight path, including up, down, forward, and backward.
The flying time is pretty average. Your budding pilot gets only 6–8 minutes after a 60-minute charge. Included is a USB cable for charging.
And what will mom and dad love? There's no assembly required.
Pros
Supports basic movements, perfect for kids.
Advanced barometric pressure technology.
Color-changing LED lights.
Cons
Short flying time between charges.
Controls are quite sensitive and may be difficult for younger users.
Our Ratings
---
Little Tikes YouDrive Rescue Chopper
Best RC Helicopter for Beginners
Look no further if you're looking for a helicopter toy for toddlers or young beginners. This helicopter toy from Little Tikes is the perfect gift for a younger kid, starting at age 3.
The remote control is a mere one-touch. It can teach your child to fly, turn, and land. It's fitted with auto-hover technology, which is what keeps it in midair.
It also includes safety features, such as protective propellers, and emergency shut-off.
But this is a Little Tikes helicopter after all, and so to add to the fun, they included LED lights and sounds.
Pros
Suitable for preschoolers.
Hover technology.
LED lights and sounds.
Protective propellers and emergency shut-off.
Cons
Very little control, meaning regular crashes could take place.
Our Ratings
---
RC Helicopter TF1001
Best Luxury RC Helicopter
If a child in your life deserves an exciting spoil, check out this RC Helicopter from SYMA. It's suitable for kids 14 and up, but many happy customers have given it to their children as young as eight. We recommend proceeding with caution if giving it to a younger child.
This helicopter is fitted with aerobic flight abilities, so you can do cool tricks in the air. You can make the drone spin, do 360° flips, jump up and down, and fly left to right, as well as normal flying. With all these cool features, this helicopter allows for endless fun.
The aircraft also comes with a landing pad to practice your target landing, ensuring that the helicopter lands safely and professionally.
As for the battery details, it takes less than 60 minutes to charge with a return of five to seven minutes of flight time.
Pros
Aerobic flight mode for endless fun.
Landing pad included.
Unique design — helicopter drone combo.
Allows altitude hold.
Cons
Not good in wind.
Short flying time between charges.
Our Ratings
---
K.E.J. Flying Ball Indoor Helicopter
Best RC Helicopter for Indoors
This RC helicopter for kids is ideal for indoor play. It would make an excellent gift for a child as young as 6 years of age.
This toy has two modes: induction and remote control. The induction mode allows your child to start the movements by placing their hands in the air underneath the copter; it will then ascend and descend. If you put your hand under it again, it will rise up.
The remote control will control the start, stop, and speed; press the acceleration button and it will fly higher. The safe-flying feature automatically stops the propellers from turning if it crashes or gets stuck.
The helicopter itself is made with non-toxic ABS material and has included precision gears which make it stable in the air.
When fully charged, it automatically powers down to ensure safety.
Pros
Two modes of control.
Three items in a set.
Fitted with safe flying protection.
Made from non-toxic materials.
Flashing LED lights, perfect for kids.
Cons
The helicopter only goes up and down.
Not easy to control so unsuitable for unsupervised play.
Our Ratings
Points to Keep in Mind
Helicopters are generally advanced toys — there's so much technology involved, and practice is required before being able to fly them properly. If this is your child's first helicopter toy, then be ready for some crashes. Here are some things to consider.
How to Choose an RC Helicopter
Buying the best remote control helicopter for kids is not as easy as it seems. Here are some other important factors to watch out for.
---
Thank You For Your Feedback!
Thank You For Your Feedback!