Are you pregnant and wondering which sunscreens are safe to use and which are not?
So many skin products contain harmful chemicals and toxins, and the ingredient list on a bottle of sunscreen displays words that seem impossible to pronounce. So how can you know if they're safe or if they can harm your baby?
We've consulted our medical team and have researched this topic extensively. We wrote this guide to answer all your questions! We'll also review our top picks for the safest and best sunscreens for pregnancy to help keep you and your baby safe.
Image
Model
Product Comparison Table
Features
Best Physical/Mineral Sunscreen
ThinkBaby Safe
No harmful chemicals
High rating by the EWG
Offers immediate protection
Best Spray Sunscreen
Sun Bum Sunscreen
Easy to apply
No oxybenzone
SPF 50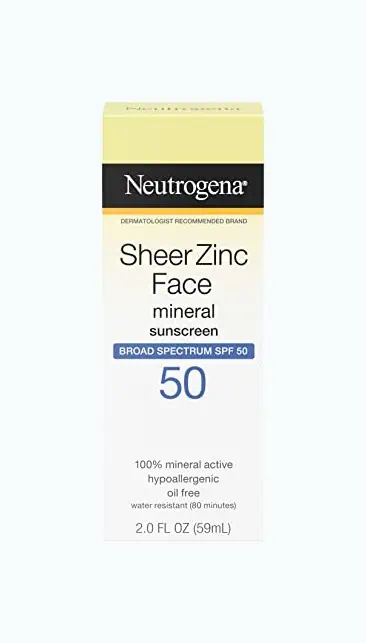 Best for Sensitive Skin
Neutrogena Sheer Zinc
Water-resistant
Non-comedogenic
Dematologist recommended
Best Facial Sunscreen
CeraVe SPF 50
Moisturizing formula
Gentle on skin
Contains no oil
Best Natural Sunscreen
Earth Mama Mineral
Clinically tested for irritation
Dermatologist tested
Water-resistant
Review Methodology: At Mom Loves Best, our thorough analysis and hands-on evaluation of sunscreens for pregnancy are based on solid research, professional experience, and real-life testing. We understand the importance of protecting your skin and your baby's health, which is why we've compared various sunscreens using criteria such as safety, effectiveness, and ingredients. Our assessment includes quantitative measurements of performance, as well as a ranking of key decision-making factors such as SPF, water-resistance, and ease of application. We examine the design choices of each product and their effect on users, ensuring that our recommendations are supported by first-hand evidence. Our goal is to help you find the best sunscreens for pregnancy, taking into account factors like broad-spectrum protection, chemical-free formulas, and suitability for sensitive skin.
---
---
The Best Pregnancy Safe Sunscreens of 2023
These are our top picks for the safest and best sunscreens for pregnancy.
ThinkBaby Safe Sunscreen
Best Mineral/Physical Sunscreen for Pregnancy
You know that sunscreen formulated for babies is designed to be extra gentle and extra effective — so why wouldn't you want to use it, too? This mineral sunscreen contains none of the harmful UV-absorbing chemicals, and the zinc oxide is non-nano, meaning the particles are not small enough to be absorbed into your skin.
The Environmental Working Group (EWG), the authority on evaluating the chemical safety of various products, gave this product a #1 rating. It contains no parabens, phthalates, or PABA that can irritate the skin and cause endocrine disruption.
It also offers broad-spectrum UV protection and has the maximum SPF and water resistance permitted by the FDA.
This product is considered safe for use on sensitive skin, but you should still test a small patch if your skin is ultra-sensitive, as no product can be 100% guaranteed not to cause a reaction in everyone.
Pros
It does not contain harmful chemicals.
Rated #1 by the EWG.
It offers protection immediately — it does not need to soak in.
Cons
It may separate in the container.
It may leave a white residue on skin.
It needs to be reapplied frequently for maximum effectiveness.
Our Ratings
Community Feedback
In my experience, this sunscreen has been a reliable choice for my family, including my son with sensitive skin. It has a light, pleasant scent and does not cause irritation or rashes like some other brands we have tried. Although it's a bit harder to rub in compared to other mineral sunscreens, it still provides effective protection against sunburns. It's essential to apply it 15-20 minutes before sun exposure and reapply as needed to ensure maximum protection, but overall, we've been quite satisfied with this product.
---
Sun Bum Continuous Spray Sunscreen
Best Spray Sunscreen for Pregnancy
Is there really a non-mineral sunscreen that sprays well and doesn't contain oxybenzone? Yes!
This Sun Bum formula offers broad-spectrum protection at a level of SPF 50 and will not clog pores or cause an allergic reaction. It doesn't contain any oxybenzone, parabens, PABA, oils, or gluten. It is also made with vegan ingredients and is cruelty-free.
It is water-resistant for up to 80 minutes and even contains vitamin E to help moisturize the skin. This is particularly helpful for pregnant women because vitamin E has been shown to help with stretch marks.
This sunscreen is easy to apply, thanks to the spray design, and prevents sunburns.
Sun Bum's sunscreens have also been tested and approved by the Skin Cancer Foundation (SCF) for effectiveness.
Pros
It is easy to apply.
It contains no oxybenzone.
It is water-resistant.
Cons
It is not a barrier sunscreen.
You should be careful when using it around babies.
The bottle does not last very long.
Our Ratings
Community Feedback
My experience with this Sun Bum sunscreen has been fantastic. The lightweight, non-greasy spray formula is perfect for my sensitive skin, and I appreciate that a little goes a long way. While on vacation in Mexico, I discovered that it's also reef-safe, which is crucial in protecting our wildlife. This sunscreen has been a great addition to my family's swim bag, providing on-the-go protection without any irritation or residue. I absolutely adore the tropical scent, and it's easy to apply, even on my kids' sensitive and eczema-prone skin. Since I started using Sun Bum products, I haven't experienced a sunburn, and I couldn't be happier.
---
Neutrogena Sheer Zinc Facial Sunscreen
Best Pregnancy Sunscreen for Sensitive Skin
This broad-spectrum barrier sunscreen provides SPF 50 protection from harmful UV rays. It is gentle enough to be used on your face and can be used by those with extra-sensitive skin.
This sunscreen is lightweight, so it won't feel heavy and greasy on your skin, and it's hypoallergenic, so it won't cause a reaction if you have sensitive skin.
It helps combat premature aging, and though it's not considered an organic sunscreen, you don't need to worry since it's not absorbed into your skin and won't clog your pores. Dermatologists recommend using Neutrogena sunscreen, so it shouldn't have any adverse effects on your skin — even during pregnancy.
Pros
It offers broad-spectrum protection.
Dermatologists recommend this brand.
It helps combat premature aging.
Cons
Despite no added fragrances, it still carries a scent some find unappealing.
It is not organic.
Our Ratings
Community Feedback
This mineral face sunscreen lotion has a lightweight, non-greasy formula that's perfect for daily use. After applying it to my cleansed face, I noticed it absorbs quickly and doesn't leave a white cast, allowing me to apply my makeup with ease. Although some users may experience a slight white cast, I found that it offers excellent SPF 50 protection without causing breakouts or irritating my sensitive skin.
---
CeraVe SPF 50 Sunscreen
Best Facial Sunscreen for Pregnancy
This mineral sunscreen offers a barrier between your skin and the sun so you can avoid sunburn, sun damage, and premature aging. Its lightweight formula rubs completely into the skin without leaving the hallmark white residue common amongst barrier sunscreens.
It offers broad-spectrum protection to a level of SPF 50 and will work well as a daily sunscreen under your regular moisturizer or makeup. It can also stand up to excessive sweating or water play, as it's water-resistant for up to 80 minutes.
It doesn't contain any oil, so it won't clog your pores when you put it on your face.
This sunscreen has a low toxicity rating by the EWG, so you can feel good about putting it on your skin. It also contains additional conditioners to nourish your skin.
Pros
It is water-resistant.
Oil-free formula.
Cons
It is expensive.
You will likely need a separate product for your body.
Our Ratings
Community Feedback
For someone with sensory issues and rosacea, this sunscreen has been a game changer as it doesn't cause any discomfort or trigger flare-ups. However, it does leave a white cast on the skin, which may not be ideal for those with darker complexions or those who prefer not to wear makeup. Despite its thickness and slight pastiness, it provides excellent sun protection and doesn't irritate sensitive skin or eyes, making it a reliable option for daily use.
---
Earth Mama Mineral Sunscreen Lotion
Best Natural Sunscreen for Pregnancy
This barrier sunscreen from Earth Mama is made with organic red raspberry and argan oil and is considered safe for pregnancy. That means it doesn't contain ingredients known to cause allergic reactions.
It is free of oxybenzone, parabens, octinoxate, and artificial fragrance. It offers a sun protection factor of 40 and is water-resistant for up to 40 minutes. It provides broad-spectrum protection, so you are protected from both UVA and UVB rays.
Pros
Dermatologist tested.
Water-resistant.
Clinically tested for irritation.
Cons
It is only SPF 40 — many sunscreens offer more protection.
It is only water-resistant for 40 minutes.
Our Ratings
Community Feedback
Got this product and noticed the bottle seemed less than the advertised 3oz. Despite that, it works well on my sensitive combination skin without causing breakouts. The ingredients are good and safe for our skin, but the packaging is misleading and makes it hard to use. The sunscreen itself is thick and can be hard to rub in, but it's effective and waterproof. I just wish they would improve the packaging and provide the right amount of product.
Should I Use Sunscreen During Pregnancy?
When you're pregnant, your skin is even more susceptible to sun exposure, so it's extra important to protect yourself (1). You don't necessarily need a sunburn to cause skin damage or increase your cancer risk. Simply exposing your skin can be harmful, even if it doesn't turn red.
The best sunscreens will protect your extra-sensitive skin from these harmful UV rays during pregnancy. But it's best to choose a sunscreen labeled "broad-spectrum" during pregnancy because not all products are created equal.
How to Choose Sunscreen While Pregnant
When choosing a sunscreen, look for the following:
Broad-Spectrum
Broad-spectrum sunscreens protect you from both UVA and UVB rays. Sunscreens that are not marked broad-spectrum may only offer protection from one spectrum of ultraviolet light.
Oxybenzone Free
Check the ingredient list and avoid sunscreens that contain the active ingredient oxybenzone. Oxybenzone can cause eye irritation and skin allergies and actually absorbs UV rays rather than blocking them. It can disrupt hormones and is especially harmful to children. It may even affect babies in the womb (2).
SPF 30
Choose a sunscreen that is a minimum of SPF 30. These offer excellent protection from the sun. While higher numbers may provide a little more protection, remember that it's not incremental, and frequent reapplication is still necessary — especially when you're in the water.
Physical Sunscreen
Physical or mineral sunscreens create a barrier between your skin and the sun by using zinc oxide or titanium dioxide. This barrier reflects the sun's rays, preventing it from being absorbed into your skin at all. They are hypoallergenic, making them a good option for pregnant women with sensitive skin.
---
Other Ways to Protect Your Skin While Pregnant
It's important to remember that sunscreen in and of itself is not complete protection from the sun. You may want to take the following measures to protect your skin from the sun — especially during pregnancy when your skin is extra sensitive.
Wear SPF protective clothing.
Wear a hat when you're out in the sun.
Try to sit in the shade whenever possible.
Choose a minimum of SPF 30.
Reapply your sunscreen, regardless of SPF, every two hours.
Reapply your sunscreen every hour if you're swimming or in the water.
Stay out of the sun during its peak hours.
---
The Bottom Line
Our top pick for the best sunscreens for pregnancy is the Thinkbaby Safe Sunscreen. Not only is it an easy-to-apply sunscreen rated highly by the EWG, but it also offers a high level of broad-spectrum coverage and is water-resistant. It's safe for sensitive skin, and you can breathe easy knowing it has one of the lowest toxicities compared to other sunscreen products.
Thank You For Your Feedback!
Thank You For Your Feedback!