Do you want to jump into the latest beauty craze and try out African black soap? Before lathering up, you probably have some questions about what it is and how it can benefit you. No, this odd-looking soap isn't moldy, and its dark color doesn't mean it's dirty. In fact, it's quite the opposite.
We've studied and tested this trendy product to learn the science behind it, understand its origins, and ensure its value. We'll explain where it comes from, how it's made, and how it can benefit you.
We've also taken the time to compare the top brands and bring you our honest reviews of our five favorite products. We chose these products because they are produced fairly, don't contain any harmful ingredients, and offer good value for the money.
Keep reading to find the best African soap for your skin.
Image
Model
Product Comparison Table
Features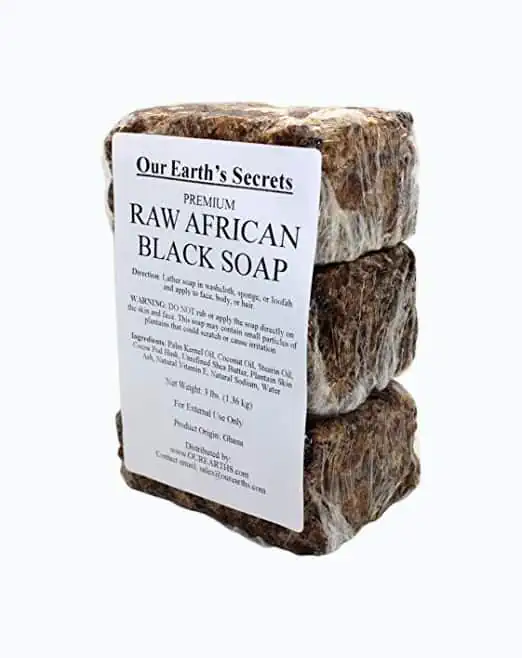 Traditional & Effective
Our Earth's Secrets
Comes with three bricks
Good makeup remover
Good for hair, body, and face
Best All-in-One
Allafia Authentic African
Safe for all ages
Range of scents
Keeps skin soft
Popular Among Influencers
Wonderfully Natural Soap
Great for psoriasis
One brick will last months
Two-month guarantee
Great for Added Scent
Shea Terra African Soap
Good for oily skin
Mom-owned business
Certified organic
The Whole Shebang
SheaMoisture Skincare Kit
Certified organic and natural
Good for sensitive skin
Helps control breakouts and detoxifies
Review Methodology: At Mom Loves Best, we are committed to providing you with a thorough analysis and hands-on assessment of the best African black soaps available. Our experienced team compares and evaluates each product based on criteria such as ingredients, performance, and user experience. We use data from our research and first-hand evidence to rank the soaps, identifying key decision-making factors and measuring each product's effectiveness. Our review also delves into the design choices and their impact on users, offering insight into what sets these soaps apart from their competitors. Trust our expertise as we present a comprehensive guide, highlighting the ten most important factors and entities related to African black soap, ensuring you make the best choice for your skincare needs.
---
---
The Best African Black Soaps of 2023
Here are our favorite African Black soaps to consider.
Our Earth's Secrets Premium Soap
Traditional and Effective
This soap brand is made in Ghana and uses traditional African recipes and techniques. Aside from the main African black soap ingredients, this soap also contains natural sodium.
Because it's raw, it's recommended to lather the soap before applying it to your skin. The soap may contain some small pieces of husk that can scratch you otherwise.
With this choice, you'll get three 1-pound bricks of soap. A little goes a long way, and it'll last you a while before you need to purchase again.
The product doesn't contain any added fragrances either. It's recommended for regular use in clearing acne and dark spots and is a good makeup remover.
Pros
Comes with three bricks.
Good makeup remover.
Good for hair, body, and face.
Cons
Soap may be a little sticky.
Our Ratings
Community Feedback
This African Black Soap is a genuine and effective product that has worked wonders for my skin. I've been using it for years and have noticed smoother, less dry skin without any breakouts. When applying it to my body or face, I use a small amount and let it sit for 30 seconds before rinsing. It also works great as a clarifying shampoo and shaving cream, providing a strong and long-lasting lather. However, if you have sensitive skin, I recommend testing a small area first to see how your skin reacts.
---
Allafia Authentic African Black Soap
Best All-In-One African Black Soap
The Allafia Authentic African Black Soap is a face cleanser, body wash, hand soap, shampoo, and shaving cream. For a budget-friendly price, you're getting five products in one.
It's crafted from a centuries-old recipe using shea butter and West African palm oil.
It's safe for the whole family: babies, adults, and teenagers. It comes in a range of scents, which are fragranced using essential oils. However, if using it on your baby's skin, check if the chosen essential oil is safe for them.
For example, the wild lavender option (our favorite scent!) is totally safe, but parents might choose the unscented option.
With this soap, your whole body will feel relaxed, rejuvenated, and deeply cleansed.
Pros
Five purposes in one product.
Safe for babies, children, teenagers, and adults.
Comes in a range of scents.
Keeps skin soft, even in winter climates.
Cons
It does not lather.
It's a thin consistency, so the bottle doesn't last long.
Our Ratings
Community Feedback
I'm impressed with this Allafia Authentic African Black Soap as it serves multiple purposes - a face cleanser, body wash, hand soap, shampoo, and shaving cream - all while being budget-friendly. I found it safe for my entire family, with a variety of lovely scents to choose from, and it kept our skin soft even in harsh winter weather. On the downside, the soap's thin consistency means it doesn't lather well and the bottle runs out quickly, so be prepared to repurchase often.
---
Wonderfully Natural African Black Soap
Popular Among Influencers
This is one I've seen the most online. This bar of African black soap is available in a 1-pound block and is completely organic. The company is African owned and is fair trade friendly as well.
The company also offers a 60-day 100% satisfaction guarantee. If you receive the product and aren't impressed, they will refund your money.
This soap is good for removing dark marks and pesky acne spots on your face, and people have sworn by it for their psoriasis.
Pros
Great for psoriasis.
One brick will last months.
Two-month guarantee.
Cons
Product can be drying for sensitive skin.
Our Ratings
Community Feedback
I recently started using this soap again during a month-long trip and noticed a significant improvement in my skin issues such as dry skin, KP, and hyperpigmentation. This soap has become an essential part of my skincare routine, and when combined with glycerin and witch hazel toner, it works wonders for my skin. Although the soap looks and smells different from regular soaps, don't be put off by its appearance. It might contain some cocoa pod bits, but you can always make a body/face wash with it and strain it if necessary. This soap is not only great for sensitive skin but also helps with acne scars, face scars, and skin tone. However, it can be drying, so make sure to moisturize after using it.
---
Shea Terra Organics African Soap Bar
Great for Added Scent
If you're looking for a smaller size than the others on our list, this is a good one to consider. It comes in a 4.5-ounce bar, so you can try it without feeling like you've wasted it. This one is formulated to help settle and prevent acne.
It's easy to use — the company recommends lathering and then letting it sit for five to 10 minutes before rinsing off. It's USDA-certified organic, so it's safe for you and your kids.
The soap is also cruelty-free, so animal lovers don't need to worry. It doesn't contain drying alcohol, parabens, dyes, or synthetic fragrances.
Unlike the other soaps, this one contains olive oil. Furthermore, you can choose products with added all-natural scents, including lemongrass and menthe.
Pros
Multiple scents available.
Good for oily skin.
Mom-owned business.
Certified organic.
Cons
You may find small pieces of husk inside.
Our Ratings
Community Feedback
Excellent results from using this SheaTerra Black Soap for both my skin and my husband's. After consistent use, we've noticed a significant improvement in our skin's softness, clarity, and the reduction of breakouts. Although it can be a bit drying for those with already dry skin, the overall benefits of this soap have made a lasting impression on us.
---
SheaMoisture Bath & Face Skincare Kit
The Whole Shebang
Sometimes you don't want to mix a million products to get a clean, glowing look. If this sounds like something you struggle with, check out this whole facial system, which uses African black soap in its products.
The system comes with a body wash, a body bar, and a facial bar soap. The body bar can be used on your face too. The company also makes a toner, but you'll need to purchase it separately.
This product helps control breakouts and detoxifies the skin. It's made of certified organic and natural ingredients, which is nice for people with sensitive skin. It doesn't contain any sulfates or parabens, and the company is cruelty-free.
Pros
A great natural alternative to other systems.
Contains tea tree oil for purification.
Good for sensitive skin.
Cons
Some users felt it had an artificial scent.
Can be hard to get a good lather.
Our Ratings
Community Feedback
Definitely one of the best purchases I've made for my skin care routine. This Shea Moisture kit has been fantastic for my dry and blemished skin, and even helped with ingrown hairs. As someone with a history of severe acne and oily skin, these products have made a noticeable difference in clearing up my face, chest, and back. The intoxicating smell and silky feel on my skin make using these products a real treat. One small drawback is that the bar soap may leave some stains on your soap holder, but it's nothing a good scrub can't fix.
How to Choose the Best African Black Soap
When shopping for this highly beneficial soap, there are some factors you'll want to consider.
Ingredients
The best African black soaps are made with all-natural ingredients. You don't want added synthetic fragrances, preservatives, sulfates, or other harmful ingredients taking away from the benefits of the soap.
Scent
This soap has an earthy, natural scent that not everyone appreciates. If you're looking for a scented version of the soap, look for one made with skin-friendly essential oils or a mild, unscented version.
Color
Look for a dark brown or black soap befitting its name. There's no reason your soap should have artificial coloring added to it.
Texture
African black soap should not be smooth or oily. The texture is somewhat rough and crumbly and may contain small abrasive particles like husks or other impurities in it. This is why we recommend you always lather the soap with some water in your hands first before applying it to your body.
Production
Hand-crafted African black soap is likely to be more authentic than soap created by large companies, who may skip steps in the production process to mass produce their soaps. Authentic African black soap uses a lengthy process of sun-drying the ingredients to get the soap's unique texture.
Because African villagers typically make this soap, it is usually "Fair Trade Certified." Companies that produce fair-trade certified goods guarantee that everyone involved in making a product is fairly compensated for their efforts (1).
How It's Made
Traditionally, this soap comes from West Africa, usually Ghana (2). The dark color comes from the ash belonging to various plants and tree barks. It could come from plantains, shea trees, cocoa pods, palm leaves, and more.
The ingredients are sun-dried and then added to a kettle to roast. Water and oils like palm or coconut oil are added to bind everything together. After it sits for around two weeks, it's ready to be used.
Ingredients and Benefits
African black soap is a great organic alternative to other soaps on the market. It doesn't typically have any added preservatives or coloring to make it last longer, as other bar soaps do.
It doesn't have any harsh ingredients either. Most big brand soaps have fragrance, parabens, sulfates, and triclosan added in. The ingredients in African black soap are all-natural, so your body gets plenty of benefits from it.
---
Thank You For Your Feedback!
Thank You For Your Feedback!