If you're thinking about self-care after your baby's birth, good for you! It can be easy to get so wrapped up in planning for your new arrival that you completely forget to plan for yourself and your own healing process.
As you may have heard, ice packs are a must-have in the postpartum period. As a mom and health care practitioner, I can assure you there are better ways to care for your perineum than stuffing an ice-filled medical glove in your underwear, as I was encouraged to do after delivery.
We've found the best postpartum ice packs out there to help you with your recovery. These packs won't leak water in your pants and are soft and flexible to avoid any unnecessary pressure on your healing lady bits. Some of these ice packs even double as heat packs for sore muscles.
Say goodbye to pain and discomfort while you enjoy your sweet little bundle of sunshine.
Image
Model
Product Comparison Table
Features
Best All-Around
TendHer Cooling Pad
Pack of two
With 5 reusable, washable covers
Fit securely in underwear
Most Hypoallergenic
VagiKool Cold Pack
Maximum comfort
Latex-free
Made in an FDA-approved facility
Most Convenient
Medline Ice Pack
Easy to use
Can absorb discharge
Affordable
Best for Long Term
Gel Ice Compress
Comes with a travel bag
One-year warranty
Stays cold for a long time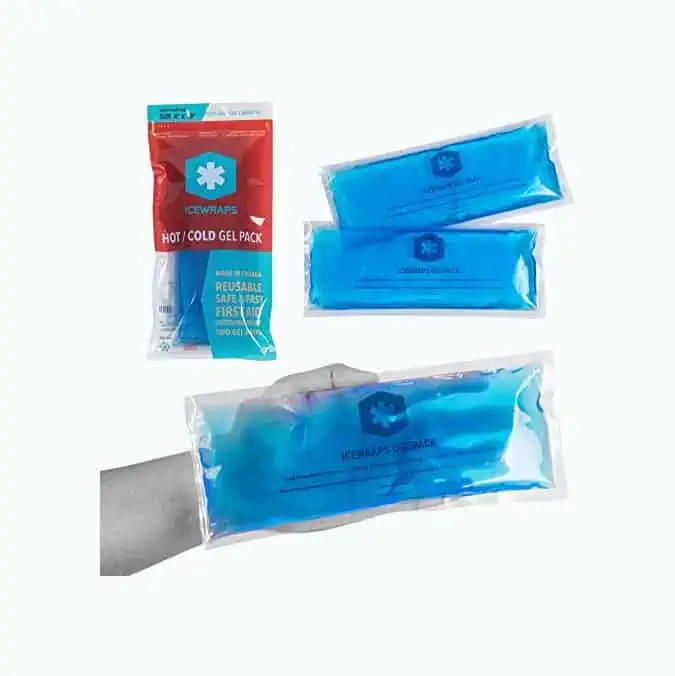 Best Bang for the Buck
IceWraps Cold Pack
Can be hot or cold
Reusable
One-year warranty
Review Methodology: At Mom Loves Best, we understand the importance of finding the perfect postpartum ice pack for new mothers. Our team has conducted a thorough analysis and hands-on evaluation of various ice packs, comparing their performance, design, and user experience. We have assessed key decision-making factors such as comfort, durability, cooling effectiveness, and ease of use, ranking each product based on these criteria. Our research and first-hand experience provide you with the facts and data needed to make an informed decision. We take pride in sharing our findings, as we aim to help you choose the postpartum ice pack that best meets your needs and sets itself apart from its competitors. Trust our expertise and let Mom Loves Best guide you on your journey to postpartum recovery.
---
---
The Best Postpartum Ice Packs of 2023
Here are 5 great postpartum ice packs for you to consider.
TendHer Reusable Cooling Pad
Best All-Around Ice Pack
These reusable gel pads are made for moms, by moms. They are designed to fit in your underwear perfectly, without bulkiness. If you're on the go, this is critical.
We love that they can also be used to provide relief for painful C-section incisions.
Some moms find that warmth brings more relief than cold when it comes to swelling or pain. If that is your case, these pads can also be warmed in hot water and will stay warm for up to 30 minutes.
The pads are filled with a gel made from food-grade, vegan ingredients. For moms who want to keep it as natural as possible and avoid toxic products, this feature provides an extra level of security.
TendHer pads are also designed to stay flexible when frozen. No one likes the idea of walking around with a stiff, frozen stick in their underwear. These pads will move and bend with you, making it more comfortable to do what you need to do.
Pros
Pack of two.
Comes with five reusable, washable covers to keep the pads clean from vaginal discharge or blood.
Designed to fit securely in your underwear.
Cons
Vegan gel ingredients expire after about eight weeks.
Our Ratings
Community Feedback
Best perineal packs I've ever used! These packs were a lifesaver during my postpartum recovery, providing soothing relief for aches and discomfort. The soft, moldable design conforms to the body, and the washable red sleeves are a brilliant touch. I've found them versatile, as they can also be used for breastfeeding warm compresses, or even as a boo-boo buddy for my toddler, making them an excellent addition to any mom's arsenal.
---
VagiKool Reusable Cold Pack
Most Hypoallergenic Ice Pack
This reusable ice pack is made with non-toxic ingredients and is latex-free. Ice packs stay close to your body, so for people with allergies or sensitivities to latex, this could be a lifesaver.
These packs are designed to fit snugly in your underwear. Because they remain flexible when frozen, they can adapt to different body sizes and shapes. This is important from a comfort aspect — you'll want that cooling material to touch everything it can down there.
For the women who want to have a cold pack on some occasions and a warming pad on others, you can also heat this pack in hot water. This is nice if you want the pad to double as comfort for engorged breasts or aching muscles.
For added comfort, VagiKool comes with a reusable sleeve to help keep the pad clean during use.
Pros
Designed to contour to the vaginal area for maximum comfort.
Comes in a fun pink color.
Latex-free materials reduce the potential for irritation.
Made in an FDA-approved facility.
Cons
Only comes with one reusable sleeve.
Includes just one cooling pad.
Our Ratings
Community Feedback
My experience with this ice pack has been incredibly helpful, particularly during a severe yeast infection that caused significant swelling. Its unique shape and flexibility allowed for easy placement and maneuverability to provide relief where needed. However, I did find that it didn't stay cold as long as some other ice packs, but overall, it still served its purpose effectively and provided much-needed comfort.
---
Medline Deluxe Ice Pack
Most Convenient Ice Pack
If this is your second child, you will most likely be on the go in your postpartum days more than you were with your first. Preschoolers and toddlers don't like to stay home for long, and they will want you to take them to the playground — perineal pain or not!
Medline Deluxe ice packs combine many of the healing tools you need into one. They are meant to be frozen to help provide relief from pain and swelling, but they are also absorbent maxi pads that can take on the vaginal discharge that comes with childbirth.
Because they are maxi pads, they come with an adhesive strip to ensure they stay put in your underwear. The last thing you want to see is your postpartum ice pack in the playground mulch.
These pads are disposable and come in packs of 24. This will reduce opportunities for being caught without a frozen one, which can sometimes be the case with reusable ice packs.
Pros
Easy to use.
Absorbs discharge while offering cooling relief.
Fits underwear well.
Affordable.
Cons
Disposable, which means they are less eco-friendly.
Cannot be heated.
Our Ratings
Community Feedback
These pads are a fantastic addition to any postpartum care routine, providing much-needed relief from pain and swelling. While they can feel quite cold and bulky initially, they are easy to use and offer great absorbency. The cold effect lasts for about 15-30 minutes, but their absorbency can last all day. Although not as comfortable as some other name brands, these pads are a more affordable option and are convenient to use, making them a great choice for new moms in need of some relief.
---
Gel Ice Cold Compress
Best Ice Pack for the Long Term
Eventually, your postpartum time will pass. While those days feel chaotic and like they will last forever, you'll eventually find a new normal. At some point, you may even feel like exercising again.
If you're looking for something that will work for both the postpartum days and the days after, these ice packs are a great option.
While not perfectly designed to fit inside your underwear, they are the same oblong style, so they fit the perineal area. You can easily use them to ice sore muscles or small injuries, and no one will ever know you once used them to ice your lady parts.
They have a soft fabric covering, which will make them more comfortable and provide an extra layer of separation between your skin and the frozen gel. It's a great feature for moms who may have sensitive skin.
Pros
Comes with a travel bag for staying clean on the go.
Pack of two.
One-year warranty.
They stay cold for a long time.
Cons
Cannot be warmed.
Can feel a bit bulky in your underwear.
Our Ratings
Community Feedback
My experience with these gel packs has been nothing short of wonderful, especially after my knee replacement surgery. They freeze well, maintain the coldness needed to reduce pain and stiffness, and easily conform to my body without being too hard. On the other hand, they might be a bit large for smaller individuals, but I find them perfect for my needs. These gel packs have proved to be durable and efficient, making them perfect for athletes or anyone in need of pain relief or muscle relaxation. Plus, the included bag is a nice touch for easy storage and transport.
---
IceWraps Perineal Cold Pack
Best Bang for the Buck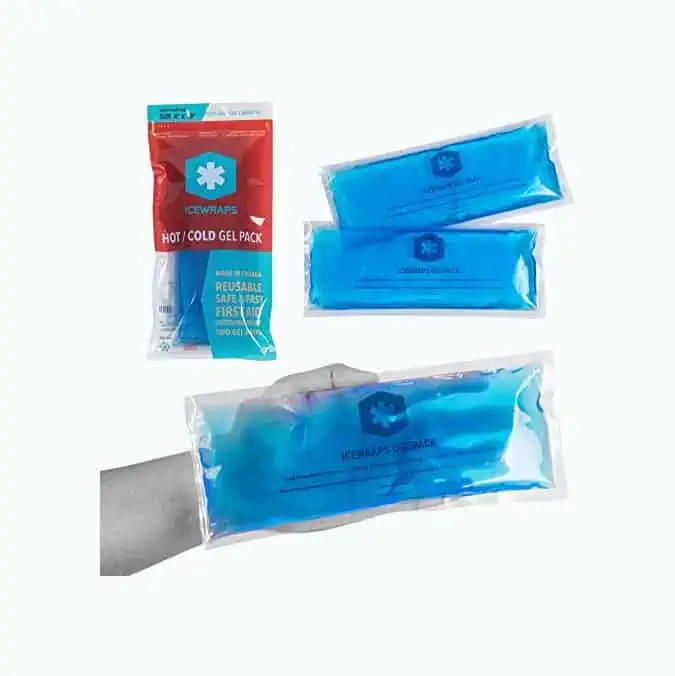 These ice packs are designed to get to the point. They are reusable, which will help to reduce your impact on the environment and save you money.
While they are not rounded at the ends like some of the other ice packs, they are narrow and long, so they fit your underwear and cover the entire perineal area. With their medical-grade plastic covers, they're easy to clean and difficult to tear or break.
These packs are also designed to be heated or frozen — allowing you to choose the option that is most soothing for you. You can even heat them in the microwave, adding to their convenience.
Their plastic covering allows the packs to be flexible. They can fit many different parts of the body and provide relief where you need it — perineum, breasts, stomach, head, or back.
Pros
Affordable.
Can be used hot or cold.
Pack of two.
One-year warranty.
Cons
Does not come with sanitary covers.
Squared edges may irritate surrounding skin.
Our Ratings
Community Feedback
I've found these ice packs to be extremely helpful in various situations, ranging from postpartum recovery to arthritis relief. Their lightweight design allows them to be placed on sensitive areas, such as the stomach or back, without causing additional discomfort, and the gel inside provides a pleasant cooling sensation without being painfully cold. However, I did notice that the edges can be a bit sharp, so I recommend wrapping them in a soft material before use to prevent any discomfort. The packs are versatile in their uses, including relief from headaches and cooling down after outdoor activities, but may require frequent adjustments to maintain the desired temperature.
Do I Need a Postpartum Ice Pack?
Veteran moms probably remember the postpartum days in great detail. I know I do. During pregnancy, it never even occurred to me that I wouldn't feel well after a vaginal delivery.
The truth is, the days after childbirth are filled with so many joys. But they are also marked by vaginal soreness, swelling, and strange bodily processes. Ice packs designed for postpartum women can help you recover more comfortably.
During my postpartum days, ice packs were my cure-all. I found so many different uses for them, and for a while afterward, I couldn't remember my life without ice packs.
How to Choose a Postpartum Ice Pack
Even though ice packs sound pretty straightforward, there are different features included in postpartum packs. It might be a good idea to familiarize yourself with the different postpartum issues and the way various ice pack features can help with them.
---
Thank You For Your Feedback!
Thank You For Your Feedback!