Since their first appearance back in 1984, the Teenage Mutant Ninja Turtles have fought their way into the hearts of adults and children everywhere.
If your child loves the cartoons, movies, or comics, only the best Ninja Turtle toys will suffice.
Since Ninja Turtles have been around for so long and enjoy immense popularity, there are plenty of options when it comes to toys. So how do you narrow your choices down? You can start here by viewing our top 13.
Image
Model
Product Comparison Table
Features
Best Ninja Turtles Costume
Rubies Ninja Turtles Raphael
Authentic looking
Officially licensed costume
Budget-friendly
Best Ninja Turtle Pillow
Pillow Pets Nickelodeon, Raphael
BPA- and phthalate-free
Machine washable
16 inches travel friendly plush pillow
Best Turtle Skateboard
PlayWheels Ninja Skateboard
21 inches long
Durable
Grows with your child
For Drawing Time
TMNT Table and Chair Set
Carries up to 81 pounds
Minimal
assembly required
Various design to choose from
Best Ninja Turtles Action Figure
Ninja Turtles Leonardo Action Figure
4.5 inches tall
Great collectible
Accessories included
Ninja Turtle Skating Ride
Mega Construx Sewer Skate
Adorable
Great set
48-piece set
The Secret Lair
Mega Bloks Ninja Turtles Heroes
Easy to assemble
115 pieces
Great value for money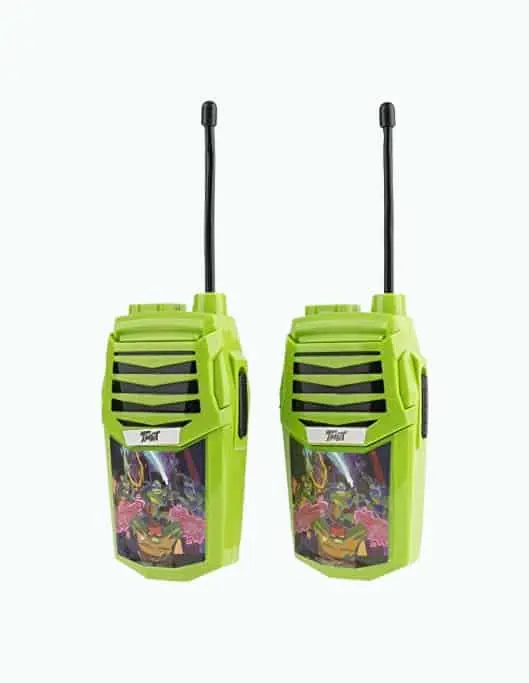 Best Ninja Turtles Messenger
Teenage Mutant Ninja Turtles Walkie Talkies
Resistant to water
Durable antenna
Long range
For Young Readers In Training
Phonics Power! Step into Reading
Affordable
12 full-color books
Enjoyable comic-style book
Best Two-In-One Toy
Ninja Turtles Technodrome Playset
Affordable
No batteries needed
Accommodates two action figures
---
---
The Best Ninja Turtle Toys of 2023
Here are our favorite Ninja Turtle toys on the market.
Rubies Ninja Turtles Deluxe Muscle-Chest Raphael Costume
Best Ninja Turtles Costume
Rubies is an officially licensed manufacturer of Ninja Turtles costumes, so you can expect good quality. This costume doesn't disappoint and is well worth our top spot. While we love the Raphael costume, you can get any of the four brothers.
Parents praise how well it's made and the attention to detail. It's available in three sizes, small, medium, and large — there is a helpful size guide so you can find the right one for your little hero.
It's a full-body costume, featuring a molded mask, muscle chest, and shell.
Reviewers have nothing but praise, saying it looks authentic and is perfect for Halloween or other dress-up occasions.
---
Raphael Teenage Mutant Ninja Turtles Plush Toy By Pillow Pets
Best Ninja Turtle Pillow
Measuring 16 inches, this pillow will act as a fun plush toy by day and a comforting pillow by night. You can get this pillow featuring any one of the four brothers.
Your little one will love to snuggle up with it while watching their favorite heroes in a half shell on TV.
When using it for play, the belly is fastened so it can stand on its legs. Then for nighttime, unfasten it, and it's flat like a pillow.
It's soft to hug and works wonders on long trips. It's BPA- and phthalate-free and machine washable. Plus, your turtle fans big and small might like it.
---
PlayWheels Teenage Mutant Ninja Turtles Skateboard
Best Turtle Skateboard
If your youngster is a fan of the turtles' TV show, they'll love this turtle skateboard. It's suitable for children aged 5 years and up.
With the skateboard, your child can jump into action, and enjoy a smooth ride with the help of its wheels with nylon bearings.
It can support until age 10 or weight of lesser than 100 pounds.
---
Nickelodeon Teenage Mutant Ninja Turtles Square Table and Chair
For Drawing Time
For children who love being creative, we found this chair desk from Idea Nuova. It's decked out from head to toe in Ninja Turtles, perfect for when your child wants to draw up their own comic. It's suitable for children aged 3 to 8 years, or up to 81 pounds.
It's made of sturdy steel construction. The seat is low, so getting in and out is easy. Moreover, it requires little product assembly.
The table is easy to clean and has several designs to choose from.
---
Ninja Turtles Leonardo Action Figure
Best Ninja Turtles Action Figure
This Leonardo figure is 4.5 inches tall and comes with all his battle gear.
The action figure is inspired by the television show, "Rise of the Teenage Mutant Ninja Turtles." It's suitable for children aged 4 and up. The other turtle characters, Michaelangelo, Donatelo, and Raphael are also available.
Everything on the action figure moves, so your child can get into Leonardo's playful character. They can defend against the encountered villains and perform several tricks.
---
Mega Construx Leo Sewer Skate
Ninja Turtle Skating Ride
Let your little ninja build their own turtle skating adventure with this set from Mega Construx. It features agility and balance as Leo skates his way to the Manhattan subway. Included in the bundle is Leo's action figure.
The skateboard contains some serious turtle action with accessories such as the ooze bricks, the map, and the katana to name a few. The figures come with 48 accessories. It's a good pick for children aged 5 and up.
---
Mega Bloks Ninja Turtles Half-Shell Heroes
The Secret Lair
Let your little one enter the Ninja Turtles' secret lair. With this set from Mega Bloks, your youngster gets to build the brothers' home. It's suitable for children aged 3 and up.
The lair contains everything a ninja-in-training needs. This includes a working pizza launcher, tunnel chute, and an arcade game. Your child also receives a Ralph action figure who's ready for some fun.
Ralph must defend the lair from Kraang and the Mouser, who are also included. Roll Ralph up into a ninja ball, and then shoot him toward the invaders using the pizza launcher.
---
Teenage Mutant Ninja Turtles Molded Walkie Talkies
Best Ninja Turtles Messenger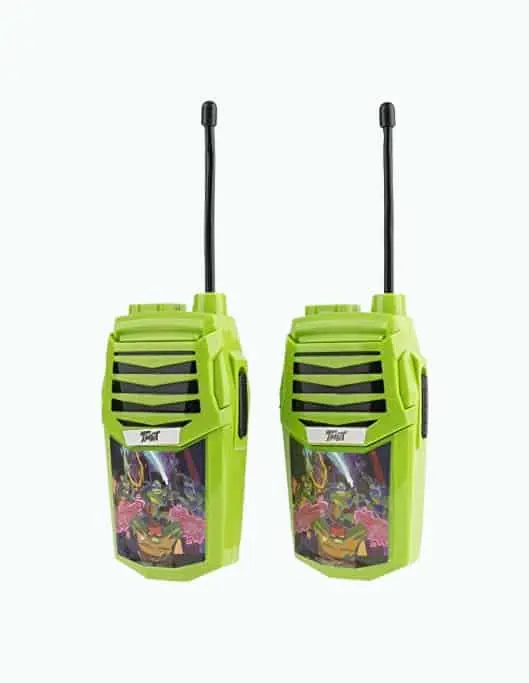 This two-way radio from Sakar has fantastic features for youngsters who can dive in and practice some ninja communication skills. The recommended age this product is best suited is from ages 5 to 12 years.
The pair of walkie-talkies can cover up to 1000 feet, so you can create the ultimate adventure land at home. Thus, it is designed for both indoor and outdoor use. The materials used are durable, which is excellent for excited children who may play rough. What's more, it's safe and reliable.
---
Phonics Power! Ninja Turtles Step into Reading
For Young Readers In Training
For children who are learning to read, this collection of books is bound to help. It's a complete set, filled with 12 full-color books to teach the reader by using phonics. It's suitable for children aged 3 to 7 years.
Each phonics book contains the famous brothers, Donatello, Michaelangelo, Leonardo, and Raphael. They will take your youngster along with them on adventures while giving them all the tools needed for reading independently.
The comic-style books are enjoyable to follow along to for any Ninja Turtles fan. Each book has around six pages with one to three sentences on every page. That's enough content for starters to begin reading, without it being too overwhelming.
---
Ninja Turtles Out Of The Shadows Technodrome Playset
Best Two-In-One Ninja Turtle Toy
This playset is perfect for a collaborative play with Teenage Mutant Ninja Turtle's action figure.
When wide open, the technodome measures about 2 feet. It contains trap doors, weapons, and the play area can accommodate up to two of your favorite Ninja Turtle's action figures on each side. It's suitable for children aged 4 years and up.
The good thing about this is that it doesn't require any batteries.
---
PlayWheels Teenage Mutant Ninja Turtles Skateboard
Outside Play
If your child loves spending time on wheels, this cruiser skateboard from PlayWheels may be a big hit. It's a 21-inch wooden skateboard, recommended for children between the ages of 5 and 10, or up to 100 pounds.
The board is decked out from front to back in Ninja Turtle attire — it's colorful and fun to look at. The wood is thick — PlayWheels used sturdy, 9-ply maple for the deck. Then the wheels are PVC-injected, sitting on nylon bearings for a smooth ride.
Your child will quickly learn to balance on it. The single kicktail adds stability and promotes better control as well as easy braking.
---
Turtles in Training Sound Book And Flashlight Set
Interactive Reading
If you're looking for a hands-on way of teaching your child how to read, then this book is worth considering.
This is a 10-page interactive book suitable for children up to age 4. A flashlight and sound buttons are included to engage the reader. Your little one can use the flashlight to find the matching characters, helping to develop their motor skills.
The book makes the adventures come alive. Every page contains pop-ups for your child to interact with.
---
Ninja Turtles Kids' Digital Watch
Telling Time with Turtle
Telling time should not be dull and boring. Take character admiration to the next level by having this kid's official Teenage Mutant Ninja Turtle watch.
Be ready to mesmerize him with the blinking LED lights by pressing the button found at the top right portion. Plus, the non-toxic watch strap is adjustable and easy to buckle.
How to Choose a Ninja Turtle Toy
---
It's Pizza Time
The Ninja Turtles have been around for decades, and they continue to be favorites among children and adults. Finding the best Ninja Turtle toy, however, can be a challenge. There are many variations, and they're suitable for different age groups.
When looking, it's essential to find one that's age-appropriate to avoid frustrations and choking hazards.
It's always a hit gifting your child with the character that they love. This will lead to lots of imaginary play and will keep their interest longer. Plus, you'll love seeing that face light up when they open their present and realize what's inside.
Thank You For Your Feedback!
Thank You For Your Feedback!