In the bustling era of digital games and screen-driven activities, marble run toys are classics that never seem to get old. These timeless classics continue to delight children of all ages.
If you're in search of the very best marble run toys for your young one and finding it daunting, you're not alone. You want to aim for a toy that's entertaining but also rich in educational value.
We've meticulously curated a list keeping your child's growth, enjoyment, and safety in mind. Read on to get the ball rolling!
Image
Model
Product Comparison Table
Features
Best for Ages 8 & Up
GraviTrax Marble Run & STEM Toy
Provides an entertaining lesson in physics
Several designs to create
Suitable for more than one child
Lesson in Gravity
ThinkFun Gravity Maze
Introduce the forces of gravity
Challenging game
Plenty of room for creativity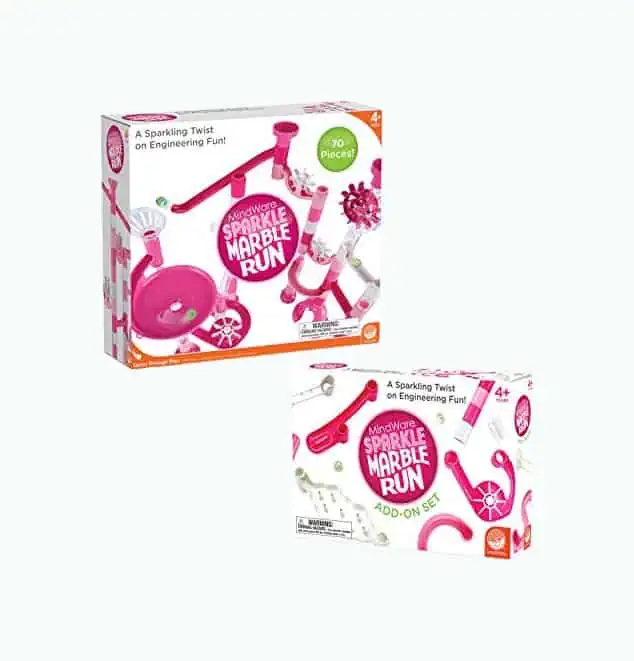 Pretty in Pink
MindWare Marble Run
Beautiful pink and white design
70 building pieces
Easy to set up
Glow Marbles
Marble Genius Glow Marble Run
Includes motion-activated marbles
Endless opportunities for configurations
Bright and colorful
Best for Race-Loving Kids
Discovery Toys Marbleworks
3 chime balls included
Provides fun lesson in physics
BPA free
Fun With Magnets
PicassoTiles 70 Piece Marble Run
Enables STEM learning
Non-toxic
Multiple room for play
Marble Mania
Magicfly Marble Run Set
Large set
Translucent pieces
Plenty of marbles included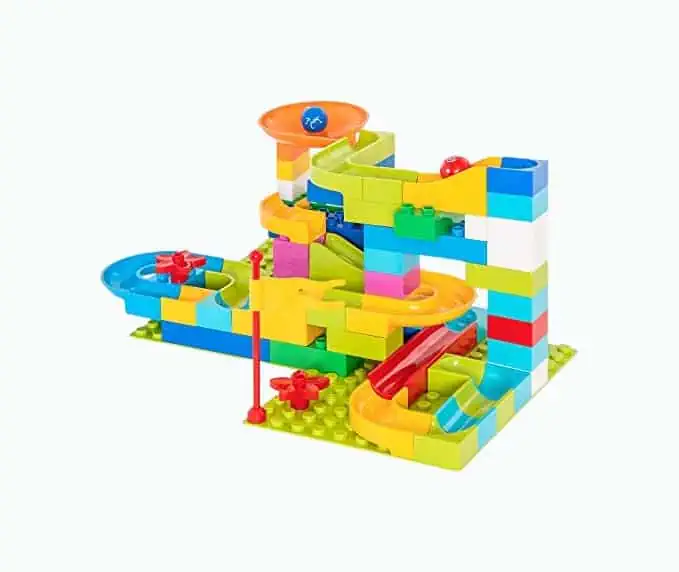 For Small Builders
Best Choice Products Marble Set
Excellent for toddlers
Compatible with Lego Duplo
Allows room for creativity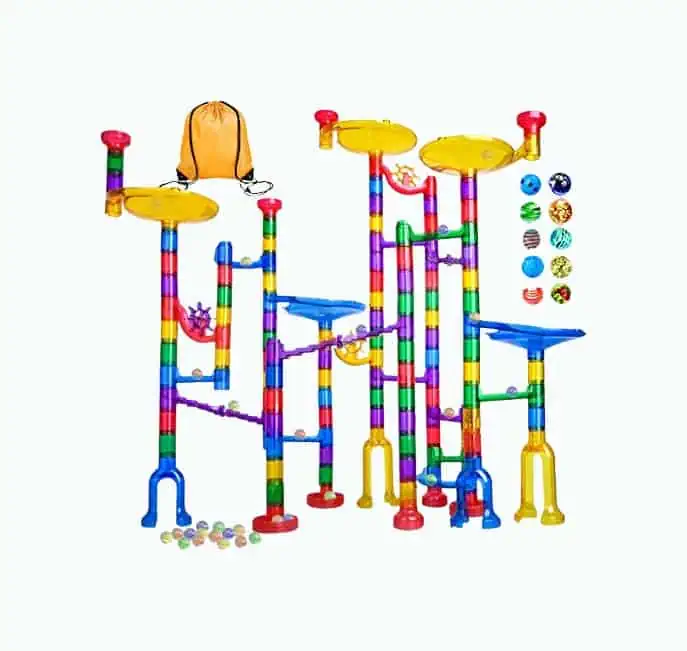 Honorable Mention
Meland Marble Run
Large and tall maze
Easy-to-follow construction manual
Lots of colors and translucent pieces
Review Methodology: At Mom Loves Best, we conduct thorough research and hands-on testing to provide you with the most accurate assessment of the best marble run toys on the market. Our professional team employs a strict set of criteria and benchmarks to evaluate each product's performance, design, and unique features. We delve into the data and compare the results to give you a clear picture of what sets each product apart. Our in-depth analysis is further supported by real-life user experiences and quantitative measurements, allowing us to rank and score each marble run toy. We identify key decision-making factors such as safety, durability, educational value, and age appropriateness, providing you with all the facts you need to make an informed choice. Trust us to guide you to the best marble run toy for your child's needs and preferences.
---
---
The Best Marble Runs of 2023
Here are our picks of the top ten marble runs on the market that promise fun and learning for your child.
GraviTrax Marble Run & STEM Toy By Ravensburger
Best Marble Run Toy for Ages 8 and Up
For children aged 8 and up, a marble run toy should be both challenging and engaging. Ravenburger's GraviTrax strikes the perfect balance, offering an intriguing design while serving as a valuable educational tool for your preteen.
The GraviTrax system is interactive, allowing your youngster to build their own designs and racetracks. The set integrates concepts of gravity, kinetics, and magnetism. Once assembled, it transforms into a racetrack, challenging your child to propel the marble ball toward the finish line using the principles of physics.
The GraviTrax's design encourages collaborative play, allowing two children to race their marbles simultaneously.
The included instructions give your child several design ideas, but they can also go rogue and create something unique. Some parents say it's a bit complicated, although they praise the challenges it provides.
GraviTrax was featured on the show "Live with Kelly and Ryan," making the list of 2018's best toys.
Pros
A captivating introduction to physics.
Multiple design possibilities.
Suitable for more than one child.
It's a challenge for even the smartest kid.
Cons
Although sturdy, the set is plastic. Packaging photos give the impression of metal, disappointing some parents.
Product Specs
| | |
| --- | --- |
| Number of pieces | 122 |
| Recommended ages | 8 years and up |
| Material | Plastic |
| Marbles included | Yes |
Our Ratings
---
Gravity Maze Marble Run By ThinkFun
Lesson in Gravity
For kids aged 8 and up intrigued by the forces of gravity, ThinkFun's marble run offers a compelling experience. It provides the ultimate challenge, putting your youngster's reasoning and visual perception skills to the test.
Transforming into a gravity-driven maze once set up, it features a series of towers. The goal? Guide the marble from start to finish, ensuring it hits the target tower. While the setup is customizable, reaching the target demands strategic thinking.
The Gravity Maze stands out as a STEM toy, incorporating several components into one gadget. It offers 60 challenges, suitable for beginners and mini gravity experts. Clear instructions are included, but there's also room for free play.
With the maze, your child gets three marbles, nine towers, and one target piece. It's easy to set up and get started.
Pros
An enjoyable introduction to the forces of gravity.
Offers a range of challenges, complete with solutions.
Clear instructions, complemented by freedom for creativity.
Three marbles included for varied play.
Cons
Adjusting the pieces can be tricky as they fit snugly.
Only caters to one player at a time.
Product Specs
| | |
| --- | --- |
| Number of pieces | 10 |
| Recommended ages | 8 years and up |
| Material | Plastic |
| Marbles included | Yes |
Our Ratings
Community Feedback
My experience with this learning toy has been nothing short of amazing, as it captivated both my 10-year-old and 7-year-old grandsons for extended periods of time. The STEM-focused challenges kept them fully engrossed and eager to progress through the levels, while improving their problem-solving skills. It's not only a hit with children, but has also proven to be enjoyable and thought-provoking for teenagers and adults alike. This high-quality, educational game has provided endless entertainment and learning opportunities for the whole family.
---
MindWare Marble Run Set
Pretty in Pink
MindWare's marble run masterfully combines entertainment and education, offering children an engaging introduction to physics.
The set allows for the creation of a dazzling track filled with twists, turns, and thrilling marble races. Beyond mere play, it encourages young minds to question, design, and enhance their problem-solving abilities.
The huge assortment of pink and sparkly tube pieces lets you build towering runs, jump slides with catchers, funnels, wheels, and rickety rails.
MindWare includes thorough instructions for building the maze, but your child can create their own, too. Included are 55 building pieces along with 15 marbles.
Pros
Beautiful pink and white design.
Filled with challenges for your child.
Easy to set up.
Cons
Some users found the track would fall apart too easily.
Product Specs
| | |
| --- | --- |
| Number of pieces | 70 |
| Recommended ages | 4 years and up |
| Material | Plastic |
| Marbles included | Yes |
Our Ratings
Community Feedback
As a parent, I found this toy a bit challenging to assemble with only a picture on the box as guidance. However, once figured out, it provided hours of fun and problem-solving for my 5-year-old. The base pieces could be more stable to avoid frustration, and I caution against using it around younger children due to the small marbles. Despite the non-standard size limiting mixability with other sets, this toy has been a great addition to our collection.
---
Marble Glow Run Toy by Marble Genius
Jumbo Maze
Marble Genius presents a jumbo-sized marble run that's sure to captivate. Standing out as one of the largest marble run sets on today's list, it boasts a whopping 300 pieces, with its tallest point reaching nearly 40 inches.
Sporting vibrant colors and translucent tubes, child can watch the included 3o marbles weave their way to the finish. The versatile design promotes imaginative play with several configurations to spark creativity. The set features slides, arches, wheels, s-shaped slides, U-turns, ladders, and colorful funnels.
Some parents said the pieces are compatible with other marble run sets, further amplifying its versatility.
Safety is paramount, with all pieces crafted from non-toxic, lead- and phthalate-free materials. Marble Genius also offers a free downloadable app for more fun and challenges that they can conquer. The set is suitable for children aged 4 years and up.
Pros
Impressive jumbo-sized design.
Endless opportunities for configurations.
Bright and colorful.
Thirty marbles included.
Cons
Instructions have some inconsistencies.
Product Specs
| | |
| --- | --- |
| Number of pieces | 300 |
| Recommended ages | 4 years and up |
| Material | Glass and plastic |
| Marbles included | Yes |
Our Ratings
---
Marbleworks Marble Run by Discovery Toys
Best Marble Run Toy for Race-Loving Kids
If your little one enjoys racing their toy cars, they should love this racetrack-inspired marble run set from Discovery Toys. When fully assembled, it becomes a super-size marble racetrack. It includes 8 sturdy components, a start and finish gates.
The set is built to last, constructed from high-impact polystyrene that's BPA-free. It's capable of withstanding an eager child who may play rough.
At the starting gate, the player can set up the racers, ready to start. When the gate opens, the marbles will race down the track.
The toy requires a well-thought-out configuration to enable the marbles to reach the bottom. It puts a fun twist on physics, teaching your little one about gravity.
Pros
Durable material.
Lots of pieces for various configurations.
Provides a fun lesson in physics.
Product Specs
| | |
| --- | --- |
| Number of pieces | 8 |
| Recommended ages | 2 years and up |
| Material | Non-toxic high-impact polystyrene |
| Marbles included | Yes, chime balls |
Our Ratings
---
PicassoTiles 70 Piece Marble Run
Fun With Magnets
Ignite your child's passion for both art and science with this vibrant marble run set. Tailored to enhance brain development, foster STEM skills, and stimulate creative thought, this set strikes the perfect balance between education and entertainment.
Included are 70 magnetic pieces that link together easily. As your child constructs their marble run, they're introduced to concepts of problem-solving, hand-eye coordination, and motor skills development. But what's great is that it isn't too challenging, even for three-year-olds! The assembly, governed by magnets, is also a nod to the principles of physics and the power of imagination.
This hands-on toy not only nudges kids towards innovative thinking but also offers a sneak peek into the world of architecture. Crafted from non-toxic, BPA-, and lead-free materials, it adheres to CPSC lab standards, ensuring quality and safety.
Pros
Boosts cognitive development.
Magnetic pieces easily fit together.
Teaches science and art.
A great group activity.
Cons
Younger kids need parental supervision.
Pieces may start to break after a few months.
Product Specs
| | |
| --- | --- |
| Number of pieces | 70 |
| Recommended ages | 3 years and up |
| Material | BPA- and lead-free materials |
| Marbles included | Yes |
Our Ratings
Community Feedback
In my experience, these marble run tubes add extra support and excitement to our magnetic tile sets. Although building the marble run can be a bit tedious for little hands, with adult assistance, it becomes a fun and engaging activity for both children and parents. The tubes snap into place, adding sturdiness to the creations, which is particularly helpful when building larger structures. However, younger children might struggle with snapping the pieces together independently.
---
Marble Run Set by Magicfly
Marble Mania
With 37 marbles included, this jumbo set from Magicfly should be popular with your child and their friends. The toy features five glass marbles and 32 DIY marbles, enabling your little one to use their creativity.
This marble run toy is impressive. It has 127 pieces, which are all translucent yet vibrant to look at. It's effortless to assemble, despite its size, and Magicfly includes a thorough manual.
Because all the pieces are see-through, your little one can watch and follow the marbles as they roll down.
With the set, you and your child can create five different marble runs. The DIY marbles are plastic and allow you to put them together to create various colors. However, some parent reviews said it would've been better had all the marbles been glass.
This Magicfly run is recommended for children ages 3 and up. It's all made of sturdy ABS material, which is non-toxic and won't break easily.
Pros
Large set.
Translucent pieces.
Plenty of marbles included.
Cons
The DIY marbles aren't as much fun as the glass ones.
Product Specs
| | |
| --- | --- |
| Number of pieces | 127 |
| Recommended ages | 3 years and up |
| Material | ABS material |
| Marbles included | Yes |
Our Ratings
---
Best Choice Products Marble Maze Racetrack
For Small Builders
This marble run toy from Best Choice Products is excellent for small toddlers who are learning to put blocks together.
Your little one will be able to practice their fine motor skills by connecting the pieces and letting the balls run through. The set resembles LEGO Duplo and is also compatible with the brand. All the pieces are crafted from durable, non-toxic ABS plastic, and the set is recommended for children aged 3 years and up.
The set calls for your child to construct slides and sharp corners. It allows room for creativity, as they can build how they like. All leftover pieces can be used for making animals or other fun things.
Pros
Excellent for toddlers.
The pieces are compatible with LEGO Duplo.
Crafted from durable material.
It allows room for creativity.
Cons
The "marbles" could be better — some parents say they come apart too easily.
Product Specs
| | |
| --- | --- |
| Number of pieces | 97 |
| Recommended ages | 3 years and up |
| Material | ABS material |
| Marbles included | Yes |
Our Ratings
Community Feedback
Definitely a fun and engaging toy, this Marble Maze Run has provided countless hours of entertainment for my 2.5-year-old son and me. The vibrant colors and endless possibilities for creating different maze runs encourage creativity and problem-solving skills. Although some of the pieces don't snap together as easily as Lego Duplo, it's a minor issue compared to the overall enjoyment we get from the toy. It's worth noting that the included marbles are lightweight plastic, but we found using regular marbles works better and adds to the excitement.
---
Meland Marble Run
Honorable Mention
To finish off our list, we have this marble run set by Meland, which is suitable for children aged 4 and up.
The set consists of 102 colorful pieces and 30 marbles. Your youngster gets to construct a giant maze with stairs and windmills.
Parents praise the durability of the set. All pieces are made of solid ABS material, capable of withstanding a child's rough nature. They're also translucent, allowing the user to watch the action as the marbles run through the maze.
Meland has included an easy-to-follow manual for the construction of several configurations. Your child gets to use their imagination while developing skills such as eye-hand coordination and confidence.
Pros
Large and tall maze.
Durable and translucent materials.
Engaging, colorful design.
Cons
Prone to tipping over easily.
Product Specs
| | |
| --- | --- |
| Number of pieces | 132 |
| Recommended ages | 4 years and up |
| Material | ABS material |
| Marbles included | Yes |
Community Feedback
This marble set has been a fantastic addition to our household, providing endless entertainment for my son and even my niece and nephew. The pieces are easy to assemble, allowing for countless track designs, and it's great to see the kids working together and using their imaginations. Although some of the marbles were not of the best quality, the majority of the set is durable and well-made. I particularly appreciate the included carry bag, which surprisingly fits all the pieces perfectly, making storage a breeze. However, be cautious with younger children as the small marbles could pose a choking hazard.
---
How to Choose a Marble Run Toy
---
Thank You For Your Feedback!
Thank You For Your Feedback!