From ultimate dad-buggy to feminine designs, Maclaren strollers cater to a variety of styles. Renowned for lightweight, innovative designs inspired by real-life parenting, Maclaren is a brand with a trusted history.
In this guide, we've carefully selected the best Maclaren strollers that blend safety, style, and functionality to ensure your child's welfare and comfort. Let us assist you in making your parenting journey smoother and more enjoyable.
Image
Model
Product Comparison Table
Features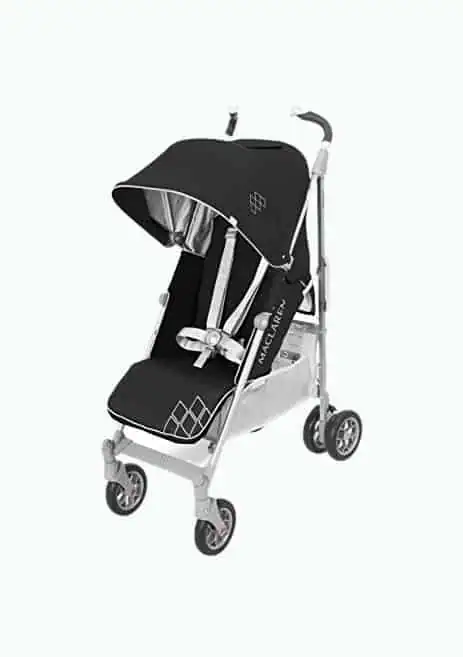 Best for Newborns
Techno XT Stroller
Newborn-friendly
Smooth ride and good suspension
Excellent ride for toddlers
Best Wind Resistant Stroller
Maclaren Candy Bar Stroller
Nice designs
For older babies
Protective cover
Best Umbrella Stroller
Quest Stroller By Maclaren
Perfect for commuting parents
Large visor with peek hole
Reclining seat and leg rest lock
Best for Travel
Mark II Stroller
Ultra-light materials
Classic appearance
Antimicrobial handles
Best Stroller for Disabilities
Maclaren Major Elite Transport
Great for day trips
Lightweight and easy to maneuever
Gives parents peace of mind
Review Methodology: At Mom Loves Best, our hands-on approach allows us to thoroughly analyze and evaluate a variety of Maclaren strollers, ensuring that you, our valued reader, can trust our findings and make informed decisions. We assess each stroller based on essential criteria such as safety, comfort, maneuverability, and durability. Our experienced team of professionals compares and ranks each product, utilizing data-driven research and firsthand experience to provide comprehensive reviews. We measure each stroller's performance, highlighting unique design choices and their impact on users. By identifying key decision-making factors and rating products accordingly, we aim to help you choose the best Maclaren stroller tailored to your needs.
---
---
The Best Maclaren Stroller Reviews of 2023
Maclaren has a lot to offer, so narrowing it down to the top five was tough. But thanks to some insight from user reviews and expert recommendations, we managed to find the best Maclaren strollers. These are:
Maclaren Techno XT Stroller
Best Maclaren Stroller for Newborns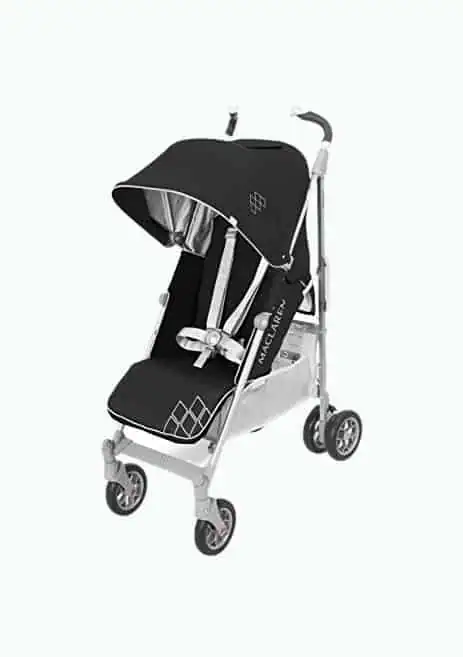 The Maclaren Techno XT Stroller brilliantly combines comfort, durability, and sleek design. Its full-recline 4-position seat caters to newborns and toddlers alike, ensuring an ultra-smooth ride with best-in-class suspension.
The extendable UPF 50+ sun canopy and waterproof rain cover provide excellent protection, and its compact umbrella fold is a godsend for travel and storage. The footrest is also fully adjustable and comes with a memory position — a lock that remembers your setting.
High-end materials used throughout ensure durability, albeit at a higher price point.
Overall, the Techno XT is a top-tier stroller, balancing functionality and style for the active parent.
What We Like
Newborn-Friendly
The Techno XT includes Maclaren's newborn safety system. As you fully recline the seat, you can deploy the system from underneath it. Doing this creates a safe, cocoon-like enclosure with added support for your little bundle.
If you prefer a bassinet, the Techno XT does allow you to attach Maclaren's Carrycot. The cot attaches securely to the frame while the seat is fully reclined.
Smooth Ride and Good Suspension
A smooth ride is imperative when transporting fragile infants, and Maclaren has included all-wheel suspension. It's designed to even out a bumpy surface as well as provide you with superior steering.
To aid your steering further, Maclaren used hubless aerodynamic wheels.
Excellent Ride for Toddlers
With a five-point harness system that incorporates Maclaren's patented safety system and an adjustable footrest, this is toddler-friendly. The elevated seat keeps longer legs away from the pavement, and a removable seat liner is machine-washable for spills and crumbs.
What We Don't Like
Heavier Than Preferred
Because Maclaren is known for producing lightweight strollers, we expect nothing less. Unfortunately, the Techno XT is classified as a basic-weight stroller, weighing approximately 13.58 pounds.
Short on Storage
The umbrella fold is excellent for storage of the stroller, but it could be improved with a larger storage basket.
Product Specs
| | |
| --- | --- |
| Suitable for ages | Newborn and up |
| Maximum weight capacity | 55 pounds |
| Stroller weight | 13.58 pounds |
| Colors | Black and silver, Albert Thurston, charcoal and silver, blue and silver |
Our Ratings
Community Feedback
As a parent, I've found this Maclaren stroller to be an excellent choice for my growing family. My one-year-old fits comfortably in it, and even my 9-year-old twins have been known to sneak a ride. Its lightweight design and easy folding mechanism make it perfect for traveling and daily use. One of the standout features is the sun protection, which keeps my son comfortable and safe from harsh rays. The adjustable handles are also a fantastic addition, accommodating the height of my taller husband. However, I've experienced some issues with the wheels locking up, so it's essential to be aware of potential challenges with customer service.
---
Maclaren Volo Dylan's Candy Bar Stroller
Best Wind Resistant Stroller
For all weather elements, check out this Candy Bar stroller. It is fully equipped with a premium wind-resistant rain cover. Not only does this protect your baby from rain and wind, but it also protects them from harsh sunlight. It is a UPF 50+ sun canopy with a built-in sun visor so your little one can stay safe from bright summer days.
This stroller is available in green, blue, white, and black and white. No matter your preference, you can choose one that fits in with your style.
Perfect for babies six months and up, weighing 20 to 55 pounds, this stroller is one to keep around for a while. Lastly, the breathable mesh seat with a single-position recline is comfortable all year round.
What We Like
Nice Designs
As mentioned, there are four design options. Each one is very cute, stylish, and colorful. They each have different designs on them, such as lollipops, stripes, or retro spots!
Good for Older Babies
This is a one-stop product for when your child is between 20 and 55 pounds. It can last from when they're six months old through toddlerhood. The single-position recline allows them to see the world from a sitting position which can quench their curiosity.
Protective Cover
This cover does absolutely everything you need a stroller cover to do. It's wind and rain resistant to protect your child from stormy days. And, of course, the UPF 50+ design keeps them safe during the summer. No more crying and whining from being uncomfy — they'll love this just as much as you do!
What We Don't Like
Single Position Recline
While many people like this as it keeps their kids comfortable and alert, it isn't ideal for napping purposes as you can't lean the stroller seat back. This might make it uncomfortable for them to fall asleep in.
Product Specs
| | |
| --- | --- |
| Suitable for ages | Six months and up |
| Maximum weight capacity | 55 pounds |
| Stroller weight | 10.1 pounds |
| Color | Green, blue, white, and black and white |
Our Ratings
Community Feedback
Got this stroller recently and I'm impressed by its lightweight design and ease of use. The color is fantastic and the price is quite reasonable. Just make sure to follow the max weight guidelines to avoid any issues with it.
---
Maclaren Quest Stroller
Best Maclaren Umbrella Stroller
Maclaren's Quest stroller is a favorite among active parents, offering a combination of portability and convenience. Quest is ultra-lightweight, weighing approximately 12.2 pounds. It's one of the company's signature umbrella pushchairs, which folds effortlessly into a compact package, ready to carry.
Its versatile four-position recline makes the Quest pushchair suitable from birth, offering a horizontal position for newborns. Enhanced with Maclaren's newborn safety system, the Quest provides the added support your baby needs, making it a reliable option for families on the move.
What We Like
Perfect for Commuting Parents
The Quest series was designed for busy parents who are looking for a lightweight stroller packed with features.
The Quest umbrella stroller folds effortlessly using one hand – fantastic if you're often commuting alone. Once folded, it becomes a small ensemble, which you can carry by the included handle, sitting on the side of the frame.
Suitable from Day One
Investing in a single stroller you can use from day one through toddlerhood is fantastic. Maclaren's newborn safety system provides extra support for infants. As the seat fully reclines, your little one will stay nice and snug in its cozy cocoon.
The stroller continues to support your child through to the toddler years. Maclaren elevated the seat, giving more space for little legs to grow.
Large Visor with Peek Hole
The sun can do considerable damage to a baby's sensitive skin. Maclaren added a large visor to protect your little one. At the top, you've got a peek-a-boo hole, which also works as ventilation on hot days.
Recline Seat and Leg Rest Lock
The line features seats with four recline positions, which can be changed using one hand. Because it's so easy to adjust, you won't disturb your child's slumber if they nod off and you need to change positions.
They also include extendable leg rests fitted with Maclaren's memory position. This locking mechanism keeps the setting even after folding and unfolding.
What We Don't Like
The Seat Doesn't Sit Completely Upright
A few moms pointed out that the seat never sits fully upright, meaning your child will always sit slightly laid back. Some may find this annoying, especially if your kiddo enjoys watching the view.
Product Specs
| | |
| --- | --- |
| Suitable for ages | Newborn |
| Maximum weight capacity | 55 pounds |
| Stroller weight | 12.2 pounds |
| Color | Black and silver, blue, and red |
Our Ratings
Community Feedback
Great lightweight stroller for hot weather and travel! I recently took this stroller to Disney with my 3.5-year-old and was impressed by its easy assembly, light gray fabric that kept my child cool, and the one-click folding mechanism. The canopy provided ample shade and the adjustable seat base made it comfortable for my growing child. The only downside is that it struggles on uneven surfaces, but it glides smoothly on grass and solid surfaces.
---
Maclaren Mark II Stroller
Best Maclaren Stroller for Travel
Ultra-light yet full-sized? Maclaren's Mark II stroller ticks both boxes with a remarkable balance between ultra-lightweight design and full-sized functionality. It's a full-sized stroller weighing a mere 7.94 pounds.
This is one of Maclaren's lightest strollers, excellent for commuting parents. Maclaren stripped away all the heavy materials and replaced them with lightweight yet durable parts. It's designed to withstand the rigors of regular use and will last for years.
The Mark II design takes a step back into the early days of Maclaren. Its classic appearance, however, is mixed with modern innovation and safety standards. This includes a five-point harness, elevated seat, and extensive sun canopy.
What We Like
Ultra-Light Materials
To make the strollers as lightweight as possible, Maclaren utilized aircraft-grade aluminum tubing and ultralight fabrics.
The materials can withstand extensive use and are capable of carrying your child until they become independent walkers. In particular, the aircraft-grade aluminum tubing chassis is sturdy and won't budge. It will accommodate your child up to 55 pounds.
Classic Appearance
If you're a fan of the '60s, you should like this stroller. It's available in several colors, which you can pair with the stripy seat liners, sold separately.
Antimicrobial Handles
The stroller comes with a lot of modern features, such as a large visor, a five-point harness, and an adjustable seat. But the feature that spoke to us loudest are the antimicrobial handles. These consist of soft, closed-cell foam, which are easy to clean and durable.
What We Don't Like
Wheels Touch the Canopy When Folded
Some moms pointed out that the wheels touch the sun canopy when you fold the stroller. Because of this, the visor gets dirty and requires a dust-off.
Product Specs
| | |
| --- | --- |
| Suitable for ages | 6 months and up |
| Maximum weight capacity | 55 pounds |
| Stroller weight | 7.94 pounds |
| Color | Midnight navy, black, and white |
Our Ratings
Community Feedback
My experience with this Maclaren stroller has been mostly positive, as it's lightweight, easy to fold, and has a comfy seat for my little one. However, there are a few downsides I've noticed, such as the straps not fitting snugly enough and the lack of a chest buckle for added safety. Additionally, the sun protection could use some improvement, as it doesn't shield my child as well as I'd like. On the plus side, the all-wheel suspension handles various terrains well, and the stroller's compact size is perfect for navigating busy areas and public transportation. Despite the minor drawbacks, this stroller has served its purpose well over the last several months.
---
Maclaren Major Elite Transport Chair
Best Maclaren Stroller for Disabilities
Designed specifically for children with special needs, the Major Elite Transport Chair by Maclaren is a thoughtful and well-constructed choice. Boasting a substantial weight capacity of 110 pounds, it provides a durable and ensuring option, even accommodating older children within the weight limit.
Additional features, such as a padded seat and footrest, make this a comfortable ride for kids. Despite its sturdy construction, the stroller maintains a lightweight design at just 14.7 pounds, making it easy to transport and maneuver. If you're seeking a Maclaren stroller tailored to a child with special needs, this model is well worth considering.
What We Like
Great for Day Trips
Parents found this stroller to be a superb choice for day trips. Due to the sturdy and durable design, this is great for spending the whole day out of the house. This even includes spending time outside, such as going to the park. Parents love using this for long walks.
Lightweight and Easy to Maneuver
The chair is super easy to transport and push around, even with your child in it. The chair itself is lightweight, weighing less than 15 pounds. Parents found it super easy to whizz around with them!
Gives Parents Peace of Mind
Parents loved that this stroller allowed them to get out and about more. But what gives them that extra peace of mind is the handy features. The aluminum frame and brakes make this durable and safe. The harness and footrest mean that your little one is comfortable but also safe. What more could a parent want?
What We Don't Like
Parts Sold Separately
Unfortunately, some of the cool features are sold separately. For example, the basket and sunshade aren't included, which is quite inconvenient.
Squeaky Wheels
Parents found the squeaky wheels super frustrating! Your kid might also hate them. It's one considerable drawback to this stroller, so keep that in mind before you make your purchase.
Product Specs
| | |
| --- | --- |
| Suitable for ages | Six months and up |
| Maximum weight capacity | 110 pounds |
| Stroller weight | 14.7 pounds |
| Color | Red and charcoal, or soft blue and navy |
Our Ratings
Community Feedback
Excellent stroller for my special needs child who has outgrown typical baby strollers. This stroller is sturdy, easy to maneuver, and has a 110lb weight capacity, allowing it to grow with my child. However, the footrest needs to be removed and reattached each time, which can be inconvenient. The stroller works best on smooth surfaces, but struggles on bumpy or sandy terrain, and the wheels tend to squeak. Despite these minor issues, the stroller is comfortable for both my child and me, and the addition of a stroller organizer helps with storage.
---
Who Is Maclaren?
In England in 1965, an inventive mind was inspired sparked by a common parenting struggle. Owen Finlay Maclaren, an accomplished aviation engineer and test pilot, watched his daughter struggle with a bulky buggy to transport his grandchild. This ignited the idea to design a lightweight stroller (1).
Maclaren, famed for his sleek, load-bearing designs on Spitfire aircraft, ingeniously transferred these principles to his first stroller, establishing a blueprint for today's umbrella pushchairs. The stroller folded easily into a compact package, much like the landing gear on a Spitfire aircraft, making it perfect for travel.
Maclaren has kept to its patented design, which clearly shows in its modern strollers. The original Baby Buggy has been declared a design icon, featured in two art museums in New York and London.
The company has worked with several high-end designers, as well as luxury brands, to create some stunning strollers. Collaborators include Lacoste, Philippe Starck, Jill Stuart, Burberry, Lulu Guinness, BMW, and Juicy Couture, among others.
Maclaren Today
Maclaren has become a leader in the industry. Its unwavering commitment to quality and safety is mirrored in every stroller crafted for active or commuting moms and dads.
The strollers are stylish and functional — a classic 60s style, almost nostalgic in appearance. And even though the company still follows the original blueprint, its strollers now come in various colors, prints, and fabrics.
Warranty Information
When buying a Maclaren stroller, remember to register it within 60 days of purchase to activate the warranty.
---
Maclaren Stroller-Related Accessories
Maclaren has a lot to offer its customers. Nearly all its strollers are compatible with special seat liners, among many other things. Some of these include:
Maclaren Universal Seat Liner: Seat liners provide extra comfort for your little one — they're padded and fasten to all Maclaren strollers. Maclaren's seat liners are available in several prints, including the Union Jack, New York map, sunshine stripes, and shark. All are machine washable.
Maclaren Universal Organizer: Although most Maclaren strollers come with onboard storage baskets, this organizer is a great add-on for single and double pushchairs. It consists of large mesh pockets extending down behind the stroller, which is excellent for toys, clothes, or snacks. They also have smaller compartments for your keys, phone, or other valuables, as well as two pockets for bottles.
Maclaren Sun Shade: If you want some extra protection for your little one against the sun, Maclaren's add-on sunshade is wonderful. It's a large canopy, which you attach to the stroller — it works with or without an existing canopy. The shade consists of UPF 50, water-resistant material, and it will fold with your stroller, so there is no need to remove it.
Maclaren Lightweight Storage Bag: To keep your stroller safe and clean during storage, Maclaren offers this bag. It is compatible with all its strollers as well as most other umbrella strollers. It comes with a handle for easy transport, but it's not for conventionally checked luggage.
Maclaren Cup Holder: A good cup holder is a handy add-on to any stroller, especially if you're often on the go. This one is made from sturdy material that is dishwasher safe and will hold a bottle, can, or cup. It attaches to the stroller chassis, and it's available in silver or black.
Maclaren Quest Raincover: To protect your little one from rain, snow, and wind, Maclaren has its raincover, providing a premium shield. It's made from phthalate-free materials and allows for ample ventilation — it's clear, so your baby can see out and you in. It has a separate raincover that fits Maclaren's strollers, including the Triumph, Quest, Techno XLR and XT, and Volo, among others.
Maclaren Universal Footmuff: For parents trying to keep their babies warm during cold weather, Maclaren suggests its universal stroller footmuff. It's made from soft microfiber fleece, provides extra padding on the seat, and is easy to zip on or off. It's compatible with babies 6 months and up.
Maclaren Mark II Footmuff: For the Mark II stroller, Maclaren offers this attachable footmuff for cold days. It's suitable for babies aged 6 months and up — it will create a snug and comfy cocoon because of the soft and warm materials. It zips off easily once you're back home, and it's machine washable.
Mark II Liners: The Mark II stroller is also customizable, but it requires a different size than the others. Maclaren offers a range of Mark II seat liners, such as the Hexagon Midnight Navy. Not only do these liners look good, but they also add comfort for your child by providing an additional layer of padding.
Maclaren Carrycot: If you want to use your Maclaren stroller from day one, you need a carrycot. Maclaren offers a matching one — it's ideal for newborn babies up to 20 pounds. It features a large sun canopy and an apron to protect your little one.
Universal Pannier: When out on family outings, food is always a necessity. To ensure you have a safe place to store it, Maclaren suggests its pannier. It's insulated and will keep your provisions cool and fresh for hours, and it looks nice as well.
Disposable Wheel Covers: To prevent the wheels from turning the trunk into a mud pit after a rainy stroll, Maclaren has its disposable wheel covers. They're easy to put on and work to protect the hood while the buggy is folded. In the pack, you get ten disposable covers.
Disposable Storage Covers: To keep your stroller as clean as possible or protect surrounding stuff, you can use Maclaren's disposable storage covers. You get a pack of three, which are easy to place over your folded stroller. It's an excellent solution when traveling, and you don't want to bother with cleaning.
Mosquito Nets: Pesky flying pests have nothing on this net — it attaches easily over the stroller, protecting your baby from mosquitoes. It's made from a lightweight, see-through fabric so that you can keep an eye on your little one. The nets are available for nearly all Maclaren strollers, even its doubles.
---
Thank You For Your Feedback!
Thank You For Your Feedback!