2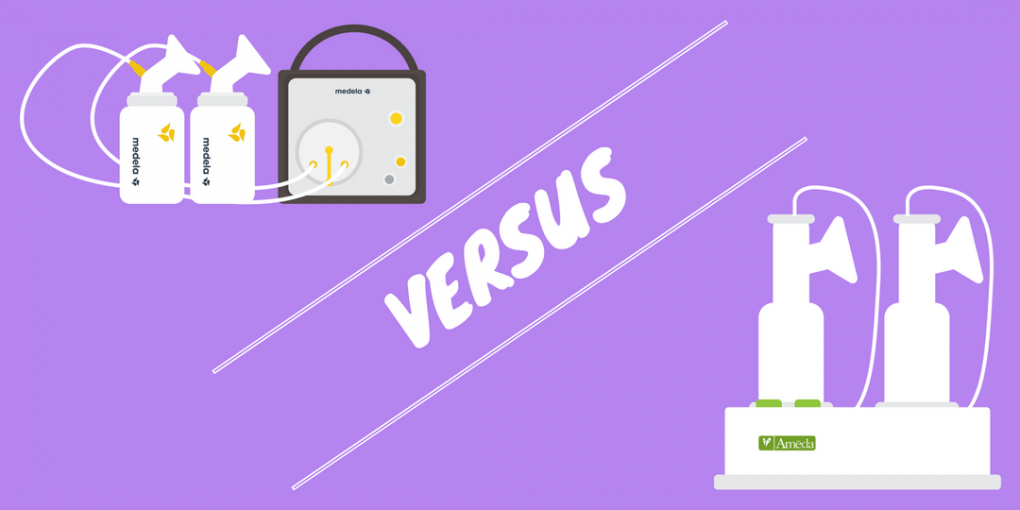 Battle of the Pumps: Ameda Purely Yours vs Medela Pump In Style
Companies are lining up to torture your breasts and help you feed your baby. There's so many choices when it comes to which breast pump you should purchase, and some of them are super cheap compared to others.
Trust me, you don't want to entrust your breasts to a cheap pump. That's asking for trouble. You should look at trusted, reputable breast pump brands.
If you're considering some of the top brands, you'll want to read this Ameda vs Medela breast pump review.
More...
Side by Side Comparison
Ameda Purely Yours
Medela Pump in Style
Rating
3.5 Stars

4.4 Stars

Price
Check Price
Check Price
Warranty
1 Year
1 Year
Weight

5.9 Pounds

7 Pounds
AC Adapter
Included
Included
Batteries
6AA (Not Included)
8AA (Not Included)
Car Adapter
Sold Seperately
Sold Seperately
Pump Type
Double Electric
Double Electric
System

Closed System

Open System
Settings
Dial
Dial
Display
None
None
Bag Options
Carry Tote

On-the-go Tote, Backback or Metro Bag™

Bottle Holders
Built-in (2)

Built-in (4)

Cooler
Yes
Yes
Plastic

BPA & DEHP Free

BPA Free
More about Ameda's Purely Yours
Things We Like
Lightweight design – motor is only one pound.
Dual hygiene-kit collection system for your breast milk.
Doesn't use DEHP, a chemical compound some moms want to avoid.
Built in battery pack.
Closed system.
FDA approved to keep outside air and milk separated.
What it does Better than the Pump In Style
The Price
The price (click here to check the price on Amazon.com) is drastically different between these two units. Having and raising children is expensive, and there's a seemingly never-ending list of things to buy. Moms who are watching their budgets will want to consider the Ameda pump instead of the much more expensive Medela pump.
The Weight & Builkiness
Moms who don't want to feel like they are pumping iron when they cart around their breast pump will prefer the Ameda pump kit, which is almost 3 pounds lighter than the Medela pump. As moms, we cart around so much equipment as it is. Sometimes you don't want to add to it with a bulky, heavy breast pump.
When I took my first vacation as a new mother, my child needed more suitcases than I did. People probably thought I was a total diva walking into that hotel, having to drag a cart behind me with all my suitcases. Believe me, the lighter a new mom can pack, the better off she is.
​
---
More about Medela's Pump In Style
Things We Like
Comes in three bag styles – tote, backpack or Metro bag.
Two-phase expression technology, which helps express milk in less time at certain settings.
Built-in pump for the tote and backpack.
Removable pump for the Metro bag.
Closed system.
FDA approved to keep outside air and milk separated.
Pumping power
Moms who are looking for a heavier duty option should consider the Medela Pump In Style (click here to check the price on Amazon.com). The Pump In Style was meant to be used multiple times a day. The Ameda pump is better for women who aren't pumping as frequently as that because its suction does tend to lessen with heavy usage.
More thorough milk expression
Women who are worried that they don't have enough milk stockpiled may want to choose the Medela pump. It seems to do a more thorough job of expressing milk. An extra ounce may not seem like a big deal, but if you are going through the trouble of pumping breastmilk, every ounce counts.
It's not a fun process to sit while your breasts are being uncomfortably handled – the only thing that makes it better is seeing the milk flowing into the storage containers. It's a real morale booster to see them filling up quicker.
​
---
Which Is The Better Pump?
The choice you're making to breastfeed your child is commendable, and it may help your baby's long-term health. But pumping isn't always easy. Finding a pump that works well for you is crucial to your success.
These are both decent pumps, but choosing one over the other requires you to look at your individual situation.
If money is no object and you'll be pumping like a woman on a mission several times a day

, you should consider the more expensive and heavier duty Medela pump.
If you are watching your funds, and you want

a lightweight pump that does a good job for the money you paid

, you may want to go for the Ameda pump.
No matter which pump you choose, congratulations on your new baby and treasure the precious moments you are about to have. Welcome to the wonderful, wild adventure of motherhood.