A car seat travel tray is the best way to keep your little one entertained while on the road, whether your child is in the car seat, a stroller, or on a plane. There are plenty of great options to choose from, each with its pros and cons.
We've studied the market, comparing the features of each design, testing them with our own children, and listening to what hundreds of parents have to say about them.
We'll explain what types of travel trays exist to help you choose the best fit for your child. We're confident that the trays on our list are sturdy, functional, safe, and convenient and will allow your child to entertain themselves for longer stretches while you travel.
Read our detailed reviews of the best car seat travel trays to find the right one for your child and make your outings more enjoyable for the whole family.
Image
Model
Product Comparison Table
Features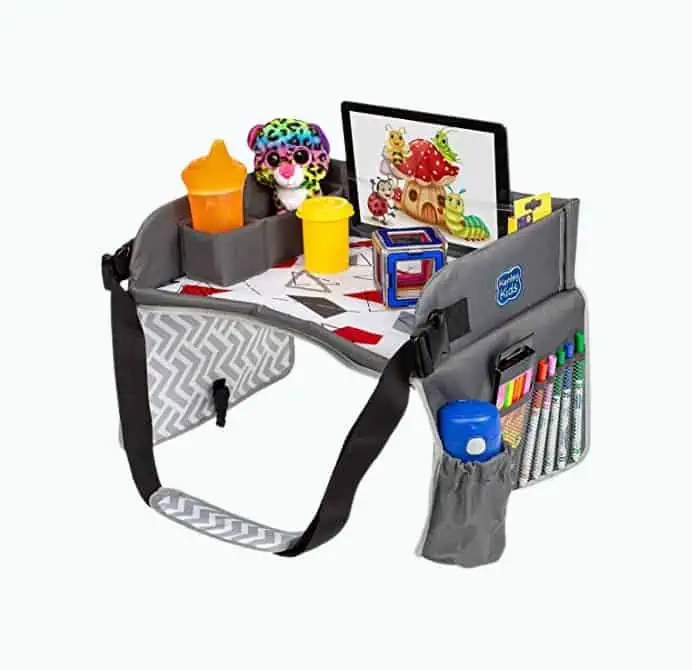 Best for Grab-and-Go Play
Kenley Kids Travel Tray
High sides
Convenient carrying strap
Lifetime warranty
Best for iPad Use
Beloved Belongings Tray
Sturdy walls
Easy to clean
Useful for holding an iPad
Fun Designs
EcoZen Car Seat Activity Tray
Cute unicorn or dino designs
Extra-long strap
Great for Older Kids
Kids Bright Toys
Convenient holder for a tablet
Plastic top
Waterproof
Most Versatile
DMoose Kids Activity Tray
For use in multiple locations
Suitable for use with food
Gender-neutral
Great for Long Road Trips
Lusso Gear Kids Travel Tray
Keeps kids occupied for hours
Lots of storage space
Eating tray included
Best for Young Children
Buenavo Travel Tray
Transparent tablet holder
Heavy-duty buckle
Compact
Review Methodology: At Mom Loves Best, our team of professionals conducts thorough research, hands-on testing, and detailed analysis to provide you with the most reliable information on the best car seat travel trays. We evaluate products from a user's perspective, comparing design, functionality, and performance to ensure you make an informed decision. Our data-driven assessments focus on key decision-making factors such as durability, safety, ease of use, and versatility. We share our findings, scoring each product based on our criteria and ranking them according to their unique features. Our comprehensive reviews are backed by first-hand experience and evidence, as our mission is to help you choose the ideal car seat travel tray for your family's needs.
---
---
The Best Car Seat Travel Trays of 2023
We've combed through the options and listened to what many parents had to say about their experiences. These are the best car seat travel trays we found.
Kenley Kids Travel Tray
Best for Grab-and-Go Play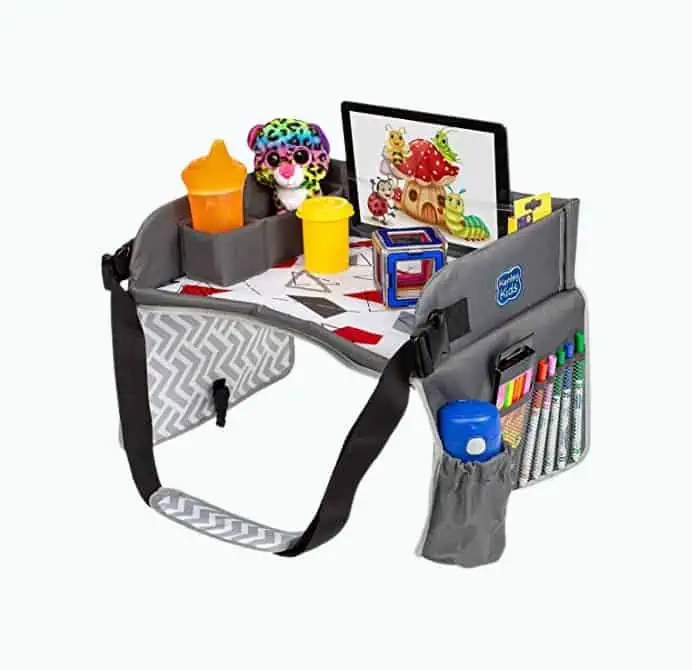 Looking for a self-contained playset that works in the car as well? This all-in-one travel station folds into a case that closes securely with a zipper.
It has different-sized pockets, including two with zippers, along the exterior. The pockets are perfect for items like books, cards, or magazines. There's even a pocket specifically designed for an iPad.
This also features slots for writing implements and a larger pocket that could hold a drink. The top of the tray has additional storage compartments to help things stay put during your little one's travels.
The whole thing collapses easily and even comes with a shoulder strap to help your child carry it. When not in use, other travel trays tend to fold into themselves without providing actual storage. This one folds up but leaves space inside to store toys and books, meaning fewer things for you to lug around from place to place!
Unlike many other travel trays, this offers a high perimeter wall to keep things from sliding over the edge.
Pros
High sides to keep items contained.
Lots of storage for snacks, cups, toys, and art supplies.
Folds up with supplies and has a carrying strap.
Lifetime warranty.
Cons
May need airing out upon delivery to avoid odor.
Our Ratings
Community Feedback
When searching for a solution to keep my child occupied during long trips, I stumbled upon this travel tray. The tray is sturdy and easy to set up, with multiple compartments and pockets for various activities. Although primarily designed for car seat use, the size fits perfectly on airplane trays and prevents toys and snacks from touching dirty surfaces. One drawback is that it does not fold down the middle, making it difficult to fit into most carry-on bags, and it lacks a strap to secure it to the airplane tray.
---
Beloved Belongings Travel Tray
Best for iPad Use
If you want to use your travel tray predominantly for media viewing, this option from Beloved Belongings may suit your needs. It offers a viewing sleeve that fully encloses and protects an iPad or similar tablet, so it's perfect for children who are too young to hold their iPad on their own.
An extra-tall back supports the iPad sleeve when in use. This keeps it from tipping over and keeps it at an optimal angle.
While this is an excellent choice for media, it's not the only thing this travel tray can do. The additional mesh side pockets are the perfect size for small toys, markers, and other accessories.
You can adjust the side pouch to any cup size, and everything folds easily to get you to and from your destination more quickly. You can use it in virtually any confined chair space, as it attaches with a nylon strap and plastic buckle.
Pros
Zippered media pouch.
Sturdy walls.
Easy to clean.
An excellent option for iPad users.
Cons
May not create an even surface with all car seat types.
Our Ratings
Community Feedback
This travel tray greatly enhanced my child's road trip experience, providing a convenient space for coloring and watching shows on a tablet. The adjustable tablet holder and compact design for easy storage made it quite versatile and a good value for the price. However, the side pockets are a bit small for standard-sized coloring books, and the Velcro attachment for the tablet holder required frequent re-adjustment, but overall, it served its purpose well for keeping my child entertained during long car rides.
---
EcoZen Car Seat Activity Tray
Fun Designs
If your child loves unicorns or dinosaurs, this activity tray will be especially appealing to them! Choose a pink option with a cute unicorn design or a blue option with a prehistoric dino scene on the tray to keep their imaginations going while you travel.
The 10.5-inch tablet holder will allow them to watch their favorite unicorn or dinosaur shows during long trips. Your child can take advantage of the easy-to-clean surface for a variety of activities, such as coloring, reading, snacking, or playing with toys. And the many pockets and pouches will hold all their favorite toys and supplies.
This activity tray folds into a handy carrying case with a sturdy strap, allowing your child to wear it across their body like a messenger bag.
The extra-long strap should work with any front-facing car seat or booster seat, while the padded, rounded front barrier will be comfortable for your child.
Pros
Cute unicorn or dino designs inspire imagination.
Many storage pockets for toys and supplies.
Padded, rounded barrier.
Convenient extra-long strap for securing the tray and carrying it out of the vehicle.
Cons
The tray surface may not be large enough for full-sized coloring books.
Our Ratings
Community Feedback
When I purchased this tray for my 3-year-old during a 14-hour road trip, I was amazed at how well it worked to keep her entertained and comfortable. She was able to color, play with her toys, do puzzles, and enjoy her snacks while watching movies without any fuss. The tray was a breeze to set up, remove, and store away when not in use. Although it rested on her legs and would occasionally cause some sweatiness, it didn't hinder her enjoyment of the various activities.
---
Kids Bright Toys Travel Tray
Great for Older Kids
This travel tray has a sophisticated play space that may appeal to an older child. It's available in blue or purple and offers plenty of storage, plus a storage bag to keep it in great shape when not in use.
A built-in tablet holder keeps the screen accessible — ideal for older children who want to interact with the touch screen. It also allows for headphone use.
Three sides of this travel tray have extended height edges. The fourth is closest to the child and offers a smaller lip that doesn't hinder access to the playing area. The top of the tray features a hard plastic surface that keeps its shape.
Both zippered and open mesh pockets keep everything within easy reach. It's waterproof, meaning you don't have to worry if your child spills on it, and it's easy to clean. A 60-day warranty allows you to ensure there's no defect with the product.
Pros
Convenient holder for a tablet.
Plastic top is easy to clean.
Waterproof design means spills won't matter.
60-day warranty.
Cons
Needs airing out to avoid lingering odor from the packaging.
Bulky design takes up space when not in use.
Our Ratings
Community Feedback
If you're looking for a convenient and sturdy travel tray for your child, this product might be the right fit. Upon using it during our road trips, my toddler enjoyed the ample storage for various items like pencils, books, and toys, while the raised edges prevented objects from falling off. However, I found that the strap may not fit comfortably around larger car seats, and there was a noticeable plastic smell initially. Despite these drawbacks, this travel tray has proven to be a helpful tool in keeping my child entertained and organized during long car rides.
---
DMoose Travel Lap Activity Tray
Most Versatile Travel Tray
If you need a travel tray that can do it all, check out this one. Its heavy-duty, patented construction resists sagging.
The easy-to-clean top fabric doesn't absorb spills, so you don't need to worry about stains. The TPU topper is nontoxic, PVC-free, completely child-safe, and safe for use with food. It's available in multiple fun themes to suit your child's preferences and interests.
While this works great for cars, it's also for use on planes, in strollers, on high chairs, or even in waiting rooms. Handy mesh pockets keep toys and other bits and pieces in one place.
The tray includes a lifetime guarantee. The company is so committed to quality that a replacement or refund is available if you aren't fully satisfied with your purchase.
Pros
For use in multiple locations.
Suitable for use with food.
Includes storage.
Our Ratings
Community Feedback
For our long car rides, these travel trays have been a helpful addition for my young kids. They love having a stable surface to play with their toys, eat their snacks, and even watch shows on their iPads. The trays are well-made and sturdy, although the zippers on the side pockets can be a bit difficult for little hands to manage.
---
Lusso Gear Kids Travel Tray
Great for Long Road Trips
This travel tray is a must-have for long road trips! It's an all-purpose, durable tray that's perfect for use while driving across the country or on long-haul flights.
What's included? An iPad viewing stand, cup holder, storage pockets for pens, books, toys, and a safety strap to latch onto a car seat.
It might even limit the constant, "Are we there yet?" With the right equipment, your child will be occupied for hours, whether they're watching a movie, coloring a picture, playing with toys, or doing all three at once!
Snack time has never been easier. The dry-erase board (yep, that's really included!) doubles as an eating tray. It's super easy to clean with a damp cloth, and it won't stain or look dingy.
Pros
Keeps kids occupied for hours.
Lots of storage space.
Attaches to car seats.
Eating tray included.
Cons
Not a universal fit.
It's heavy if it sits on the kid's lap.
Our Ratings
Community Feedback
I've recently purchased this travel tray for my little one, and it has been a fantastic addition to our trips! The tray is compact, easy to carry with its shoulder strap, and offers a sturdy surface for drawing, playing, or even snacking. The tablet holder fits a 10" device, and the side pockets provide extra storage for pens, toys, and other essentials. Not only is this tray practical and well-designed, but the fun pattern was also a huge hit with my daughter!
---
Buenavo Car Seat Organizer Kids Travel Tray
Best for Young Children
This travel tray comes equipped with a buckle and strap to secure it during trips. It attaches around the back of your child's car seat, so it won't interfere with the way it's intended to work. The strap is made from heavy-duty nylon, and the buckle is a solid press-to-release plastic fastener.
This tray has high sidewalls to prevent your little one from losing what they're using. It also has a see-through media storage slot to keep things securely in place while viewing media.
When not in the car, this folds for easy transportation and storage, securing with large velcro strips to keep it compact and convenient to travel with. In addition to the media pocket, there are also mesh pockets along the side.
There's plenty of room for pencils and art supplies and a dedicated spot for beverages.
Pros
Dry erase coloring surface.
Lots of storage.
See-through media pocket.
Compact, portable design.
Cons
May be too large for some spaces.
Our Ratings
Community Feedback
Great for keeping kids occupied during car travel, this tray has been a useful addition to our family trips. The multiple options for playtime and easier feeding make it a convenient choice for parents. However, the construction could be improved, as the iPad holder's Velcro does not hold up well, causing the iPad to fall forward. Despite this issue, the tray's lightweight and size are appreciated.
How to Choose the Best Car Seat Travel Tray
To ensure you get what you need from a travel tray, consider the following while shopping.
Types of Car Seat Travel Trays
There are a few different kinds of travel trays to consider. They're all portable, so you aren't confined to keeping them in the car.
Secured Travel Trays
These trays usually attach around the back of your child's car seat and strap on without interfering with anything. This keeps your child's needs within reach while keeping them safe in the car.
This is a perfect option for a younger child who can't keep the travel tray in place without help.
Pros
Great for young children.
Keeps needed items close.
Cons
Difficult to reconfigure while driving.
Hard to use outside of the car.
Hybrid Travel Tray
You can use this type of travel tray in multiple ways, but generally, there's a top portion that comes away from the lap portion. This top portion can be used alone by hanging directly from the seat in front of the child.
This is a good choice for a child who needs an iPad viewing space out of reach. It can also increase the versatility of your travel tray.
Pros
Great versatility.
Good for media experiences.
Cons
Bulky.
Involves more setup.
Lap Desk Travel Tray
"Lap desk" travel trays don't attach to the back of the seat, making them easier to use outside the car. It also makes them more difficult for younger children to use.
These are great for elementary-aged children who need a flat surface or iPad space while in the car.
Pros
Great for older children.
Easy to use outside the car.
Cons
Can be easily knocked over.
---
Thank You For Your Feedback!
Thank You For Your Feedback!