Opening a baby shower invite can induce just as much panic as pleasure. If you're anything like us, it will set off an instant cascade of questions.
Who else will be there? Will you be expected to join in all those terrible baby shower games?
What should you wear?
While we can't answer every question for you, we can help you with your outfit. We'll go over what to wear to a baby shower so you won't stick out.
Key Takeaways
Ask the host about dress code or theme to avoid inappropriate attire.
Choose comfortable clothes that allow movement for baby shower games.
Wear appropriate colors based on the mom-to-be's cultural background.
Consider the season and location of the baby shower when choosing outfits.
---
Are You Supposed to Dress Up for a Baby Shower?
Whether you dress up is, to some degree, a personal choice. You won't enjoy yourself if you feel uncomfortable in what you wear, but at the same time, you may feel out of place if you're dressed in a drastically different way than everyone else.
If you are unsure, the best option is to ask the host. If you know other people who are going, you can check in to see what they will be wearing and follow their lead.
If you're going to a themed shower, it's a good idea to dress appropriately and take part in the fun. And even if you don't feel like breaking out your best clothes, remember, this is a celebratory occasion that isn't about you.
What Should I Wear to a Baby Shower as a Guest?
You may want to look fabulous, but as a guest, you need to be careful not to outshine the mom-to-be. To give you some suitable ideas, here are some suggestions for baby showers at specific times of the year and in different locations.
Outdoor Baby Shower
The automatic choice for an outdoor baby shower is often a light summer dress. However, you can almost guarantee that the mom-to-be will be wearing a beautiful, flowy summer dress, and you want to be sure not to look too similar to the lady of the hour.
If the shower is to be held in a backyard, or other potentially grassy location, then heels may be a liability. You don't want to sink into the ground or fall over, so light summer pants that look good with classic flats are a good choice. This kind of outfit can easily be dressed up or down with the right accessories.
Assuming that the outdoor baby shower is at a time of year when the sun is out, you could consider:
Drawstring linen pants with a relaxed-fit, lightweight ¾, sleeve tunic for a breathable choice.
Casual summer pantsuit with a flowing cardigan.
Wide-legged jumpsuit with spaghetti straps that will help you keep cool, and if you're chilly, throw a light jacket over top.
At-Home Baby Shower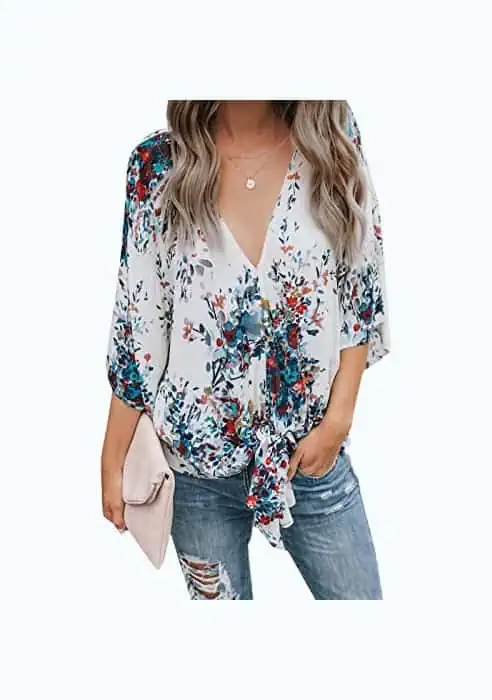 It can be challenging to choose an outfit for a baby shower at the home of the host, or the mom-to-be. A lot depends on the home and lifestyle of the host. You should also consider if the baby shower is during the day, the early evening, or at night, and whether there is a special theme to the shower.
Your best option, in case there are any active baby shower games, is to go for something that allows you to freely move around. Layers are also a good choice. There's nothing worse than spending the entire shower feeling too warm or too cold.
With those thoughts in mind, these are some great options:
Levi's Classic boot cut jeans with a floral shirt for a low-key, informal party.
A casual flared party dress in a gorgeous color.
An off-the-shoulder elastic waist romper for casual comfort.
High Tea Baby Shower
A high tea baby shower is going to require a more formal approach. Even if the host and mom-to-be bill this as a casual affair, chances are they will expect you to at least make an effort with your choice of outfit.
Don't look at this as a bad thing. There are few chances for most of us to dress up formally and maybe even throw a hat into the mix. This is one of those golden opportunities.
If you don't have the money to lay down on a wear-it-once formal high tea outfit, look for separates that can be worn with other items in your existing wardrobe. Plain colors are the most versatile, and you can add accessories to change the look for different occasions.
Consider these fabulous options:
A vintage style faux wrap dress that will give you a touch of class.
Casual short-sleeve shirt with a women's white crop jean, which will be fancy enough, but not overly dressy.
Pleated A-line midi skirt with women's basic round neck tee that will let you be comfortable while still dressy.
Summer Baby Shower
If you are attending a summer baby shower, you'll want to wear a lightweight outfit that won't leave you wilting in the heat. It's considered "bad form" to go for an overtly sexy look for a baby shower, so try to avoid the body-hugging, shear, or low-cut items in your wardrobe.
Instead, if you can't suppress your particular flavor of gorgeousness, at least avoid overshadowing the star of the show. The obvious choice is a summer dress, but there's no deed to despair if you are not a flowery, flowy, kind of girl. We've got something for you too.
Casual tank dress for slightly dressy occasions.
Off the shoulder, wide-leg pants jumpsuit that you'll be able to use all summer.
Maxi boho dress that will work well for any other upcoming summer parties you're going to.
Spring Baby Shower
Planning an outfit for any spring event can be a nightmare. Unless you live someplace where you can guarantee what the weather will be like, trying to predict outdoor conditions at this time of the year is almost impossible.
Hopefully, if you are attending an outdoor, spring baby shower, the host will be ready to take things indoors if the weather changes. But whether it's indoors or out, you might want to take the opportunity to embrace the end of those long, dark winter nights with a pop of gorgeous spring color.
If you are also going to attend any spring or summer weddings, choosing an outfit that can be easily tweaked for double duty is a great way to stretch those dollars a little further.
This Lark & Ro Flare dress can be a blank canvas. You can partner it with a jacket, jewelry, or other accessories to create many different looks.
You could drop the jacket and replace the shirt of this R&M Richards women's lace pant set for two completely different looks.
This floral halterneck dress could be worn to the store just as easily as it can to your spring baby shower.
Winter Baby Shower
Your winter diary may be empty, booked solid with a dizzying round of parties and events, or somewhere in between. Either way, a winter baby shower can be difficult to dress for in ways you don't encounter with summer events.
In the summer, you can almost throw on any dress and you're ready. But in winter you have to consider whether you'll be traveling through cold, wet, or snowy conditions and what that will do to the clothes you choose.
You'll also have to take into consideration how formal the baby shower will be, as well as your budget, which can take a beating at this time of year. Here are some ideas to get you started.
A cute red gives a festive twist to an otherwise "ho-hum" boho dress.
This cowl neck sweater can be casual with leggings or a little more dressed up with pants.
Good quality jeans can be stylish with the right shirt if the party isn't formal.
Fall Baby Shower
Fall has all the same problems as a spring baby shower. Will it be one of those warm fall days that let you enjoy the sun a little more, or will it be a freezing, blustery day with red noses and watering eyes?
The best way to get around this is to plan a warmer weather outfit that you can throw a coat over, or tweak at the last moment if you need to. Think thinner sweaters that will go with a light flouncy skirt, leggings, or jeans. Throw in some killer footwear like flats, heeled shoes, or boots, and you'll be all set.
A simple dress is perfect.
An oversized off-the-shoulder sweater can go with leggings on a cooler day or a skirt and boots if it's warm.
Sweater dresses are equally as flexible.
What Should I Wear to My Baby Shower?
When you are the woman of the moment, choosing what to wear for your baby shower is a little easier than dressing as a guest. You don't have to worry about upstaging the mom-to-be, and your biggest consideration should be comfort. You don't want to be physically uncomfortable while all of those guests are plying you with gifts and showering you in love.
This knee-length wrap maternity dress is available in 33 different colors and patterns, meaning you can find an example that works for any taste.
A strappy dress is both cool and comfortable.
Or perhaps you'd like to channel your inner diva with a full-length off-the-shoulder number.
What Should Men Wear to a Baby Shower?
It may sound strange but, to some degree, men should follow the same advice as women. You should ensure you will be comfortable, especially if games will be involved, and try to choose clothes that can be adapted on the fly, and dressed up or down.
FAQs
Now let's take a look at the questions we hear most often when discussing what to wear to a baby shower.
More Tips for Deciding What to Wear to a Baby Shower
If the invite specifies a particular theme or dress code, respect what is being asked of you — no matter how ridiculous you might think it is. As a guest, it is not up to you to decide whether the theme or dress code is appropriate or not. If you feel strongly enough that you don't want to toe the line, don't go.
Many baby showers involve games, some of which are extremely active. For this reason, it's a good idea to wear clothes in which you are comfortable, and can move freely.
Contact as many of the other attendees as you can and check to see what they are wearing. You may not be worried about turning up in the same clothes as someone else, but checking in can help you hit the right level of formality, or otherwise.
If the baby shower is indoors, your host may ask you to take off your footwear, so be sure to wear something on your feet, inside your footwear.
Ensure your footwear is comfortable. You may find yourself on your feet for an extended period.
---
Don't Forget To Smile
It can be easy to get caught up in the dos and don'ts of what you should wear to a baby shower. While being thoughtful is a good thing, don't forget that a baby shower is supposed to be a happy, fun event.
Remember to enjoy yourself, and smile. You're welcoming a new baby into this world, and that's cause for celebration.
Thank You For Your Feedback!
Thank You For Your Feedback!